6 Tips for solo female travel in Iraqi Kurdistan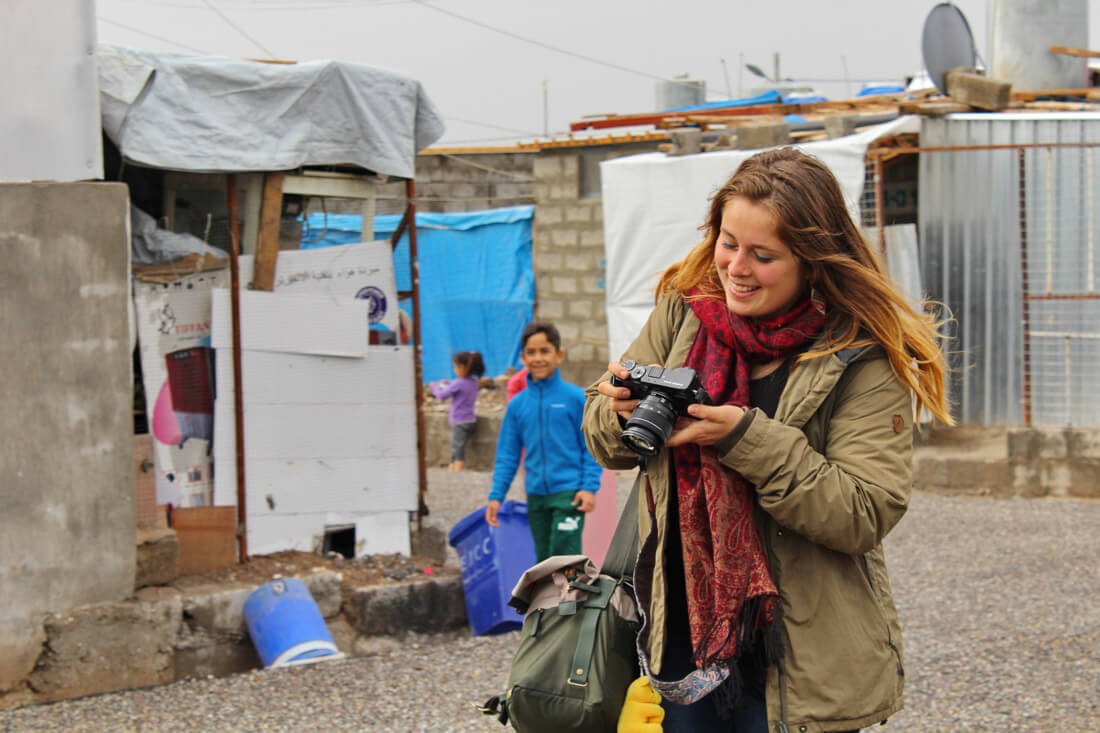 Like all the Middle Eastern countries I travel to, there is no single lady who doesn't have concerns about traveling to Iraqi Kurdistan as a solo female traveler.
I personally think that Kurdistan is a pretty safe destination for women and, despite being such an off-beat place, this is one of the least conservative regions in the Middle East, home to a large Christian community with not much space for fundamentalism among the Muslim population, meaning that Kurds themselves are already used to dealing with women with liberal tendencies, so you won't really get the stares you may get in other Muslim countries such as Pakistan or even Jordan.
Nevertheless, as always, I am fully aware that women travelers seek a more accurate response, a more detailed and specific reasoning, from someone who can assure them that Iraqi Kurdistan is a 100% safe destination for solo women.
And that is why I decided to get in touch with Andrea from Hunting Rarities, a young lady from Belgium who has been backpacking in serious off the beaten track destinations around the Middle East and Central Asia and who will give us 6 Very insightful tips for solo females traveling in Iraqi Kurdistan.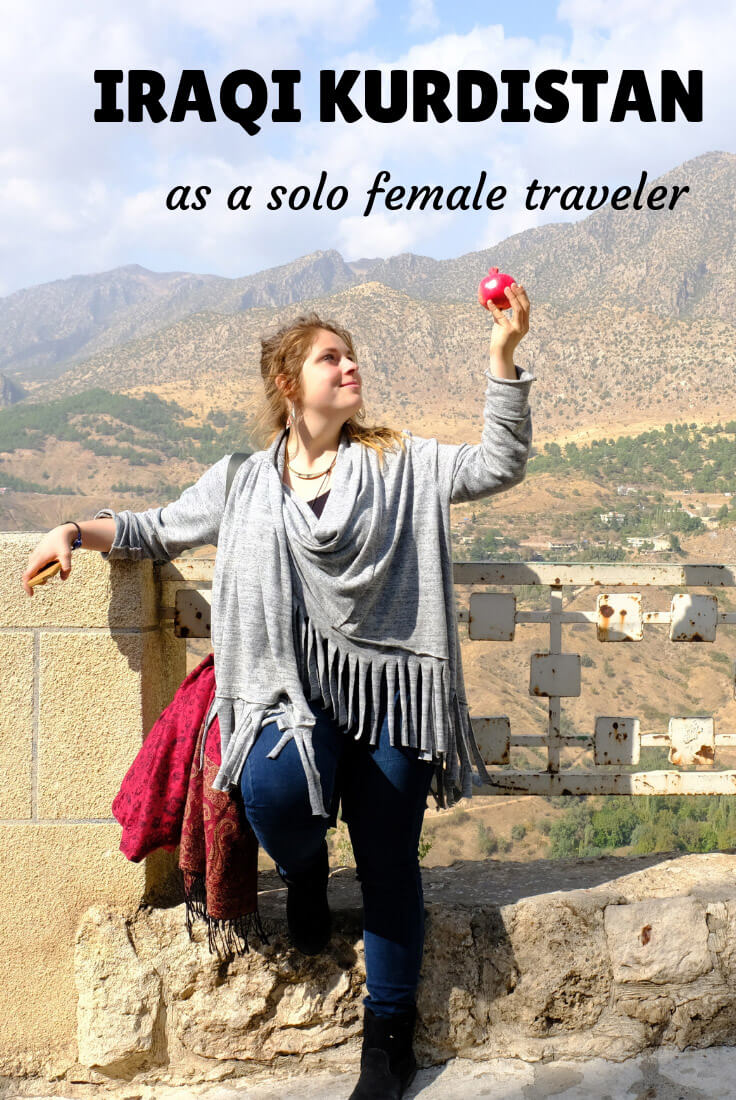 While not on most people's travel radar, Kurdistan is one of those destinations that never ceases to surprise those who do make the leap.
Even though the region is geographically small and situated in the middle of a politically unstable region, most – and especially female solo travelers – will find that it is, in fact, an incredibly rewarding experience, both for the experienced and less experienced solo traveler.
I lined up a few reasons why I came to love this region and why I recommend it for female travelers who are still hesitating.
Read: Iraqi Kurdistan 2-week itinerary
As a woman, it is very easy to move around Kurdistan, really
Being such an undiscovered and rather remote area, for some women, it could mean that traveling there is harder than elsewhere – for me it meant that in fact, it was a whole lot easier!
Locals travel to and from different cities all the time and, because there are no real tourist buses going anywhere, shared taxis are very easy to come by and do not overcharge you.
In fact, as a (foreign) woman I was given priority and could always sit in the front, which you normally pay more for, at the same price as a back seat! The drivers stop regularly for tea/toilet breaks, and the areas are usually very open, clean and as per usual, very friendly.
Hitchhiking is definitely possible and not frowned upon, however as a woman alone you should follow your gut feeling as to whether or not you want to do it. Ideally, find another traveler or local who would hitchhike along with you.
Remember to get travel insurance for Iraq
IATI Insurance is one of the very few that covers travel in Iraqi Kurdistan (+ COVID-19)
Get 5% discount if purchasing via this link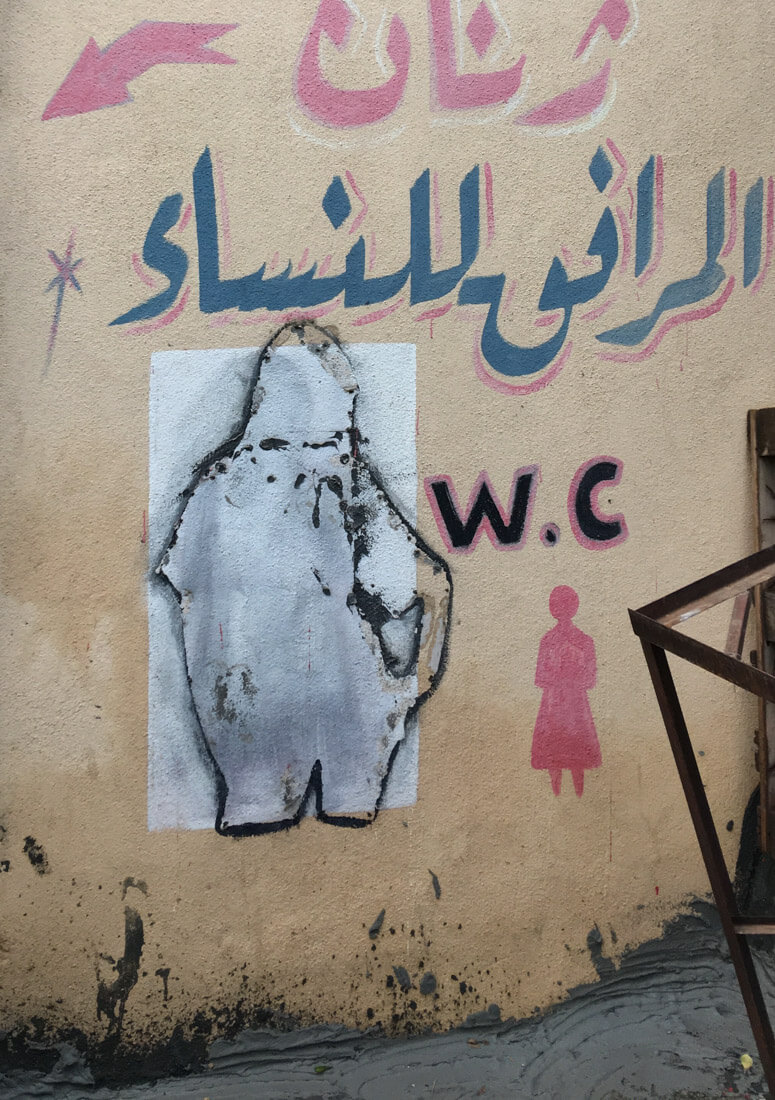 The availability of food & hospitality makes it very easy for women to travel in Iraqi Kurdistan
I thought I knew the essence of hospitality and generosity after having been to Iran, but Kurdistan takes it all to a whole new level.
The first time I went to eat something, I thought I was being screwed over. Before I even ordered, they came not with one, but ten plates of different dips and salads and bread, enough to feed three people (no reason to order that chicken anymore, really).
Then, they came to take my order. I was not sure whether I'd be charged for this feast, but I decided to order that chicken in any case, curious to see what the bill would say. And low and behold, I was only charged for the chicken and a water bottle.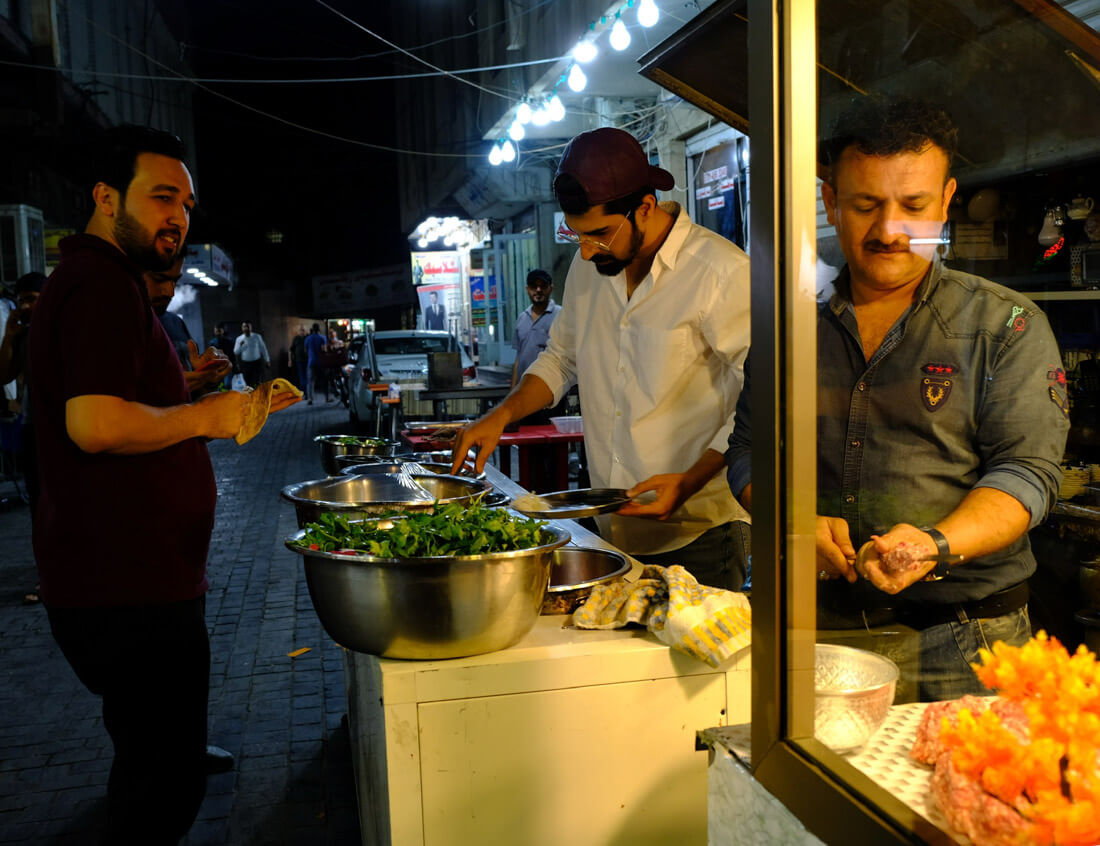 The food was not only abundant, but it was also fresh, healthy, varied, local and full of love. Street food is very easy to get and healthy too, with anything from shawarma to falafels to boiled beans to baklava to fresh fruit on nearly every street.
However, I was forced to go to a restaurant only a very few times, because every time I was so full after being spontaneously and generously fed by locals who just wanted a chat, with dutiful grandmothers whose sole mission for that afternoon was to feed the foreigner woman.
Tip: If you ever manage to find yourself with a Kurdish CS host, ask them where to get the best Kurdish dolma. There is nothing that can beat juicy stuffed aubergines (eggplants), courgettes (zucchini), cabbage and tomatoes with rice and meat from a Kurdish mum or chef, believe me.
As a woman, you have a higher chance of being included in all these 'female-only' rituals, which men are usually barred from witnessing. Helping to cook the dolma, dressing up with the daughters in traditional Kurdish dresses (especially Nowruz – Kurdish/Iranian new year on the 21st of March).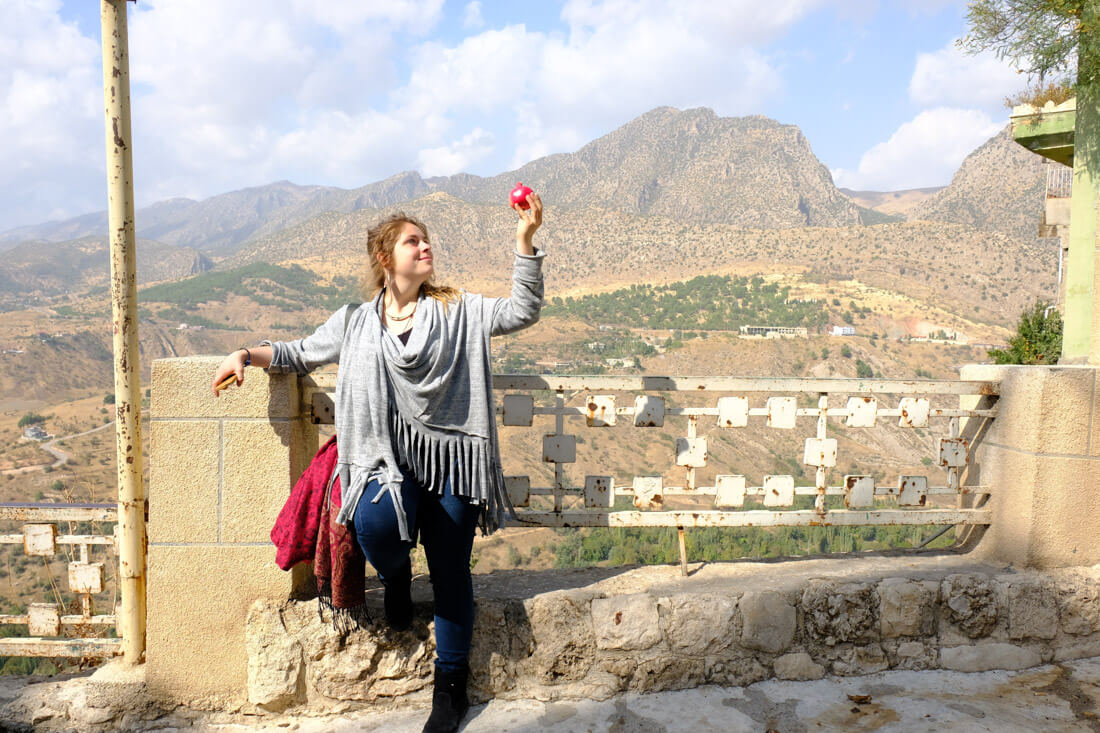 Where to stay and feel safe as a woman in Iraqi Kurdistan
Honestly, I did not feel unsafe at any given moment.
Of course, as anywhere, some rules do apply.
Everywhere around the world, there are people with bad intentions and you shouldn't just go with anyone or take things from people out of the blue.
However, I found it very easy to trust people, and the hospitality culture is pretty much ubiquitous.
If you're looking for some local people to hang out with because you don't feel comfortable alone, the Couchsurfing scene is big and it's generally very easy to find someone to spend the day with or a couch to sleep on.
Also, do not underestimate the power of Instagram!
I used the hashtag #Kurdistan several times in my posts as well as Instagram Stories, and it connected me to several local young people who were very keen on meeting or doing a day trip together.
Indeed, there is no shortage of socializing opportunities, and women are almost equally likely to approach you as men are. If you do not want to do Couchsurfing, there are hotels in every city for every price category.
The Divan Hotel in Erbil is famous for the role it played during the war – all journalists and foreign staff were based there, with CNN famously occupying two full floors – and for its iconic stature. Rooms will cost you around 250 USD per night, and are therefore out of budget for most travelers, but it's definitely an experience to sit in the lobby in between the foreign ministers, local Peshmerga leaders, and oil company spokespeople trying to strike deals the old-fashioned way: over a scotch and a cigar, or a cup of tea and some pastries, but definitely amidst golden plates and armored SUVs.
However, in the bigger cities (Erbil, Duhok, and Sulaymaniyah) you can get a hotel for 24-50 USD per night if you do not feel like going luxurious, or Couchsurfing.
Check my backpacking itinerary to Kurdistan for all our accommodation recommendations.
As a woman alone you will not have any trouble with finding a good room: however, if you are traveling with a male friend, some hotels may make some trouble if you are not married (this happens rarely though!).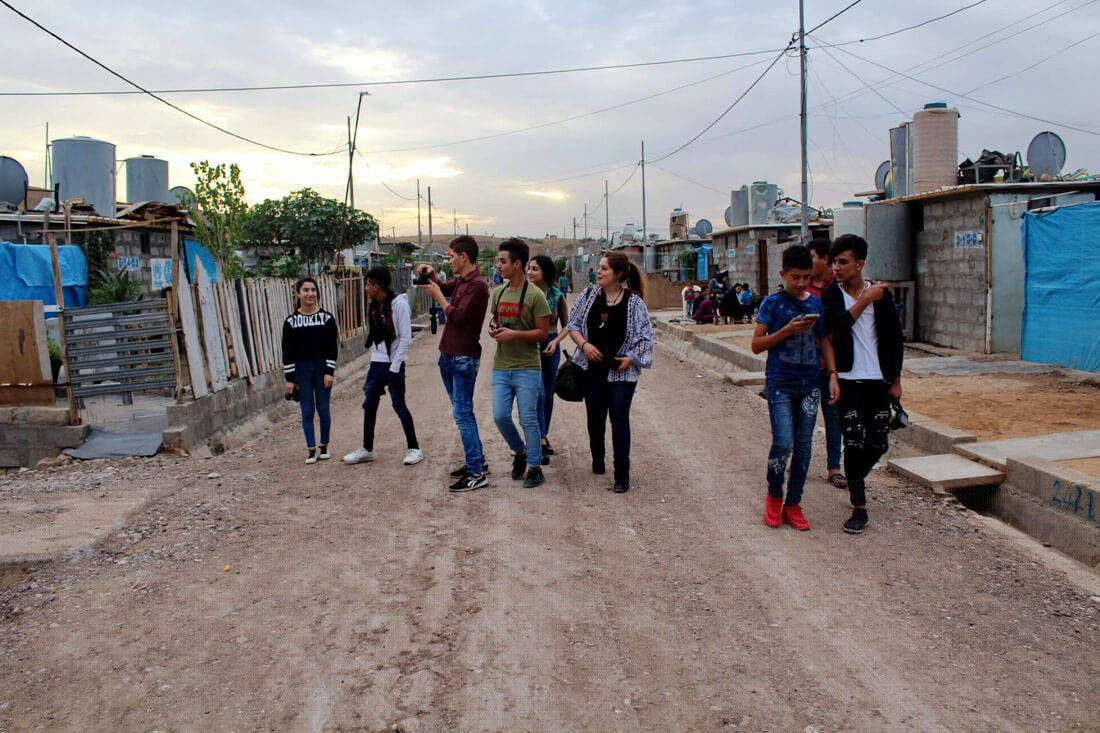 Camping randomly as a female in Iraqi Kurdistan
Kurdistan's beautiful nature is abundant, and it would definitely be a shame if you missed out on it.
While taking your tent and just heading out on your own is always an option, it might not be the most ideal nor safest one, regardless of where in the world you are.
There are very few organized tours you can join because the tourism industry is simply not very developed yet. But that shouldn't stop you from getting out there into the mountains or the beautiful rolling hills and fruit orchards of the region.
Many young people go camping in the mountains during weekends in groups, and it's fairly easy to find a group that will take you with them on one of their endeavors.
Simply browse Couchsurfing, Instagram and plenty of (spontaneous) opportunities/offers will arise. Bonus, it's an activity very much enjoyed by men and women alike, so you will actually be able to find plenty of women going on trips by themselves, keen on having a new member join them.
Engaging with locals as a female traveler in Kurdistan
Kurdish people are incredibly friendly and have a very similar culture of hospitality to that of Iran.
For example, in Amedi, a small town north of Duhok, famous for its tahina (as a self-proclaimed tahina enthusiast/addict turned expert, I can confirm that it is indeed of sublime quality) as well as historical buildings, I got invited by a man to have lunch with his family so both he and his kids could practice their English skills.
Not only was it a very heartfelt and plentiful meal, the conversations with all 3 generations of the family living in the house were super enriching and they wouldn't let me go without a bag stuffed with fresh figs from their fig tree (the little one even climbed all the way to the top to get me the best ones!) and they even insisted on me staying the night or to going back to Duhok with one of their friends' car instead of taking a taxi.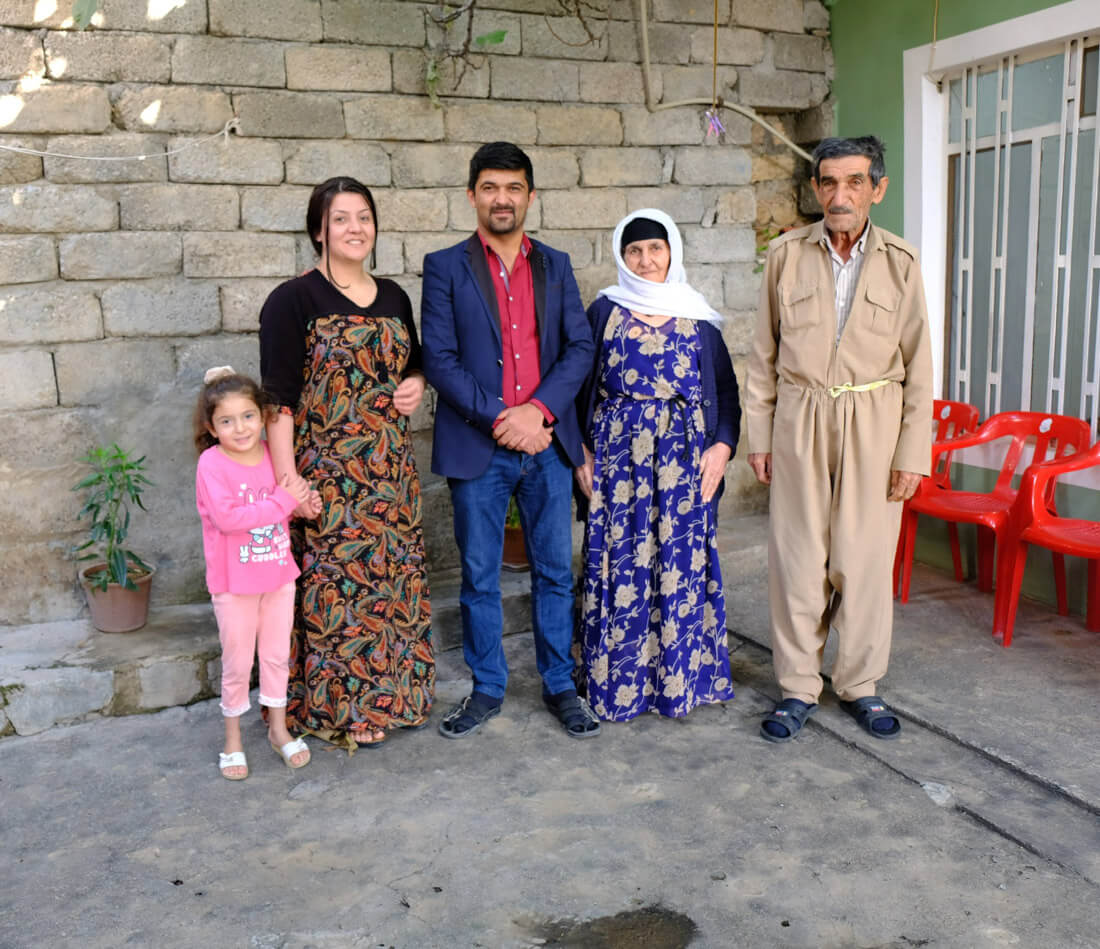 Communication with locals should not be an issue. Many young people speak English and are very keen on practicing it with foreigners too.
Surprisingly, I met several people who were fluent in German as well!
Culturally, given the relatively free nature of women in Kurdish society, it is not at all frowned upon if as a woman, you address a man of any age with a question, however, do always be respectful to those older than you.
Expect to be invited for tea, shisha or a cup of lentil soup with bread numerous times, and allow the environment to actually suck you in like that, you will have an amazing experience.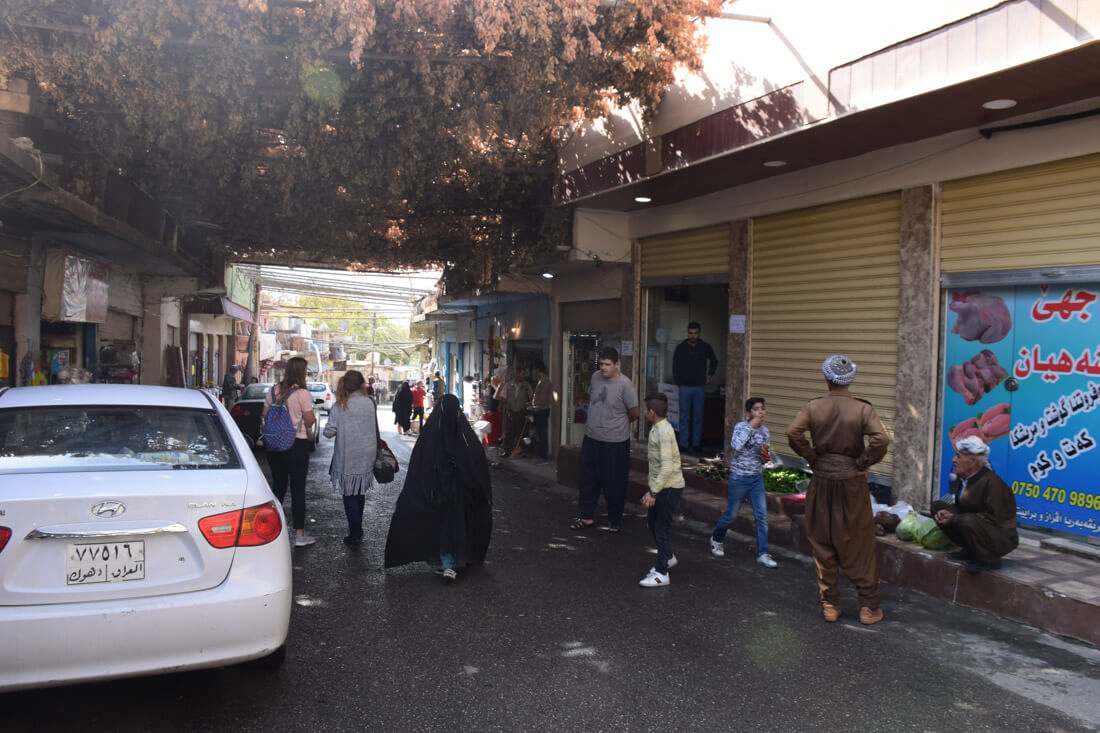 How foreign women should dress in Iraqi Kurdistan
As I have previously mentioned, there is no need to obsess over dress code while in Kurdistan.
In the bigger cities you see women in niqab as well as in crop tops, and more or less everything in between. However, do take into account that the situation always changes a little when you head into smaller towns and villages. If you want to visit holy sites, such as mosques or churches, you are required to cover knees, shoulders and hair.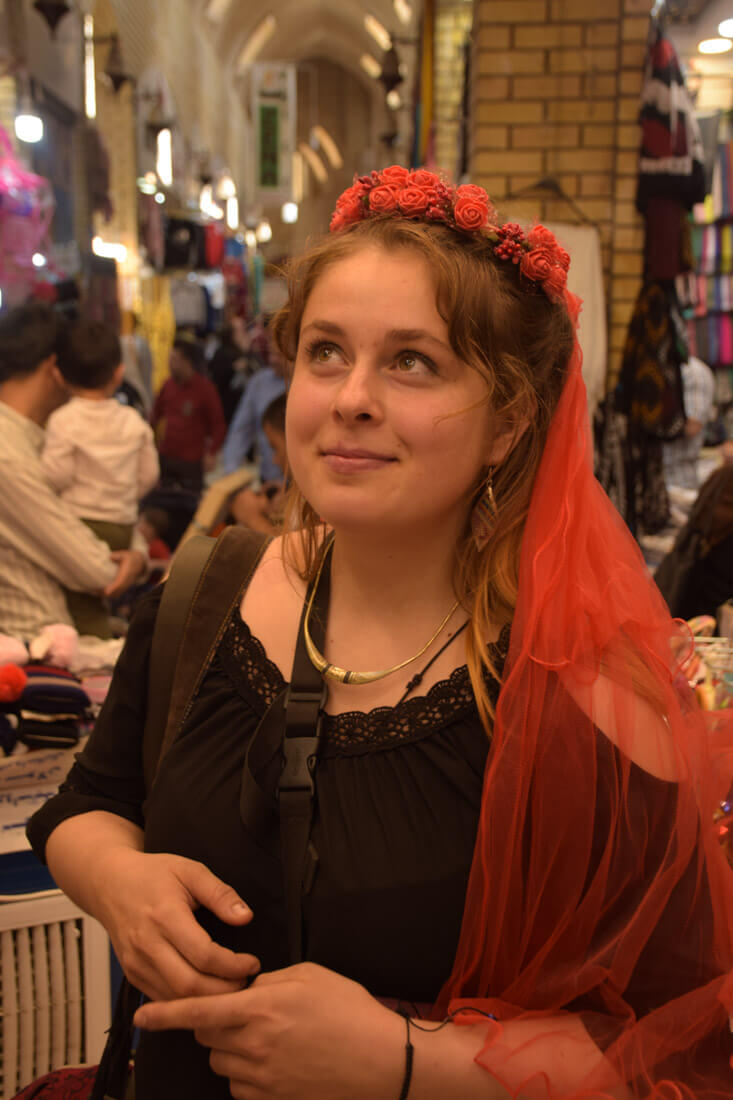 Additionally, there is an enormous ethnic diversity in Kurdistan and every culture has its own little dress codes. Assyrians are Christian and its younger generation is very open-minded (Ankawa, the Assyrian neighborhood of Erbil isn't the main party area for nothing!), while Lalish and Sinjar are mostly populated by Yazidis, who are still a very traditional society, and some modesty both in dress and behavior is recommended.
Take also into account that the Yazidis have just endured one of the most ruthless genocides and are still a recovering nation. While very friendly and hospitable, take into account that you are engaging with a society that is still trying to heal very open wounds.
Conclusion
Remember to get travel insurance for Iraq
IATI Insurance is one of the very few that covers travel in Iraqi Kurdistan (+ COVID-19)
Get 5% discount if purchasing via this link
Ladies, Iraqi Kurdistan is a safe destination for women but, like in any place around the world, apply common sense and follow your female instinct. Still, I firmly believe that, besides being an actual off-beat Muslim destination, traveling as a woman is easier than in other mass tourism destinations.
If you have any more questions about solo female travel in Kurdistan, don't hesitate to contact Andrea at @huntingrarities
After receiving so many emails from really kick-ass female travelers who want to wander around some of the most off the beaten track countries in the world, I decided to open a Solo Female Traveling section on my blog, to help women get to know the reality of traveling solo in these countries. Don't hesitate to contact me if you think you have a nice experience to tell!
More information for solo female travel in Iraqi Kurdistan
More solo female travel guides
More guides to Iraq