With its unique, striking mountains, Kyrgyzstan is slowly becoming a pretty popular trekking destination.
However, the mountains of Kyrgyzstan are, definitely, not the only reason why you should come here.
From a well-developed public transportation system to a wide range of budget accommodation, hospitable people and just an amazing, undiscovered culture, Kyrgyzstan is an easy place to travel and the perfect spot for travelers seeking a unique and off-beat destination
After spending two months exploring this Central Asian country, my conclusion is that Kyrgyzstan is an exciting destination which will, definitely, leave you fascinated.
Honestly, I can't recommend Kyrgyzstan enough.
Read our travel guide to Kyrgyzstan
need to know for traveling in Kyrgyzstan
Quick facts
Capital: Bishkek
Population: 6 million (110th)
Language: Kyrgyz (a Turkic language) but Russian is widely spoken.
Area: 199,951km² (85th largest country)
Visa
Most nationalities can get a 2-month free visa on arrival.
Other nationalities can apply for an e-visa.
Getting in
Bishkek has an international airport with daily connections to Istanbul.
Borders with Uzbekistan and Kazakhstan are always open. The Tajikistan border closes every now and then due to political tensions. The China border is open as long as you have a visa.
Travel Insurance
Kyrgyzstan is an adventurous destination with pretty high mountains, so do get travel insurance with adventure plans.
I recommend IATI Insurance
5% discount if booking here:
Best time to visit
June to September is the best season for trekking.
Spring and autumn can get chilly but you can visit lower-altitude mountains.
In winter, the country is covered in snow.
Money
The official currency is the Kyrgyz Som
1 USD = 85 KGS
You may find ATMs in Bishkek but outside of the capital, Kyrgyzstan is mostly a cash economy
Budget: starting at $25 a day for budget backpackers and hitchhikers; $60 a day if you stay in a private room and do trekking tours.
---
Nomads of Kyrgyzstan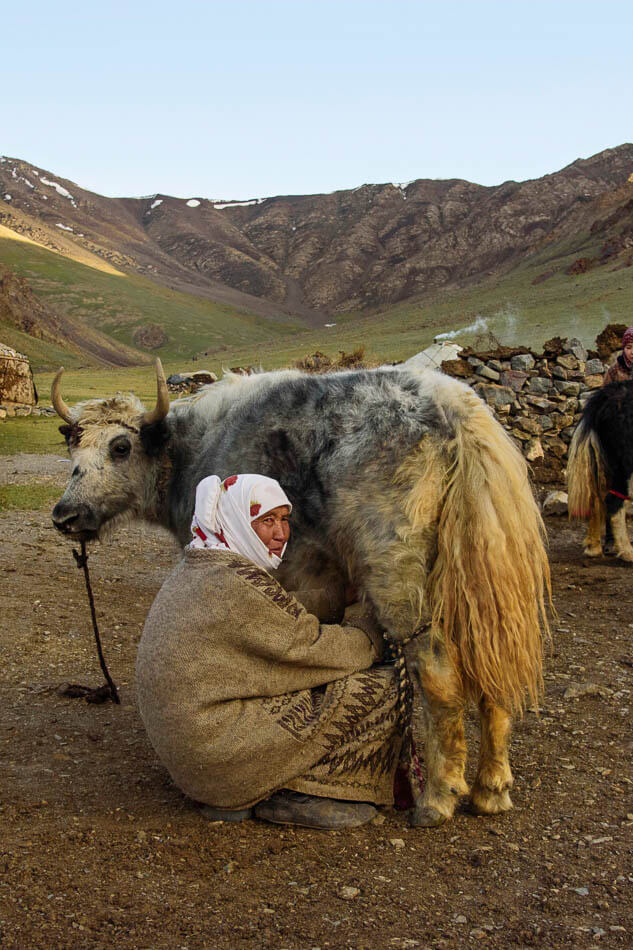 Traditionally, the Kyrgyz have been a nomadic people moving continuously throughout the mountains and valleys of the region with their cattle.
Today, a large proportion of the population still live a nomadic, traditional life, not very different from their ancestors.
From June to September, you will find hundreds of nomad camps everywhere, either next to the road or in the remotest mountains, where they settle so their horses, cows and sheep can graze freely.
---
Top experiences in Kyrgyzstan
Trekking in the Tien Shan range
The main reason you come to Kyrgyzstan. Read: Trekking in Karakol
Staying with real nomads in a yurt camp
Kyrgyzstan is home to the most accessible nomadic culture ever.
Trekking on the back of a horse
This is the land of horses and going over a mountain pass on a horse is a must. Read: Horse trekking in Tash Rabat
Going the Alay Valley and Lenin Peak base camp
My favorite natural site in the country.
Check our 4-week Kyrgyzstan itinerary
tips for Kyrgyzstan
Accommodation
Kyrgyzstan has the peculiarity that, no matter where you go, locals offer their houses to foreigners for home stays. Whether it is a remote village or a touristic destination, as soon as you arrive, women will approach you, asking if you want to stay at their house.
Trekking
This is the ultimate destination for trekking in Asia: it's affordable, accessible, you may find nomads and the mountains are gorgeous.
Kyrgyzstan offers pretty serious trekking.
Read my beginner's guide.
Transportation
Most Kyrgyzstan is easily accessible by public transportation. Locals travel in both marshrutkas (mini-buses) and shared taxis.
---
ALL MY ARTICLES ON KYRGYZSTAN