Is Mali safe in 2023?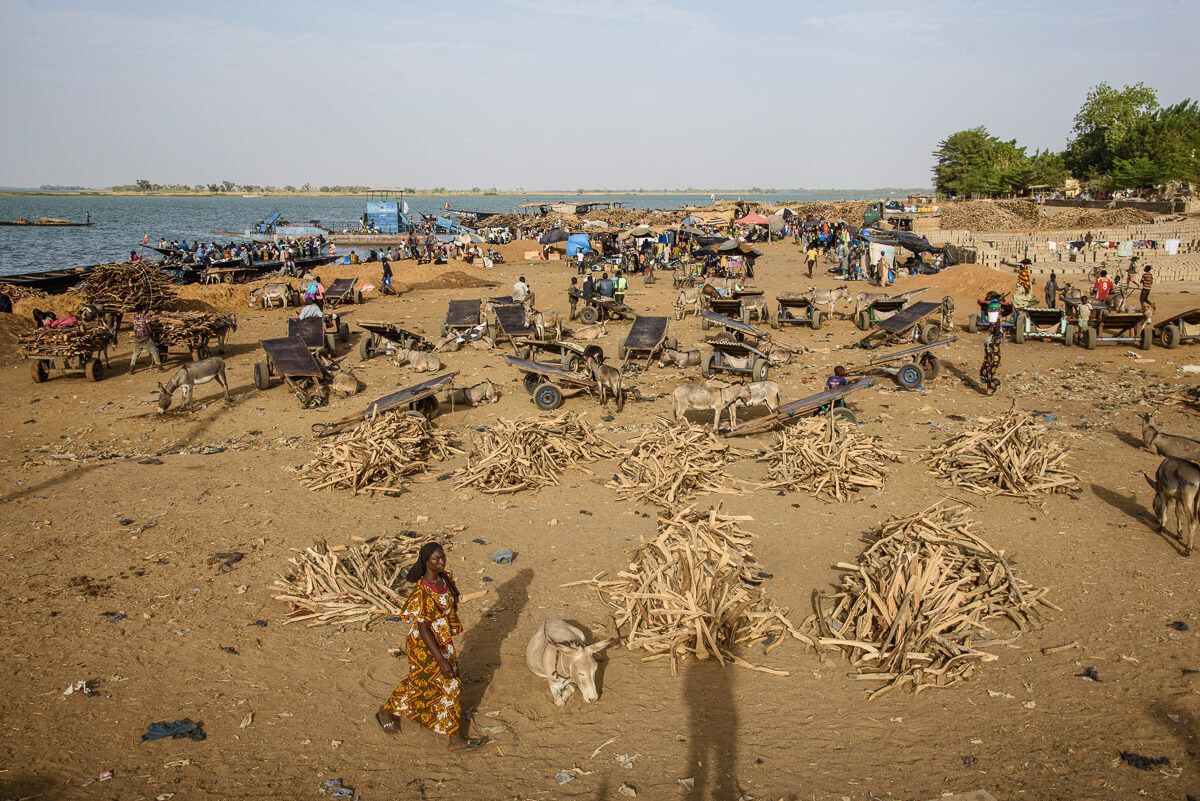 ---
Wanna travel to Mali with Against the Compass?
Join a group of like-minded travelers in our next scheduled tour in Mali:
Oct 27th to Nov 3rd, 2023
---
This is a comprehensive analysis of travel safety in Mali, which I think is strictly necessary.
Unlike some destinations in the Middle East where most travel warnings and advice tend to be biased or even unrealistic, I personally believe that Mali is one place where you need to be careful and well-informed about the latest security updates.
There have been reports about tourists being kidnapped, and random road attacks are common, even in popular – and not that remote – areas like the Dogon Country.
The thing is that in Mali, there is an ongoing conflict but, at the same time, there is very little information about it, which means that some extra care is recommended.
Nevertheless, with a bit of planning, Mali can safe to visit, and this guide will tell you everything you need to know about it.
For all the practical information, don't forget to check my Mali travel guide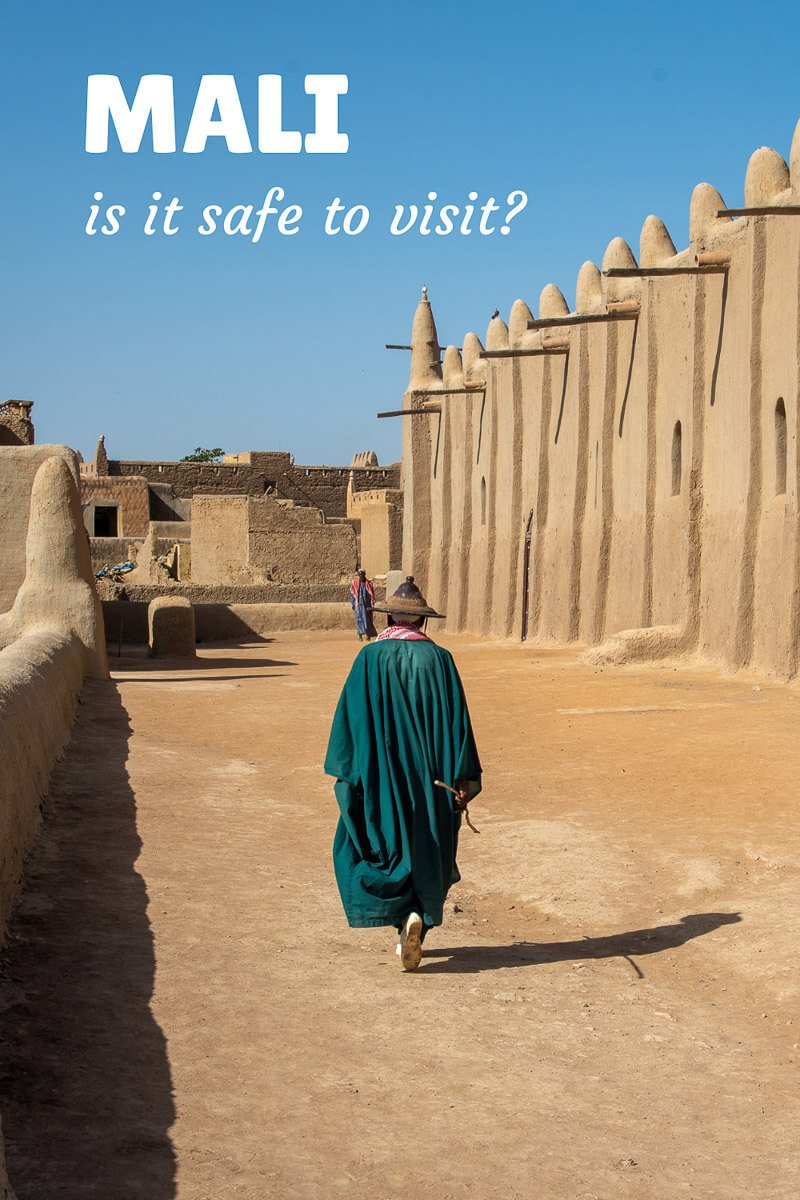 Is it safe to travel to Mali? The situation today
Mali is currently immersed in a bloody conflict which, according to experts, doesn't seem to be ending any time soon.
Like many countries in Africa, Mali is ethnically diverse, so it all started when the Tuaregs living in the forgotten north, a region with some of the poorest infrastructure in the country, began a rebellion in 2012, while claiming greater autonomy.
Apparently, the way in which the central Government handled the Tuareg uprising was disastrous and that was the last straw, after which the Malian Army decided to carry out a coup d'état against the former President, a chaotic moment which the Tuaregs took advantage of by occupying the main cities in the north, including Gao, Timbuktu and Kidal.
Consequently, the Tuaregs proclaimed north Mali independent from south Mali, naming it Azawad, hence becoming an unrecognized country.
The Tuaregs, however, were not alone in this fight but were backed by a bunch of Islamic groups linked to Al Qaeda Maghreb but, once the brand-new State of Azawad was created, they never managed to agree on the way forward, so they started fighting each other until the Tuaregs lost most of their territory to the Islamic rebels, who began to impose their Sharia law across the north.
Since then, both Malian and foreign armies have been fighting those Islamic groups. Over the years, the French Army managed to push them to the far north, and allegedly, the French will withdraw their troops soon.
However, from a traveling perspective, the problem isn't the actual fighting but most issues and attacks which may affect tourists occur randomly and are caused by Malians who are not directly linked to the conflict but they may kidnap a foreigner because they believe they can make money out of it.
But don't panic. As long as you avoid certain regions and travel with caution, Mali is safe to travel.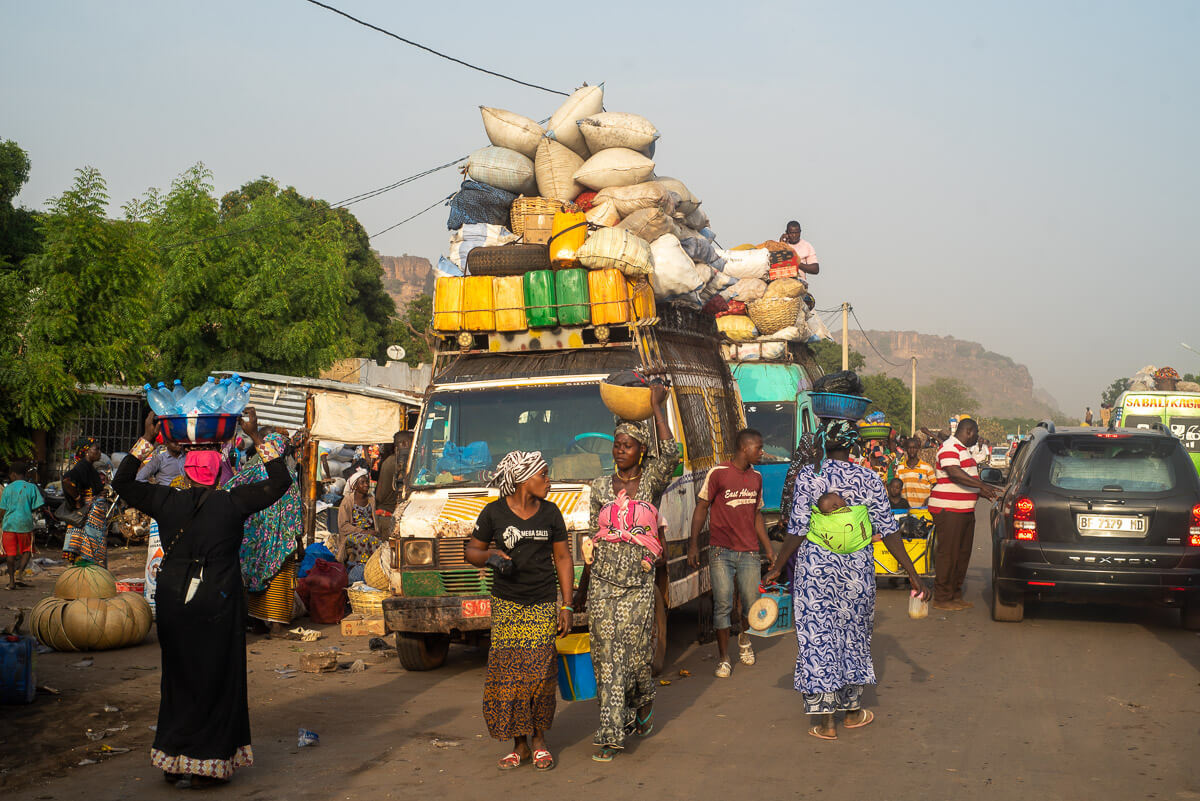 How safe is Mali to visit? Mali
vs

the Middle East

Don't forget to read my SAFE travel itinerary for Mali

From an experience standpoint, in Mali I had mixed feelings.

On the one hand, when I traveled to supposedly safe areas, things were fine as usual: people were friendly, appeared to carry on with their lives, and there were no signs of crime. Everything seemed so peaceful.

However, after all my years of travels, in which I have visited countries like Syria or Somalia, Mali was the only place where I have been slightly worried about my own safety.

Really, first time ever was the day I traveled from Ségou to Djenné by road, and the reason was that, safety and security-wise, traveling in Mali is different from traveling in the Middle East. Here's why:

To put you in context, Djenné is a town located in Central Mali, in an area where all governments advise against all travel, since Islamic-controlled villages are located less than 20km away and the road connecting Ségou with Djenné has suffered from sporadic attacks. Nevertheless, nothing has ever happened within Djenné itself.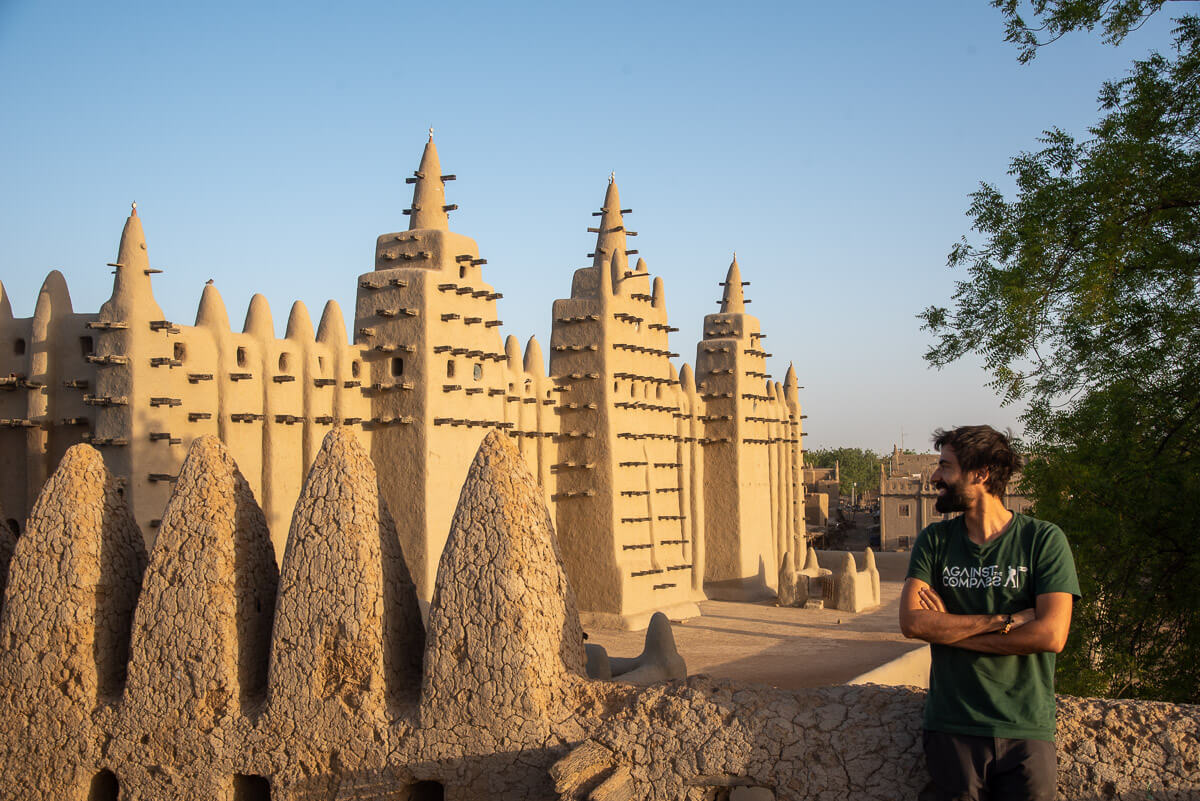 In Mali, you get so much contradictory information
One of the reasons I felt skeptical about going to Djenné was that I was constantly getting different types of information:
Locals from Bamako said it was dangerous for foreigners
Foreigners living in Bamako said I was completely insane
Locals from Ségou, a city relatively close to Djenné, claimed it was super safe to go
Experienced travelers acknowledged that there was some risk involved but with a bit of care and a local guide, I should be fine.
And even within these groups, they all had different versions of the story.
I trust experienced travelers the most because, first, they have actually been there, and second, the smart ones will always do a fair amount of research prior to their trip.
Still, since everybody had a different opinion, I could be nothing but concerned and that's OK.
In Mali, the level of security is poor
In Pakistan, Syria, Iraqi Kurdistan or even in relatively peaceful countries like Lebanon, you find checkpoints absolutely everywhere and, as a traveler, that's something you should truly appreciate because the police/army is usually there for the country's safety.
On the contrary, despite the ongoing conflict and being one of the most problematic countries in the world, the security in Mali sucks, like really sucks. In fact, this is something the French Army has been complaining about since it all started.
For example, on the 300km road from Ségou to Djenné, some serious attacks have been reported but you barely find any checkpoints. In fact, in the Mopti-Djenné intersection, which is where those accidents happened, upon our arrival we just drove through the checkpoint because the soldiers were sleeping, literally.
This means that Jihadists can roam around freely and makes you seriously question Mali's travel safety.
There is no on-the-ground intelligence and nobody knows what is actually going on
Another peculiarity about Mali compared to the Middle East is that you can never get any accurate information about what is actually happening.
For example, when I asked about who perpetrated the attacks on the road to Djenné, some Malians said they were just bandits, while others affirmed they were Jihadists. Foreigners would just say that nobody knows, like most incidents taking place in Mali.
A similar thing happened when I asked about why Djenné itself has always kept safe, despite the poor level of security.
Because God is protecting us – some Malians said
Because Djenné is too holy – other Malians said
I never managed to get a proper answer but, in Bamako, I met a British man who turned out to be a trainer for the Malian police, and he said that the reason why some towns are not being taken might be purely tribal, meaning that some towns and villages are ruled by certain families and tribes who the Jihadists don't want to mess with.
While this may seem like a reasonable motive, I still find the situation to be highly ambiguous, and that's the scary thing about Mali.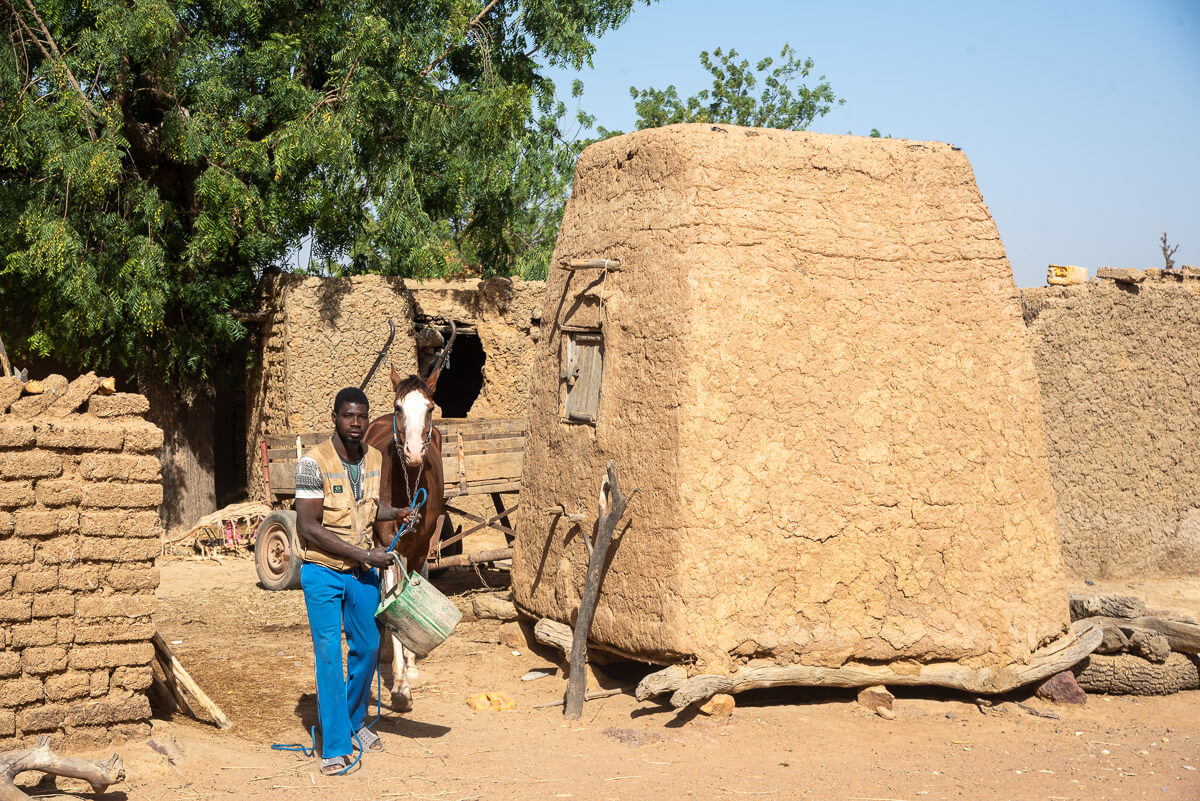 How dangerous is Mali? Safety by region
As I said, safety in Mali largely depends on the region you may be heading to.
South Mali
Technically, everywhere in southern Mali is safe for tourists, which in my eyes, comprises the area south of Bamako.
Is Bamako safe?
Bamako gained a bad reputation internationally after the 2015 attacks, but nothing has happened since then and, besides regular petty crime – but far less than other African cities – Bamako is a safe city to visit.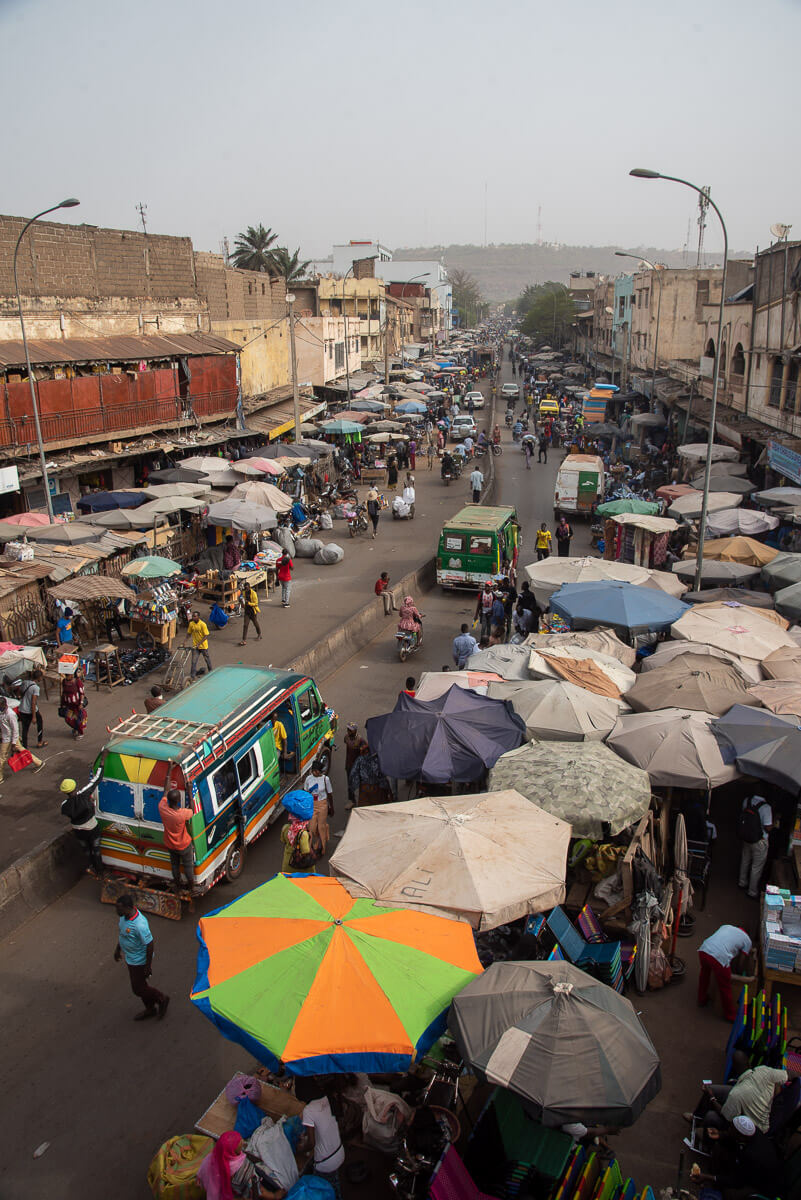 Is Siby safe?
Siby is a peaceful area 50km south of Bamako characterized by unusual rock formations and timeless, unspoiled villages. I think it's one of the safest places to visit in Mali.
More SAFE places to visit in the south of Mali:
Sikasso – A trading town that developed for being right at the intersection between Ivory Coast and Burkina Faso
Manantali – A lake area 300km south of Bamako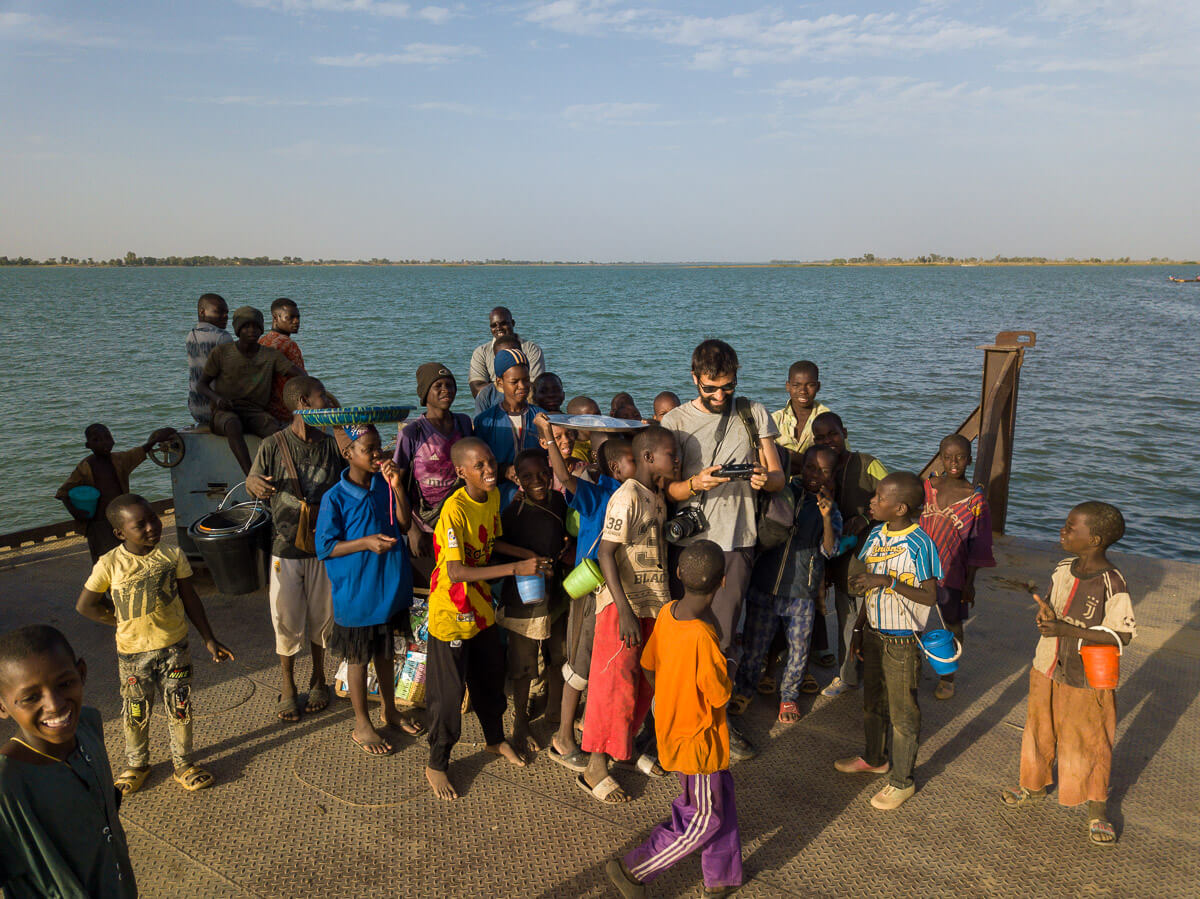 Central Mali
The central part of Mali can be more sketchy and that's where your travel experience counts the most.
Is Ségou safe?
Ségou is a lovely town on the shores of the Niger River and the safest tourist town within Central Mali. It can be done independently without any problem.
Across the Niger River from Ségou
When I was in Ségou, I felt like taking one of the local boats to the other side of the river but the locals warned me it was dangerous to go because Jihadists weren't far from that area. Not even local guides wanted to take me there so, once again, before adventuring yourself into a new area, do ask for the latest security updates.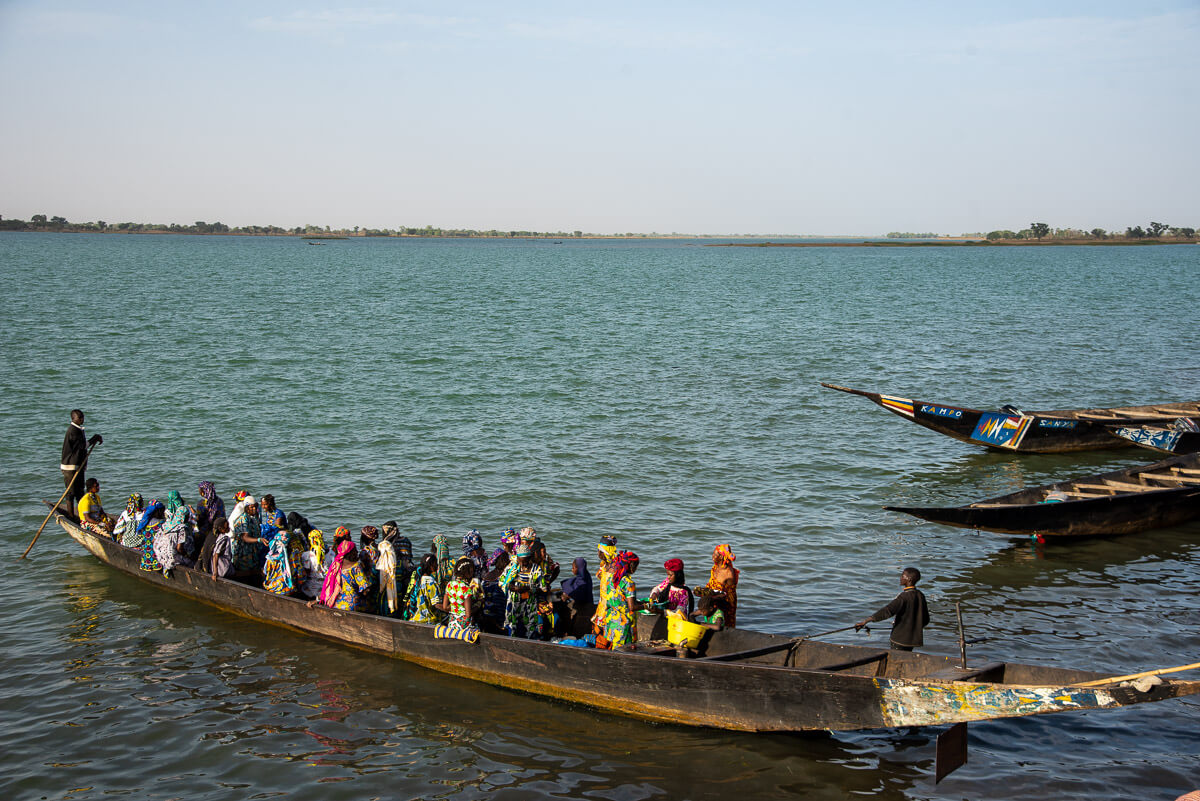 Is Djenné safe?
I already told you about Djenné in the previous section, so you know what it is.
The only thing to add is that don't believe those travelers who say that Djenné is safe just because it feels so. Everywhere feels safe until it's not and Djenné felt suspiciously safe, so travel there with caution and do hire a local guide.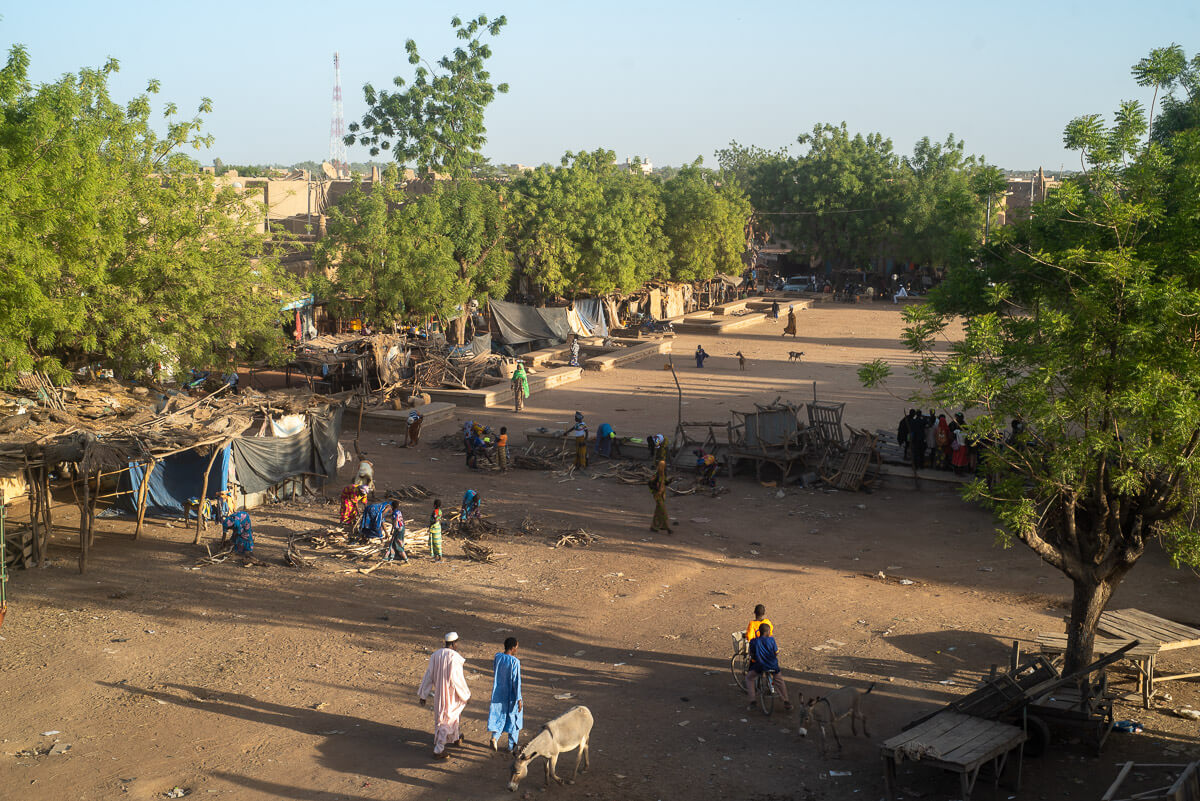 Is Mopti safe?
Apparently, Mopti itself is safe but consider it as safe as Djenné.
Moreover, Mopti is the limit between central and north Mali. Twenty kilometers after Mopti, in a town named Sévare, is where the actual war zone starts and where you are likely to see tanks and UN armored vehicles.
More SAFE places to visit in central Mali:
Dougouba – A lovely village home to an impressive mud mosque
San – We stopped in San on the way back from Djenné to check out its Grand Mosque
By the way, on the road between Mopti and Gao, a tourist was kidnapped but you won't find it in the news, as it usually happens with these type of incidents.
North Mali
Once the most visited region in the country, northern Mali has remained almost inaccessible since 2012.
However, bear in mind that potential dangers in northern Mali aren't bombs and rockets but road assaults and kidnappings.
Is Timbuktu safe?
You would be surprised to know that nowadays, Timbuktu itself is relatively safe but attempting to travel there by road is a guaranteed one-way ticket. Instead, fearless travelers who are willing to take some risk can go to Timbuktu by:
Plane – Usually, on a charter UN flight. Many local fixers/guides can get you a ticket.
Boat – Riskier than by plane, but doable. From Mopti, it takes 3-4 days and you also must arrange it through a local fixer.
Is Dogon Country safe?
Sadly, one of the country's highlights is today a big no-go zone. While my guide took me to Djenné and also wanted to take me to Mopti and Timbuktu by boat, he would not risk taking anyone to Dogon Country, since road attacks are frequent due to internal ethnic conflicts.
Check my Mali travel itinerary to see the places I visited
Further tips to travel safe in Mali
Based on the above comprehensive analysis, here are some additional tips:
When you visit an area where safety can be a concern, don't stay there for long, 1 night max
As strange as it sounds, kidnappings and other random attacks are usually planned so, in a place like Djenné, it's recommended not to stay for long, so potential bad guys won't find out about your arrival.
Ask for the latest security updates in the city closest to your final destination
Not back home, not in Bamako because the information won't be accurate.
For example, if you want to go to Djenné or Dogon Country, Ségou is a good place to ask for the latest information. If I wanted to go to Timbuktu, I would ask in Mopti.
Do hire a local guide when necessary
I have always been skeptical about hiring a local guide but, in countries like Mali, it can prove very useful, plus traveling with a local guide is not traveling on a tour but more like with a local friend who speaks the language. Anyways, in places like Djenné, I believe a guide is necessary because:
You will be noticed less
He is well connected and gets the latest security updates
Remember to get Travel Insurance for Mali
I strongly recommend IATI Insurance: COVID-19 + full Mali coverage + 5% discount
BUY IT HERE TO GET YOUR SPECIAL DISCOUNT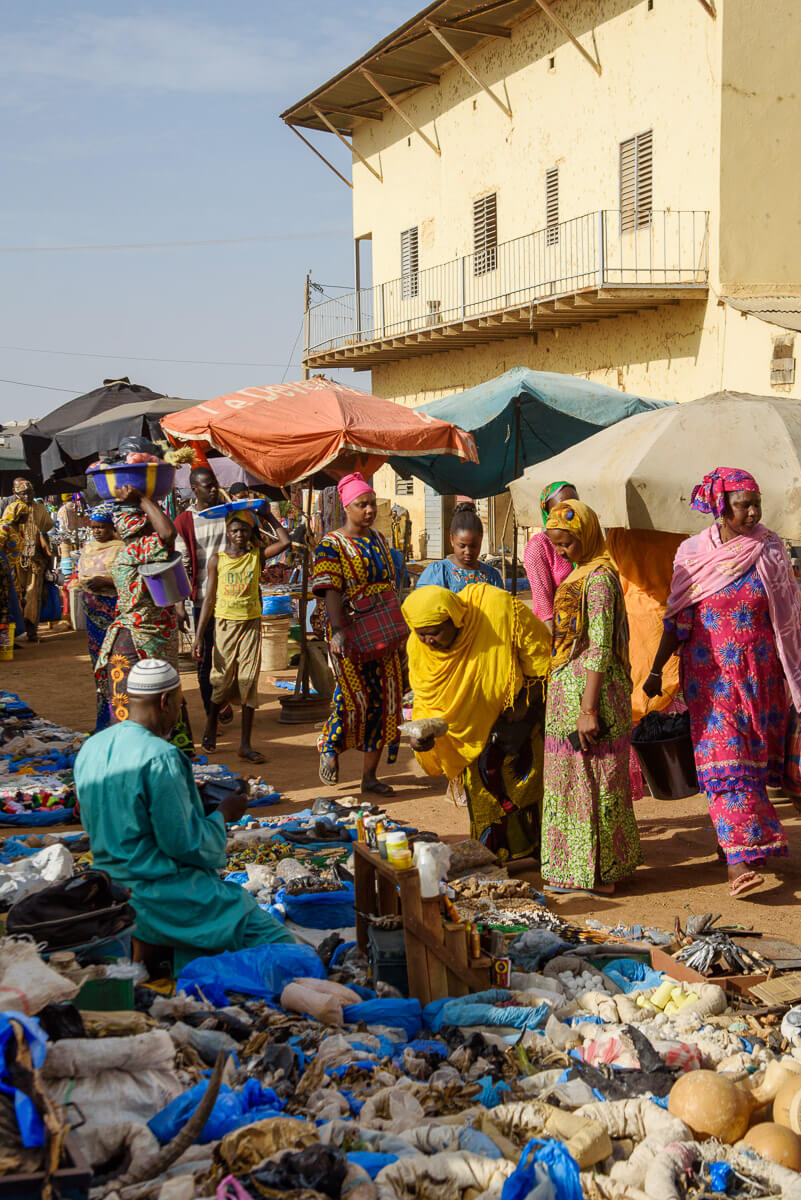 Conclusion: Is safe to travel to Mali, or not?
Mali can be safe, depends on where you travel to but the most important thing to keep in mind is that the situation is so unstable and volatile, and a place which today is safe may not be on the day after so always do some proper research before taking such a trip.
More information for traveling safely in Mali
All our guides to Mali
Check more safety guides