How to visit Astana in 3 days
Astana, today Nur-Sultan, was described as the weirdest capital in the world by CNN and I agree. Enter the city into Google Maps and you will see how far away it is from anywhere.
Kazakhstan is the same size as Western Europe but it is mostly unpopulated and nearly completely covered in flat, arid steppe.
Traveling to Astana by plane is surreal. There is nothing as far as you can see until you literally find yourself over the capital. There is nothing – not a mountain, not a tree, no other city or suburbs – nothing.
It is difficult to believe today that when the capital was moved from Almaty in 1997 this was just a dusty little village.
Since then it has gone through a building boom turning it into a futuristic city full of modern, quirky architecture all funded by the country's vast oil and energy resources.
18.3 million people live in Kazakhstan and although the general standard of living is reasonable I question whether the money could have been better spent.
This article contains everything you need to know to visit Nur-Sultan, former Astana.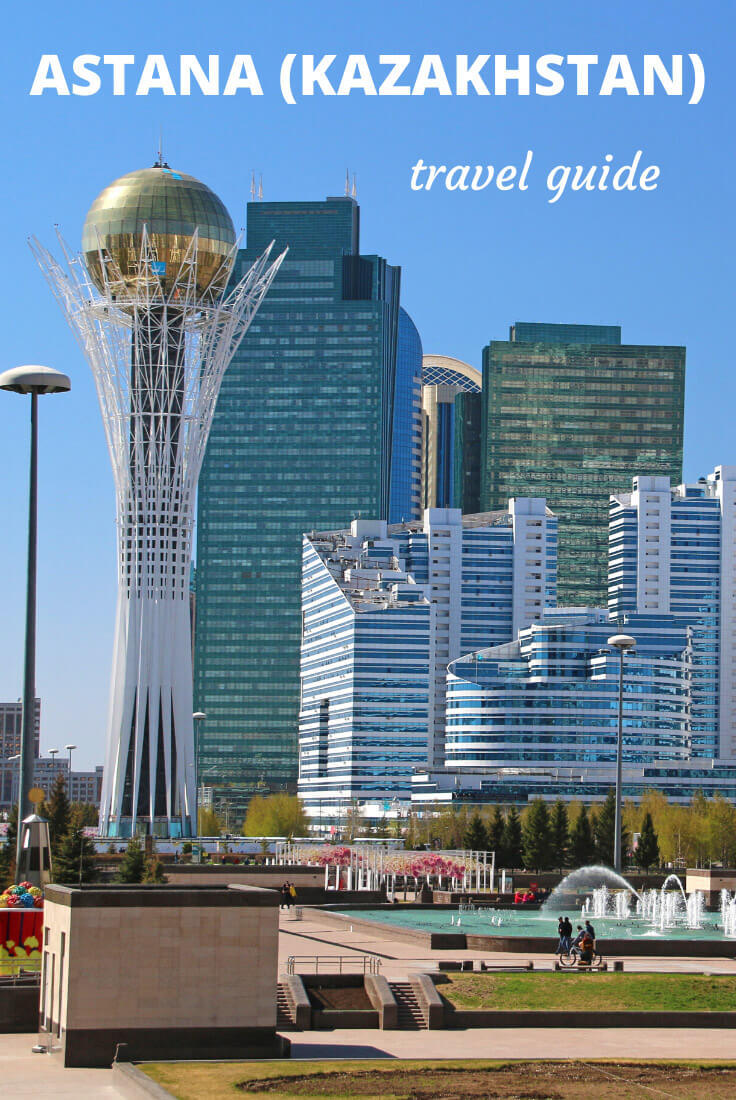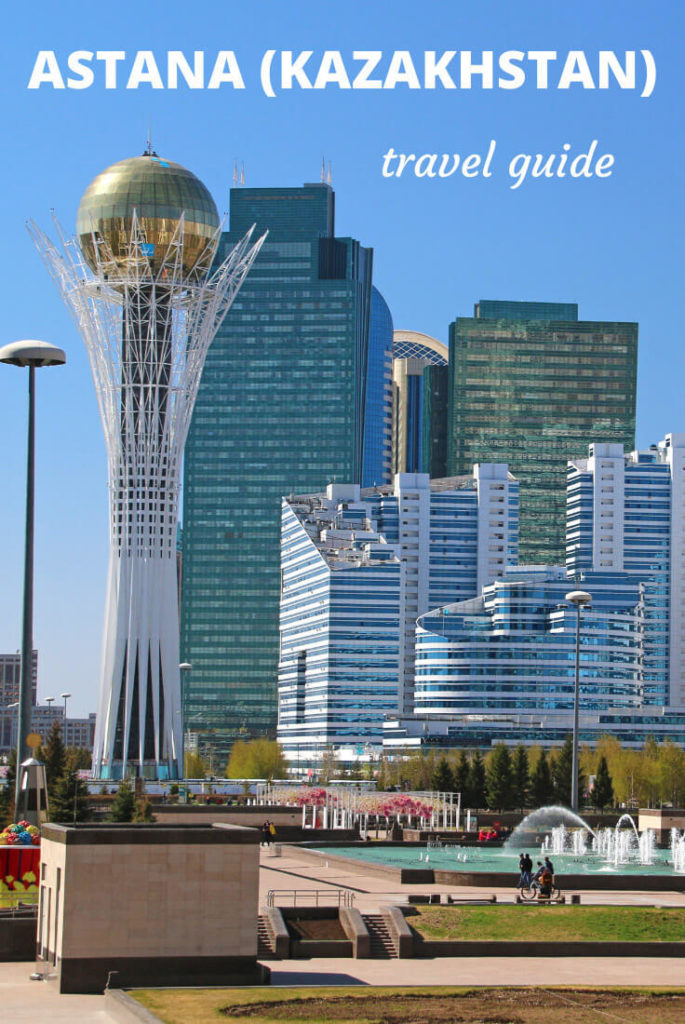 In this Astana travel guide you will find:
Is Astana or Nur Sultan?
Best time to visit
Transportation
Where to stay
Where to eat
Things to do is 3 days
Remember to get travel insurance for Astana
IATI Insurance offers: COVID-19 + long-term plans, so it's perfect for big over landing trips around Kazakhstan.
Get your 5% discount if purchasing via this link
For more information on Kazakhstan don't forget to read my Kazakhstan travel tips
Is it Astana or Nur-Sultan?
Shortly after the capital was moved from Almaty in 1997 it was named Astana, which means 'capital' in Kazakh.
The official reason for the relocation was the danger posed by earthquakes in the Almaty region.
The real motive is believed to be more to do with geopolitics and the relationship with Kazakhstan's two largest trading partners – Russia and China.
For years there was speculation over whether Astana would be renamed after the leader who created it, Nursultan Nazarbayev. He was the president for nearly 30 years, starting his term when the country was still part of the Soviet Union.
Presidents are, according to the country's constitution, limited to two 5-year terms. However, these rules were changed since the president was so popular – he regularly won 98% of the votes in the general elections.
Nursultan surprised many critics of his regime when he stood down in March 2019. He was expected to be 'president for life', as seen in several other countries in the region.
However, at 78-years old and retaining powers as chairman of the Security Council and head of the ruling party, I am not sure how far he actually stepped down in reality.
Kassym-Jomart Tokayev was named as his successor.
As a tribute to his predecessor, he renamed the capital Nur-Sultan.
Officially the name was changed in March 2019 but Astana is still widely used and is the name best known abroad, the named most commonly used in this travel blog.
Central Asia is a complicated region and, in order to fully understand the country, it is recommended to read 1 or 2 books. Check:
The 28 best books on Central Asia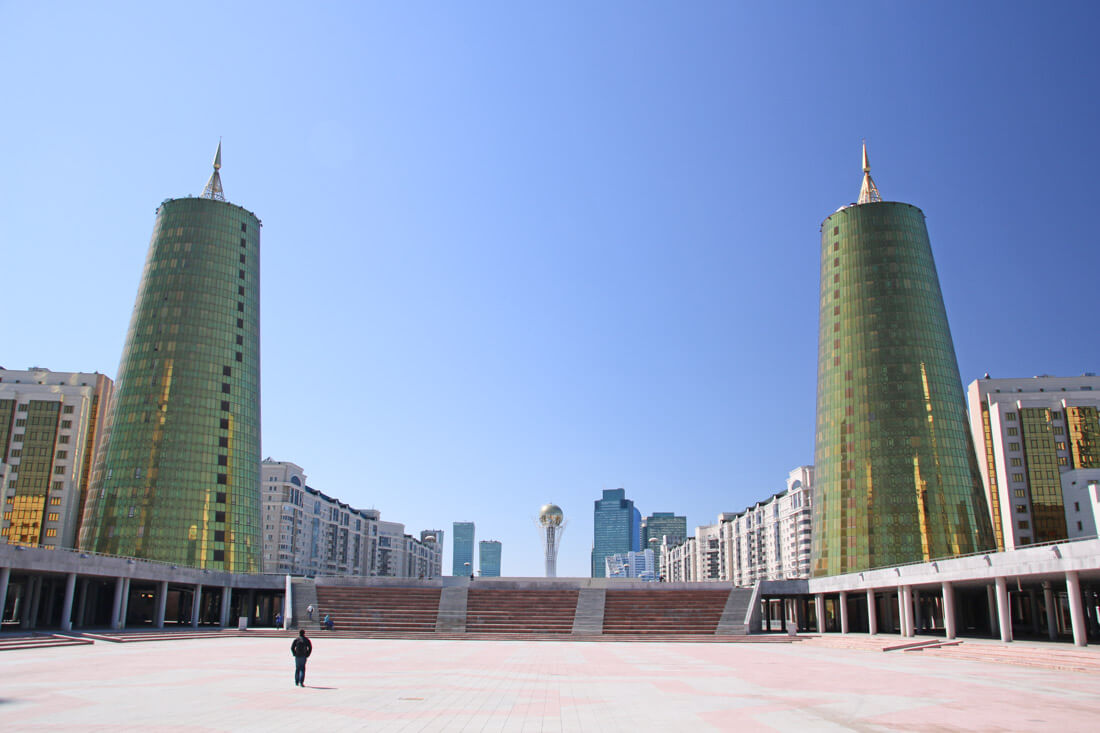 Best time to visit Nur-Sultan
Having a steppe climate the variances between cold winter nights and sizzling summer days can be 80 degrees Celsius.
When we visited I was surprised to learn that Nur-Sultan is the second coldest capital in the world after Ulaanbaatar (Mongolia).
Unless you are prepared for -20 degrees Celsius, winter is not the best time to visit.
The other extreme are the summer months of July and August when temperatures can reach up to 40 degrees Celsius.
These large variances make the shoulder season of May/June and September/ October the best times to visit.
Having said that, we visited in early May and I was surprised at how cold it was.
Coming from the warmer climates of Almaty and Uzbekistan this was a bit of a shock to the system. We ended up wearing most of the clothes we brought with us during the evenings when the temperature drops quite considerably.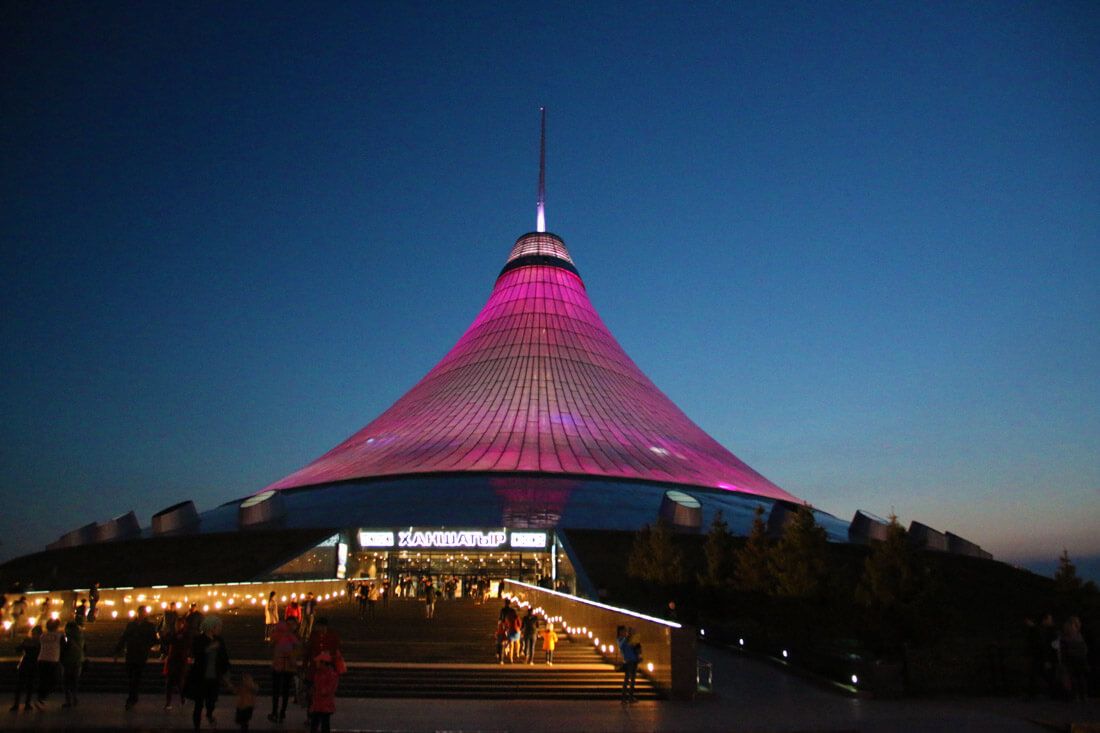 Need to know about transportation
How to travel to Astana
There are several ways, depending on where you travel from.
How to travel to Astana from Almaty
Getting to Astana from Almaty by plane
I highly recommend traveling to Nur-Sultan by plane from Almaty. If you know your travel dates and book in advance, I found that it was cheaper to take the 1.5-2 hours flight than the 14-hour speed train. And it was definitely more comfortable (if the reports about the speed train being so bumpy making it impossible to sleep are true).

Getting to Astana from Almaty by train
There are two types of trains – the speed train and the slow train.
The speed train takes 14 hours overnight in both directions and most days there are 2 slow trains leaving mid-morning and taking roughly 24 hours.
For everything you need to know about taking the train in Kazakhstan read this post.
Tickets can be booked in person or online. For the speed train tickets cost $50-65 and for the slow train $20-30.
The Kazakhstan railways website is not available in English so unless you can read Cyrillic I recommend using Real Russia.
This site has a good search function in English to find train times so is useful even if buying your own ticket at the station.
In the summer and during holidays train tickets should be bought in advance.
For the speed train early booking discounts are up to 40% so it pays to plan ahead.
How to travel to Astana from Russia (Moscow)
This is not a cheap route with tickets costing around $300 per person. Trains depart every 2nd day on even-numbered dates and take 3-4 days to cover the 3,105km between the two cities.
Astana travel tip – This train only crosses the border one time. Other routes can cross it several times and there is some uncertainty about whether this means you need a double-entry visa. Make sure to check the visa needed for the train route you are taking.
How to travel from (China) Urumqi to Astana by train
Leaving every Saturday afternoon from Astana railway station the train arrives Monday morning in Urumqi. The return departs late on Monday getting into Nur-Sultan on Wednesday.
The train can only be booked through travel agents and costs upwards from $350 per person in a compartment with 4 beds. The journey takes nearly 40 hours with 8 of these spent at the border changing the wheels on the train carriage since the tracks in the two countries have different gauges.
How to move around Nur-Sultan
The buildings are enormous and distances deceptively far. Luckily there is a good bus system with routes marked at each stop making it easy to find which bus you need.
If in doubt you can find an interactive English route map here.
Buses run from 6-7am to 10-11pm and tickets costs 90T for shorter routes within the city and 150T for express routes. The most useful routes for sightseeing are:
10 – runs every 15 minutes from the bus station to the airport taking one hour via Zhenis, Moldagulova, Beibitshilik, Seufullin, Respublika, Konaev and Kabanbay Batyr
21 – Astana-1 to Bayterek Tower, Ak Orda, the pyramid and National Museum, via Zhengis, Sarayka, Qabanbay Batyr, Qonayev and Mangilik
32 – Astana Nurly Zhol to the old city via the pyramid, Ak Orda, Nurzhol bulvar, Turan dangyly and Respublika dangyly
40 – Astana-1 to the pyramid and Khan Shatyr via Seyfullin and Kenesary in old Nur-Sultan, and Sarayshyk, Mangilik and Dostyk in modern Nur-Sultan
505 Express bus – Express bus from Astana Nurly Zhol to Khan Shatyr, via the pyramid
How to get to and from the airport
By taxi
Uber operates here and is a good option if the Wi-Fi on your phone can be used without high network charges.
Taxis are meant to cost 2,000-3,000T but we found that they wanted more. They will not use the meter so make sure you agree on a price before getting in. As with most countries in this region, Russian is widely spoken but English less so. You will probably have more luck negotiating a better price if you speak Russian.
By bus
Taking the bus is very easy. The bus stop is a few hundred metres to the left after exiting the terminal. The ticket price is either 90T or 150T (the higher price is for the express bus). Three bus routes pass through the airport leaving roughly every 15 minutes:
Bus #10 runs between the airport and the train station stopping at Khan Shatyr and down Qonayev Street. Travelling through the city centre this is likely to be the best option if you want to get the bus.
Express bus #100 runs between the airport and the train station
Express bus #500 runs between the airport and Astana Nurly Zhol in the very East of the city
Where to stay in Nur-Sultan
Budget – The Place Astana Hostel – Most of the budget options are outside the modern city centre. I always like to be walking distance from the sights and restaurants and the hostel with the best location and good reviews is The Place Astana Hostel.
Mid-Range – VIP House Hotel – Nur-Sultan is not a cheap city and midrange options are more expensive than in many other capitals. Close to the Singing Fountains and the Bayterek Tower is VIP House Hotel which comes with private bathrooms and good views.
Top-end – Rixos Garden Inn – Located close to Nurzhol Bulvar at the Khan Shatyr end. Rooms are of a standard that you would expect from any Western high-end chain.
Where to eat in Nur-Sultan
Looking at Google Maps plenty of restaurants are shown along Nurzhol Bulvar.
However, we found it difficult to find somewhere to stop for lunch. Some restaurants are only open in the evening and others only had a sign in Russian outside and dark windows making it difficult to know whether they were office buildings or restaurants.
Khan Shatyr has a food court with all the usual fast-food brands and some local restaurants but if you fancy something a bit different, I recommend going to Turan Avenue.
Like everywhere in this city, the distance is long between each restaurant but there are several cuisines available such as Korean, Uzbek, Japanese, Georgian and Italian. The designs are the most interesting part.
The Uzbek restaurant reminded me of the city walls in Khiva with blue-tiled domes. The Georgian eatery is built with stone defence towers and overhanging balconies like you see in Baku. My favourite, the Mill, is a Ukrainian restaurant that looks like a windmill with live chickens in the garden. Inside the interior is decorated like a country house with fake flowers.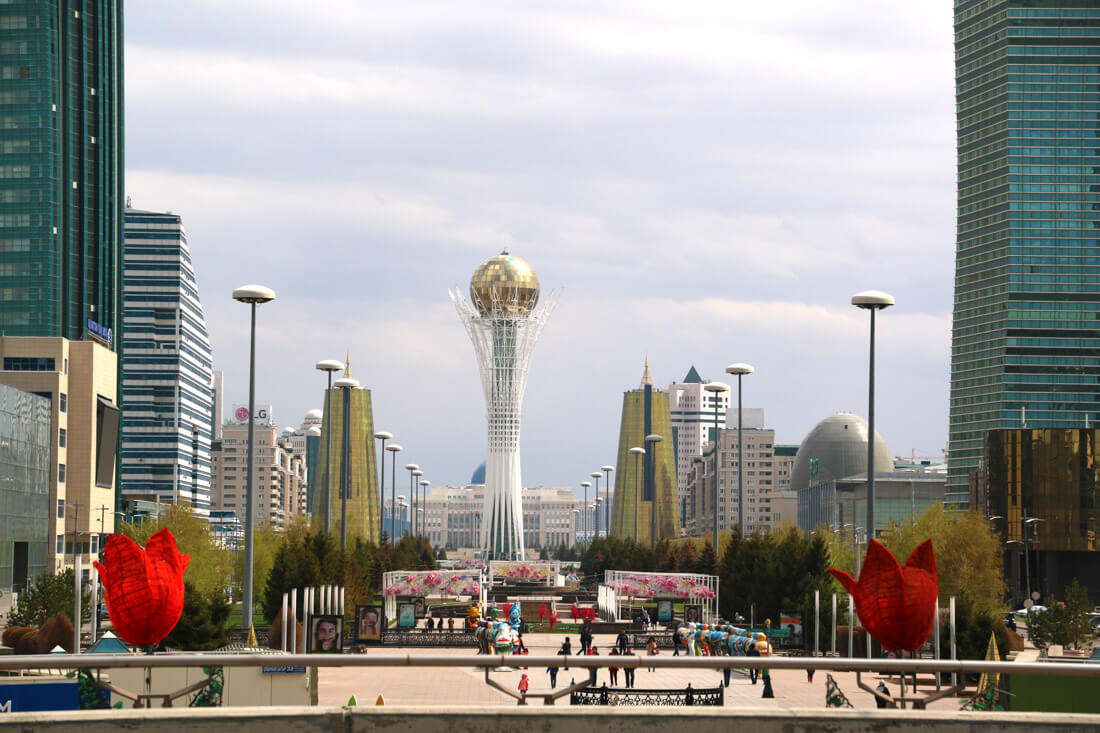 Things to do in Astana: 3-day itinerary
Remember to get travel insurance for Astana
IATI Insurance offers: COVID-19 + long-term plans, so it's perfect for big over landing trips around Kazakhstan.
Get your 5% discount if purchasing via this link
I love cities with 'unusual' (that is probably a more polite description than 'wacky') architecture.
There are plenty of unique things to do in Astana that did not disappoint me but my husband was less convinced.
Although the city has a good bus service make sure you wear comfortable shoes since you will be doing a lot of walking whilst visiting the capital. Distances are long. The city was clearly designed with drivers rather than walking sightseers in mind.
This Kazakhstan itinerary suggests spending 3 days in the capital. If time is limited, all the buildings detailed below can be seen in two days.
Places to visit in Astana on day 1 – Left of the Ishim River
Most of the modern buildings to visit in Astana are located on this side of the river and you can easily spend a day walking up and down Nurzhol Bulvar. At night this area is lit up and in the Summer months, there is a musical water show every day at 9pm.
Khan Shatyr
Shopping is not normally part of my sightseeing plans but this is not your average shopping centre. In fact, this is one of the best places to visit in Nur-Sultan.
Standing at one end of Nurzhol Bulvar this translucent tent is the world's largest marquee, and one of the most emblematic places to visit in Astana. But when you enter it feels smaller than the 10 football pitches that apparently can fit inside.
Inside it has a park, monorail, boating river, mini-golf and an indoor beach complete with palm trees and sand imported from the Maldives. To ensure that beachgoers have a comfortable temperature (even during freezing winter days) a chemical lining on the building ensures that it is a constant 35 degrees inside.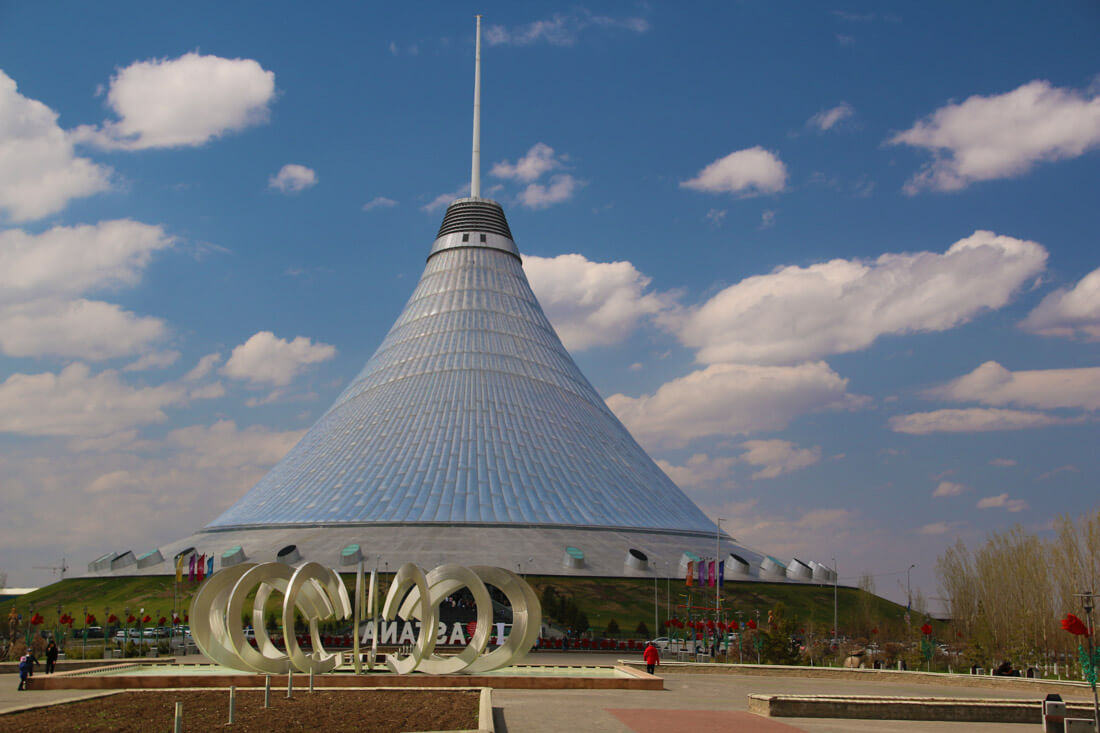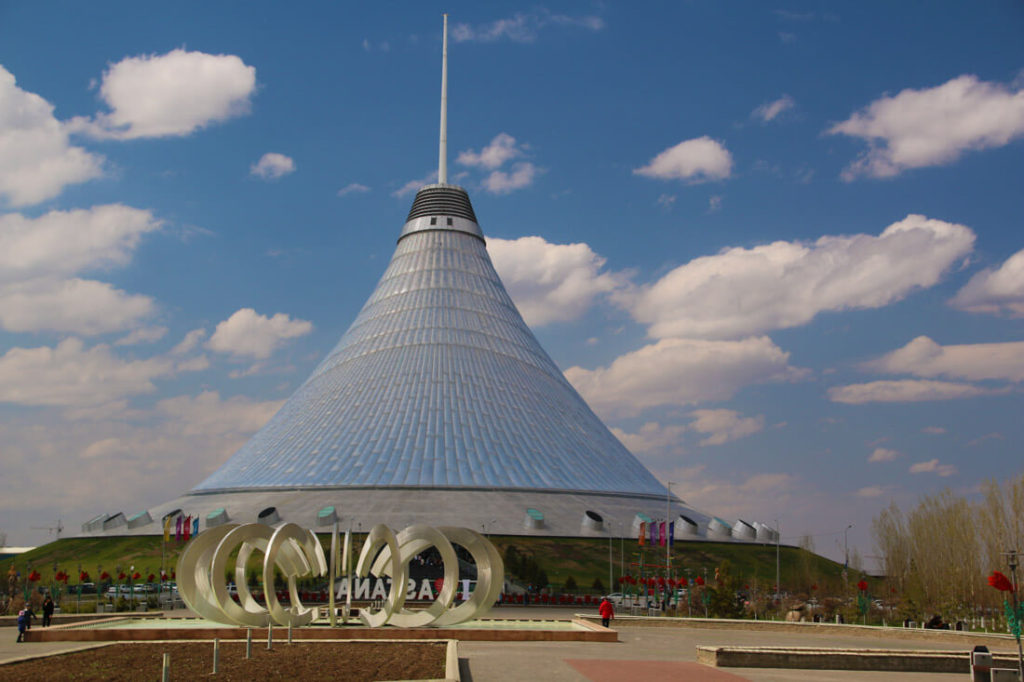 Bayterek Tower
The Bayterek Tower is probably the best-known building in Nur-Sultan and in my view the one you cannot leave without seeing. That will not be a problem since at 105m tall and with a prominent position in the middle of the Nurzhol Bulvar it is impossible to miss.
The observation deck is 97 metres high corresponding to the year Nur-Sultan became the capital. It was closed for an unknown reason when we visited and I was disappointed not to be able to put my hand in the gilded handprint of Nursultan and make a wish.
Although we did not make it to the top I would highly recommend going for the 360-degree views over the town. Entrance costs 700T.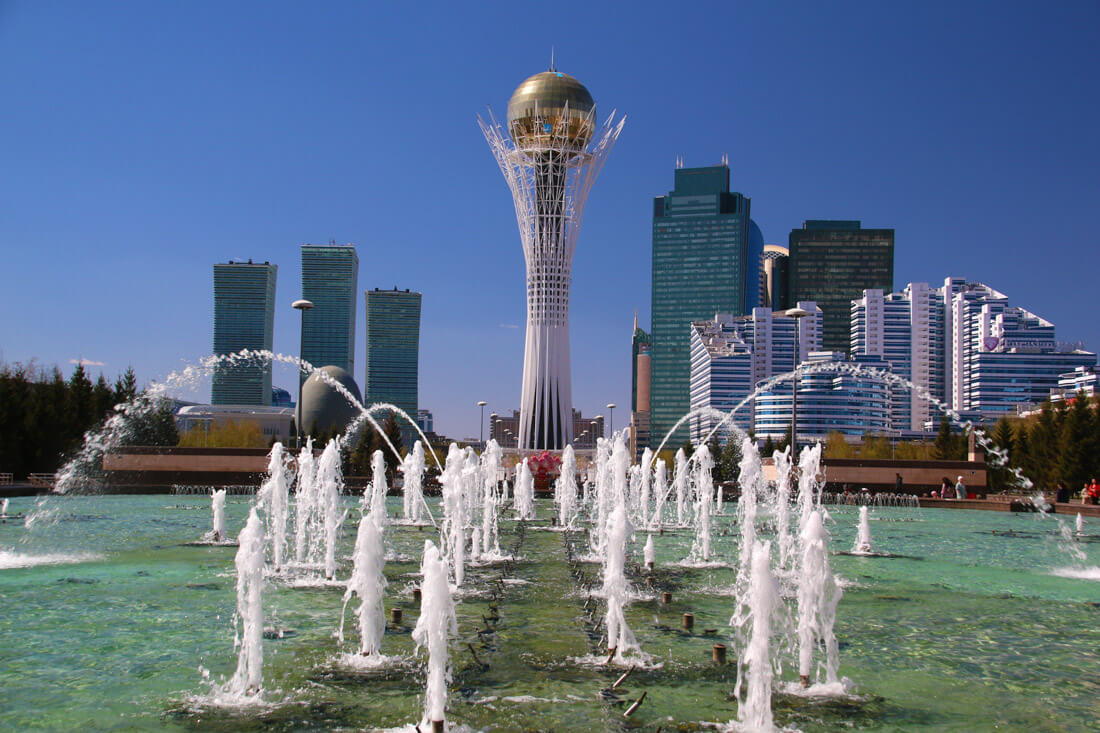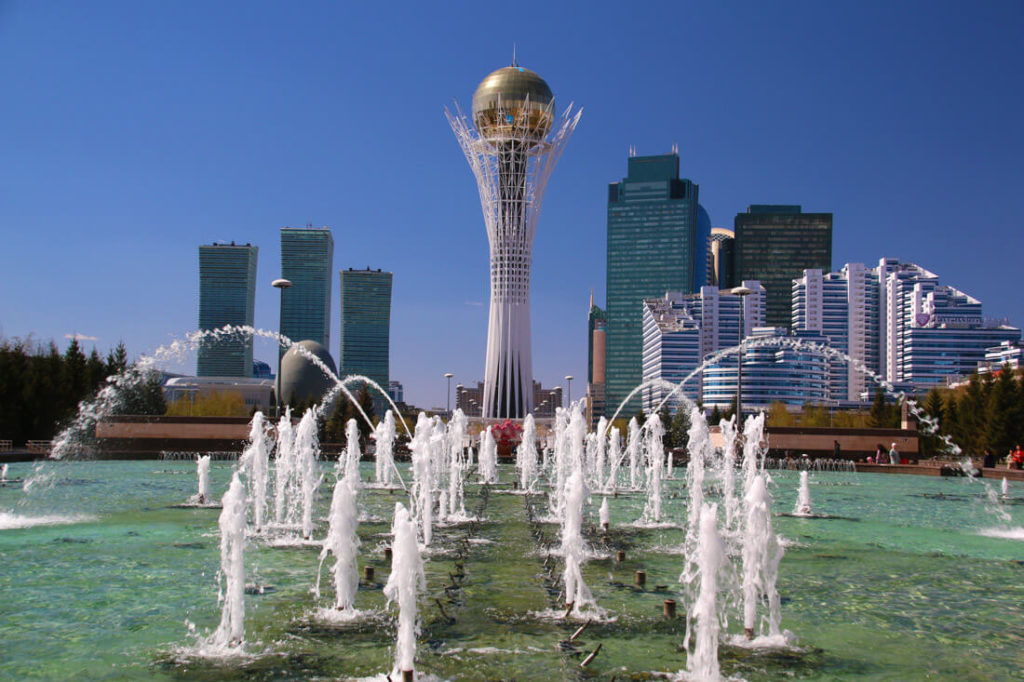 Ak Orda – Presidential Palace
The first thought that struck me when I saw this building was how much it looked like the Whitehouse in Washington DC. Ak Orda means 'the white headquarters' so there is a similarity in the name as well as the design.
The architects aimed for something different and unrepeatable and although it is a striking I am not quite sure whether I would call it unique. It is not easy to stand out in a city full of futuristic buildings.
The large golden towers standing either side as you approach the Palace are the House of Ministries, dubbed 'the beer cans' by locals. In the square there is little else to see except for the Central Concert Hall.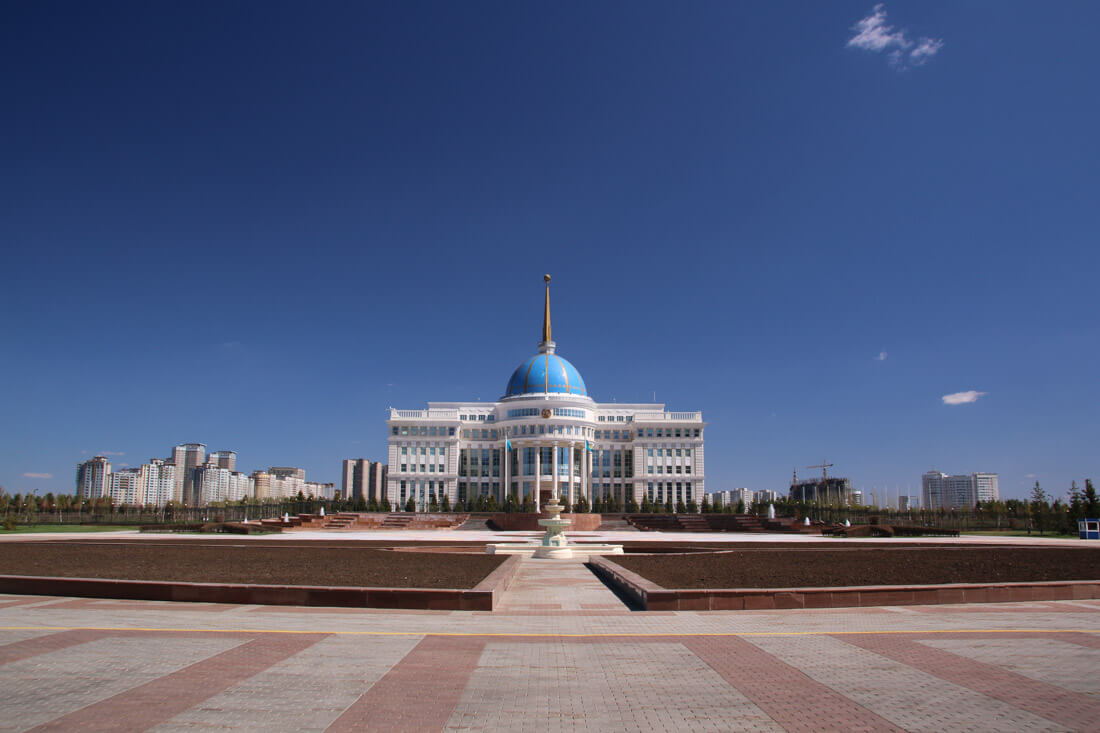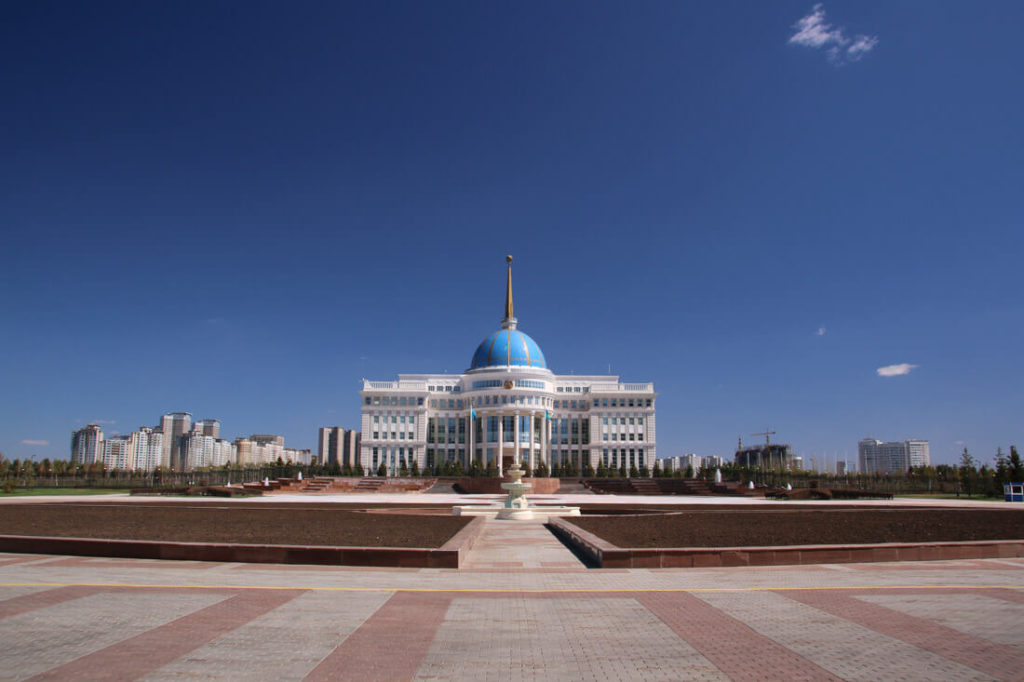 Central Concert Hall
Located in the right corner of the Presidential Palace square it is easy to miss due to the tall buildings surrounding it, covering it from view unless you are nearly right in front of it.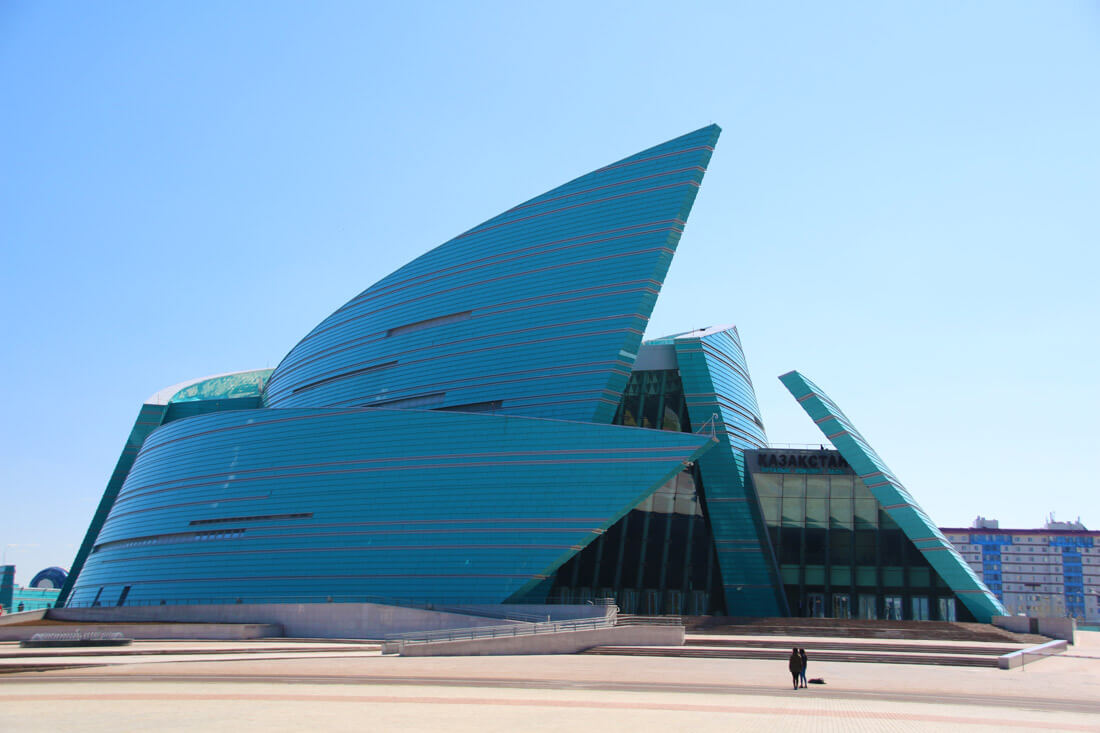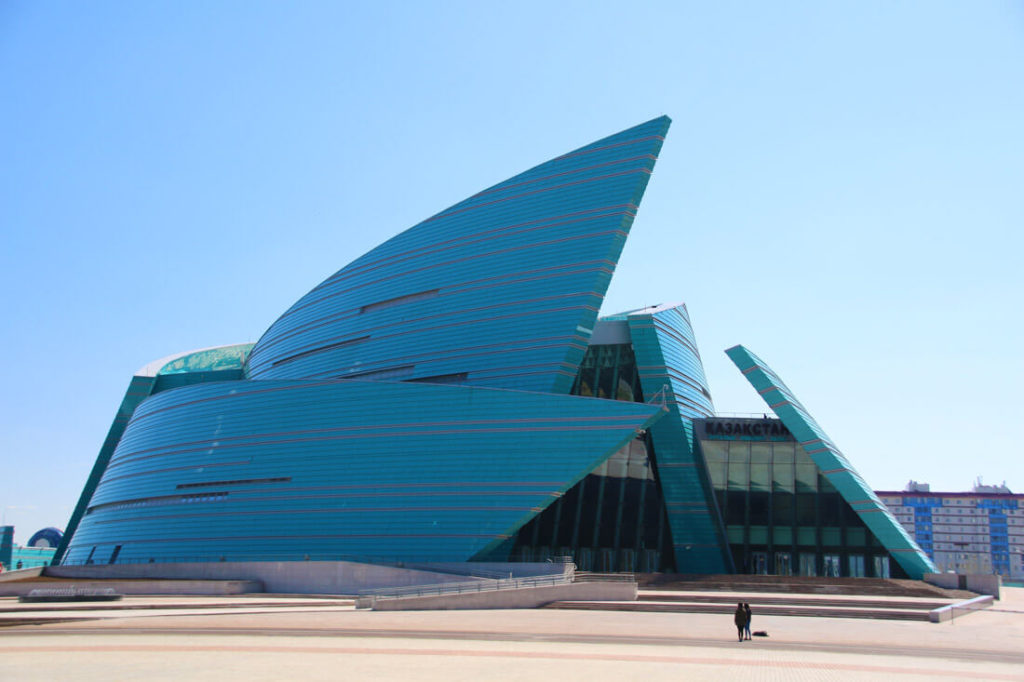 Nur Astana Mosque
I think of Kazakhstan as more Russian than Central Asian but 70% of the population is Muslim. This explains why two of the three largest mosques in Central Asia are located here. With a capacity for 5,000 worshippers inside and 2,000 outside this is the third largest mosque in Central Asia.
Hazret Sultan mosque (see below) might have the most grandiose prayer room but I think, being built in white granite and with a large fountain outside, Nur Astana Mosque is the prettier of the two.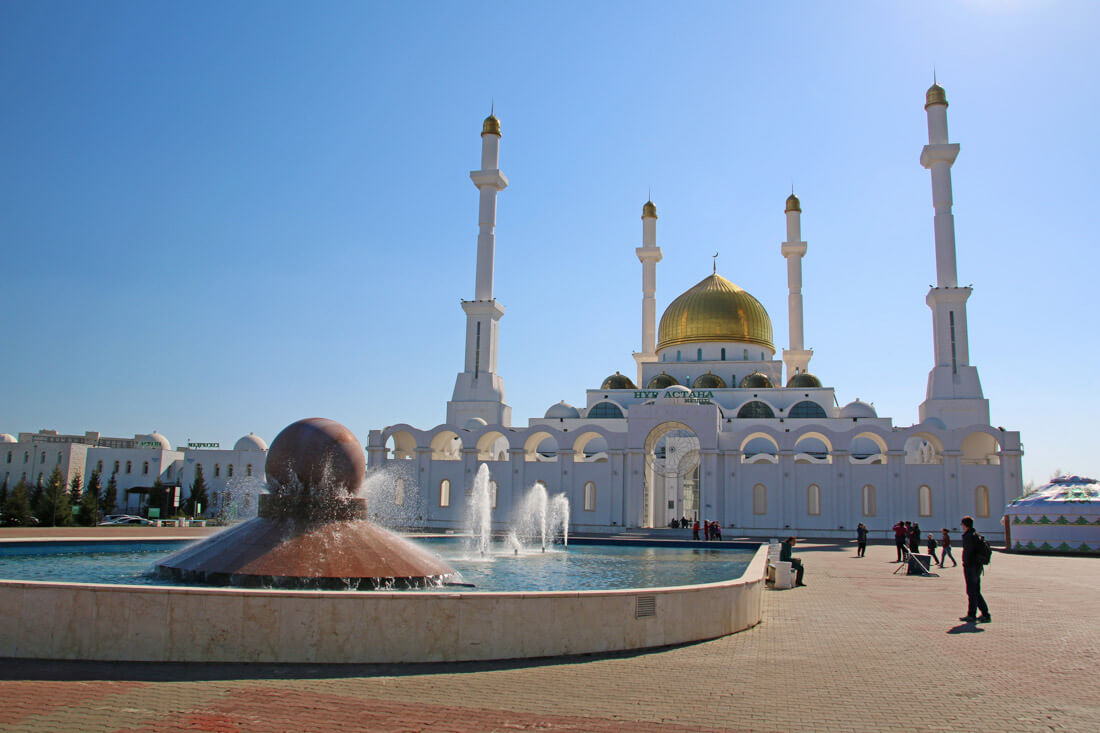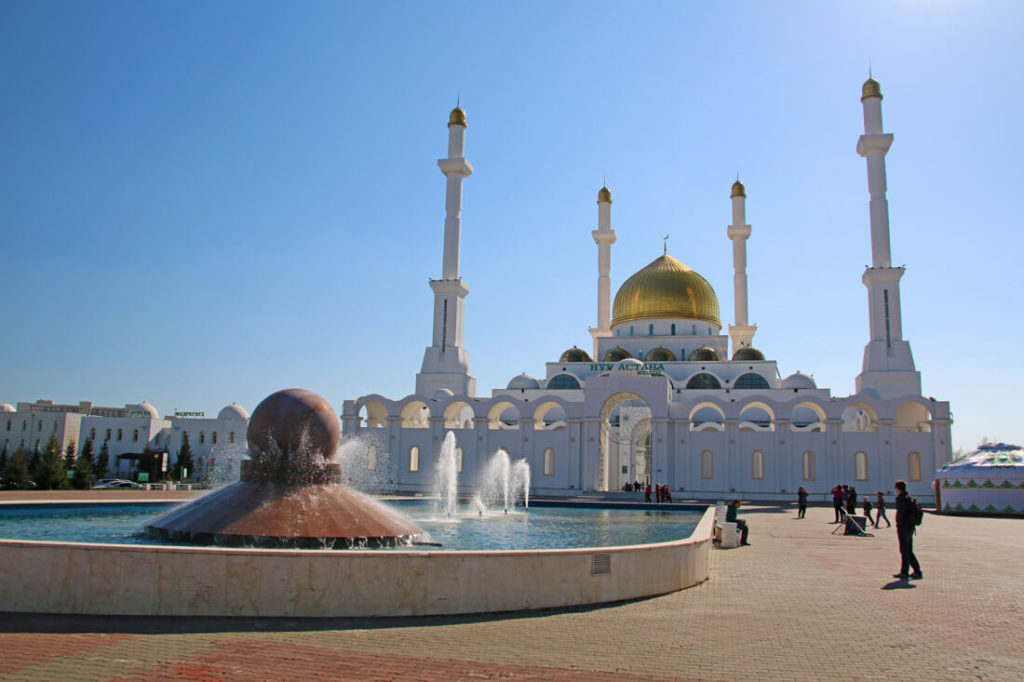 Circus
Bears and lion tamers are not an unusual site at the performances but there are no aliens despite the building looking like a flying saucer.
Circus has a long tradition in the Soviet Union but what made the architect construct a circus building shaped like a UFO, or the president give it the go ahead, is difficult to fathom.
If nothing else, it is certainly noticeable. As with everything in this city it is a bit of a walk from the other sights but for me, this weird building was worth the detour.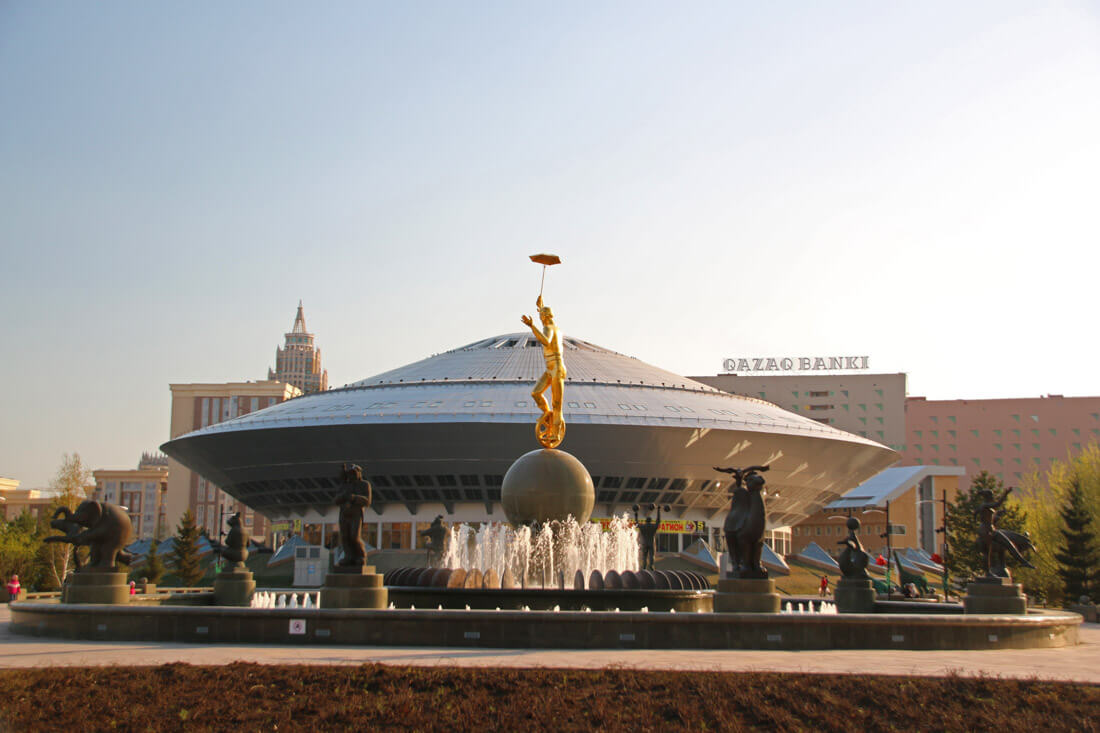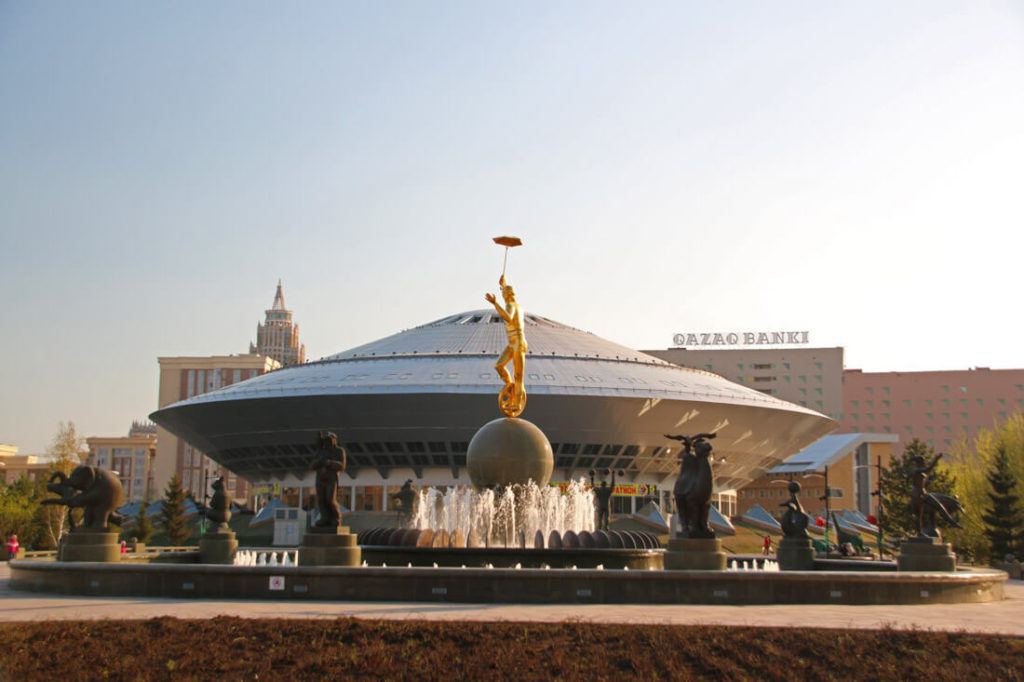 Things to do in Astana on day 2 – Right of the Ishim River
I found the left of the river has the most interesting architecture. The right side is expected to be built out significantly over the next 10 years and in 2030 plans are for the Pyramid to be the geographical center of Nur-Sultan.
Palace of Peace and Reconciliation – The Pyramid
The first draft of the Pyramid is said to have been the same size as the Great Pyramid in Egypt but that was too grand even for Nursultan and it was hastily reduced to about half the size. Despite being 62 meters tall and situated on a hill it was not as impressive as I thought it would be.
Entry is possible on a guided tour which runs roughly every 30 minutes between 10am and 6pm. Tickets cost 1,000T for adults and 650T for children.
English guides can be arranged at extra cost.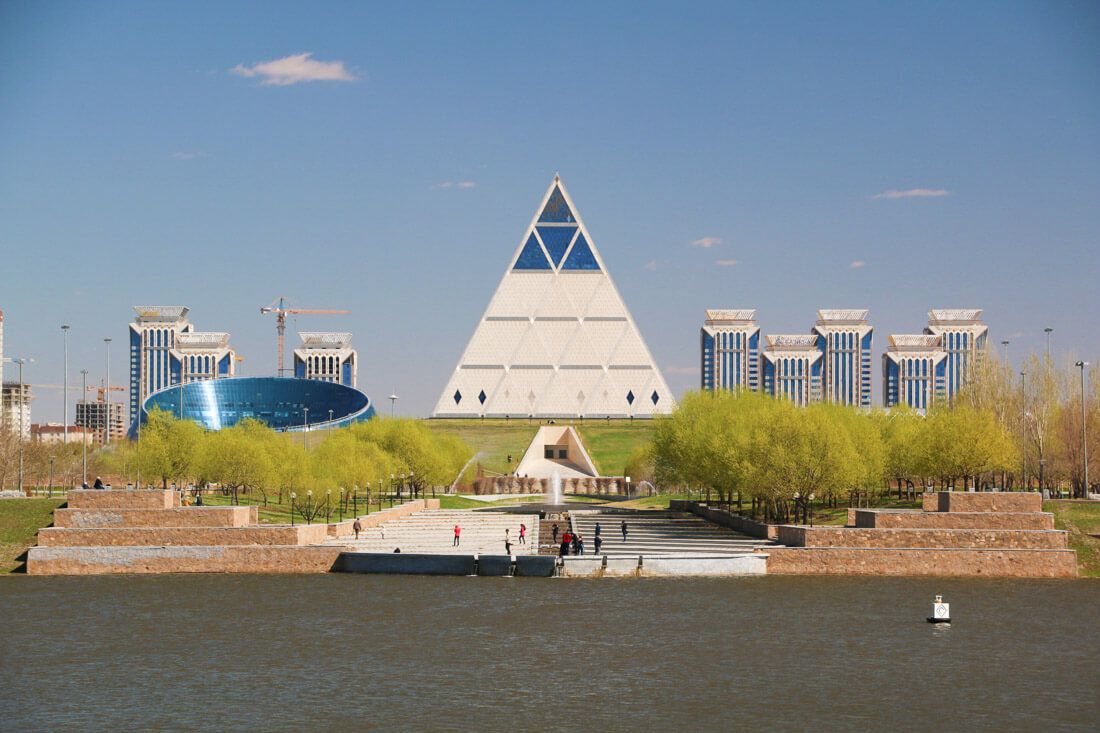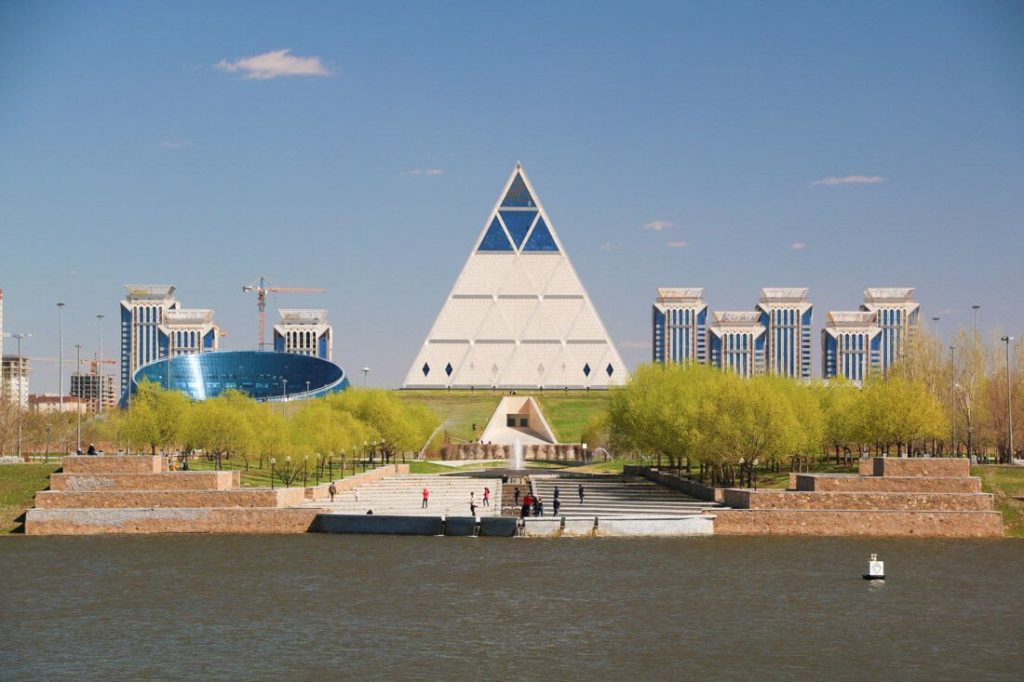 The Palace of Independence
This is an event space located in the square birds-nest-like building made of dark glass and steel. The only interesting thing to see here is the model of what Nur-Sultan will look like when it is finished, which is expected to be in 2030.
Kazakhstan has been suffering from a falling oil price over the last couple of years and the price having plummeted due to Coronavirus will make the state budget even tighter.
It will be interesting to see whether the city will ever be built out to the extent the previous president dreamt of.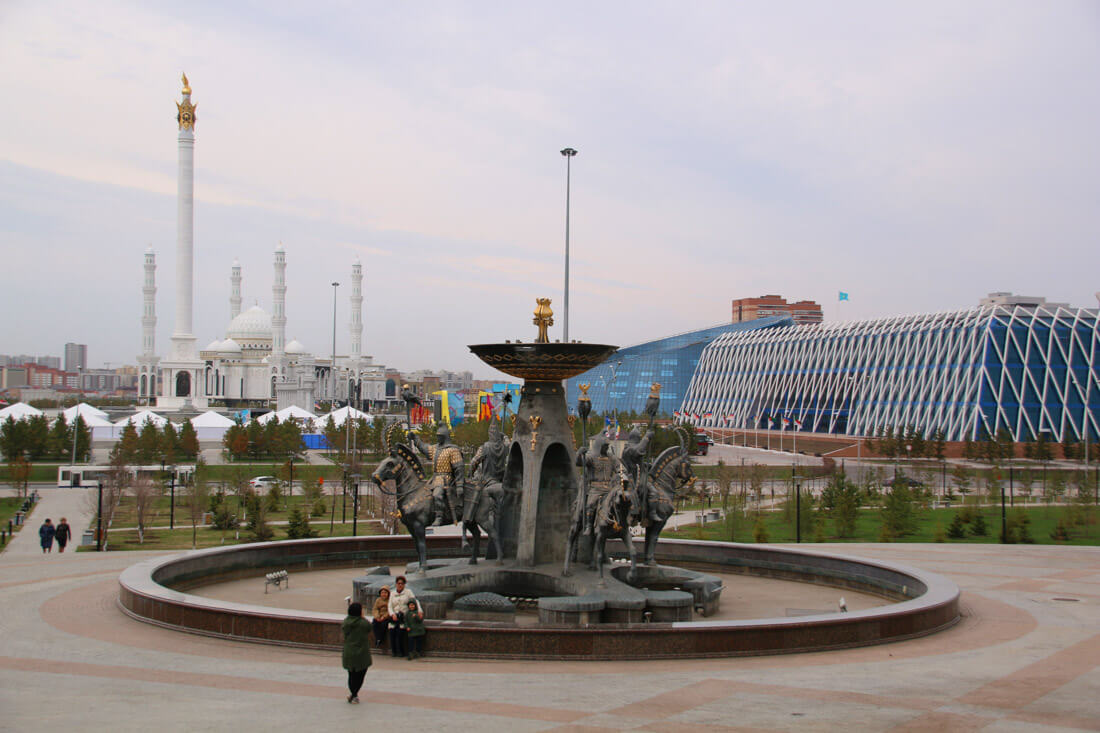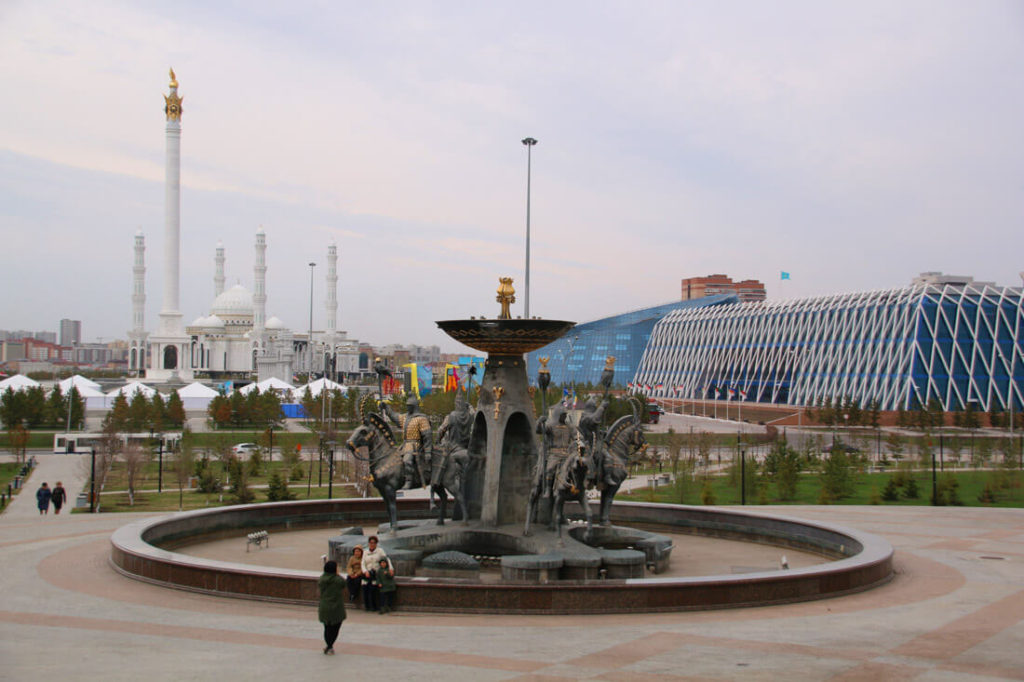 Kazakh Eli Monument
A symbol of sovereignty with the height of the 91m tall pillar representing the year independence was gained from the Soviet Union in 1991.
The golden statue at the top is Samruk, the bird that laid the egg at the top of the Bayterek Tower.
Hazret Sultan Mosque
This is the largest mosque in Central Asia and can accommodate 10,000 worshippers. The prayer room is decorated in the colour of the Kazakh flag – blue, gold and white.
With its 51m high dome and a 3-ton chandelier this room alone makes the trip across the river worth it.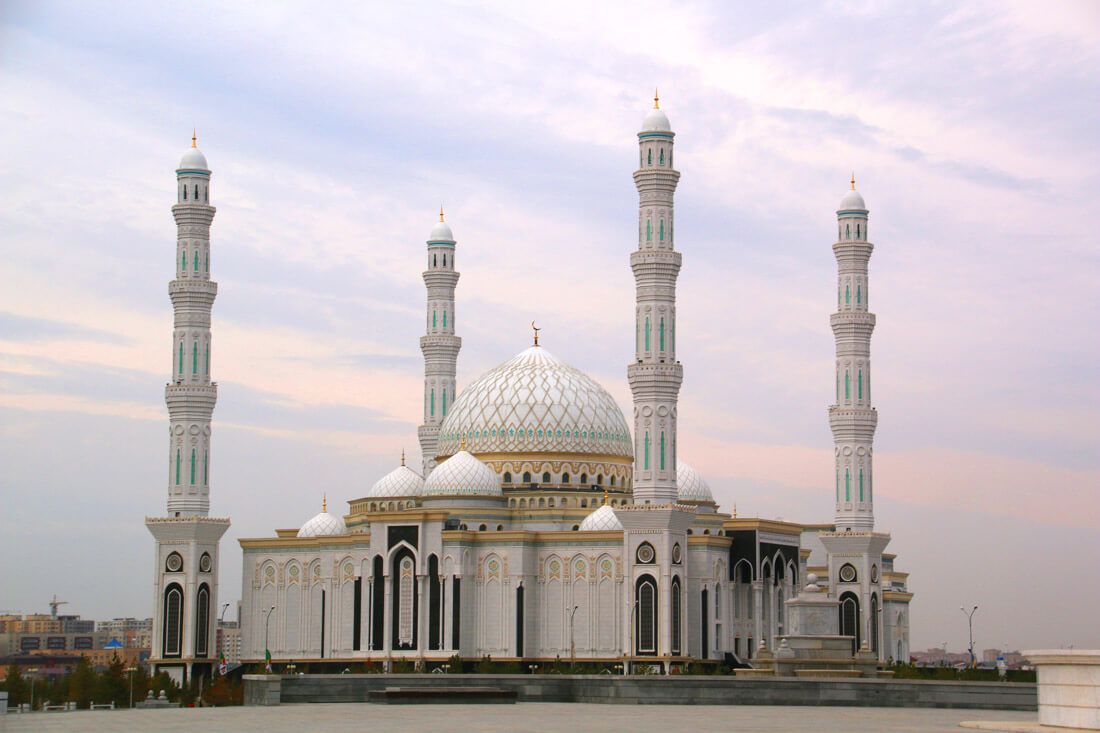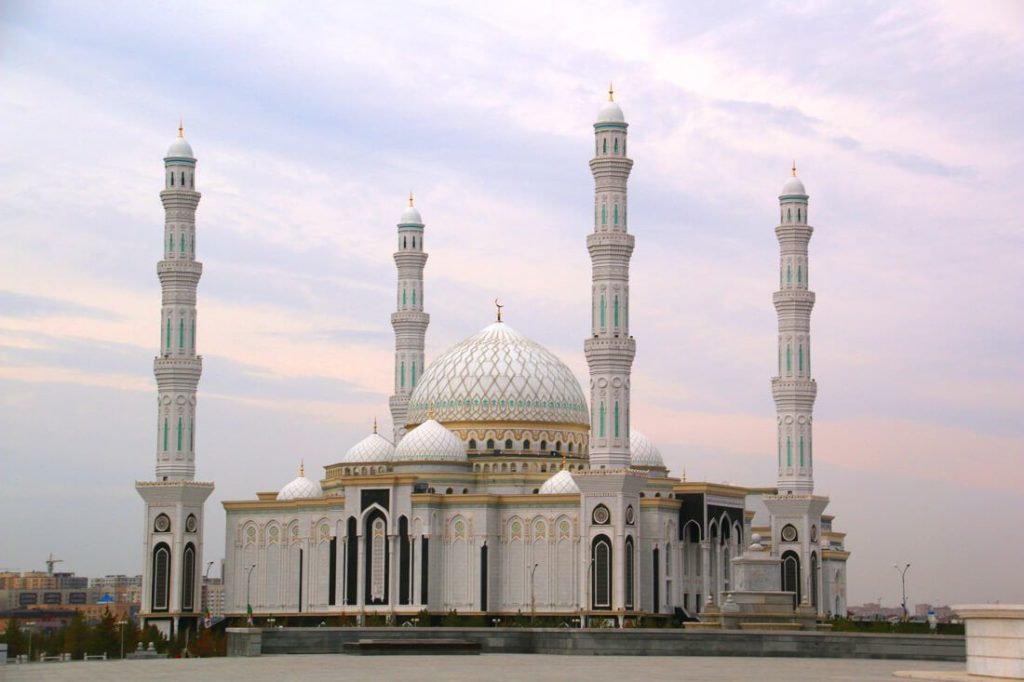 National Museum of Kazakhstan
An enormous white-marble building that covers the culture and history of Kazakhstan from ancient history up to the present day.
The museum is closed on Mondays and entry is 1,500T for adults with a further charge of 500T for photos and 2,000T for a guide.
Day 3 – Things to do near Astana
Being in the middle of nowhere, there are really only two actual places to visit around Astana:
ALZHIR Museum and Memorial Complex
Walking around Nur-Sultan with its new fancy buildings it is easy to forget that Kazakhstan was part of the Soviet Union. But a visit to this notorious concentration camp will bring it all back.
The 26th Gulag Point (as it was formally called) was for the women and children of dissenters. Little is left of the camp but the museum has recreated the huts prisoners lived in as well as the trains that brought them to the camp.
Minibuses to Akmol (also called Malinokva) depart roughly every hour and take 45 minutes. Tours can be booked in advance via the museum website. The museum is closed on Mondays.
Korgalzhyn Nature Reserve
With its 200 lakes Korgalzhyn is a popular stop for migrating birds. If you are an avid bird watcher the months of May and June are the best time to visit for the northward migration. Otherwise June to September are more interesting since salty lake Tengiz supports a large colony of flamingos at this time of year.
Local guest houses can arrange transport into the reserve. To see the flamingos you need a 4×4 which cost around 10,000T plus 3,000T for an official guide.
Shared taxis, which take two hours, are the best way to get there. The first ones depart at 10 a.m. but are very popular so make sure you arrive at least an hour before departure to secure a seat.
More information for visiting Astana
Remember to get travel insurance for Astana
IATI Insurance offers: COVID-19 + long-term plans, so it's perfect for big over landing trips around Kazakhstan.
Get your 5% discount if purchasing via this link
All guides and articles for traveling in Kazakhstan destination
Check more city guides