How to plan your Danakil Depression tour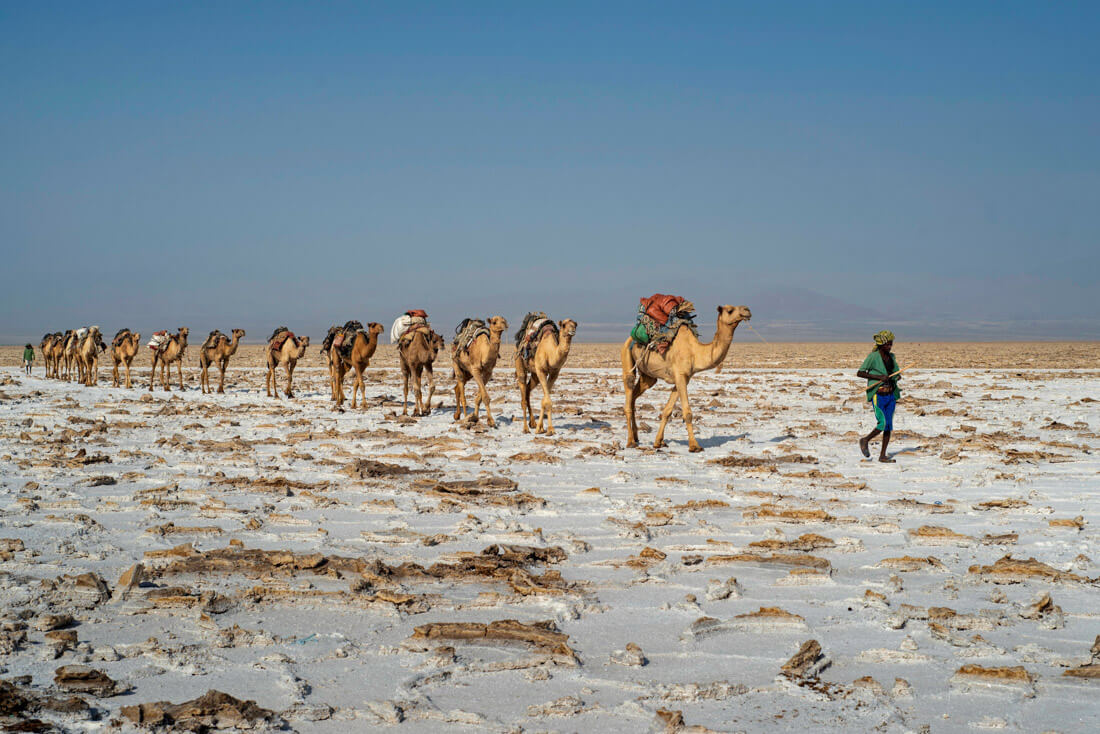 Update! Because of the current Tigray Crisis, all tours to the Danakil Depression depart from the town of Semera, instead of Mekele. For more information, contact your tour operator.
This guide contains everything you need to know to visit and book your tour to the Danakil Depression in Ethiopia, including interesting facts, budget, types of tours, transportation and more.
Stretching across northeastern Ethiopia and a bit of Eritrea and Djibouti, Danakil is a vast depression popularly known for being one of the most inhospitable places on Earth, an arid, unwelcoming land, among the planet's most tectonically active areas, home to more than 30 dormant volcanoes, and one which is crazily active.
Moreover, with an average daily maximum temperature of over 41ºC and, in some areas, dropping to 116m below sea level, Danakil is also, officially, the hottest inhabited place in the world because, despite being such a hostile environment and territory, this depression has been continuously occupied by a distinct ethnic group for more than 2000 years.
And I will even tell you more.
Lucy – or Dinkinesh in the local language – the oldest and most complete hominid ever discovered, dating back from more than 3 million years ago, was actually found in the Afar Depression, suggesting that the human species may have its origin in Danakil, today the most inhospitable place on Earth.
However, travelers interested in anthropology are not the only ones who will enjoy visiting the Danakil Depression because the main reason to come here is to witness all its insane geological formations and events, landscapes that will completely satisfy even the most intrepid travelers.
From a set of bubbling springs composed of the brightest colors, steaming pools, sulphureous geysers to vast salt lakes and one very, very active volcano named Erta Ale, there isn't a single traveler who doesn't get wowed when visiting this place.
Want to know more about Ethiopia? Check my Ethiopia travel guide!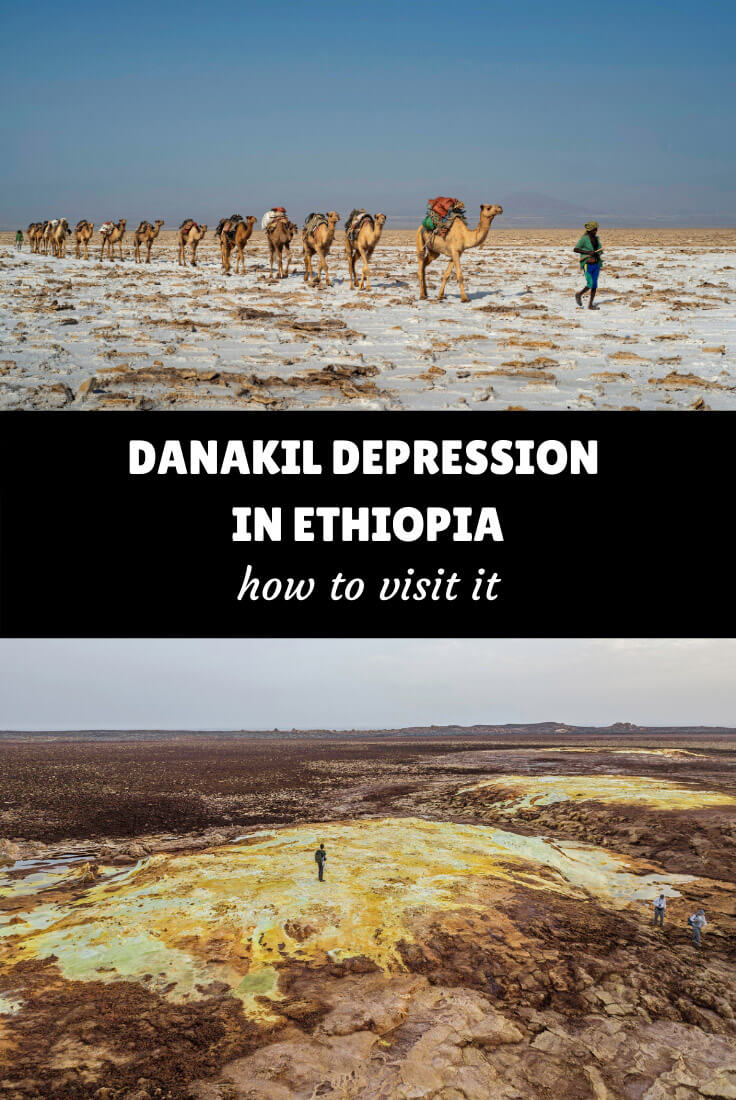 Ethiopia is an adventurous destination, get travel insurance
I strongly recommend IATI Insurance: adventure activities, COVID-19 coverage
Get 5% discount if purchasing via this link
The Afar people, the inhabitants of the Danakil Depression
The Afar are an ethnic group living across Ethiopia, Djibouti and the whole Eritrean southern coast. They are Sunni Muslims and their mother tongue is Afar, a Cushitic language.
They claim to be the oldest ethnic group in Ethiopia, living in those lands for more than 2000 years.
Traditionally, most Afar are nomadic pastoralists, while others made a living as salt miners and traders, shaping tons of salt bricks from the Danakil mines and transporting them to Tigrayan lands in their camel caravans.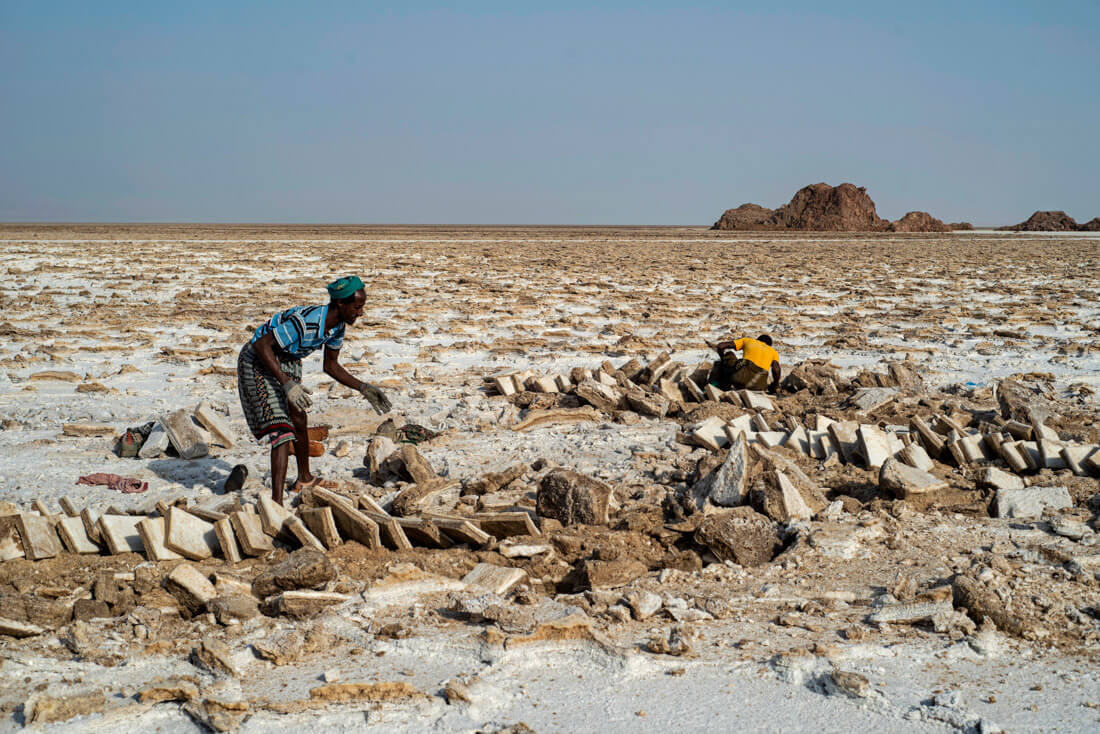 In fact, one of the most interesting things to do in Danakil Depression is visiting those mines and, if you are lucky – we certainly were – you can see how they extract the salt and, if you are even luckier – which we were as well – you will be able to witness a real camel caravan.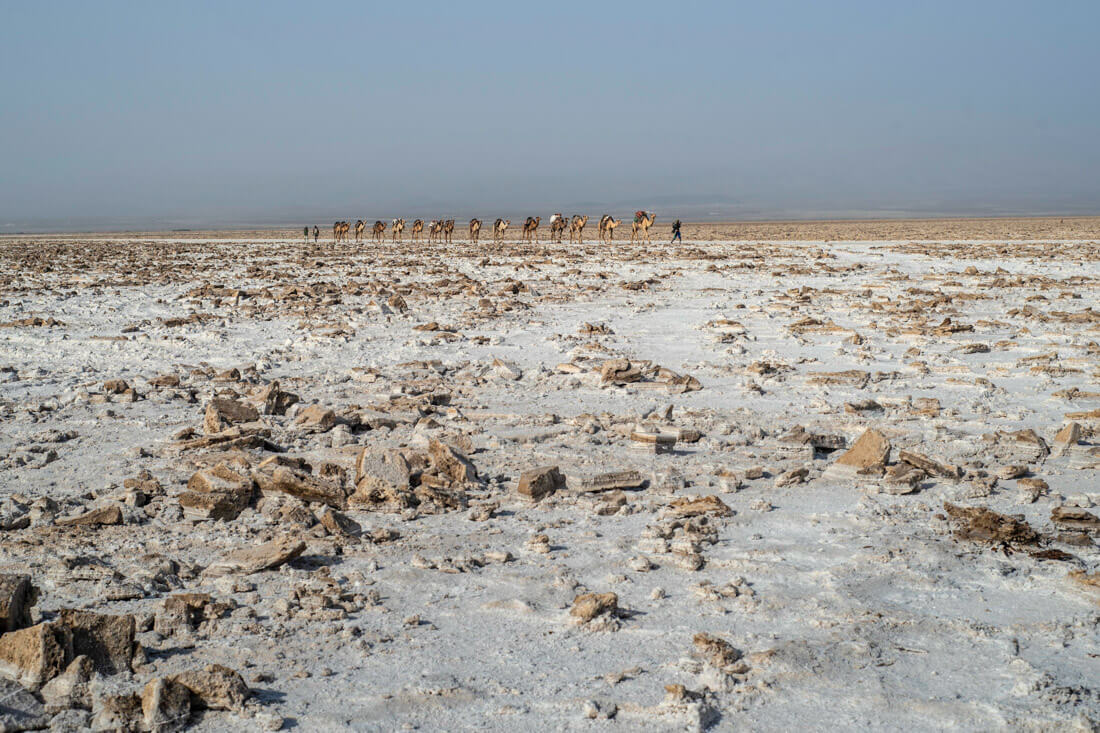 On the other hand, the Afar are infamous for being very hostile towards foreigners – some claim they are xenophobic – and some legends say that, not many decades ago, if they bumped into foreigner within their territory, they would kill them, lop off their testicles and make a necklace out of them.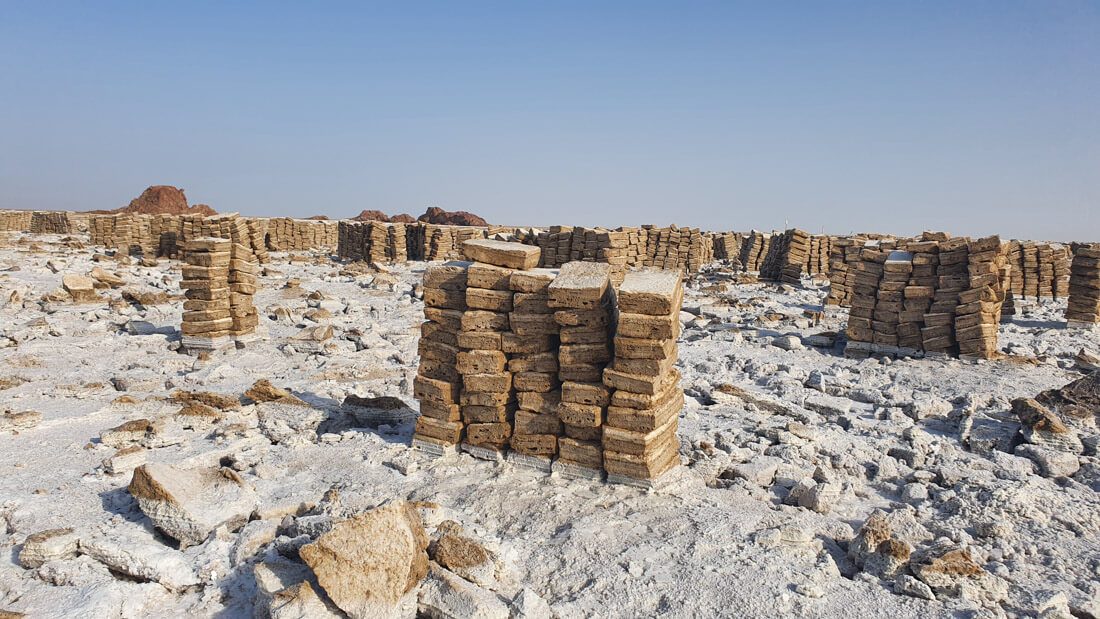 The situation is different nowadays, however. They won't lop off your testicles but still, there have been some relatively recent incidents, the last one in 2017, when a German tourist was shot dead – more in security section – and, during our visit, we had a few issues with some miners and a camel owner who got extremely pissed off after people in our group took a photo of them without permission.
However, I'd like to highlight the fact that, controversially, I also met Afar people when I was traveling in Eritrea, in a weekly market that doesn't receive more than a few tourists a year, and they were just lovely, so I want to believe that the aggression you may perceive on the Ethiopian side might a direct consequence of mass tourism.
You will also be interested in: A guide to trekking in the Simien Mountains of Ethiopia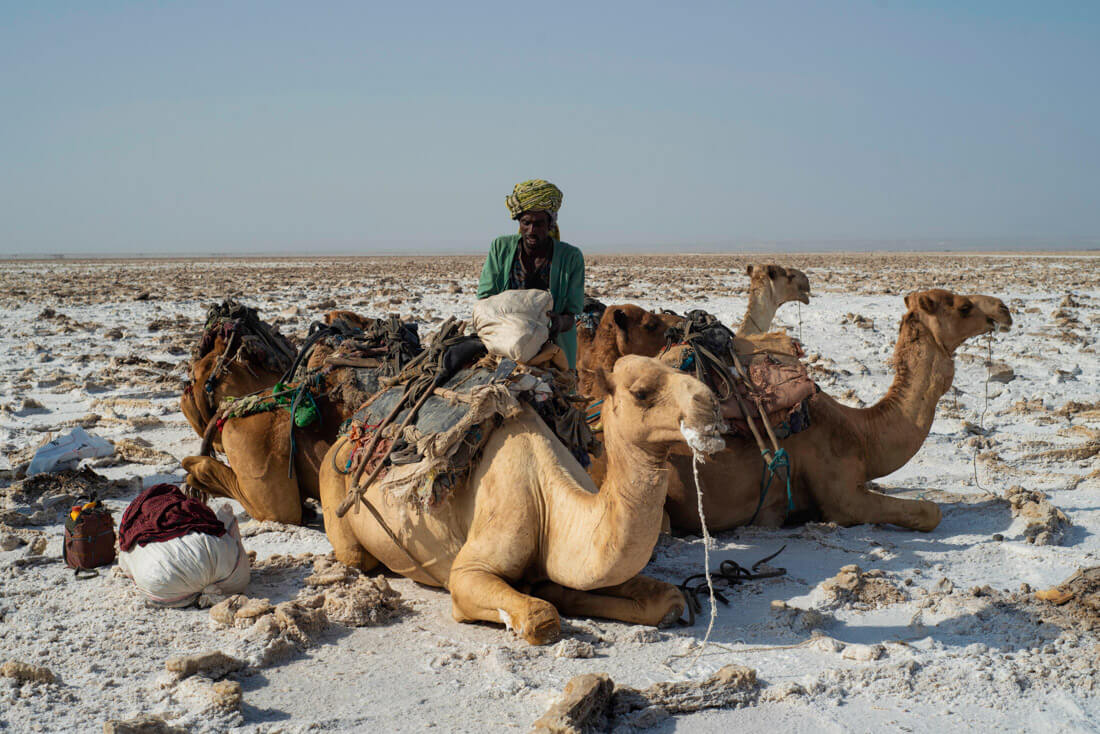 Tourism in Danakil Depression today
Traveling to the Afar Depression is relatively new thing to do. Tourism just started to pick up in 2010, after the BBC released an excellent documentary about it.
WATCH IT HERE!
Since then, tourism has increased exponentially so, during your Danakil Depression tour, don't be surprised if you see more than 25 4×4 all at once, transporting an average of 4 to 6 people each, which means that popular places such as the sulphur springs in Dallol, can get overwhelmingly busy during high season.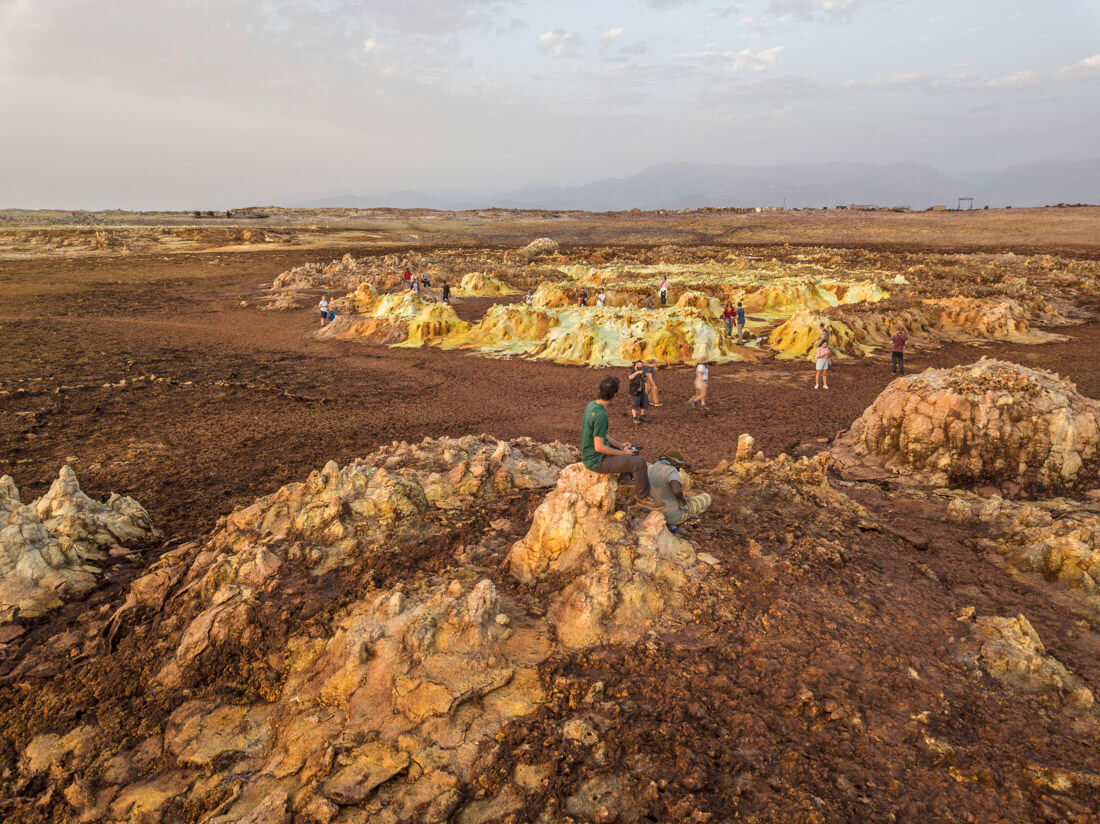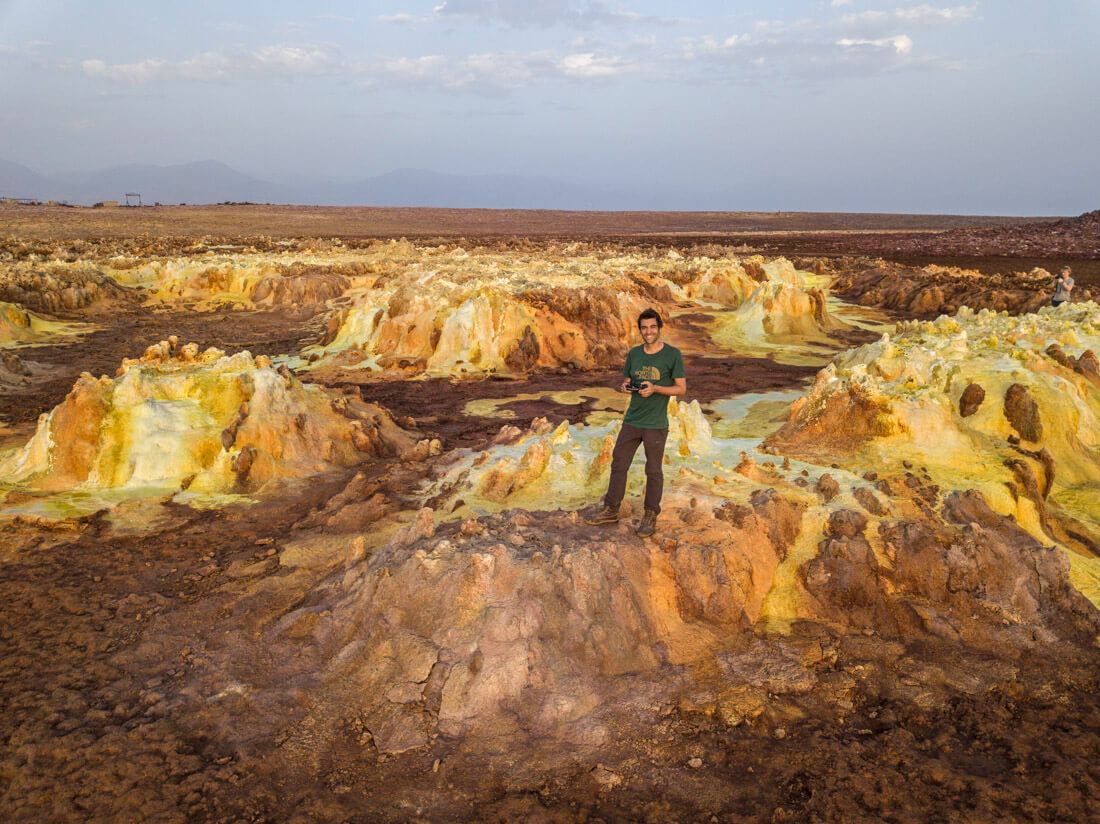 Alternatively, if you want to visit the Danakil Depression in a more off the beaten track way, something you can do is start your tour in Semera, one of the main Afar cities, located in the southern part of the Depression, and accessible from the city of Dessie. Basically, you would enter the inhospitable lands of the Danakil from the south this way, avoiding the main crowds, and traveling all across it.
However, bear in mind that you will need to arrange things beforehand, as that area receives very few tourists, plus it will definitely be more expensive.
If I had more time to travel in Ethiopia – and still, I was there for 6 weeks – I would have visited Danakil from Semera.
About the local's aggression
Let me share a brief story with you. The day we visited the salt mines with the group and started taking photos of the miners working in there, they got particularly angry, and one of our guides advised us to stop. I was very disappointed but then, I realized that those poor miners, despite being the highlight of any visit to Danakil, and despite all the money we paid for the tour, they just get peanuts, like not a single €. How unfair is that? Being a very reserved group of people, no wonder they get so aggressive, having to deal every single day with loads of wealthy tourists. Therefore, given the situation, I proposed to the other members of the group that we raise some money together – not much, just 10 or 20birr each – and dude, it was a game-changer. They became so happy and easy, which was great but, knowing the miner's potential reaction, this is something the tour company should always take care of.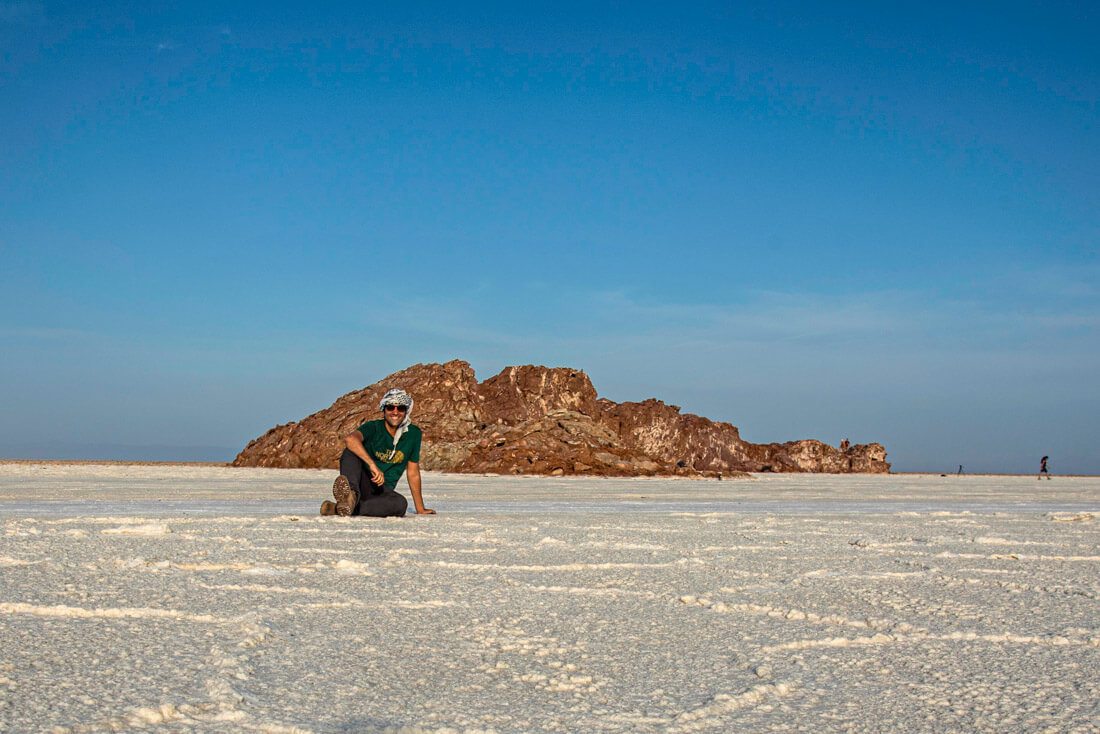 Best time to visit the Danakil Depression
Danakil is one of the hottest places on Earth, so it is obvious to think that winter, from mid-November until mid-March, would be the best time to come.
I was there at the end of February and during the day, it was still crazy hot, but I have to say that by the end of the day, the weather became pleasant.
I am pretty sure, however, that you can visit the Danakil Depression during the rest of the year (it will definitely be less crowded), but I am not sure if it would be actually possible to visit it during the summer months, meaning that I am not sure if tour operators run tours during that season.
Read: How to visit the Omo Valley in Ethiopia (on a budget & responsibly)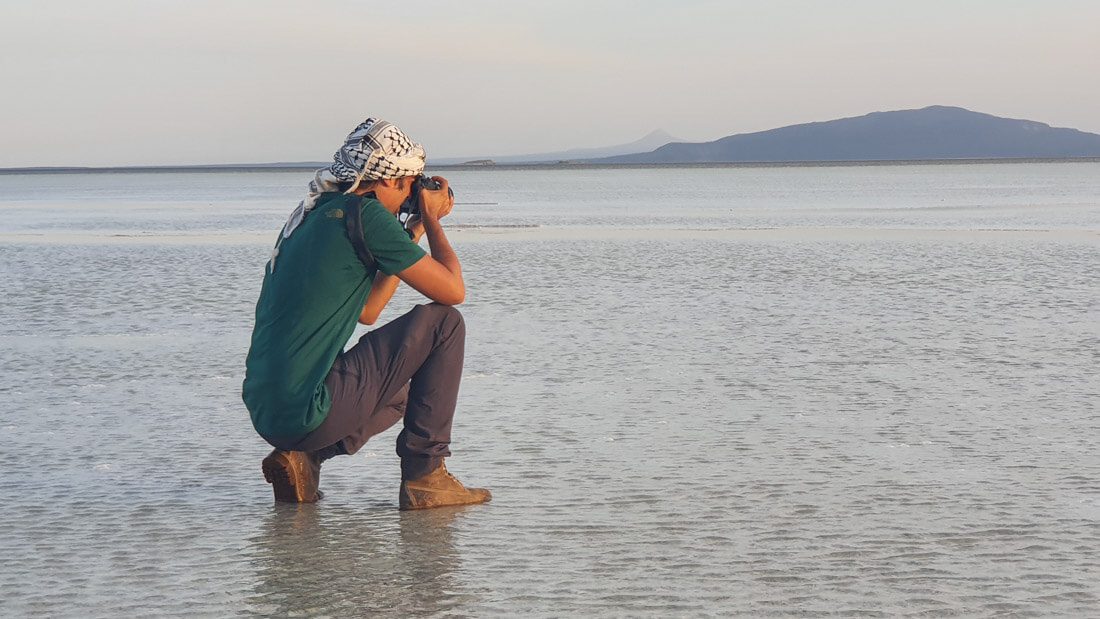 How to book a tour for visiting the Danakil Depression
Most likely, you will be traveling in Danakil on an organized tour.
And for that, the best and cheapest way is by booking it directly in Mekele, the capital of the Tigray region and the closest big city to the Depression. Most companies offering Danakil Depression tours are based there.
You don't really need to book it in advance. There are many, many companies, all of them offering very similar services and prices. I arrived in Mekele in the late afternoon, checked out a few companies and booked my tour for the next morning.
Read: How to visit Lalibela
Which company do I recommend?
I don't recommend any particular company but I recommend a private guide named Gebre.
Gebre is a freelance tour guide for the Danakil who works for different companies. He is great, not only as a guide, but also as a person. After the tour, we spent a few days in Mekele, and Gebre took us for dinner, and we also spent a full day in some nearby mountains.
Just contact him and he will advise you best (tell him you found his contact details on my blog).
You can contact him through Instagram at @gereziher.hadgu or his local phone number +251 904309517
Budget & costs: what's the price of a Danakil Depression tour?
Prices will vary, depending on several factors, such as where did you book your tour, the number of days, how many people travel together, etc. but below, you get the prices assuming you book your tour in Mekele, during high season and join a random group:
Danakil Depression 2-day tour: 250USD, which includes:
Salt lake
Sulphur springs
Salt mines
Meals, water and basic accommodation
Danakil Depression 3-day tour: 350USD, which includes the same plus visiting Erta Ale volcano.
I heard that some people may pay up to 600USD, but that's because they probably booked the tour in Addis Ababa, or from their home country.
Then, you also have a 4-day tour but apparently, you don't see a lot of additional mind-blowing stuff on the 4th day, so not sure if it's worth it. There is a 1-day tour too.
Erta Ale, is it worth it?
Bad news since the beginning of 2020. A massive landslide covered pretty much the entire lava pool and since then, you can see absolutely nothing but just a tiny orange dot barely recognizable among all the smoke. As you may imagine, during my 6 weeks in Ethiopia, I met many, many travelers who had booked the Danakil 3-day tour and 95% of them, were extremely disappointed about Erta Ale, claiming that the additional $100 wasn't worth it. For this reason, I decided to just book the 2-day tour, especially because my tour guide and friend Gebre advised me to do so.
That's what Erta Ale used to look like back in 2018:
Independent travel in Danakil – Is that even possible?
If you have a proper vehicle, a reliable GPS, and plenty of food and water, traveling in the Danakil Depression on your own is totally possible.
Yet, it won't come without its particular challenges, for the simple reason that there are many checkpoints at which the Afar people do get certain commissions and, if you don't speak the language, negotiating a fair price can prove difficult but, in the end, I believe it will just be a matter of money.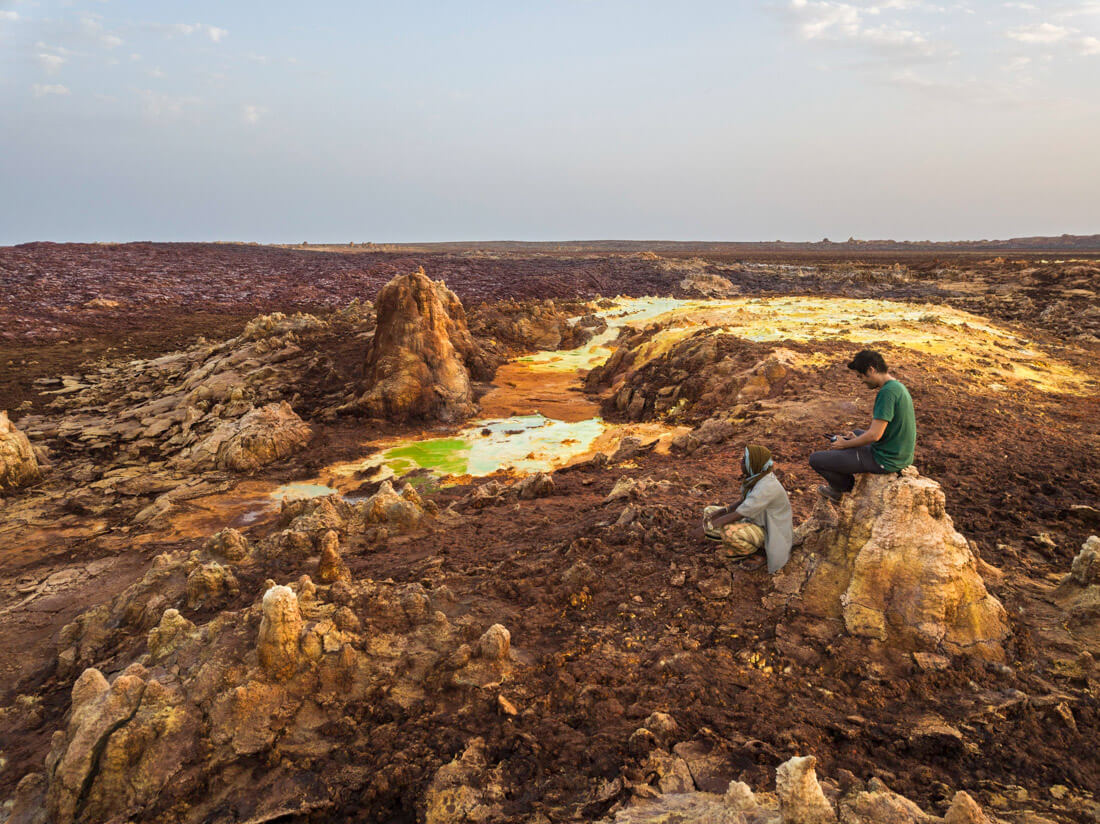 How to get to Mekele and the Danakil Depression
Unavoidably, if you want to travel to the Danakil Depression, you will have to first go to Mekele.
Mekele is the capital of Tigray, a relatively modern town by Ethiopian standards, a cool place to hang out before and after your Danakil tour, as it has some nice bars and restaurants.
To be honest, this is the most modern city I visited in Ethiopia outside of Addis Ababa, the only place where you see plenty of well-dressed people and a cool young vibe, and the reason is that many Tigray people (a distinct ethnic group) have studied and worked abroad, so they brought in money and ideas.
How to get to Mekele from Addis Ababa
Plane – Ethiopian Airlines flies from Addis to Mekele regularly.
Bus – There is a direct coach running between both cities but remember that it takes nearly a full day.
How to get to Mekele from Lalibela
I personally came from Lalibela, by shared local taxi. I paid 20USD and still, it wasn't the local price, but I was happy when I heard that other tourists in the car paid 50USD.
You can come by public transportation as well, but there is no coach and it is a 10-hour journey.
How to get to Mekele from Axum
A not very long journey, there are daily buses running between both cities.
How to get to Mekele from Gonder
Plane – I know some people fly in but there aren't regular flights and you may have to do a quick layover in Addis Ababa.
Bus – There is a direct coach, but it may take around 12 hours.
Danakil Depression safety. Is it safe to visit?
Ethiopia is an adventurous destination, get travel insurance
I strongly recommend IATI Insurance: adventure activities, COVID-19 coverage
Get 5% discount if purchasing via this link
Given recent past events that involved tourist killings and abductions, I am actually surprised to see that tourism in Danakil hasn't really been affected.
I mean, for much less, in countries like Egypt or Tunisia, tourism has disappeared.
Weird, and I can't really explain it.
This is what happened:
In 2012, five European tourists (Germany, Hungary and Austria) were murdered. Read report here.
In 2012, two German tourists and their driver were abducted.
In 2017, one German tourist was shot dead.
Moreover, there is a separatist group named the Afar Revolutionary Democratic Front that was responsible for the 2012 attacks and is still politically active today.
Danakil receives thousands of visitors every year, and many of them are not precisely the adventurous backpacker type so, in my opinion, Danakil is safe, but make your own judgement and then decide!
Accommodation during your Danakil Depression tour
Where to stay in Mekele
Budget Guest House – Parrot Guest House – Great guest house close to the center with budget, clean rooms and an excellent traveling vibe.
Budget Hotel – Mekelle Hotel – Very good value-for-money option for those looking for a bit more comfort
Good hotel – HZ Grand Hotel – One of the best, yet affordable, hotels in the city
Where to stay in Danakil Depression
On day one, you sleep under the stars, on wooden woven beds. The tour guide will provide blankets for you.
On day 2, you basically camp at the foot of Erta Ale volcano.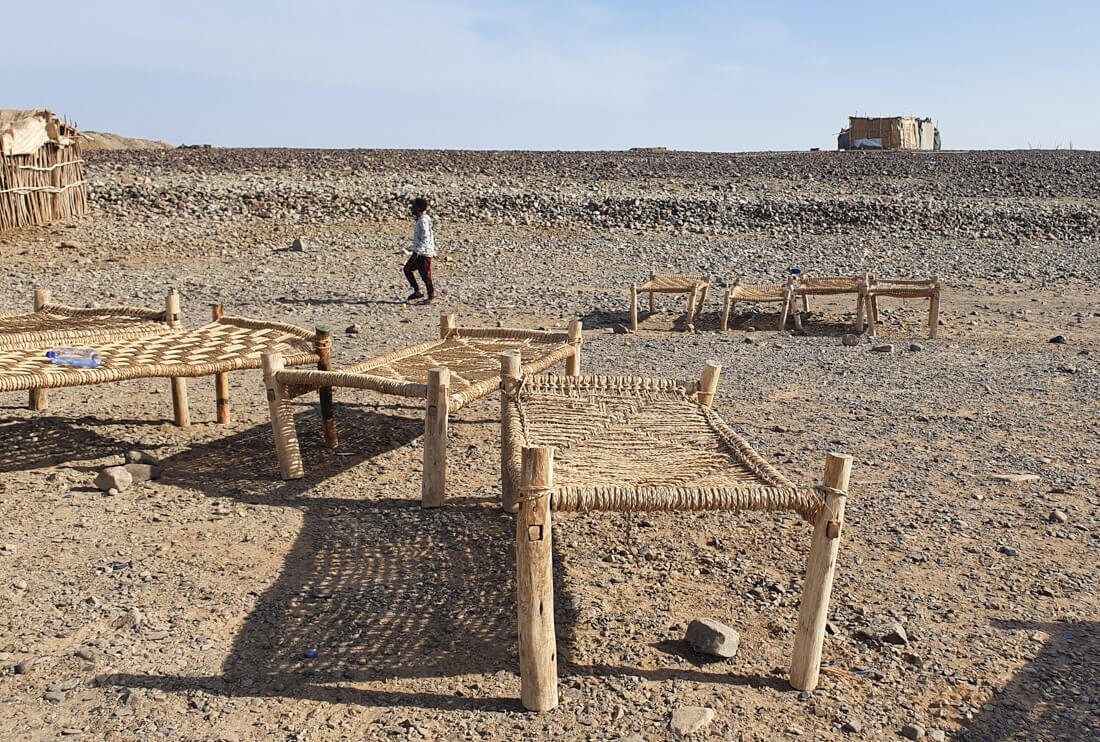 Danakil Depression itinerary on the 3-day tour
Danakil Depression tour Day 1 – Salt Lake
On the first day, we left Mekele around 10am in the morning and drove all the way to Dallol, which took half a day, with a lunch stop in between.
Once at the destination, we visited some natural pools and then went to a beautiful salty, shallow lake, where we stayed until sunset.
At sunset, they provided us with unexpected beers. It was great.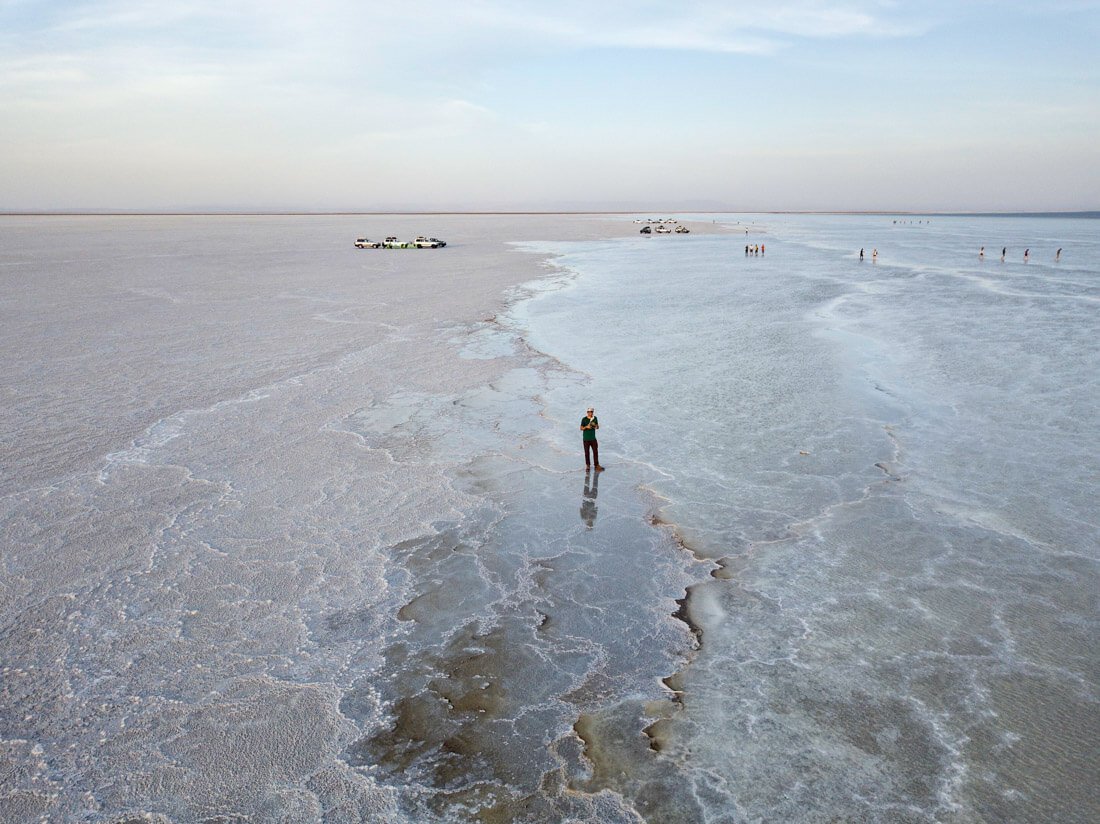 Danakil Depression tour Day 2 – Sulphur springs + salt mines
On the second day, we woke up around 4am in the morning, had breakfast, and then drove to the sulphur springs (the colorful lake), which was one hour away.
The visit takes around 2 hours and, after that, we drove to the salt mines, where we could see some miners shaping the salt bricks and, by pure chance, we saw the camel caravan, but that will depend on your luck.
Then, on the way to Mekele, we stopped for lunch and split up with the group that was going to the volcano.
On that night, you camp next to the volcano.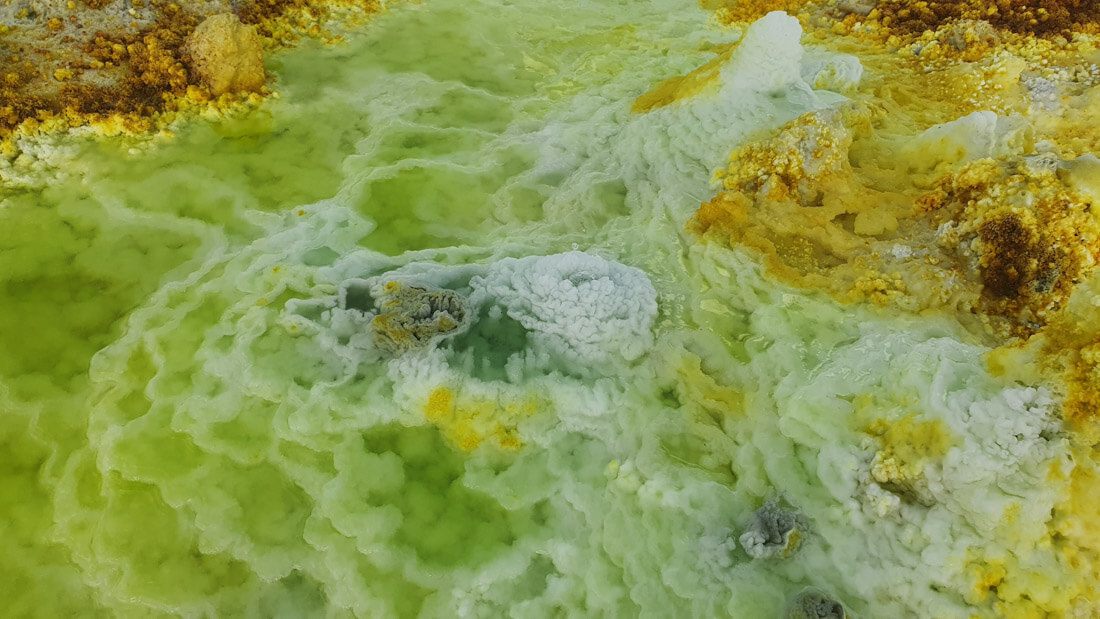 Danakil Depression tour Day 3 – Erta Ale Volcano
There isn't really day 3 because you visit the volcano at night or very, very early in the morning, like at 3am, and then you go back to Mekele.
More information for visiting Danakil Depression
Don't forget to check our travel guide to Ethiopia.
As well as all our Ethiopia articles: