A guide to visit Lalibela, Ethiopia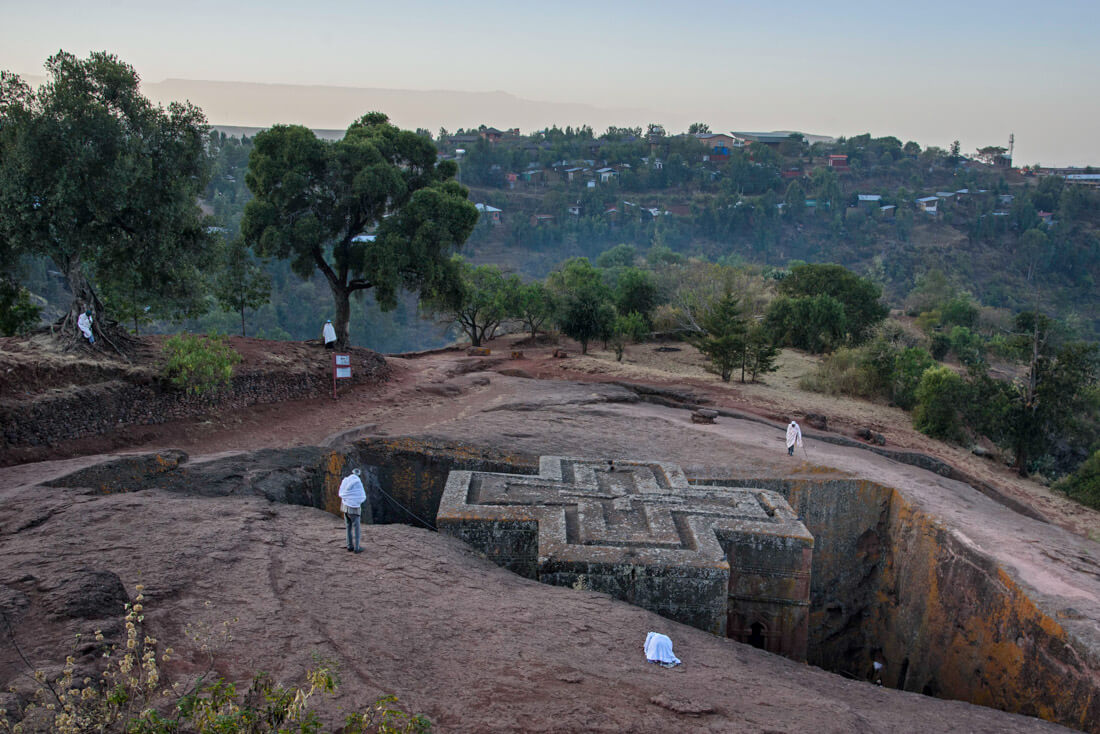 Lalibela is the most jaw-dropping historical site in sub-Saharan Africa and this article will show you everything you need to know about it, including travel tips and things to do
Located 2630 meters above sea level, Lalibela is, today, a traditional mountain village, home to 11 absolutely breathtaking monolithic churches, which were carved out of the rock more than 800 years ago, and have been used as active Christian shrines since then.
These rock-hewn churches were listed as a UNESCO World Heritage site in 1978, but I firmly believe they should be considered the 8th World Wonder, especially Bet Giyorgis, the most impressive church of all, a perfectly cross-shaped monolith built and carved in a 30-meter deep trench, often surrounded by a spiritual Christian atmosphere.
I have been traveling for a long time now, seen hundreds of churches and mosques but still, this was one of the most impressive religious sites I have ever been to, and not only due to their architecture and privileged location but also because they still fulfill the purpose they were built for.
Lalibela is the most touristic and visited place in Ethiopia and it truly deserves it.
In this guide, you will learn everything you need to know to visit Lalibela, including things to do, facts, personal tips, budget, transportation, accommodation and more.
For more information on Ethiopia, don't forget to read my Ethiopia travel guide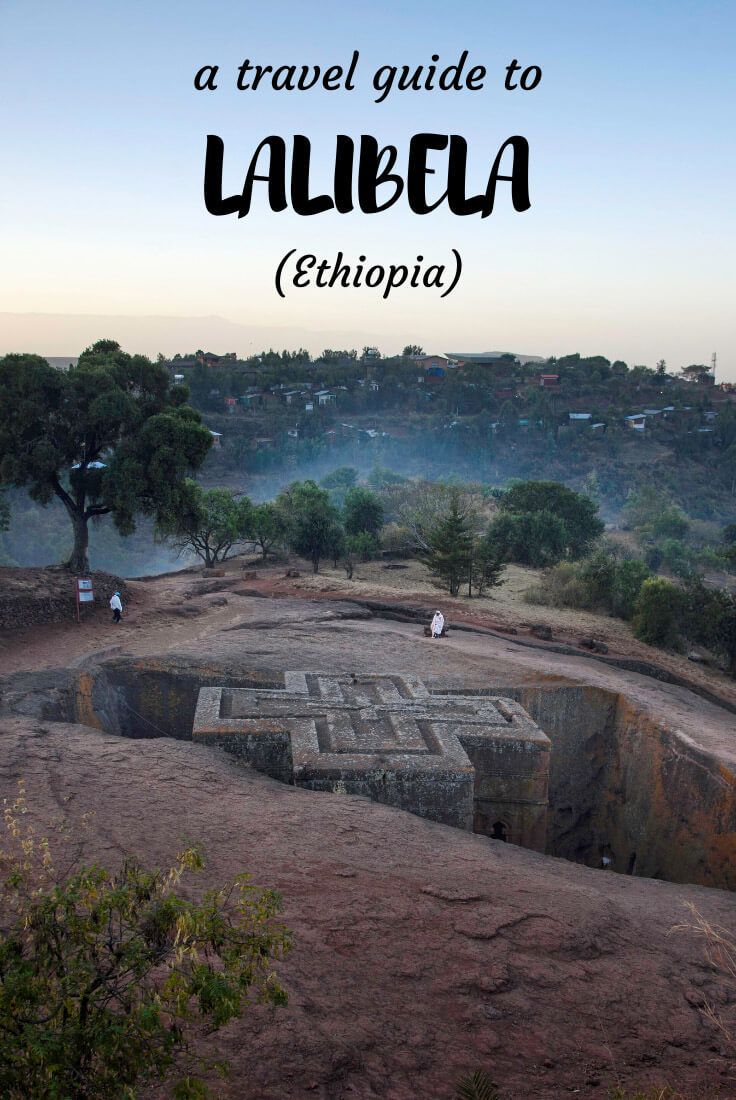 Ethiopia is an adventurous destination, get travel insurance
I strongly recommend IATI Insurance: adventure activities, COVID-19 coverage
Get 5% discount if purchasing via this link
Introduction to tourism in Lalibela
I traveled Lalibela during the month of March, arriving directly from Addis Ababa.
By bus, it was a 2-day trip, a particularly tiring and awful journey, one in which I spent most of my time getting angry at all the locals who were continuously trying to rip me off like they probably do all backpackers heading that way.
After the remarkably exhausting bus trip, upon my arrival in Lalibela, I was suddenly surrounded by several Ethiopians overwhelmingly trying to sell me anything, from a magic stay in a dreamy guest house to epic rides in a Barcelona-themed tuk-tuk.
That was expected, so was the dual pricing in all restaurants, the difficulty in getting free help from locals and the endless tourist crowds.
Lalibela is, in fact, a very touristic place, yet, for some reason, it has been able to preserve all its magic because everything you see is completely real and authentic, nothing is staged.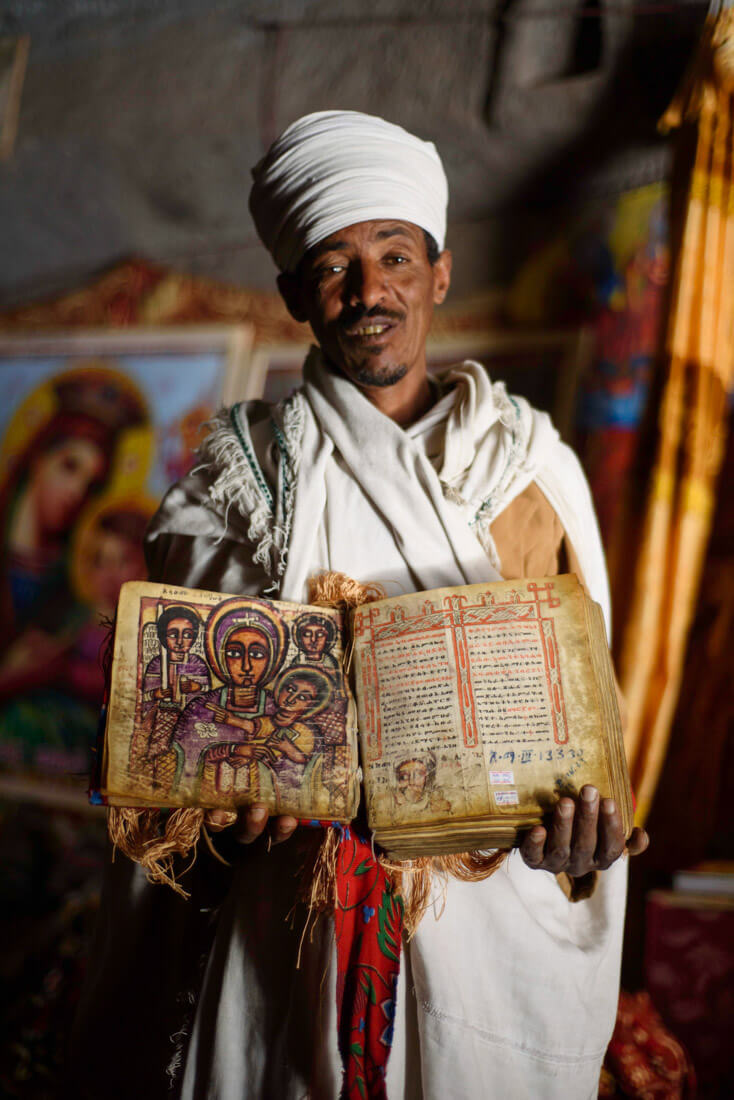 Every day at around 5:30am, those timeless, mind-blowing rock-hewn churches are overrun by hundreds of locals in their traditional clothes, chanting along the way, and creating a mystical, tourist-free atmosphere.
No matter how many tourists visit it, this is, and will always be, one of the top pilgrimage sites for Ethiopians, and that's the top reason to visit Lalibela.
You will be interested in visiting the Danakil Depression in Ethiopia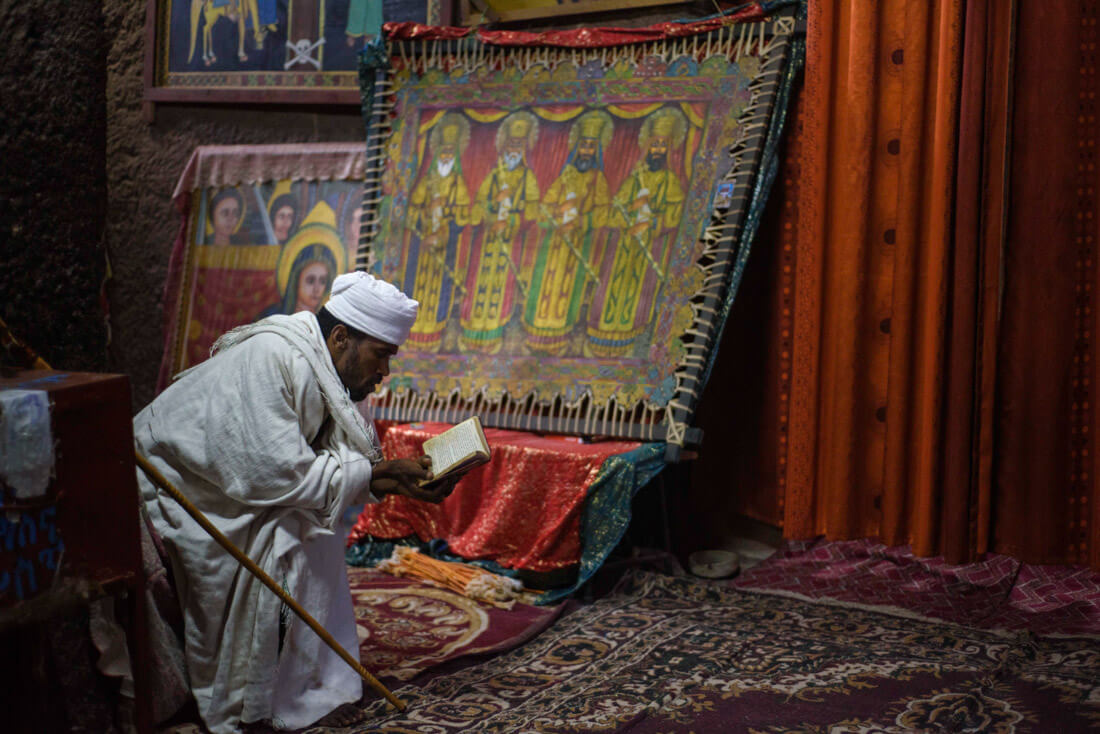 Best time to visit Lalibela
Lalibela can be visited any time of the year, even during the rainy season, but some days are better than others, as you may want to be there when they are holding traditional ceremonies.
For that, the best day of the week to visit Lalibela is during the early morning Sunday mass, when Bet Giyorgis Church is filled with hundreds of Ethiopians wearing their traditional white robes and intoning some goose bumps chants.
Saturday is market day, a market that also includes a livestock section.
Therefore, weekend is the best time of the week to travel to Lalibela.
On the other hand, you may also wish to visit it during the following Christian festivals:
Genna – Ethiopian Christmas that takes places on January 7th
Timkat – Ethiopia's Orthodox Christian celebration that takes places on January 20th
Meskel – Ethiopian religious holiday that takes places at the end of September
During those days, the rock-hewn churches of Lalibela become authentic pilgrimage sites attended by thousands and thousands of Ethiopians from all over the country.
However, bear in mind that Lalibela does get busy during those days and prices go up.
I went Lalibela in March, by the way, the month that marks the end of the high season and, while there were still tourists, it wasn't anything overwhelming.
Read: How to visit South Omo in Ethiopia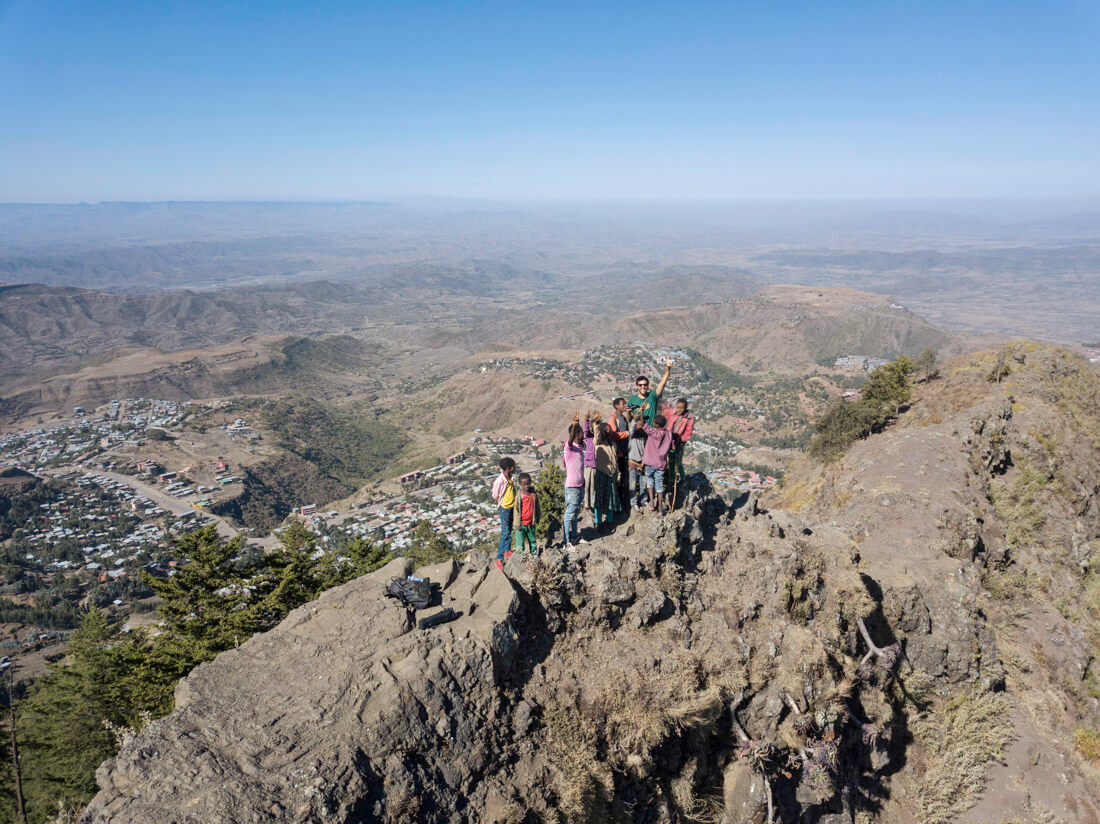 Things to do in Lalibela – A complete 3-day-itinerary
How many days you need to to visit all the places in Lalibela?
I personally stayed 3 nights.
You can easily visit all the main rock-hewn churches in one day, and then I did a half-day trip to a nearby monastery on the second day.
In the evening, I went back to Bet Giyorgis church, as I did on my third day. Seriously, it is so awesome that you will be wanting to go back over and over.
Day 1 – Visiting the rock-hewn churches
Note that the entrance fee for visiting the archeological site is 50USD and is valid for 5 days. You can also pay in birr and that's what I recommend you to do, as you will be paying the official rate, which is lower than the black market's.
There are 11 churches to visit within an area of 15ha, approximately.
The most famous and photogenic church is Bet Giyorgis, the cross-shaped monolith carved out from the ground, and the church where you will be spending most of your visit.
I strongly recommend coming here at 6am, when the locals go.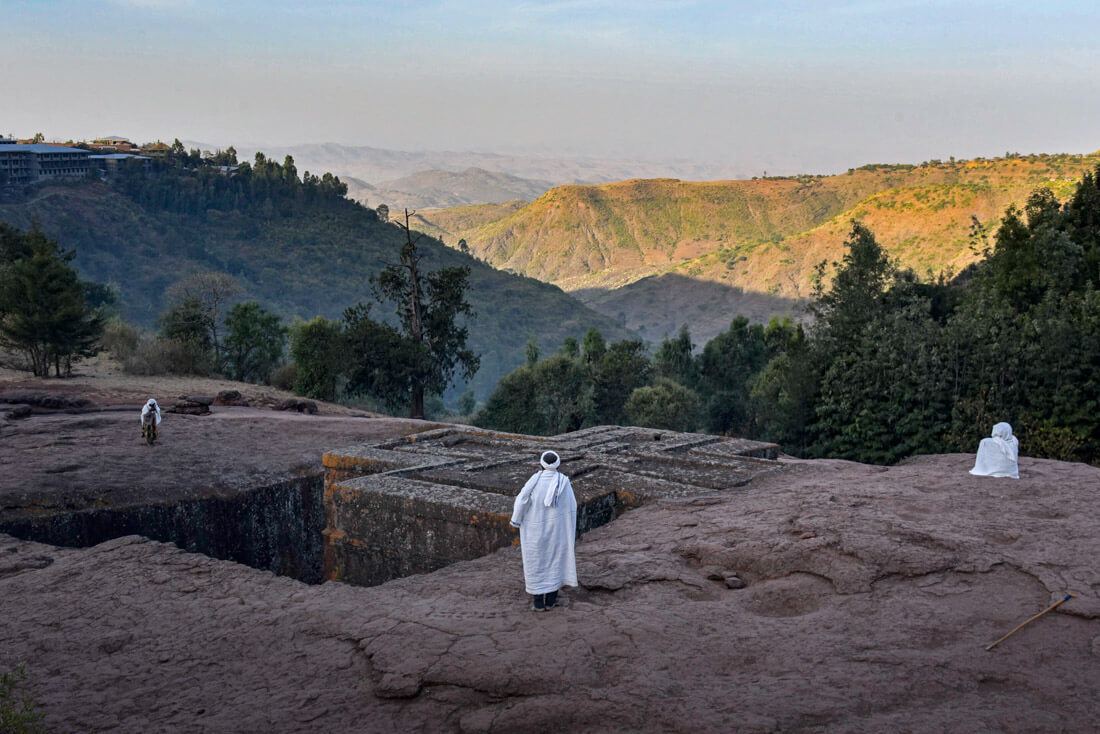 Then, you can visit the rest of the churches, which are also very impressive but the problem is that they have all been covered by some ugly protective fences which definitely clash with the good-looking ancient architecture.
It's a real shame, but the locals say that are currently figuring out a better-looking design which will be applied in a nearby future.
Against the Compass tip – I arrived at Bet Giyorgis at sunrise but the ticket office wasn't open until 8am, so the guard wouldn't let me in. I convinced him by handing him my passport, which he would give me back after I bought my ticket. It worked but I recommend you buy your ticket the day before.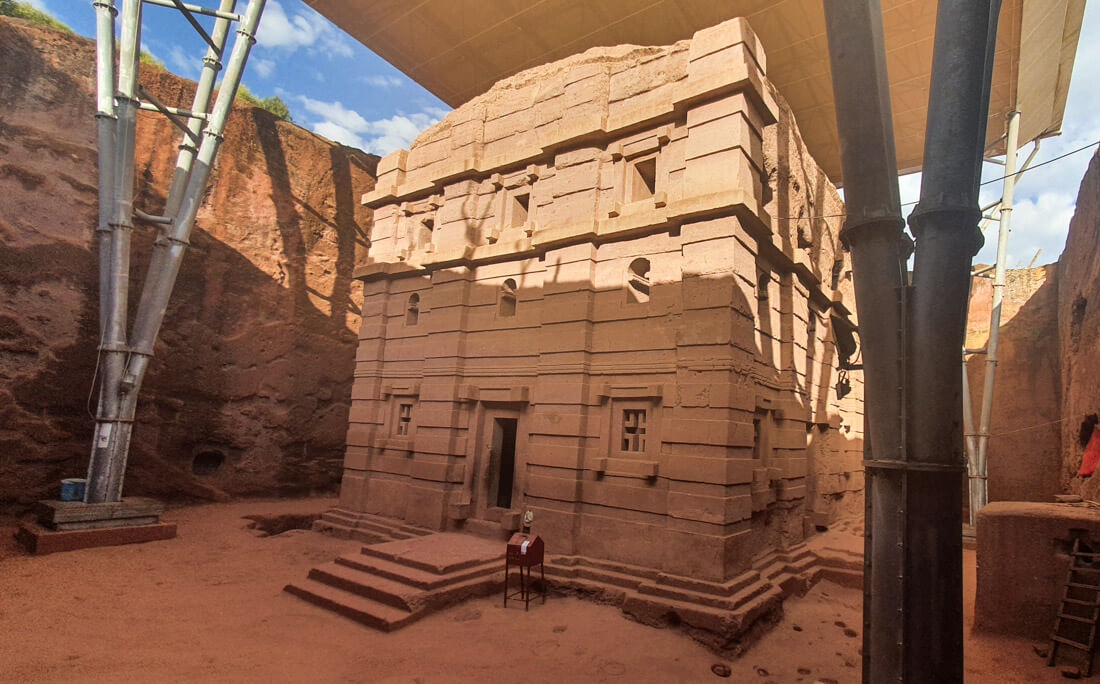 Day 2 – Trekking to Asheton Maryam Monastery
Another great thing to do in Lalibela is trekking to Asheton Monastery, located only 5km from Lalibela, but you need to climb a pretty steep ascent.
Asheton Monastery is inhabited by one monk who will show you a set of sacred items, including a very, very ancient Bible.
Then, he will ask you for money, but I gave him nothing because they already charge you 20USD for getting in (official price), which was a bit abusive in my opinion.
Besides, there was a kid just outside of the monastery who also asked me for money just because according to him, he kept my shoes safe.
Welcome to Ethiopia.
Anyways, visiting the monastery was nice but what I enjoyed the most was the trek itself, both for the views and also because you bump into many pilgrims and locals who inhabit the nearby farming villages.
Be careful, however, and don't trust anyone randomly telling you to come to their house for coffee because they will ask then for a lot of money.
It was a 6-hour round-trip trek. Bring plenty of water. The monastery is also reachable by vehicle by the way.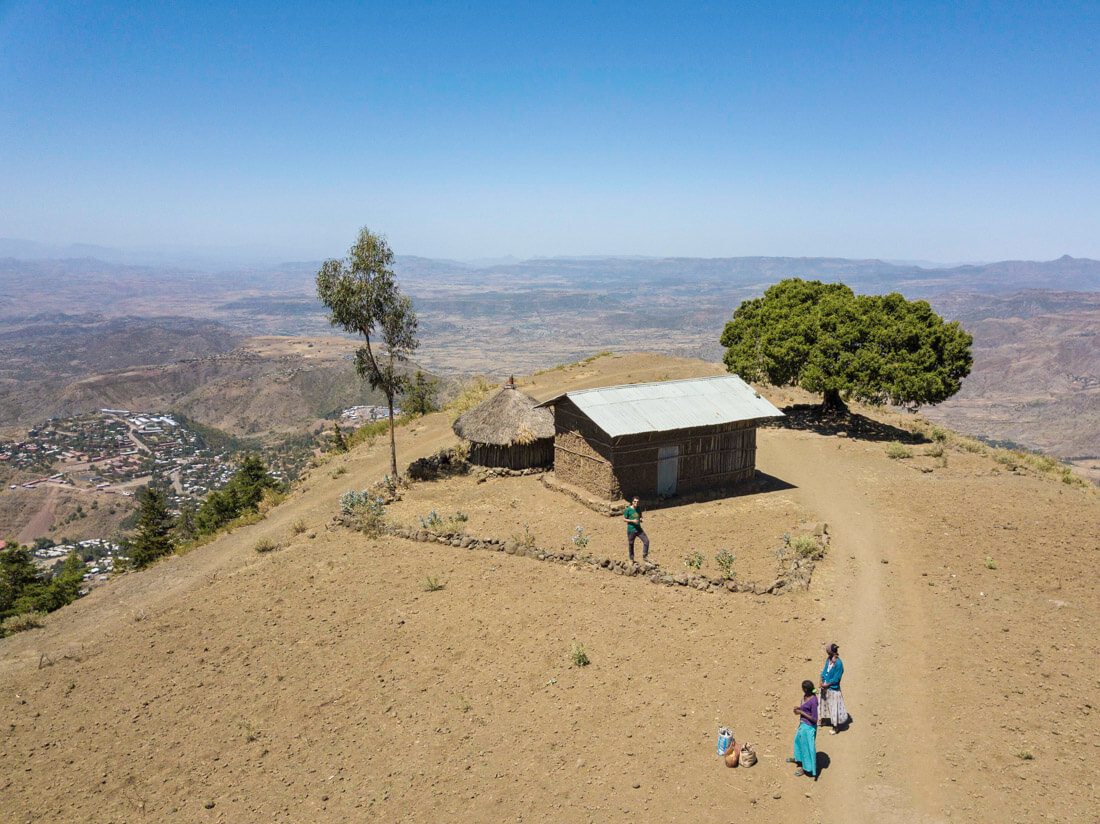 Day 3 – Chilling out
Some other great places to visit around Lalibela are Yemrehanna Kristos (a natural cave church) and Na'akuto La'ab (a good sunset watching spot), but I decided to hang around and went back to Bet Giyorgis to take some more photos and admire its stunning beauty.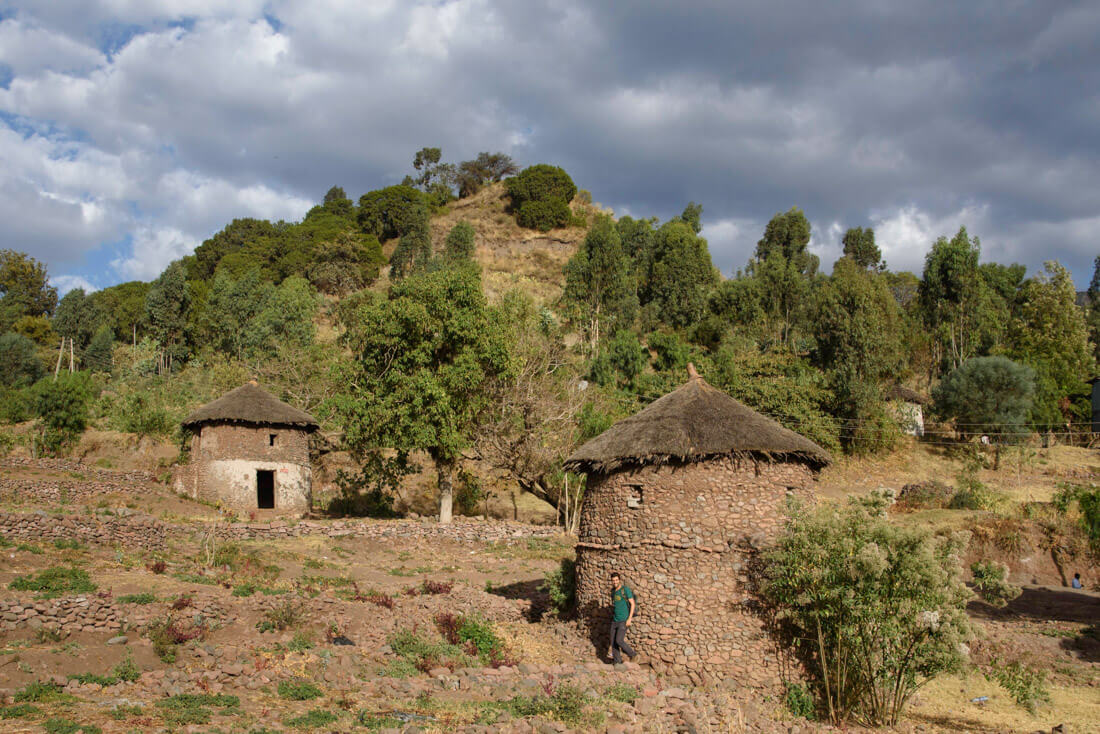 Where to stay in Lalibela
Lalibela has plenty of accommodation options for all budgets. Here are my recommendations:
Budget Guest House – Blue Nile Guest House – Basic but good accommodation and the best place for solo backpackers, as they have budget single rooms. Location is great as well.
Nicer Guest House – Merkeza Guest House – A much better guest house, ideal for couples and with breakfast included. Even good for solo travelers with a slightly larger budget.
Mid-range Hotel – Halle Hotel Lalibela – Brand new hotel with stunning views of the valley.
How to get to Lalibela
Ethiopia is an adventurous destination, get travel insurance
I strongly recommend IATI Insurance: adventure activities, COVID-19 coverage
Get 5% discount if purchasing via this link
Lalibela is in the Amhara region, 630km north of Addis Ababa.
It is well-connected by air but, given its remote location, there is no proper tarmac road connecting it to any city.
How to travel to Lalibela from Addis Ababa
By plane – Lalibela's airport is relatively new and was built precisely to make things easier for tourists, as coming here by road can be a real pain in the ass. There are daily flights connecting both cities.
By bus – Quite a journey. First, from Meskel Square in Addis you can take a coach to the town of Dessie (price was 310 birr). Buses typically leave at 4am, but you may find one later. It's a 9-hour journey at least. That's the easy part.
From Dessie, there should be direct transportation to Lalibela but I didn't find any, so I took a local bus to Weldiya and, from Weldiya, took a second, really old, local bus to Lalibela.
This last part, from Weldiya to Lalibela was a dreadful journey: the bus was really uncomfortable and the road in very bad condition. I don't know if it makes sense to tell you the price of these 2 last buses, as the locals will definitely try to rip you off and you never know whether you are paying the right price or not.
For the second bus, they initially told me to pay 250 birr and, after battling, I ended up paying 100 but, still, I am pretty sure that wasn't the local price.
Traveling from Dessie to Lalibela takes 8 hours, so you may want to break the journey in 2 days and stay over in Dessie.
I actually stayed in Hayk, 30km after Dessie, as there is a beautiful monastery next to a lake. I stayed in a very random, creepy hotel in the center which isn't even worth mentioning. One of those hotels which is good for just 6 hours.
How to travel to Lalibela from other cities in Ethiopia
You may find direct transportation from the following cities:
Mekele
Axum
Bahir Dar
Gonder
But it will always be an awful, long journey. That's why most tourists will get private transportation but it tends to be very expensive, especially because they book it directly in their hotel's reception, so I recommend you head to the bus station, look for the fixer that arranges the private cars (local taxis), and try to bargain.
How much does it cost to visit Lalibela: budget & costs and scams
The only remarkable extra cost is the 50USD entrance fee to the rock-hewn churches.
Other than that, Lalibela is definitely more expensive than any other place in Ethiopia, with a faranji price (dual price for foreigners) applied to any restaurant in the village, even in very local places.
In fact, one day I wasn't feeling like paying the price of a tourist meal, so I went to a very local (like very local) restaurant that was serving beyanet, their cheapest and most traditional vegetarian dish.
In those local eateries, the price of beyanet never exceeds 30 or 40 birr (1USD), and I actually saw the man sitting next to me paying 30, and I was stupid enough to believe that they would charge me the same so I gave him a 100-note without asking for the price and guess what change did I got back: nothing.
I told him that there was no chance I would pay that, that I wanted to pay 30 birr like everybody else but he said no, that price was 100 because I also had coffee (which is never more than 5 or 10).
I had never been so angry at an Ethiopian in my life, so I grabbed some injera leftovers (local bread) and threw it to him from across the table, telling him he was a thief.
Ethiopia can be exhausting. In 3 days I had been ripped off too many times.
Furthermore, in Lalibela you will be continuously approached by so many locals pretending they want to be your friend but they just want money from you, so be careful and apply common sense.
Should you book a tour for Lalibela? Price of a private guide
I didn't hire a local guide to visit the churches but I heard it's worth it, as their walls and paintings cherish plenty of intricate stories and legends which you would never find out unless you hire one.
Official tour guides charge around 20-30USD per person.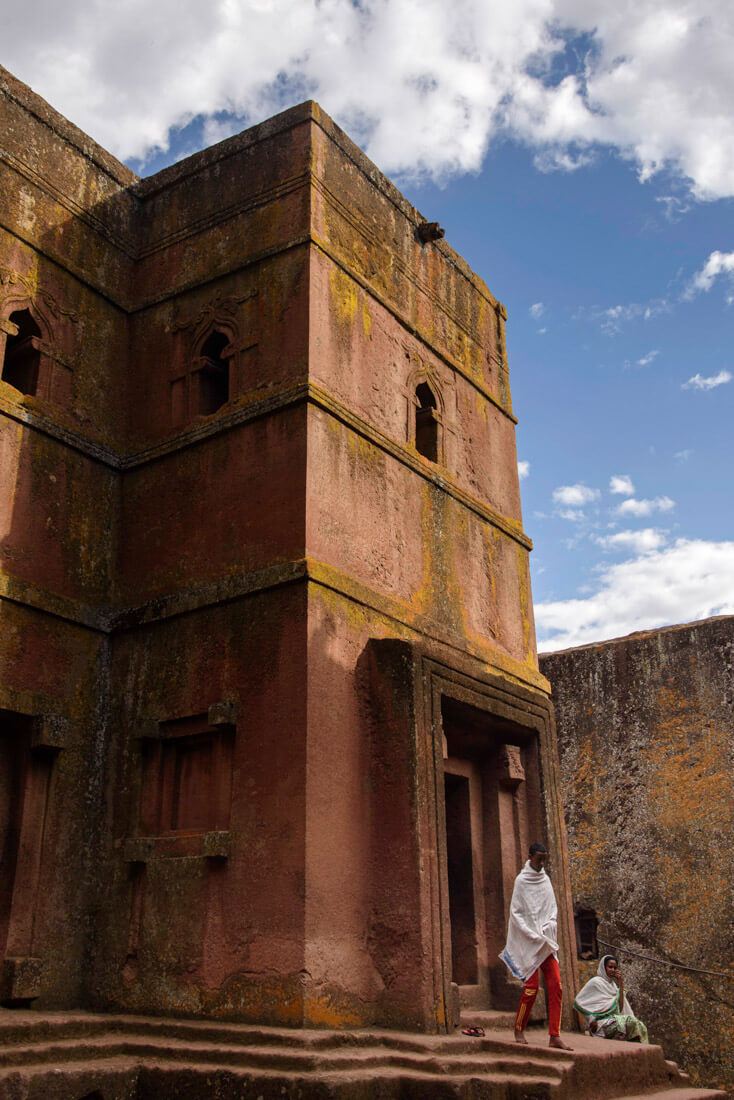 How to move around Lalibela
If you stay in any of the above accommodation options, you will be staying close to the archeological site, so you won't need to take any tuk-tuks.
However, some cheaper options are located in the newer part of town, 3-4km away, and for that, you want to a tuk-tuk, especially women going back at night, as there is literally no light.
Not surprisingly, tuk-tuk drivers are very annoying and their service always comes with a faranji price.
More information for visiting Lalibela
Don't forget to check our travel guide to Ethiopia.
As well as all our Ethiopia articles: