A guide to go trekking in the Simien Mountains
In memory of Nico Meier, friend and fellow traveler whom I had the great luck to meet in the Simien Mountains, in March 2020. May he rest in peace.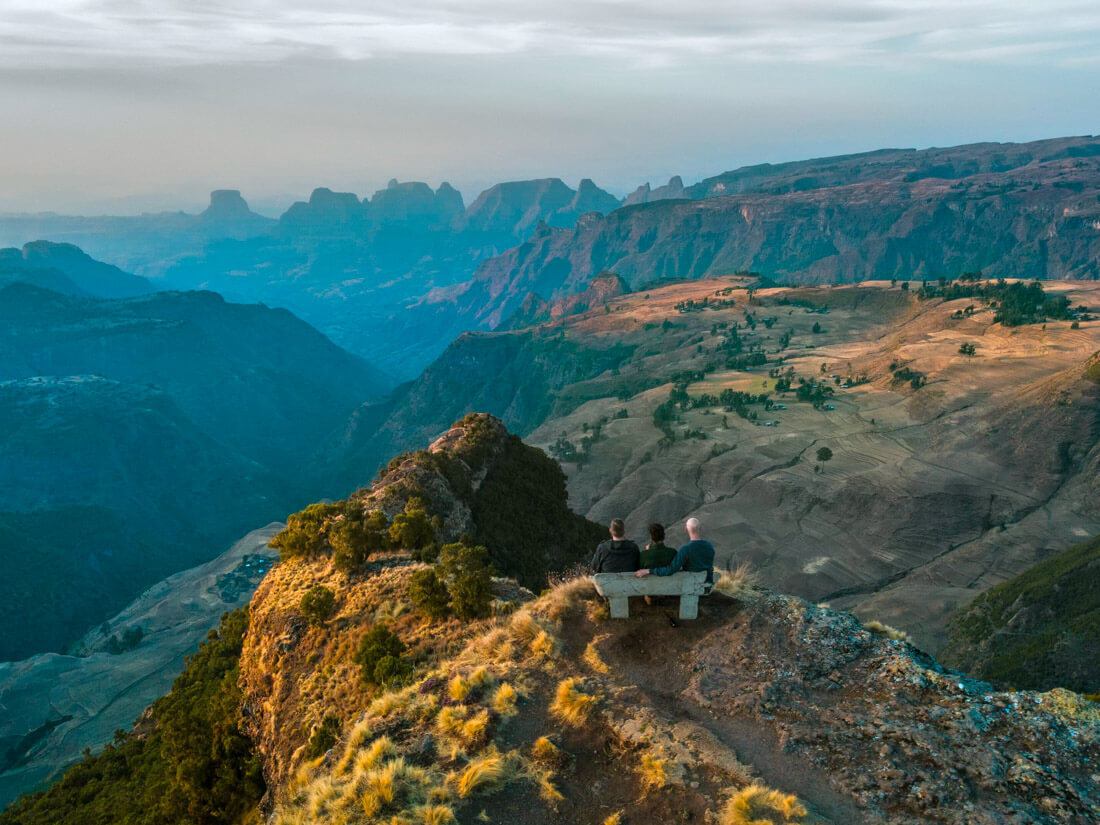 A rugged, mountain range composed of insanely vertiginous cliffs and several peaks above 4000 meters, hiking in the Simien Mountains is, for many travelers, one of the highlights of any trip to Ethiopia.
At 4500 meters above sea level, Ras Dashen is the highest peak, the highest mountain in Ethiopia and the 5th in all Africa and, along with some real jaw-dropping scenery and a large variety of wildlife – especially Gelada monkeys, which you are likely to see in hundreds – it is no wonder that Simien Mountains National Park was declared a UNESCO World Heritage Site in 1979.
This is one of the top trekking destinations in Africa, an adventure you don't want to miss.
This guide contains everything you need to know to go trekking in the Simien Mountains in Ethiopia, including how to get there, tours, independent travel and trekking routes.
For all the practical tips to visit the country, don't forget to read everything you need to know to travel to Ethiopia!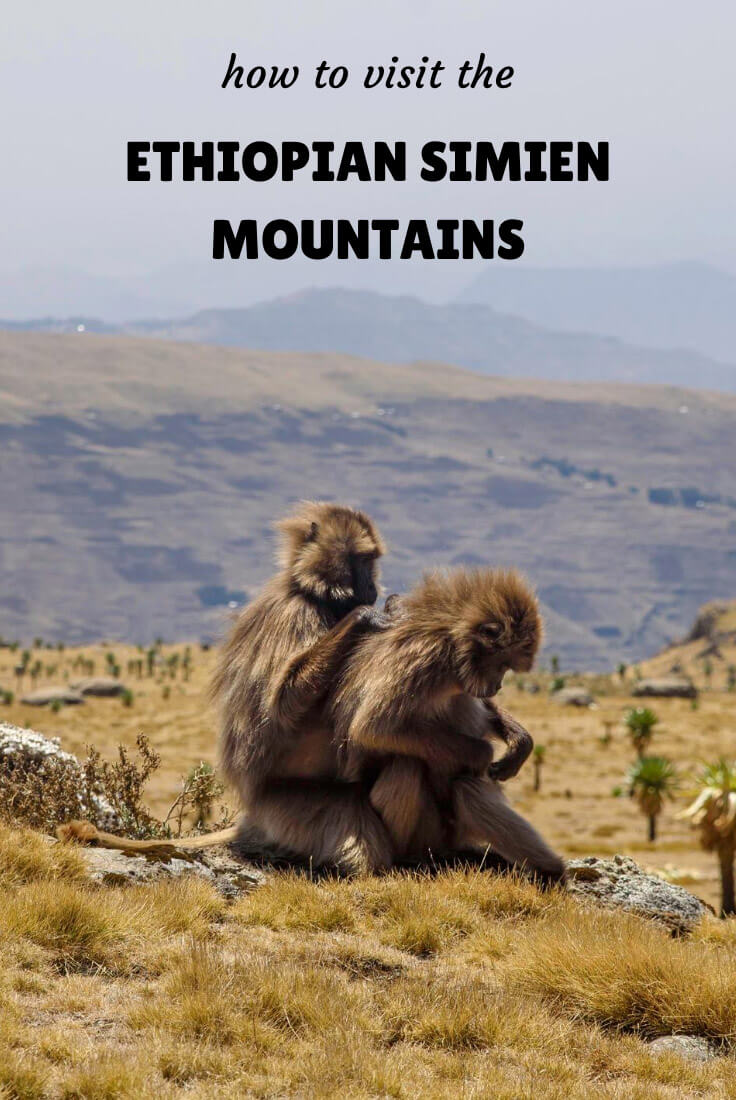 Introduction to trekking in the Simien Mountains National Park
Hiking the Simien Mountains was one of the best things I did in Ethiopia.
Being one of the very few places in Africa with regular snowfall, the landscape is absolutely breathtaking, plus you get to see plenty of wildlife from very, very close, including hundreds and hundreds of monkeys hanging out together. For me, that was priceless.
I did the Simien Mountains trek during the month of March, which is almost the end of the dry season, when the landscape turns kind of brownish, so I missed all the greenery those mountains are famous for, but that also meant that there weren't many other hikers around, so we had all campsites pretty much to ourselves.
I decided to do the 3-day trek (most tourists do from 2 to 4 days) but the Simien Mountains offer treks for up to 12 days.
I personally believe that, except for a short climb over a 4000-meter pass on our second day, it was actually very easy, almost like a walk, at least compared to other treks I have done in Georgia and Central Asia.
Let me tell you everything you need to know about it.
Interested in visiting the Omo Valley in Ethiopia? Then, read this post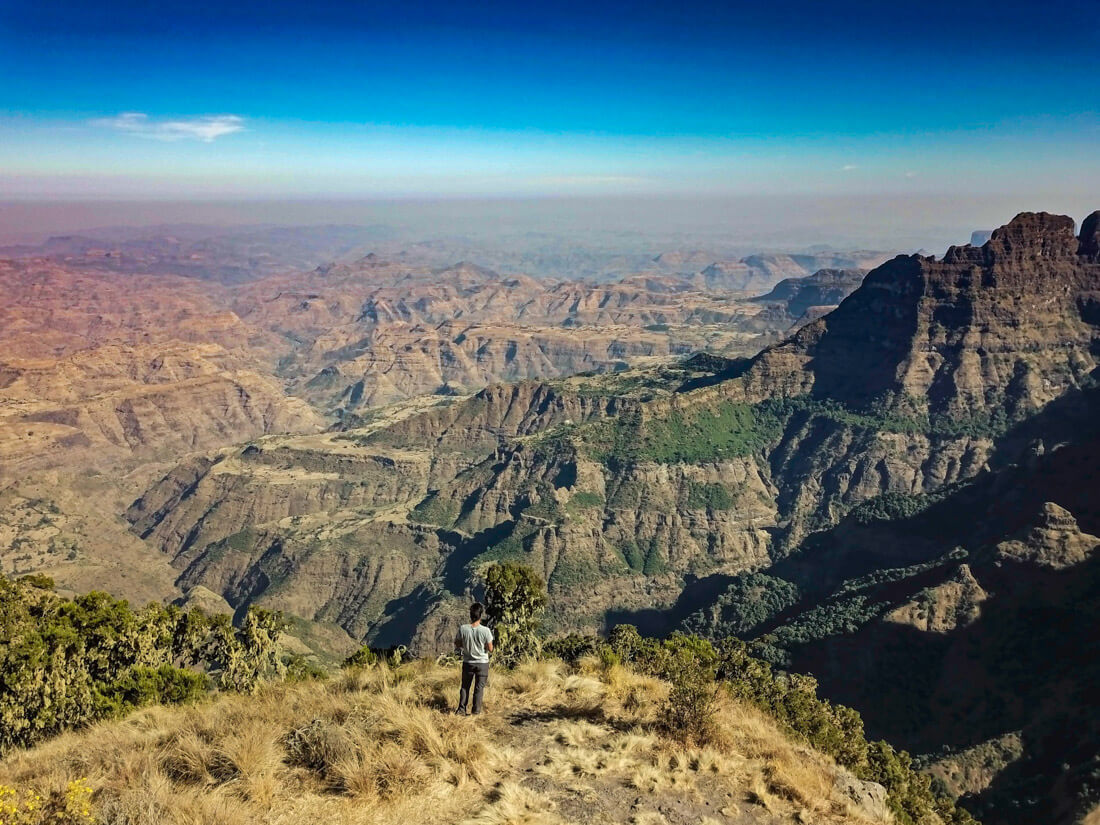 Best time to visit the Simien Mountains
The rainy season runs from May until mid-September, the rainiest months being July and August.
After that, the mountains turn beautifully green and stay like that until December-January so, from a landscape point of view, mid-September to January would be the ideal time hike the Simien Mountains, but bear in mind that it will also be high season and, from what I have heard, the mountains can get pretty packed.
If you can choose, I would try to go in September, when the mountains are at their best and big crowds haven't come over yet.
February to April is the low season. As I said before, the mountains weren't at their best, but the drop-dead cliffs were still there and, in 3 days, we just bumped into 3 or 4 other small groups.
You need to assess what works best for you, whether fewer tourists or more greenery, but if I had to go again, I would definitely try to go at the beginning of September.
Many people who travel to Ethiopia are also interested in visiting neighboring Sudan. Read my travel guide to Sudan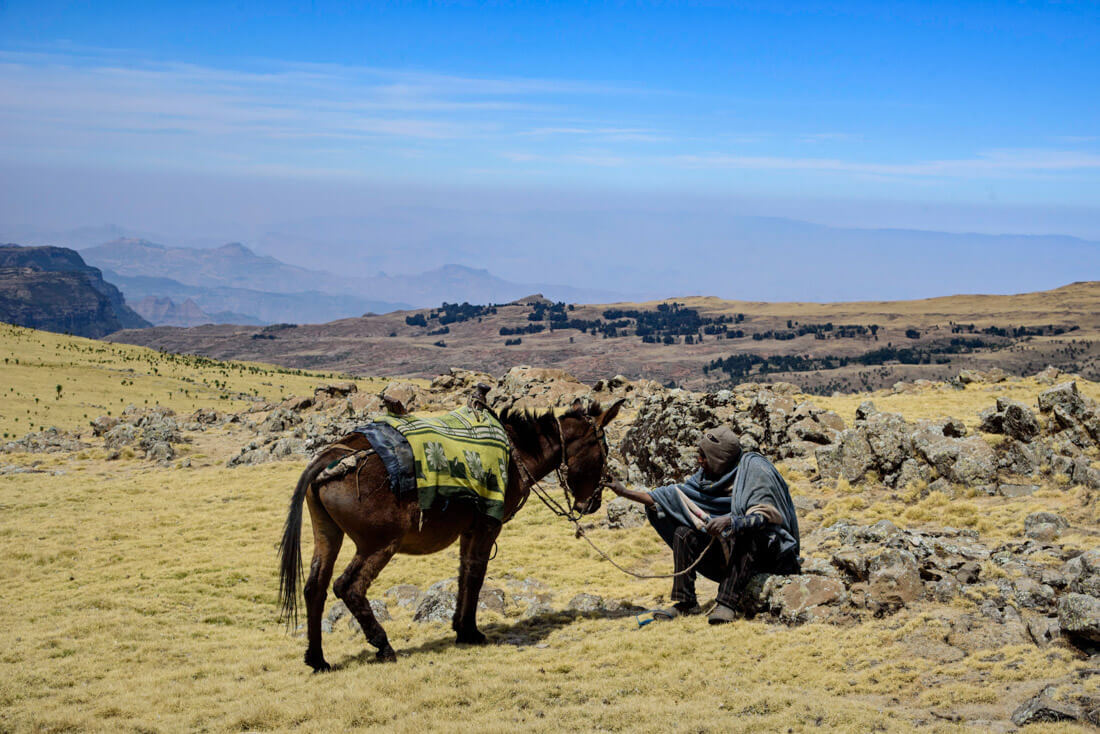 How to get to the Simien Mountains
The Simien Mountains is a high plateau located in northeastern Ethiopia, in a region named Amhara, mainly inhabited by the Amhara people, the dominant ethnic group in Ethiopia.
The closest big city is Gonder but the nearest town, from where you actually enter the National Park, is Debark.
If you are coming from the north, Axum is the closest, most famous city. That's where I came from, but I met an Ethiopian dude who was going there in his car and he charged me the local price.
How to get to Gonder
Gonder is located roughly 650km from Addis Ababa and you can easily take a coach bus from Meskel Square, which typically leaves every day at around 4-5am. Do book your ticket one or two days in advance at least. It's a 10-hour journey, maybe more.
Alternatively, you can also fly in from Addis or many other cities in Ethiopia.
How to get to Debark from Gonder
Debark is less than a 2-hour drive from Gonder (100km) and local buses run all day.
How to get to Debark from Axum
By the local bus, this will be a very tough, long journey and you may not be able to reach Debark in one day but, to get there, first take a bus from Axum to Shire, and then a second one to Debark.
It's only 250km but the road is a pretty bad one, so is the local bus.
How to get to the gates of Simien Mountains National Park
The entrance to the gates is located around 15km from the city of Debark. A taxi may cost you around $20, but in Ethiopia, it always depends on how foreign you look.
If you are an adventurous backpacker, know that the national park is home to several mountain villages and I saw many local buses going back and forth. Go to the bus station to ask for timings.
Note – If you book a tour, most tour companies are based in Gonder, so you will need to work out how to get there.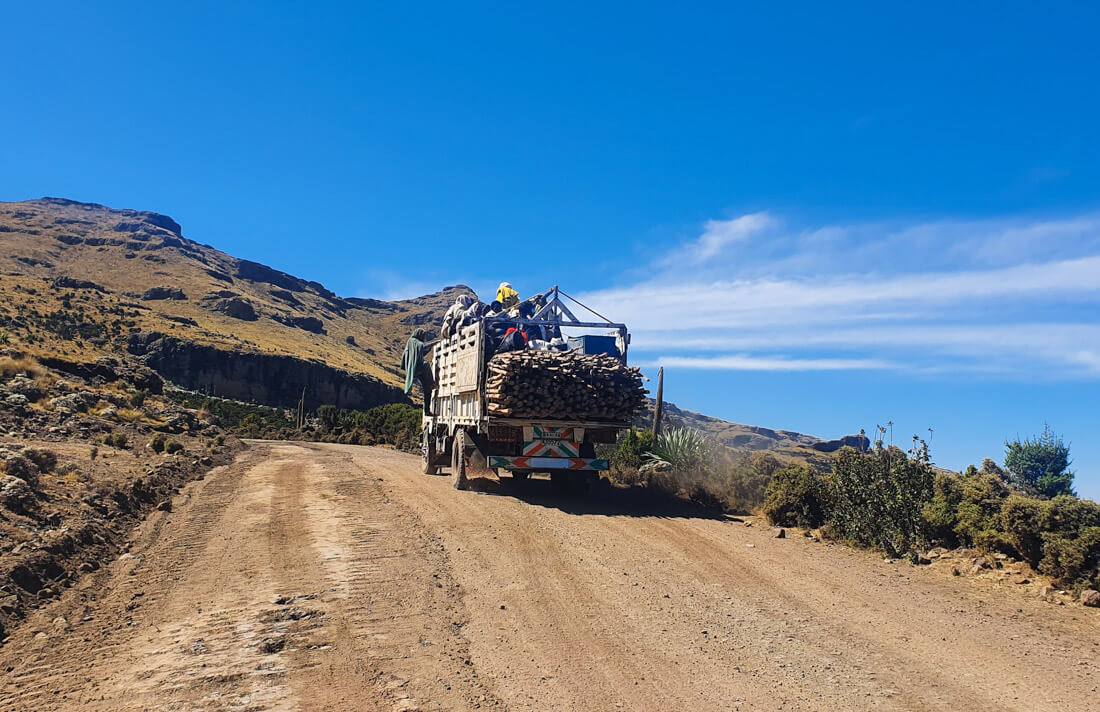 Hiking the Simien Mountains: independently or on a tour?
Important information – As a foreign traveler, you can go trekking in the Simien Mountains independently, and any Ethiopian tour guide telling you otherwise is a big liar.
And I am highlighting this information because all travelers get it wrong.
Before even traveling to Simien, I already knew it from different sources, from a few friends who had done it on their own. Then, in the mountains, we also met one couple doing it by themselves.
The only thing that is mandatory, however, is an armed escort but, by no means are you forced to go with a guide and book a full tour, like not at all.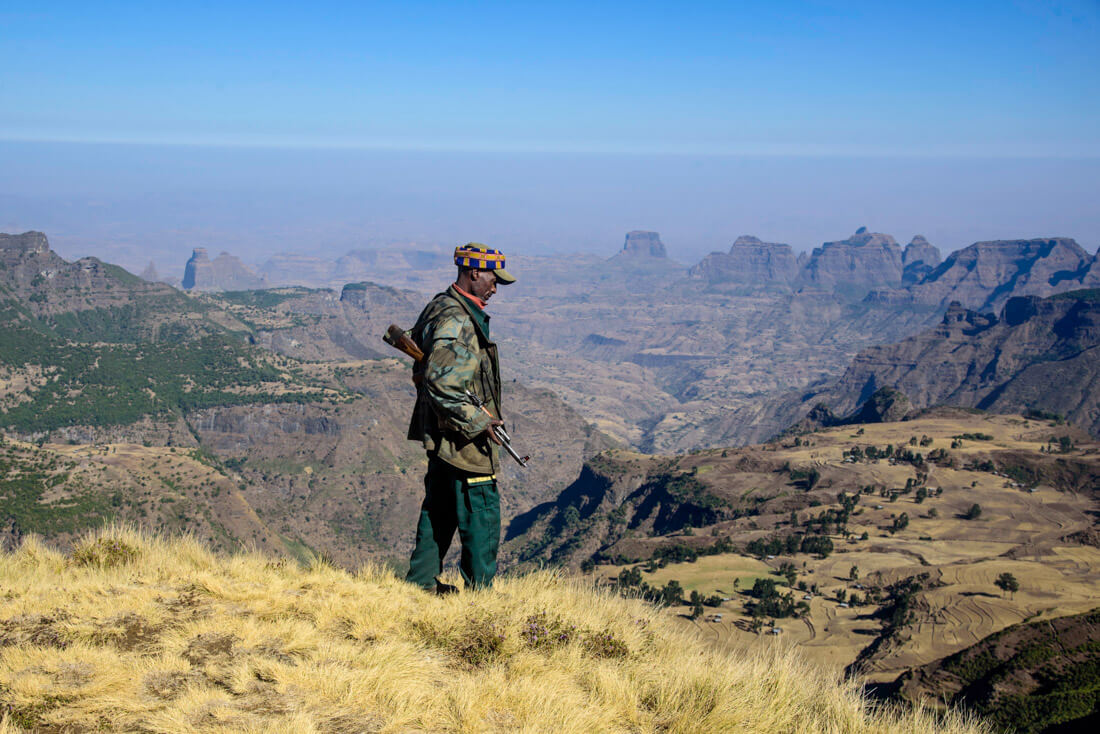 And the reason why most travelers believe this wrong information is because, in the Simien Mountains National Park's office, the different tour guides will tell you that the law dictates that you must go with a guide (as well as the armed escort) and, if you refuse, they will even pretend to be mad.
The day after I finished my trek, I was having a coffee with another backpacker when one local guide approached us in an attempt to sell us a tour to the Simien Mountains, like the 10th guy in a day.
That backpacker had not done the trek yet, and I jumped in the middle of the conversation saying:
Man, you know you can do it without a guide, right?
The tour guide, nonetheless, denied it and when I told him how I knew it, he became so mad, yelling at me, saying that why do I come to Ethiopia to ruin their jobs, and non-sensical stuff like that, I swear, crazy man.
Anyways, we were discussing doing it independently or not.
Something you need to know, however, is that if you want to go trekking in the Simien Mountains on your own, and you are only one person, the total cost would be practically the same as if you joined a group, as you will still have to pay for:
Armed escort
National Park entry fee
Food
Accommodation (if you don't have a tent)
Taxi to the gates and back (you can try the local bus, but the taxi mafia taxi won't allow you, if they catch you).
If you are two people or more, great but, otherwise, if you do it for the money, there isn't much difference.
Also, just for you to know, you will find mountain huts along the way where you can stay for very little money and also get a warm Ethiopian meal.
Why I decided to go on a tour
If you are an avid reader of this blog, you will know that I rarely travel on a tour but the Simien Mountains were the last stop of a long African trip throughout Eritrea, Djibouti, Somaliland and Ethiopia, so I was particularly tired, and I just wanted someone to do everything for me, and it turned out to be great.
Whatever you choose, in the Simien Mountains you can't go wrong.
How to book a tour for the Simien Mountains
The cheapest place to book a tour to the Simien Mountains is by doing it directly in Debark offices. In Gonder, you may be able to find a similar price.
I booked mine, however, through a good local friend (Arre) but had to wait for 1 additional day because there wasn't a group to join, as it was low season. I highly recommend him, not only because he is a honest local but also because he is a great guy to hang out with.
How to get in touch with my friend Arre:
WhatsApp: +251961263661
Phone number: +251919446548
Website: arretours.com
How much does it cost to go trekking in the Simien Mountains?
Ethiopia is an adventurous destination, get travel insurance
I strongly recommend IATI Insurance: adventure activities, COVID-19 coverage
Get 5% discount if purchasing via this link
How much does a tour to Simien cost?
Well, it really depends on many factors (how many people you are, where you depart from, where you book it, etc.) but, for the 3-day trek, expect to pay at least $170, assuming you are a group of 4-6 people and book it in either Gonder or Debark.
That $170 includes permits, guide, armed escorts, food, transportation, etc. I think it's a pretty good deal.
How much does it cost doing it independently?
Besides food and potential accommodation, you will have to pay for permits and the armed escort, which all together should be around $20 a day.
Then, you will have to pay for taxi to go back to Debark, which costs $100. Alternatively, there is the cheap, local bus but, as I said, if you get caught by the taxi mafia, you won't be able to get in.
Simien Mountains accommodation. Where to stay
Where to stay in Gonder
Budget hostel – Gondar Backpackers – The hostel where most backpackers stay.
Mid-range hotel – Inn of the Four Sisters – A beautifully decorated hotel right in downtown and, for many, the best hotel they stayed at in Ethiopia.
Top-end – Haile Resort-Gondar – For the most comfort, this is the best hotel in Gonder.
Where to stay in Debark
In Debark, there aren't good value-for-money options.
Most budget – Atse Tewodros – Quite far from town, but it is the only decent budget option.
Nicer hotel – Tsehay Zeleke Hotel – I stayed here for two nights. It's a bit pricey for what you get, but, still, it is much better than most options in Debark.
Simien Mountains wildlife
There are some endemic mammals living in Simien, and in our 3 -day trek, we were able to see the following:
Gelada monkeys
Native to this part of the world, the Gelada monkeys are beautiful, hairy monkeys characterized by their heart-shaped red chest patch.
You can get very close to them, but the further you trek, the shyer they get. On our first day, we saw a massive herd composed of several hundred and we were basically sitting and hanging out in the middle of it.
Bushbuck
A sort of antelope. We saw a female hidden in the forest.
Ethiopian Wolf
More a chacal than a wolf, but equally beautiful. One of them approached our camp very early in the morning.
Wali Ibex
The rarest endemic animal in the National Park was close to extinction but it's been protected and they say their population has increased to 400. We saw one from very far away, climbing a very steep cliff.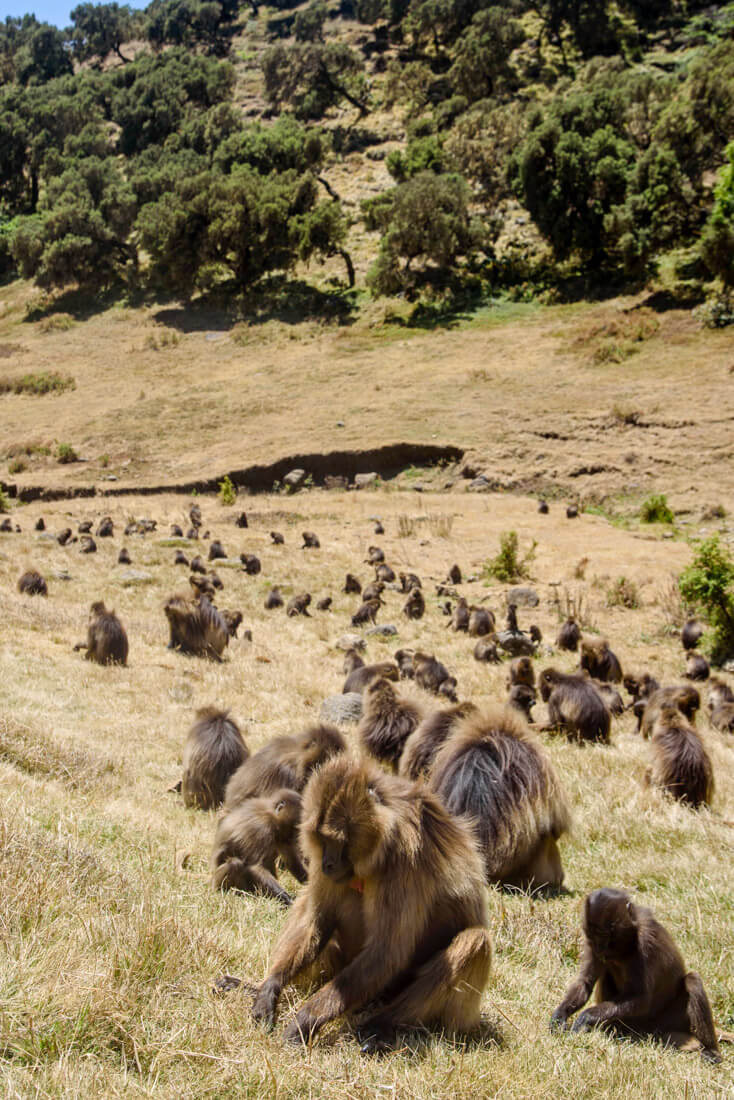 Simien Mountains, 3-day trek (route)
I did the 3-day trek in Simien.
The trail is perfectly marked on maps.me
Simien Mountains 3-day trek – Map
Simien Mountains trek (day 1) – Start of the trek to Sankabar
Unexpectedly, we started our trek in the middle of a dusty road but then we realized that it was because the driver saw a herd of monkeys, so the first hour of our trek involved sitting down among a few hundred monkeys while observing them, nothing else.
Weirdly, that was the best part of our whole 3-day trek, but that's because I like monkeys too much.
When the monkeys went into the forest and the fun was over, we started our way to Sankabar and, for a few hours, we walked over a dizzying, yet absolutely jaw-dropping, cliff from where you get unbelievable views of the Simien Plateau.
Sankabar is a campsite and where you will finish your day.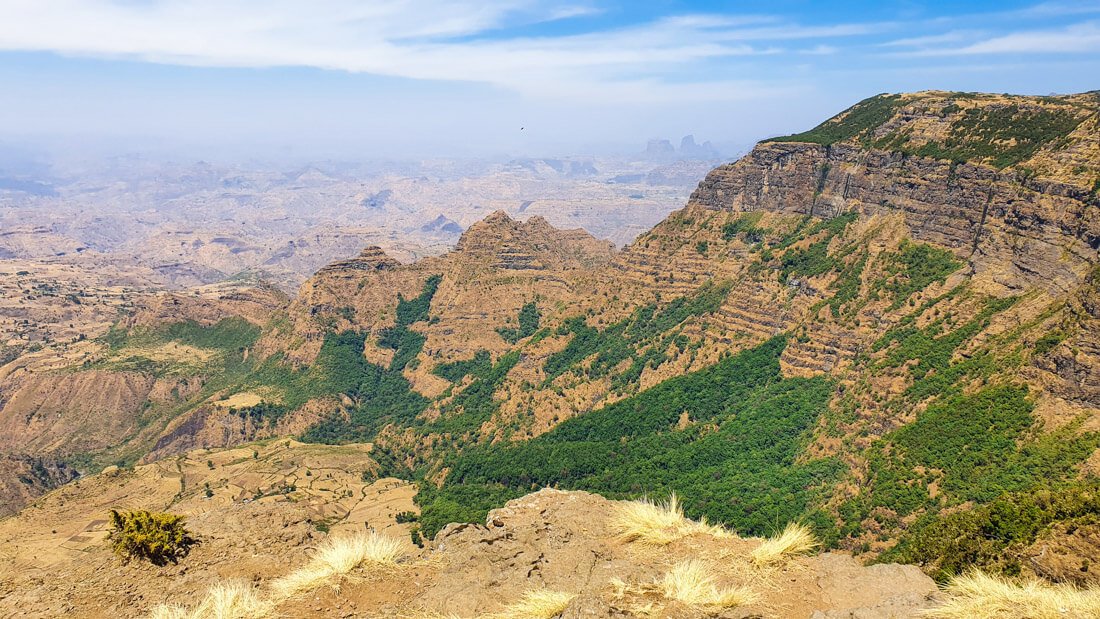 Simien Mountains trek (day 2) – Sankabar to Chennek via Enatye Pass (4070m)
From a landscape point of view, this was the best day of the 3-day trek.
In the morning, we followed the same path that goes over the cliff until we reached Jin Bahir Falls but, since March is dry season, there wasn't any water but still, the views were beautiful.
Usually, on the 3-day trek, you spend the night in a campsite named Gich but, for some reason, they wanted us to stay in Chennek, the campsite typically reached on the last night of the 4-day trek.
For that, we actually drove for half an hour, skipping the least beautiful part of the trek (they said), until we joined the hiking trail that ascends to Enatye Pass, a stunning 4070-meter high pass, the highest point we reached during the trek and from where we got the most amazing views.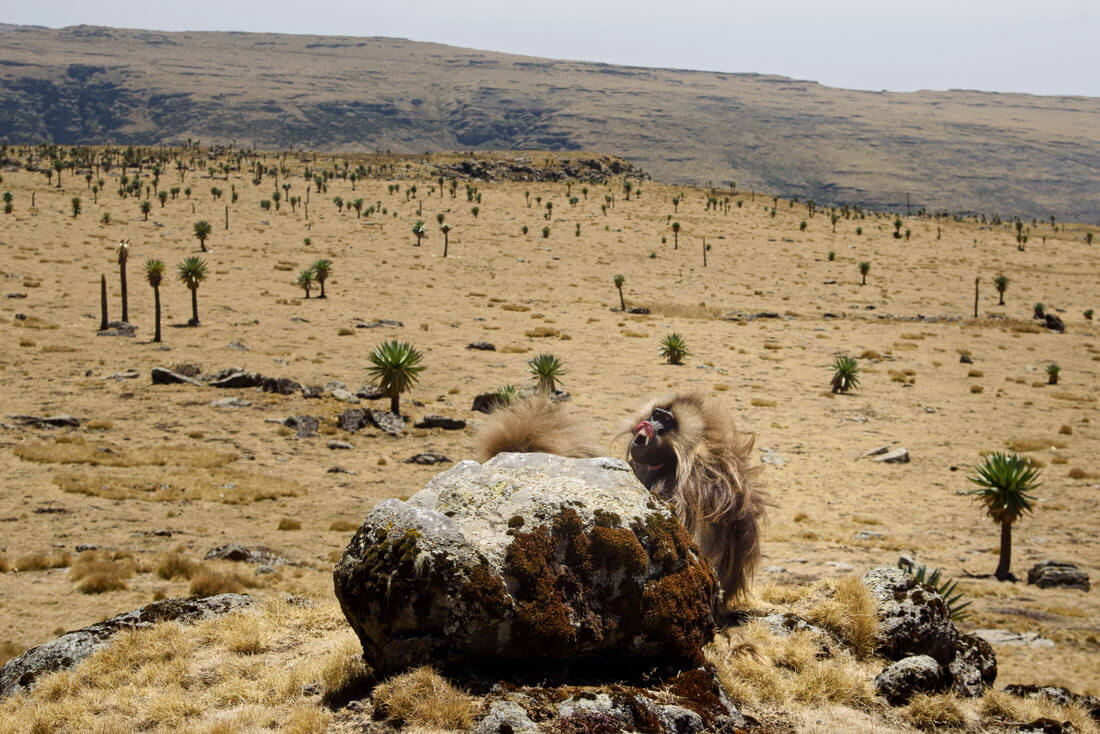 Enatye pass was full of monkeys as well.
Then, we started descending to Chennek campsite.
In Chennek, you can also enjoy some pretty cool views.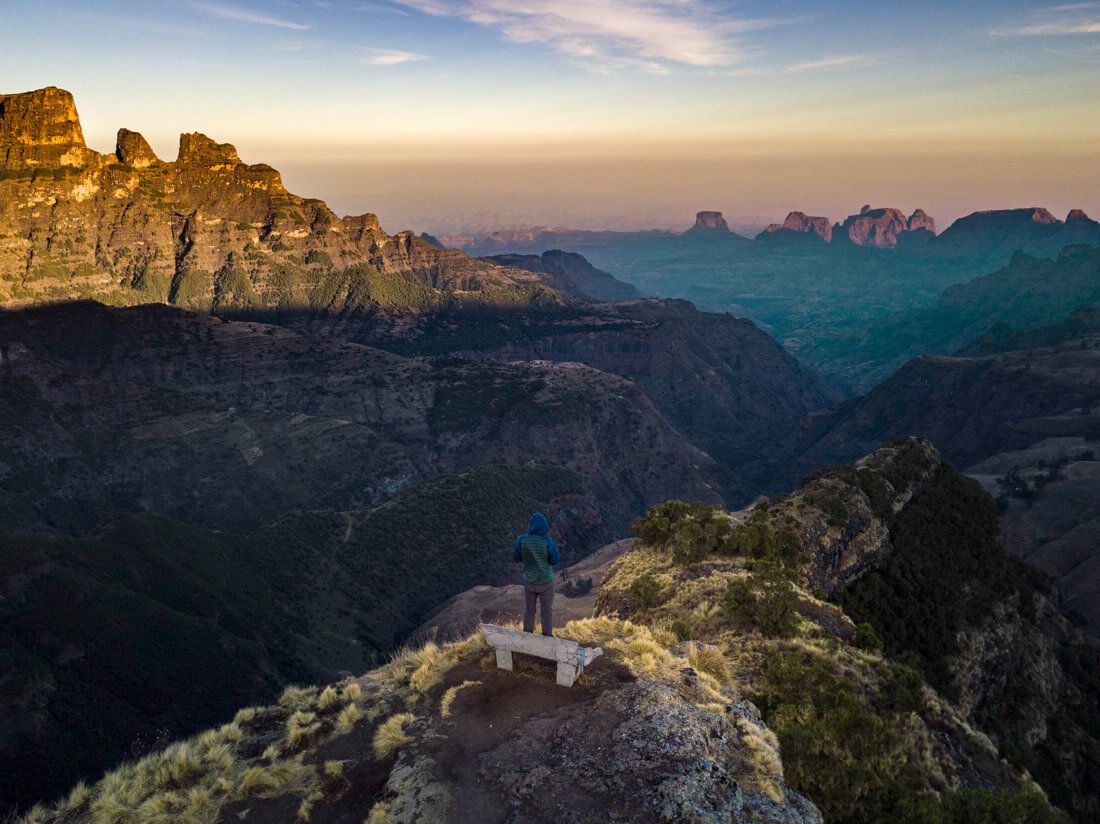 Simien Mountains trek (day 3) – Morning trek and back
In the morning, we just did a few-hours loop around the area, climbing on the top of another great view-point until we got back to Chennek, where we had lunch and the car going to Gonder picked us up.
The journey from Chennek to Gonder takes 5 or 6 hours at least.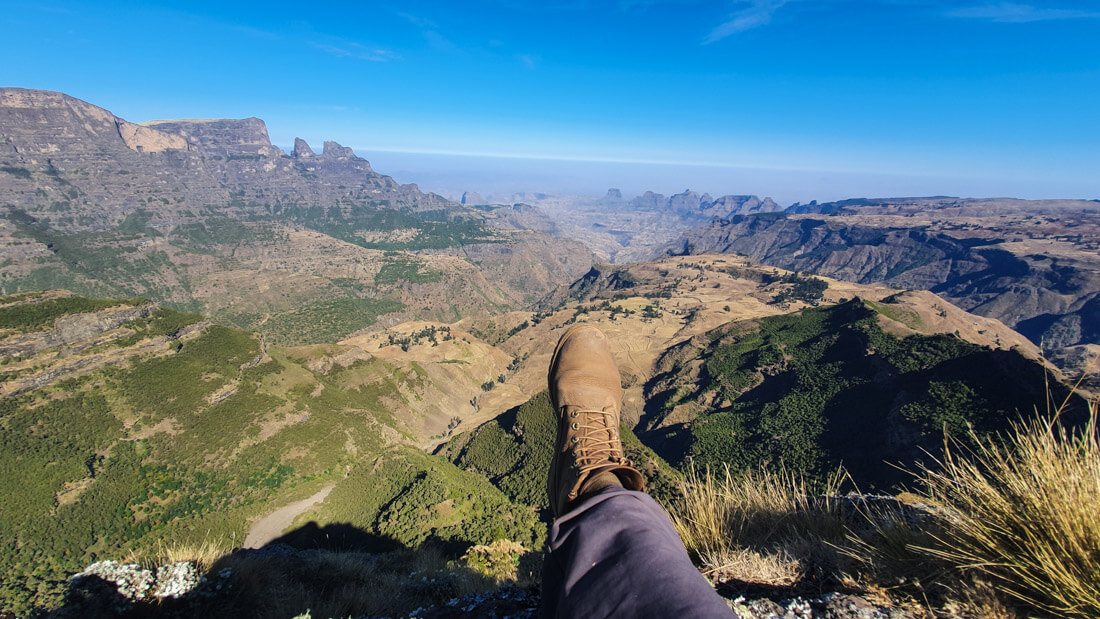 Further tips for trekking the Simien Mountains
The food – The food they gave us was all right, just trekking, energetic food like pasta and stuff like that. No Ethiopian food, which was weird.
Beer – You can find beer at 2x the normal price, which is still very cheap.
Armed escorts – They follow you all day but they never say a word, even though ours was smiling all the time.
Sleep – There are mountain huts with bunk beds but, if you go on a tour, they will put you in a tent with a warm sleeping bag.
Bring warm clothes – I don't know what the weather is like during the rest of the year but, in March, night temperatures dropped below 0ºC. It was by far, the coldest I felt in my whole African trip, which is understandable, given the fact that you sleep at more than 3000m above sea level.
Tips – If you go trekking on a tour, everybody will expect a tip, including cook, guides and armed escorts. Actually, it's not that they expect it, but they will just tell you directly.
Drones – Be careful if you fly a drone, as it is absolutely forbidden. I did fly mine and one ranger (or guide, not sure) heard it, but we were 5 people and my group didn't snitch on me, but the guide said that, if caught, the fee is $500 and, if not paid, they would confiscate the drone.
More information for visiting Simien Mountains
Don't forget to check our travel guide to Ethiopia.
As well as all our Ethiopia articles: