Things to do in Riyadh in 3 days – (Guide + Travel Tips)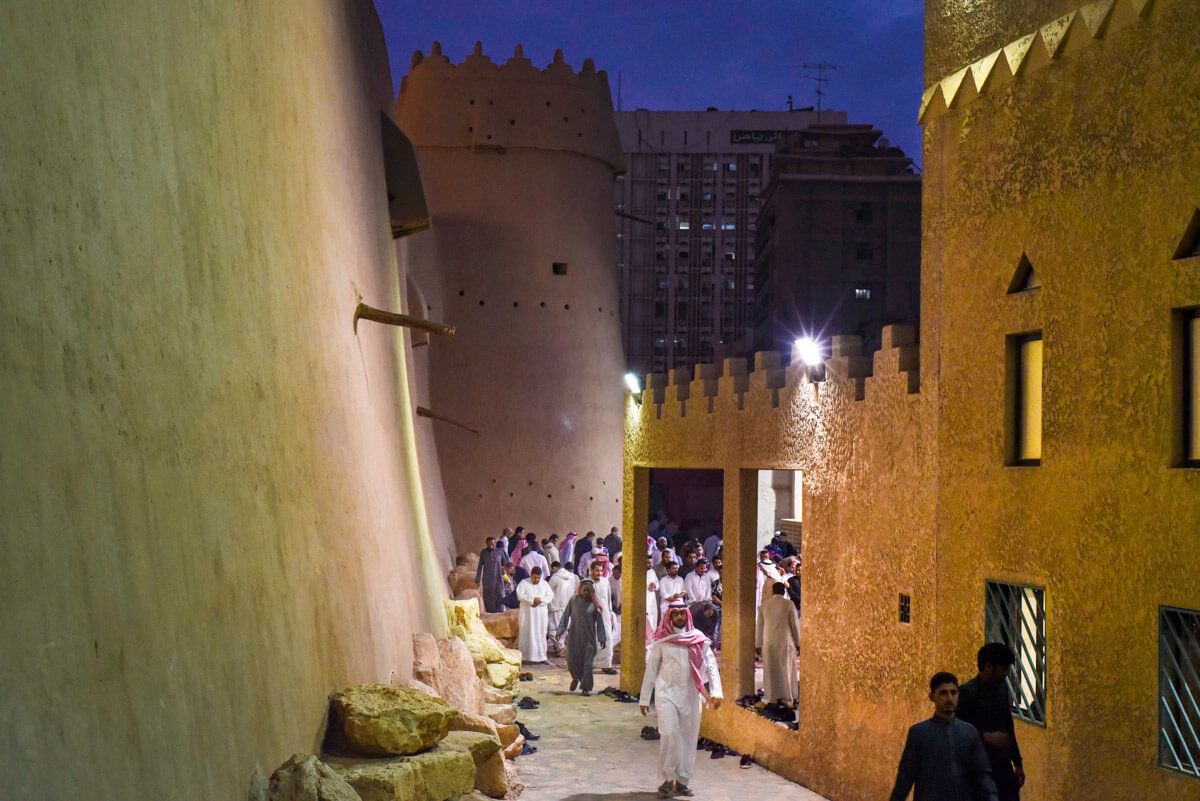 Riyadh, the capital of Saudi Arabia, is a metropolis home to more than 6 million people.
Unlike what most people in the West think, Riyadh is a dusty city that lacks the glamour and luxury that characterize its brother Dubai, yet, it is richer in history and experiencing the local culture is more than guaranteed.
A capital of very strong contrasts, where you can stare at a 100-story luxury building while savoring some 1€ daal from a Bengali-run restaurant, Riyadh is also home to both, the most conservative and traditional wing of Saudi society and a modern, young vibe which is reclaiming change and more freedom.
Actually, during my stay in Riyadh, the city held one of the most historical moments I have ever witnessed, when the famous DJ David Guetta performed the most progressive party ever celebrated in Saudi Arabia publicly, where young Saudi boys were dancing with young Saudi girls with their unbuttoned abayas.
Today we are making history, let's burn Riyadh down! – David Guetta said.
The public went crazy, so did I, as that was the inflection point that proves that Riyadh, as well as Saudi, is changing.
Home to a beautiful, historical city, bustling bazaars, skyscrapers, young hipsters and plenty of natural beauties just outside of the city, Riyadh was quite different from what I had expected.
This guide contains all the things to do in Riyadh in 3 days (including half-day trips), as well as tips regarding transportation, accommodation and more.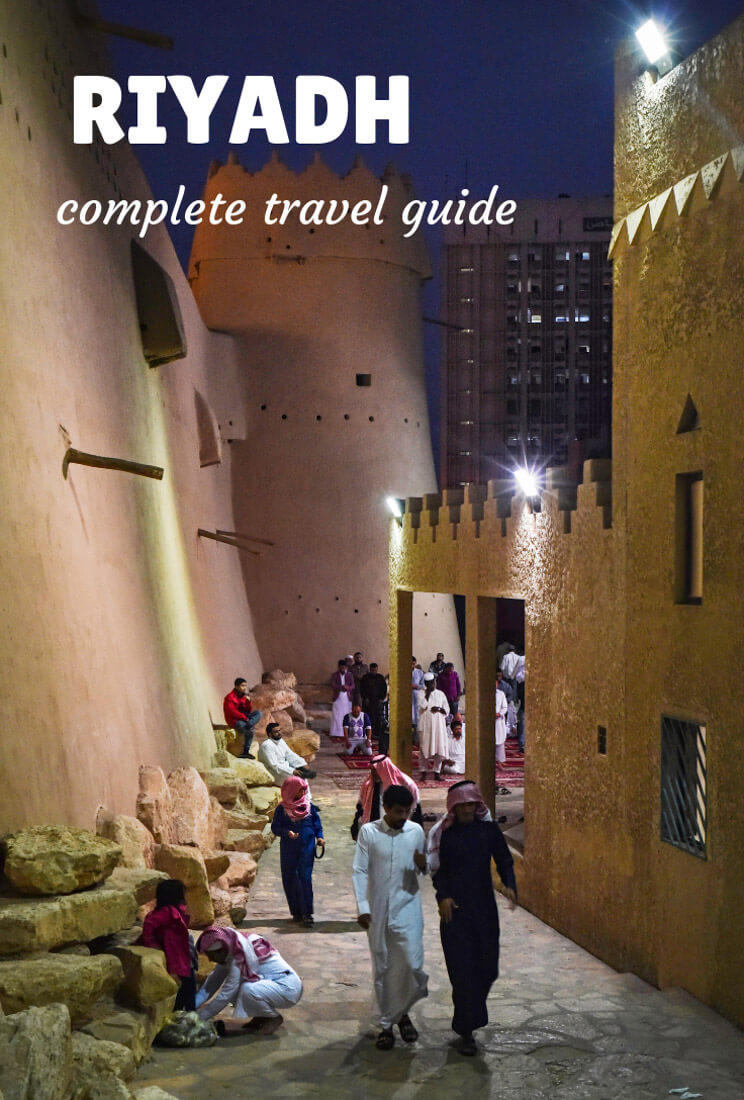 In Saudi Arabia, the internet is censored, which means that some websites and internet services are blocked. If you want to access them you will need a VPN and for that, I recommend ExpressVPN, the fastest and works best for Saudi.
CLICK HERE TO LEARN MORE ABOUT ExpressVPN
Best time to visit Riyadh
Well, the Arabian Peninsula is a real oven during the summer months, with an average temperature of 40ºC, both day and night, so you really should avoid traveling to Riyadh from mid-May to end of September.
The rest of the year should be fine and, in the winter months, it is actually kind of chilly at night and, if you go camping in the desert, temperatures are close to 0ºC, so do bring warm clothes.
For more practical information to the country, read: Tips + How to travel in Saudi Arabia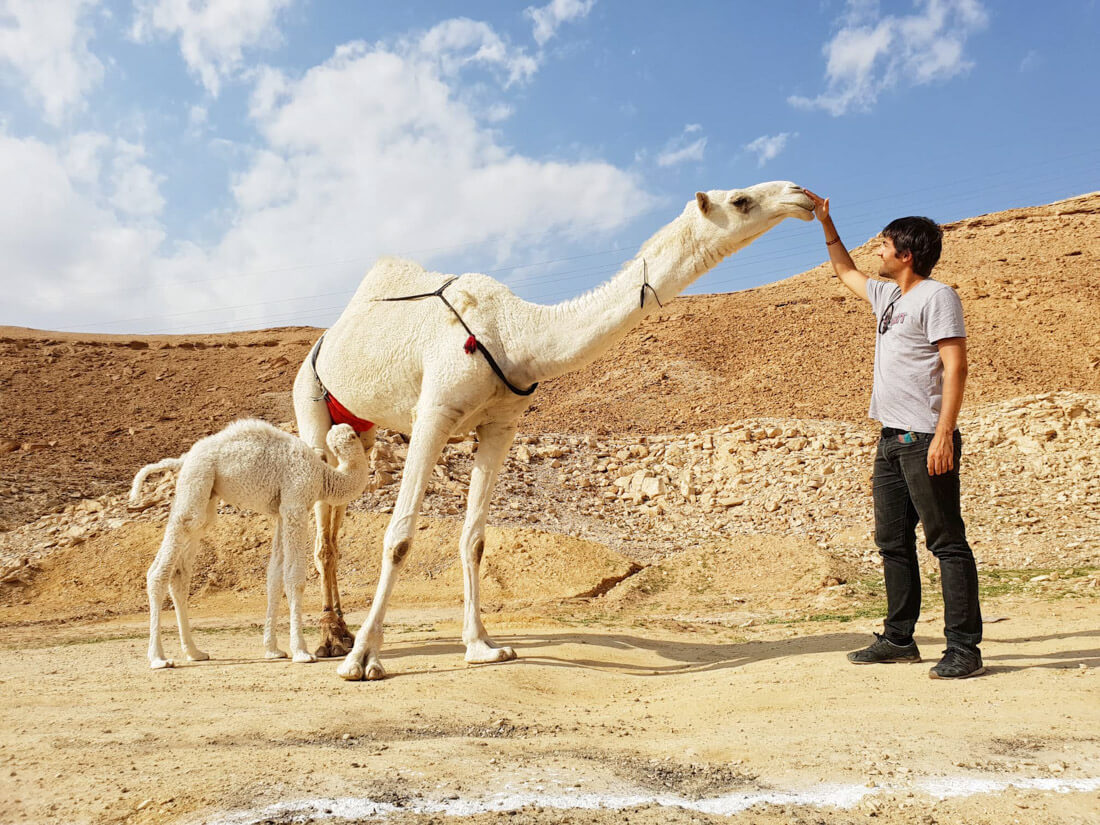 Where to stay in Riyadh
Below there are a few options but for more info, check:
Which area to stay in Riyadh
In Riyadh, most of the accommodation is really expensive and the budget options tend to be really, really bad, like not very clean and in very decrepit locations.
Budget Hotel – OYO 150 Al Hamra Palace Al Aswaq – For budget travelers, hotel apartments are the way to go in Riyadh and, among all the cheaper options, this hotel is pretty much the only decent one. Simple but clean, comfortable and in a relatively good location.
Mid-Range – Mada Suites – Another aparthotel, this is probably one of the best value for money options in Riyadh, as for what you pay, you get a really nice room.
Mid-range (nicer) – Intercity Hotel Riyadh Malaz – From a swimming pool to a gym, great breakfast and impeccable fancy rooms, this 4-star hotel is another very good value for money option.
Luxury – Crowne Plaza – For those who are seeking affordable luxury, Crowne Plaza is a really good option.
Top-luxury – Four Seasons– The best hotel in the city located in the most famous tower.
Couchsurfing – The Couchsurfing community is surprisingly active in Riyadh and, apart from having plenty of surfing options, they organize several weekly events, from camping trips in the desert to dinners and language exchange meetups.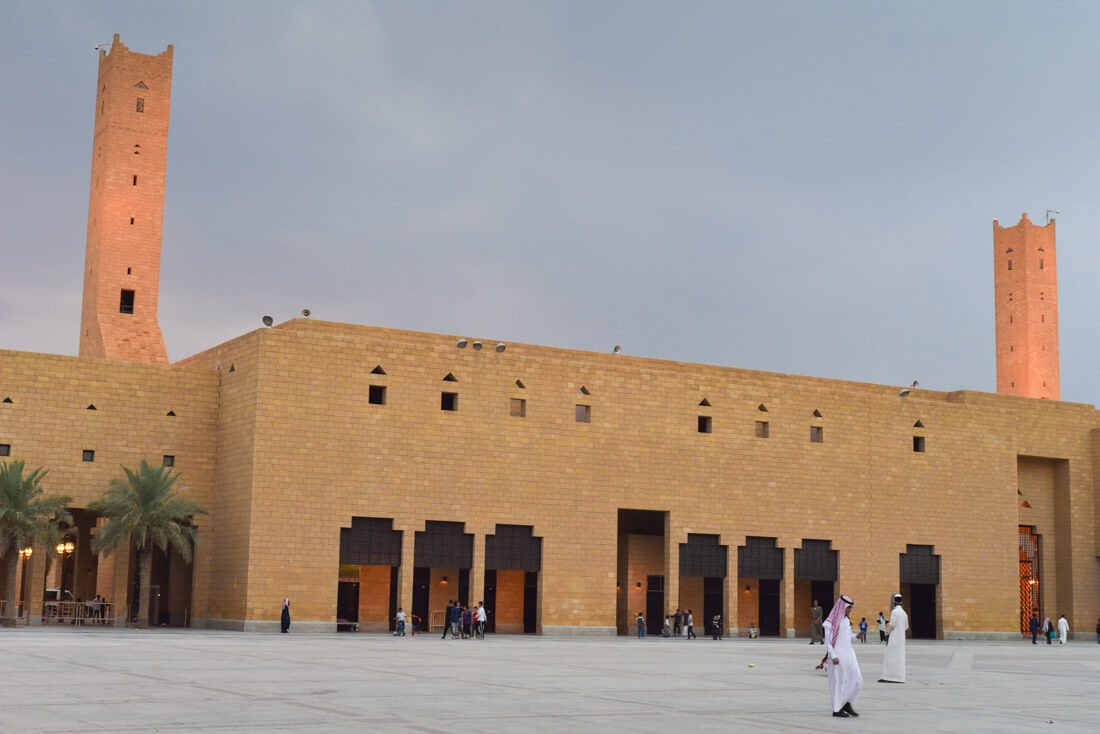 How to move around Riyadh: transportation
Remember to get travel insurance for Riyadh
Saudi Arabia's health care is extremely expensive, so insurance is a must.
IATI Insurance offers different plans, for all budgets.
Get your 5% exclusive discount if purchasing via this link
Riyadh is one of the least walking-friendly cities I have ever been to, like happens with most cities from the Gulf Monarchies, from Muscat to Dubai and Doha.
I remember that once I tried to walk from my hotel to the Old City, basically, because according to the map, it was only 4km away.
However, I failed in my attempt because at some point, the sidewalk disappeared, and I was suddenly walking on a road without shoulder, right next to the cars, so I walked back and ordered a taxi.
Moving around Riyadh by taxi
Do download either Uber or Careem. They are way cheaper than regular taxis and are what most young Saudis use.
Moving around Riyadh by metro
They are building a metro line but who knows when it will be finished.
Moving around Riyadh by bus
There are no reliable or convenient public buses.
Renting a car in Riyadh
Renting a car will be much cheaper than relying on taking taxis all the time, really, and it will make things much easier for you. Just be aware that people in Riyadh drive like nuts!
How to get to Riyadh from the airport
There is no public transport and the taxi price will really depend on where you go.
Since there is no Wi-Fi at the terminal, most likely you won't have internet, so you won't be able to order an Uber or a Careem, unless you buy a SIM card upon your arrival.
My destination in Riyadh was around 20km from the airport and my local friend told me that the regular taxi price would be a maximum of 80SR, no more.
They tried to charge me 150SR at first but it was fairly easy to bring it down to 80.
Remember that, in Saudi, the internet is censored and, if you want to access blocked sites and surf safely, I strongly recommend ExpressVPN, the most reliable VPN in the market.
GET IT HERE AND GET 3 MONTHS FOR FREE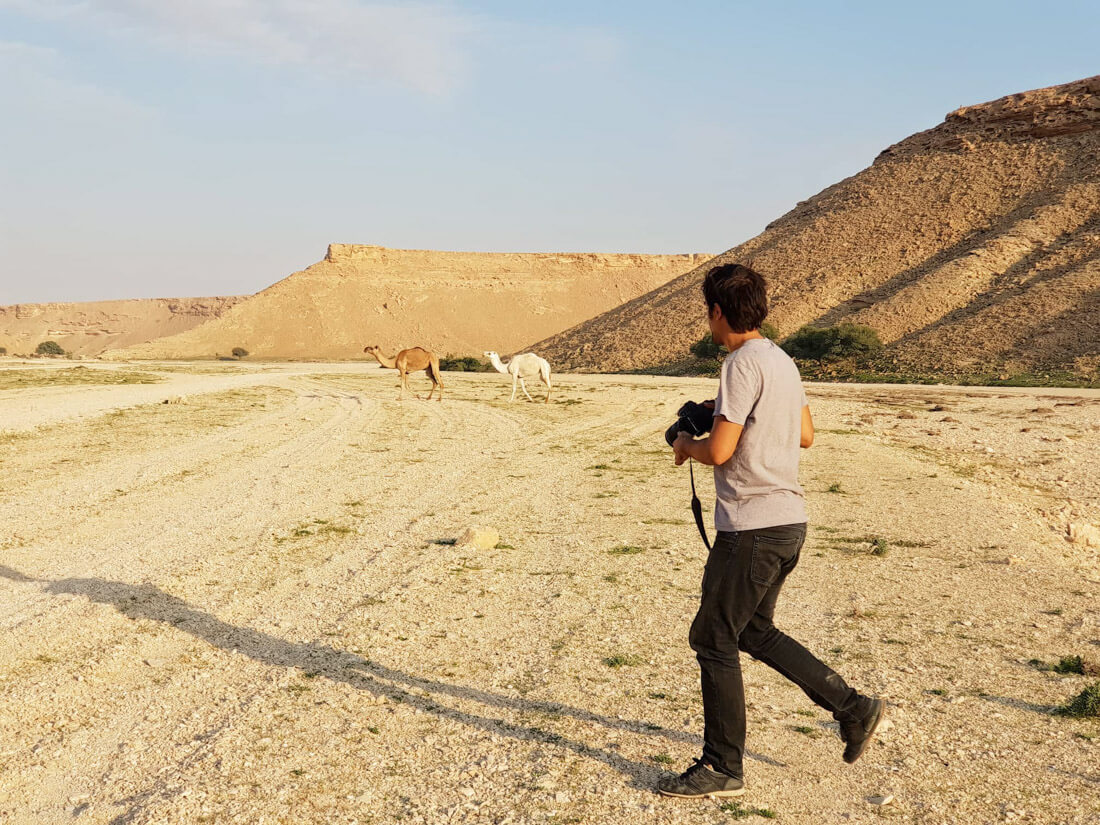 Things to do in Riyadh
Remember to check
A guide to find the best accommodation in Riyadh
Here are all the places I visited in Riyadh.
What to do in Riyadh – Map
Click on the image below to see the interactive map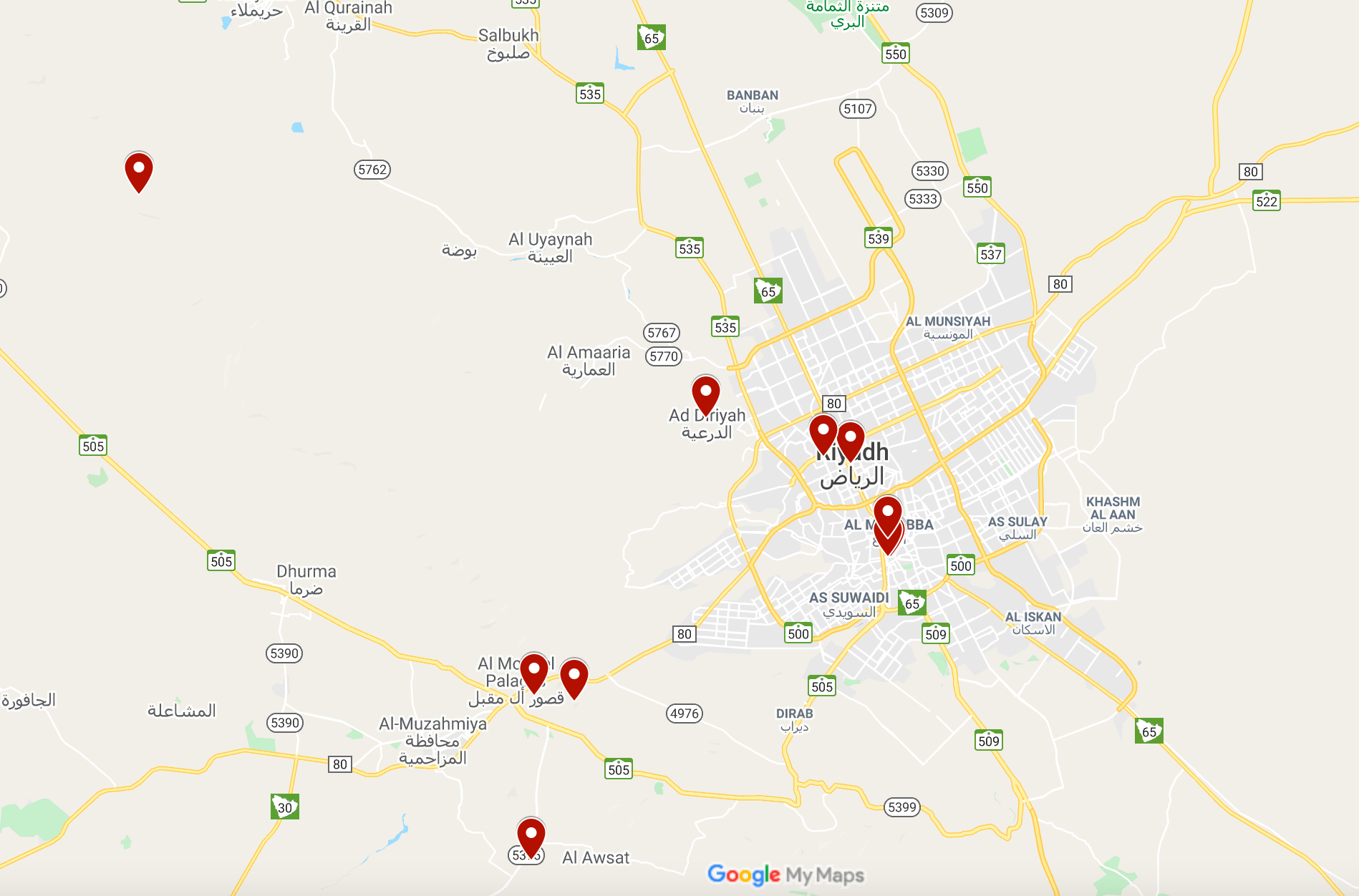 Places to visit in Riyadh on day 1
On your first day, from all the things to see in Riyadh, I recommend you visit all the places around the Old City and, if you have time, head to the Sky bridge for sunset.
Masmak Fort
Dominating the center of the Old City, Masmak fort is one of the many mud-brick forts that you can find across the Arabian Peninsula, yet, this one is particularly big and holds a beautiful museum that showcases the history of Riyadh.
The fort was built in 1865 and was the exact spot where the Battle of Riyadh took place, a battle that helped Ibn Saud recapture Riyadh, thus creating the Third Saudi State, which evolved into present-day Saudi Arabia.
Entrance is free.
Read: Solo female traveling in Saudi Arabia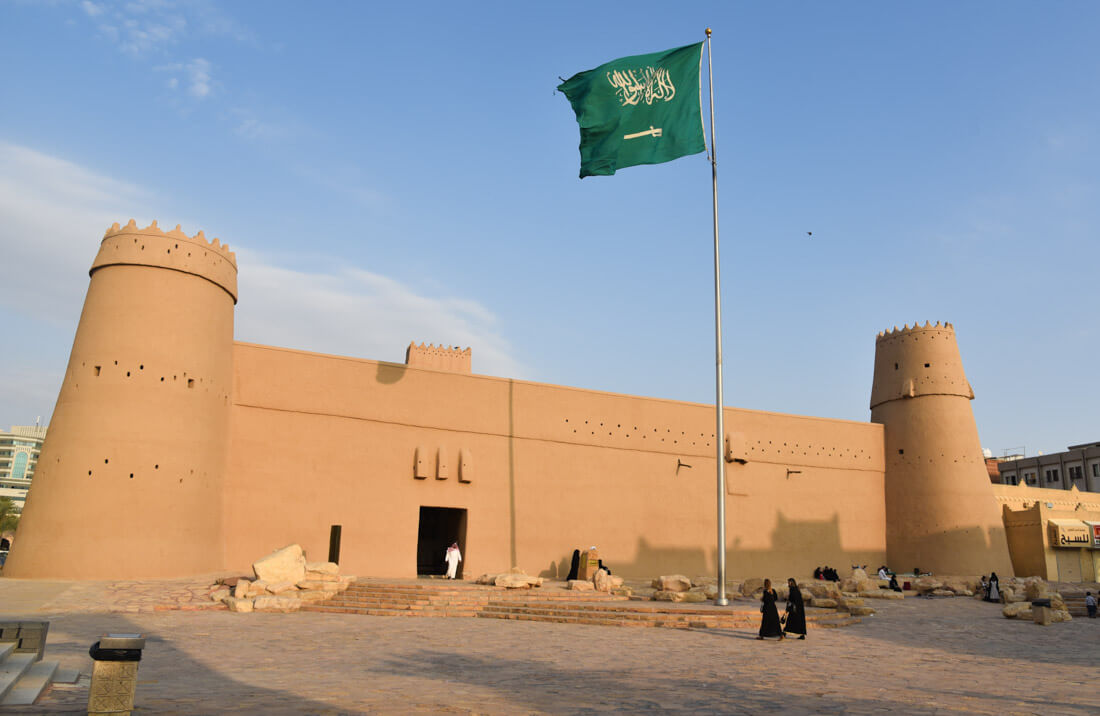 Deera Square
Just across Masmak Fort area, you find Deera Square, popularly called Chop Chop Square by Westerners.
This is where public executions, such as beheading, take place and you can actually stand on the exact spot where they actually happen and walk over the blood drainers, where you can see dried blood permanently stuck onto them.
Some time ago, executions used to occur here pretty much every Friday after the main prayer but, today, they are becoming less and less frequent, to the extent that, apparently, they barely take place once a year.
Foreigners could also attend the executions and, actually, if the authorities saw you wandering around, they would put you in the front to shame the person to be executed.
Please note that this is one of the sensitive places to visit in Riyadh, so be respectful and don't stay around the blood drainers for a long time or you may be approached by the local authorities.
Remember that, in Saudi, the internet is censored and, if you want to access blocked sites and surf safely, I strongly recommend ExpressVPN, the most reliable VPN in the market.
GET IT HERE AND GET 3 MONTHS FOR FREE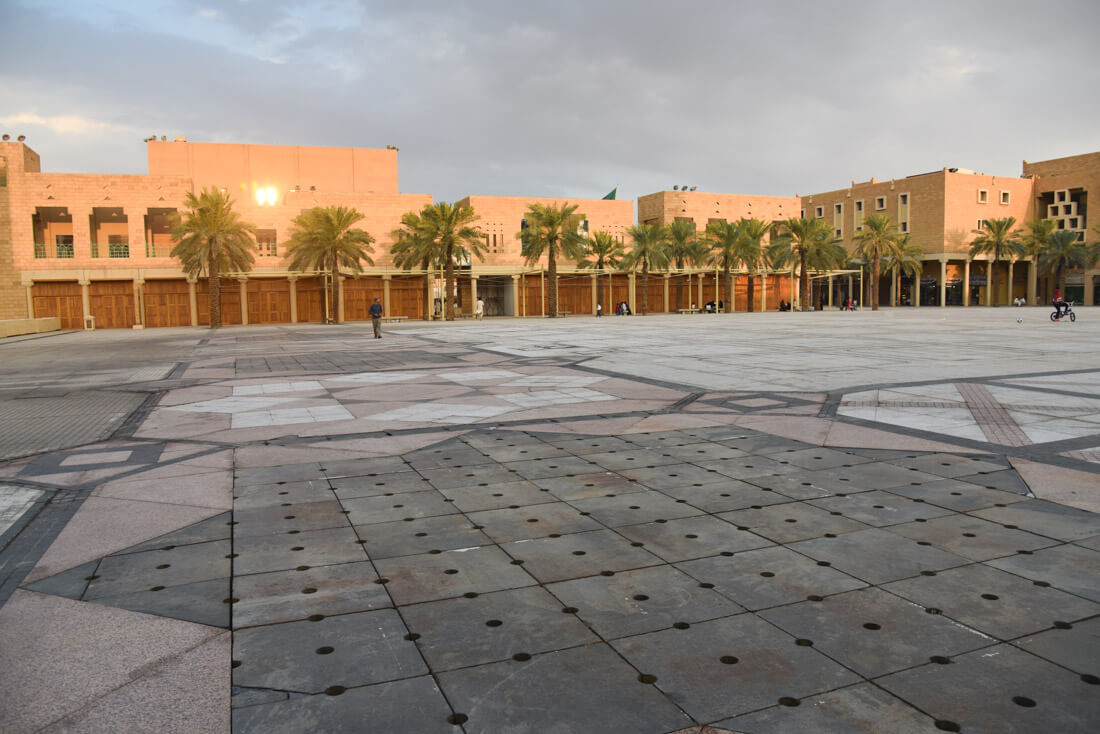 Imam Turki bin Abdullah Mosque
One of the largest mosques in Saudi Arabia is located right next to Deera Square.
As non-Muslims, we thought it would be impossible to get in but we still gave it a try and they allowed us to visit it, including the praying hall, which can accommodate around 17,000 worshippers.
It's huge and definitely worth a visit.
Read: Is it ethical to visit Saudi Arabia?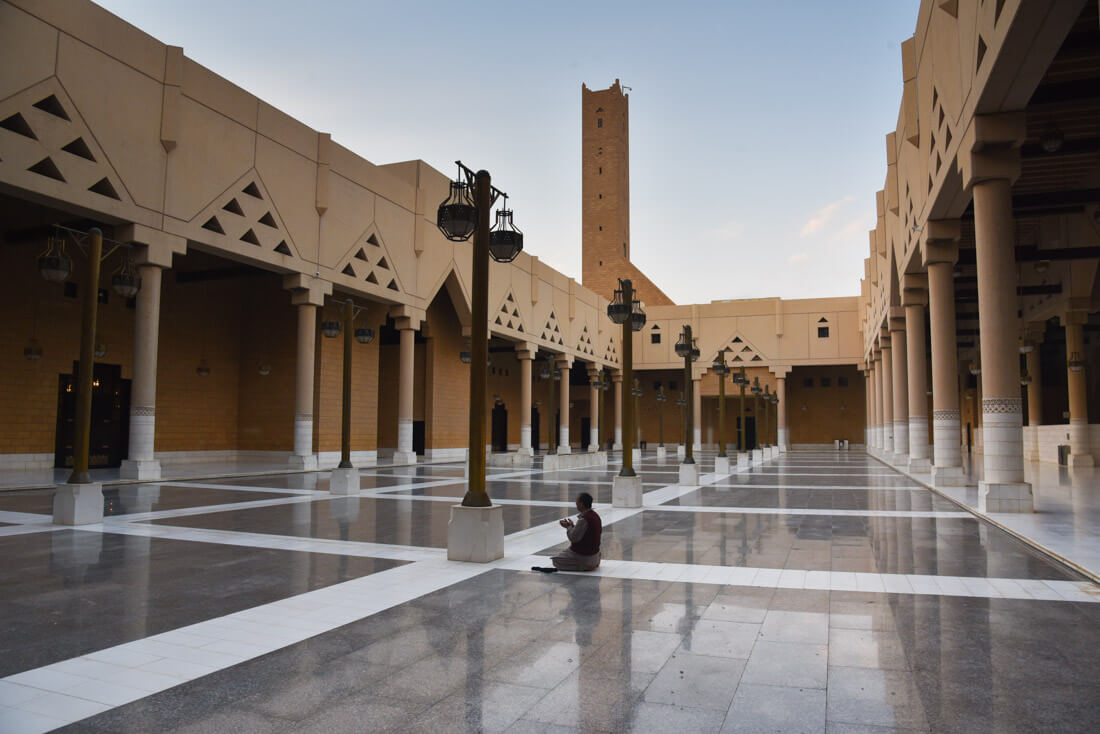 National Museum of Saudi Arabia
From the Stone Age men to the first known Arabian Kingdom in 5300 BC and the history of the pilgrimage in Mecca, the National Museum takes you through the history and geography of the Arabian Peninsula over millennia.
It only costs 10SR and allow yourself around 2 hours to visit it.
The museum should be open every day, all day long until 8pm, except on Friday, when it is only open from 4pm.
Sky bridge at Kingdom Center
The Kingdom Center is one of the most iconic buildings in Riyadh.
This steel-made and 99-story skyscraper, which looks like a bottle opener is open to the public and you can actually go to the top.
Part of the building is the 4 Seasons luxury hotel and the ground floor has a luxury mall where you will see a lot of Saudi women shopping in the many fancy shops.
The fee for going to the top is 60SR.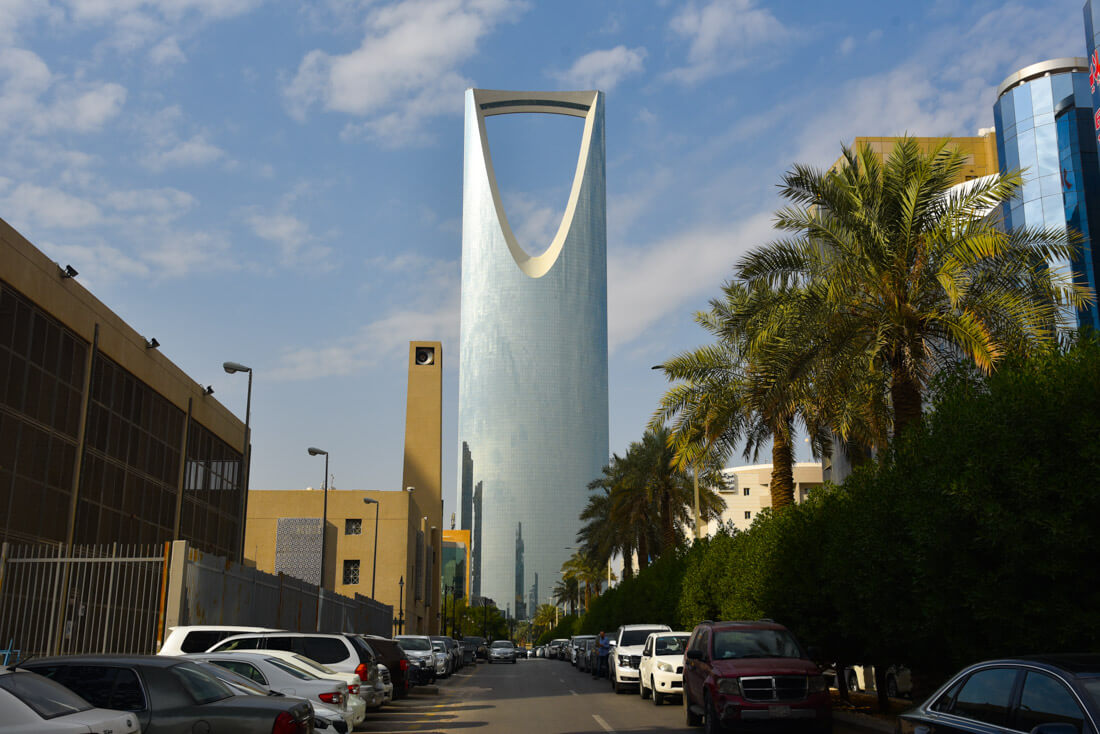 Places to visit in Riyadh on day 2
In the morning, from all the things to do in Riyadh, I recommend you visit the ruined city of Ad Diriyah, then go to the Edge of the World to see the sunset and, for dinner, go to Turki Al Awal Ibn Abdelaziz Road.
Ad Diriyah Old City
What used to be the place where the first Saudi State was established in 1744, is today a newly renovated, massive ruined city, filled with museums, where many events and activities take place.
Actually, in December 2018, Ad Diriyah held the Formula E event, the first event ever celebrated that allowed tourists to get a tourist visa to travel to Saudi Arabia.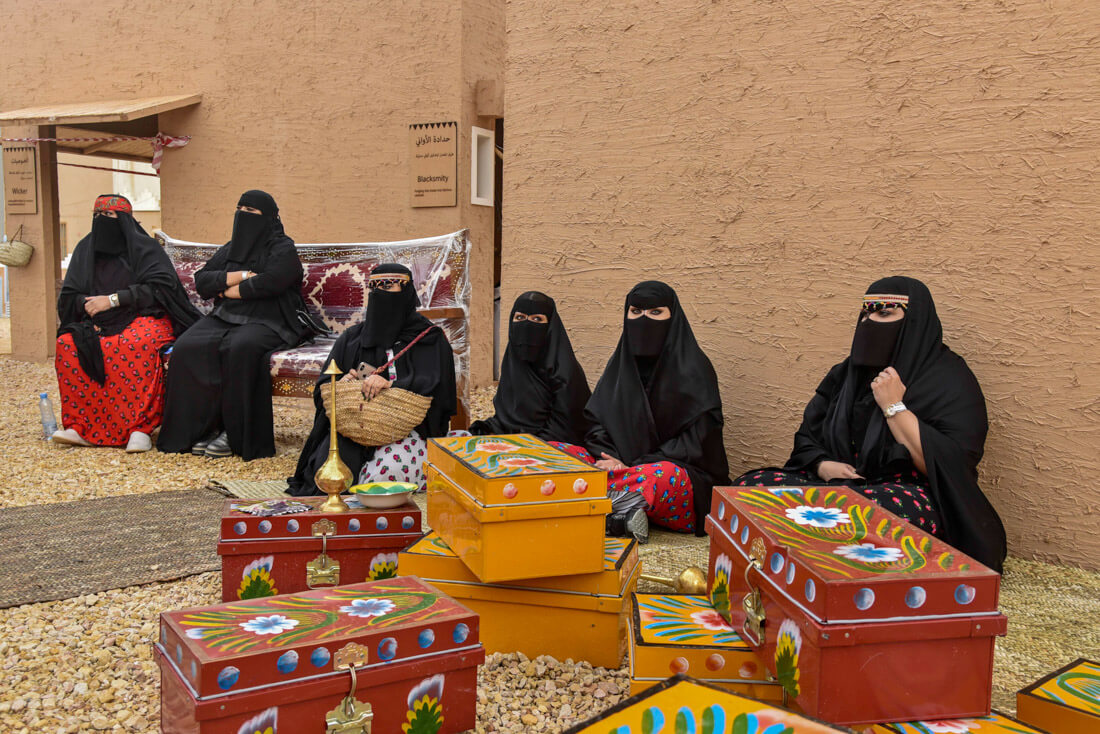 Apart from the race, they also organized some cultural events aimed at showing the traditional, local culture to all international visitors and, as far as I know, more events will occur.
Ad Diriyah district is huge, so save half day at least.
The area is surrounded by plenty of cafés and restaurants, so you don't need to worry about that.
For more information, read this post from Blue Abaya: What to do in Ad Diriyah district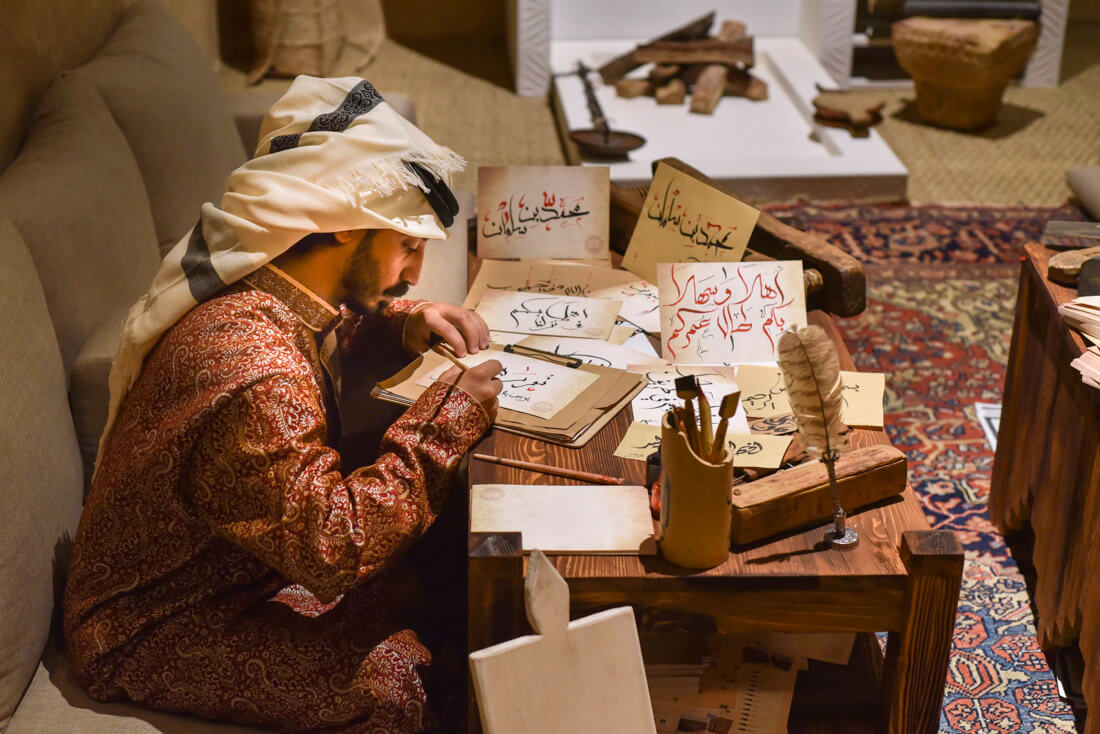 Edge of the World
This is the most popular place to visit around Riyadh.
A 300-meter rocky cliff that overlooks a massive desert plain, visible as far as the eye can see, the Edge of the World is a spectacular place to watch the sunset.
It is located around 90km from Riyadh and, once you enter the valley, you will drive through camel herds, Bedouin camps and, if you are lucky and you come during the rainy season, in December and January, the landscape will be surprisingly green.
I recommend you come here on a weekday, as it gets pretty crowded on weekends.
We came here in a regular car and, when we got back, all the locals told us that we were crazy, as there is a big probability of getting stuck in the sand, but we didn't experience any problem.
However, it is highly recommended to use a 4×4.
Go feed at Turki Al Awal Ibn Abdelaziz Road
From modern food trucks selling hipster hamburgers to traditional chai stalls run by local Saudi men, this super long food street is the place where the younger generation of Saudis hang out, especially during the night on weekends, when the street is absolutely packed.
For me, this was one of the most enjoyable things to do in Riyadh as, while sitting next to the chai stall, I met quite some friendly Saudi young guys.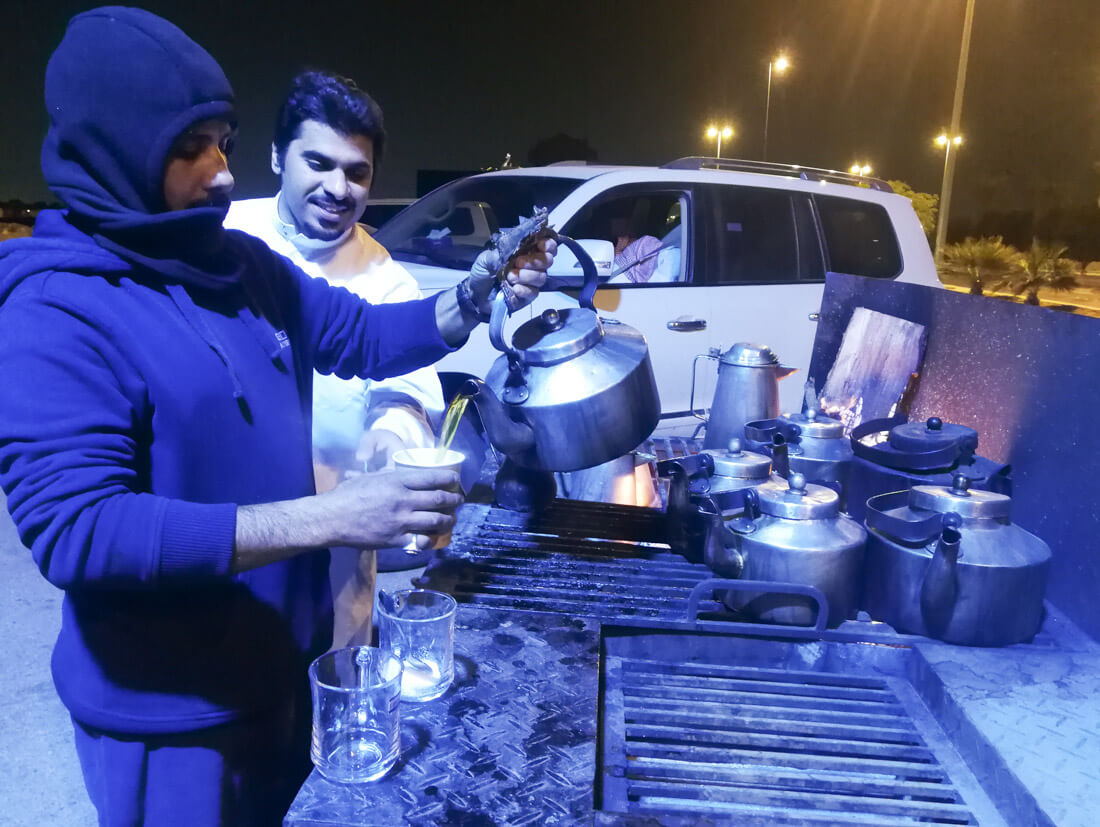 Things to do in Riyadh on day 3
The itinerary on day 3 consists of visiting a few places in the southwest of Riyadh.
Qusur al Muqbil Old City
In my opinion, one of the top things to see in Riyadh is visiting a super random mud-brick abandoned village which we discovered by mere chance when we were looking for the camel trail on the map, these ruins contain an old palace and an ancient mosque made of mud whose columns still stand.
There are no signs and nobody taking care of it, which makes it even more special because you can climb over all the buildings to take the best pictures.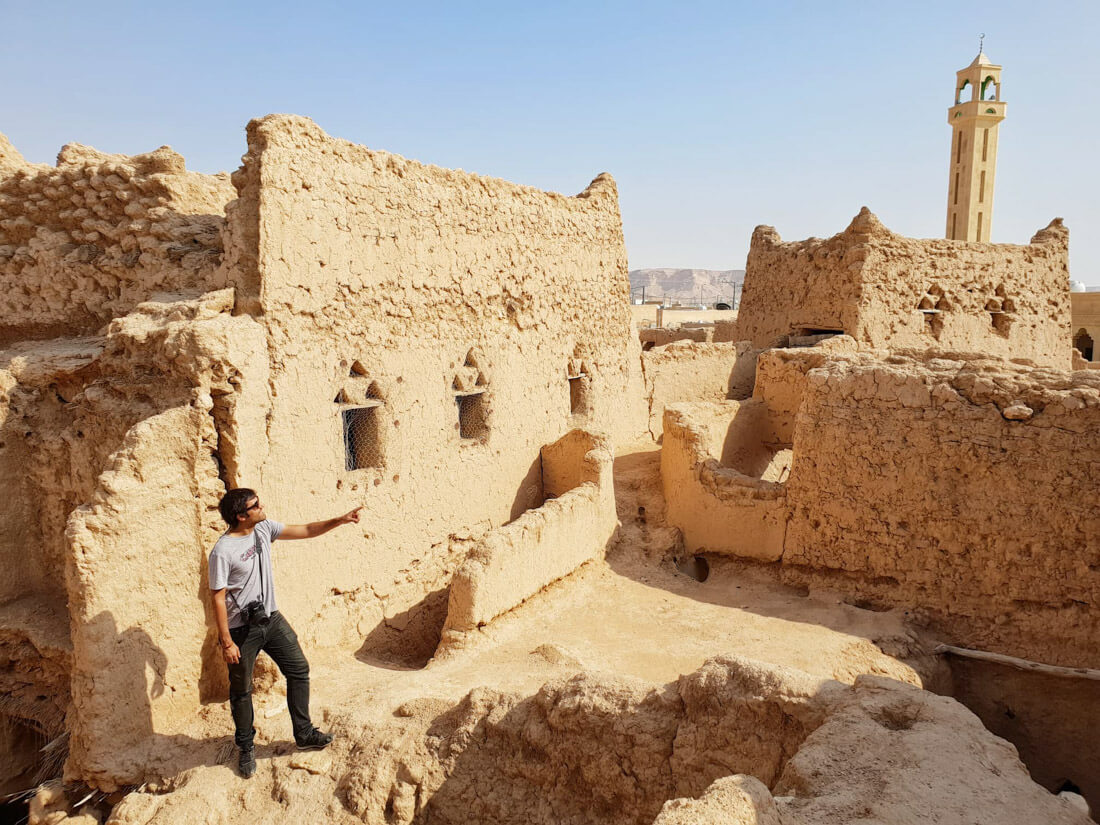 Camel Trail
There are quite a few camel trails around Riyadh, yet, Camel Trail 1 (location on the above map) is the most spectacular because it is located in a very epic location, as you can see it from a cliff.
A camel trail is nothing other than a camel caravan that was used by the camels to climb up the different hills on their way to Riyadh.
This place is actually quite similar to the Edge of the World and the views from it are also spectacular, with the small difference that here you don't see an endless plain but you actually see quite rocky mountains.
The Camel Trail is another of the very great things to do around Riyadh.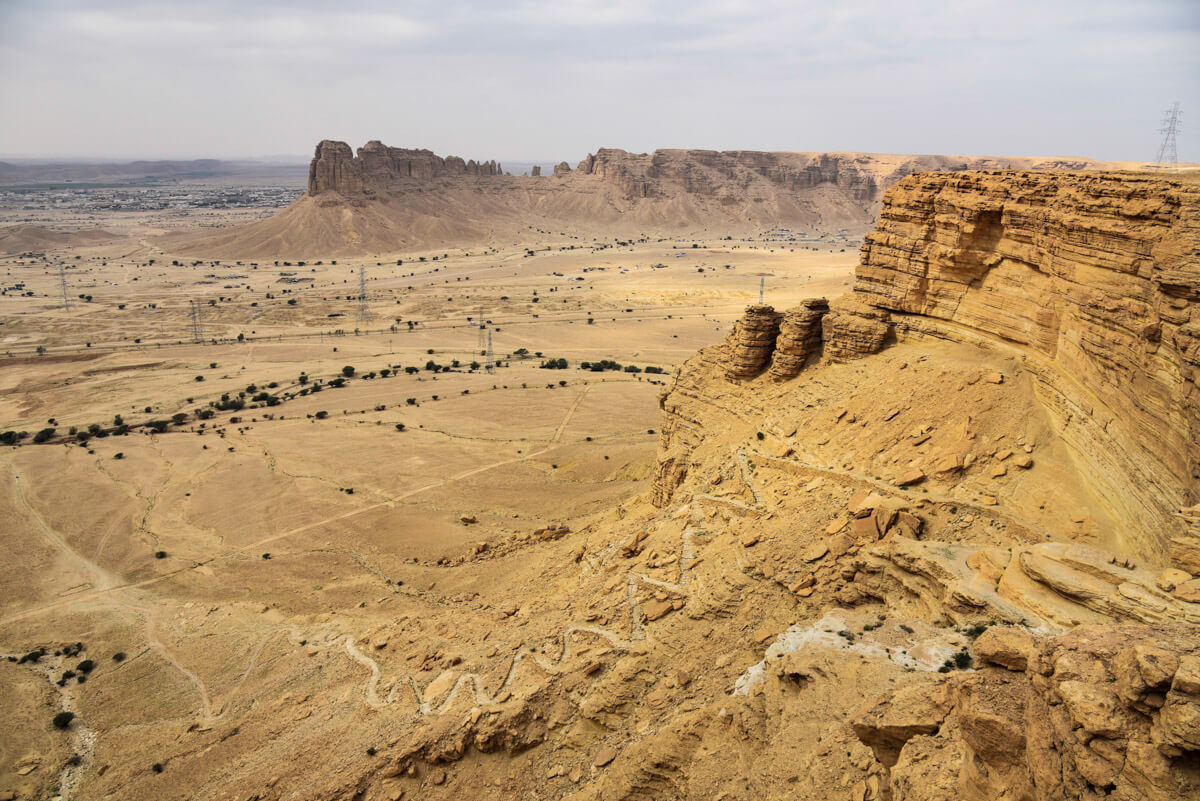 Red sand dunes
Well, like in most Gulf Monarchies, a safari trip to the desert is something you can't miss and, just 75km of Riyadh, you can find some pretty cool dunes that turned red during the beautiful light of sunset.
You don't really require a 4×4 because you can park next to the dunes and then walk but, if you want to venture deep into the dunes, you won't only need one but also some previous sand driving experience.
Some companies can arrange for a full desert tour, which may include sleeping in a Bedouin camp, as well as falconry.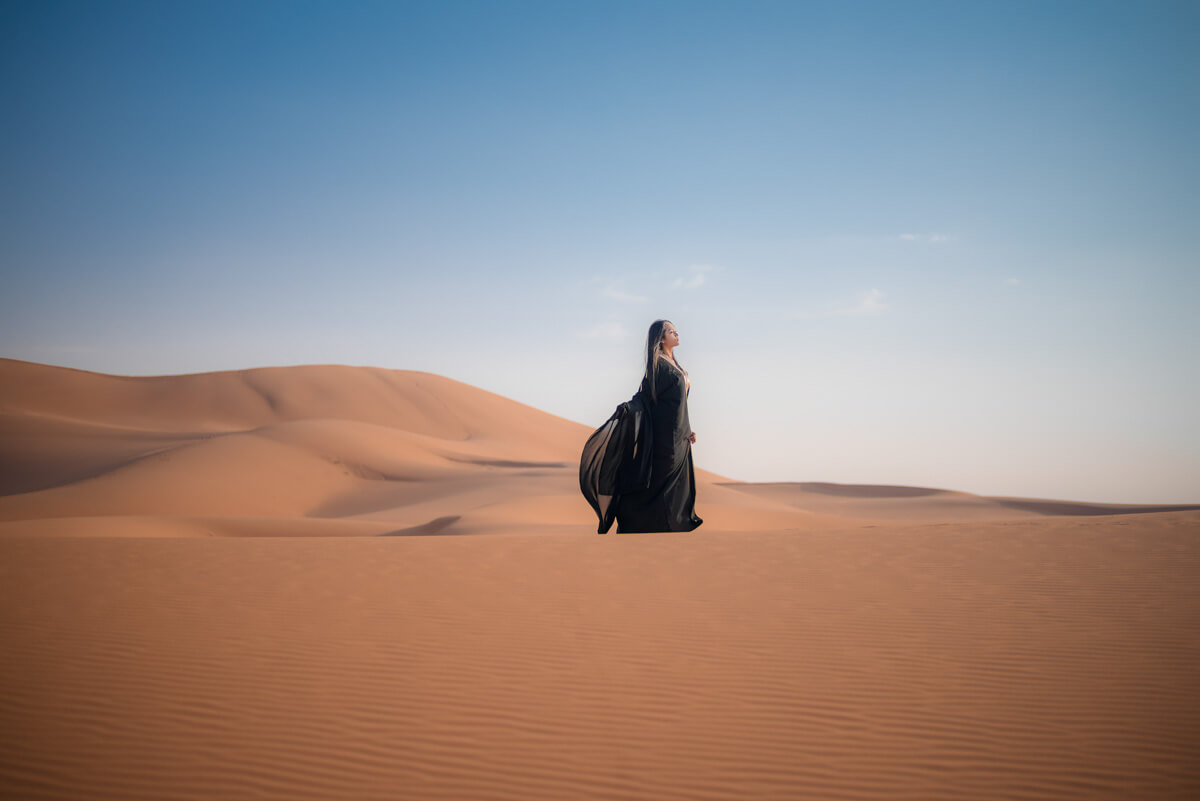 More information for visiting Riyadh
Remember to get travel insurance for Riyadh
Saudi Arabia's health care is extremely expensive, so insurance is a must.
IATI Insurance offers different plans, for all budgets.
Get your 5% exclusive discount if purchasing via this link
All guides and articles for traveling in Saudi Arabia destination
Check more city guides