How to travel to Abkhazia (Tips + 6-day itinerary)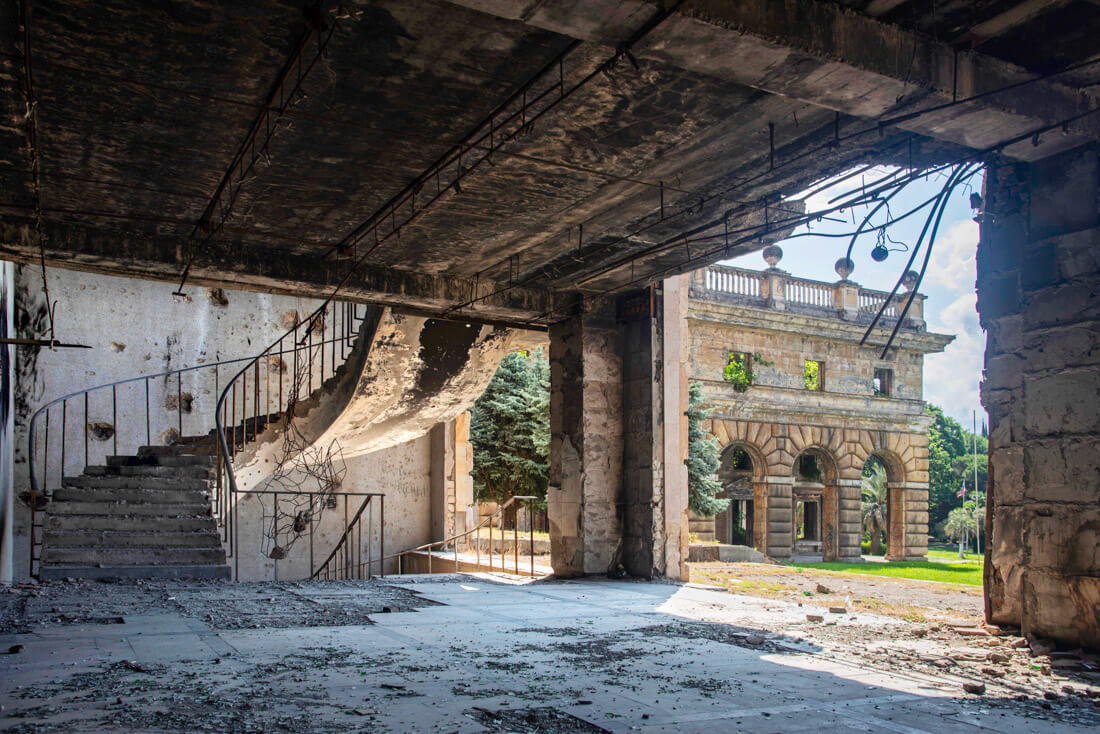 I was in no man's land, walking the couple of kilometers that separate Georgia from Abkhazia, still thinking about the last thing that the Georgian officer told me:
Don't trust Abkhazians – He said after handing my passport back.
It wasn't the first time I had crossed a non-friendly border but this was the first time I heard an immigration officer saying something like that.
I was getting closer to the Abkhazian border and, as soon as I arrived and said hello to everybody with a big smile, the Abkhazian officer told me:
This bottle of water is not allowed here. Remove the label.
Yes, in effect, my water had a label written in Georgian, and Georgian-related things are not allowed in Abkhazia.
Shit… That was pretty intense.
Things were about to get very interesting and I couldn't be more excited to be there.
Welcome to the unrecognized Republic of Abkhazia.
This guide contains everything you need to know to travel to Abkhazia, including tips and a 6-day itinerary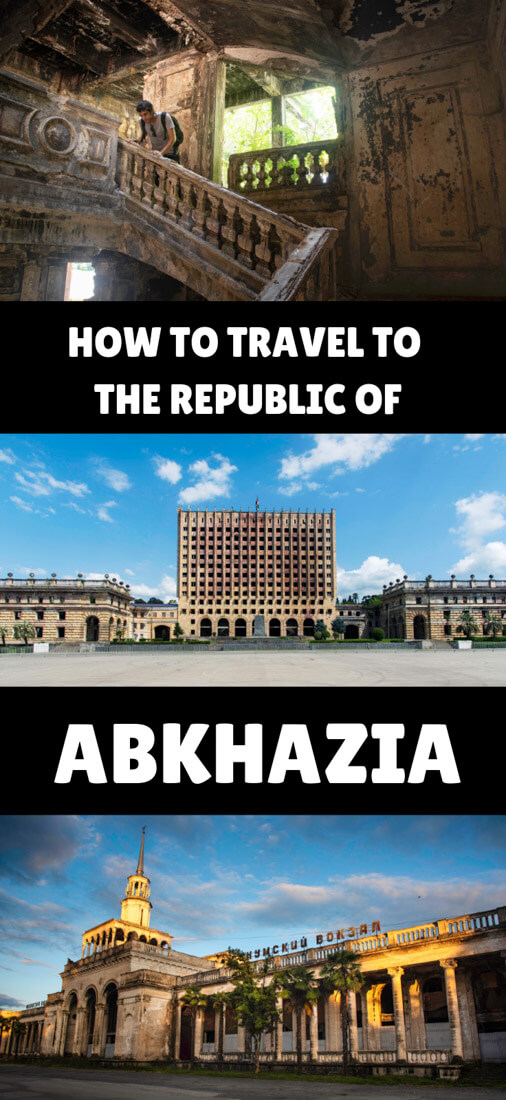 Georgia is a complicated country and, in order to make the most out of your visit, I recommend you read 1 or 2 books before your trip. Read:
The best books on Georgia country
Introduction to visiting the Republic of Abkhazia
Important – Before you read, please note that I don't intend to get into politics. Seriously, I am not on any side but I am just a traveler who wants to show the beauty of Abkhazia in the same way that I have been showing other places in Georgia. It is not my business to claim whether Abkhazia is a republic or not and if I say it, it is because this is how Abkhazians say it, not because I care about it. I don't care who is right but I just want to show the world what my eyes saw from a traveling perspective.
In 1992, after the Soviet Union's dissolution, Georgia was planning to abolish the Soviet-era constitution and restoring the 1921 Constitution of the Democratic Republic of Georgia.
As a response, in fear of losing their autonomy in favor of Georgia, Abkhazia declared independence unilaterally.
As a consequence, the Georgian army invaded Abkhazia, which turned into a bloody war but, with the help of different Caucasian militias from the south of Russia, Georgia was defeated by Abkhazia.
Abkhazia was in the hands of the Abkhazians, and the ethnic Georgians, who were nearly half of the total population, were either killed or forced to flee the country and that is the reason why there are so many abandoned buildings.
Don't forget to read my travel guide to Tbilisi, which also includes off the beaten track things to do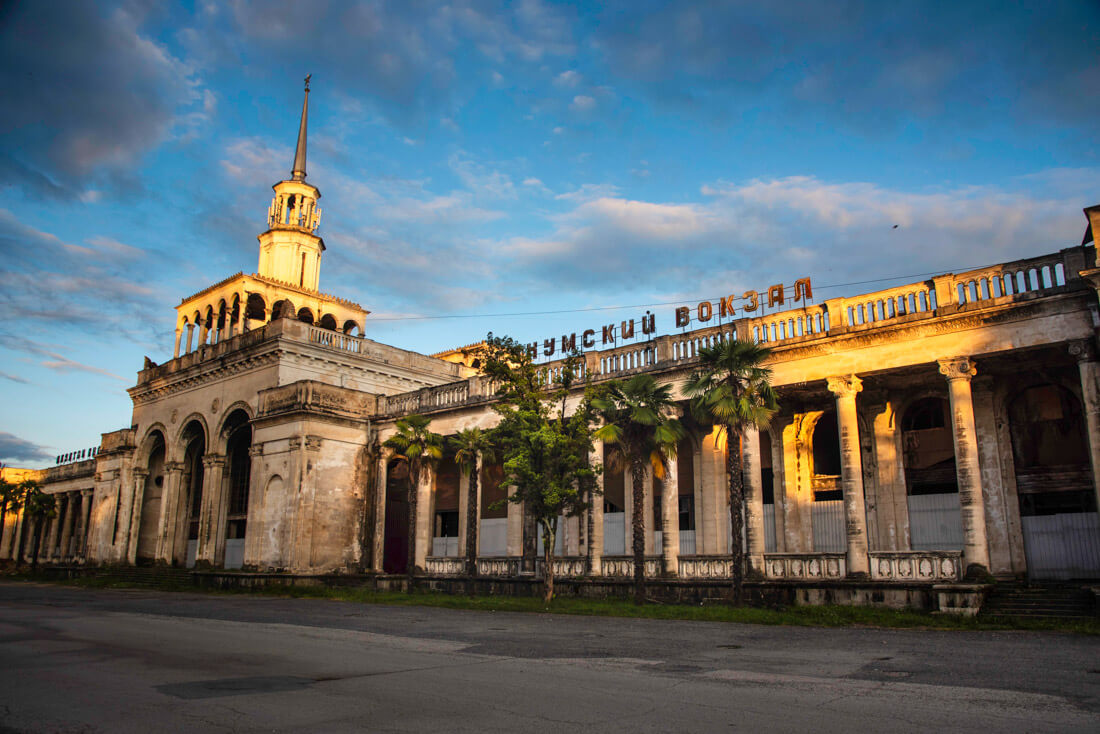 After a couple of years, Abkhazia was self-proclaimed an independent Republic.
However, nobody in the international community recognized it, so Abkhazia went through a long period of autarchic darkness.
It was only in 2008, after the Georgian-Russian war, that Russia recognized it as a country and decided to back them up economically, in exchange for military presence, among other things I believe.
Today, it is only recognized by a small bunch of countries which, besides Russia, includes Venezuela, Nicaragua, Syria and a few Pacific Islands.
The flags from these countries are waving in the center of the city.
As I said, I don't want to enter into politics but, regardless of whether they have the right to be independent or not, from a traveling perspective, traveling to Abkhazia feels like being in a different country:
There is a border, you need a country visa, they use the Russian Rubles, cars have an Abkhazian license place, the architecture is different and, as per the people, the culture is slightly different and they speak a distinct language named Abkazh, a Caucasian language that has nothing to do with Georgian.
Abkhazia is, seriously, an amazing destination you can't miss.
Here you can check more unrecognized countries I visited.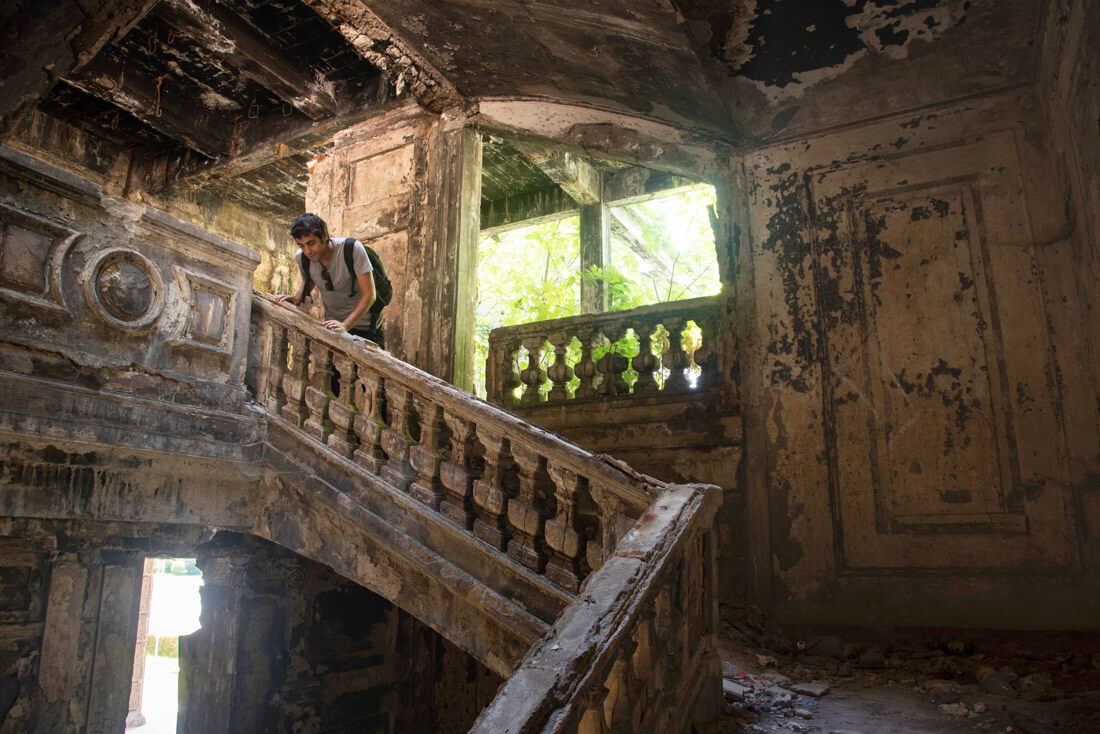 How to get a visa to Abkhazia
Calm down.
Many travelers seem to be particularly overwhelmed about getting a visa to visit Abkhazia, but you just need to make an easy online application and cross an easy border, that's it.
You can apply through the official website. Just fill out the application and send them a hard copy of your passport, as stated. You don't need to pay anything, for now.
After 5 working days, they will email you a security clearance which you need to show at the border. Remember to print several copies, as either Georgian, Russian or Abkhazian authorities may keep one.
Important – The security clearance is not a visa but just the key to enter Abkhazia. Once you are in Abkhazia, you need to pick up your visa at the Ministry of Foreign Affairs in Sukhumi, within 2-3 days of your arrival. The visa price depends on the length of your stay: I stayed 1 week and paid 350RB (5USD). By the way, you can pay by credit card. This is the location: 42.999895, 41.018142.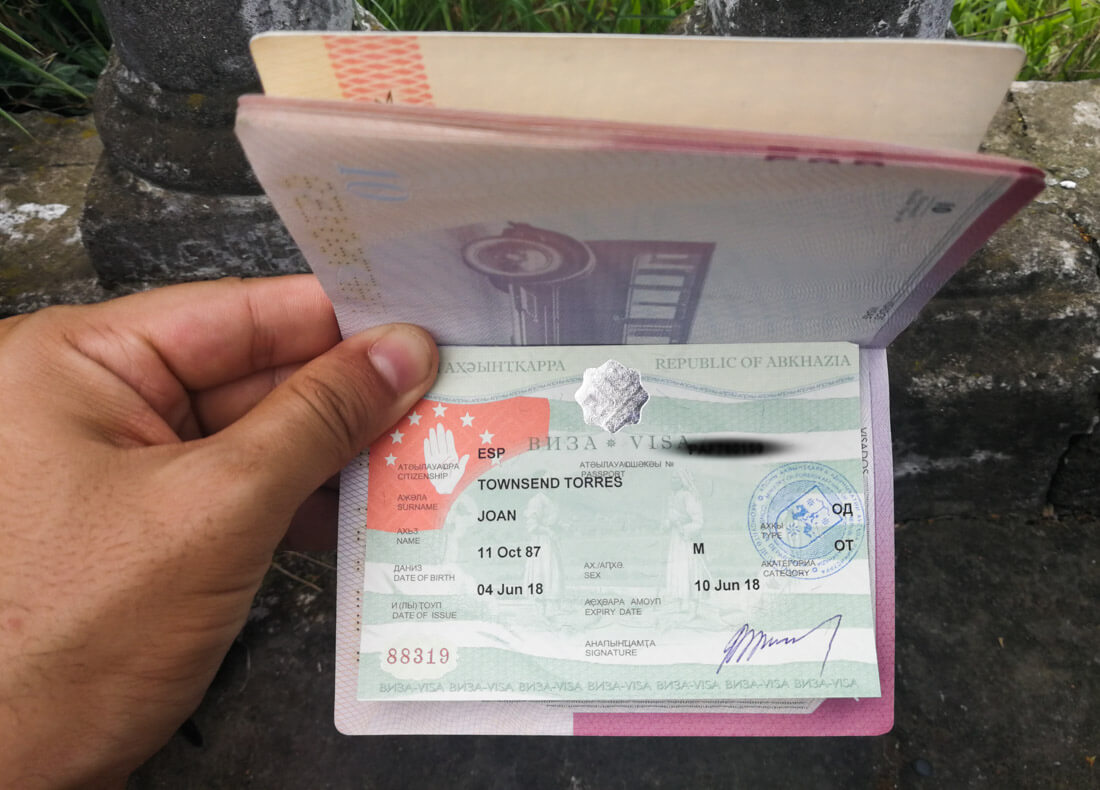 How to travel to Abkhazia from Georgia
Very easy.
You first need to take a train to a border city named Zugdidi.
From Tbilisi, there is a night train and morning one. The morning train leaves at 8am and arrives at 1:45pm, whereas the night train arrives at 6-7am.
If you come in the morning, the border will be less busy but it doesn't open until 8-10am, so you may have to wait for a bit.
Buy your tickets a few days in advance. I bought them online on matarebeli.ge, but you can also get them at the station in Tbilisi.
The train journey to Zugdidi is a very touristic route, as it is the main getaway to Mestia, so the train is packed with tourists, but nobody was traveling to Abkhazia other than me.
The border is less than 10km away. I went to the main bus station in Zugdidi and didn't find a marshrutka (but there should be one because I took it on the way back), so I jumped into a taxi and paid 8GEL (1.80USD).
You need to tell the guy granitsa, which means border in Russian.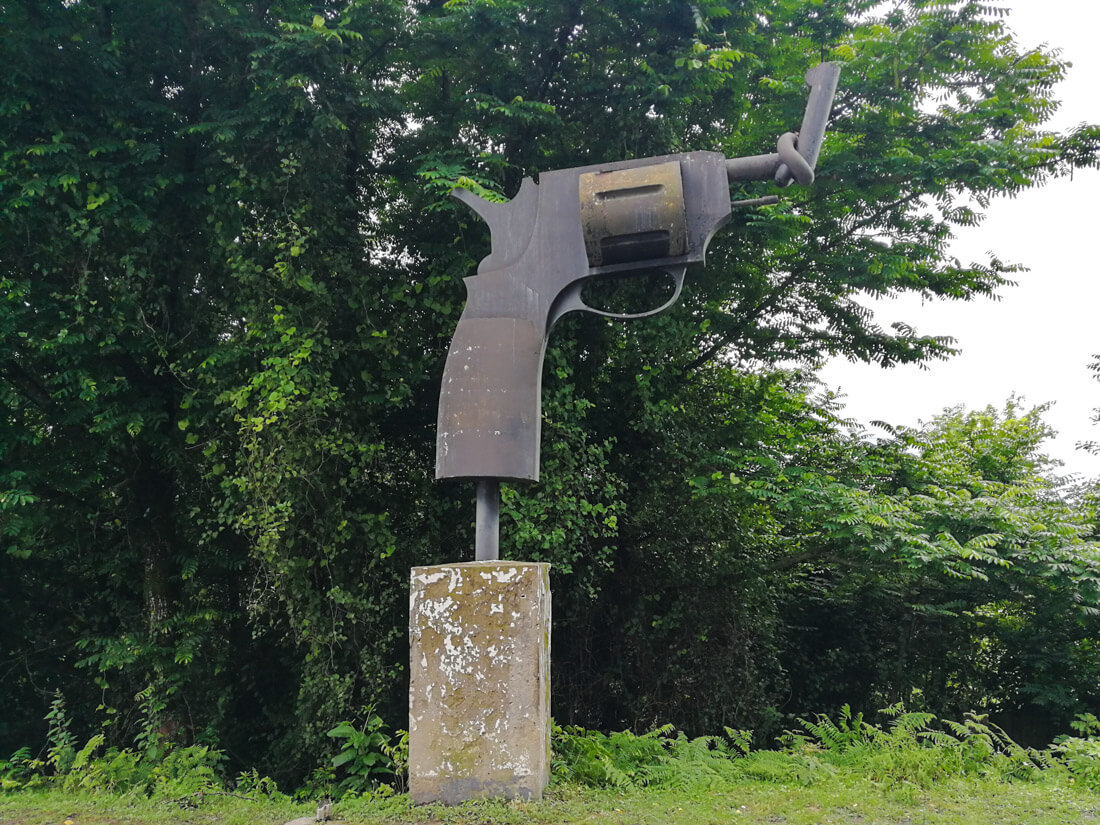 The border to enter to Abkhazia is divided into 4 stages:
Georgian border – It took me 20 minutes. They don't stamp your passport because, in their eyes, you aren't leaving Georgia.
A few kilometers of no man's land – You need to walk 2 or 3km and cross the bridge that goes over the Enguri river.
Abkhazian border – It took me 30 minutes.
Russian checkpoint – Despite not even being their country, the Russians authorities are the most annoying. It took me two hours to cross it, not only because it was slower but because they took me to a different room and ask loads of questions about my previous trip to Iran.
After the Russian checkpoint, congratulations.
You are officially in the unrecognized Republic of Abkhazia.
If you crossed in the morning, you will find marshrutkas that go straight to Sukhumi.
Otherwise, you will first need to go to Gale (50RB) and then take a second marshrutka to Sukhumi (200RB).
Important information for those coming from Russia – The Russian border is open but you can't enter from Russia and leave through Georgia, basically because Georgia doesn't recognize that border, so you won't be allowed to get in. On the other hand, if you enter Abkhazia through Georgia, you are technically allowed to enter Russia (as long as you have a valid visa) but, if you ever try to come back to Georgia, you may be banned from entering the country or pay a fine.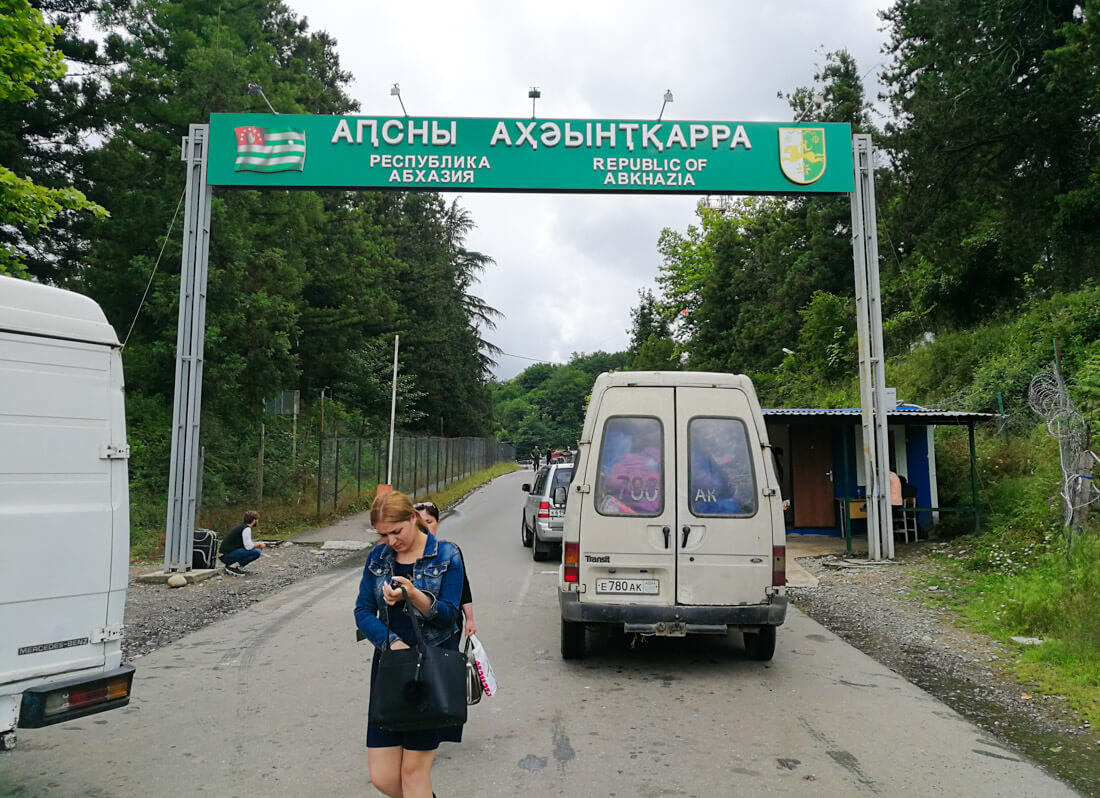 Is it safe to travel to Abkhazia?
Tell any Georgian that you want to travel to Abkhazia and they will freak out and tell you that you are completely nuts.
Their opinion is, of course, a little bit biased but we can't forget that the region is well-known for its crime, especially the southern part, close to the border with Zugdidi, around Gale.
I actually know two cases of people who got robbed there in summer 2018. One was an acquaintance of me and the other was the guys from Kathmandu and Beyond. Read their story here.
The south of Abkhazia used to have the largest population of Georgians and, since all of them left, here you find more abandoned buildings than anywhere else, so robbing tourists is a way to fight their misery.
Don't be afraid of visiting the south though.
You can go there and explore the different towns during the day, no problem, but if you decide to explore some of the abandoned factories outside, go with a local or a big group.
The rest of the country (my suggested itinerary), however, is safe and everybody is friendly and kind. I remember sitting in a café for breakfast when some random people that were next to me paid for my meal, and I had barely talked to them.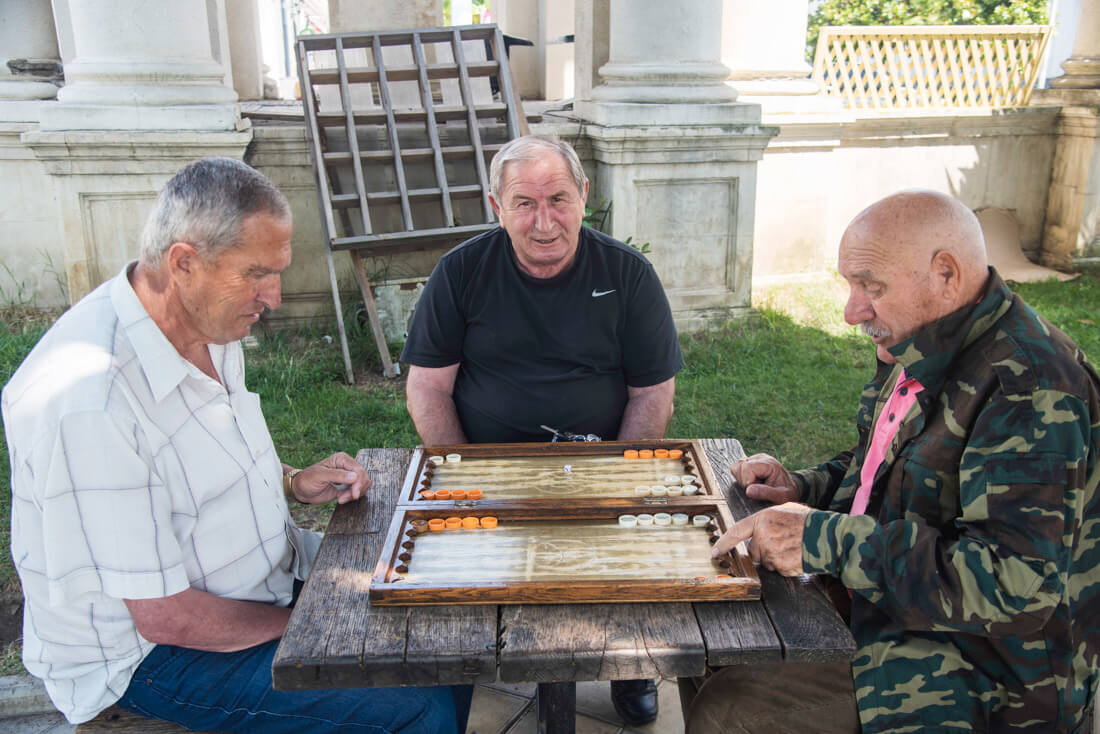 There is no Consulate representation
On the other hand, remember that, in Abkhazia, there is no embassy representation, so if you get into trouble, losing your passport, for example, I don't know what you could do. Just be aware of this.
Important information about money when you travel in Abkhazia
Currency – They use the Russian Ruble.
Don't bring Georgian Laris – Except in Gale, you won't be able to exchange your Laris, so it is better to bring Rubles. You can get them anywhere in Tbilisi.
ATMs – Unlike what you may read in other blogs, most ATMs do accept international credit cards.
How much does it cost to travel to Abkhazia? – The food in Abkhazia is substantially more expensive than Georgia but accommodation is very cheap:
Breakfast – 300RB
Plate of khinkalis – 250RB
Beer – 100RB
Coffee – 80RB
Budget accommodation – From 6USD for a private room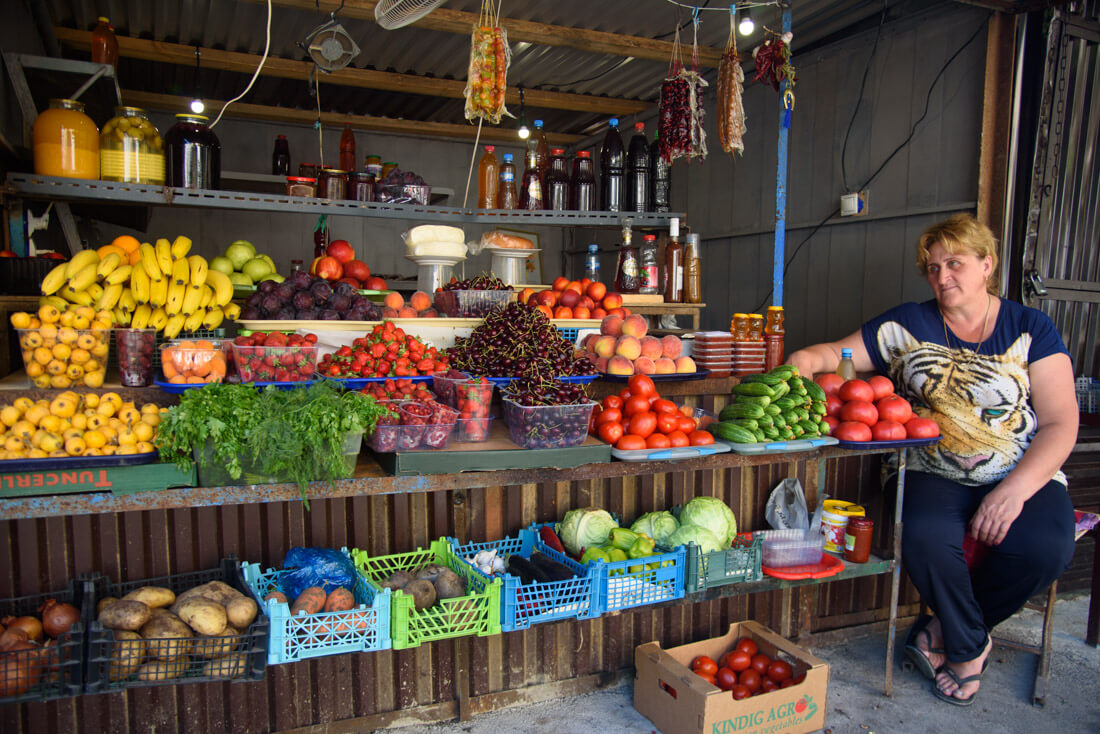 Places to visit in Abkhazia – 6-day itinerary
The reason for traveling to Abkhazia is not only political but the country is actually beautiful.
In fact, some Georgians claim that Abkhazia is the most beautiful part of Georgia, one of the reasons why it being taken from them is so painful.
You should also know that, during the Soviet Union, Abkhazia was a major touristic destination for Russians and other people from the Soviet Union and, if Abkhazia had not gotten its independence, today it would be the top resort destination in Georgia, not Batumi.
Map of the places to visit in Abkhazia
Day 1, 2 – Sukhumi
Sukhumi is awesome and, even if you only had 2 days to travel to Abkhazia, I still recommend you come and visit it.
Sukhumi is the capital of Abkhazia, a city that, somehow, tries to be cool among all the abandoned buildings and the Soviet-era stuff.
The center of the city is dominated by the abandoned Parliament, which in the past, used to be occupied by the Georgian authorities and, instead of re-occupying it, the Abkhazians left it there.
Read: A guide to visiting the unrecognized Republic of Transnistria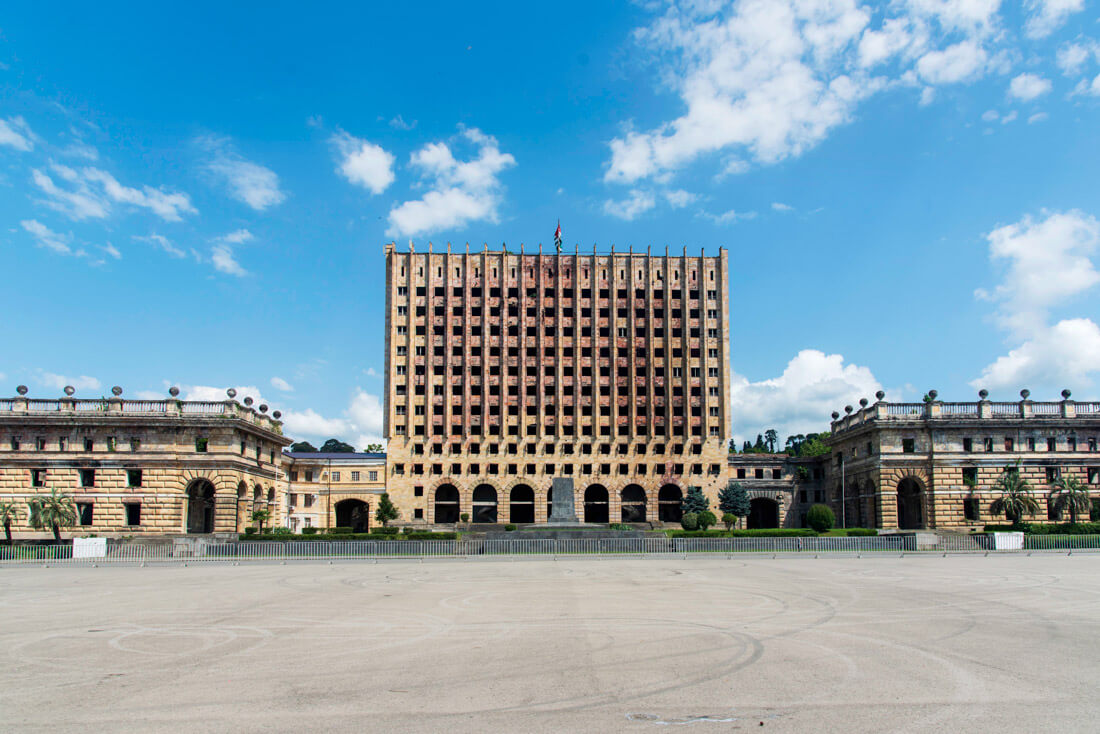 It is the most impressive abandoned building I saw when I visited Abkhazia and you can actually hang around for as long as you want.
Otherwise, besides going in search of more abandoned buildings (they are everywhere, really), the promenade is pretty cool, as it has a lot of Soviet stuff, as well as a lot of local life.
The background of Sukhumi is dominated by some mountains which you can go up to check the views, visit Bagrat fortress and some abandoned monuments.
If you like offbeat, Soviet stuff, you will love these 7 very weird things to do in Belarus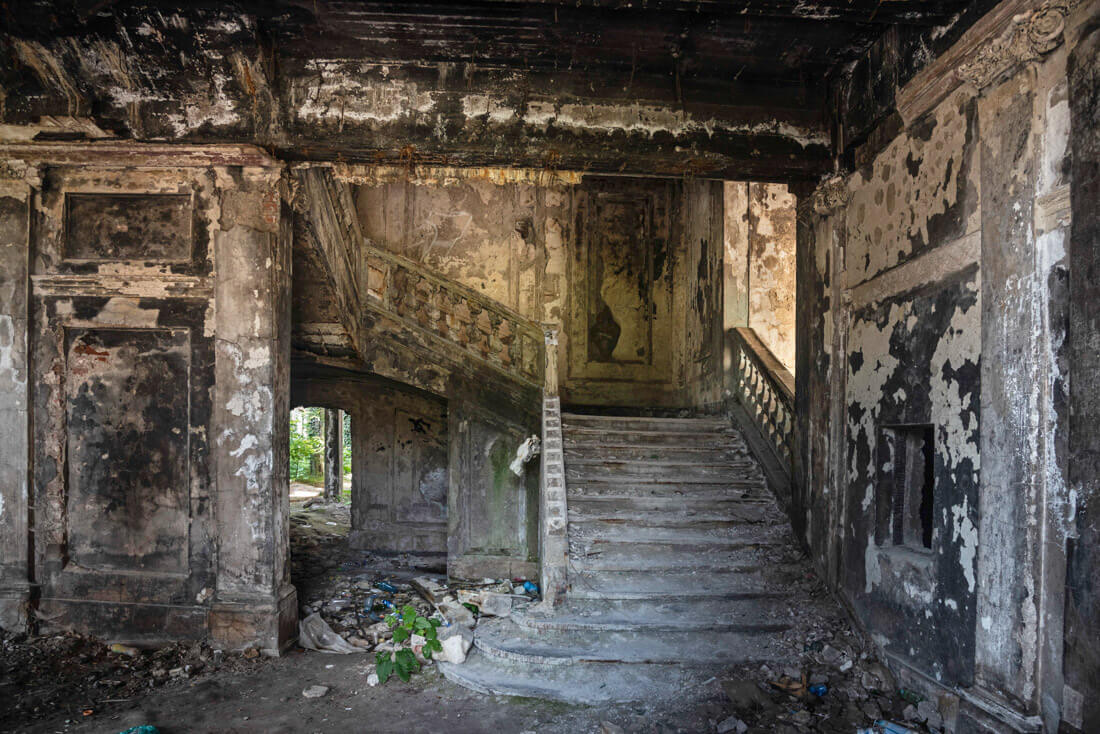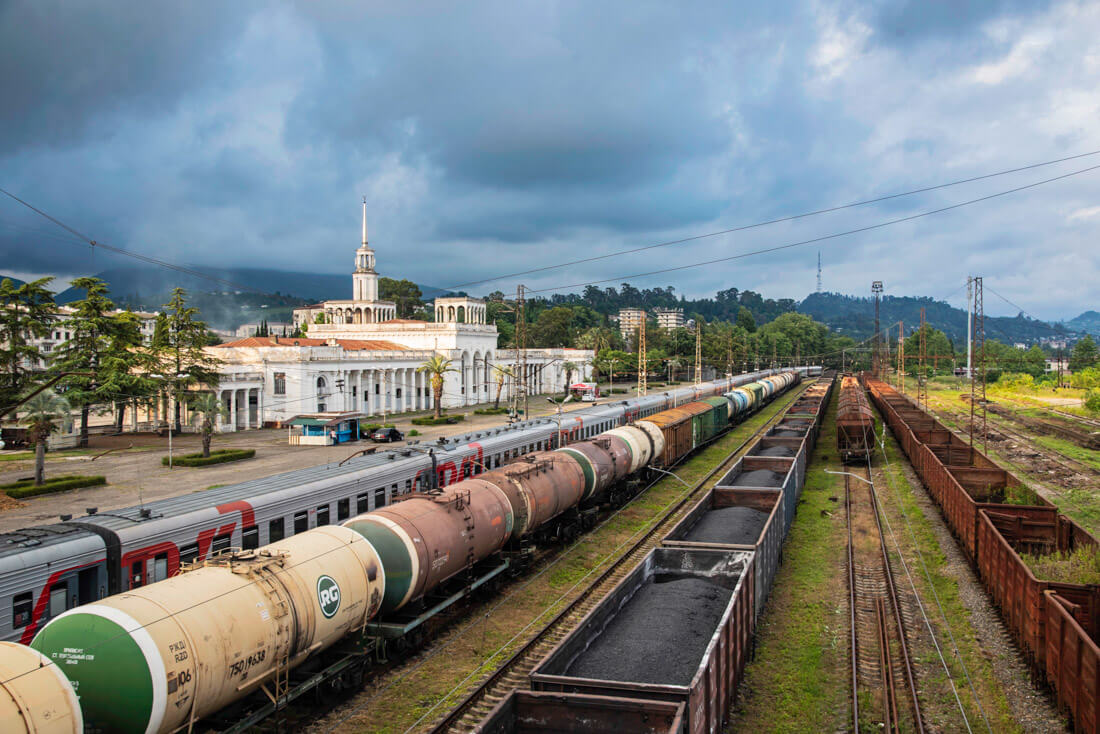 Day 3 – New Athos
With nearly 1700 years of history, New Athos is the prettiest coastal town in Abkhazia, with blue-turquoise water and dense green forest that grows near the edge of the water.
New Athos is an actual touristic town and you are likely to see loads of Russian tourists around, but many of them are pretty cool, as New Athos is sort of an alternative destination for the average Russian tourist.
In New Athos, you must climb up to the Greek fortress (200RB) on the top of the mountain, to check some incredible views of the bay.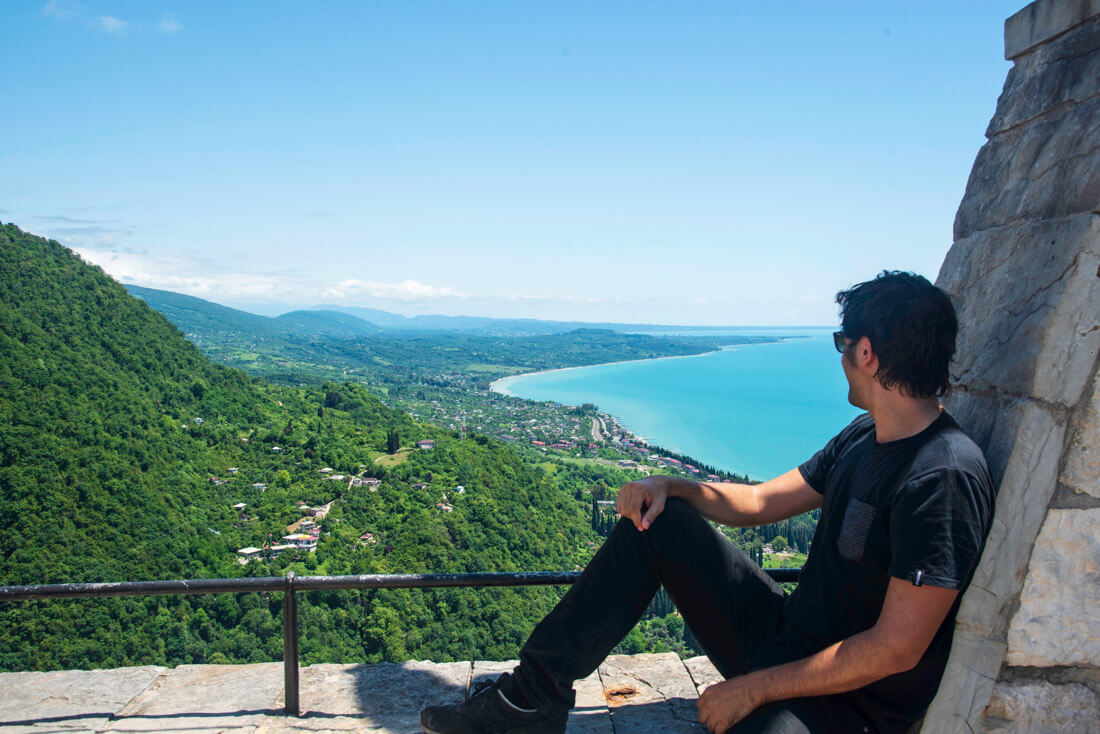 Moreover, the New Athos Monastery is one of the prettiest I have seen recently, really. It was built by monks in the 19th century and is a real blessing to your eyeballs.
Apparently, there is also a very impressive cave but I didn't have time to go there.
How to get to New Athos from Sukhumi
You can easily reach New Athos on a day trip from Sukhumi and marshrutkas run from the main bus station in Sukhumi. It costs 70RB.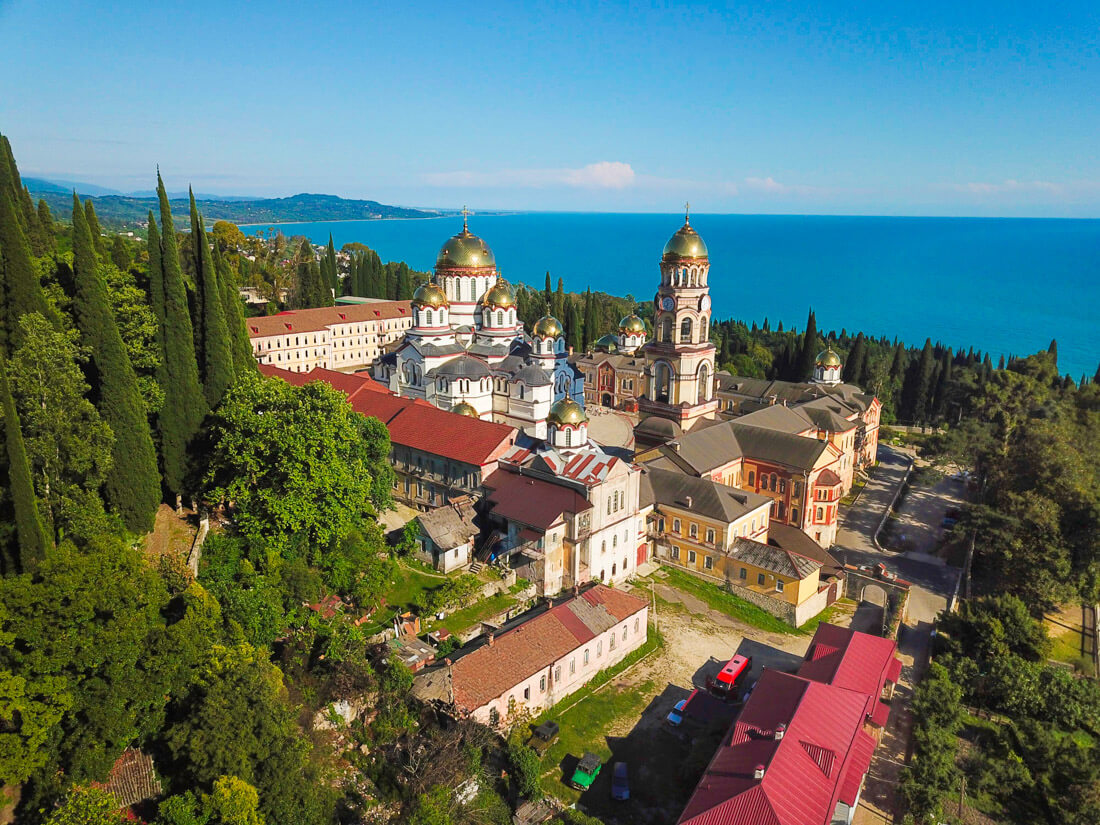 Day 4 – Gagra
Gagra is a very touristic beach town.
I didn't like it, basically because I grew up in a very similar place in Catalonia, so there was nothing new for me and I would have preferred to have this day to explore the area around Gale.
It is a place to just chill at the beach and eat at the many promenade restaurants so, for solo travelers, it can get a bit boring, especially because there are no people to hang out with, basically because nobody speaks English.
What is interesting about it, however, is that this is the warmest town in the entire Black Sea coastline and apparently, in winter, the temperature is high enough to swim, so Gagra has always been a popular getaway for Russians escaping from their utterly freezing weather.
This is the reason why you see so many strange plants such as exotic cactus and things like that, which is very weird, taking into account that we are at the very doors of the Great Caucasus.
Ah, almost forgot! There is an abandoned Music Club which is worth checking out. Right here: 43.290811, 40.260667.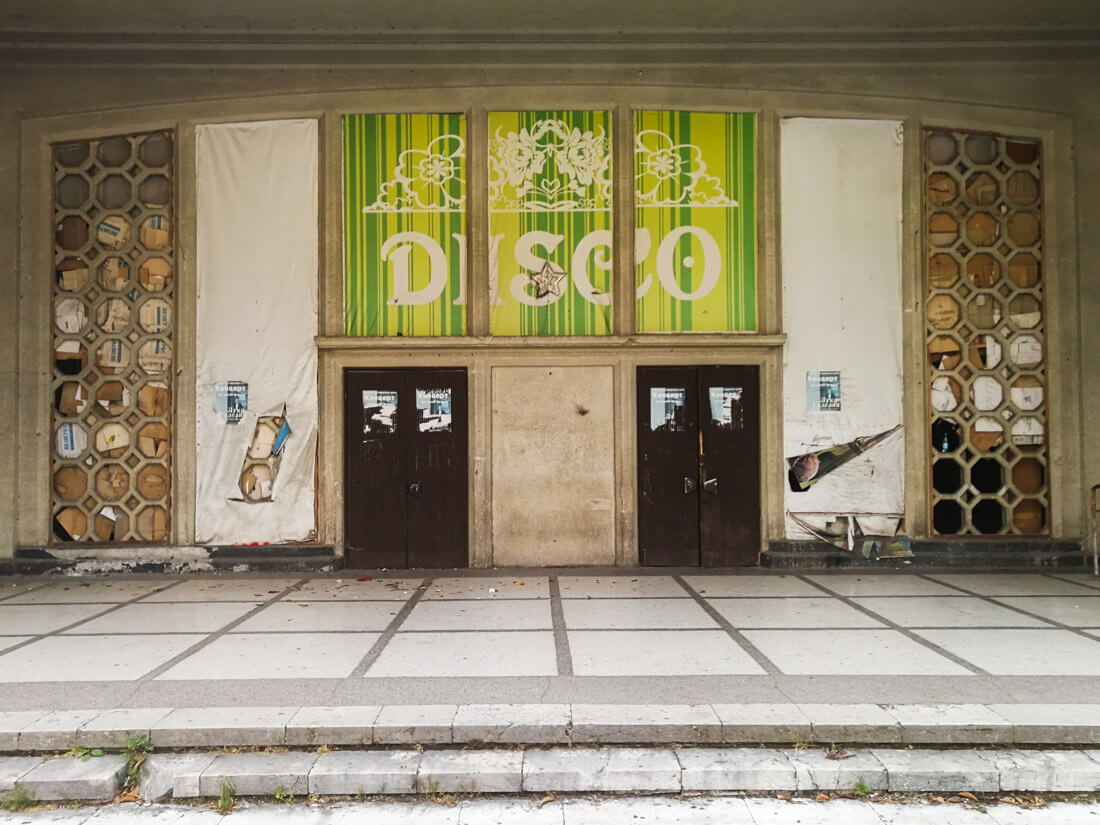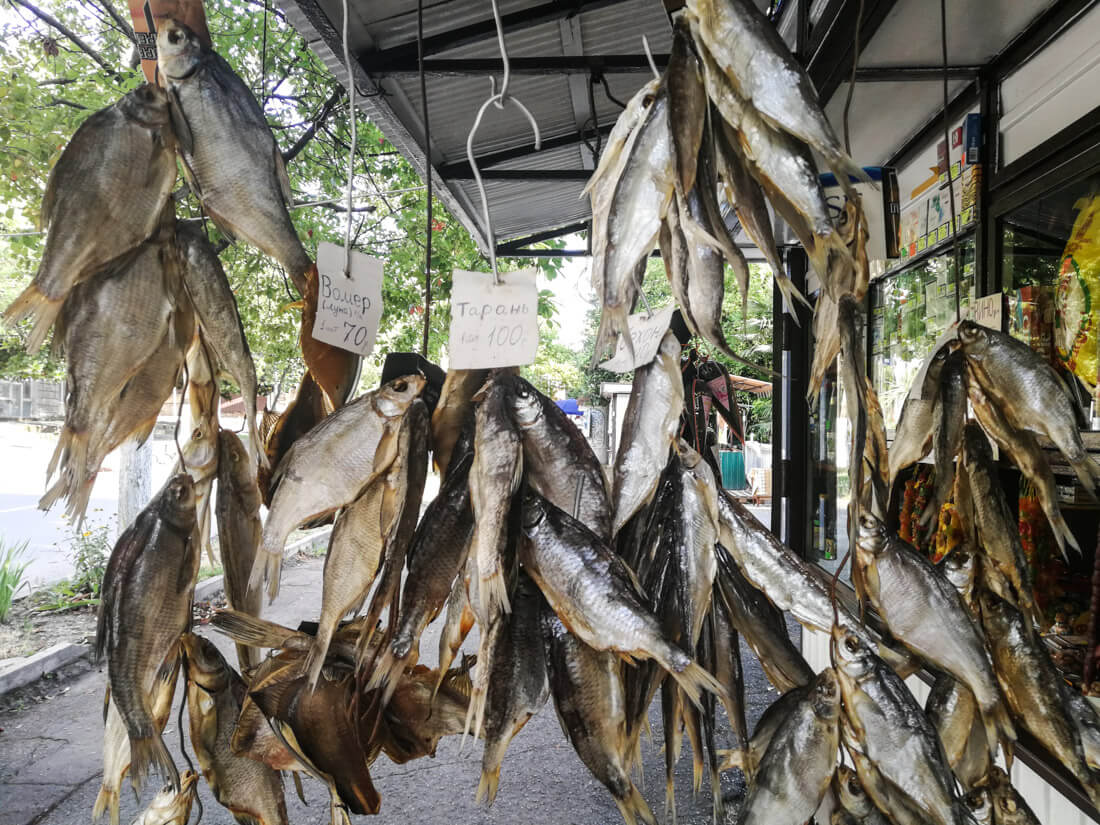 Day 5, 6 – Camping at Lake Ritsa
Who would ever say that, at the very shores of this lake, Stalin himself used to spend his holidays in his personal dacha (Russian summer house).
Lake Ritsa was, in fact, a very popular spot for the Soviet elite and, today, you can still visit Stalin's dacha and, for a few rubles, they will show you the bed where he used to sleep, the toilet where he used to shit and even his personal boat.
The tour is in Russian and nobody speaks English but it was fun enough.
Stalin's dacha is on the opposite side of the main touristic part of the lake.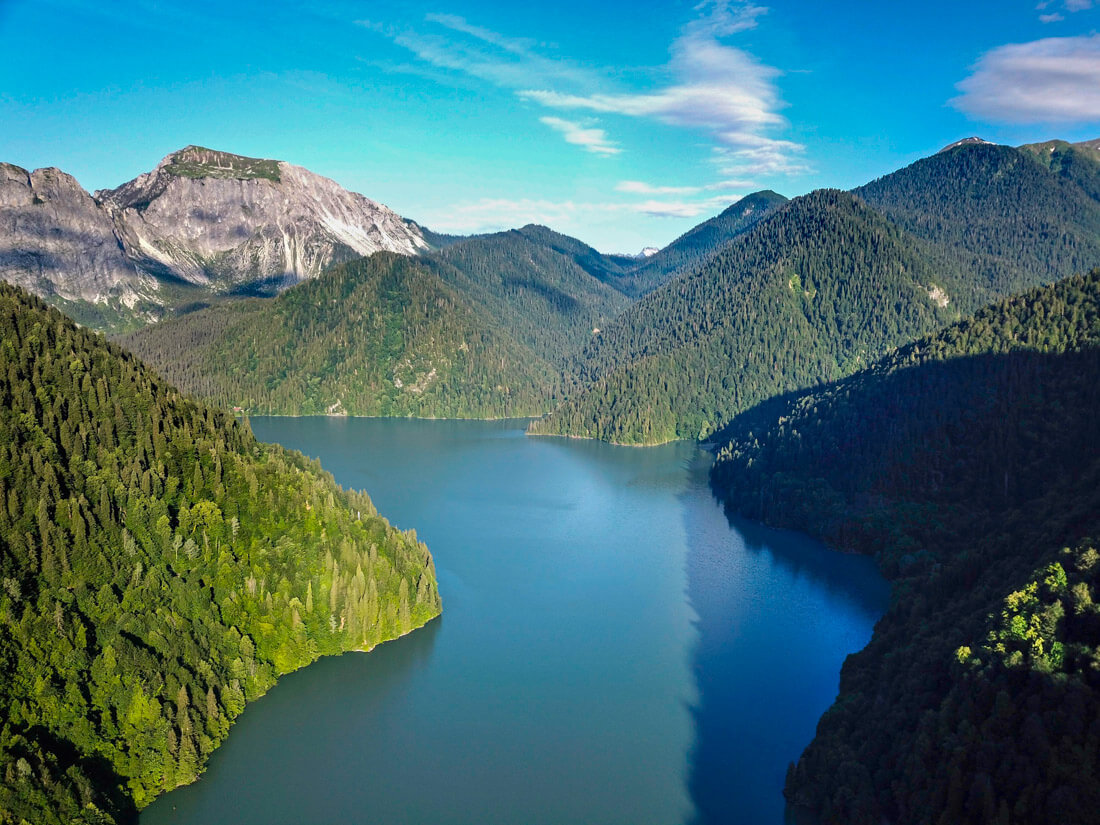 The lake is actually very touristic but this shouldn't pull you out from coming here because it is pretty big and, like always, people just go to certain areas of the lake.
The place we camped was totally empty, so we had the place for ourselves.
On the second day, we trekked to what is called the Small Ritsa, which is a smaller version of the main lake. It is a half-day trek and we only saw one other group of trekkers.
Alternatively, there are many roads and trails around the lake waiting to be explored.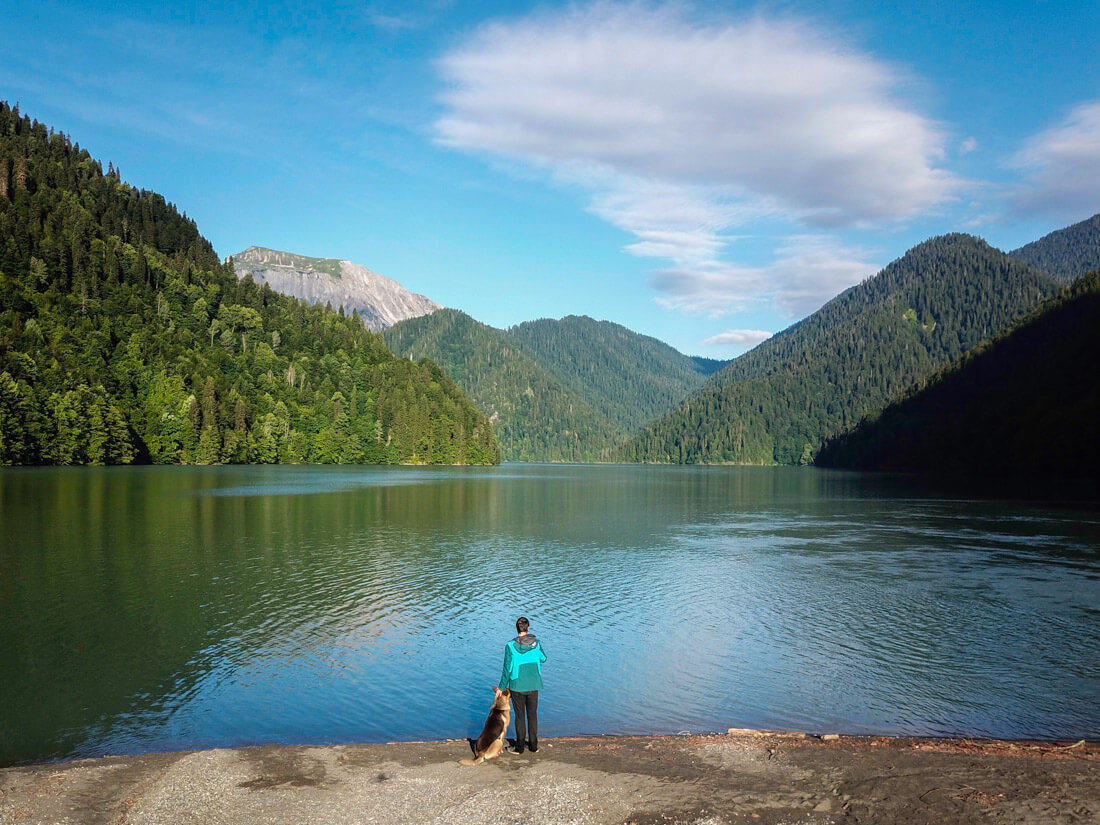 How to get to Lake Ritsa from Sukhumi
There is no public transportation, so you need to take a taxi or hitchhike.
I hitchhiked and got picked up by two young Russians who I camped with, so I was very lucky.
You can also book a tour from Sukhumi, which costs around 10USD, but I wouldn't go there by bus, as you will only have a few hours to enjoy the most touristic part of the lake, without time to go to the other side or even trek to the small Ritsa.
Where to stay in Ritsa Lake
We camped but, if you don't have a tent, there are a few hotels around, none of them budget though.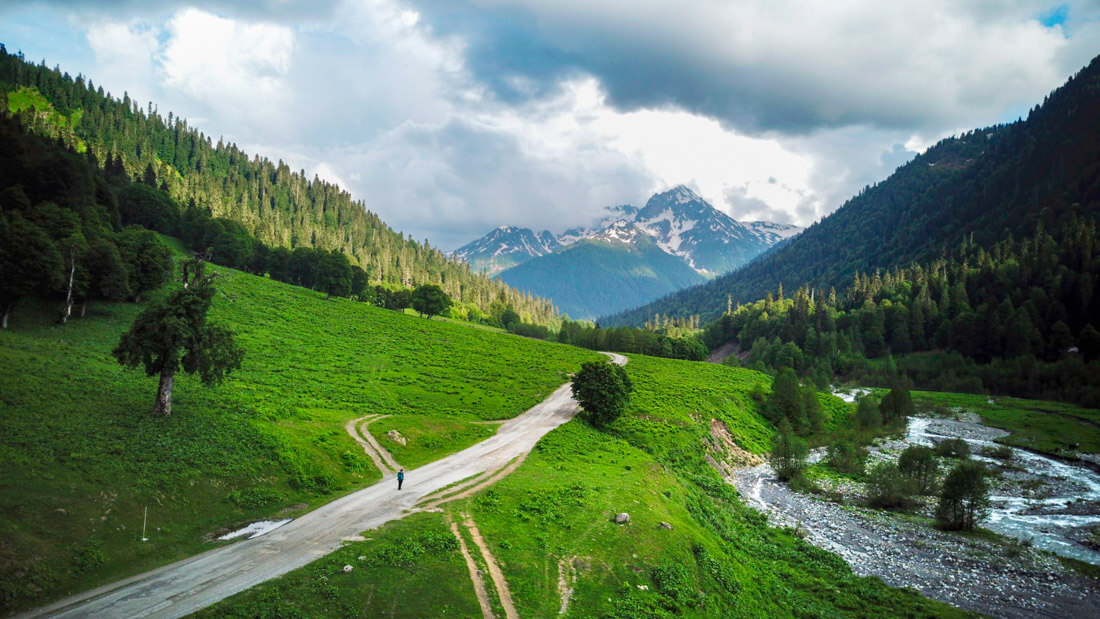 Going back to Georgia
From Lake Ritsa, you can easily travel to Tbilisi on the same day.
I left the lake at around 1pm, after coming back from Small Ritsa and my Russian friends dropped me off in New Athos, from where I took a marshrutka and the driver dropped on the main road between Sukhumi and the border.
I waited for a lift, crossed the border in just a few minutes and, once in Zugdidi, I took a marshrutka to Tbilisi. I think I arrived around 1am.
More information for traveling to Abkhazia
Remember to get travel insurance for Abkhazia
IATI Insurance is one of the very few that covers travel in an unrecognized territory like Abkhazia.
Get your 5% discount if purchasing via this link.
More Travel Guides to Georgia
More Travel Guides to Other Unrecognized Countries