Azerbaijan is an ex-Soviet Muslim country.
Physically, Azerbaijanis are a mixture between Iranians and Turks, but they wear a Russian cap. They speak both Azerbaijani (a Turkish dialect) and Russian. They drink tea in the same way as Iranians, using the same cups, pots and add the same extravagant amount of sugar.
They enjoy drinking it in Arab cafés, but do you know what the difference is?
They drink it alongside vodka! When you enter a café, they greet you with "Salam". But when you have a vodka shot with them, they will exclaim "Nasdroviya!".
They possess Middle Eastern cordiality but, at first, they may seem to have the seriousness of Russians. It's hard to tell where you actually are: Soviet buildings, Arabic food, and Russian signs.
Check my travel guide to Azerbaijan
need to know for traveling in Azerbaijan
Quick facts
Capital: Baku
Population: 9.7 million (89th)
Languages: Azerbaijani (a Turkish dialect) and Russian
Area: 86,600km² (112th largest country)
Visa
You can now apply for an e-visa which is available through this portal.
It costs $23 and is valid for 30 days. It can take from a few minutes to up to 3 days to process.
This is the list of countries that are eligible for the e-visa:
Getting in
Baku is the main airport hub in the country, with many connections to Istanbul, Dubai, and EU destinations.
You can also cross from Georgia, Iran and even take a ferry to Kazakhstan and Turkmenistan, the latter requiring a visa.
The Armenian border is closed.
Travel Insurance
For Azerbaijan, I recommend IATI Insurance: It has all types of plans, from families to backpackers
5% discount if booking here:
Best time to visit
Spring and autumn would be the best times to visit, when the weather is pleasant.
Summer can be a good time for trekking in the mountains.
Money
The official currency is Azerbaijani Manat
1 USD = 1.70 AZN
You can find ATMs in Baku but outside of the capital, Azerbaijan is mostly a cash economy
Budget: starting at $30 a day for budget backpackers; $50 a day if you stay in a private room
---
The Autonomous Republic of Nakhchivan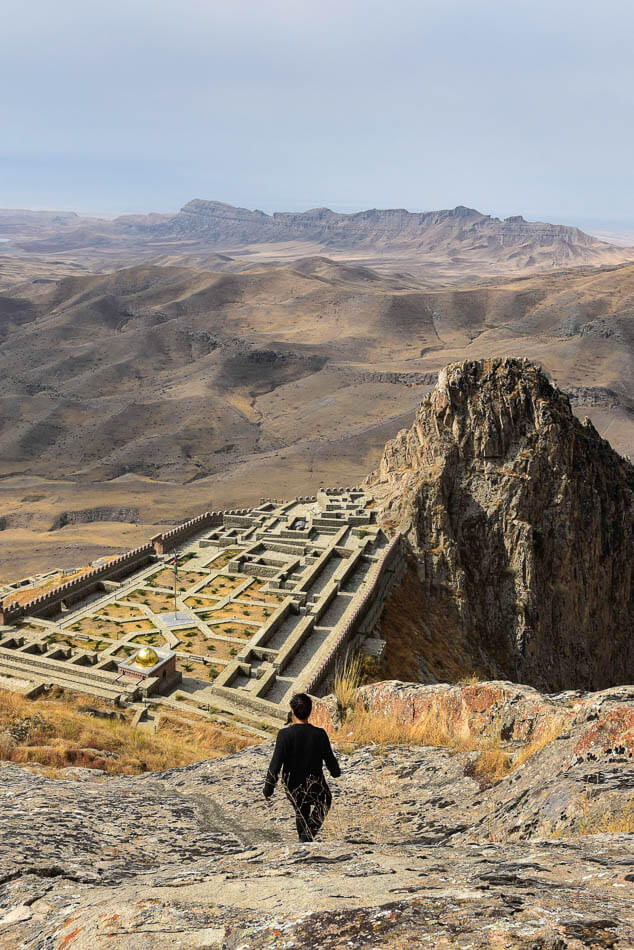 Nakhchivan is an exclave of Azerbaijan nestled between Armenia, Turkey, and Iran, an isolated region barely visited by travelers, home to mausoleums and bizarre fortresses, certainly worth the trip.
You can enter Nakhchivan for either Iran or Turkey. Otherwise, you must fly in from Baku.
---
Top experiences in Azerbaijan
Visit incredible Baku
A futuristic city with awesome ancient sites. Read my Baku city guide.
Trekking in the Caucasian mountains
Some of the finest mountains in Europe.
Soviet villages around Ganja
Dashkashan is an old mining Soviet town.
Visit the Autonomous Republic of Nakhchivan
A really off the beaten track exclave with a distinct culture.
Check our 3-week Azerbaijan itinerary
tips for Azerbaijan
Accommodation
Azerbaijan is well-sorted for hostels, guest houses, and hotels, including plenty of 5-star hotels in Baku.
Excursions and day trips from Baku
For those short on time, there are many activities, tours, and excursions which you can do from Baku and book with just one click.
Transportation
It's very easy to move around the country on a marshrutka, the local minibus
There's a train too but it's only convenient for going into Georgia.
---
ALL MY ARTICLES ON AZERBAIJAN