How to find the best high-risk travel insurance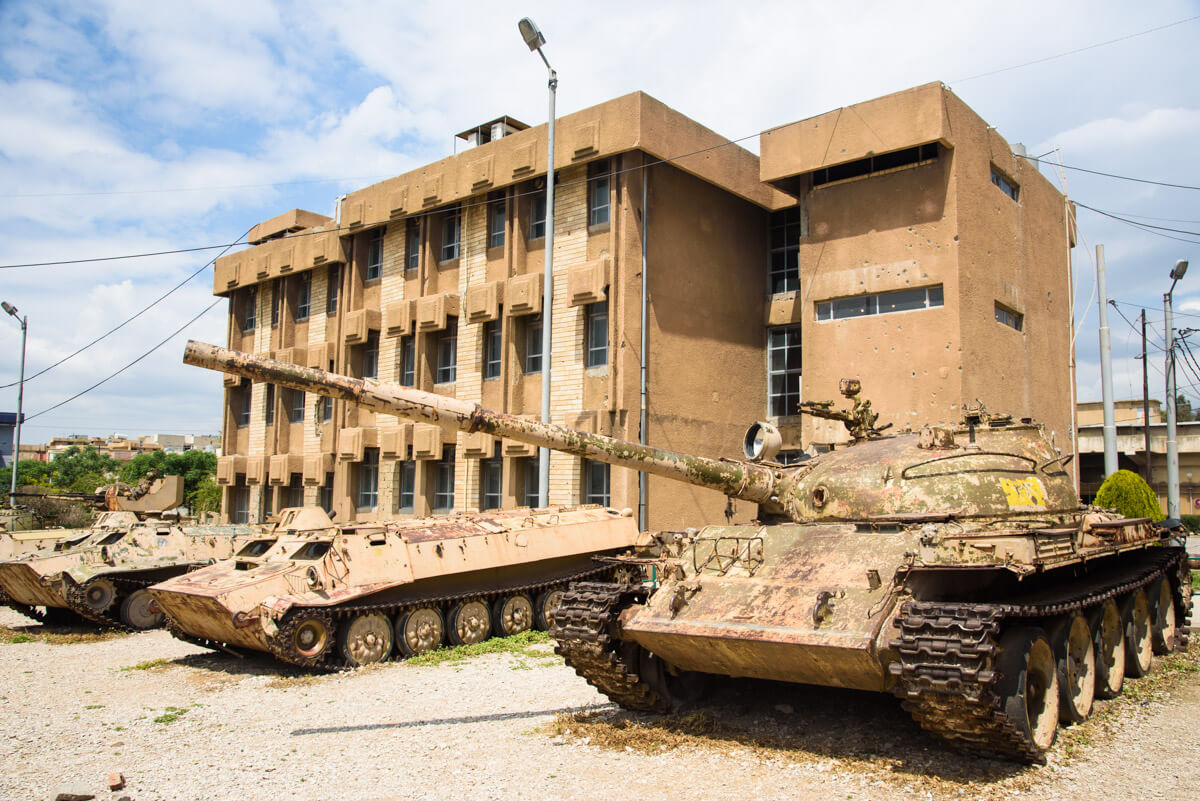 First Allied is currently NOT covering travel in high-risk areas for tourism purposes, so will update this article as soon as I find an alternative insurance provider
If you are reading this article, it is because you are traveling to a dangerous country, which means that you are considering buying high-risk travel insurance.
But, what does high-risk mean?
If you have been following my blog, you will know that, for the last few years, I have been traveling to countries which might be classified as dangerous by the average traveler.
Although I consider that I have never put myself in extreme risk, the fact is that most travel insurance won't fully cover me if I happen to travel in Pakistan, Iraq or the Democratic Republic of Congo.
And why is that?
Well, you just came to the right place.
The following article is the ultimate tutorial to finding the best travel insurance for high-risk countries, which will tell you why and when you should buy it and why you should choose First Allied as the top insurance company for traveling to war zones and other potentially dangerous destinations.
Please note, this is not a sponsored article but a very honest review, which aims at helping travelers with a similar mindset. The article, however, contains affiliate links. This means that, if you found this article useful and buy the course through any of my links, I will get a small commission at no extra cost to you. Thanks 🙂

Why should you buy high-risk travel insurance?
From Iraq to Libya, the West Bank and Gaza, Sudan and even Nagorno-Karabakh, a self-proclaimed republic which is only accessible from Armenia, the UK recommends that you should avoid traveling to a ridiculously large list of destinations around the world. The organization that provides this travel advice is the Foreign and Commonwealth Office (FCO), the UK's equivalent of a Ministry of Foreign Affairs.
And yes, any relatively experienced traveler will know that this information is quite exaggerated.
Unfortunately, nobody cares about our opinions because most travel insurance companies, such as World Nomads, will assess a country's risk based on the FCO advice or an equivalent organization from your country.
This means that, if you are in a country or region which your government advises against traveling to, your regular travel insurance will not cover you so, if something happened, you will be there on your own…
True story.
The problem is that many travelers are not aware of this because, when you are in the buying process, you can see that countries like Pakistan or Armenia are in the breakdown list but, if you read the whole insurance policy (most people don't), you will see that somewhere very hidden says that your policy will not be valid in certain regions of those countries.
The reason why they appear in the breakdown list is that, according to some governments, some regions within the country are considered safe so, if you break your leg while trekking in one of those safe areas in Pakistan for example, your insurance may be valid. However, if you get into any sort of trouble for being wandering around any of the red or orange areas, you would be totally fucked.
And yes, that would suck a lot.
Important to know – You should know that regular travel insurance companies don't cover any accidents related to war, terrorism, kidnapping or any kind of hostility, even if you are in a green area. This means that, if you are planning to only travel to the green area in Pakistan but the unlikely happens, you will not receive a single penny.
For which countries should you buy it?
You will be surprised to know that travel insurance for high-risk areas isn't only for traveling to actual war zones but it can be also used for visiting other top touristic destinations such as Egypt.
How many times have you heard of bombings in Cairo? And what about Kenya and Tunisia?
Before traveling to any destination, you should check the FCO advice to see what they say about your destination. Usually, they divide each country into 3 areas:
Red area: Advise against all travel

Orange area:

Advise against all but essential travel
Green area: Good to go
I invite you to check the FCO travel advice for Egypt and you will see that it has both orange and red area.
If you travel to any of those potentially risky areas and have a car accident, your insurance cover may be invalid, as you are not supposed to travel to that destination.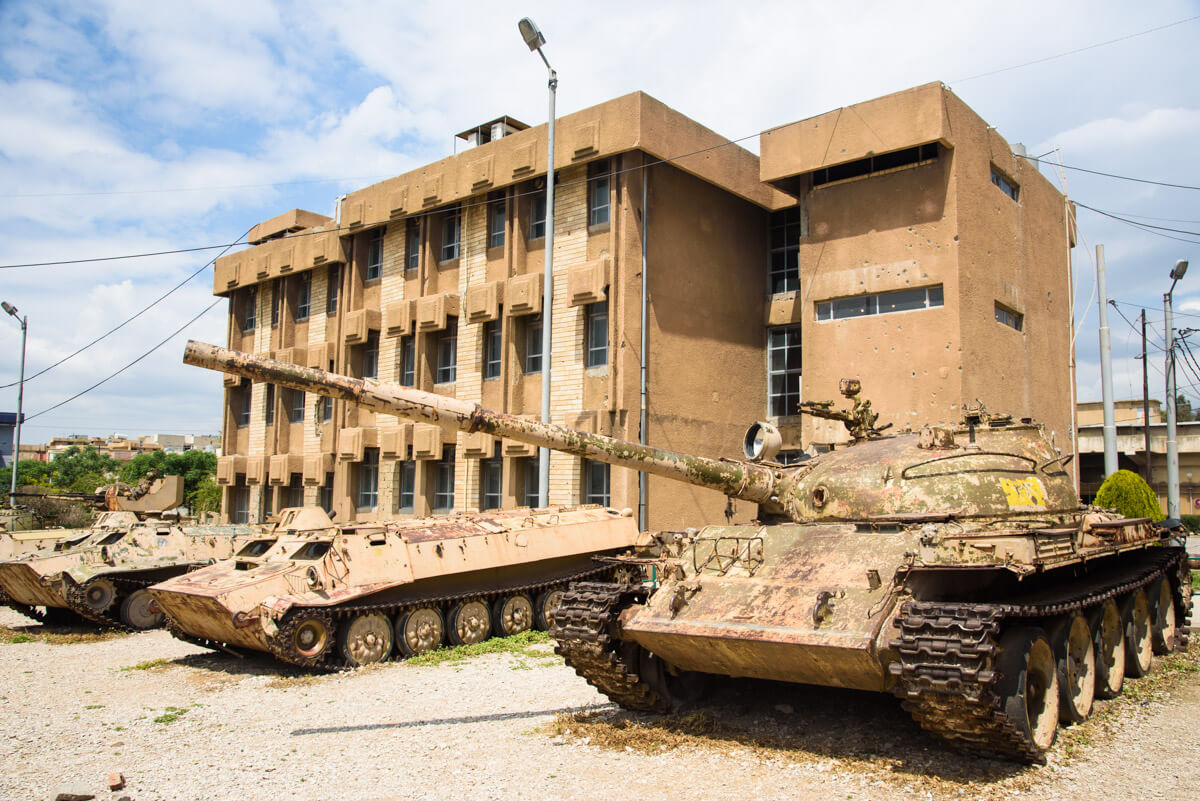 What does high-risk insurance cover?
Besides all the obvious things, which is full coverage for any kind of risky destination, no matter where you go, a high-risk travel insurance offers you coverage for the following things:
Regular medical coverage for any kind of accident
Like any other travel insurance, with the only difference that it is also valid in high-risk areas. This is particularly useful for travelers going to Egypt, Kenya and other touristic destinations with a small threat.
Compensation for death or being critically injured due to accidents related to war, terrorism and any kind of hostility
Unlike your regular insurance, you will get a generous compensation for getting injured or dying due to a terrorist attack or any other kind of war-related incident. This is very useful if you are traveling to actual war zones such as Iraq or Afghanistan.
They pay for your ransom reimbursement
In most countries, getting kidnapped is quite unlikely but, in some destinations such as Afghanistan and even some areas of Pakistan, this would be the highest threat. A high-risk travel insurance can fund a large part of your ransom.
Can I just travel with my travel insurance for high-risk countries or should it complement my regular one?
Well, this depends on you.
Usually, most high-risk travel insurance will cover events and incidents which are more medical or injury-related.
On the other hand, regular insurance covers a big bunch of other things, like theft, flight cancellations, baggage loss, etc.
Buying travel insurance for high-risk countries should always complement your regular one.
For example, since I am a long-term traveler, I have 1-year travel insurance with World Nomads and, when I travel to a potentially dangerous region, I buy First Allied for the specific days I am there.
For this reason, most travelers would hesitate to buy complementary travel insurance but, seriously, are you sure you want to risk that?
It is not only about paying all the medical expenses for breaking your leg but, what if the unlikely happens? I know that getting caught in a terrorist attack is quite unlikely but, what if it actually occurs?
And, in any case, you should never do it for yourself, but for your family. If I died on the road due to my stupidity for venturing into a war zone, at least I would like my family to get a large amount of compensation for it.
What if nothing happens?
In the end, seriously. What is the best that could happen to you? The best case scenario would be that you wasted your money buying a war zone travel insurance because:
You didn't break your leg for venturing into a red area
You were not kidnapped
You didn't lose an arm due to an explosion
You were not in the middle of a civil war break down
You see? All advantages.
Read: Is it safe to travel to Iraq
It is cheaper
After getting quotes from different companies, First Allied has the most competitive prices, based on the compensation and benefits offered.
It is more flexible
Most travel insurance for high-risk territories will give you a quote that includes different benefits and coverage which you might not need during your trip. First Allied allows you to estimate a quote and policy based on your current needs and budget, of course.
It covers a lot of nationalities
Most high-risk travel insurance only works for citizens from Western nationalities and, on many occasions, only people from the European Union. First Allied gives coverage to a lot of nationalities from all over the world.
Why is it better than other travel insurance for high-risk territories? Full comparison
What I just said may sound appealing but I want to prove it by showing you real numbers.
I am going to get different quotes from 3 different popular companies.
Let's pretend that we are traveling to Iraqi Kurdistan for 15 days. Important to mention that I am 30 years old, a Spanish citizen and traveling there for leisure.
First Allied
As you can see, I was able to select Iraqi Kurdistan and my home country Spain.
Moreover, I selected the minimum compensation for both medical evacuation (250,000USD) and personal accident (15,000USD). The final quote is 27.50USD and, on top of this, you can add Crisis Response and Ransom Reimbursement, which we will get to later.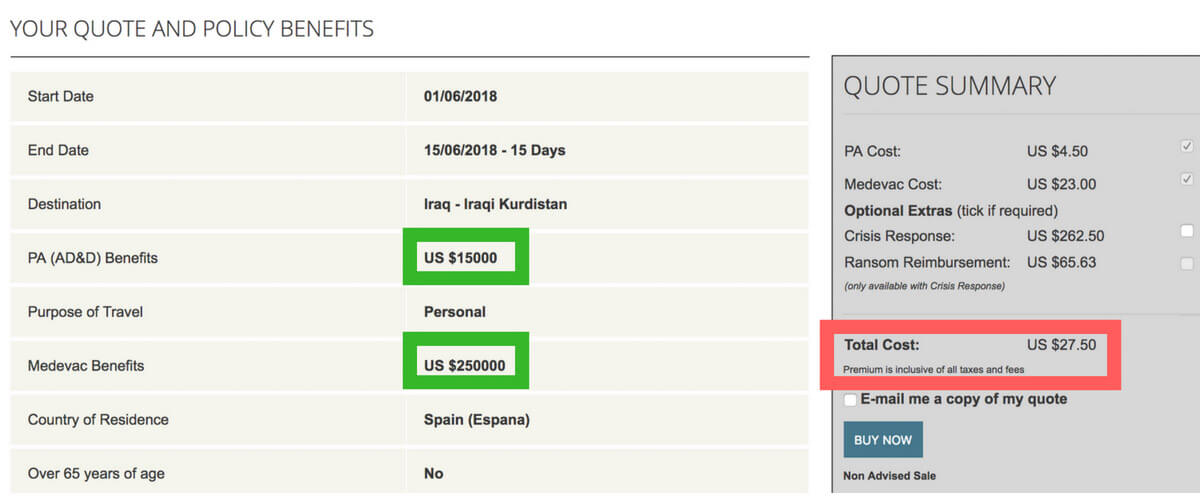 Let's now select the maximum compensation which is 100,000USD for personal accident and 500,000USD for medical evacuation. As you can see, the final price is 68.32USD.

Let's try to get the same quote for the same kind of trip:
First of all, you can't select a county but only an area. In Area A you find the most dangerous countries, which include Yemen, Iraq, Afghanistan, etc. On First Allied, the quote for Iraqi Kurdistan would be much cheaper than Libya for example but, in Voyager, you will get the same expensive quote for both.
Let's talk about figures now. When you get your first quote, the minimum cost is 159.75USD, which includes 300,000USD of medical evacuation (50,000USD more than First Allied) but only 10,000USD for personal accident compensation, which is the most important figure and it is less than with First Allied.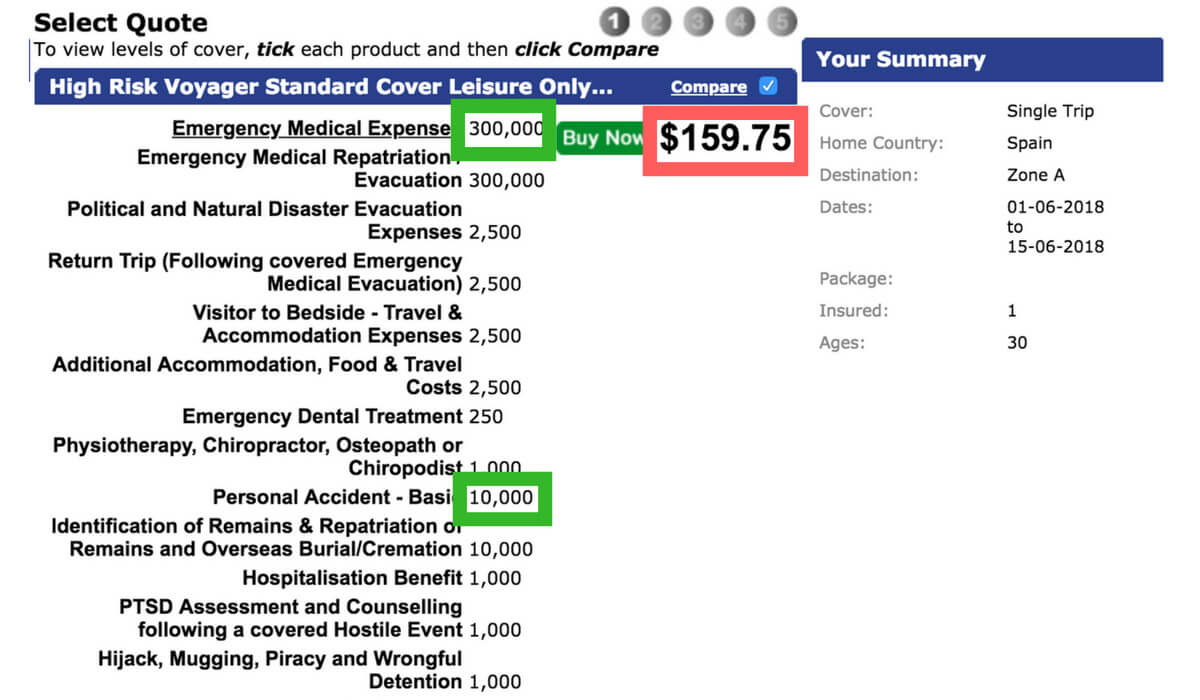 Let's try now to have more equal compensation, so we have more comparable figures. I increased the personal accident compensation to 100,000USD, which is only 10,000USD more than First Allied, and the quote went up to 1,118.26USD. Crazy.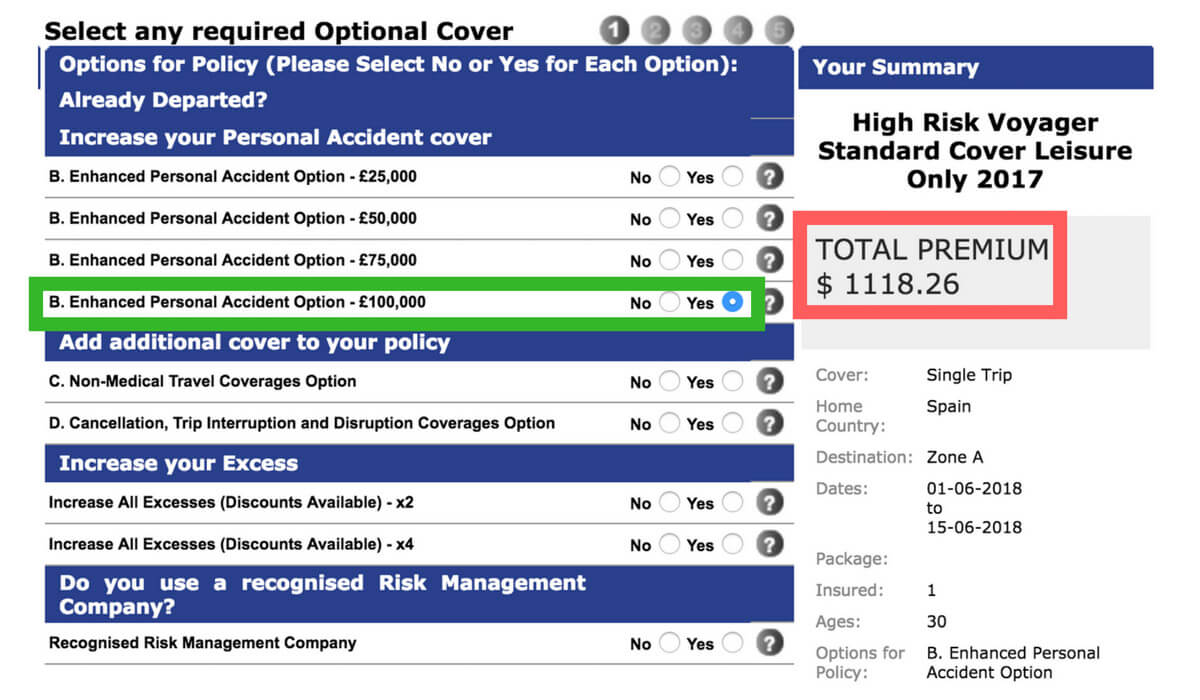 Besides being a bigger company, the fact that Voyager is more expensive is because it also covers you for natural disaster evacuations, which you wouldn't really need for most countries.
Battleface
Battleface is another popular company that offers travel insurance for no-go zones.
However, the first big disadvantage is that it only offers coverage to certain nationalities. For example, it doesn't provide insurance to citizens of Spain, France or the United States but it does to the Netherlands, Greece, Germany, UK and even Sri Lanka and Turkey, among many others. They have a strange mix.
Who is the winner?
Well, I think we have a very clear winner, right?
With First Allied, you get very good coverage at a very competitive price, which even the most budget travelers would be able to afford.
Your first step will be getting your quote, where you will have to mention which country are you traveling to, as well as the dates and other relevant information.
The most important thing here is to select your limit to the benefits related to Personal Accident and Medical Evacuation:
Personal Accident – If you die, lose a limb, sight or are totally disabled following an accident, the figure you select is the maximum amount of money you will receive. It is important to know that the accident doesn't necessarily have to be related to war and terrorism only, but can be used by anything.
Medical & Evacuation – This refers to all the medical expenses resulting from any unfortunate event.
By the way, it is important to know that the insurance cannot be purchased more than 90 days in advance.

Once you have your quote – Should you add Crisis Response or not?
When you get your quote, there are two optional tick boxes that refer to Crisis Response and Ransom Reimbursement. They must be something important because they are quite expensive, right?
Ransom Reimbursement – Basically, if you are kidnapped, they will fund a certain amount of your ransom.
Crisis Response – If the unthinkable happens, you will have a support expert team who will assist and guide you through the safest and most appropriate procedures to follow.
Selecting them or not is completely your choice!