Pakistan-China border crossing at Khunjerab Pass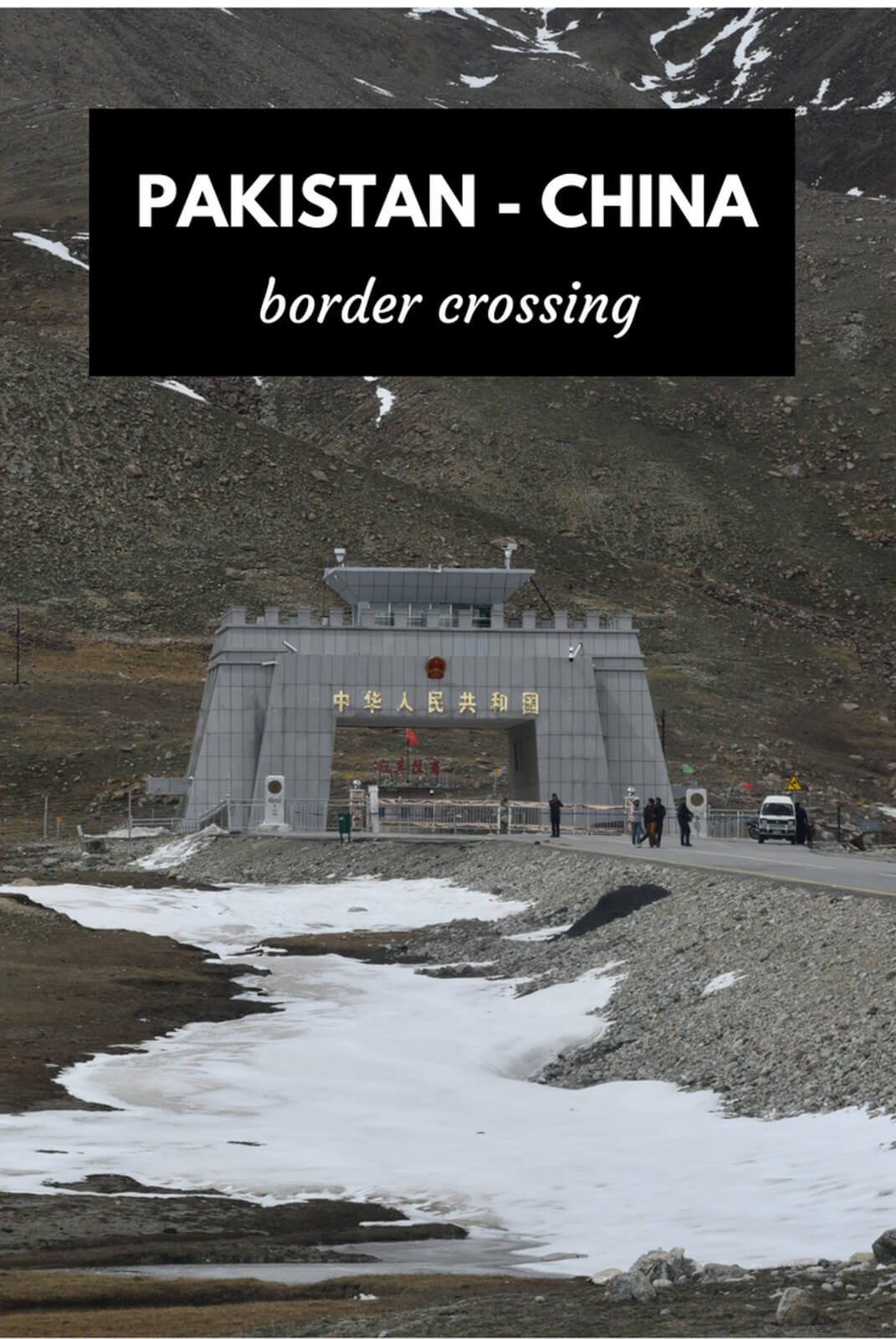 ---
---
Located at 4,600 meters above sea level, the China-Pakistan border crossing, which goes over the Khunjerab pass and the Karakoram Highway, is the highest and, consequently, one of the most beautiful borders in the world.
The journey is quite easy and it only requires a little preparation but, due to the strict measures imposed by the Chinese authorities, you will need an extra dose of patience.
What you need to know before crossing the Pakistan-China border
Chinese visa – Are you in possession of a valid Chinese visa? If not, you are wasting your time here. Some years ago, it was possible to get a Chinese visa in Islamabad but, during my journey, I met an Australian man who been denied a visa, so things might have changed now. I got mine in Barcelona, Spain.
The Pakistan border with China is closed at weekend – Plan your trip accordingly.
It is also closed in winter – From November to March, Khunjerab pass is covered by snow, hence the border remains closed. There are no official opening or closing dates, as it depends on the weather. I suggest you ask in the Karakoram FB Group for the latest update.
Upload any troubling pictures into the Cloud – By troubling, I mean any picture or file which might offend the Chinese authorities, including pornography and pictures of you with guns. Note: If you travel in Pakistan, you will definitely have pictures with guns. The Chinese will go through absolutely all your pictures and files.
They took my laptop for half an hour and checked all my DSLR and iPhone photos, one by one. I heard the story of one person who was found to have a picture of some Chinese military stuff and they reset his camera, deleting all his photos. If you can't upload them to the Cloud, just hide them well on your computer.
Smoke all your Pakistani hashish before getting on the bus – Chinese authorities have zero tolerance to drugs. If you get caught, you are screwed. At the Chinese border, sniffer dogs will smell your stuff and belongings thoroughly. Finish your hash in Sost.
Keep Pakistani rupees with you – The road from Sost to the Chinese border goes through Khunjerab National Park. At the entrance, foreigners are forced to pay a 1,300PKR fee and you can't escape it. I know, it's a complete scam because, during the journey, you can't even get out of the car.
Bring Chinese Yuan – In Tashgurkan, which is the first city after the Chinese border, you can't exchange money. I looked and asked everywhere but they told me that you can't do it anymore. There are a few ATMs but, if you don't have a credit card, you must exchange your Pakistani Rupees in Sost.
Please note that, in Sost, you can only exchange Pakistani Rupees to Chinese Yuan (and vice-versa). If you have any other currency, you will have to exchange it in Karimabad or Aliabad.
Bring plenty of snacks and water – Khunjerab Pass is located at 4,600 meters above sea level. This means that you might get altitude sickness while waiting for countless hours at Chinese immigration.
Furthermore, you can't buy anything during your journey and, crossing from Pakistan to China can easily take up to 10 hours. Hunza is famous for its dried fruits, especially apricots, which you can buy across the valley.
Can I cross it independently / driving myself? – No, you can't. On the Chinese side, you must be accompanied by a Chinese guide, which turns out to be pretty expensive. You might find some travel mates to share the cost with On the Caravanistan Travel Forum.
Read: Karakoram Highway – A journey from Pakistan to China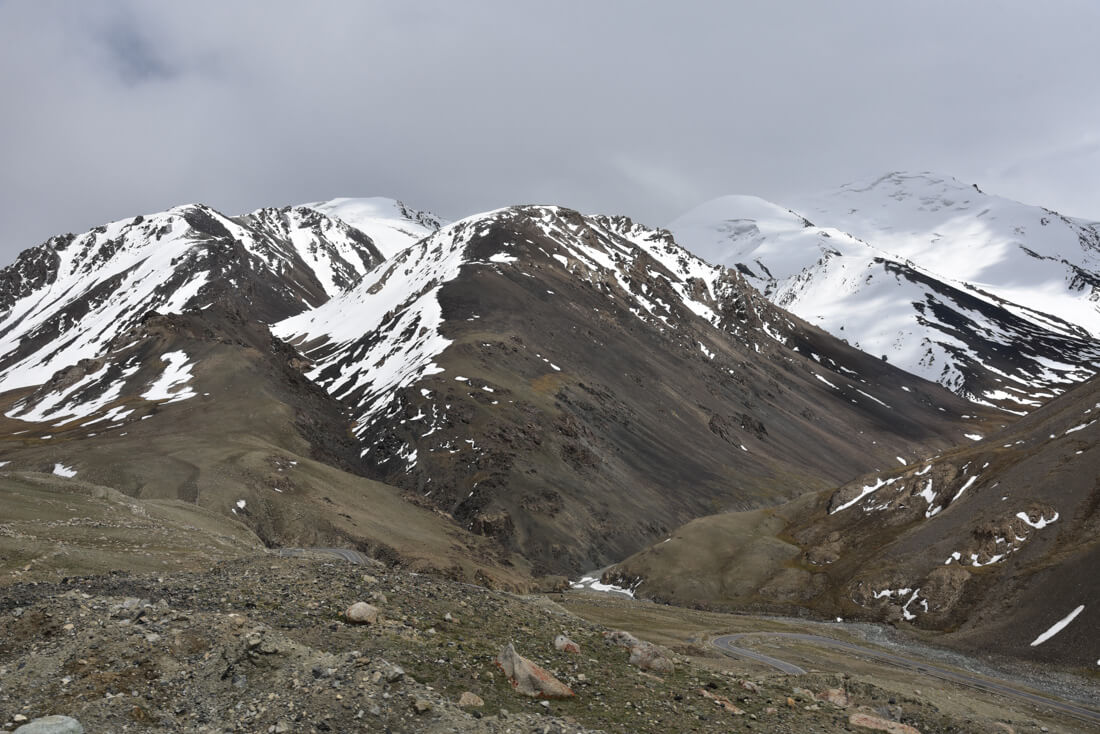 Pakistan-China border crossing: A step by step guide
Travel insurance for Pakistan
I recommend IATI Insurance because it covers many adventure activities such as high altitude trekking
Get a 5% exclusive discount when purchasing via this link.
Step 1 – Arrival in Sost
Sost is a small village located 90km from the Chinese border. Here is where the Pakistani immigration process takes place and from where you will get on a bus to China. There are at least 3 or 4 bus companies that go to China. All of them have the same price and leave at the same time. Which one should you take?
Locals recommend NATCO because it belongs to the Government, hence they say it's more reliable. I don't know what to believe. I took NATCO and the bus had two breakdowns, wasting almost two hours of our journey. A bus ticket costs 3,300PKR.
It is advisable to arrive in Sost the day before your departure, as immigration starts early in the morning, around 9am. You can also buy the ticket one day before, no problem. But I met some locals that said they got it the same day of departure. It's your choice.
If you have a few days to spare, I recommend you go to Chapursan Valley, a side valley 3 to 4 hours from Sost. If you are in Sost for only a day, the best thing you can do is take pictures of the largest concentration of psychedelic trucks in Pakistan.
How to get into Sost? – After Aliabad, you can get there from anywhere on the Karakoram Highway by public transport. Personally, I came hitchhiking from Passu.
Where to stay in Sost? – Pamir Serai Guest House – A hotel run by a local Wakhi (Alam Jan) who also works as a guide for the whole Wakhan region, including in Afghanistan and Tajikistan. You can ask him for advice if you are heading to this part of the world afterwards. I recommend Pamir Serai 100%.
Step 2 – Immigration at the Pakistani border
Immigration will start around 9am. The Pakistani authorities will check all your luggage and, if everything is all right, they will give you an exit stamp before getting on the bus. They will also force you to take polio drops, as the Chinese authorities require proof of vaccination.
However, if you have the international vaccination card which says that you are vaccinated against yellow fever, you don't need to take these drops. I always travel with it, so I didn't have to take any.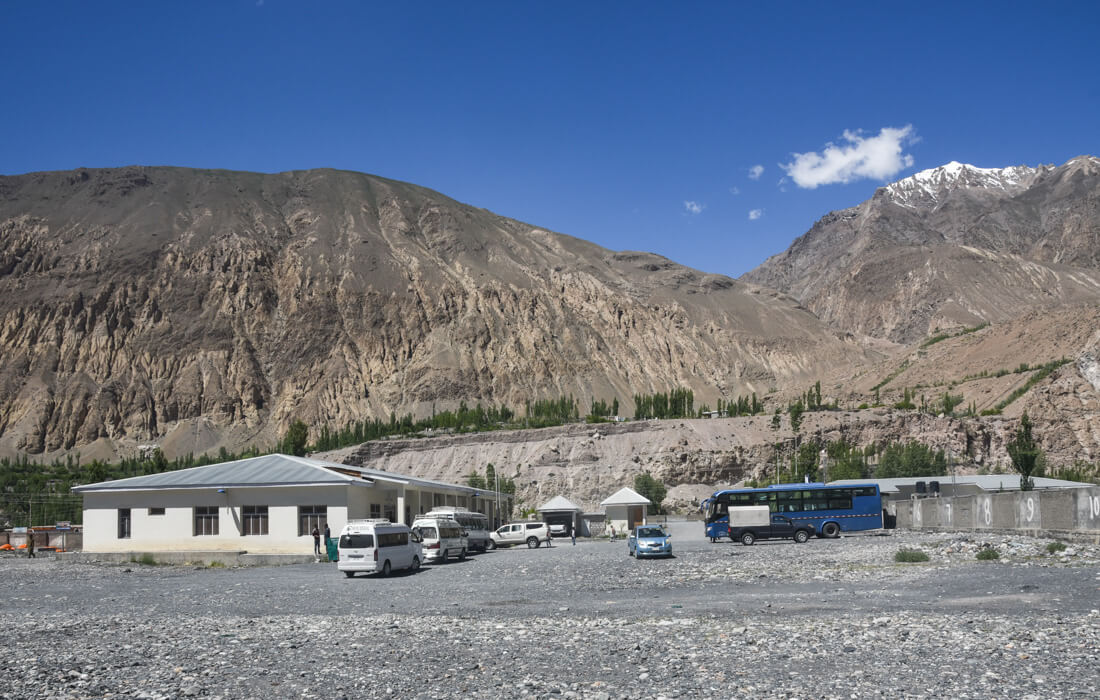 Step 3 – Bus journey and arrival at the Pakistan-China border (Khunjerab Pass)
The road that connects Sost with the Chinese and Pakistani border is a twisting 90km road that goes through snowy peaks and plains, with yak herds grazing. The scenery is truly awesome and, by the way, this is also the highest paved road in the world
Read more: Khardung La, driving over the highest road in the world
The journey takes around 3 hours until you pass through the iconic and gorgeous border gate. You can take photos of the gate but, once you cross it, I wouldn't take any photos for the remaining few kilometers, until you get to the Chinese immigration.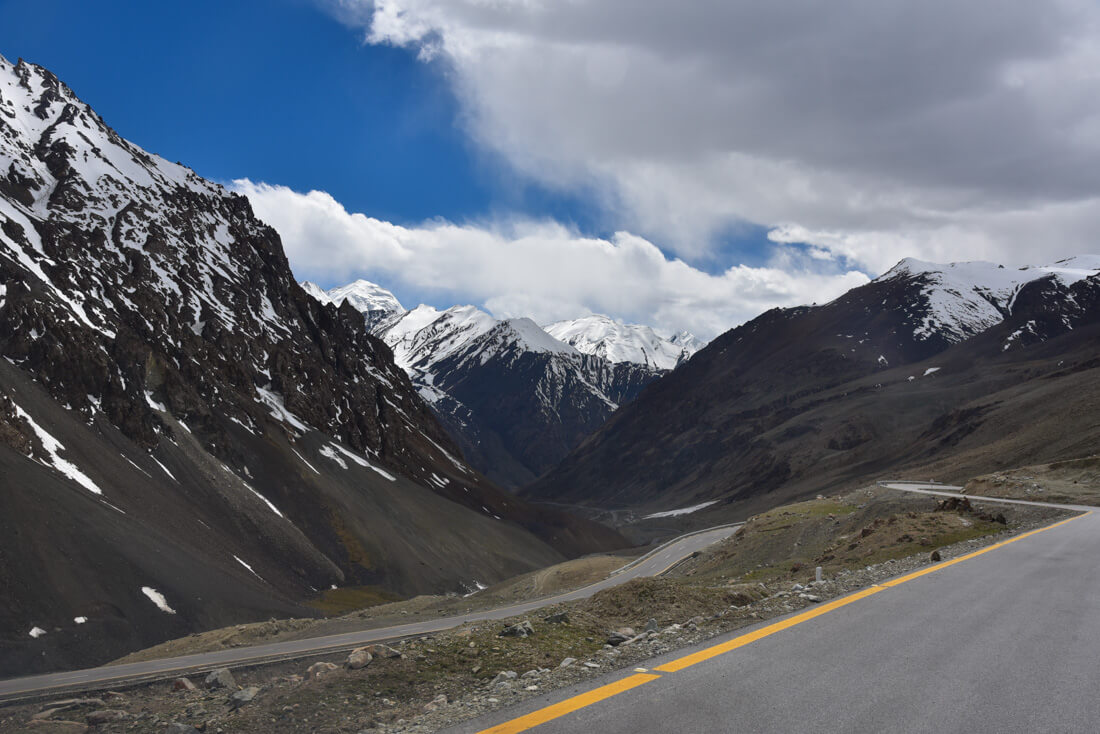 Step 4 – Chinese Immigration
No matter where you come from, get ready to be treated like a complete terrorist because, in their eyes, you are just one foreigner trying to enter Xinjiang province, one of the most troubled places in China. They will go through absolutely all your stuff, including laptop, photos and each and every tangible object. They will even scan your body and if you are a pregnant woman, they will not care about it. Do you want to cross the border? Then come through the X-ray machine.
We spent over 3 hours there. In the waiting room, in case you get altitude sickness, there are oxygen masks.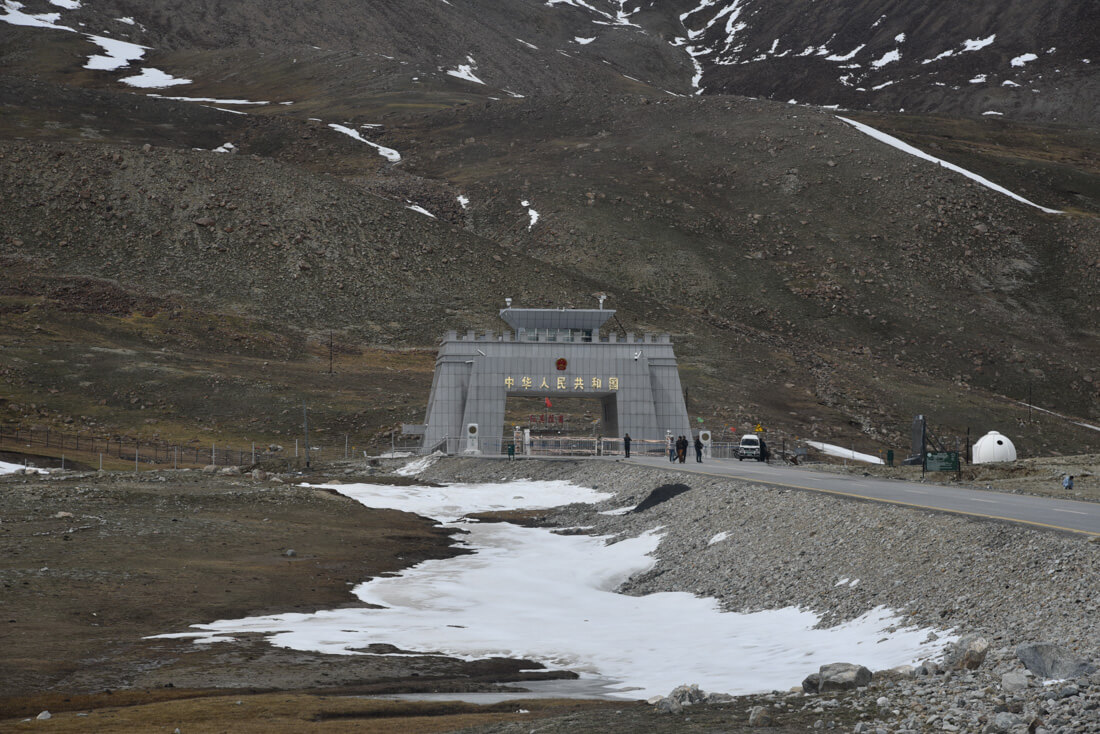 More information for visiting Pakistan
Don't forget to check our travel guide to Pakistan.
As well as all our Pakistan articles: