A guide to travel in Qeshm Island, Iran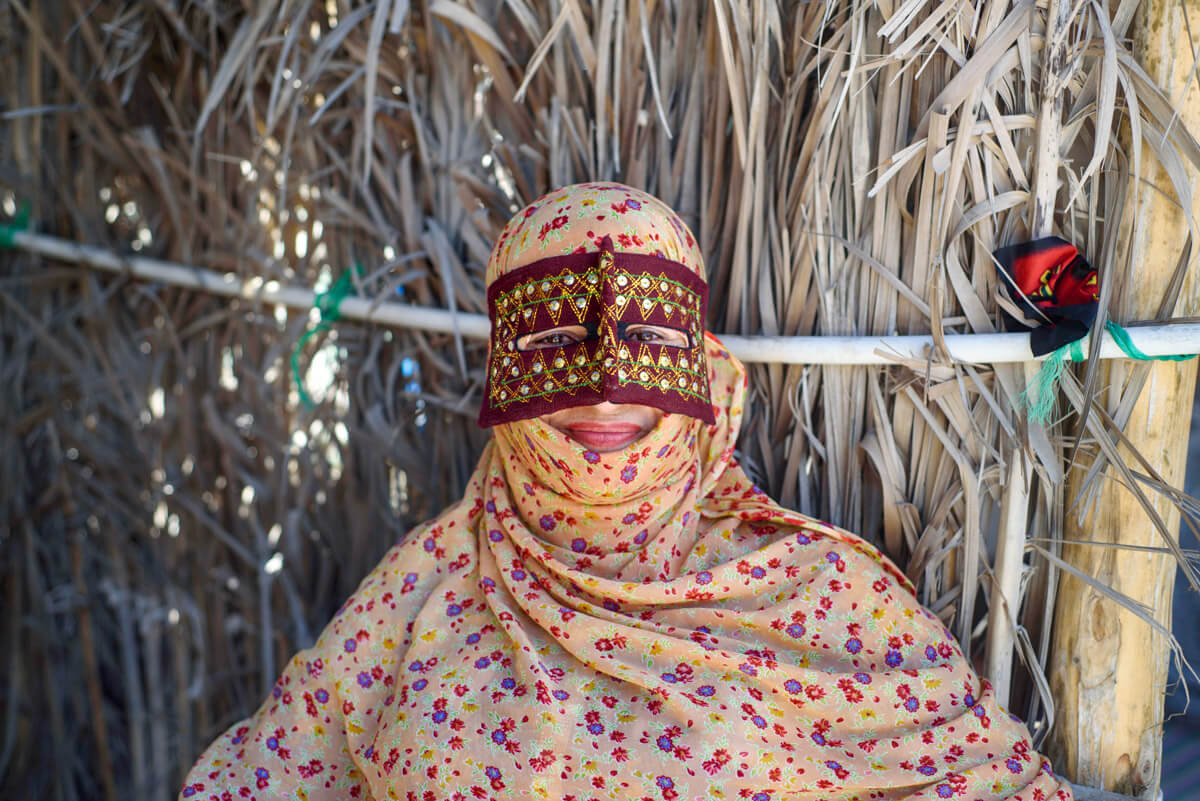 Iran is a well-known destination for its classic Persian cities, filled with stunning mosques and dreamy gardens.
Very few travelers think of Iran as a beach destination, but it truly can be.
With more than 1,500 kilometers of undiscovered coastline, the Persian Gulf shores are home to a unique landscape, culture and, of course, beautiful islands.
I visited Qeshm Island, the largest in Iran and of special interest for those seeking both distinctive geography and a taste of what culture in the Persian Gulf is like.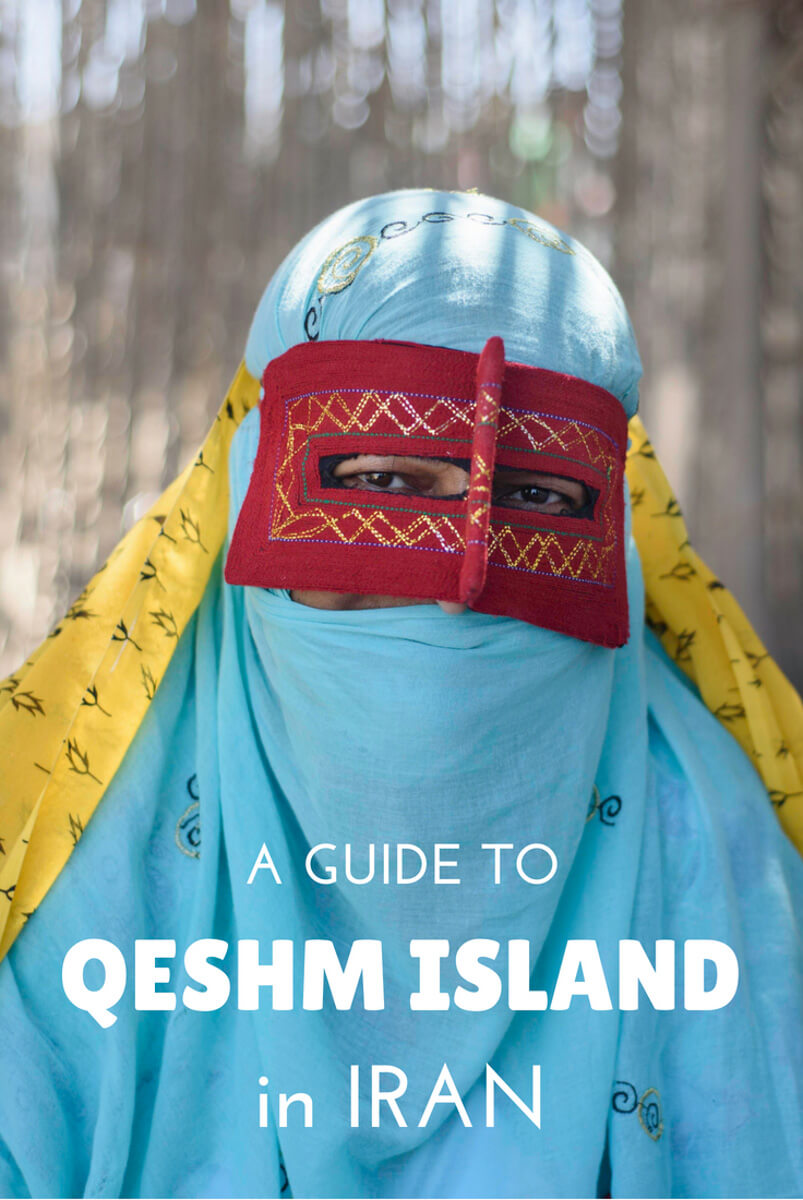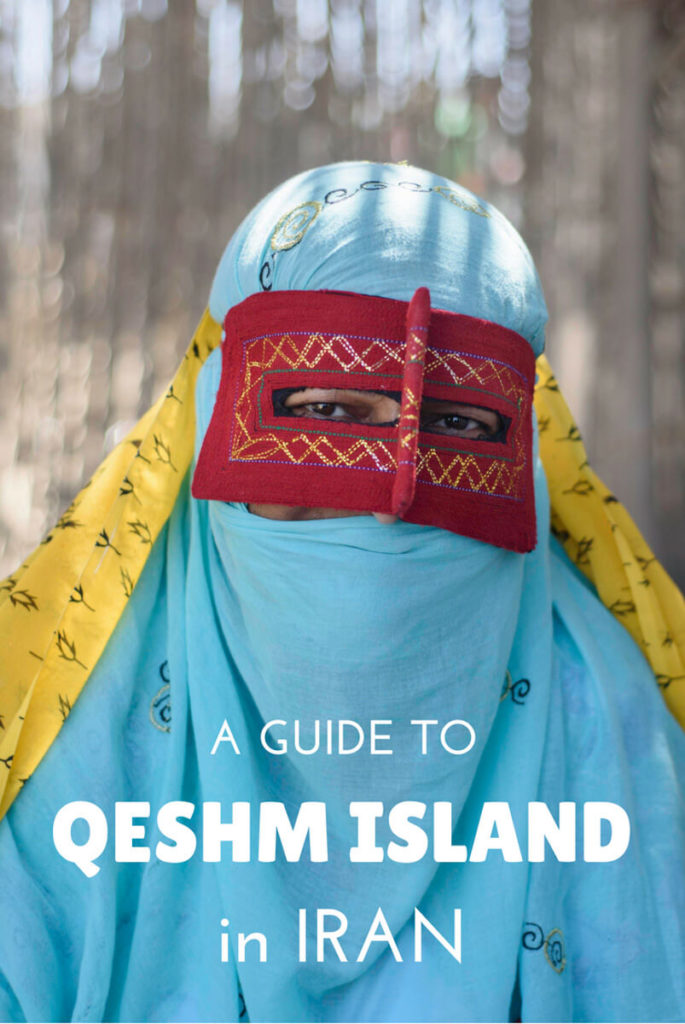 In this Qeshm travel guide you will find:
Intro
Culture
Things to do
Where to stay
How to get there
How to move around
More information
How to book hotels, flights and tours in Iran
Because of the sanctions, foreign cards or popular sites such as booking.com can't be used in Iran, but now you can thanks to 1stQuest.
1stQuest is a local company that offers services such as visa LOI, hotel booking, tours, domestic flights, and travel insurance for Iran.
5% discount on ALL bookings with voucher code:
ATC-QST
Introduction to Qeshm Island
Located in the Strait of Hormuz, just 60 kilometers away from the Omani shore, Qeshm is an island with a great abundance of wildlife and plenty of unique geological formations, many of which are listed as UNESCO Heritage sites.
But this is not all.
Due to its position, Qeshm has been of high strategic importance for many centuries. In fact, the Portuguese conquered and ruled it for about 200 years and this is why, today, it still has an ancient Portuguese fortress and some streets even have Portuguese names.
It's mandatory to have a travel insurance to get your visa on arrival in Iran.
Because of the sanctions, most insurance companies don't provide coverage for Iran, but IATI Insurance does.
Get your exclusive 5% discount if purchasing via this link.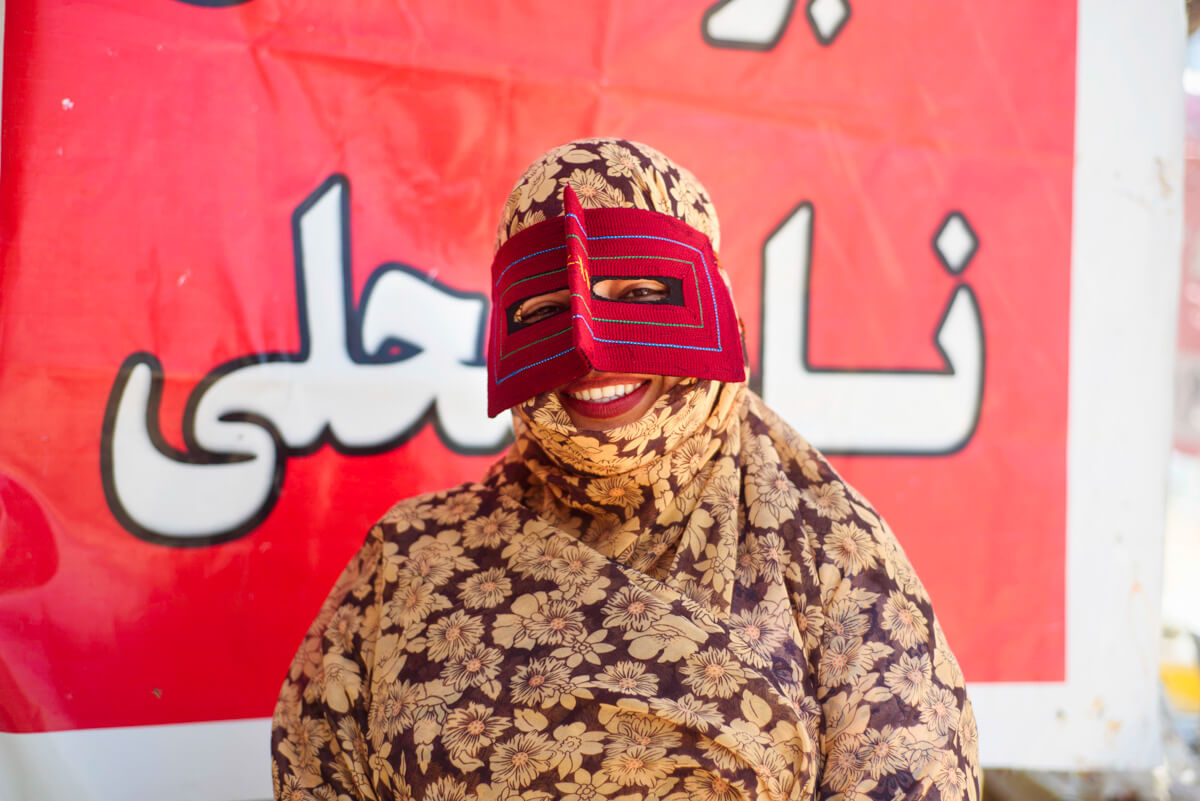 The culture in Qeshm Island
Some people come to Qeshm to enjoy its beaches and impressive canyons.
Not me. I went there because I wanted to see what the Persian Gulf culture is like in Iran, compared to the Arab Gulf monarchies.
Except in some small villages from Oman, the traditional Persian Gulf culture has practically disappeared.
In Qatar, the United Arab Emirates, Bahrain or Saudi Arabia, the locals have moved to the main cities and the very few places where you can see a small spillover of this culture are inhabited by Pakistani and Indian immigrants instead, so it is not very authentic.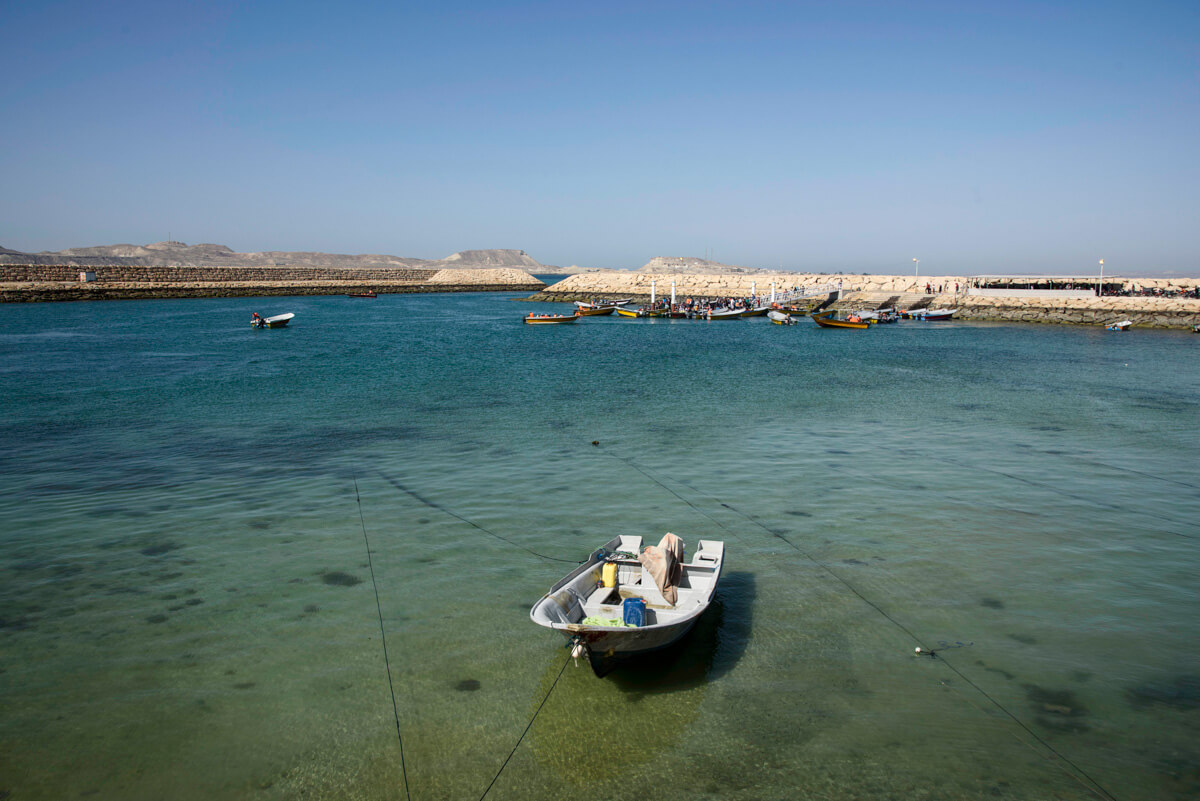 This is not the case of Qeshm, a place which has been able to preserve such old traditions. Unlike most people in Iran, the natives of Qeshm Island are Sunni Muslims; physically, they look more like Arabs and, actually, many of them speak an Arabic dialect.
From Sunni-shaped minarets to a local cuisine based on seafood and wind towers to protect themselves from the heavy heat, Qeshm is a completely different world from the rest of Iran.
But, perhaps, the most distinctive thing is the way the local women dress, in such colorful abayas and wearing peculiar masks.
They claim the reason they wear them is more cultural than religious, which could actually be true because, unlike the Sunni Arab women, they are quite laid back and will give you a conversation.
I really don't know the reason behind it, but you need to remember that they also had a great Persian influence, so that may explain it.
Things to do in Qeshm
I spent three days wandering around the island. These are the top touristic attractions in Qeshm:
Qeshm Tourism Map – Top tourist attractions
Click on the image to see the interactive map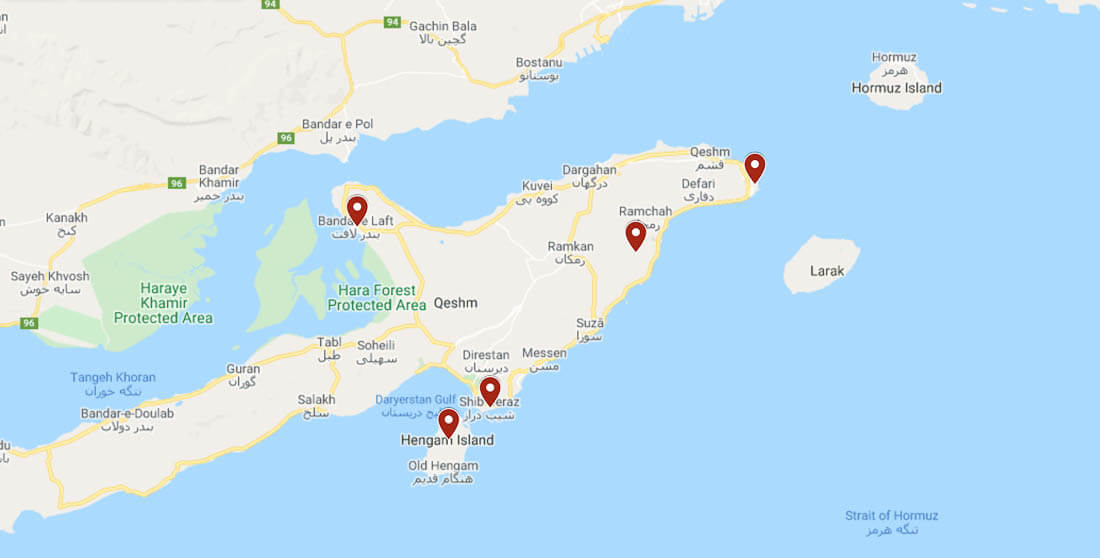 Shib Deraz and the Sea Turtle Breeding Area
This small locality is a really good base from where to explore the rest of the island. It has a nice beach, plenty of camping spots and a great guesthouse.
If you come between April and July, you will be able to witness the turtles coming out from the water to bury their eggs in the sand.
There is a big team of local men are taking care of this 24/7 and, at night, when the turtles come out of the water (usually around 2 or 3am) they call out all the people who are camping around, so everybody can witness such a fascinating natural event. I didn't see it though, because the day it happened, I was in a very deep sleep 😀
Furthermore, you can also go on a sightseeing dolphin tour.
Personally, I am not a very big fan of it because they squeeze 30 people in a tiny boat and go chase the poor dolphins. In any case, the tour costs 150,000IR (3.60USD).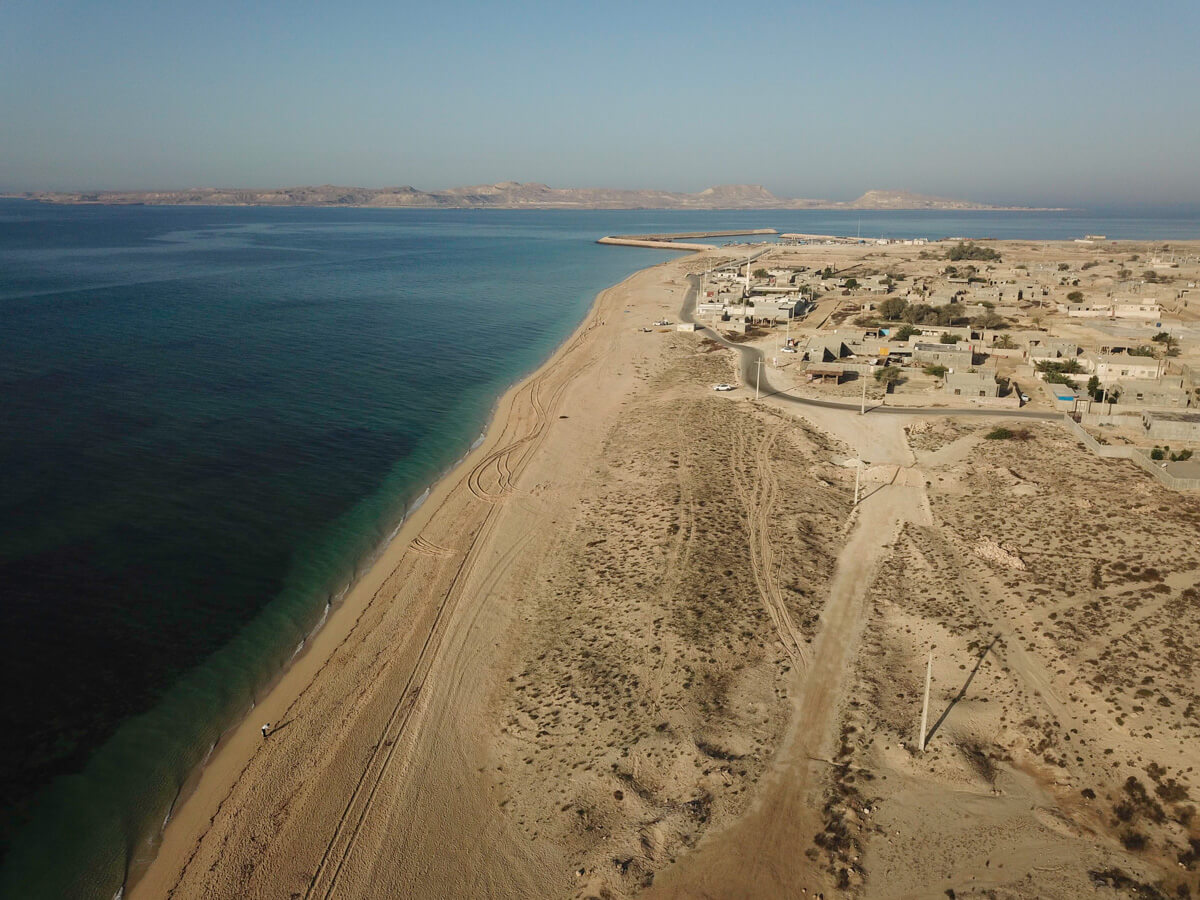 Hengam Island
Hengam is an even smaller island which is almost attached to Qeshm.
I liked it a lot because it has the best beaches and also, most women living there wear traditional colorful clothes.
The boats leave you at the southern part of the island and what I recommend is walking two kilometers from the eastern side, until you get to a pretty nice beach.
On the way back, you should stop at the main village and have some fish and shrimp samosas. The boat terminal is located around 1 or 2 kilometers west from Shib Deraz. A one-way ticket costs 50,000IR (1.20USD).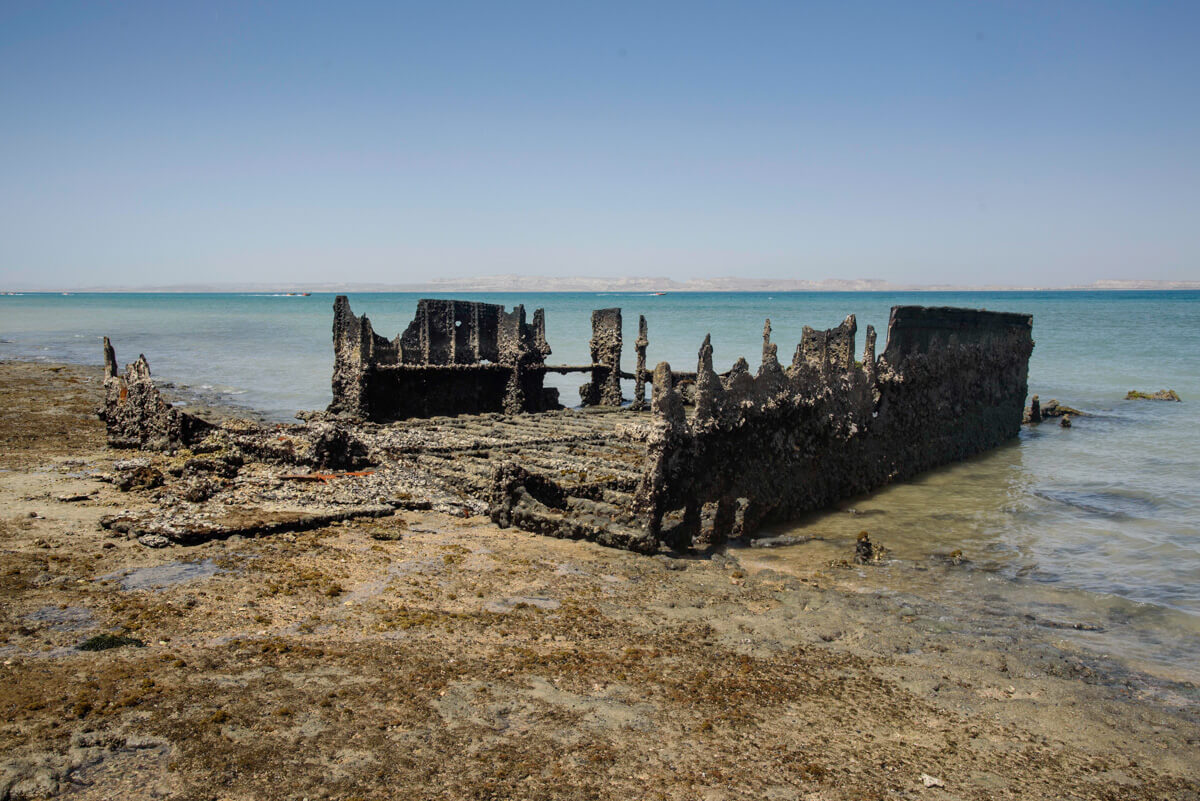 Stars Valley
This is the main tourist attraction in Qeshm, as it is where you can find the geological formations the Island is famous for. It's a place to wander around the canyons and tiny valleys. Try to come here for the end of the day, to see the sunset rays reflecting off the canyon walls!
Qeshm city
The main city on the island sucks and the only reason to come is that, here, you find the harbor from where you get in and out of the island.
There is also a ruined Portuguese fortress which may be worth two minutes of your time, no more.
Laft
A traditional fishing village for centuries, Laft is, perhaps, the place which has the most preserved traditional Persian Gulf culture ever, way more than any other place in any Arab country.
The village must be quite conservative compared to other places in Qeshm Island, as I didn't see any woman around, which means that they were most probably working at home.
On the other hand, there were many men hanging out on the street, most of them wearing traditional clothes from the region, very similar to the Arab kandura.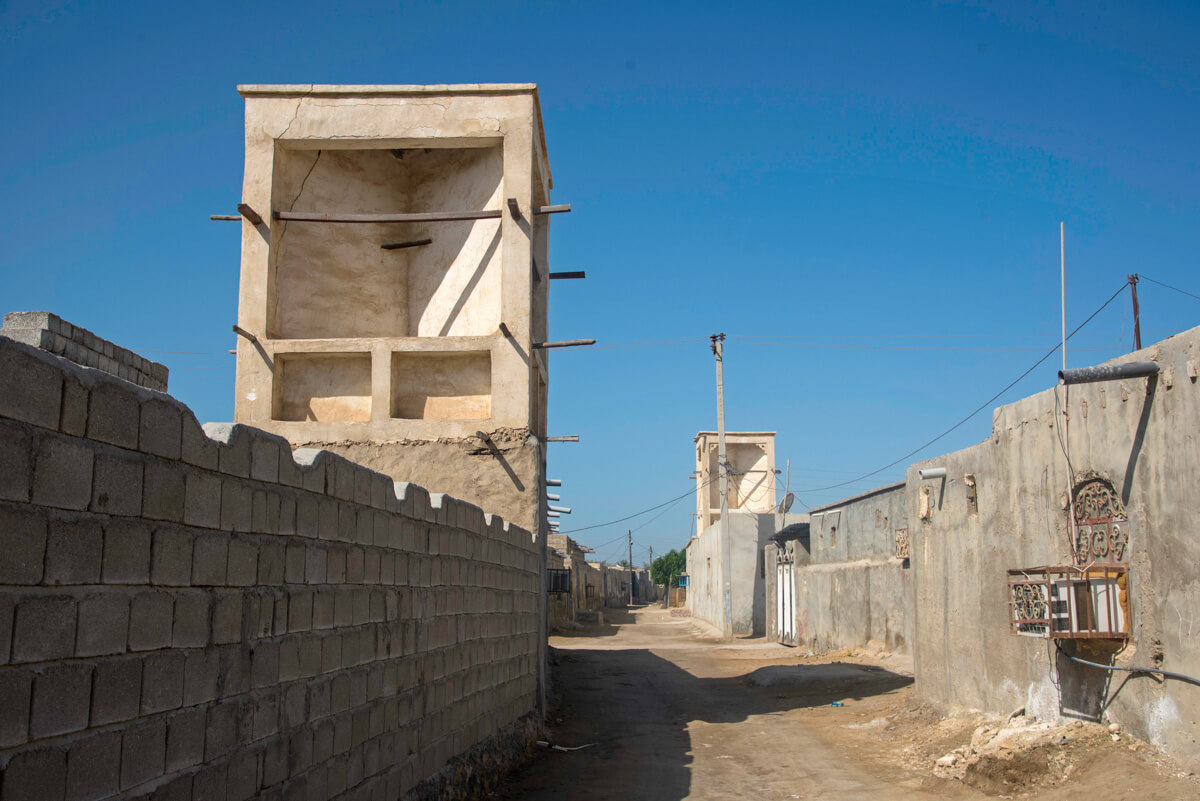 Where to stay in Qeshm
There are hotels and guest houses all over the island but many people, both locals and tourists, prefer to camp.
Regardless of which option you take, I recommend you choose one spot from where to do day trips to the different suggested places. I recommend staying in Shib Deraz, as it is relatively close to most things to do in Qeshm.
If you decide to stay in a hotel, you can book it via 1stQuest.
You can get a 5% discount in ALL your hotels bookings.
Use my promotional code: ATC-QST
Budget guest house: Dehliz Homestay – If you want to stay in a traditional, comfortable house, this place is quite popular among travelers.
Budget hotel: Sama Hotel – Economical hotel in Qeshm city.
Need to know about camping – There are hundreds of kilometers of sandy beaches where to pitch your tent. Depending on the season, you are likely to camp with plenty of friendly locals. This was actually the highlight of my trip to Qeshm, as I hanged out with loads of super hospitable families who I had an amazing time with.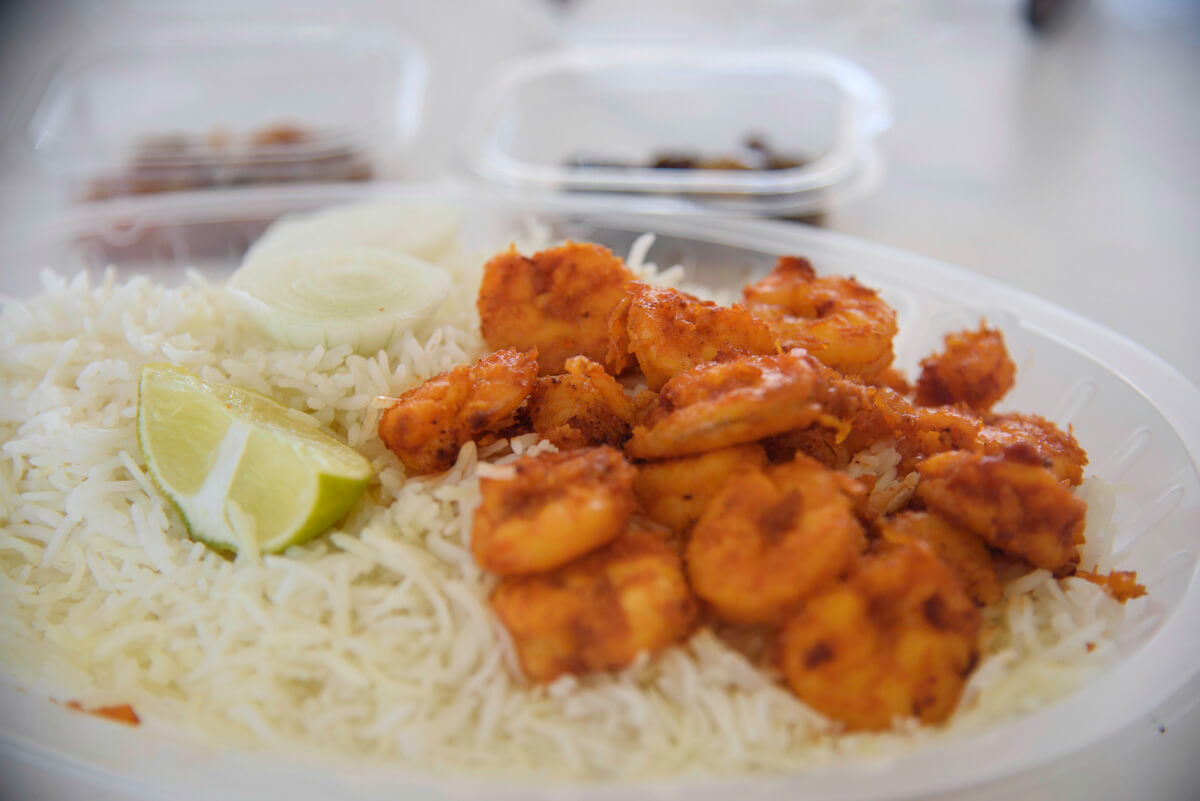 How to get to Queshm Island
By boat
Bandar Abbas is one of the main coastal cities in Iran and where boats to the islands depart from. Several ferries leave continuously for Qeshm city, located in the western part of the island and the largest city in Qeshm.
A one-way ticket costs 150,000IR (3.60USD) and the journey takes around 40 minutes. The port location in Bandar Abbas is here: 27.173774, 56.280421.
Bandar Abbas is a pretty big city, so you can get in from pretty much anywhere in Iran, for example by bus from Shiraz and even by train from Yazd. I personally came all the way from Mashhad, on a 24-hour train.
By plane
Believe it or not, Qeshm Island has an international airport with flights coming from cities like Dubai or Istanbul, as well as other Iranian cities.
You can check flight schedules and book your tickets through 1stQuest, and you can get a 5% discount on ALL flights:
With voucher code: ATC-QST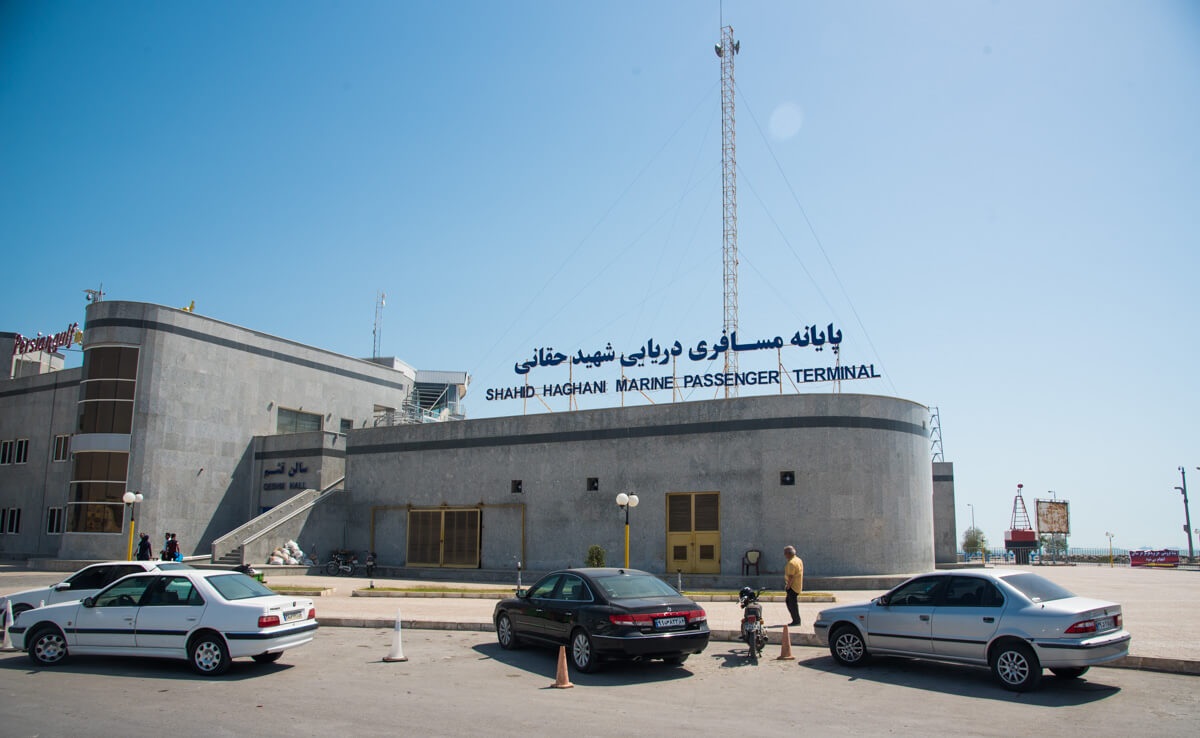 How to move around
Public transportation
Getting around Qeshm Island can be a bit tricky, as public transportation is scarce. There are buses going to the main cities, but there is no regular transportation between villages and sites of interest, which is where you will spend most of your time.
By car
A car might prove amazingly useful and you can even get it into the ferry from the Iranian mainland.
By taxi
If you don't have a car, you may have to move around by taxi. Just bear in mind that there is a lot of domestic tourism in Qeshm, so taxi prices are quite high, as per Iranian standards.
Hitchhiking
I hitchhiked the entire island and it was fairly easy. However, when I came in April it was super hot and, since I was camping, I had to take my big backpack with me for all day trips. It was tough and this is what I call hard backpacking.
More information for visiting Qeshm Island
It's mandatory to have a travel insurance to get your visa on arrival in Iran.
Because of the sanctions, most insurance companies don't provide coverage for Iran, but IATI Insurance does.
Get your exclusive 5% discount if purchasing via this link.
Tours – 1stQuest offers an awesome 2-day tour all around the island. You can get a 5% discount by using my promo code ATC-QST.
Hormuz Island – You can get to Hormuz very easily. From Qeshm City, there are two daily ferries, one at 9am and the other one at 2pm.
When to go – This is the Persian Gulf, so it has a similar climate to Dubai and other Gulf Arab countries. This means that summers are extremely hot and humid, so it is recommended to travel to Qeshm during winter, early spring or late autumn.
Free visa – If you travel to Qeshm by plane and just stay on the island, you don't need to get a visa for Iran.
Don't forget to check our travel guide to Iran.
As well as all our Iran articles: