How to travel to the Gaza Strip in Palestine (2023)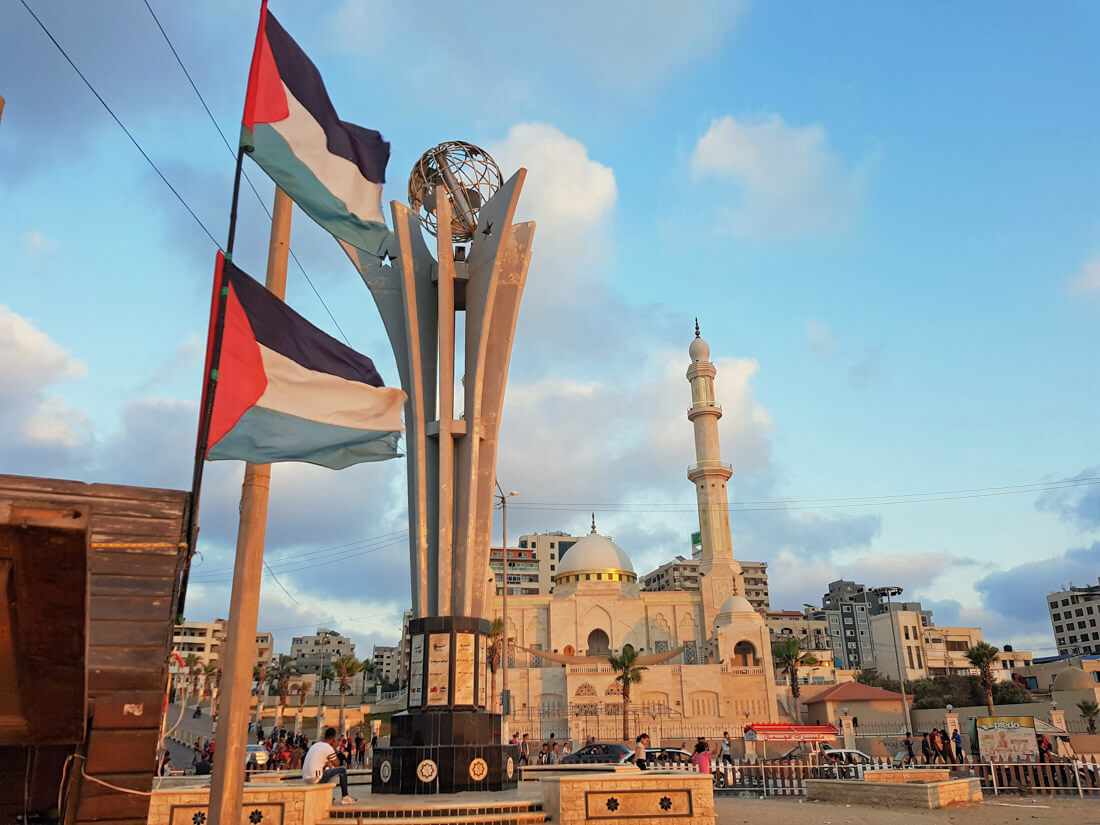 This is a guest post written by fellow traveler @log_nick
Millions of people travel to Israel every year; some of them go farther into the West Bank, but there's a place over there which almost nobody has visited before – the Gaza Strip.
Very few have ever managed to enter it due to existing travel restrictions and because of safety concerns.
We usually see only bad things about Gaza in the media, so most people associate it with war, destruction, and extremism.
But behind the complex political and ideological issues, there is reality of life.
The reality made of everyday stories of ordinary human beings who live and struggle, cry and smile, dream and despair; of people who take their kids to school in the morning, rush to the mosque for the prayer, buy vegetables from a donkey cart, build homes and plans for the future.
What's sad is that we know nothing about that reality and see the Strip as a mere black spot on the map.
That's why, after having had the chance to live in Gaza for some time, I decided to write everything you need to know to travel to Gaza, to color up that black spot and show a human, dignified picture of it.
Although it's far from being a tourist destination, I do hope that one day the situation will change and everybody will live in peace, while visitors will be able to discover this offbeat destination.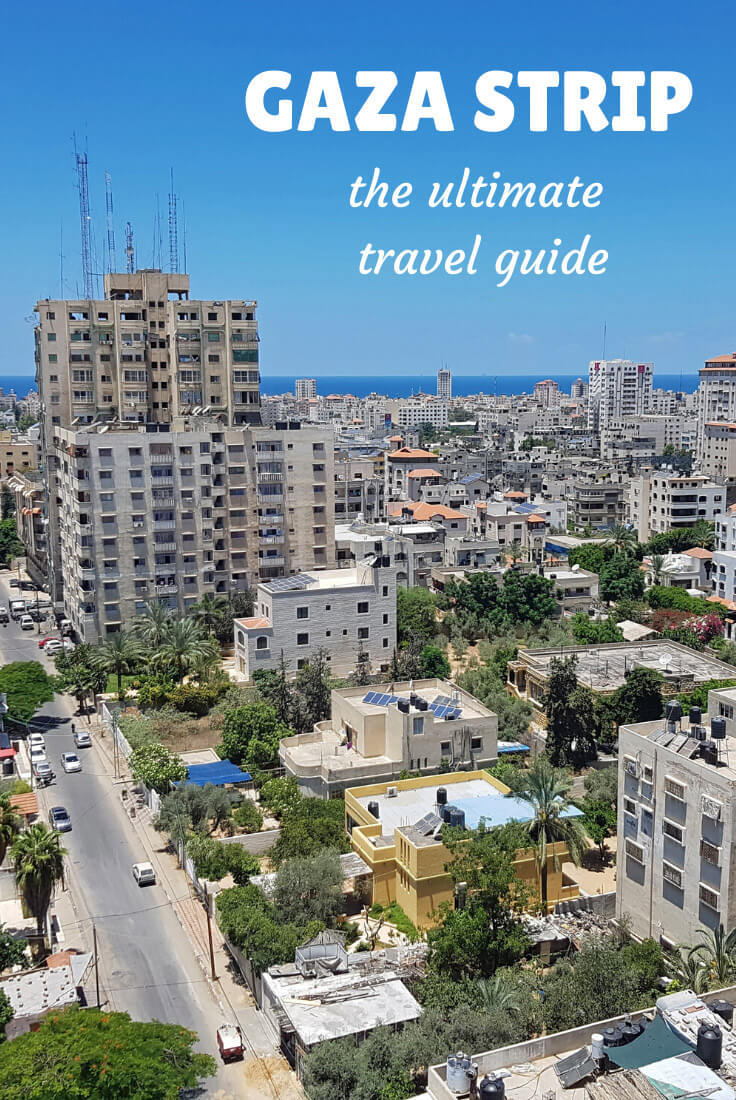 Traveling to the Gaza Strip: a short background
Gaza Strip is a small piece of land, roughly 40 km from north to south and 6-12 km from west to east.
Despite being an administrative part of the State of Palestine, it's geographically separated from the West Bank by Israeli territory.
It's inhabited by 2 million people, among whom some 1.4 million are Palestinian refugees from towns and villages destroyed or occupied by Israel during the 1948 and 1967 wars.
Many of these people today live in areas which were originally refugee camps, but then grew into big, densely populated neighborhoods with narrow alleys, chaotically built makeshift or concrete houses, inefficient or non-existent infrastructure.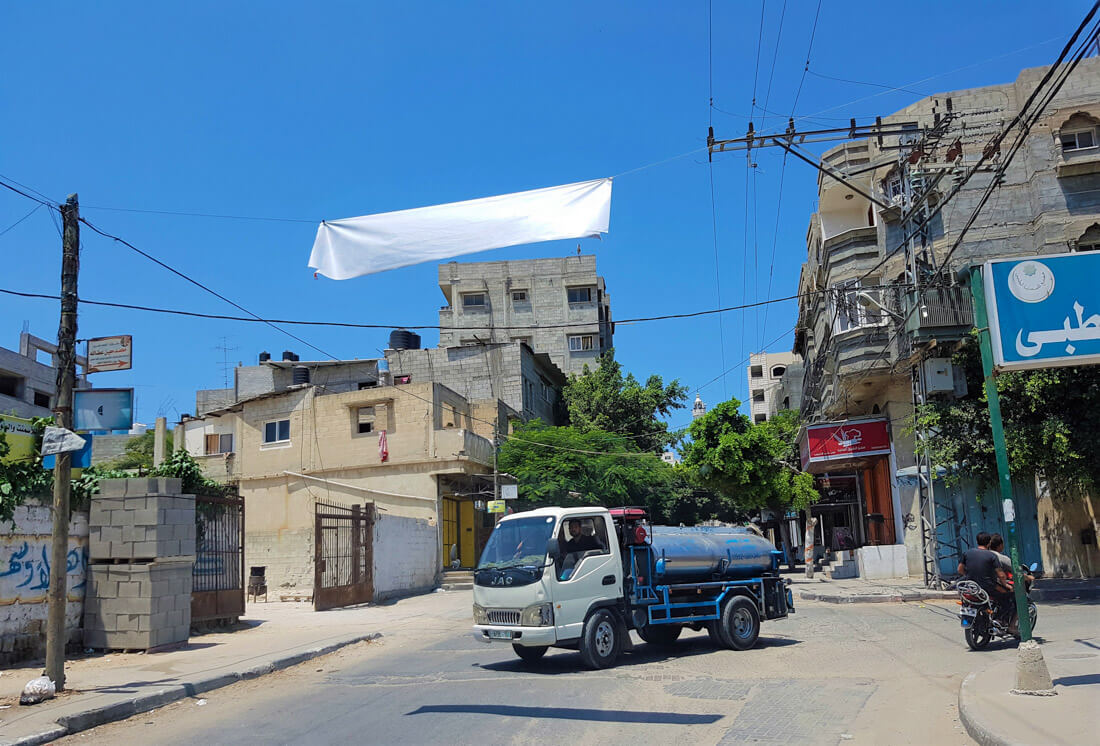 The situation in the Strip has become particularly dire since the Hamas movement came into power in 2006, which led to political divisions with the Fatah government in the West Bank and a suffocating land, sea and air blockade imposed by Israel.
These developments, followed by three wars with Israel in 2008, 2012 and 2014, had a devastating impact on the population and the local economy.
Now more than half of the population is unemployed and unable to leave the Strip, there's no clean water and electricity is provided for some 5-7 hours a day.
Read: Airbnb in a Palestinian refugee camp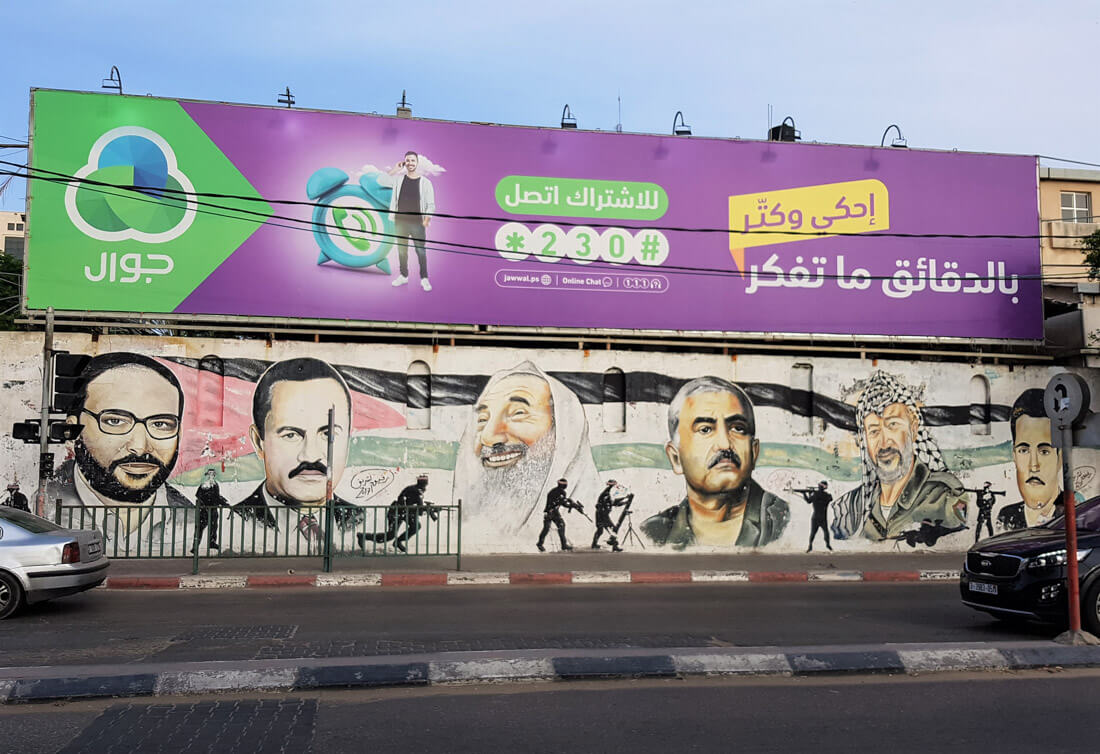 How to get a visa for Gaza
Visiting Gaza is possible, but extremely difficult.
A foreigner needs to apply for a special visa or travel permit at the Israeli or the Egyptian embassy, depending on what border crossing you will use: Erez (Israel) or Rafah (Egypt).
The whole process, however, can be as tedious and lengthy as for a Gazan citizen wishing to leave the Strip.
To have the permit or visa granted, a foreigner needs to have a specific reason for traveling to Gaza. Reasons which are considered valid are normally limited to diplomatic or humanitarian missions, journalism or important business issues.
This means that tourists can't to travel to Gaza for tourism or private purposes.
From the Palestinian side, you are not asked for any visa or permit.
Instead, you need a "contact" in Gaza who would notify the Ministry of Interior in advance about your arrival, purpose of visit and accommodation in the Strip.
The same "contact" person would have to meet you at your point of entry.
How to travel to Gaza: entry & exit formalities
There are two ways of visiting Gaza:
From Israel
From Egypt
As for my personal experience, I think that the best way to travel to Gaza is from Israel (Erez border crossing) because it's safer and better organized.
How to travel to Gaza from Israel
On the Israeli side, the building looks like an airport terminal where you go through passport control and get your pink exit card (the one you normally get when leaving Israel).
On the other side of the separation wall, you will find free shuttles driving you through empty land till the first checkpoint, managed by PA officials, who check your bags for prohibited items (e.g., alcohol). Behind the checkpoint, you will always find a taxi ready to drop you at the next checkpoint some 300 meters ahead.
There, some PA officers may ask you some questions about the purpose of your visit in Gaza before letting you through the gate to the Hamas side.
You will find yourself at an intersection full of cars, people and donkey carts.
Hamas officers will take you across the street to their checkpoint hidden behind the military-painted concrete blocks.
They will ask additional questions, check your passport and bags and register your entry into the Strip.
How to travel to Israel from Gaza
When leaving the Strip, you don't normally face difficulties at the Palestinian checkpoints.
You may have to wait a little bit (from 15 minutes to 2 hours) at the PA checkpoint until the officers coordinate your crossing with the Israeli side.
There's free wifi and a small shop with drinks and snacks. The officer will call your name as soon as he receives the green light for you to cross.
Once inside the Israeli terminal, you and your luggage will undergo a thorough X-ray and physical checks, then passport control where you'll receive the blue entry card.
Nota Bene!! To leave the Gaza Strip, you have to use the same border crossing you used for entry. This is the reason why I recommend going through Erez. The Rafah crossing is mainly used by Palestinians as the only gateway to the outside world and is known for being overcrowded and chaotic, with unpredictable delays, closures, and denials to cross.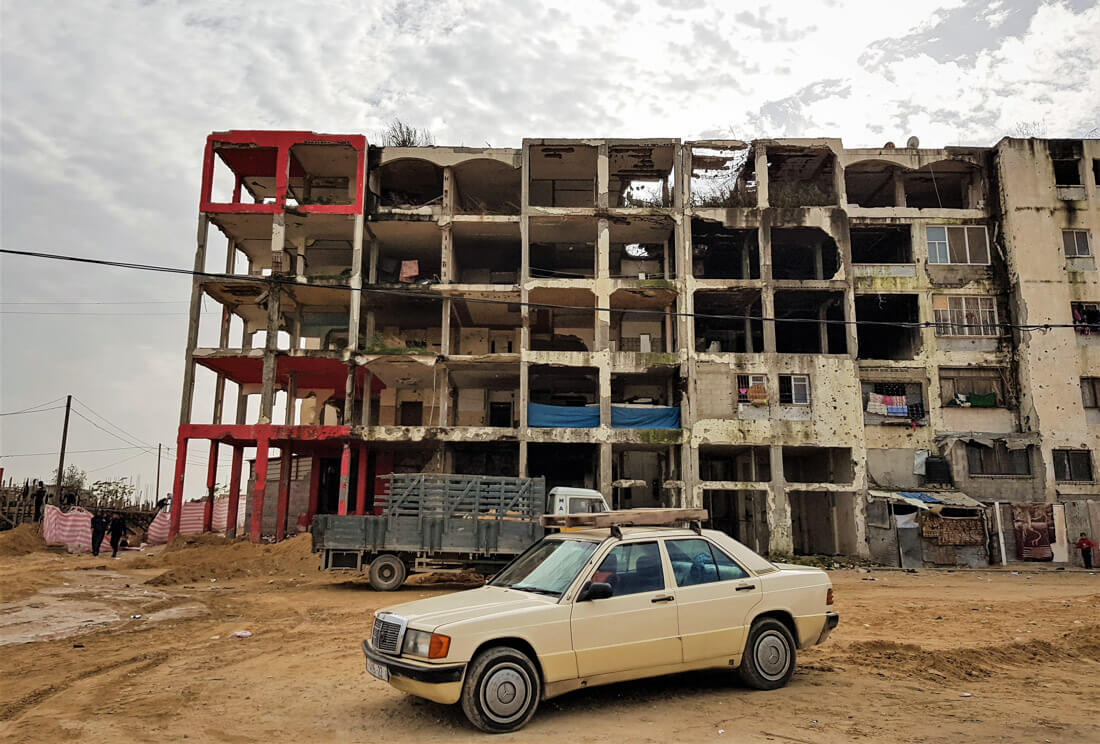 Best books for traveling to Gaza
Palestine travel guide by Bradt
The guide I bought when I traveled in the West Bank also has a full episode dedicated to the Gaza Strip.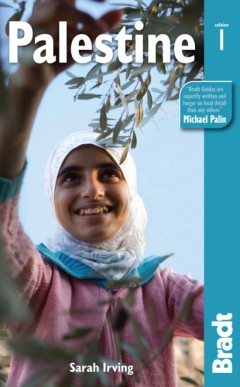 The 51-day war: Ruin and resistance in Gaza, Max Blumenthal
This book narrates the struggle of the Palestinian families during the 2014 war against Israel.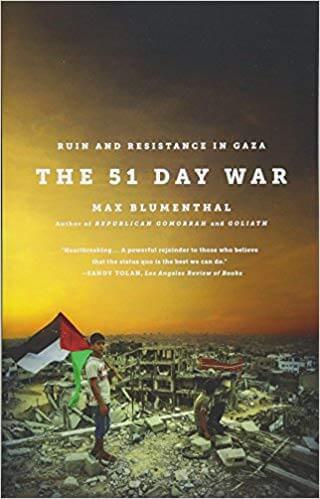 Is it safe to travel to Gaza?
Due to its sensitive and volatile context, a trip to Gaza certainly implies certain potential dangers.
Based on personal experience, I can say that the major risk a foreigner can face there is military escalation.
Gazans have gone through several wars and numerous periods of tension in recent years and, today they continue to live in constant fear of new clashes.
If the situation "erupts" while you are there, try to leave the Strip as soon as possible. If the borders are closed, the best option would be to stay at your hotel/accommodation and ask the staff for safety instructions.
IMPORTANT! Remember that there are no sirens or bomb shelters in Gaza.
During normal times, the situation is pretty safe.
Crime in Gaza
As a foreigner, you can freely walk in the streets unescorted. Locals are super friendly and criminality rates, like pickpocketing, robberies or aggression, are very rare. If you face any problem or difficulty, passers-by would be happy to help you.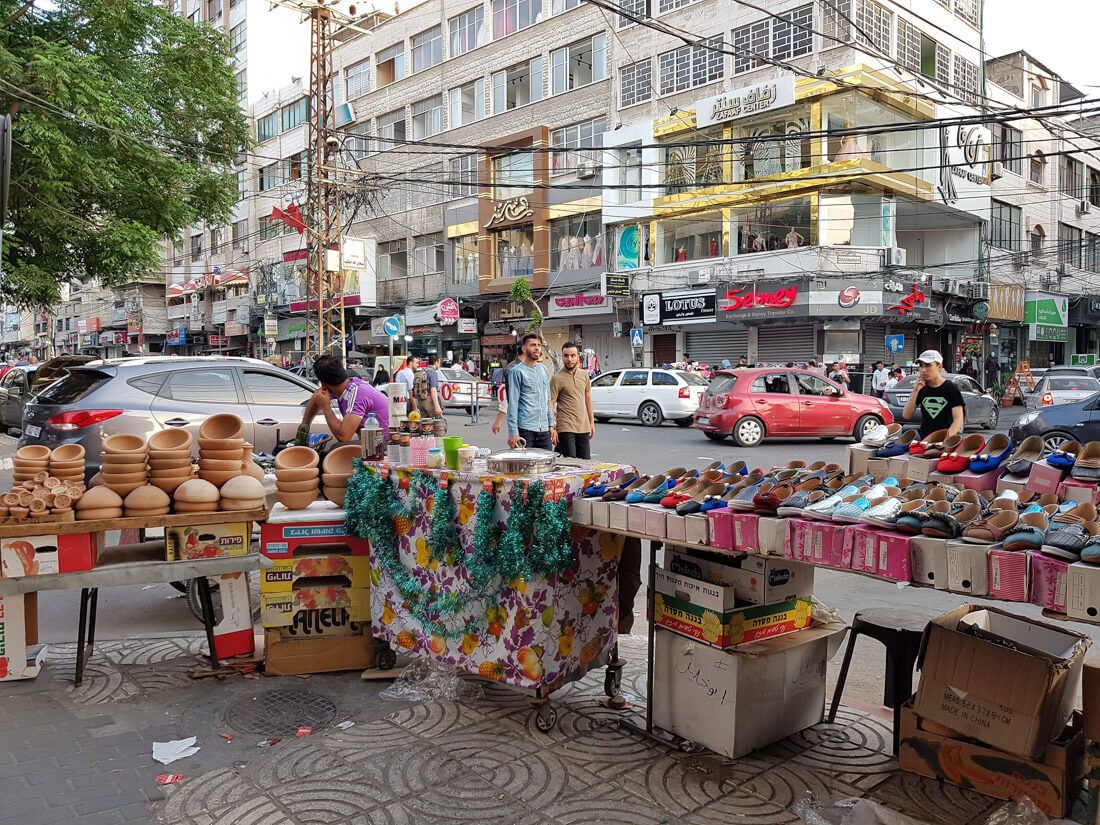 Scams in Gaza
When you visit the Gaza Strip, it's also unlikely that you face any serious scams like in some other Middle East countries.
In a shop or at the market, you may try to haggle a bit – which is a sort of tradition – but prices are normally fair from the beginning. Sellers are never pushy and are often willing to give you something for free because it's an honour for them to see a foreigner in Gaza.
Be careful, however, in the port area where some street vendors may feel tempted to overcharge you (once I was asked to pay 20 ILS for a bottle of juice which actually costs 2-3 ILS).
Read: Visiting Aleppo during the post-war
Taking photos
Also, be extremely cautious with taking pictures. If you're photographing random people, be polite and ask permission in advance.
Don't take pictures of government buildings or military facilities and note that some of them can be unmarked and located in normal residential buildings.
In this case, a good precaution is to ask passers-by or a police officer if you can take a picture of something.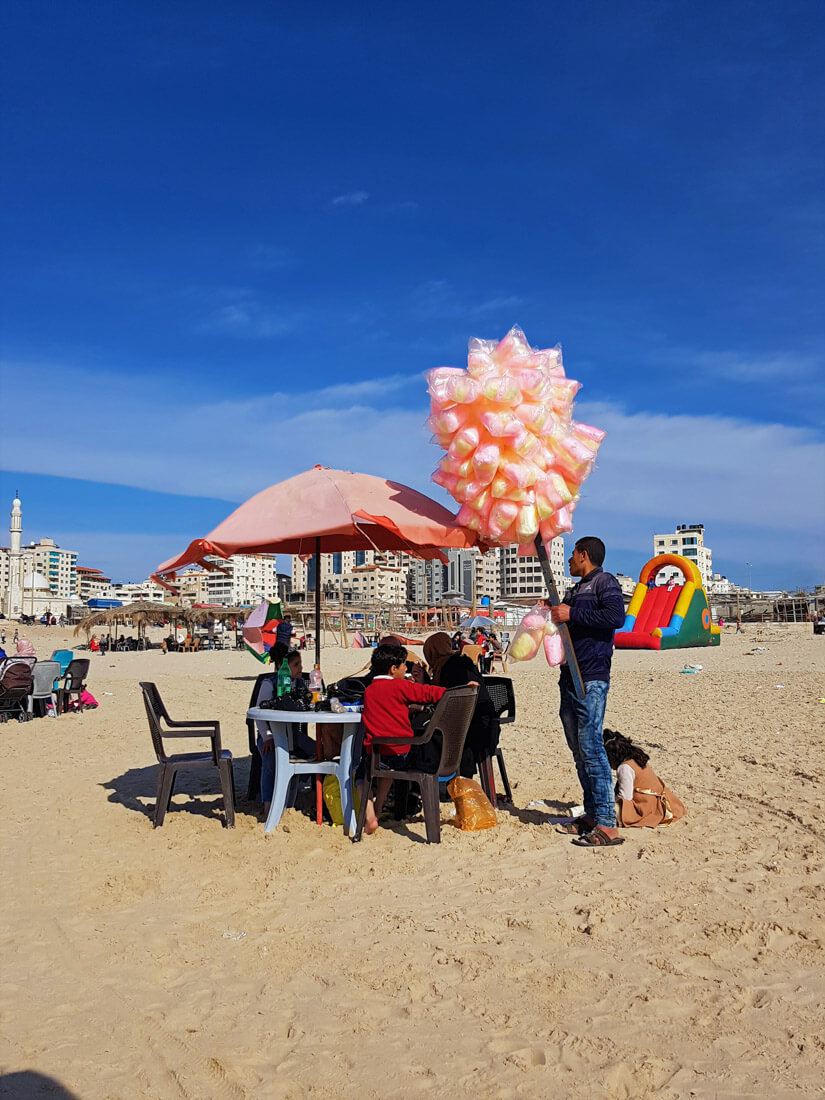 Society and culture: the Gazans
People in the Strip are simple, friendly and warmhearted.
Most of them are devoted Muslims and religion plays a fundamental role in every aspect of their daily lives.
There is also a small Christian community of some 1000 people who live in good relations with the rest of the population.
There's an incredible level of solidarity among families and random people.
It's common for a person to share his salary with unemployed relatives to help them feed their big families, besides providing for his own wife and 5-6 children. Or if two strangers start arguing in the street, passers-by will immediately intervene to calm the situation down.
As a rare foreigner in Gaza, get ready to be an attraction for everybody, especially the kids. People will just approach in the street to say hi and ask where you're from and what you're doing traveling in Gaza.
Most of them will do everything to make you feel welcome. Learn some phrases in Arabic or, better, get an Arabic-speaking companion because their level of English is very limited.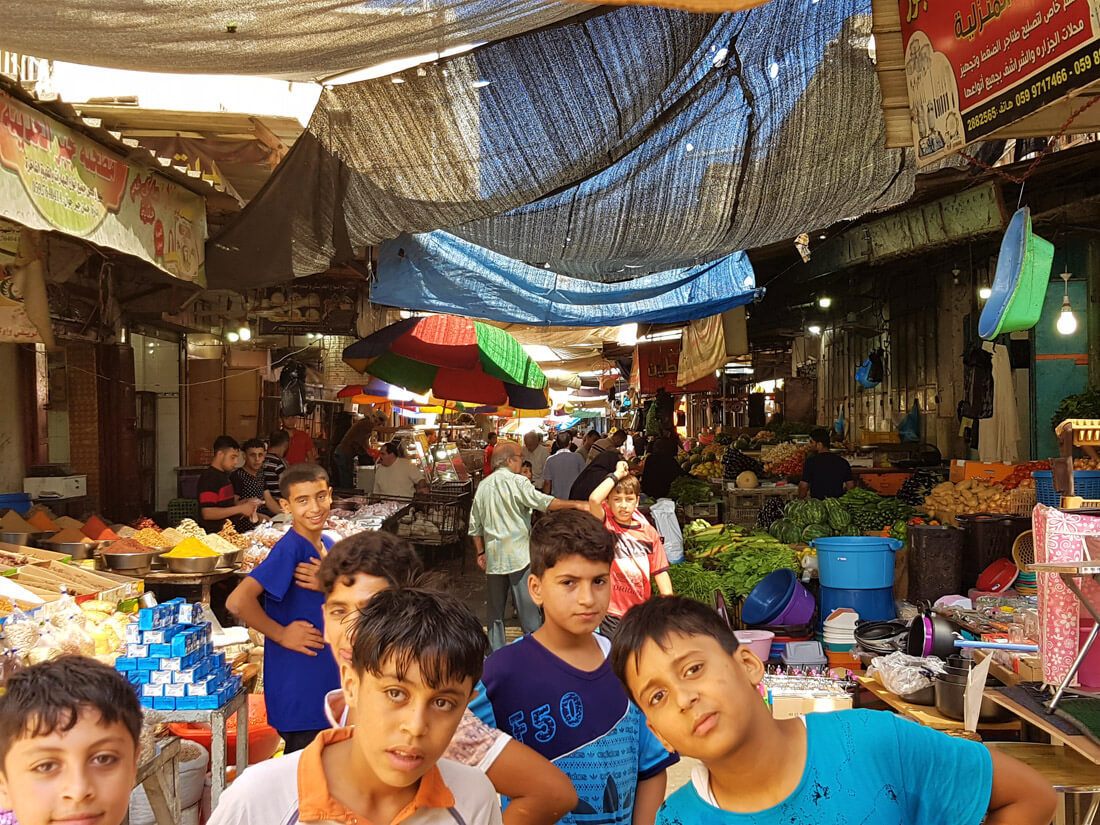 Since most Gazans have very little contact with the outside, they are curious to learn what life is like in your country and know your opinion on the situation in Gaza.
Their own views in this regard vary from person to person, but for sure everybody is very tired of the blockade, the economic crisis, and unemployment.
Whatever your position is on the Israeli-Palestinian conflict, it's good to empathize with the locals, but not go further into political discussions with random people.
Also, guests must dress and behave appropriately, as they would do in a city like Nablus or Cairo. Women are not obliged to wear a headscarf, but this could be a useful option if you visit rural areas and the refugee camps, where people are more conservative.
In this way, you will avoid unnecessary attention and comments.
The food in Gaza
There are plenty of options for every wallet: from street food and cafés to posh restaurants.
From personal experience, eating in high-end restaurants on the seafront doesn't necessarily mean better food quality or more variety of dishes.
Almost all places serve the same Palestinian food; others also have some international dishes like pasta and steaks.
Fast food like pizzas and burgers are also popular.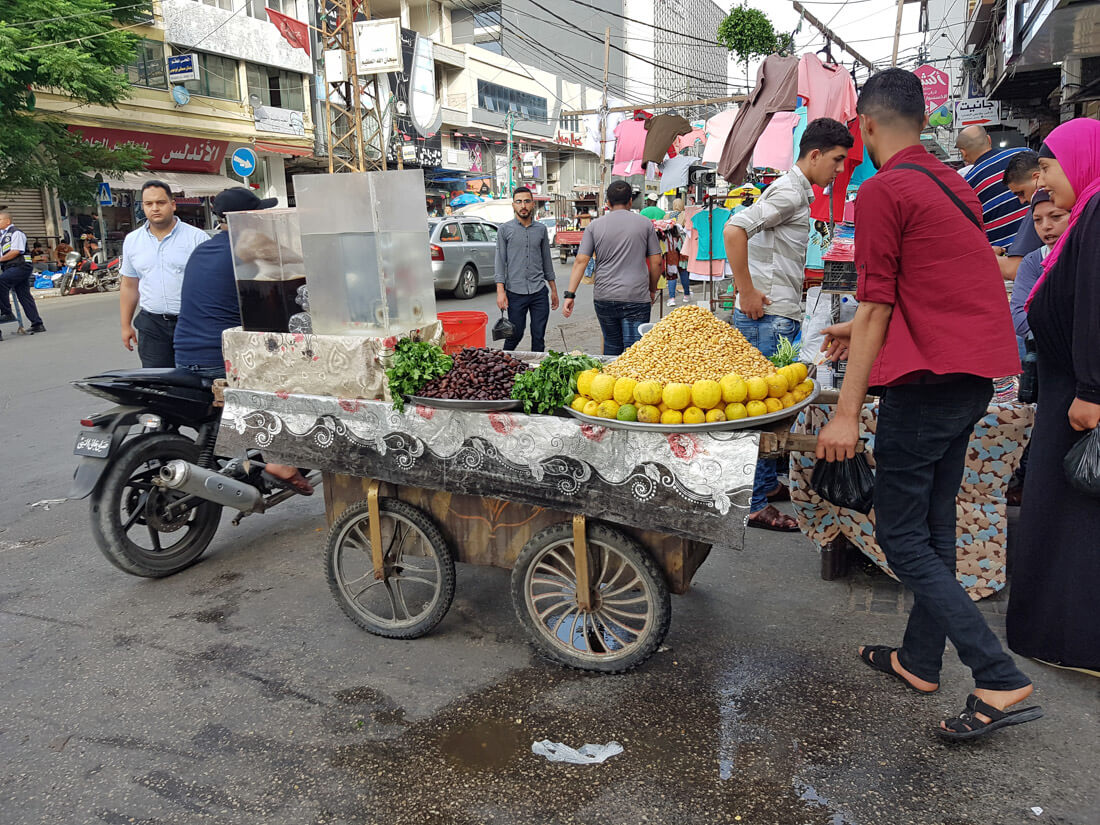 Alcohol is illegal in the Gaza Strip, so forget about it while you are there.
Average prices per person:
Street food (falafel, shawarma): 1-4 ILS
Shawarma/kebab plate: 12-15 ILS
Burger: 15-20 ILS
Pizza (depending on the size): 20-35 ILS
Full meal with drinks in a mid-level restaurant: 25-40 ILS
Full meal with drinks in a posh restaurant: 80-100 ILS
Also, I think it's a must for everybody whoever visits Gaza to try one of the local fish and seafood restaurants.
Popular dishes are "zibdiya" (a traditional clay bowl with shrimps stewed in tomato sauce with peppers and spices), grilled seabream called "denis" and roasted crabs – "salta'onat".
Best restaurants in Gaza
Mounir – located in Abu Hasira street; owners are a well-known family of fishermen. Everything from fishes to calamari and crabs is fresh and displayed at the entrance. Here you can also try the best fish soup (a little spicy). The ambiance is cozy and the average bill is around 50 ILS per person.
Matoug – located in Omar al-Mukhtar street, in front of the Unknown Soldier Park. An excellent place to try local specialties like maqluba, fatta, msakhkhan and even zaghalil (stuffed pigeons). It has an English menu.
Beit Sitti – located in a narrow alley in Old Gaza. The name means "My Grandma's House" in Arabic and, actually, the restaurant is inside a big Palestinian house with authentic furniture, traditional tools and decorations. It has an English menu and English-speaking staff who are also happy to offer you a tour of the premises.
Level Up – a panoramic restaurant on the 11th floor of an office building in Jalaa street, near Saraya square.
You may also want to read: where in the Middle East is safe?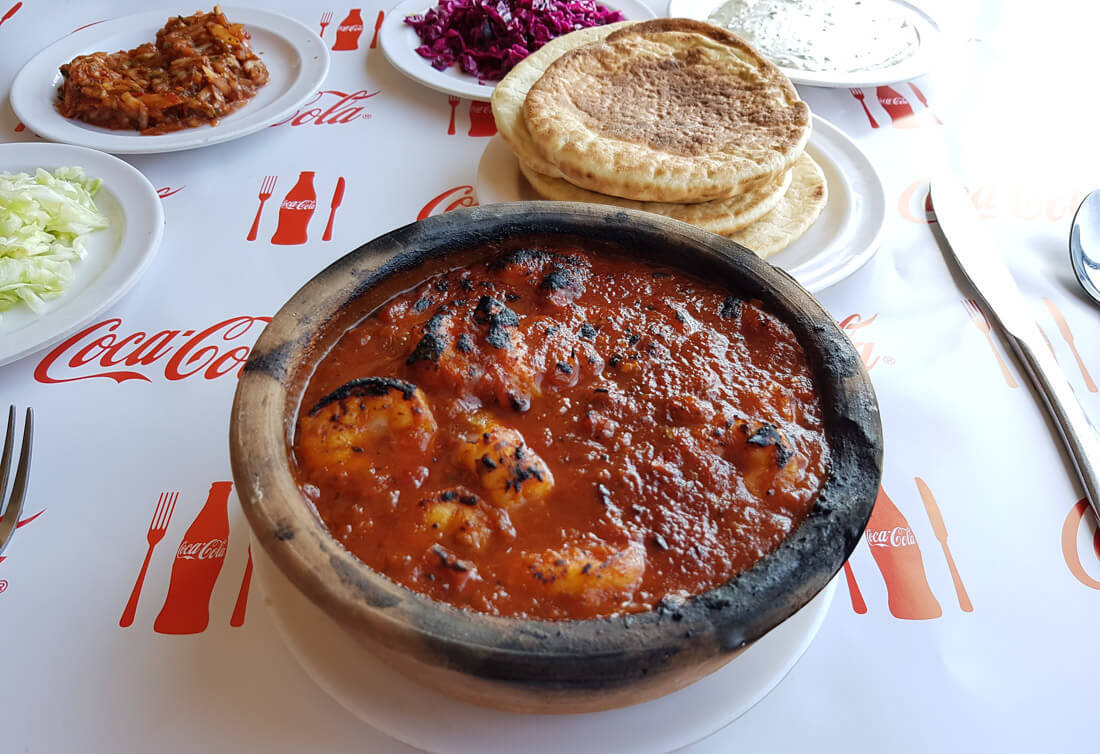 Money in Gaza
The main currency in the Gaza Strip is the Israeli shekel (ILS).
Agoras are not used and the price is normally rounded up / down to 1 ILS.
Dollars and euros can be easily exchanged in numerous currency shops at a fair rate.
There are also many banks with ATMs, however, I don't recommend this option as your card may end up being blocked for attempts to withdraw from such a controversial place. Better bring enough cash.
How to travel around Gaza: transportation
There is no regular public transport in Gaza, except for some private buses that the government and universities hire to transport commuting employees and students for a small fee.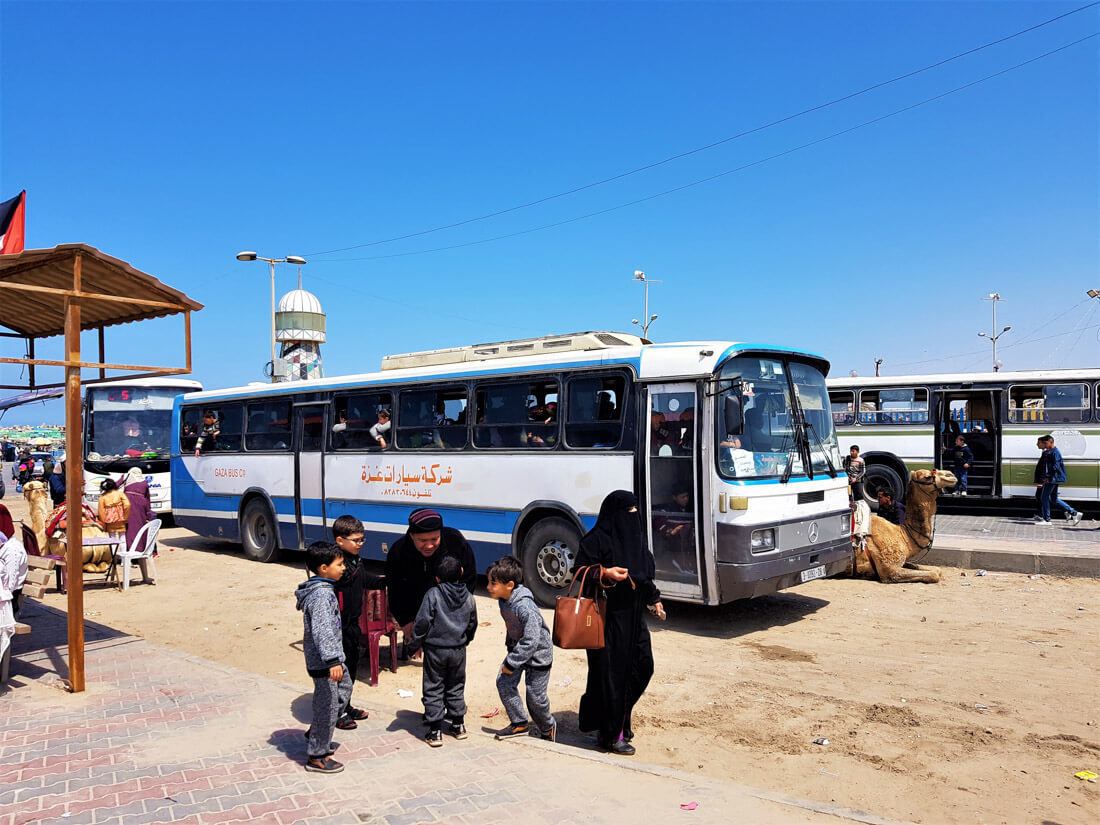 Locals normally move around in shared taxis and by hitchhiking random cars going in the same direction. The system is super easy: you just stand by the road and every third car will beep you to offer a lift. Just tell the driver where you are going and agree on the price.
In the streets, you can spot out old 6-door Mercedes taxis called "limousines" by locals. They are absolutely fascinating and typical only of the Gaza Strip. You will not find such cars in Israel or the West Bank anymore.
To move between cities, you may take a shared minivan. Departure is usually from a specific spot in each city. In Gaza city, for example, you can find them near Shifa hospital or in Jalaa street in front of Saraya square.
You can also use Careem app to order a car – it works exactly like Uber and is very popular here.
An example of prices:
Shared ride within Gaza city: 2-4 ILS
Shared ride between cities: 5-10 ILS
Private taxi / Careem within Gaza: 10-15 ILS
Private taxi / Careem between cities: 30-70 ILS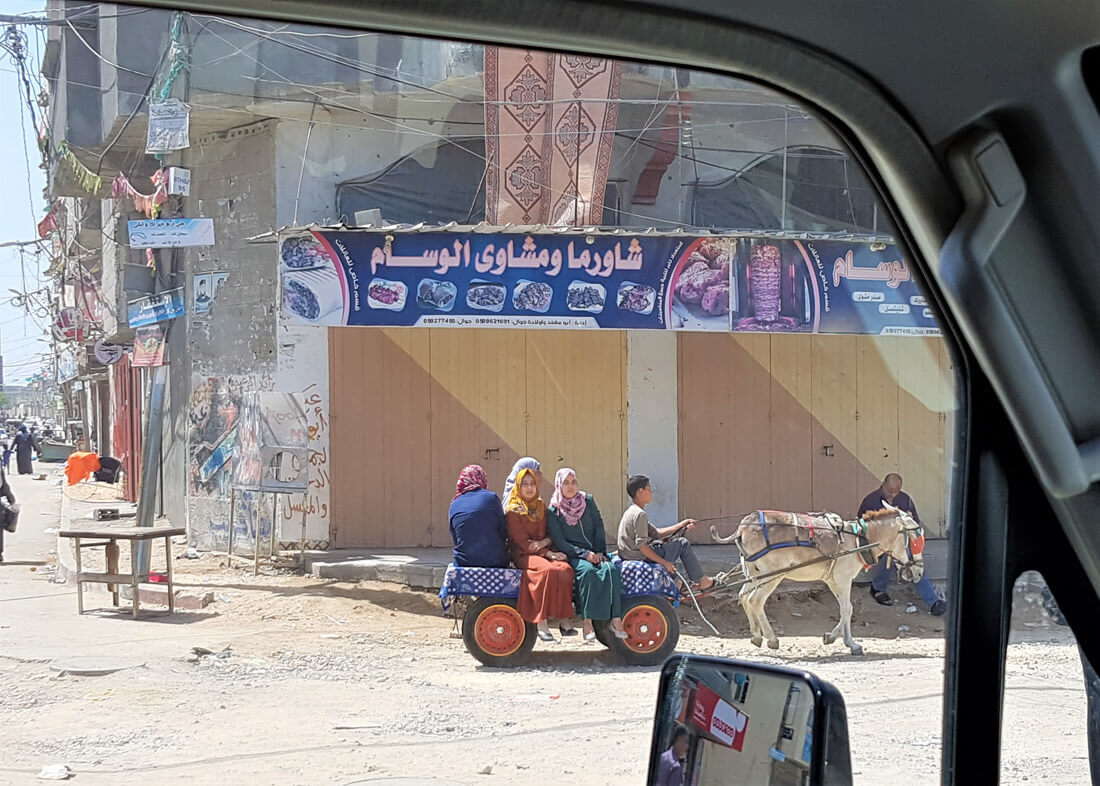 Accommodation: where to stay in Gaza
Finding a place to stay in the Strip is easy.
Average accommodation, however, is not as cheap as one may imagine compared to local living standards.
Hotels
There are quite a few hotels in Gaza City:
Marna House, Al-Deira, Roots, Commodore Gaza, Gloria, Grand Palace, City Star, Palestine.
Most of them are located in Al-Rasheed street which runs along the sea.
Prices range between 60 and 120 dollars per night.
Do expect inconveniences like power cuts and water issues.
To book a room, you need to contact the hotel directly by phone or email – contacts can be found on their Facebook pages.
You can also just show up without booking – chances are high that you will be the only guest.
Today these hotels survive mainly as restaurants and wedding halls.
Also, there are two high-level hotels in Sudaniya district, north of Gaza City:
ArcMed Mashtal and Al-Mathaf.
The latter means "museum" in Arabic and is a private boutique hotel with stylish rooms and authentic Palestinian vibes. The owner is a history and archeology lover – his rich collection of antiquities is displayed for free in the foyer of the hotel.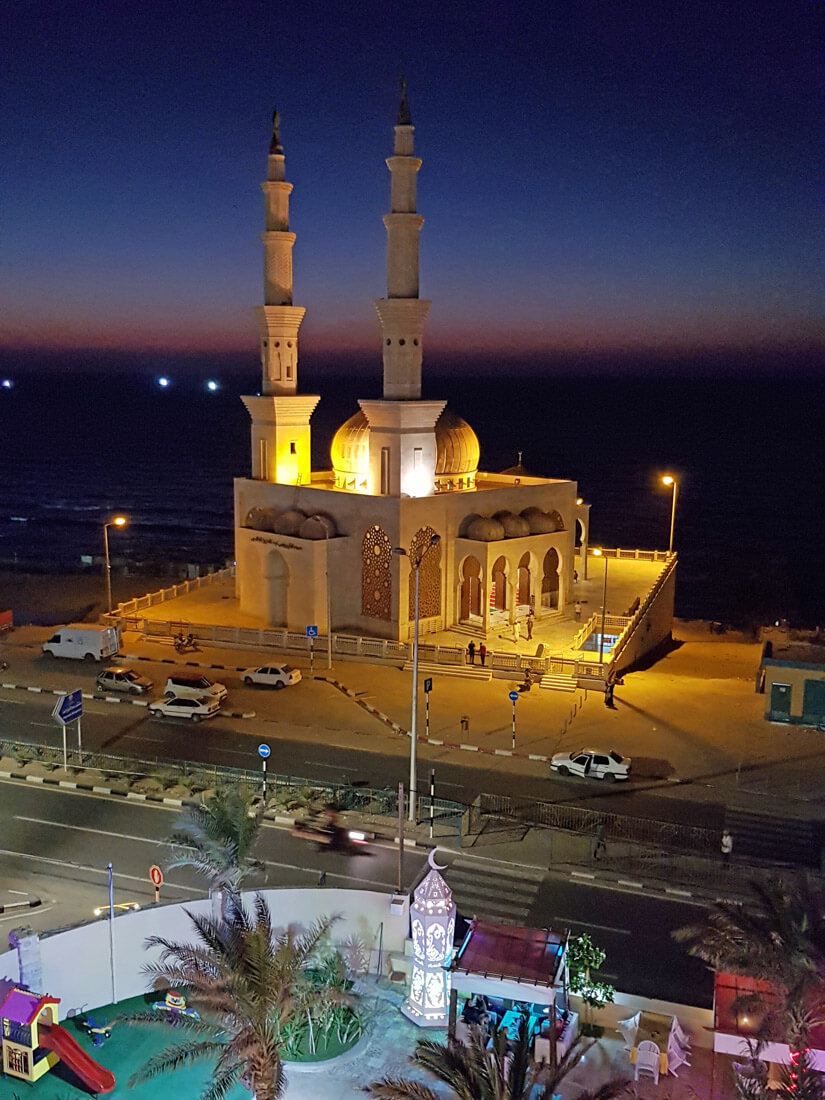 Airbnb
Only 2 options are available in the whole Strip, but I'm not sure how reliable these listings are.
Couchsurfing and homestays
There seem to be quite a lot of hosts on Couchsurfing offering hospitality throughout the Strip.
My advice here is to select carefully and remember that, under local laws and customs, you are not allowed to live with people of the opposite sex unless they are your relatives.
The situation is different if you are invited to stay with a Palestinian family.
If you are a solo female traveler, it's not impossible to find a homestay, which could be an authentic and emotionally enriching experience, as well as a good way to offer a small economic contribution to the impoverished local population.
However, this is hardly an option for male travelers because their presence in the house, at a certain point, would become embarrassing and burdening for the female members of the family, obliged to wear headscarves all the time.
Chalets
Plenty of houses and villas can be found in the countryside which owners offer for short-term rent. Locals call them "chalets".
These houses are normally fenced and furnished, have a courtyard with a swimming pool, a volleyball pitch or just a lawn.
Middle-class Gazans split the cost between relatives and friends and rent them during the weekend to relax, swim and spend time together – a good alternative to overcrowded beaches and polluted sea water.
Chalets can be found on Facebook. Average costs are 100-150 dollars per house per day.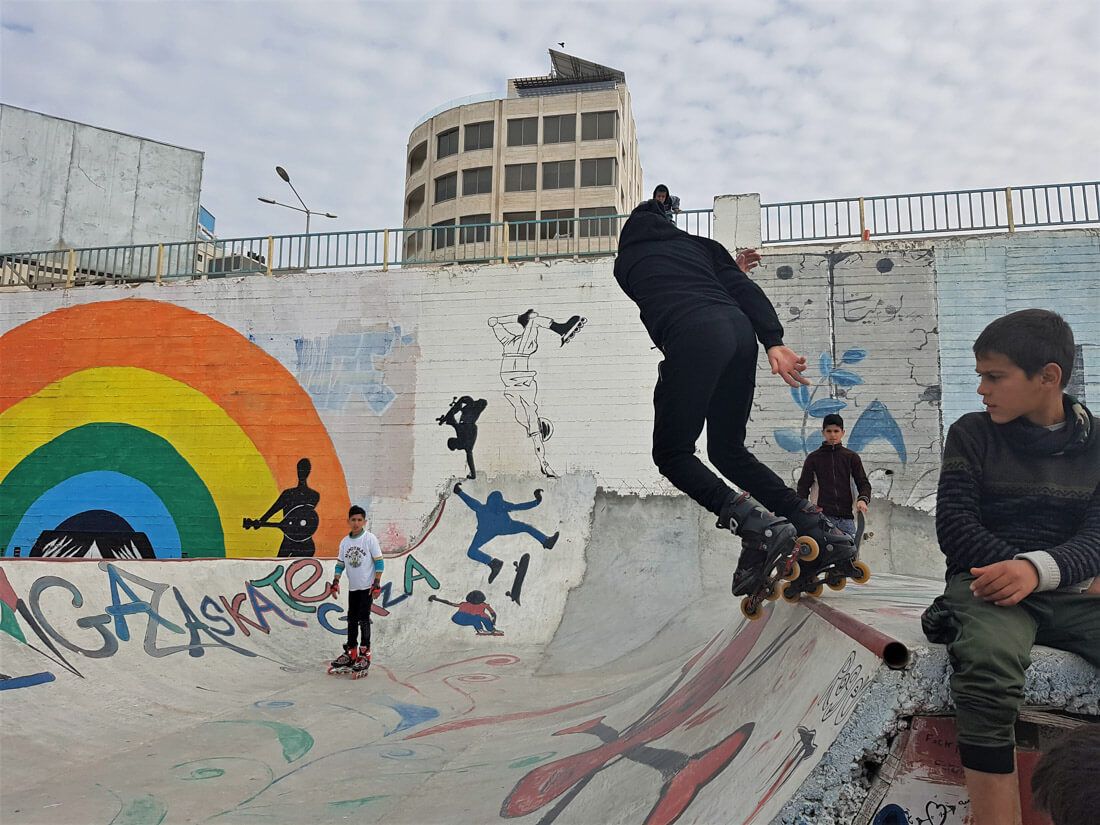 Internet and connectivity
Your Israeli SIM card will not work in Gaza, so you may want to buy a local one.
There are two options: Jawwal and Oooredoo.
Both are good for calls and SMS, though the internet is slow.
You'll need your passport to buy a SIM card.
Good wifi is available in mid- and high-level restaurants and hotels.
Things to do in the Gaza Strip
Before actually planning to get around the Strip, I recommend three things.
First, arrange to have an Arabic-speaking companion with you. Although you can move around freely on your own, you're still likely to face a situation when you need language assistance. A lot of people will stop you in the street out of curiosity, as well as the police may check your documents. Many find it difficult to understand why a foreigner might want to come to Gaza and some individuals may even get suspicious of you. That's why a local friend may be helpful.
Second, if you eventually decide to go around alone, use Maps.me – their offline map is the most precise. Google Maps is useless in the Strip since most places and street names are unmarked.
Third, you will still need a tour guide from the Ministry of Tourism and Antiquities to visit specific sites. You should contact them in advance and they will be happy to assign you an English-speaking guide.
Here are the different options of how you can spend your time traveling in Gaza:
Things to do in Gaza city
Gaza is the main city, busy and lively, divided into 20 administrative districts.
The overall atmosphere feels like Hebron or Nablus, but with more population density and less infrastructure.
Old Gaza City
The main historical sites are concentrated in Daraj, Tuffah and Zeitun districts and are all easily walkable.
Go towards Omari mosque – The oldest and biggest in the Strip. Built by the Mamluks in the 14th century, it incorporated elements and features of the religious buildings that had stood here in the previous epochs, e.g. St. John's basilica. Ask for sheikh Tareq – a very welcoming man who works as a guide of the mosque – for a short tour in English.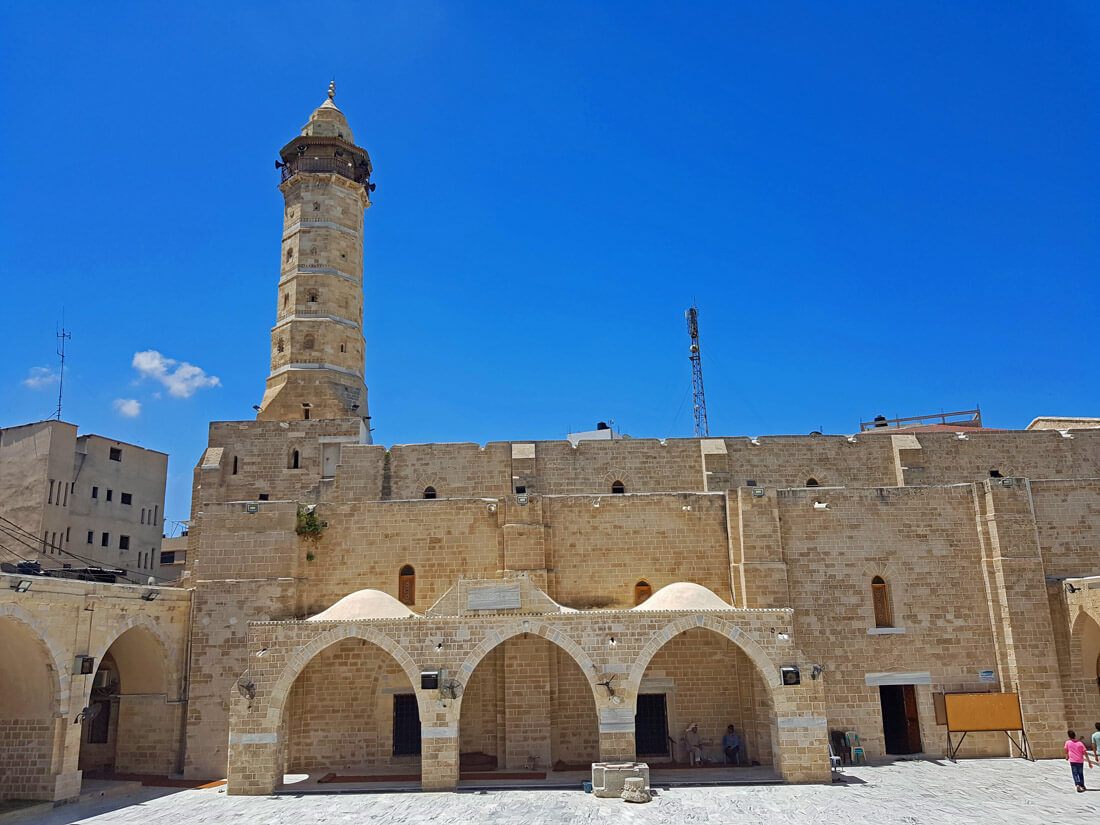 Qaysariya and Zawiya markets – Adjacent to the mosque you find two markets.
The first is a narrow alley with a vaulted roof and shiny windows of jewelry shops, known as the Gold Market. Well-off Gazans come here to buy dowry for the bride before a wedding. Interestingly, most of these shops belong to local Christian families.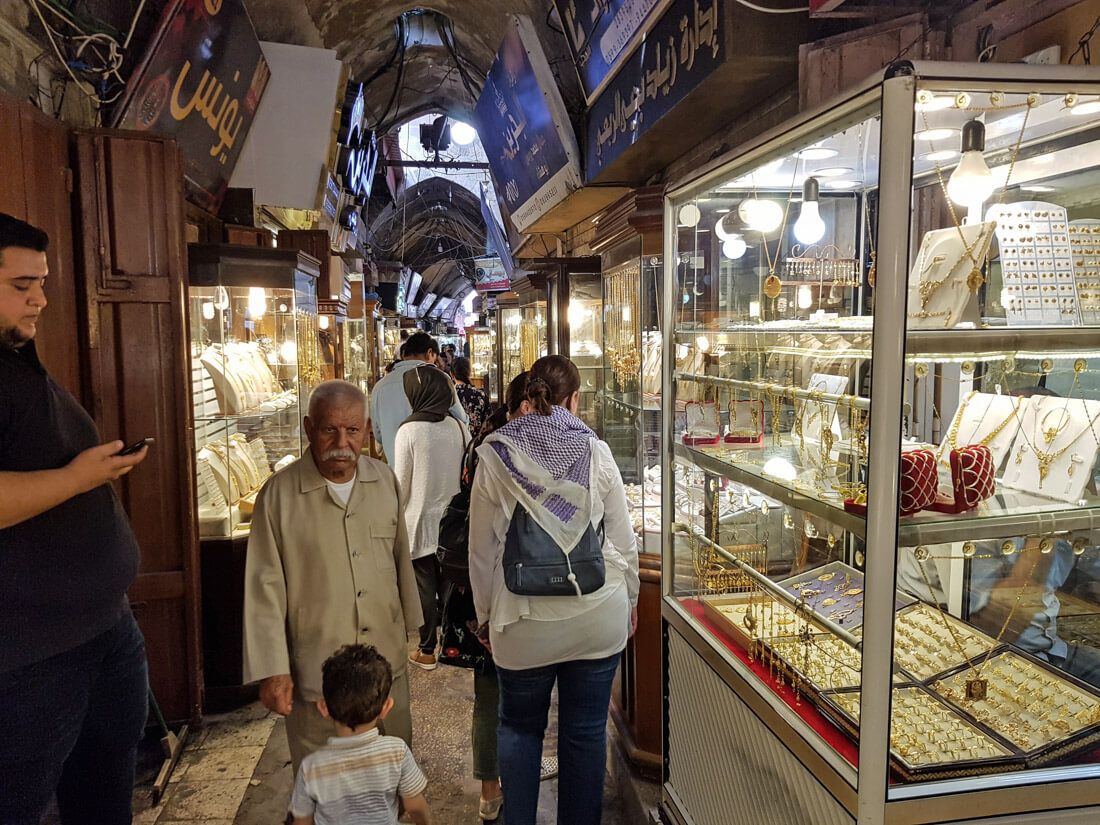 Zawiya market, instead, is an open-air souq in Gaza where you can find any kind of stuff: from vegetables and household items to antiquities and cattle.
Sayed Hashim mosque – Walk through Zawiya market towards Palestine square and turn right. Continue towards Wahda street and in 15 minutes you will reach Sayed Hashim mosque.
This ancient and beautiful mosque hosts the tomb of, allegedly, the great-grandfather of Prophet Mohammad – Hashim ibn Abd Manaf.
I read somewhere on the internet that only Muslims can go inside – this is not true! Dress properly, take off your shoes as in any mosque and ask someone working there to show you around.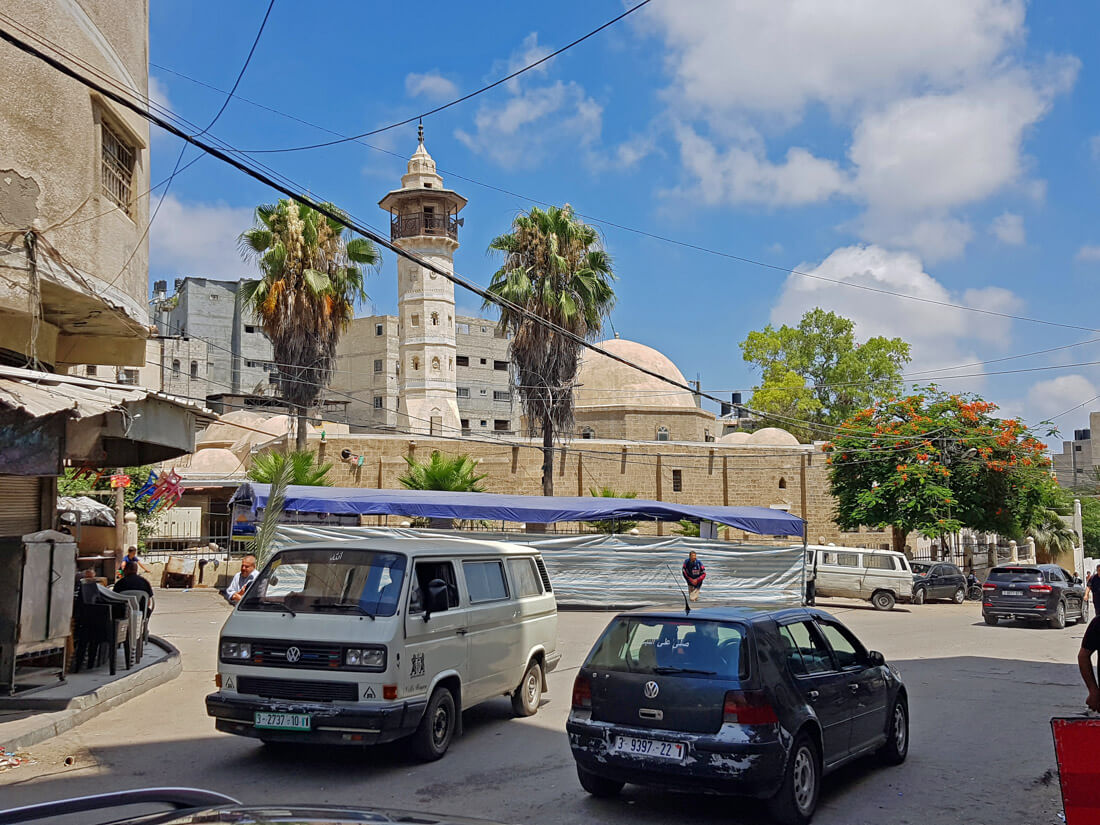 Al-Basha Palace – Then, go back to Wahda street and walk eastwards until you reach Al-Basha Palace. This elegant manor used to be the residence of local Mamluk and Ottoman governors.
Under the British mandate, it was transformed into a police station, whose cells and execution chamber can be visited today. The main building now hosts a public archeological museum with artifacts from all over the Strip.
You need an official guide from the Ministry of Tourism and Antiquities to access the Palace.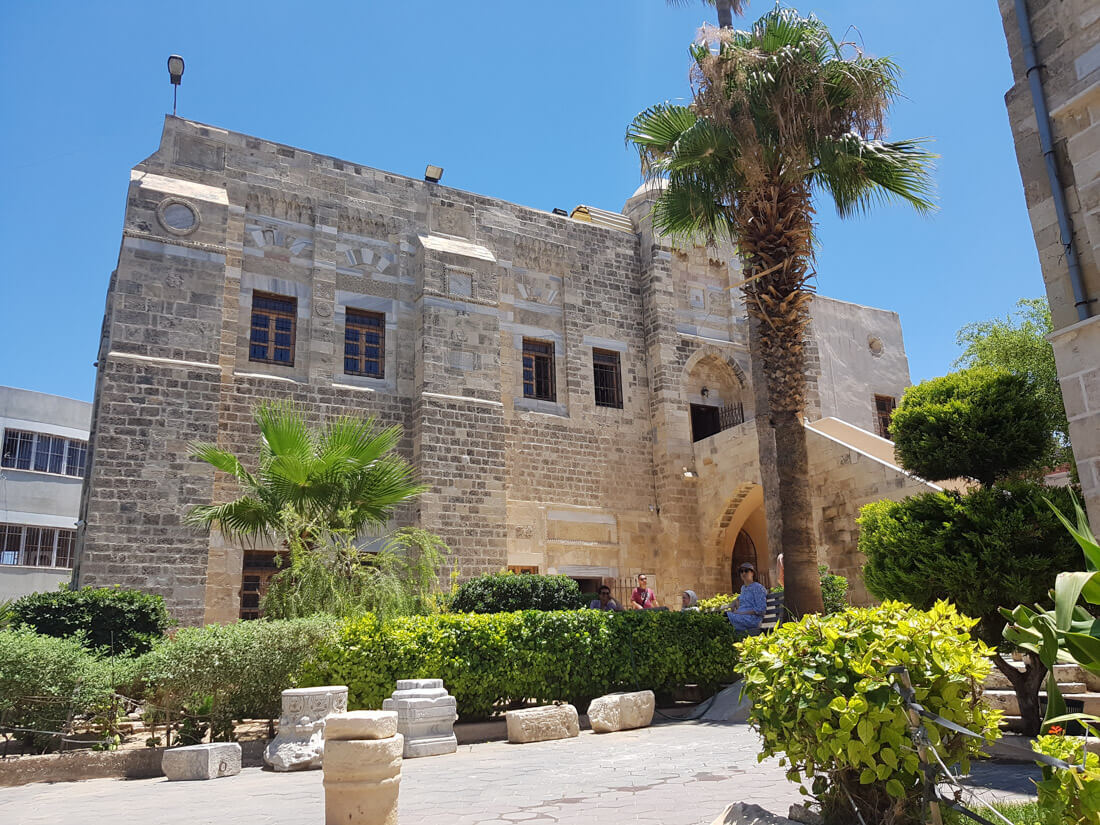 St. Porphyry church and the Holy Family church – In the opposite part of Old Gaza, you can't miss the only two churches functioning in the Strip today.
The first is the oldest church in Gaza, dedicated to St. Porphyry, bishop of Gaza in the 5th century.
The church is impressive from the inside, with frescos, old icons, and an amazing iconostasis.
The church compound with the adjacent Christian cemetery today officially belongs to the Greek Orthodox Church.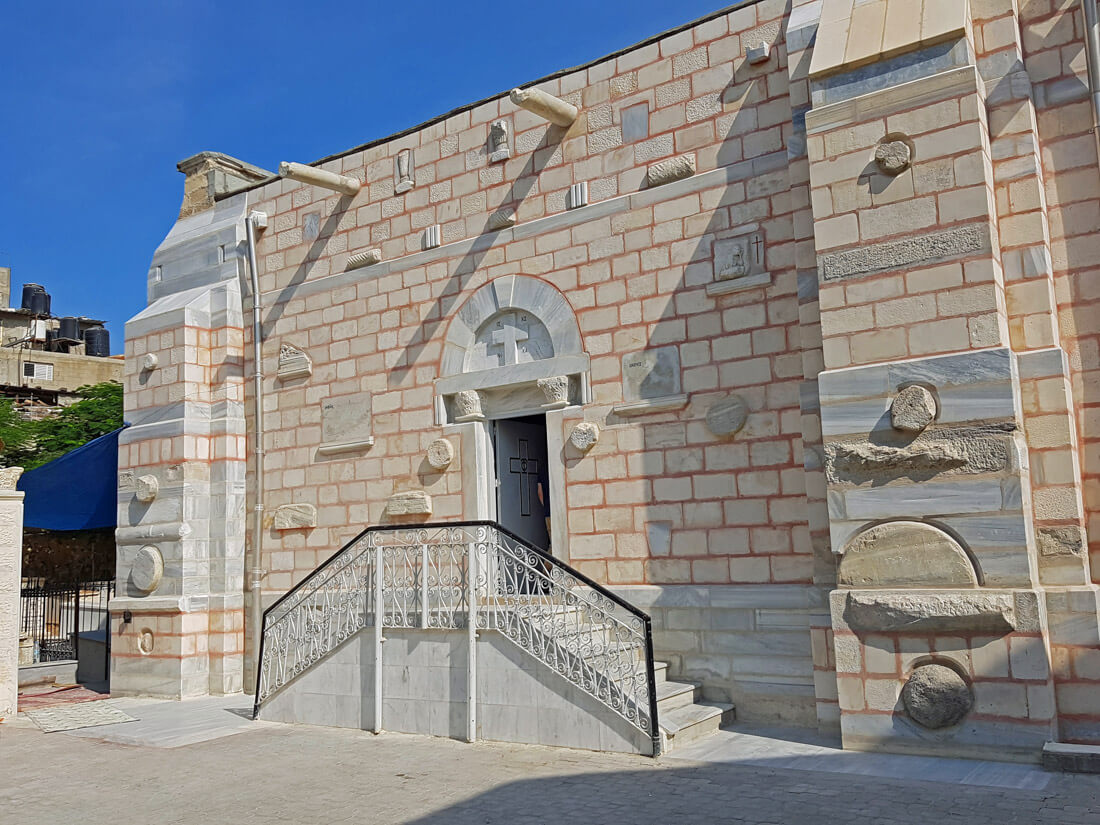 The neighborhood is a quiet and pleasant place to walk around and discover some hidden treasures like old buildings, mosques, and distinctive corners.
Not far away, slightly hidden from the street by a tall fence, is the Holy Family church. It serves the local Catholic community of not more than 200-250 people.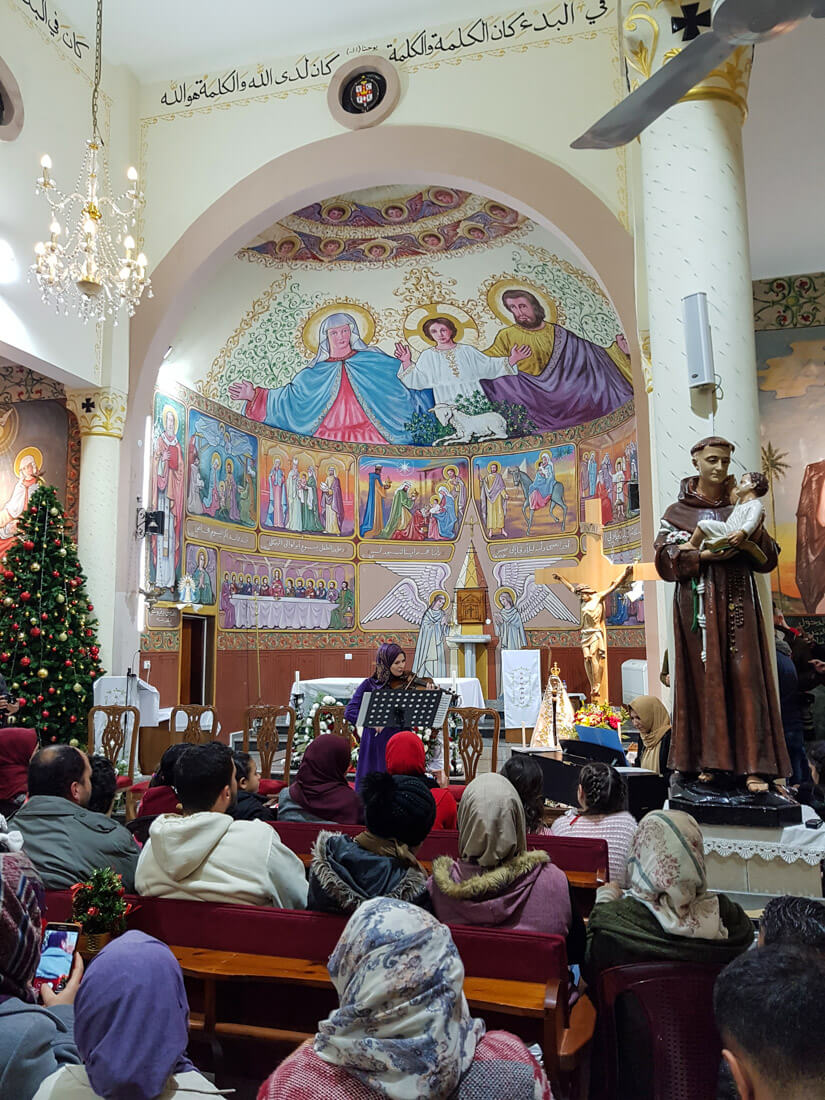 Bath and relax in the Samaritan hammam
The only Turkish baths in the Strip. Owned by the ancient Jewish community of Samaritans till the 16th century, today it's an excellent place to relax and socialize with ordinary Gazans. The baths have preserved their original structure and heating system.
Entrance to the baths is 20 ILS, plus 18 ILS if you want a body scrub and a massage.
Bring your swimming shorts, flip flops and a towel. Very crowded on Friday and Saturday.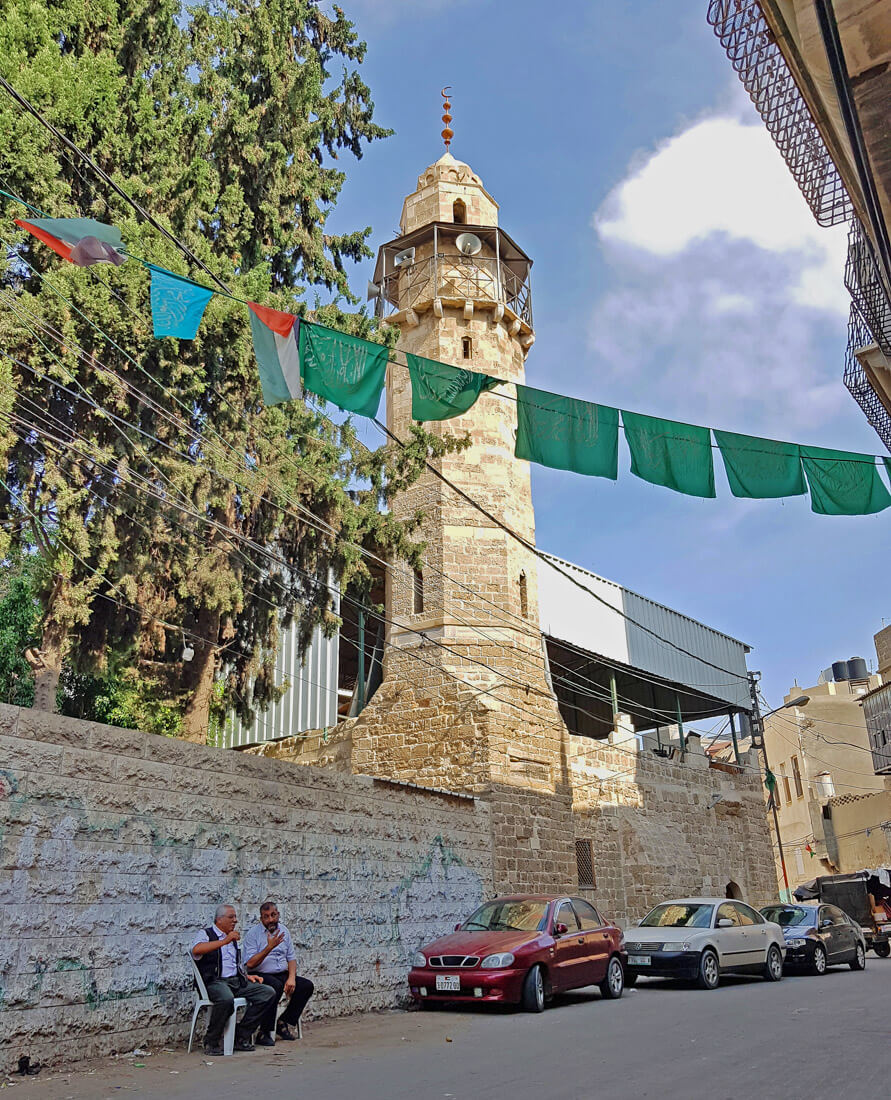 Visit the British war cemetery
Located north of Shujaiya district, it's a wide green field with over 1700 graves of soldiers most of whom died in this area during World War I.
The majority of them were British, but there are also graves of Australians, Canadians, Indians and Poles.
Today a local family, employed by the Commonwealth War Graves Commission, takes care of the cemetery. Entrance to the area is free (if the main gate from Saladin street is closed, you can still access the cemetery through the residential area south of it).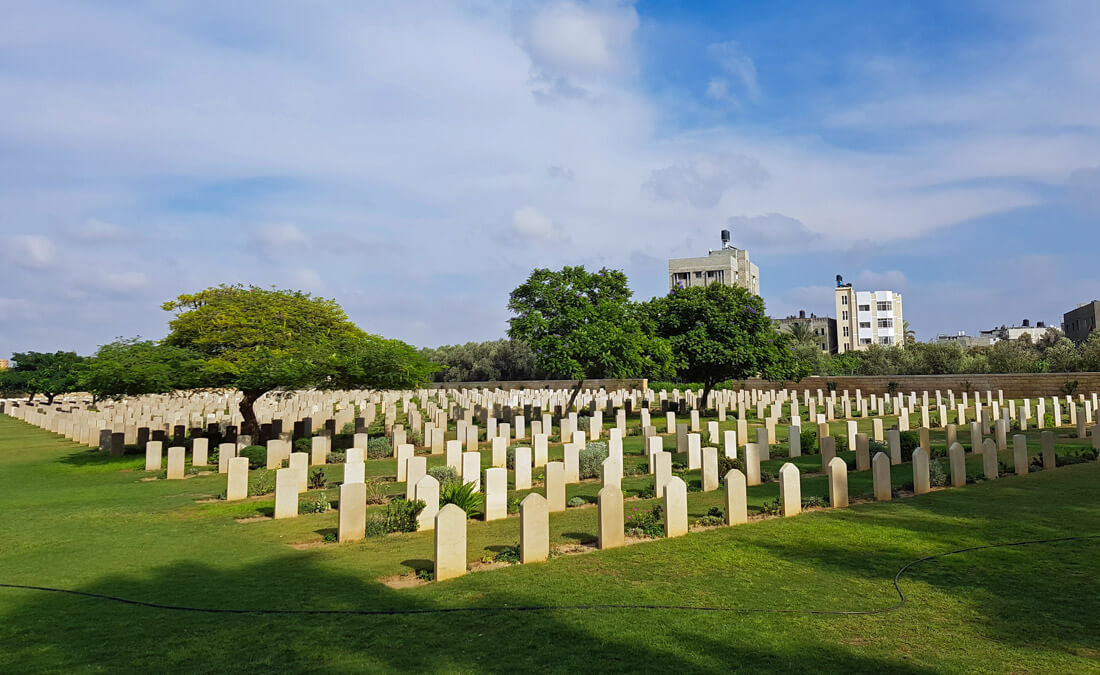 Take a boat tour
Inside the port area, you are likely to be approached by touts and teenagers offering boat tours. The boats leave from the dock near the lighthouse and the cost is around 5 ILS for a shared and 20-30 ILS for a private tour.
The tour normally takes place around the port and, obviously, never close to the limit zone patrolled by the Israeli navy. After the tour, you can walk along the pier to take nice photos of the colorful fishing boats with the city in the background.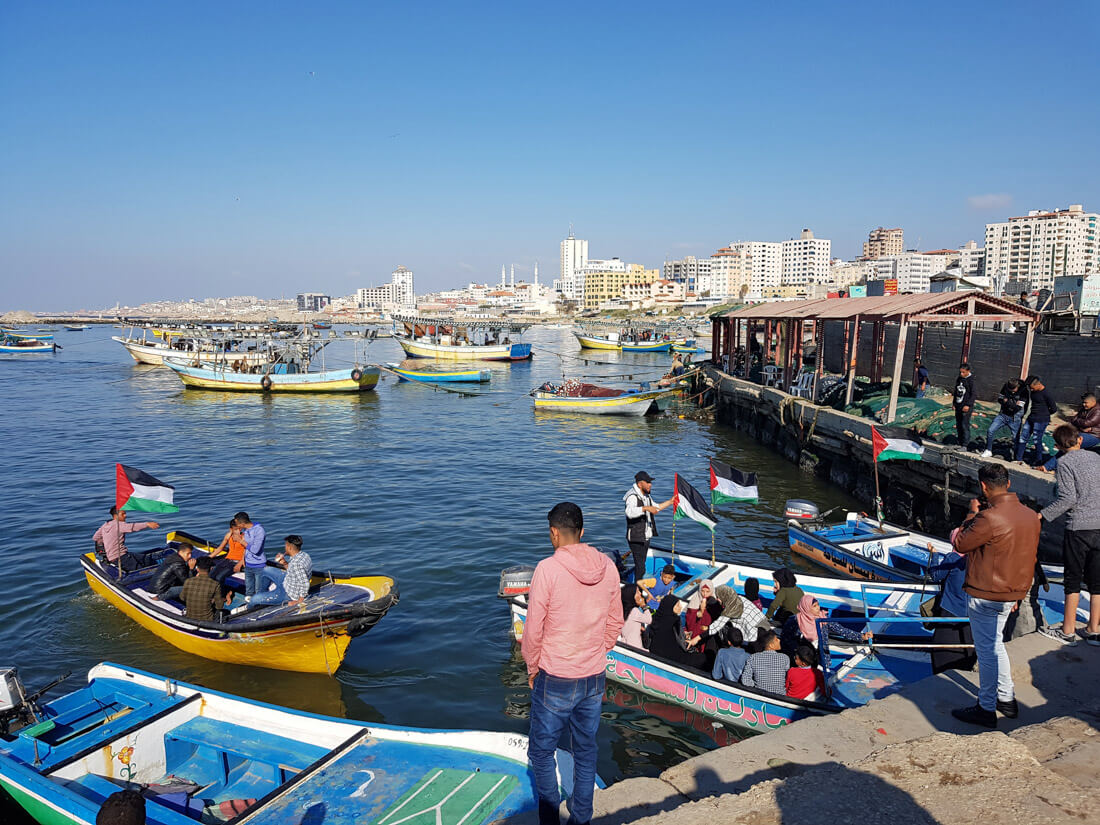 When exiting the port, turn right and 100 meters after Hassaina mosque you will reach the fish market. Fishermen and their catch are there in the morning.
The amount and variety of the catch depends on the extension of the fishing zone: limits are set and changed by the Israeli authorities based on the political situation.
Go to the beach
All beaches are public and very crowded in the summer. However, finding a chair and an umbrella is never a problem.
You can see Gazans swim and have fun despite the sea being polluted with sewage water, but you'd better not to challenge your immune system. From time to time, street vendors will pass by selling sweet potatoes, biscuits and other snacks.
In the evening, you can enjoy a magical sunset from one of the seafront cafés.
What to visit in the northern area of Gaza
This area comprises everything that is north of Gaza city, in particular, the towns of Jabalia, Beit Lahia and Beit Hanun.
Visit the archeological area of the Byzantine church
Not much can be seen, however, besides an old 5th-century mosaic with scenes of the Last Supper, images of local flora and fauna and 16 inscriptions in Greek.
The church was completely destroyed in the 9th century during the Iconoclastic period.
The site is currently undergoing restoration, while the mosaic has been covered with a layer of sand to protect it from damage.
The entrance is from Saladin street, with prior arrangement through the Ministry of Tourism and Antiquities.
Go for a strawberry tasting in a farm in Beit Lahia
This green hilly area is particularly renowned for its citrus fruits and big juicy strawberries, which in better times were largely exported abroad. Contacts of these farms can be found on Facebook. One of them is Al-Shafi'i Farm.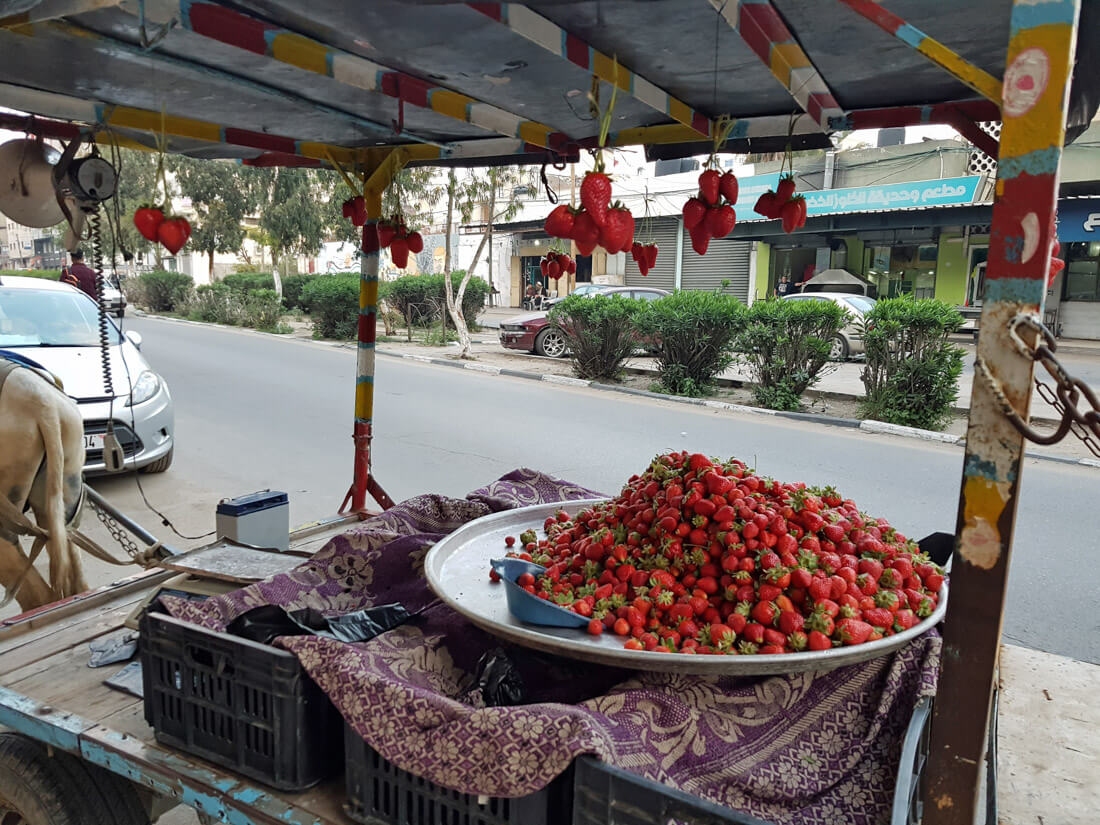 Things to do in the middle area of Gaza
This administrative area comprises the towns and villages situated between Gaza city and Khan Yunis.
Visit St. Hilarion's monastery
Known locally as Tell Umm Al-'Amer, this is considered to be the oldest monastery in Palestine, founded in the 4th century by Hilarion the Great.
As time passed by, the monastery grew into a big compound with chapels, cells for monks and pilgrims, refectory and baths… until its destruction by an earthquake in the 8th.
Today, not much is left: only some walls, pavements, columns and mosaics. The site is located west of Nuseirat.
You will need to arrange your visit with the Ministry of Tourism and Antiquities in advance, otherwise, the site may be closed.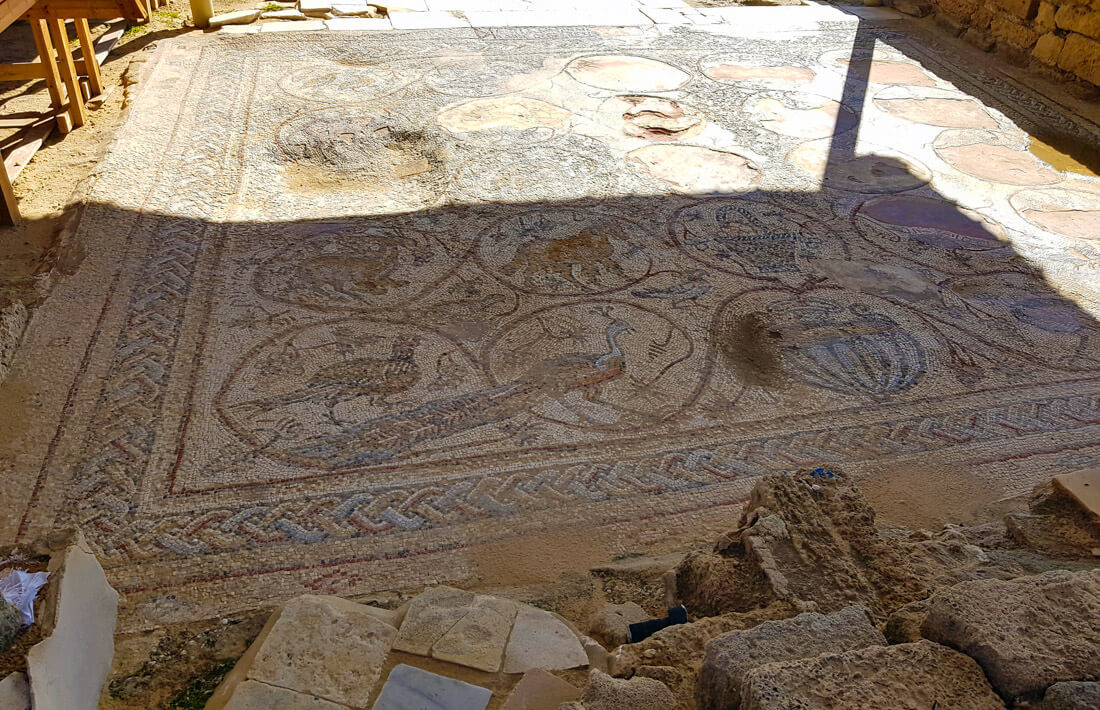 Pass by the second British cemetery
Located near the eastern entrance to the town of Zawayda.
This one is smaller than the Gaza cemetery, but not less interesting, picturesque and peaceful.
Here you can even notice several Jewish tombs, which for me was something really unexpected.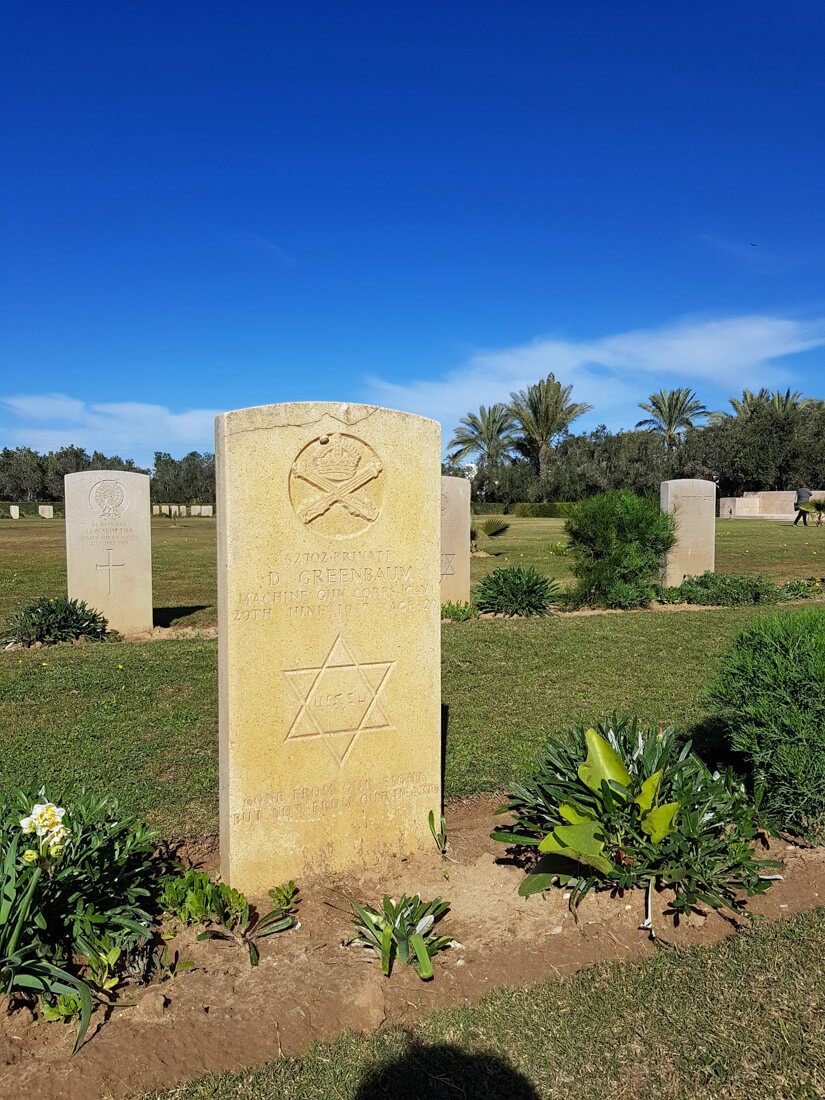 Attend the harvesting of dates in Deir al-Balah.
The town's name is literally translated as "the monastery of dates" and, in fact, the countryside between Nuseirat and Deir Al-Balah is dotted with many tall date palms.
During the harvesting season in autumn, farmers climb to the top of the palms with a rope and cut down bunches of ripe dates.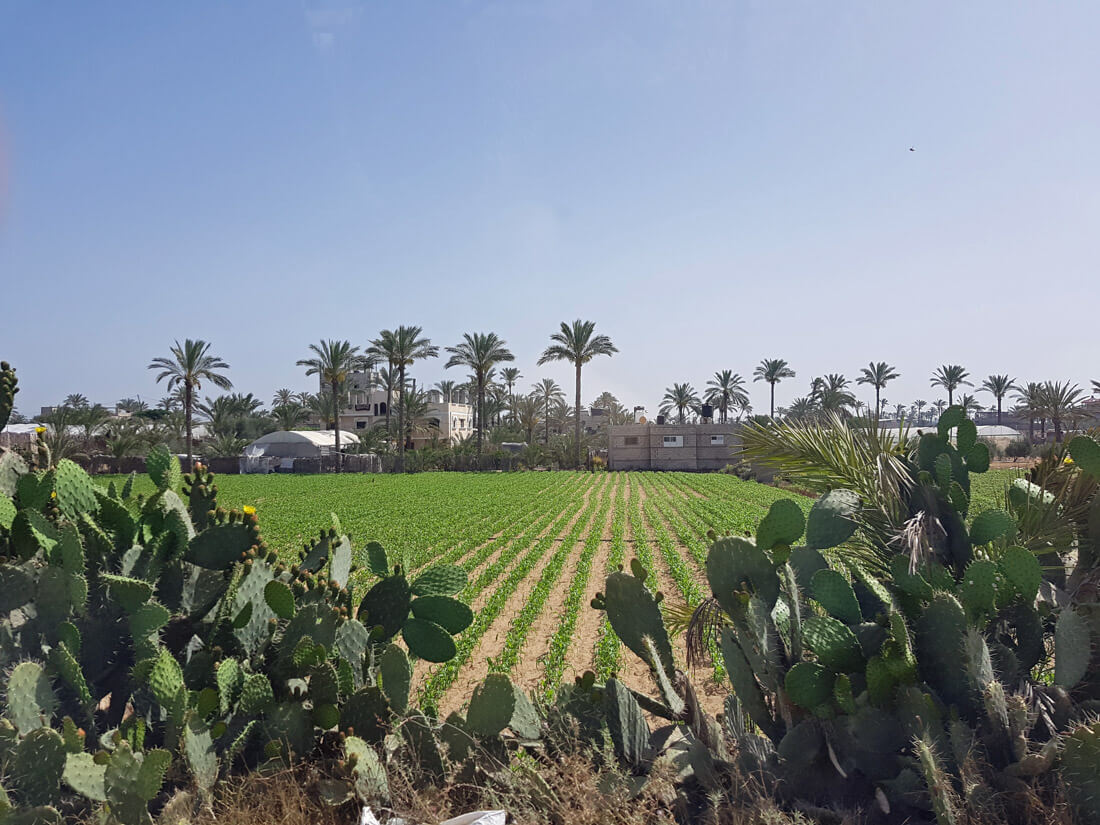 Things to do in the Southern area of Gaza
This administrative area comprises the provinces of Khan Yunis and Rafah.
Go sightseeing in Khan Yunis
The second-largest city in the Gaza Strip. It may appear grey and unattractive at first glance, but it's definitely worth taking a stroll in the downtown area full of shops, market stalls and warm smiles of locals.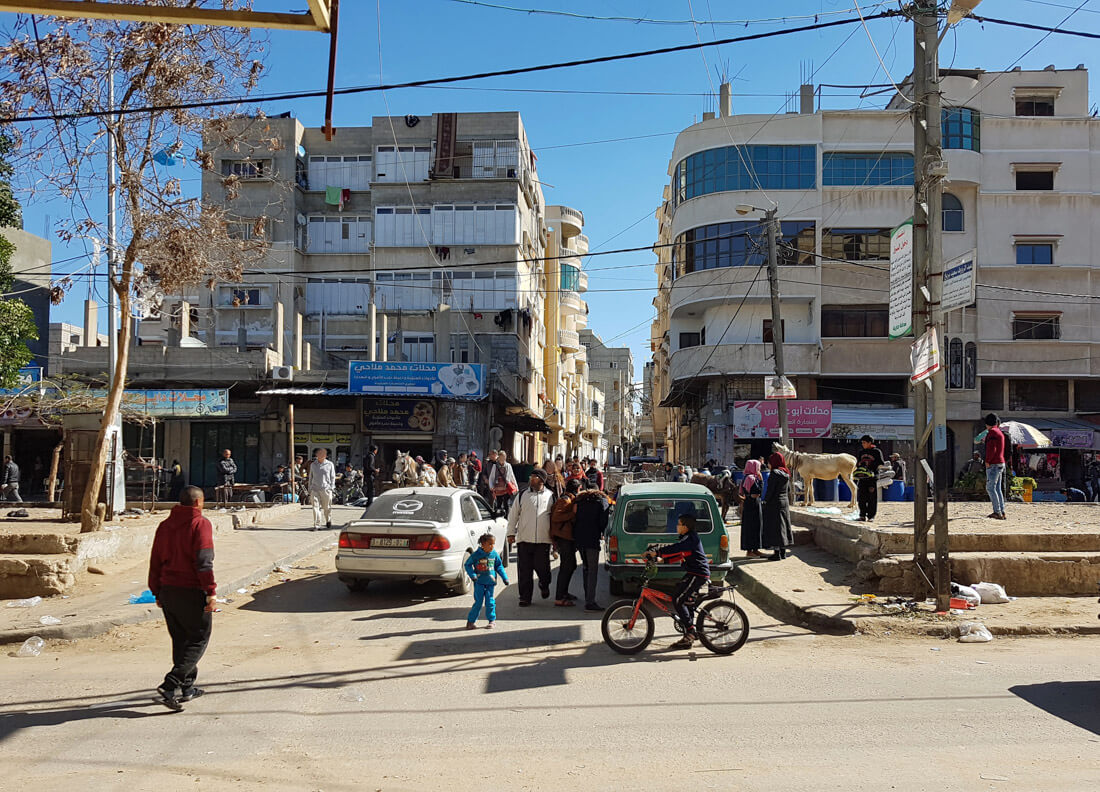 Barquq castle – The city doesn't have an old part as such, but you can't miss the iconic Barquq castle overlooking the central square and the main mosque.
What was once part of a big caravanserai – "khan" in Arabic – now is only a façade with the former city gate, the minaret and several empty rooms used for storing goods in the past.
Old railway – Not far away is Sikka street, where the Haifa-Cairo railway used to pass before 1967. Some elderly Gazans still remember the times when they could take the train and reach Cairo in one night, without any borders, permits and security concerns.
Part of the railway – "Sikka" in Arabic – has been preserved as a monument. Also, the building of the old train station still exists, but is now used as a storage facility by the municipality.
Wednesday market – By the way, today the city is well-known for its Wednesday market which takes place in the central streets and draws people from all over the Strip.
An interesting experience could also be a visit to the cattle market held weekly on a sandy road along a big compound of greenhouses north of the city.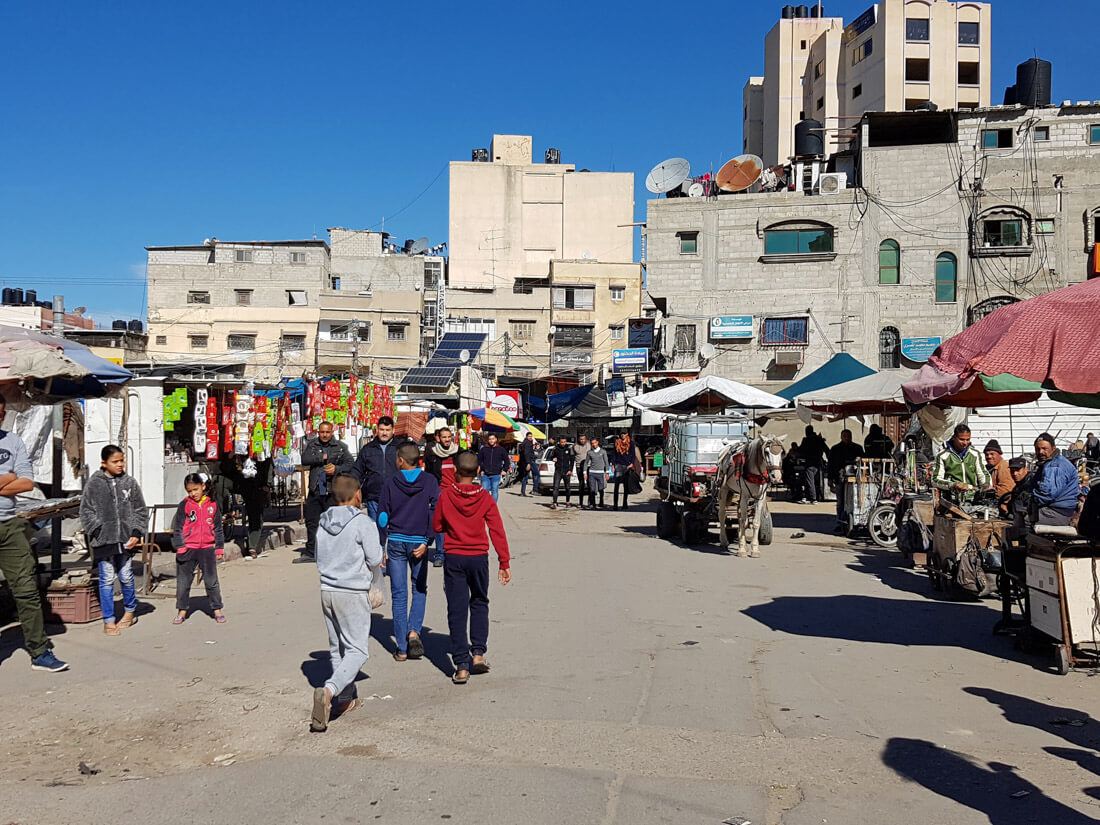 Mosque of the Dome – Also north of Khan Yunis, an unusual mosque called Mosque of the Dome is worth a visit. Head towards Al-Mawasi village and you will see a big golden dome from the distance. It's simple from the inside, but has impressive natural acoustics.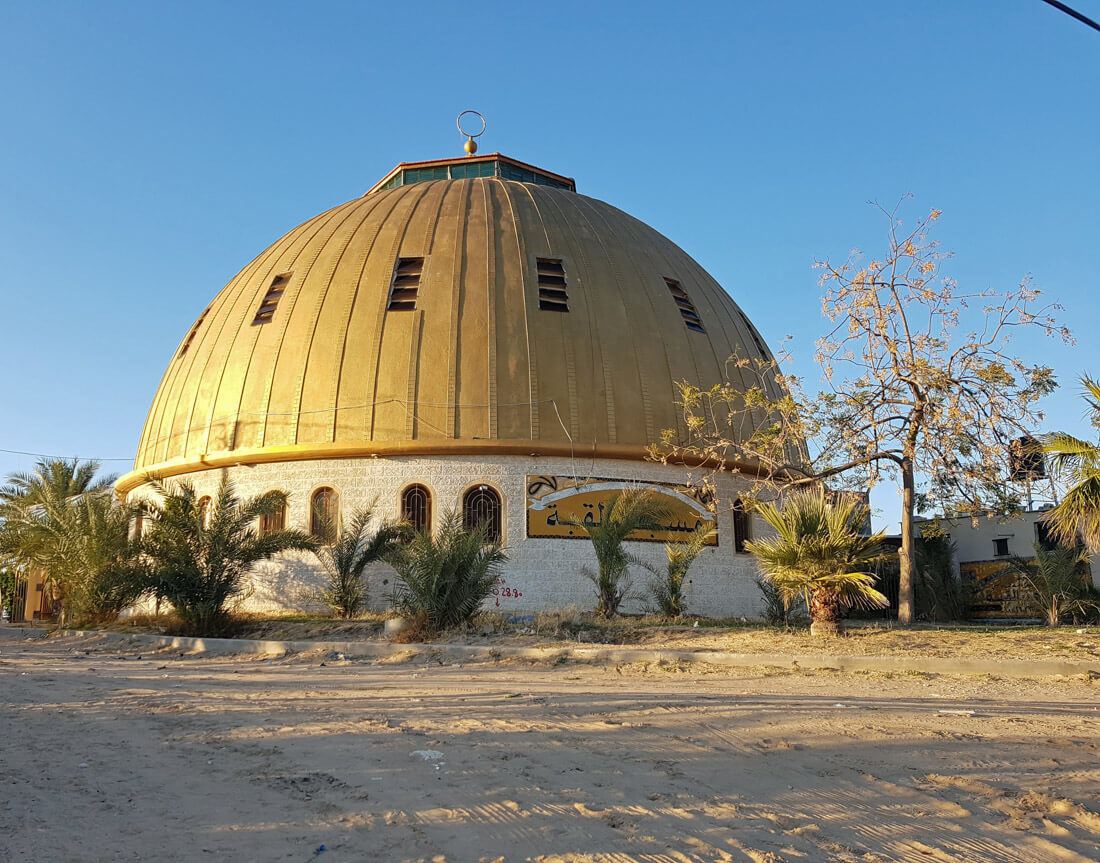 Visit a Bedouin camp
There's a number of Bedouin communities in Khan Yunis and Rafah countryside – you can often notice their camel paddocks from the road.
Remember that Bedouins are conservative, sensitive and, unlike in Israel or the West Bank, are not used to visitors.
That's why behave with utmost empathy and respect. A good idea is to bring food or something useful as a gift.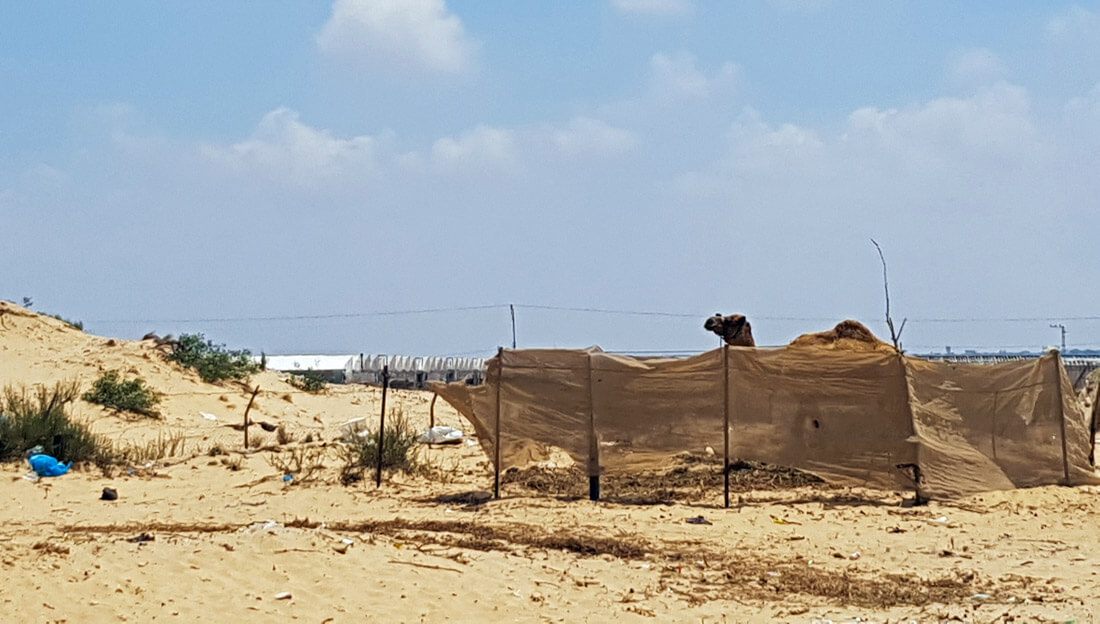 Have fun in Asdaa resort.
This big park is located just west of Khan Yunis, on the land where the Israeli settlement of Gush Katif used to be till 2005.
Take a dose of adrenaline on locally constructed rides and the panoramic wheel, splash in the water park, visit "Palestine in Miniature" and the zoo.
The latter risks to become a truly traumatic experience because poor animals and birds are kept in small and dirty cages.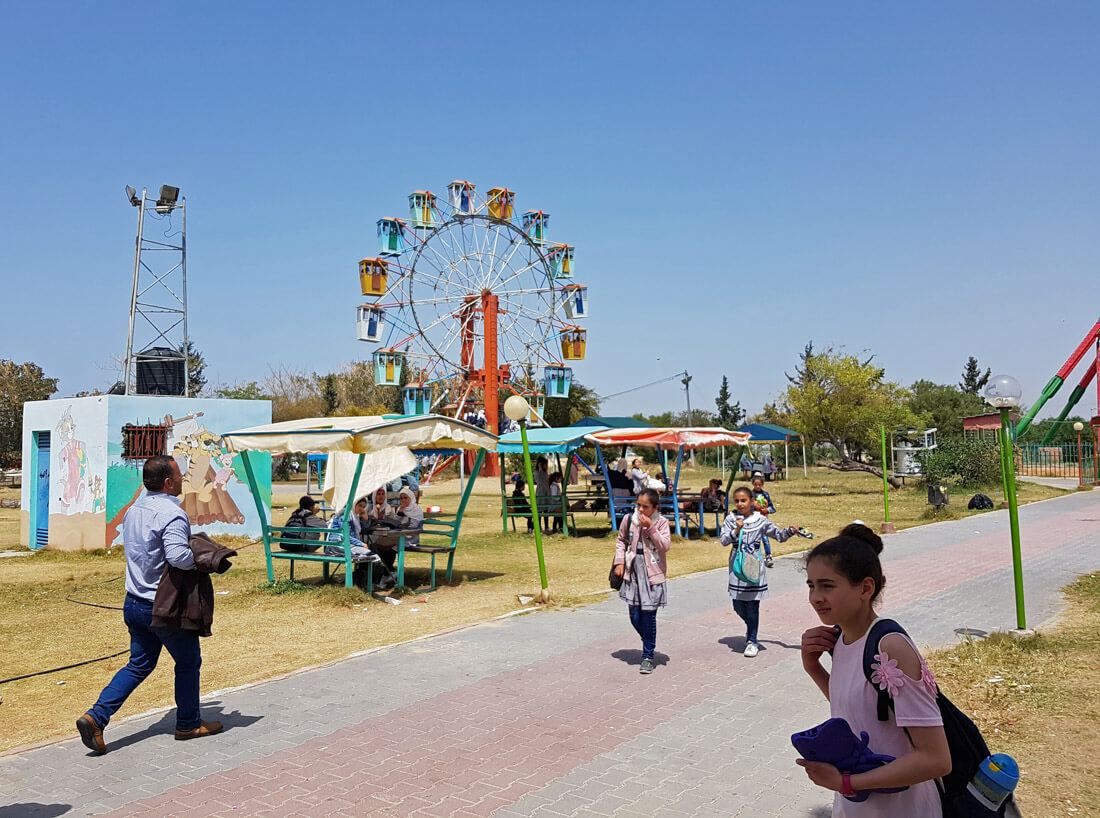 Explore the ruins of Gaza international airport.
A symbol of hope and a better future upon its opening in 1998, the airport was almost completely destroyed by Israeli aviation 2-3 years later and has never been operational ever since.
You will need prior coordination with the Ministry of Interior to access this area, which is close to the Israeli and Egyptian borders.
You will not be allowed to take pictures. To reach the airport, go east of Rafah through Al-Bayuk village.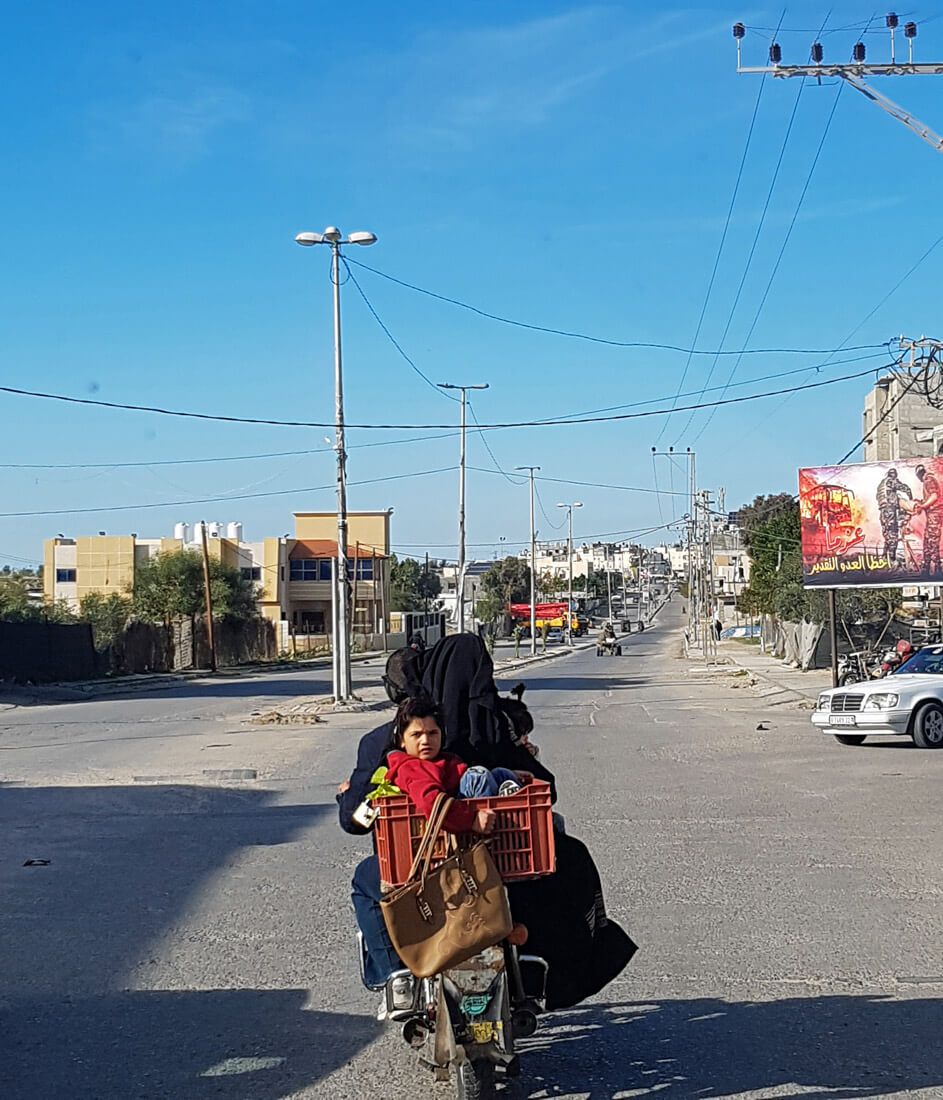 There're several other places around Rafah which could be interesting to see, like the archeological area of Tell Rafah and the so-called Swedish village located on the coast some 50 meters from the border with Egypt. But I didn't get the chance to go there.
Rafah itself has not much to show you, apart from the central square – Sahat Al-Nejma. It's a roundabout with an "arch of triumph", a Qassam rocket and a banner with pictures of local martyrs. On the other side of the street is Louvre Café on the top floor of the glass building.
More information for visiting the Gaza Strip
Don't forget to check our travel guide to Palestine.
As well as all our Palestine articles:
@log_nick is a fellow traveler who loves to explore off the beaten track countries and had the opportunity to spend a fair amount of time traveling in the Gaza Strip. You can follow his trips on Instagram