Backpacking in Mauritania, a 2-week itinerary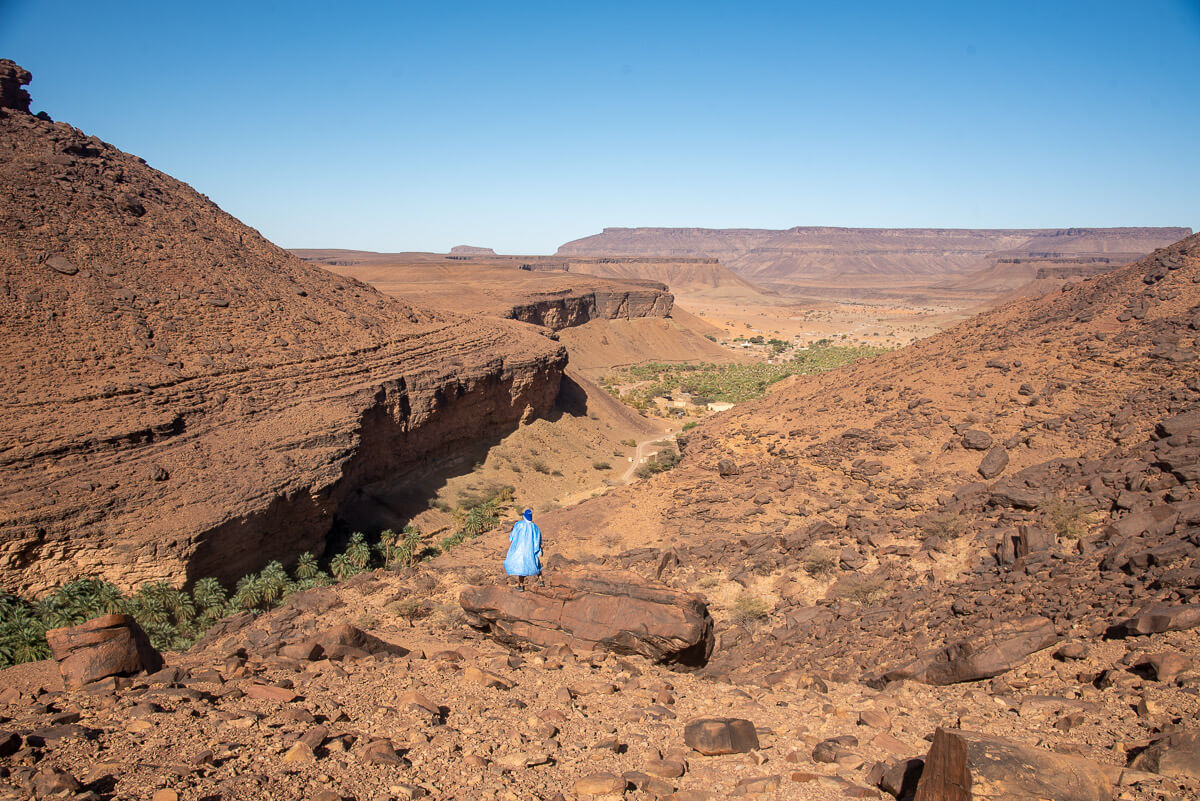 ---
Wanna travel to Mauritania with Against the Compass?
Join a group of like-minded travelers in our next scheduled tour in Mauritania:
November 4th to 11th, 2023
---
Mauritania is characterized for being exceptionally raw and authentic, a desert country filled with nomads and where tradition still prevails over modernity, as I have said in previous articles.
Nestled just between Maghreb and sub-Saharan Africa, Mauritania is one of the off-the-beaten-track countries closest to Western Europe, a barely explored destination easily reached by air, or even by car from Spain.
Moreover, thanks to an outstanding improvement in security, Mauritania is nowadays, an accessible, safe country, and the definitive destination for those wanting to follow ancient trans-Saharan trade routes and seek the most pristine desert landscapes.
In this guide, I will take you through my personal 15-day Mauritania travel itinerary, along with all respective tips.
Remember that, for all the practical information, including visas, budget, etc., you must check my Mauritania travel guide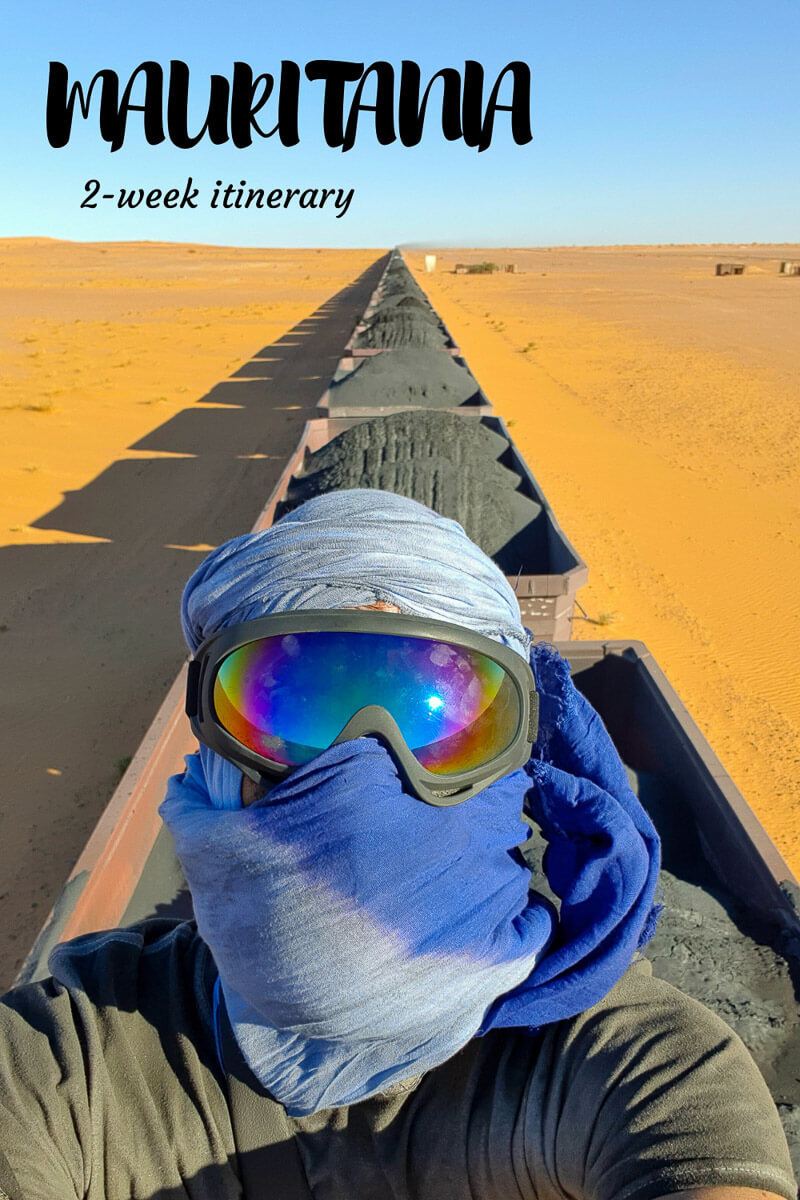 Planning your Mauritania travel itinerary: own vehicle
vs

public transportation?

Renting a car can prove useful, but budget backpackers should know that backpacking in Mauritania using public transportation can also be feasible.

That's what I did, so all the places listed in this itinerary can be done without a private vehicle. The only downside, however, is that you need time and patience.

On the other hand, moving around with your own vehicle makes things easier and smoother, obviously, but be aware that many destinations can only be reached by a 4×4, so renting a normal, small car won't be that much of a game-changer and, even if you rent a 4×4, driving over the sand is a required skill, so keep that in mind.

In summary:

Traveling by local transportation – Completely doable if you have plenty of time like me, but you may be limited, depending on how far you want to travel.

Traveling by private car – Definitely, the best way to explore Mauritania but a 4×4 and good driving experience are must-have requirements, provided that you want to visit the country properly. If you have never driven a 4×4 but still want to visit all the places listed in this Mauritania itinerary and get deep into the desert, consider hiring a local guide.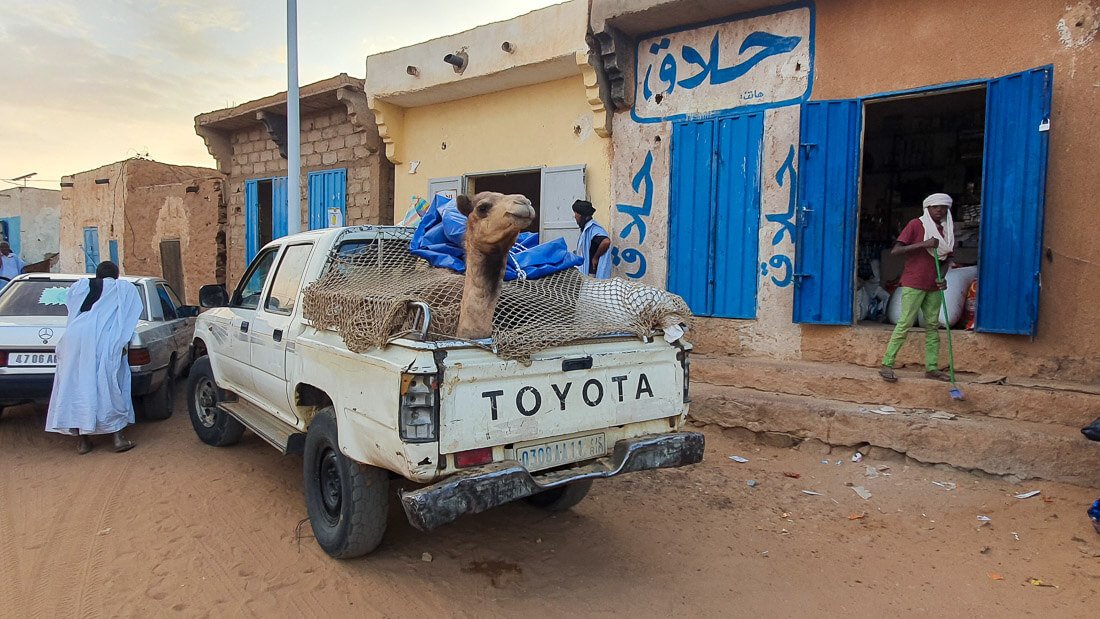 How many days are needed for Mauritania?
Mauritania is a vast country but, since it's mostly uninhabited desert, plus you can't really go to the far north – for safety reasons – you can visit a fair amount of the country in 1 or 2 weeks' time.
How many days are needed, however, will mainly depend on your chosen means of transportation.
Mauritania in 15 days
The 2-week Maurtiania itinerary listed in this post is meant for those who travel by public transportation, since you will often need one full day to move from one place to the other.
It may seem kind of inconvenient, but that's part of the experience, which can definitely be fun, especially when you take a local pick-up loaded with camels and desert people.
If traveling by private car, you can do the 15-day Mauritania itinerary
in only 10 days

:
Day 1, 2 – Nouakchott
Day 3 – Travel to Tidjikja
Day 4 – Visit Tidjikja and go to Terjit at the end of the day (EOD)
Day 5 – Visit Terjit and travel to Chinguetti (EOD)
Day 6 – Visit Chinguetti in the morning and get to Ouadane at the EOD
Day 7 – Visit Ouadane and travel to Zouérat at the EOD
Day 8 – Taking the Iron Ore Train – If you are self-driving and also want to ride the Iron Ore Train, you will have to figure out by yourself what to do with your car.
Day 9 – Nouadhibou
Day 10 – Back to Nouakchott
Mauritania in 1 week
Most travelers will only have 1 week.
Assuming you are traveling by public transportation and want to ride the Iron Ore Train, this is my suggested 7-day itinerary for Mauritania:
Day 1 – Nouakchott
Day 2 – Travel to Chinguetti
Day 3 – Chinguetti
Day 4 – Journey to Zouérat
Day 5 – Iron Ore Train
Day 6 – Nouadhibou
Day 7 – Back to Nouakchott
Useful books for backpacking in Mauritania
West Africa travel guide by Lonely Planet
A useful book for West Africa overlanders – with a chapter fully dedicated to Mauritania – but bear in mind that it contains travel guides to 18 different countries, so consider it a small introduction to the region.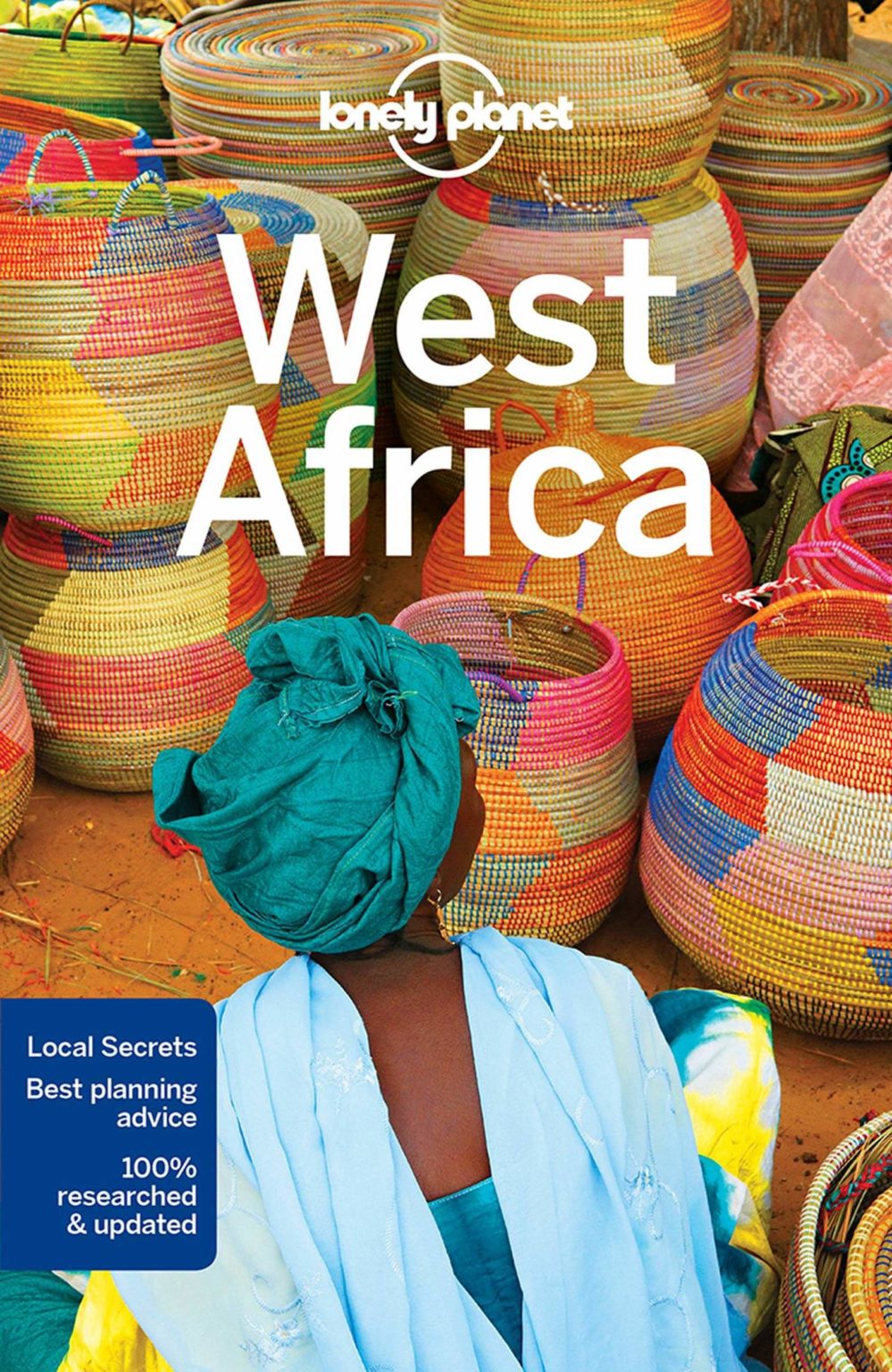 The desert and the drum (Mbarfek Ould Beyrouk)
This is the first Mauritanian novel to ever be translated into English and I think it's the only one so far, that's why I bought it.
The story is about a Bedouin girl who falls in love with a stranger city guy and all the consequences after her tribe found out.
To be very honest, the book is a bit cheesy but what I liked that it gives you many insights into how tribal people live in Mauritania.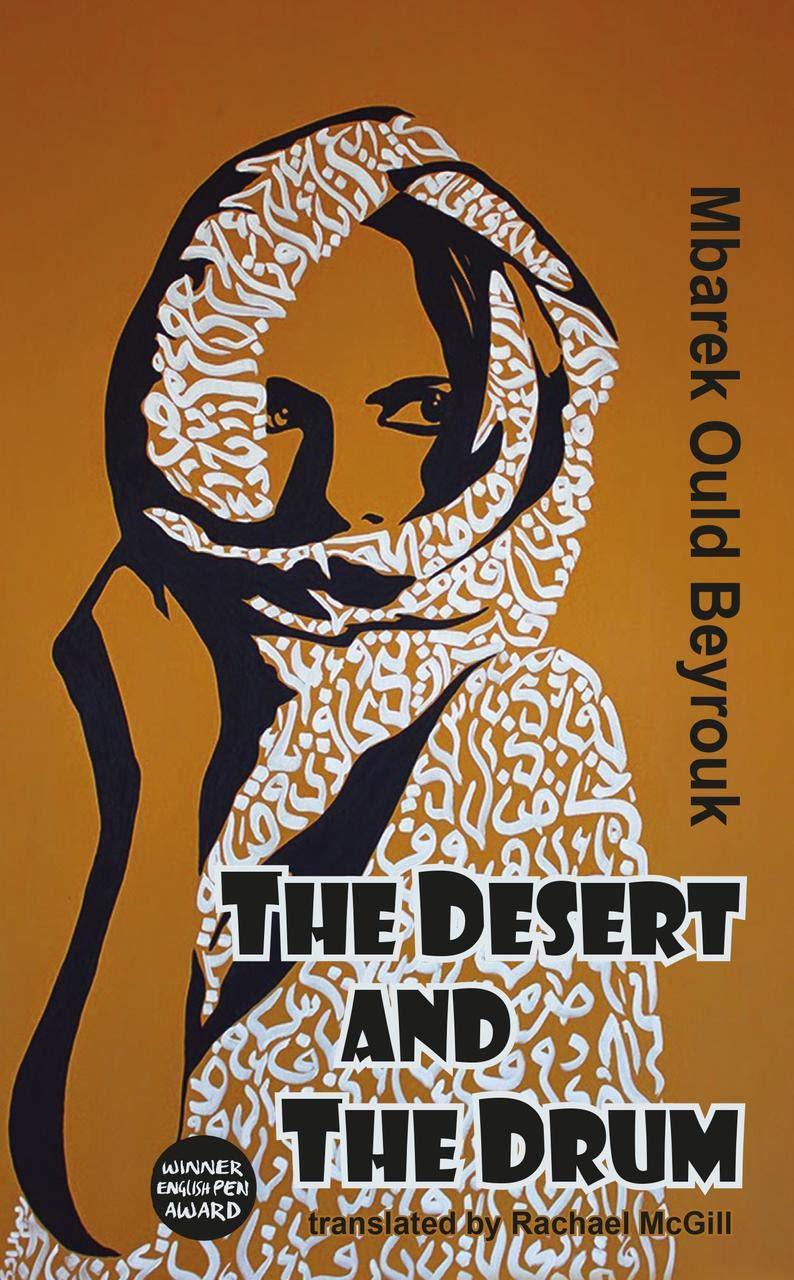 Places to visit in Mauritania in a 15-day itinerary
Going to Mali? Check my 1-week travel itinerary
Here are all the things I did Mauritania (always using public transportation).
Places to visit in Mauritania in 2 weeks (map)
Click on the image below to see the interactive map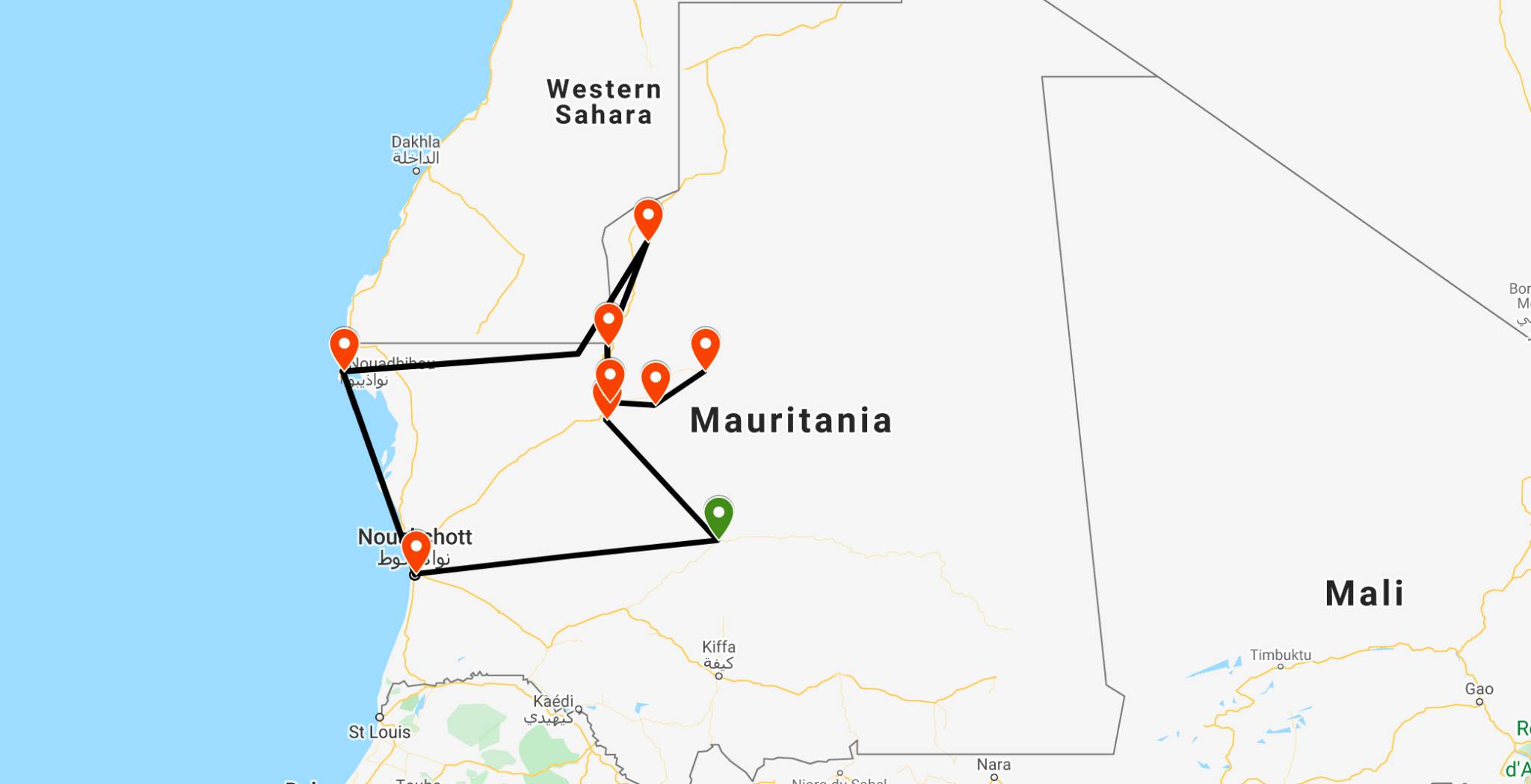 Day 1, 2 – Nouakchott, the capital of Mauritania
Heads-up.
Nouakchott could easily be one of my least favorite capitals in the world.
I didn't like it, even though I spent 10 days here, or better said "I had to".
First, I spent 5 days trying to recover my drone, which had been confiscated at the airport customs, and then, before flying out, 5 more extra days waiting for my Mali visa and PCR test results.
Nouakchott doesn't have much to offer. It's a relatively new capital full of trash, sand, with no bars, no good restaurants and basically, not much going on.
Nonetheless, this unattractiveness, and probably the sand too, is what makes Nouakchott weirdly appealing. I mean, have you ever seen a pile of sand, like actual desert sand, in the middle of a capital city? Because in Nouakchott you do, and that's fairly unusual to see.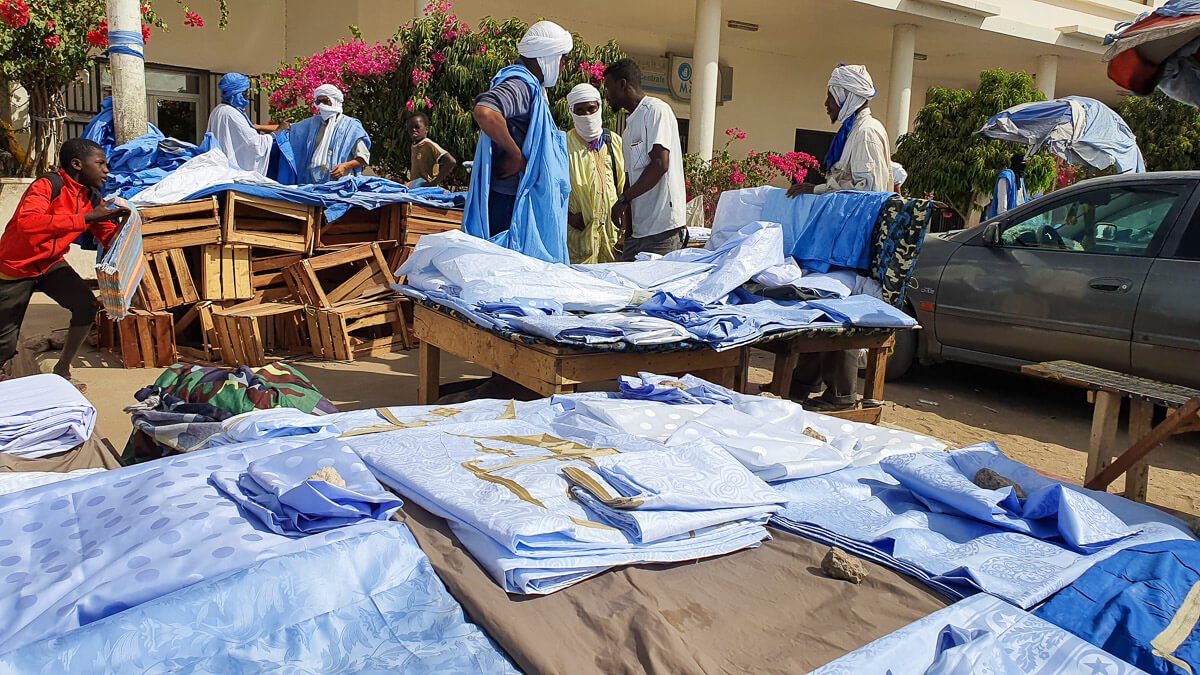 Moreover, there are two sites that will make your cultural visit worthwhile:
Port du Pêche (fishing harbour) – One of the busiest and liveliest fishing harbors in West Africa, and an important pillar of Mauritania's economy. This photo essay from Off Beat Traveling is great.
Camel Market – Home to the largest concentration of camels I have ever seen.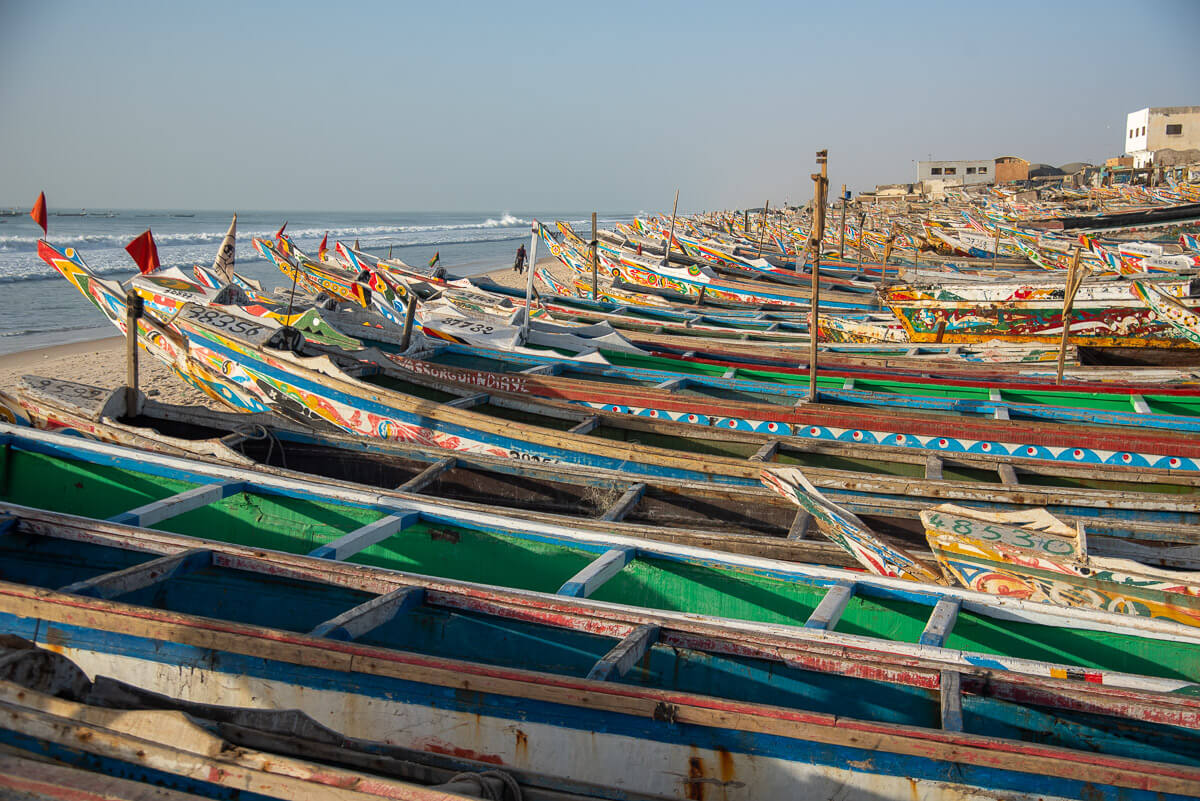 Where to stay in Nouakchott
Budget Hostel – Le Village & Auberge Triskell – Top choice. Friendly traveling vibe. I stayed here during my entire stay. The owner, Sebastien, is a French national who has been living in Mauritania for several years, and he will be happy to help you during your entire stay.
But there are many other options and choices: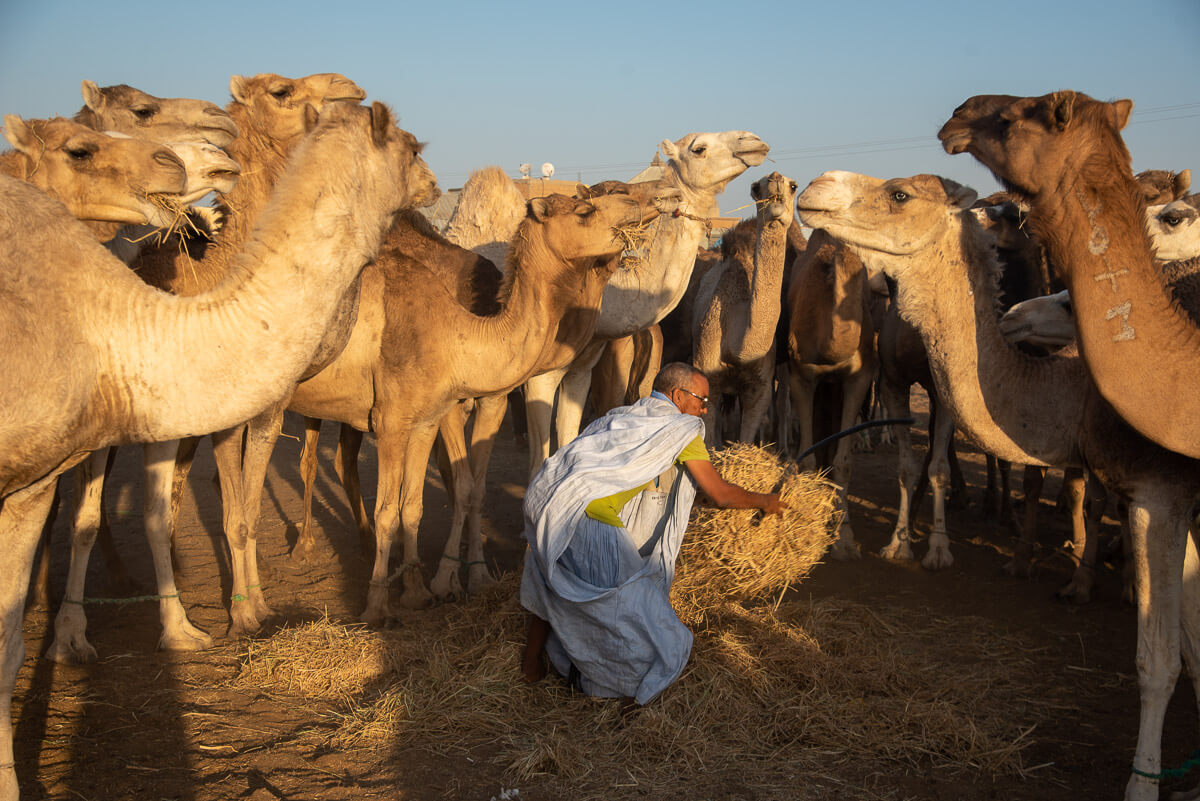 Day 3, 4 – Trip to Tidjikja, a real Sahara town
Tidjikja is the most off the beaten track place listed in this Mauritania travel itinerary, a Sahara town that most travelers tend to skip, as it involves a big detour.
Nevertheless, I loved Tidjikja. In fact, it was one of the highlights of my trip. It's just a small town located in the middle of the Sahara, but it's the largest one in the area, so it has become a trading center attracting all sorts of desert people.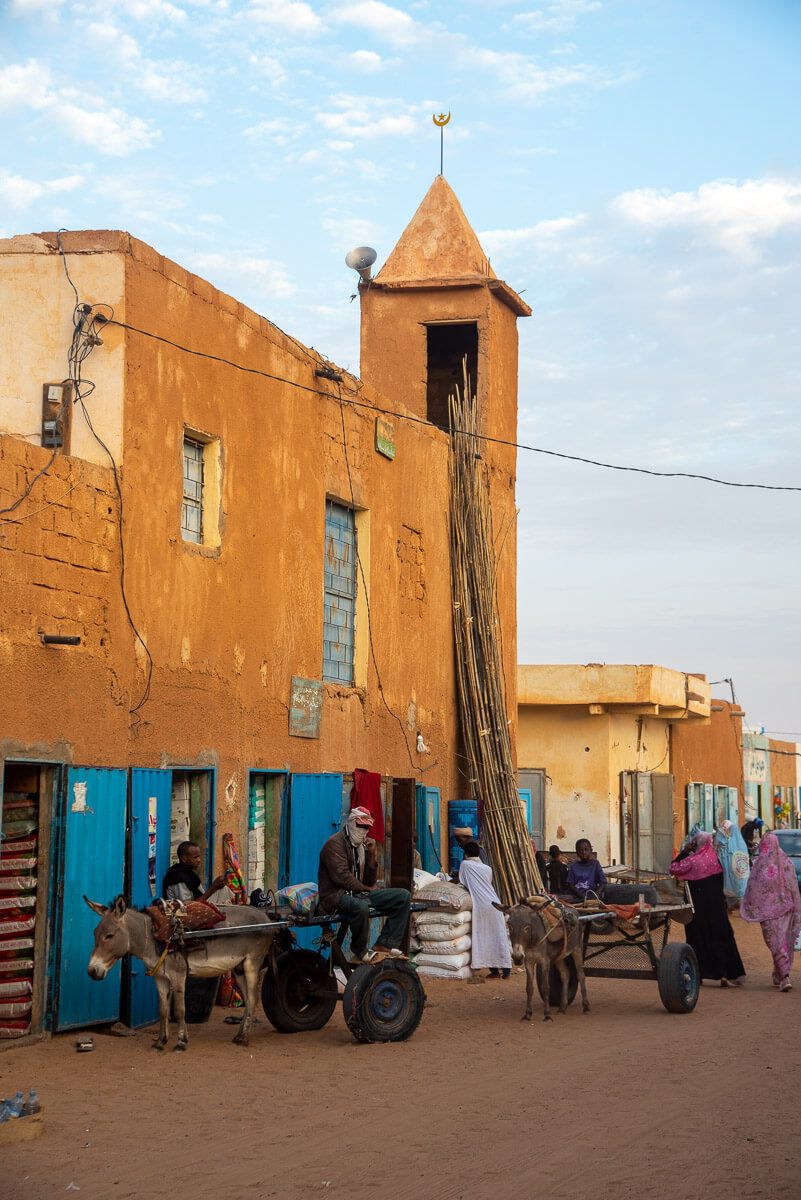 There's not much to do other there than checking out the local market, but intrepid travelers and photographers alike will definitely enjoy it, as the locals there are particularly welcoming and no place in the country can feel as authentic and traditional.
It feels like traveling back in time!
Where to stay in Tidjikja
I stayed at Auberge Caravane du Desert, which had very basic rooms with a private bathroom. I paid 1,000MRU for a double room.
How to get to Tidjikja from Nouakchott
Local buses leave early in the morning, around 7:30am, from Carrefour Madrid. I recommend you to be there before 7am because it's a big area and the different stations are all over the place.
It's a long 12-hour journey and costs 700MRU.
Visiting Tichit
Tichit is another remote Sahara village, and ancient trading center and, today, a UNESCO World Heritage site barely visited by anyone. Tichit can be reached from Tidjikja along a road covered with sand. There are local taxis going there but they leave every couple of days, only when they have enough passengers.
Upon my arrival in Tidjikja, the first thing I did was try to arrange the local pick-up to take me there. The car wasn't full yet, so I waited for one more day but nothing, they still didn't have enough passengers: Maybe tomorrow, or maybe not – they said.
In the hypothetical case that I had managed to get to Tichit, there would also be the possibility that I would have to wait there for an extra 3-4 days to come back to Tidjikja, which would imply spending more than a week in a very remote area with not much to do, where nobody spoke English, so I passed, because going there in a private taxi was too expensive.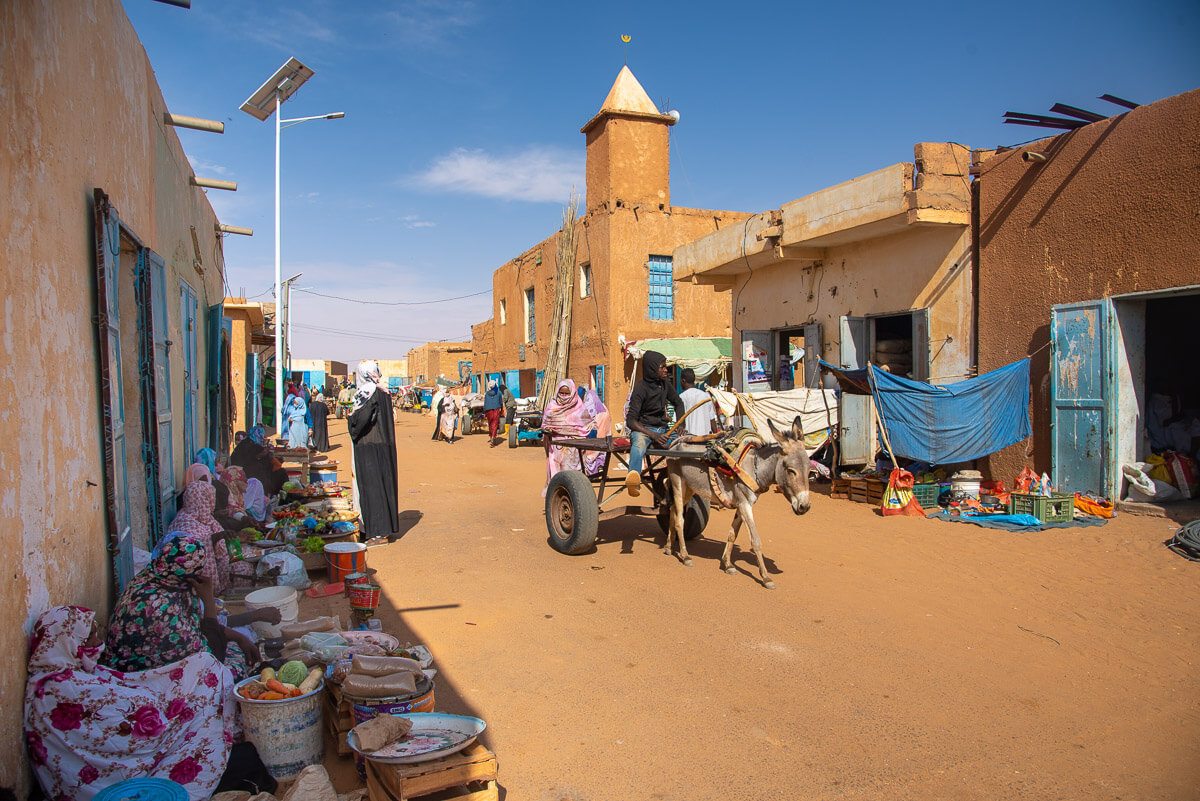 Day 5, 6 – Travel to the oasis village of Terjit
Insurance for traveling in Mauritania
I strongly recommend IATI Insurance: COVID-19 + full Mauritania coverage + 5% discount
BUY IT HERE TO GET YOUR SPECIAL DISCOUNT
Terjit is a desert spring, more popularly known as an oasis, located in the Adrar region, 45km south of Atar, and one of the most visited places among the few tourists who visit Mauritania.
For centuries, many of the endless caravans traveling along the trans-Saharan route used Terjit as a place for shelter, a spot to break their journey and enjoy the cool breeze under the shade of the spreading palm trees.
Today, Terjit has become a touristic place for both foreigners and wealthy locals, home to some pretty cool landscapes mainly consisting of a vast sea of palm trees that spreads over a narrow valley.
The best view one can get is from Chez Jamel, the tented camp I recommend below, located on the top of a hill from where you can see the entire valley.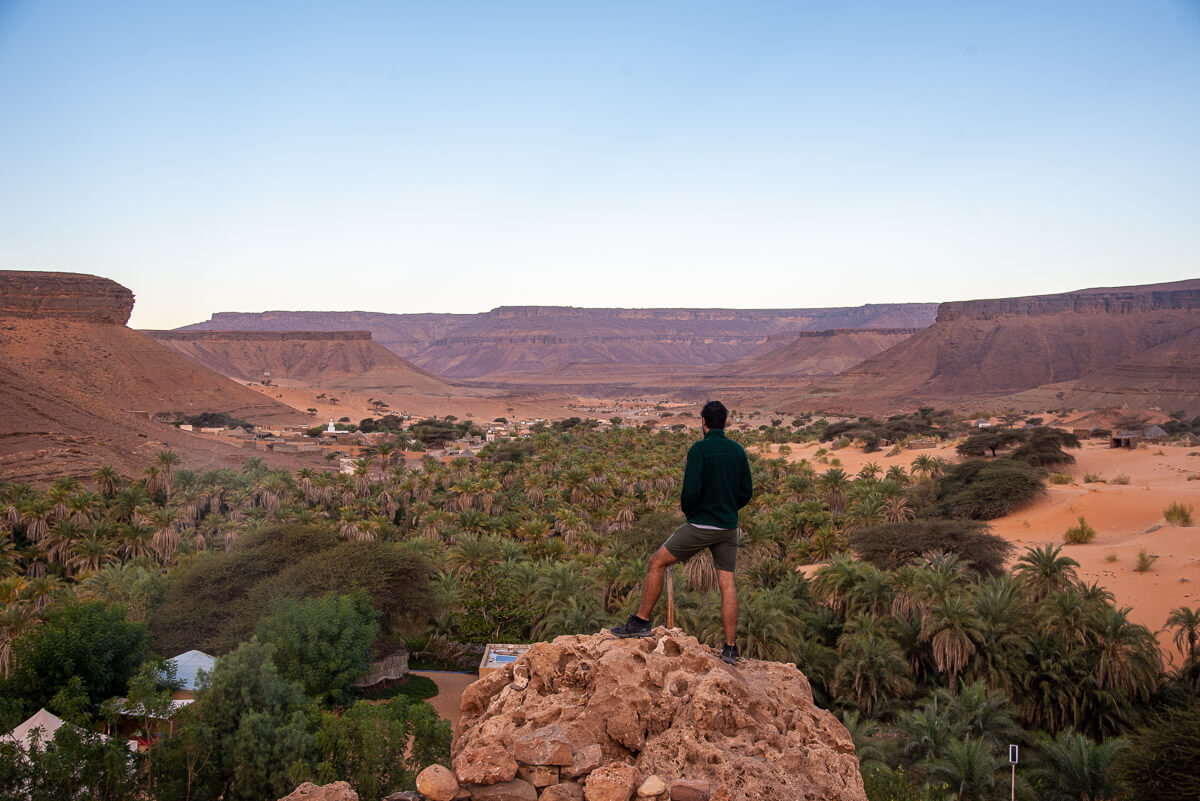 In Terjit, I recommend walking to the actual springs and coming back over the ridge of the valley.
If you have the time, you can also walk to the oasis of Mhaireth, located on the other side of the valley and whose sea of palm trees is even bigger than Terjit's. Going there and back on foot takes the whole day but you can also get there by car.
How to get to Terjit from Tidjikja (Highlight)
This is an epic 8 to 10-hour journey across sand dunes and Bedouin camps.
There is an actual tarmac road connecting Tidjikja and Terjit but, over the years, the sand has completely swallowed it and today, only experienced 4×4 drivers should attempt this drive.
I did the journey on the front seat of a local pick-up loaded with goats and friendly locals, making occasional stops in Bedouin camps where we were offered zrig (fermented yogurt) or taking a rest on the sand dunes.
It was my best journey by road and to do so, you must arrange it in advance, preferably on the day before. For that, ask for the local taxi to Atar, upon your arrival in Tidjikja. It should cost around 700MRU.
Where to stay in Terjit
You must stay at Chez Jamel, the tented camp with the viewpoint. It's pretty basic but it's well taken care of. 300MRU for a tent which you can share.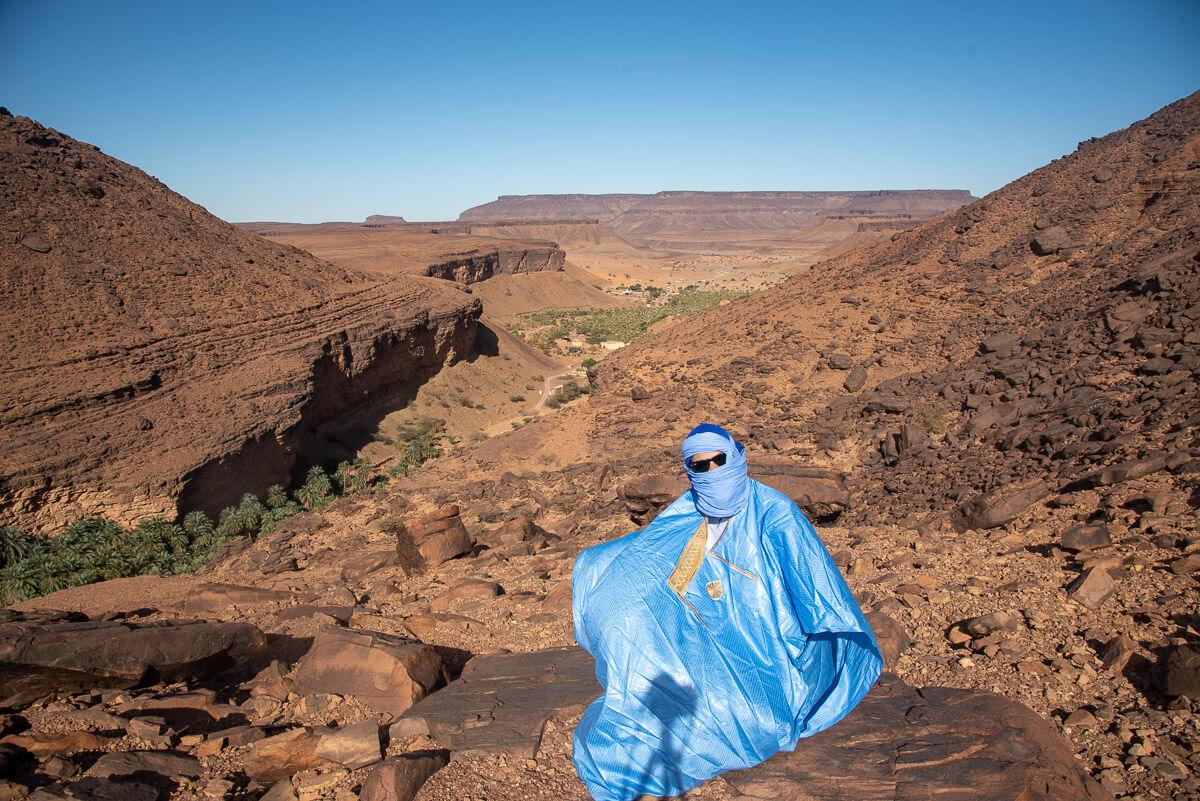 Day 7, 8 – Travel to the medieval trading center of Chinguetti
Welcome to the most touristic place to visit in Mauritania.
In fact, I seriously believe that, if it wasn't for all the unfortunate events that, back in 2007, put an end to the already small Mauritanian tourism industry, Chinguetti would have become a busy tourist destination by now.
It definitely was on its way because, when wandering around the sandy old city alleys, being chased by ladies selling costume jewelry is guaranteed, something that only happens in those places where tourists are – or were in this case – more than a common encounter.
In any case, Chinguetti is an unmissable destination and during my visit, I had the whole town to myself.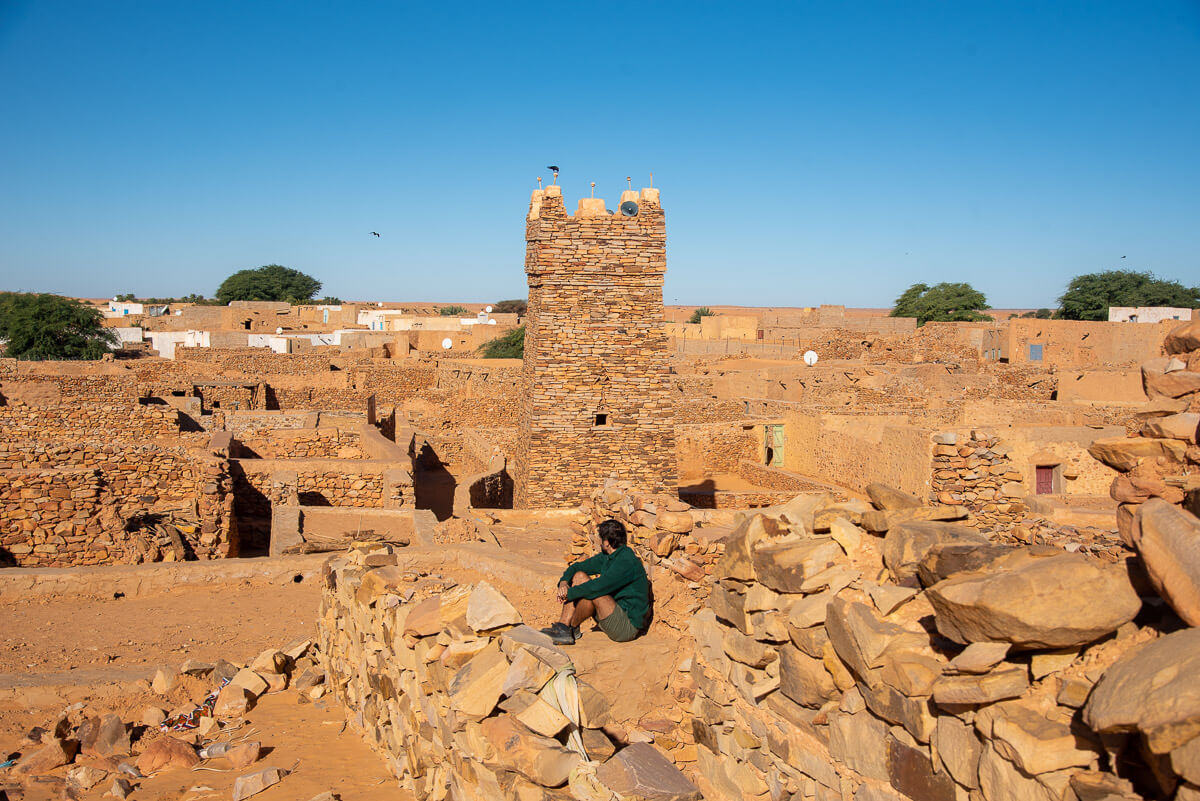 Chinguetti is a medieval trading center dating from the 13th century and one of the main centers for the trans-Saharan trading route, the equivalent of Samarkand (Uzbekistan) on the Silk Road.
Furthermore, it used to be a meeting point for Maghrebi pilgrims who were on their way to Mecca (Saudi Arabia), so it became one of the holiest cities in West Africa, hence a renowned center for Islamic and scientific scholarship, the reason why Chinguetti is today home to several libraries containing ancient books and manuscripts about astronomy, mathematics, medicine and also Islam.
Read: Traveling to Libya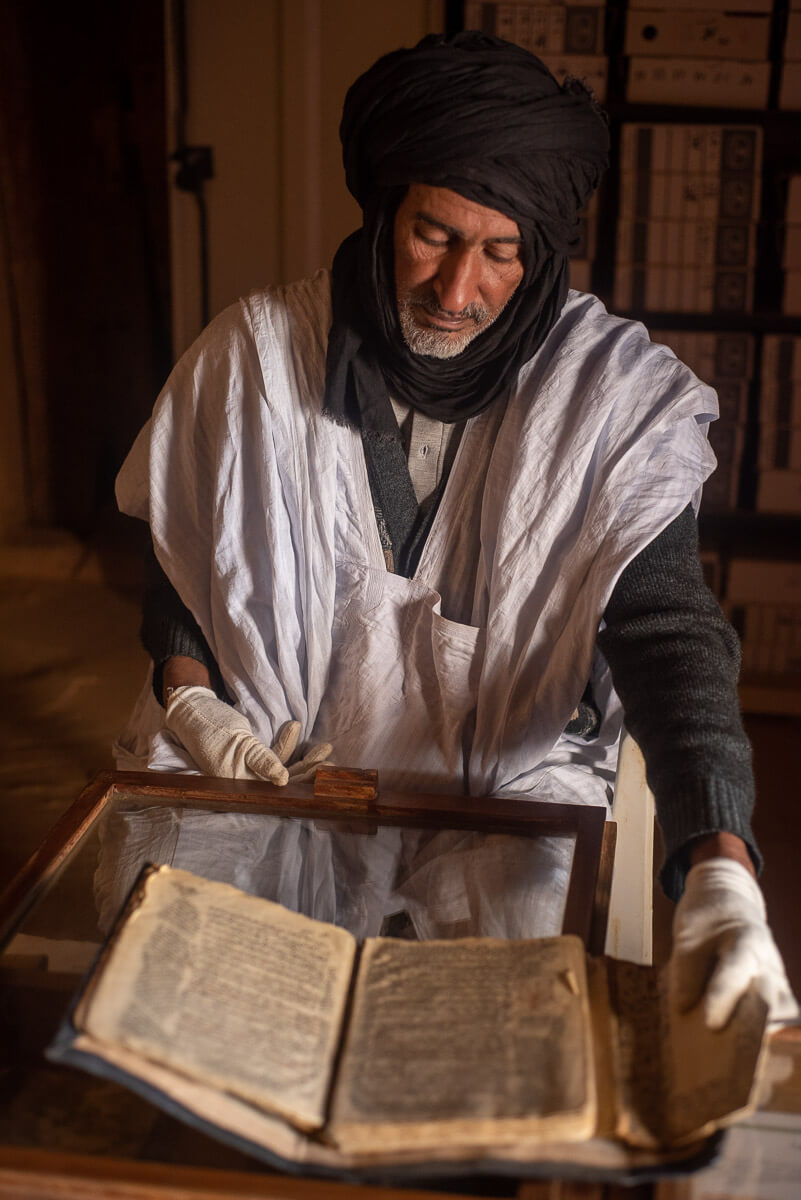 On the other hand, Chinguetti is surrounded by some of the most perfect sand dunes in the African Sahara, but this turns out to be a problem for the locals, since the sand is encroaching on the town, burying houses and forcing many to move elsewhere.
They say it's only a matter of years, or a few decades, before Old Chinguetti will be completely covered by sand.
Things to do in Chinguetti
Old Town and Friday mosque – Listed as a UNESCO World Heritage site in 1991, the old city of Chinguetti is dominated by a beautifully restored 13th century minaret that belongs to the most ancient mosque in Mauritania. Mauritanians claim this minaret is the second oldest in continuous use anywhere in the Muslim world.
Libraries – There are a total of 5 libraries that can be visited for a small fee, where you can check several 700-year old books. In the one I visited, the man only spoke French and I barely understood anything of what he said, but just checking out those old manuscripts was cool enough.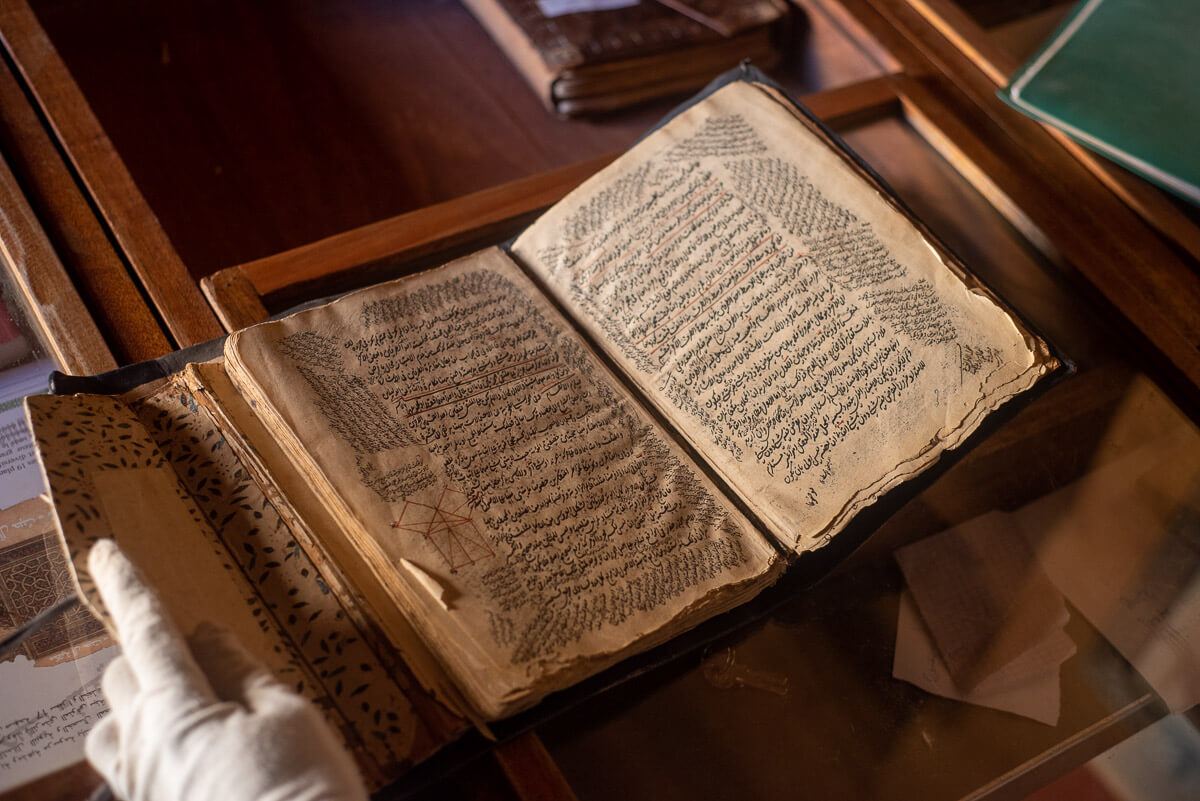 Desert – I strongly recommend heading to the sand dunes for the last few hours before sunset. They reach beyond the horizon but, unfortunately, if you want to get a clear view, you will have to walk for 1km or so, since anywhere before that is full of trash.
Chinguetti is also a popular place for desert safaris and tours, one popular trip being the trek from Chinguetti to Ouadane (2 or 3 days) over the sand dunes with a camel caravan. Any auberge owner can arrange this trip for you.
How to get to Chinguetti from Terjit
A local pick-up leaves every morning from Terjit to Atar. I missed it, so I hitchhiked, but I had to wait for like 2 hours.
From Atar, a few local pick-ups run daily to Chinguetti for 200MRU.
Where to stay in Chinguetti
I stayed at Auberge Zarga. It's extremely basic and very dirty but the owner seems to have the largest expertise when it comes to organizing trips for travelers. I paid 150MRU for a dorm bed.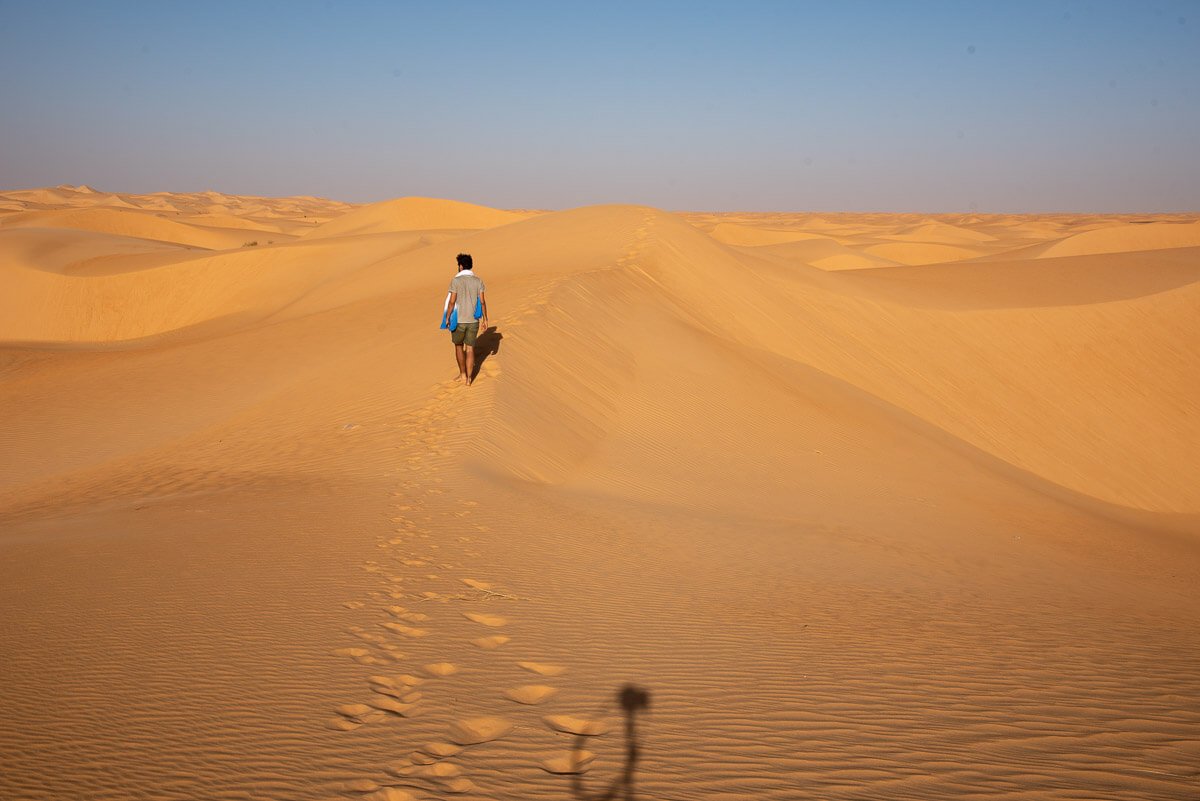 Day 9, 10 – Travel to Ouadane
Like Chinguetti, the Old City of Ouadane is a UNESCO World Heritage site which apparently, prospered from the trans-Saharan gold trade.
Overlooking the Sahara plains, the ruins of the Old City are impressive to see, more so than Chinguetti's in my opinion, even though only a small part has been restored.
It's a nice village to spend a day in, but no more.
By the way, Ouadane is the base for visiting the Eye of the Sahara.
Watch the below video to learn more about it.
Where to stay in Ouadane
You must stay in Auberge Vasque, the best place I stayed in Mauritania. It was clean and the only auberge with hot water. Besides, the owner is a badass local woman (Zaida) who drives a massive 4×4 and smokes all the time, something very unusual to see in such a conservative area.
How to get to Ouadane from Chinguetti
By public transportation, it's a bit tricky.
First, you need to take a private taxi to the Chinguetti-Ouadane intersection, located in the middle of nowhere, 20-30km from the closest civilization. I paid 500RMU.
Once at the intersection, you will have to wait for a car to pass by. I had to wait for like 3 hours until the first car arrived. Try to get there early in the morning, otherwise, you may miss the last car. Remember that there is no internet service in that area.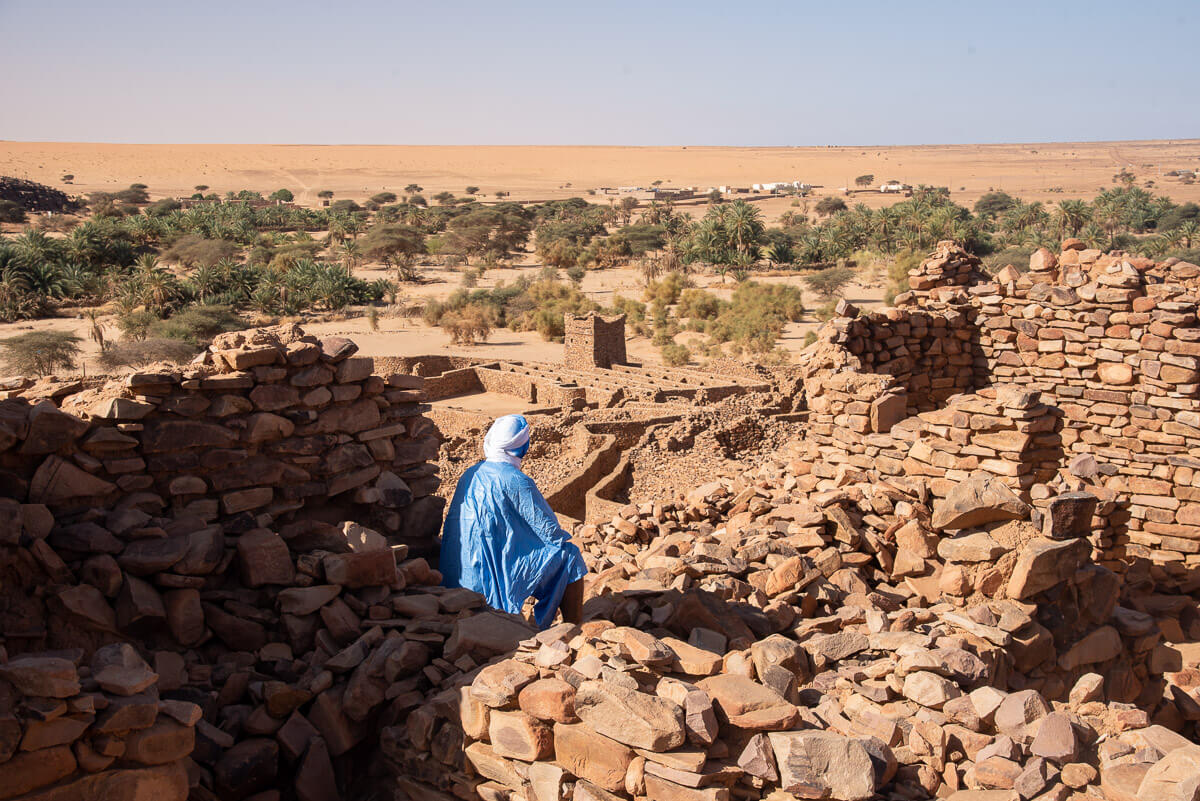 Day 11 – The mining town of Zouérat
Zouérat is a remote northern town that has developed thanks to the mining industry, specifically extracting iron ore, an activity that has become the most important factor for Mauritania's GDP.
It's a surprisingly modernized town, compared to neighboring towns and villages, almost like Nouakchott and Nouadhibou, for example.
To be very honest, Zouérat was the only place where I did miss having a car, since I really wanted to explore a bit around the mining area.
So, what can one do there besides checking out the mines?
Zouérat is the departure point for the Iron Ore Train. More on that below 🙂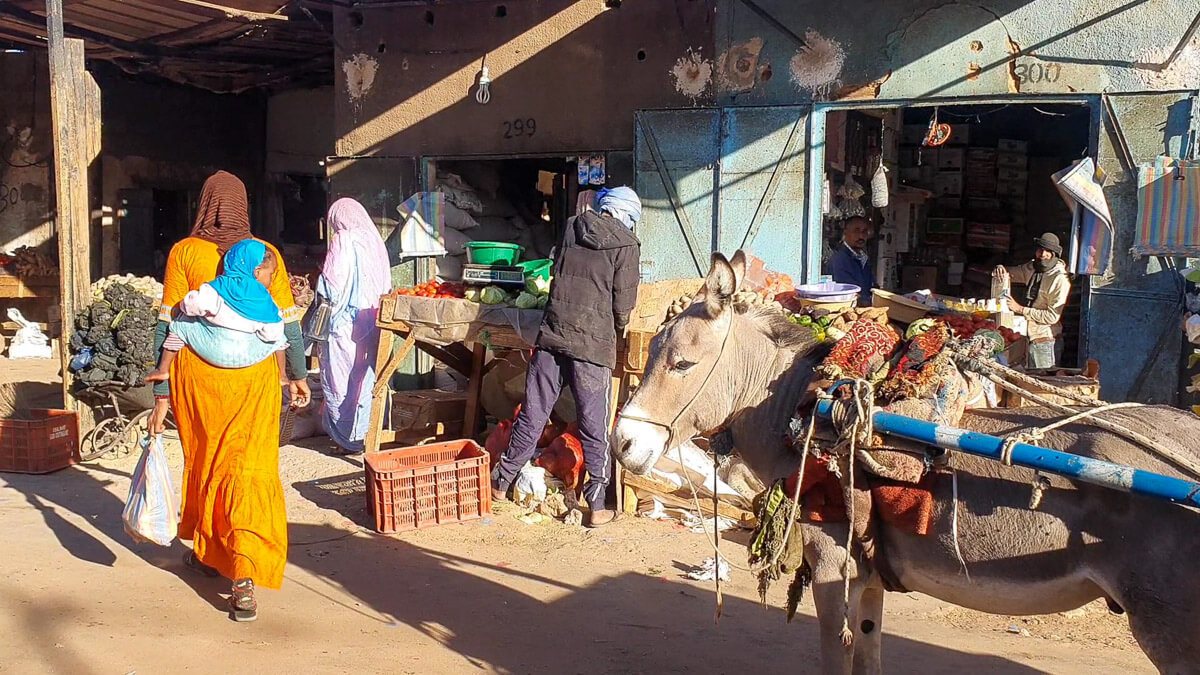 Where to stay in Zouérat
I stayed at Tiris Hotel. Basic and expensive but I arrived late at night and that was the first place I found. 1,500MRU for a double room
How to get to Zouérat from Ouadane
A very long ride. First, you must arrange a local pick-up that will take you to Atar, which typically leaves at 7am from Ouadane.
In Atar, I had to wait for about 5 hours for a bus to depart to Zouérat.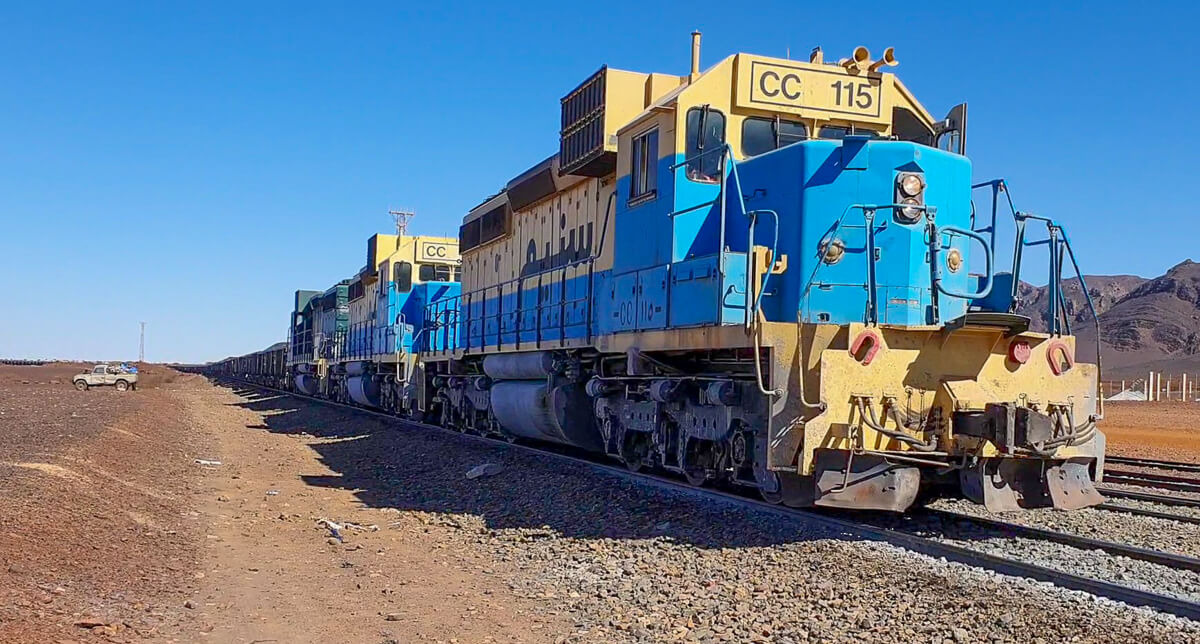 Day 12 – The Iron Ore Train
There are very, very few experiences which can be as epic as riding the Iron Train in Mauritania.
Every day of the year – every single day – a train 2.5 kilometers in length leaves the mining town of Zouérat, traveling more than 700km across the empty Sahara to the Atlantic city of Nouadibou, transporting hundreds of tonnes of iron ore which will be subsequently shipped to different parts of the world.
As a traveler, you can get on top of one of the 200 wagons, sit on the iron ore and travel along the 18-hour journey.
I won't talk much about it because I already wrote a full travel guide but here are a few tips:
The train leaves from Fderik, 20km before Zouérat
It can depart at any time between 11am and 6pm
The journey to Nouadhibou takes 18 hours
Bring enough water, goggles to protect your eyes and a turban to cover your face.
The train also departs from Choum, but I recommend getting on in Zouérat
Everything you need to know about riding the Iron Ore Train in Mauritania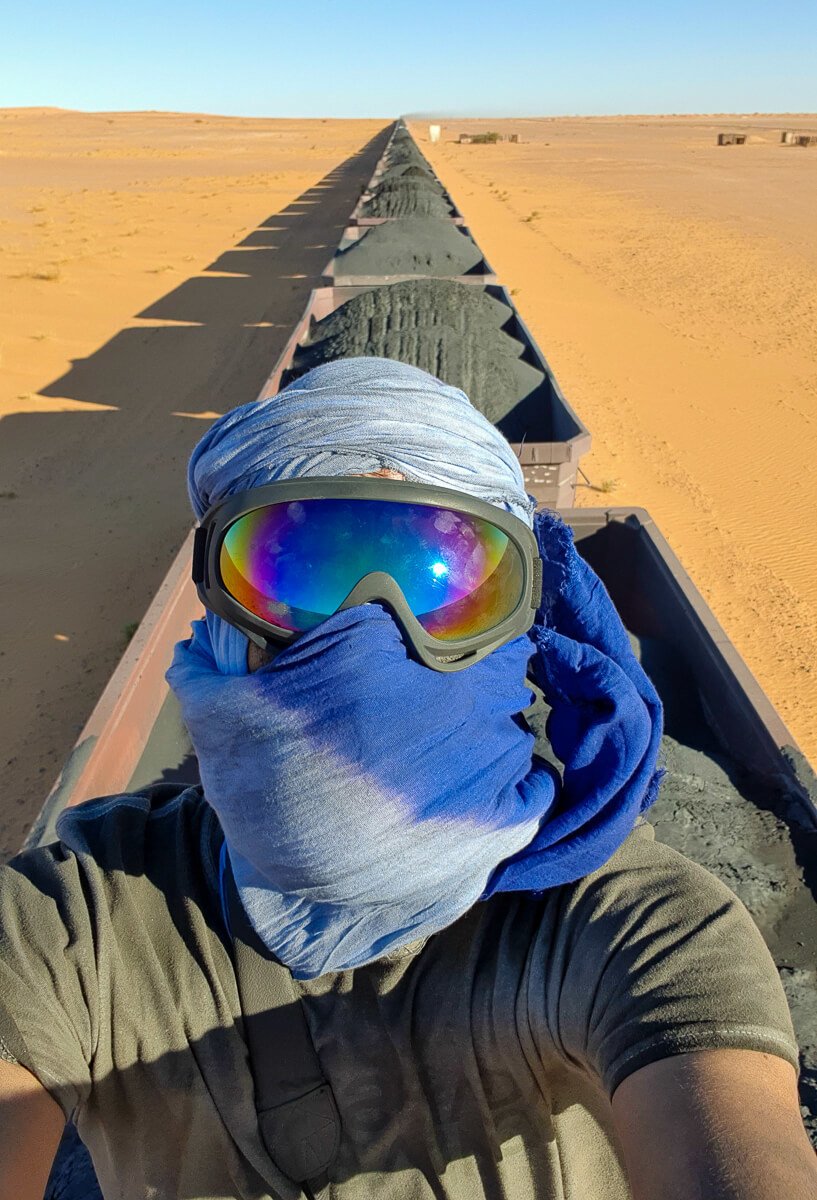 Day 13 – Arrival in Nouadhibou
For me, the best thing about Nouadhibou was having a proper, hot shower after riding the Iron Ore Train.
Otherwise, I think that Nouadhibou really sucks.
It has a similar vibe to Nouakchott but without its piles of sand, camels and the Port du Pêche so no matter how hard I try, I can find nothing to recommend.
There used to be some impressive shipwrecks on its shores but not anymore. Apparently, the Chinese have been slowly removing them, as they did in the Aral Sea in Kazakhstan.
But once again, I did enjoy visiting Nouadhibou because it was my last destination after some pretty hard backpacking across the country.
Where to stay in Nouadhibou
There are plenty of comfortable hotels where you can have a good rest and I stayed at Hotel Esma, where I paid 50€ for a pretty neat room with all commodities.
Something I recommend is booking your hotel in Nouadibou well in advance. Upon my arrival, I went to 3 different hotels before I found Hotel Esma and all were already fully booked.
Well, that's what I hope, because I was completely covered in black dust from the train journey, and sometimes I felt I was just being discriminated against 😉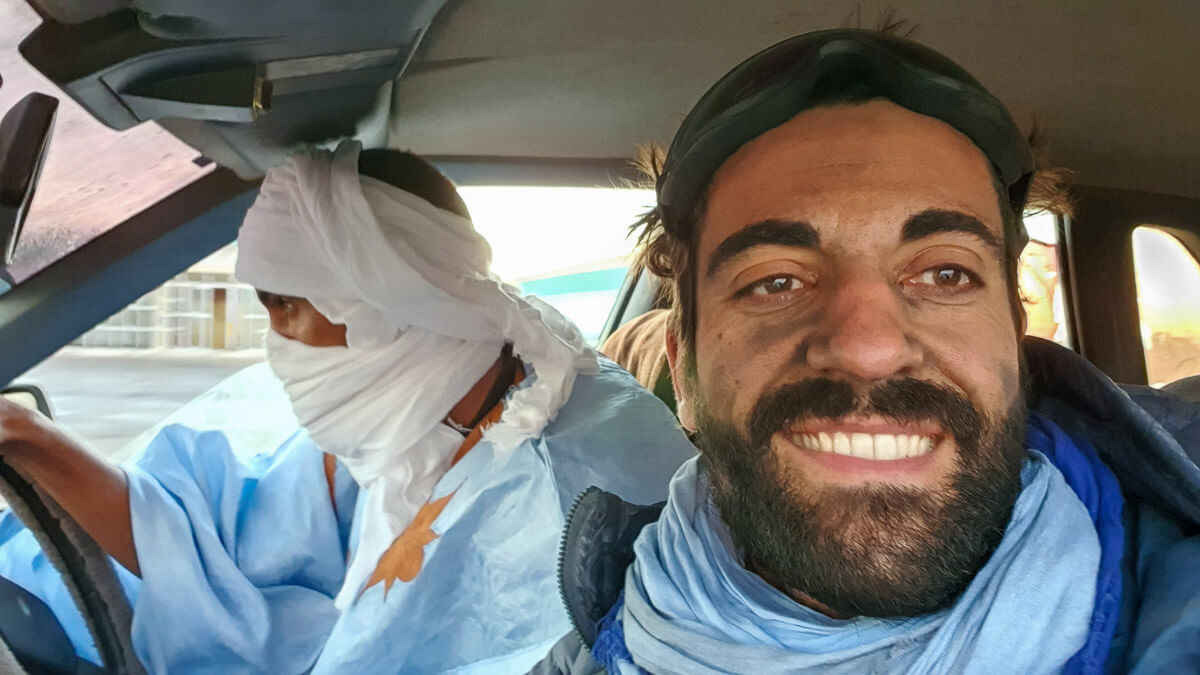 Day 14 – Way to Nouakchott
On the next morning, you can easily take a bus to Nouakchott.
Buses depart frequently, all day long, from the entrance of Nouadhibou, exactly here.
More information for backpacking in Mauritania
Insurance for traveling in Mauritania
I strongly recommend IATI Insurance: COVID-19 + full Mauritania coverage + 5% discount
BUY IT HERE TO GET YOUR SPECIAL DISCOUNT
All guides and articles for traveling in Mauritania destination
Travel Itineraries to other countries in Africa