Visiting the Kibera slums in Kenya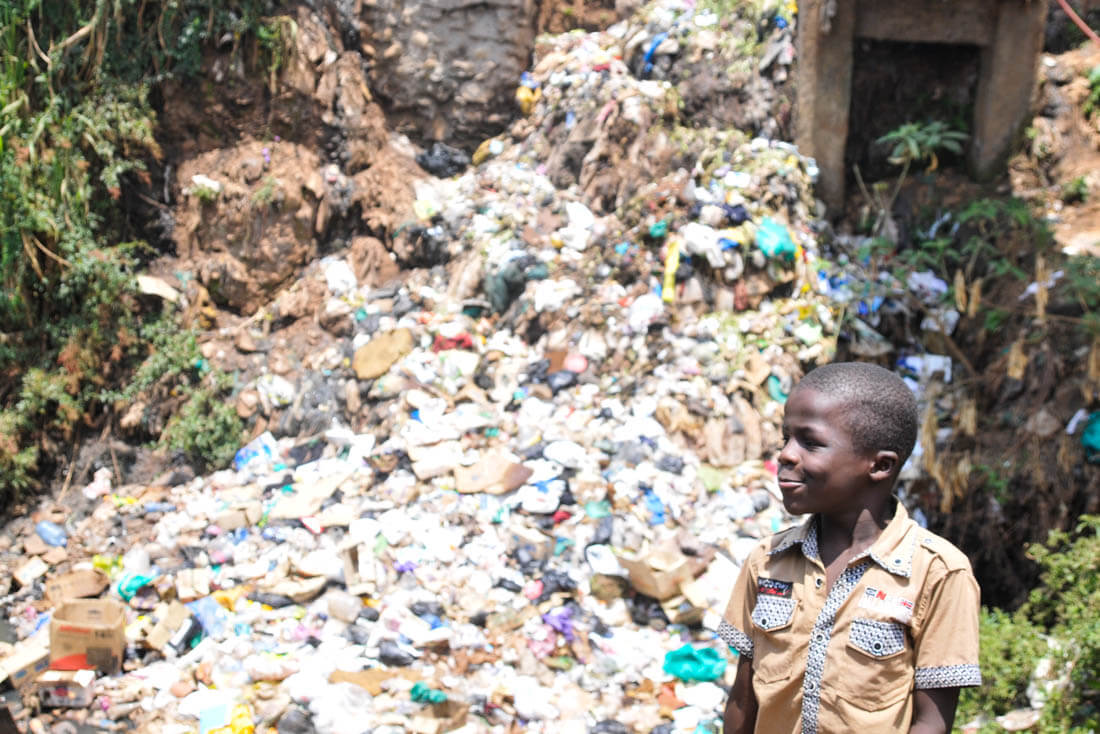 As soon as you start wandering around the slums of Kibera, and suddenly find yourself surrounded by dozens of children who can speak a perfect English, you realize that Kibera is different from the rest of the slums found in Africa, Asia and even Latin America.
Though this Nairobi district happens to be one of the poorest and dirtiest in Africa, a high and rigorous investment in education makes Kibera one of the slums with the highest level of hope.
What are the Kibera slums?
Remember to get travel insurance for Kibera
I strongly recommend IATI Insurance as it has COVID-19 coverage + 5% discount
Get your 5% discount if purchasing via this link
Kibera is an extremely poor suburb of Nairobi composed of over 1 million inhabitants spread across an area of only 2.5 square kilometers.
It's classified as the second largest shanty-town in the world (after Johannesburg's slums in South Africa), but this is often disputed.
Its origin dates back to 1900, when British colonists decided that Africans should live segregated from Europeans in the city outskirts.
The Brits also decided to separate Africans by ethnicity, and Kibera was the settlement where Nubian soldiers were assigned to.
During the following decades, Kibera evolved into a slum, and what started as a tiny settlement of only 600 inhabitants, became a suburb one million people. Today, Kibera is a suburb where poverty is a reality and can be seen at every corner. The unemployment rate is around 80%, only 20% of the population has access to electricity, and proper toilet facilities are practically non-existent. There are drug problems, especially with glue sniffing, issues with alcohol and HIV affects about 20% of the population. Endless piles of trash and garbage are all over the place.
The high investment in education provides this place with hope
I'm going to tell you the story of a man called Richard who I met when I was living and working in Dubai.
We were working in the same company and he was the director of an important department. Actually, he was Kenyan and was born and raised in the Kibera slums.
How could a man who was raised in the most extreme African poverty become the director of a European international company? The poor people in Kenya believe that there are two elements which are essential for having a better life: God and education.
Having a good education becomes one of the basics pillars for any Kenyan, and Kibera is no exception. Here, all kids speak perfect English and go to school until they become adults.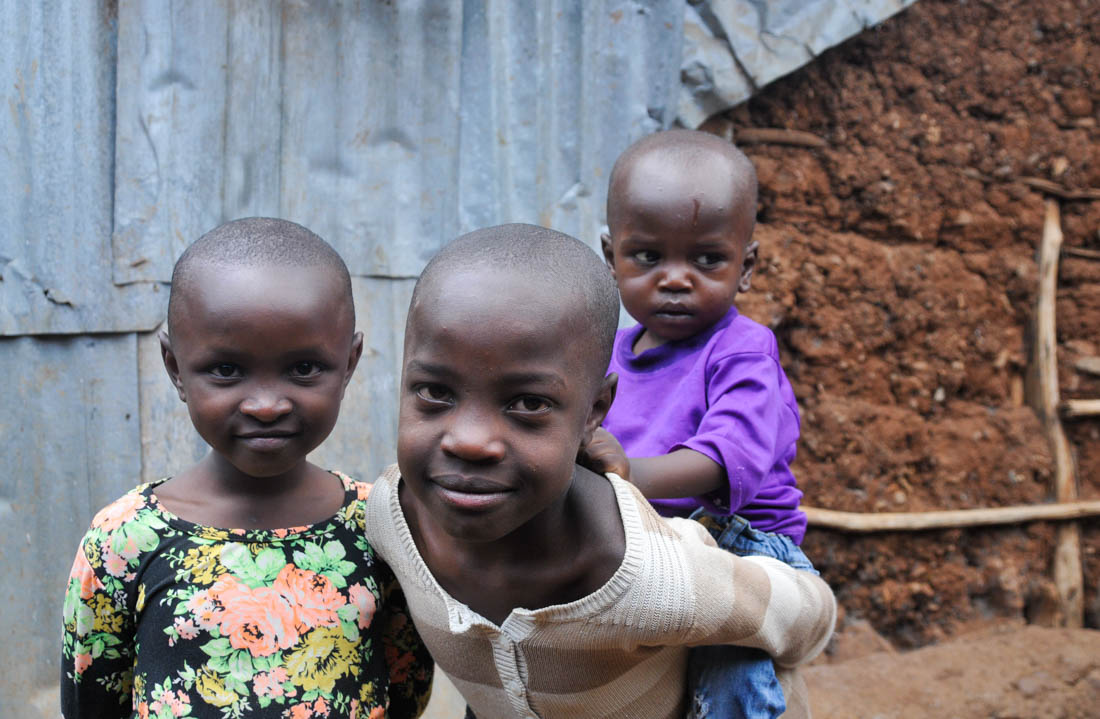 But education is not only limited to school and learning English, History and Mathematics.
Even at home, parents don't allow their children to come back home from school until they finish their homework.
They value education over everything else and that's why they are willing to pay anything from the few resources they have, in order to provide their children with a better education.
There are many Kenyans like Richard, and these people are a clear example of how the power of a good education can uplift someone even from the most extreme poverty.
Kibera is different and you realize this as soon as you start talking with its people.
How is life in the shanty-town of Kibera?
The suburb has an extension of 2.5 square kilometers.
There's a main road which runs through the middle of it and is the center of social life.
On each site of the road, you'll find the residential area, which consists of thousands of shacks built with no apparent order and compose a labyrinth of streets and lanes.
There's a stream which passes through the main road perpendicularly and a train track that runs through the northern section.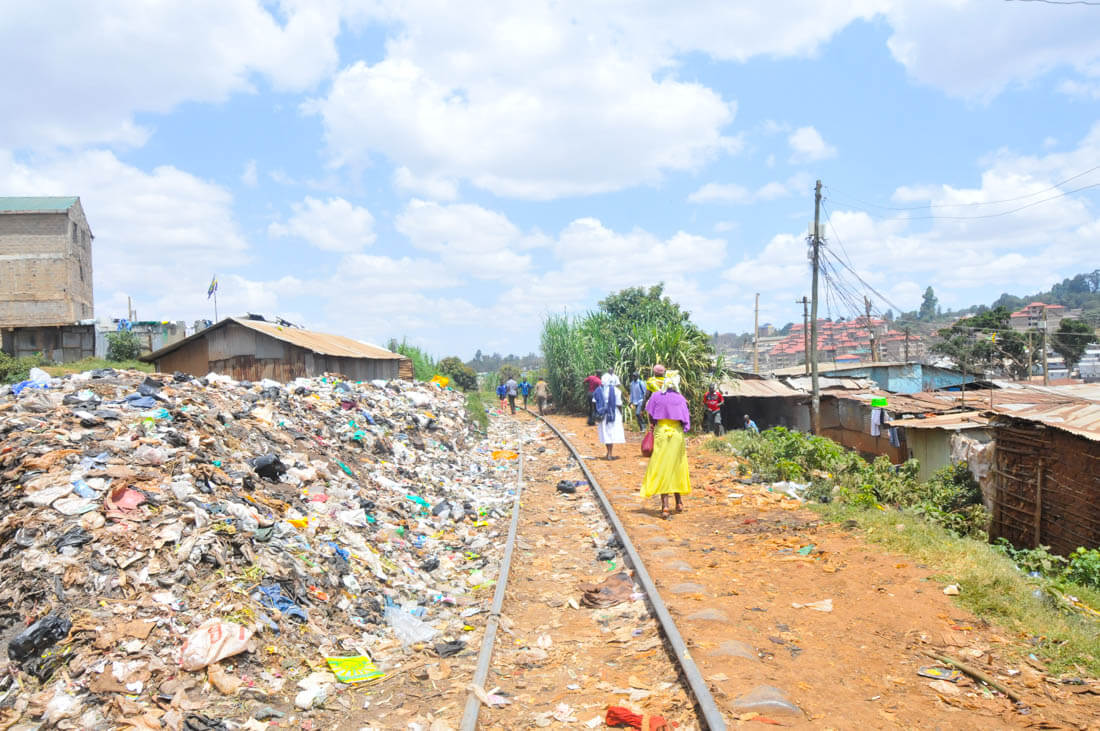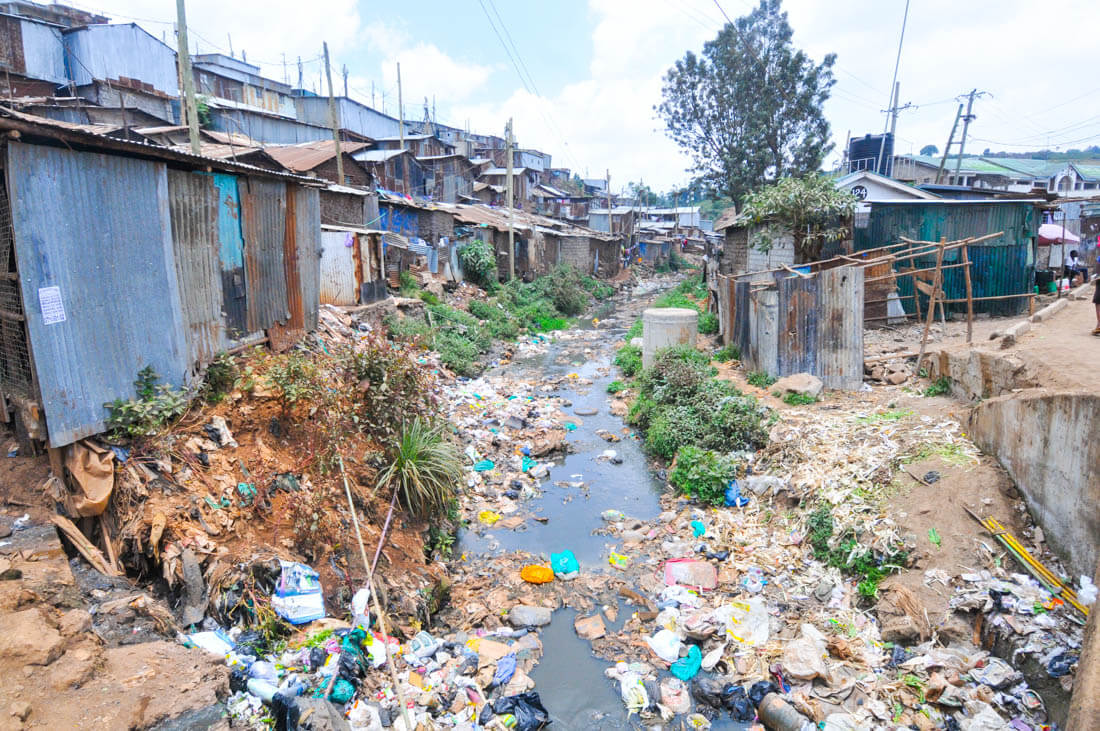 There are shit loads of garbage everywhere and the hygienic conditions are awful.
You can feel that most of the people are unemployed, since no matter which day of the week you go, you find thousands of people doing nothing.
The food stalls serve basically French fries fried in black oil.
One of the main business over there is selling coal, which confirms that people have no electricity.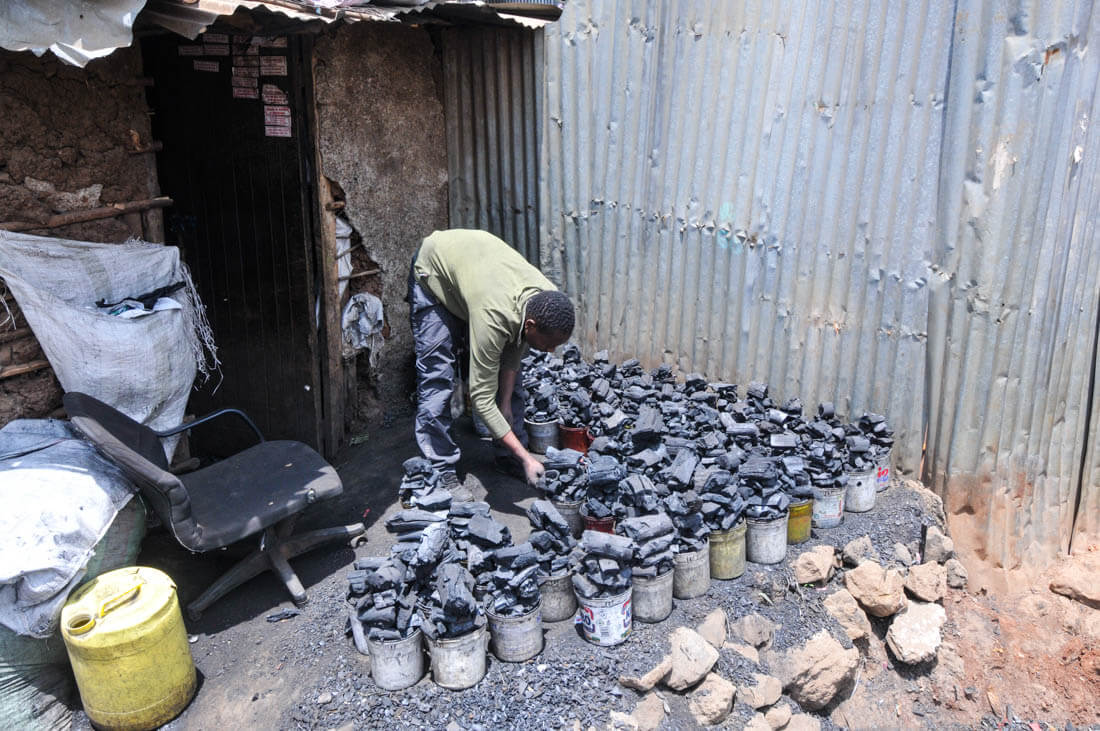 The life in this suburb couldn't be worse but still, Kenyans greet you, smile at you and you can feel some sort of festive atmosphere.
African music can be heard from almost everywhere and you see people dancing to it.
The girls still wanna look pretty, and salons are packed with women who come to perfect their African braids.
This is the reason why I love Africa so much.
Is it safe to visit the slums of Kibera on your own?
For years, there have been reports of people getting kidnapped and violent crimes. However, this is something of the past, and today the neighborhood is completely safe.
Before going there, I just tried to make sure of it with my Kenyan friend, Denis, who I used to work with.
He told me that in the worse case, someone would steal your phone or your wallet, and the only advice he gave me was that I should never accept anyone's invitation to his house.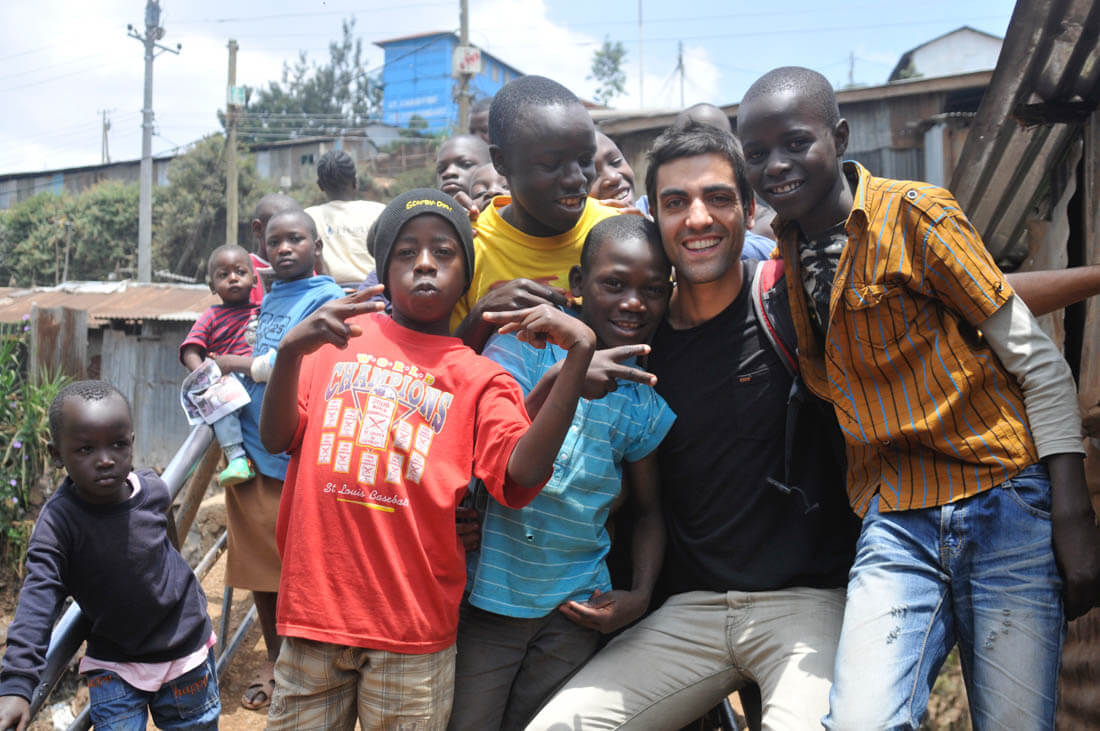 There were two types of locals. Those ones who kindly welcomed you and those hostile to you. All kids were pretty nice and real curious about the country where I came from.
Going on a safari? Check this out: How to a safari in Kenya on a budget
I had already walked through the whole main road, had seen the river and the train tracks. Now I was curious to explore the residential area. I left the road, crossed the bridge and walked into the labyrinth of streets. At the entrance, there was a woman:
– Woman: Where are you going?
– Yo: Just going for a walk
– Woman: Please, don't get lost
– Yo: Why are you saying that?
– Woman: Just don't get lost. It could be dangerous
– Yo: And what's the danger exactly?
– Woman: Just don't get lost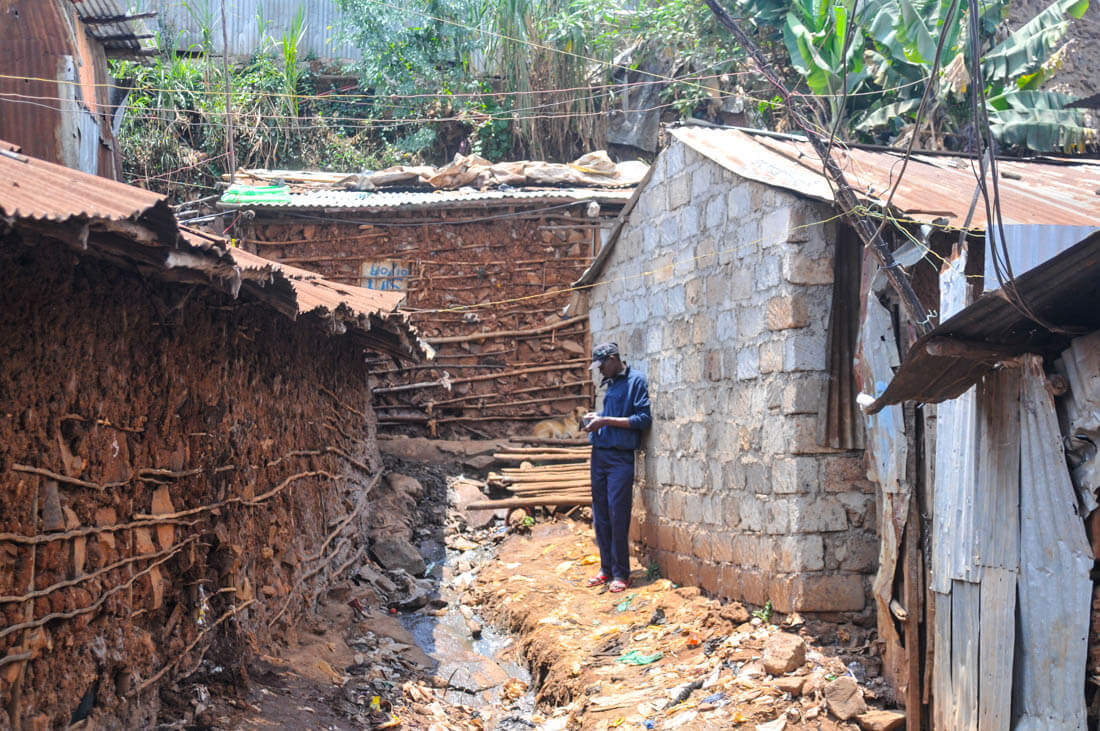 Why did she have to talk in that creepy and mysterious way? OK, I'll try not to get lost.
I went in, started walking and I quickly realized how easy it was to become disorientated.
There were multiple routes leading into different places. It was a tremendous labyrinth.
I decided to walk very slowly and carefully. Suddenly, I met loads and dozens of children who were playing at different things.
– Children: Photo, photo!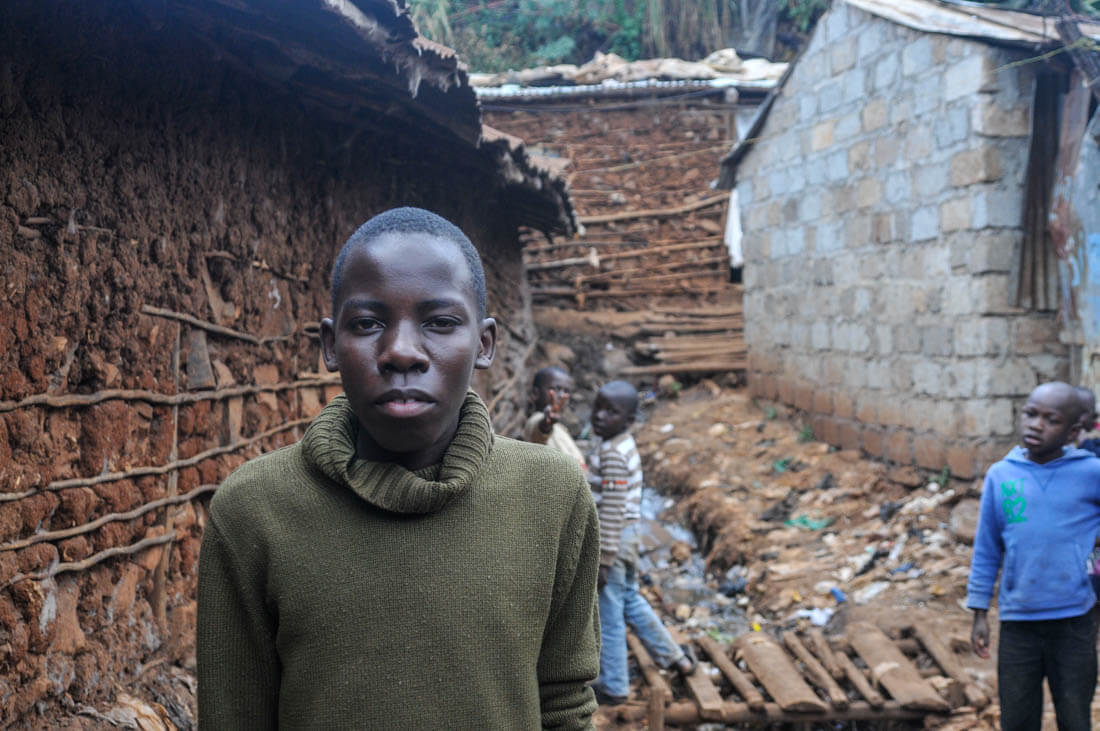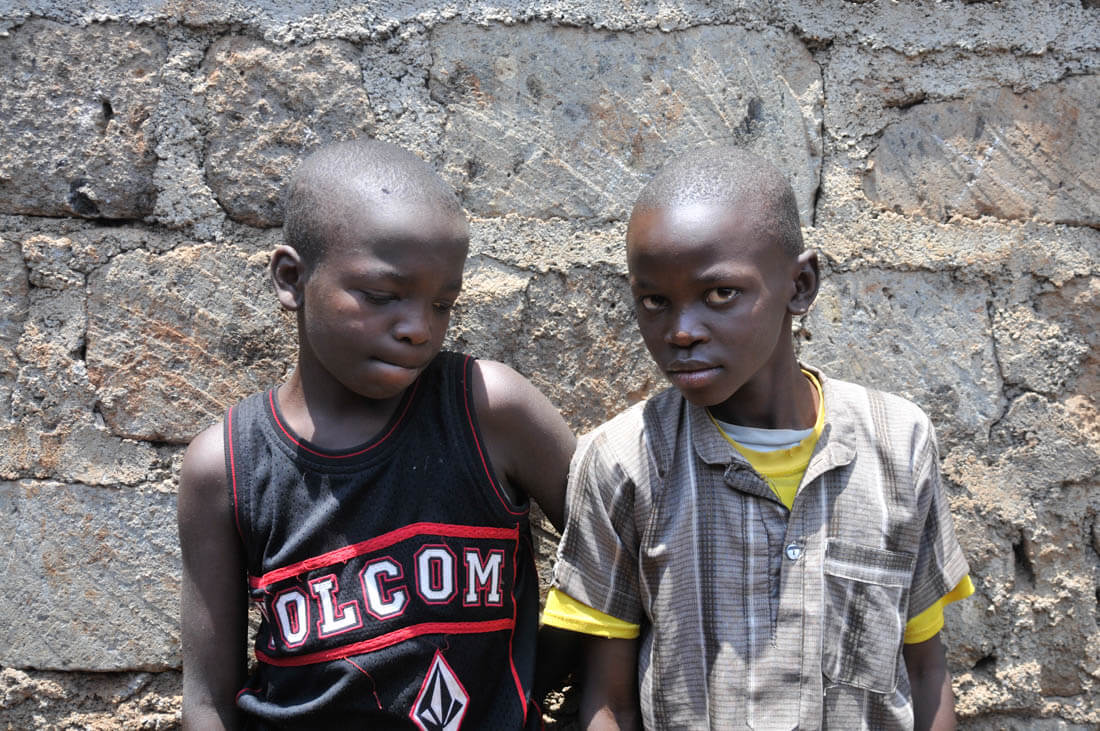 I spent quite a long time taking pictures of them because they were asking for it all the time.
I kept on walking and they decided to follow my steps. It made me feel uncomfortable.
Are they just being friendly, or do they plan to fuck me up? The most grown-up ones of the group didn't say anything and were too serious.
I stopped and after another photo session, an adult showed up and said:
– Adult: Hey, would you like to come over to our home?
– A kid: Yes, yes, come to our home!
– Me: No thanks, I am actually leaving
I'd gone too far, so I thought that the best would be to go back. The children were still following me:
– A kid: Hey, what do you have in your bag?
– Me: Nothing, dirty clothes and books
I had my phone inside my bag and of course my Nikon hanging from my neck.
The kid then tried to touch my bag. I moved aside and started to walk faster.
In less than 5 minutes I was at the entrance. What a coincidence, those kids didn't want to be my friend anymore. Most of them stayed back.
Conclusion
For photography, sociological and altruistic reasons, the Kibera slums is an excellent place where to get lost.
You can communicate in English with practically any resident. Most of them are kind, but be careful with the ones who are not.
Always ask before taking a picture, and if you get into the residential area, try not to go too far.
There's no violent crime.
If they had wanted to take my bag with violence, they would have done it straight from the beginning.
Just try not to bring valuable objects except for the essential ones.
I only brought my camera and my cell phone.
Read more: How to spend 24 hours in Nairobi
Read More Travel Stories