5 Tips for solo female travel in Jordan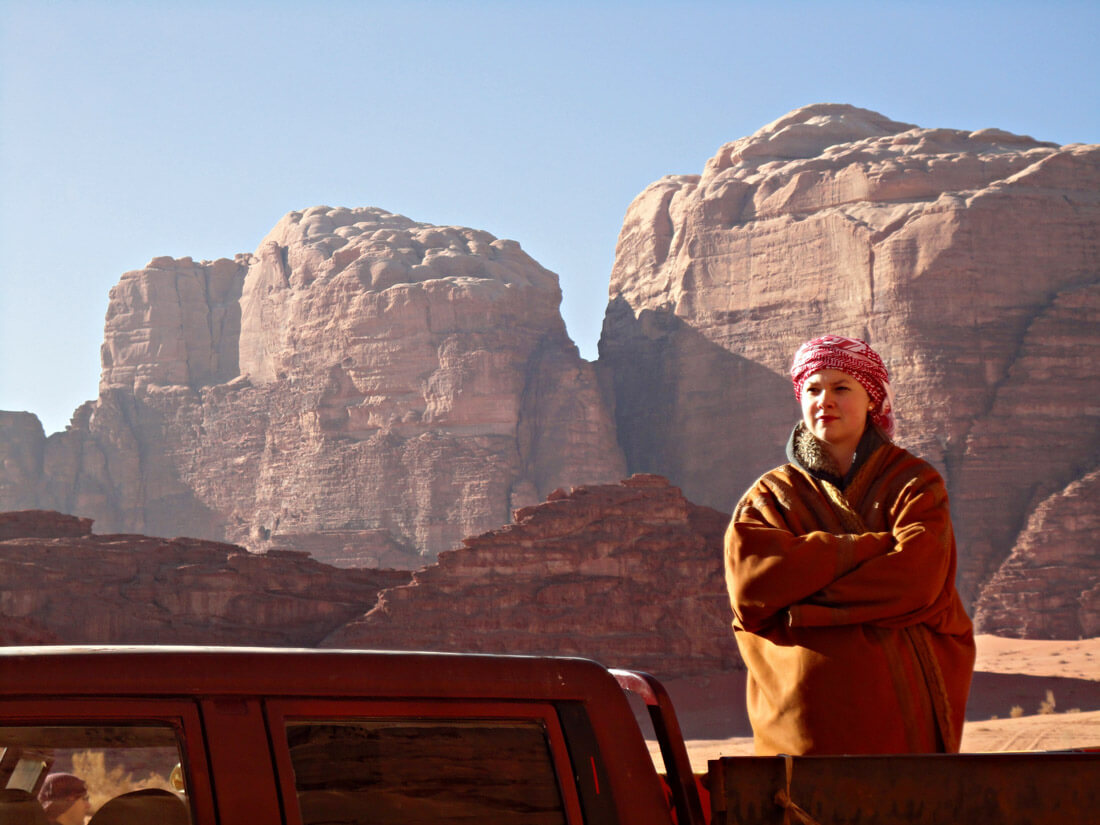 Located at the heart of one of the most turbulent regions on Earth, bordering Syria, Iraq, Israel and Palestine and Saudi Arabia, it is not surprising that some travelers, especially solo women, may present some safety concerns when venturing to this Levantine destination.
However, despite its blurry location, the truth is that Jordan is a country that, somehow, managed to dissociate itself from the Middle Eastern conflict so, today, it is a safe, touristic destination that welcomes any type of traveler and, with proper planning, any solo female traveler can enjoy.
Natalie Sarrett, a 22-year-old woman who grew up in Central Asia and the Middle East, and traveled in Jordan by herself, claims that Jordan is a fascinating country that no solo female should ever miss.
In this guest post, she will take us through 5 Travel tips for making your solo female trip to Jordan a success.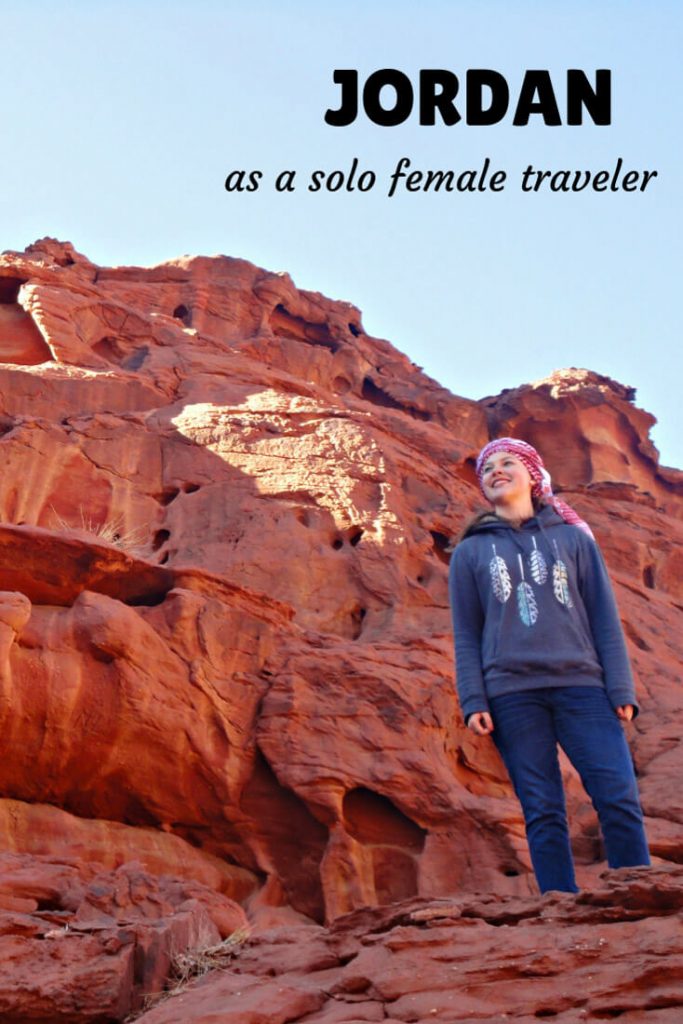 As a 22-year-old woman who has had the privilege of spending most of my life (over 17 years) in nations other than my native homeland, America, I often get asked about what visiting Middle Eastern countries is like for a single white female.
Unfortunately, this question is frequently asked with the connotation that vacations are not worth the safety risks that may be attributed to journeying in Arab countries alone – I hope to dissuade those fears through educating fellow travelers on what simple tricks of the trade can make for a more carefree adventure in one of the most beautiful regions I have been able to explore thus far.
After receiving so many emails from really kick-ass female travelers who want to wander around some of the most off the beaten track countries in the world, I decided to open a Solo Female Traveling section on my blog, to help women get to know the reality of traveling solo in these countries. Don't hesitate to contact me if you think you have a nice experience to tell!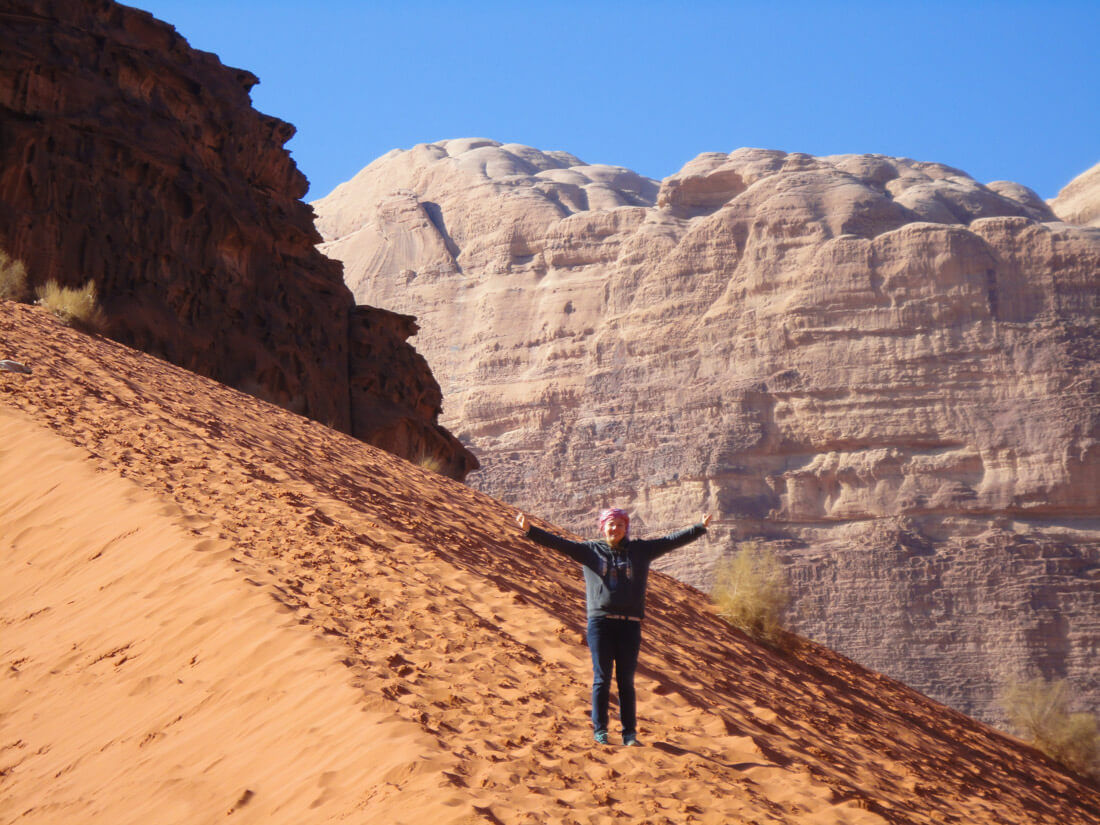 1. In order to be more culturally sensitive, s
olo women travelers in Jordan should know that clothing is key
Remember to get travel insurance for Jordan
I strongly recommend IATI Insurance as it has COVID-19 coverage + 5% discount
Get your exclusive 5% discount if purchasing via this link
Despite what some trekkers may prefer comfort-wise, it is extremely important to respect the unspoken (or sometimes overt) rules of attire in whatever country you may be visiting, but especially in North Africa and the Middle East.
Guidelines related to clothing preferences are often tied directly to religious observation or societal correctness and, as guests in Jordan, it is crucial to understand that not adhering to those rules is viewed as disrespectful to their culture.
If you want to avoid unwanted stares or advertising that you are a tourist, I recommend observing the "ankles and elbows" rule: try to ensure your ankles and elbows are kept covered for the majority of your outdoor excursions; obviously, this rule fluctuates a bit when you are at popular tourist sites like the Jordan River – where baptisms are often taking place – or Petra – where foreigners are more prevalent than locals, but as a general rule, I have found it helpful.
Additionally, although Jordan is known for its rolling dunes and dry ravines, the desert actually gets quite cold at night – or, if you're visiting during winter, can be frigid throughout the day as well, due to high wind chill factors – so packing long-sleeved shirts and perhaps a hoodie or two, though it may seem counterintuitive, is highly recommended.
I would suggest this precaution particularly if you're planning on exploring one of the well-known wadis; making sure your face is covered either with sunglasses or a hat will also help with windburn!
Read: 9 Misconceptions about visiting Saudi Arabia as a female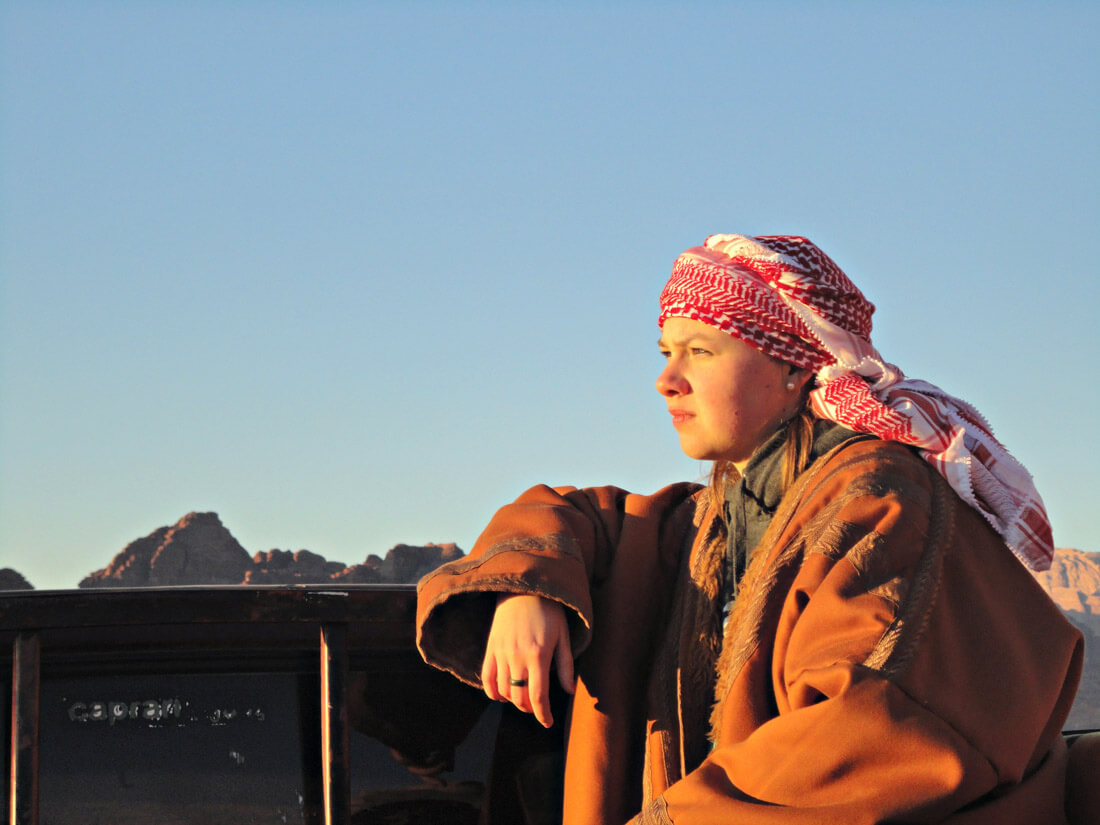 2. For solo women, touristic sites are easier and less challenging to travel around, but still, they are worth it!
As much as I hate to say it, there's a reason certain sites are tourist traps – they're really worth it.
Widely visited Jordanian tourist sites like the ruins of Petra, the Dead Sea, and the Wadi Rum are great for solo women travelers because they are heavily populated with other tourists from all around the globe, so chances are you will hear your language being spoken at one of the sites and get invited to tag along with a tour group.
Touring with other people can be a deterrent for getting singled out by pickpockets or overly aggressive panhandlers that can sometimes be intimidating for women sightseeing alone; I would especially encourage this if you are considering a tour of the bluffs and canyons throughout Wadi Rum because it is more of a singular destination that can often take well into the night to roam.
Other popular destinations with a lot of foot traffic are the Red Sea scuba and boating terminus, Aqaba; the zip lining experience at the Mujib Nature Reserve; and the plethora of archaeology opportunities at any of Jerash, Madaba, or Qasr Al-Abd's sites.
However, for female solo travelers looking to explore Jordan in its natural state, meandering through Amman's outdoor markets and Al-Balad downtown area is a good way to experience Jordanian food at its finest (you can't go wrong with khunafeh and shawarma) and engage in the ancient art of haggling.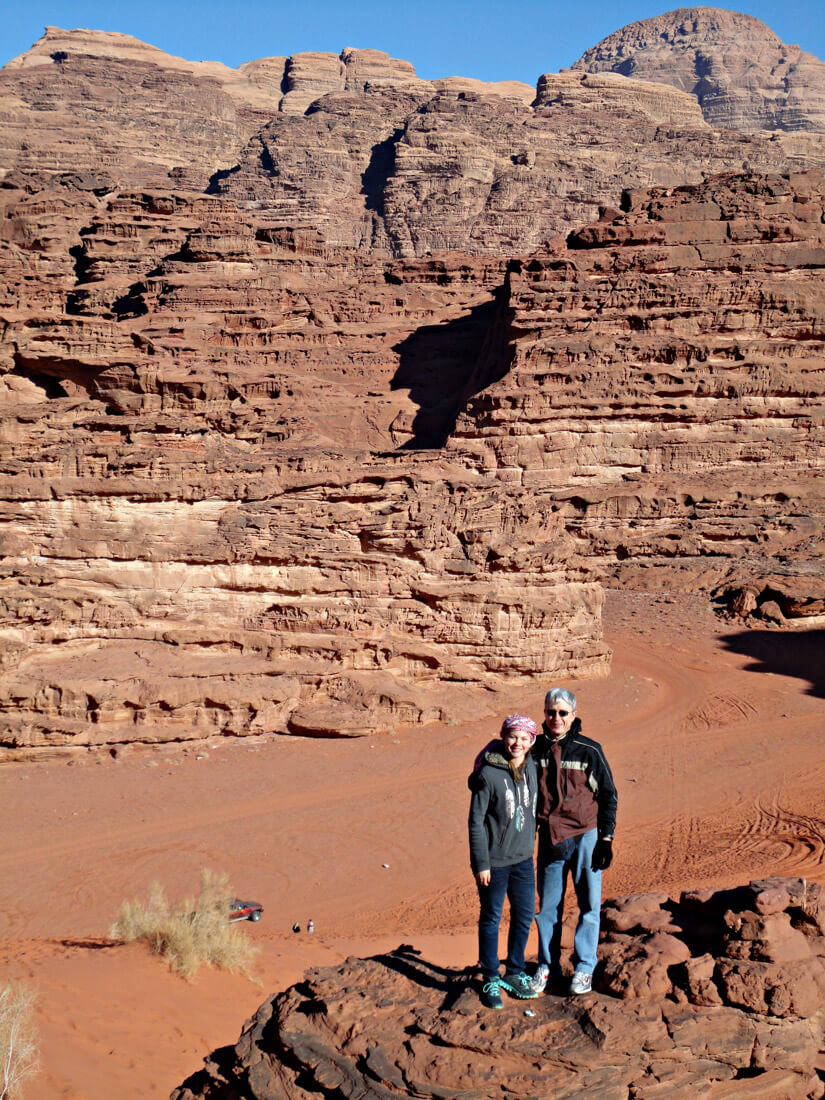 3.
Pick a guide you are comfortable traveling with as a solo woman traveler
I don't know that I can overemphasize this point enough.
As a female solo traveler, if you have booked a tour guide or an adventure director through a travel agent or website, I would heavily advise reading other women's reviews of the guide and overall experience.
If you are going to be spending a majority of your trip out in unfamiliar settings with a stranger, it's important to glean all the information you can go into it in order to avoid potential hiccups along the way.
Also, specifically regarding how rich Jordan's history and current sociopolitical climate is, having a well-informed and friendly guide can make all difference in how much contextualization you receive for ongoing archaeological digs, the significance of past partisan figureheads, and their overall present-day relevance.
I would hate for anyone to miss out on the dense historical framework that continues to shape Jordanian life because the guide that was booked is subpar or ill-informed.
Some key phrases to look for when reading tourists' reviews are "family friendly," "well-informed," "punctual," and "organized." I have found that a lot of these terms can be code for "won't make unsolicited advances," "proud of and updated on local history," "familiar with western perceptions of promptness," and "has a structured plan for the day's events."
Another keyword to keep an eye out for is "local," not only due to its implication of being inherently knowledgeable, but also in light of the fact that if you are visiting a foreign country, you want to hire a tour guide who has personal vestment in the nation, as it almost always ensures a better quality of tour.
Moreover, as a visitor, you want to be contributing back into the population's direct economy, and this is a more certain way of doing that than employing a corporate or third party hire.
For my personal Jordanian experience, I was lucky enough to have booked a local guide for the week who spoke multiple languages and could give restaurant suggestions, mediate shopping transactions, and answer any questions that may arise about cultural appropriateness in Jordan – it was quite possibly one of the best tour guide experiences I have ever had!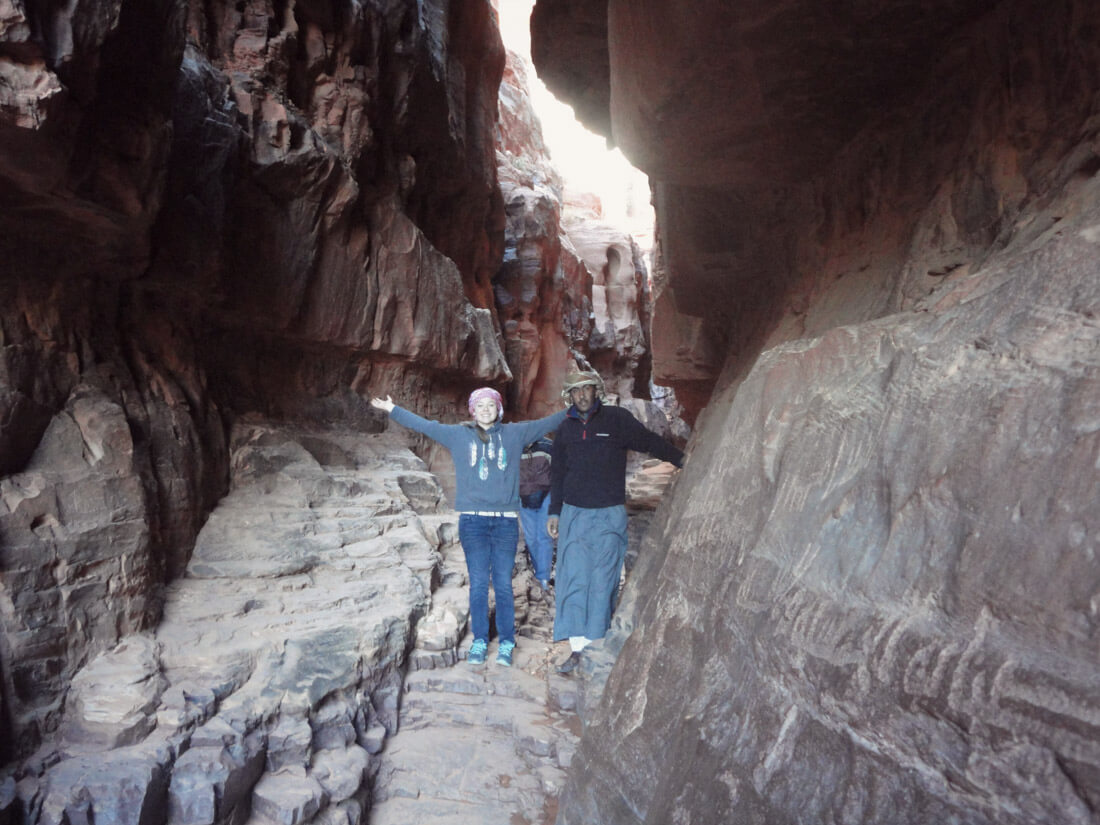 4. Go on a desert safari
Even if you're not super into nature escapades, just do it; you'll thank me later.
With its vast gorges and weathered rock formations, the Wadi Rum is my preferred safari destination and probably the most accessible and frequented by tour groups.
You would be hard pressed to find a Jordanian agent or company who didn't offer day tours or overnight experiences, and the variety of options extended means you can afford to be picky about what specific type of adventure would best fit your schedule and style as a solo woman traveler in Jordan.
Among some of the more nuanced activities presented are hot air balloon rides, sand boarding lessons, Bedouin road abseiling, guided hiking tours, and camel safaris.
Personally, for fellow female explorers, I would recommend booking a Jeep tour of the sandstone canyons. I was taken to a Bedouin camp a few miles into the ravine and introduced to a multi-generational nomadic family who recounted their own history, as well as the Wadi's, while serving Jordan's traditional tea and dessert combo.
Afterwards, I was taken to several natural bridges (Um Fruth, Burddah, etc.) and allowed to hike them – while taking as much time as necessary for pictures and water breaks – after which, it had gotten cold unexpectedly, so our guide was kind enough to make an unexpected stop and build a fire for those of us who were more temperate.
Many of the Bedouin camps also have small shops where you can purchase souvenirs or trinkets from the trip, and all the shopkeepers I encountered were more than willing to walk you through the historical significance each item represented.
If your tour does last into the night, many guides will take an evening prayer break during which you are free to take more photos or wander the nearby terrain.
Read: Visiting Iran as a solo female traveler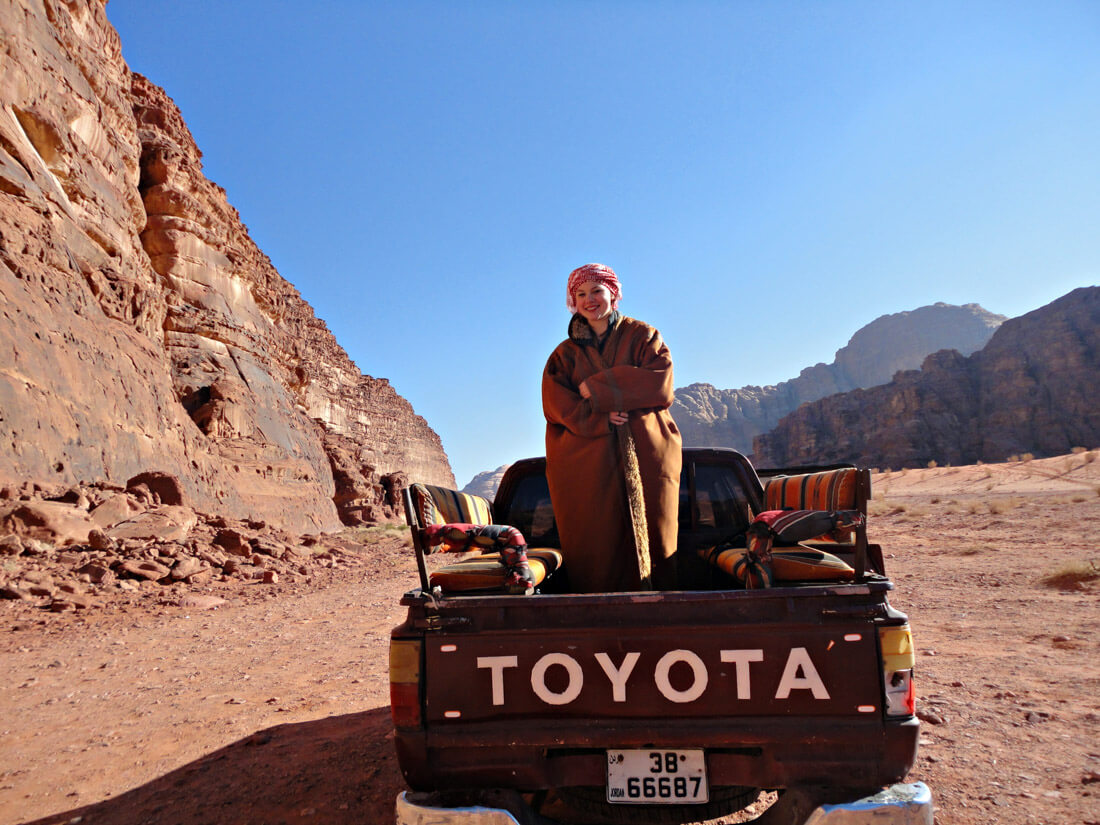 5. As a solo woman traveler in Jordan, be aware of the cultural differences
Honestly, Jordan is a very tourist-friendly country, and most of the negative stories I have heard of western women travelers in the region have been direct results of their not adhering to local customs.
Excluding the more modern parts of Amman, Jordan does observe the segregation of genders in a lot of public places, including some restaurants and means of public transportation; as a guest in their country, it is important to respect the rules as they stand – especially as a solo female traveler – and only eat, shop, travel, etc. in the sections designated to women.
Gender roles are also held more distinctly in that it would be strange for a woman to be out alone at night in the city center or at bars or clubs, so you may be approached or experience unwanted stares if you choose to engage in the nightlife scene unaccompanied.
I have found that the best way to navigate those situations is not to make eye contact or respond, as prolonged eye contact is often seen as flirting (whereas in western countries it is just a polite means of acknowledgment).
Aside from that, I always encourage solo female travelers in any country, but especially when in the Middle East, to be observant of your surroundings and do the necessary research to understand cultural expectations before booking your ticket.
The more you know beforehand, the less you'll be scrambling in the country to find suitable clothing, ticketing agents, and living accommodations.
Conclusion – Solo female travel in Jordan
My experience roaming through Jordan was extremely positive, and I would highly recommend it as a gateway to Middle Eastern travel for any unaccompanied female travelers who perhaps are nervous about or inexperienced in the region.
Jordan provides an excellent blending of modern and ancient customs and has embraced, more so than its neighbors, an elevated view of women that makes it that much more enjoyable to visit on a solo journey.
More solo female travel guides
As a former academic editor and long-time writing enthusiast, Natalie's passion for the power of the written word and visual journalism was cultivated throughout her childhood adventures, as she grew up in Central Asia and the Middle East. These early cross-cultural experiences helped to foster a dedication to ethical storytelling that has inspired her pursuit of non-profit and freelance writing. To keep up with her journeys, visit her personal site or follow her on Instagram @namastenatos. If you want to read more about Natalie's overseas adventures, here are two articles about her time in Greece and the Czech Republic.