Tips & packing list for trekking in Georgia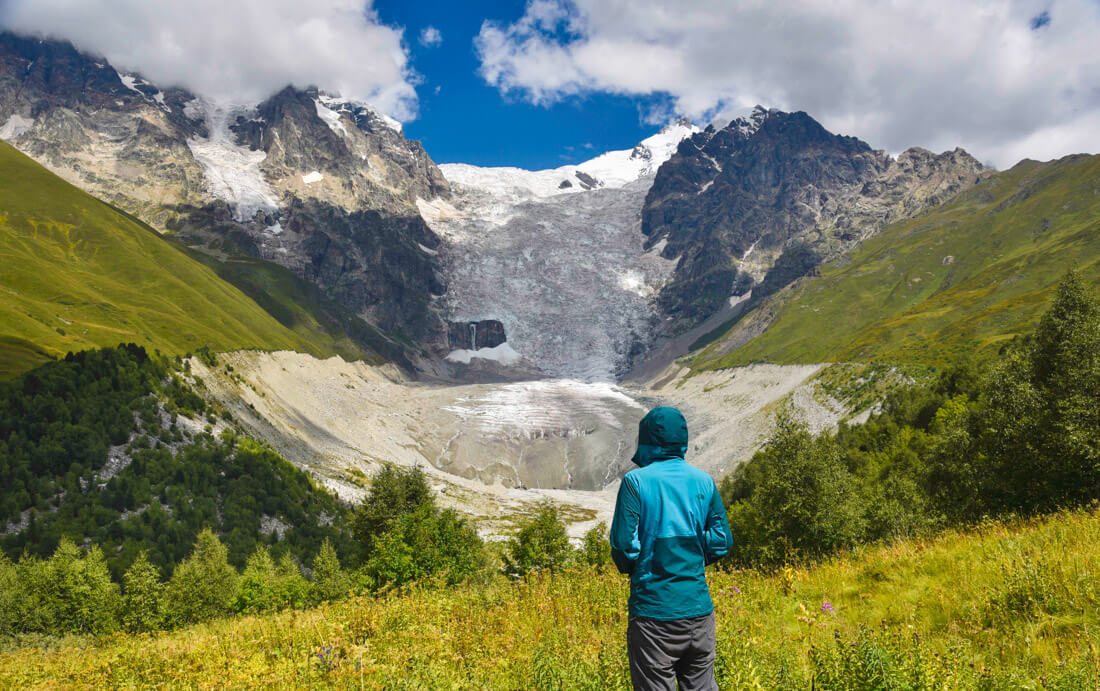 Georgia is the ultimate trekking destination in Europe and this guide contains a detailed packing list for trekking in Georgia, as well as an overview of the best mountain regions, plus some personal tips.
If you like nature and trekking, Georgia is one of the best places you can travel to:
It is very close to Europe, is extremely cheap, and basically, this is the heart of the High Caucasus, home to 14 different mountain ranges, 3 peaks above 5,000 meters, and just absolutely jaw-dropping scenery everywhere you go.
However, the best part is that, while some of those mountain ranges are truly remote and only suitable for real mountain experts, others are very accessible and filled with unspoiled villages, where you can enjoy a 5,000-meter peak from the window of your homestay, which means that trekking in Georgia is suitable for any type of traveler.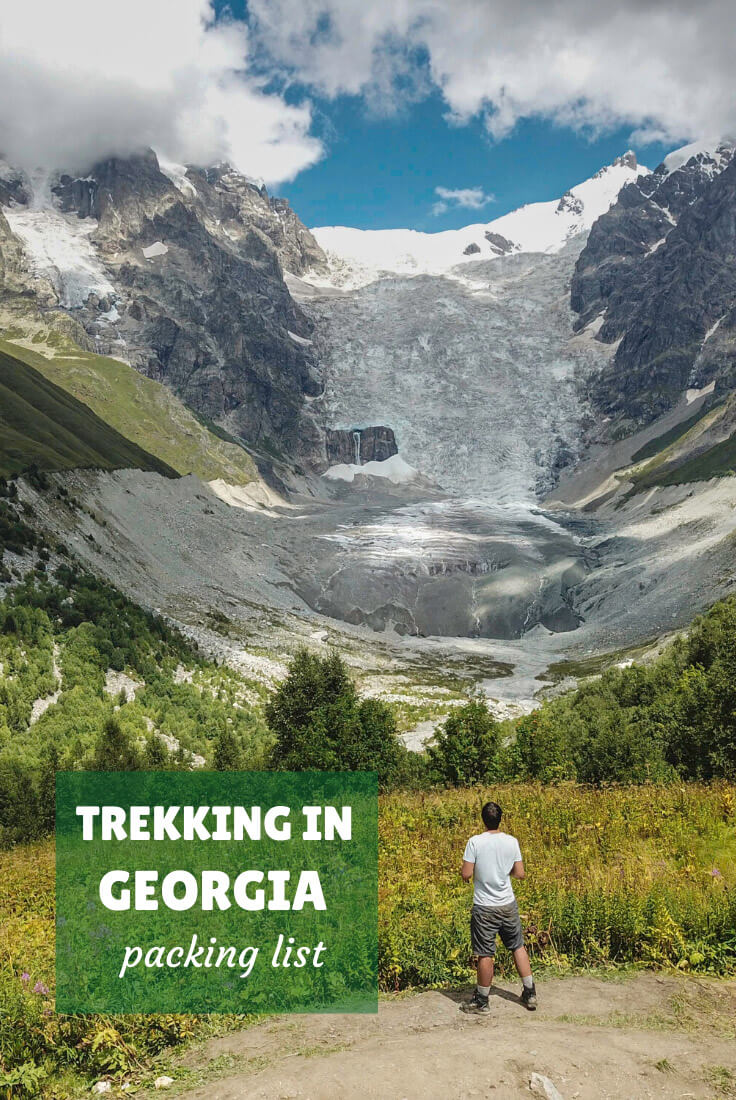 Get travel insurance for trekking in Georgia
I strongly recommend IATI Insurance as it provides coverage for a very big bunch of adventure activities.
Get an exclusive 5% discount if purchasing via this link
The best regions in Georgia for trekking
To summarize, Svaneti and Kazbegi are the most visited regions, and, for this reason, they have good tourism infrastructure.
Tusheti would come next, an off the beaten track region with a bit of tourism infrastructure.
And then, you have Khevsureti, Racha and Samegrelo, all of them wild and unspoiled, so it is recommended that only experienced people go there.
Trekking in Svaneti
Arguably, Svaneti is the most beautiful mountain region in Georgia, for the simple reason that here you find the tallest mountains, the largest number of glaciers, plus this is home to the Svans, a distinct ethnic group, some of them living in very remote villages.
Trekking in Kazbegi
The most visited mountain region in Georgia, as it is by far the most accessible from Tbilisi and the scenery is gorgeous. Here you find Mount Kazbek, a stunning 5,000-meter which can be perfectly seen from anywhere. Read my Kazbegi guide.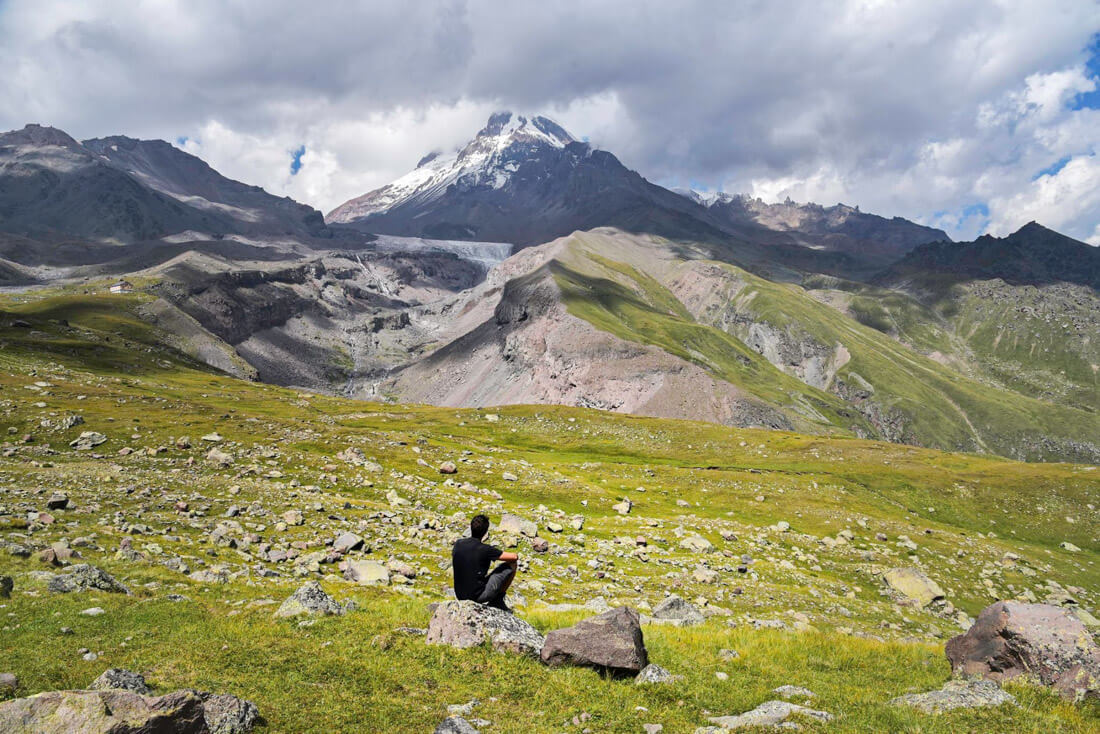 Trekking in Tusheti
Tusheti is far less visited than Svaneti and Kazbegi as, in order to access it, you need to go over a 3,000-meter pass which is only open during the summer months.
Trekking in Khevsureti
Nestled between Kazbegi and Tusheti, this is the best trekking region in Georgia for mountain experts, as the mountains here are truly dramatic and you won't find a single soul.
Trekking in Racha
Another off the beaten track region for trekking in Georgia, very beautiful as well, but the landscape is not as dramatic as in Khevsureti.
Trekking in Samegrelo
The western part of Georgia is mostly flat, but the northern part of the province is home to amazing lakes and gorges, even though the mountains are not that high.
For a more detailed overview, read the 10 best treks in Georgia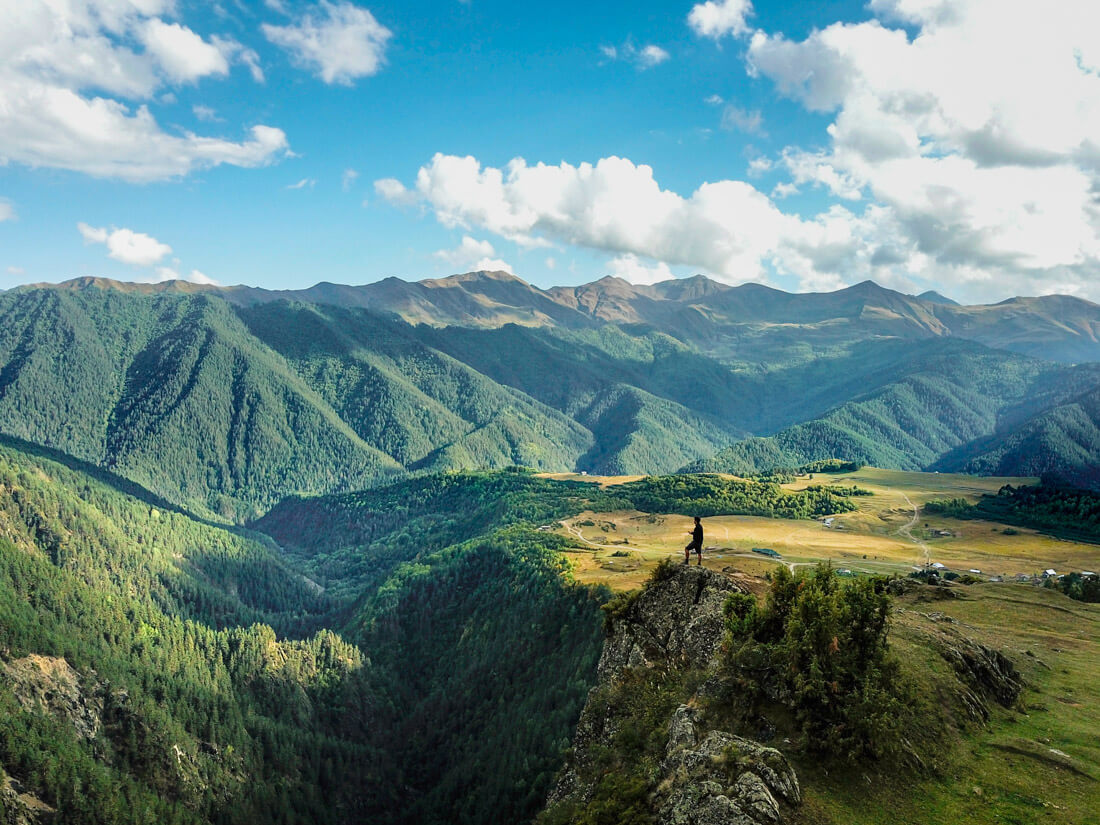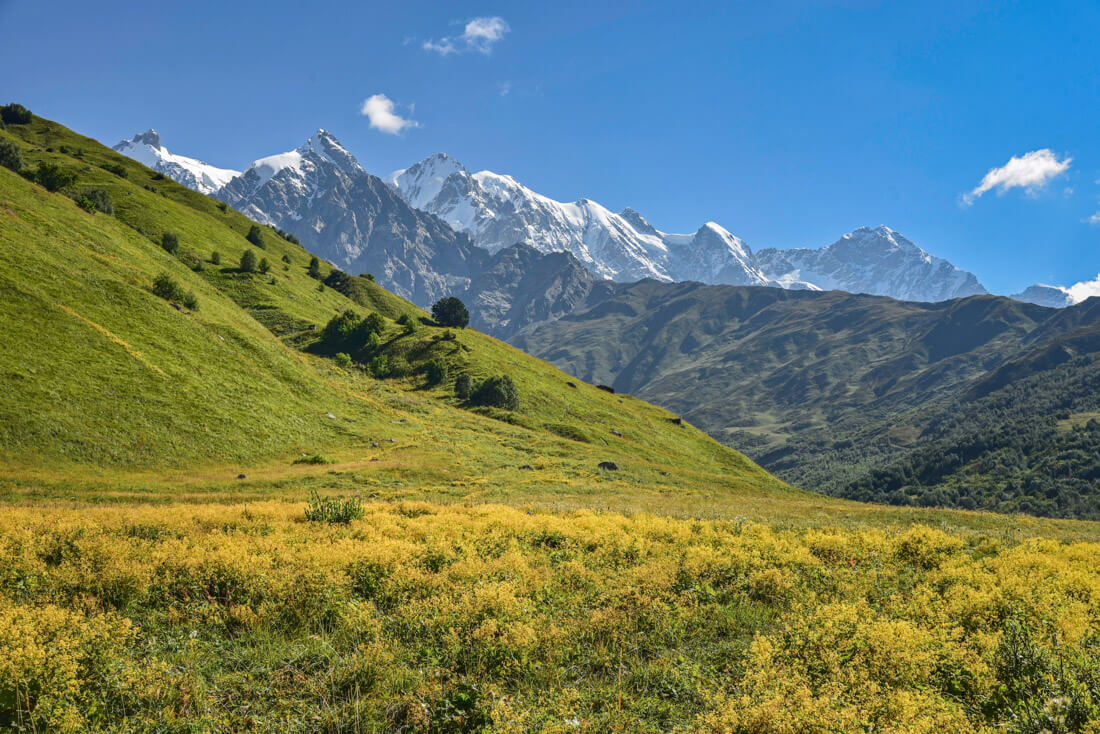 Tips and advice for hiking in Georgia
Best season for trekking in the Georgian Caucasus
Best time for hiking in Georgia – If you are planning to go trekking in high altitudes, summer is the ideal season, but the beginning of June and second half of September can be fine as well. In fact, trekkers claim that September should be the best time for hiking in Georgia, as most crowds are gone and the days are dry, hot, and long.
Trekking in Georgia in October and November and in April and May – It is feasible if you stay at low altitudes but just be aware that even then, night temperatures drop below zero, plus the weather is even more unpredictable. However, it is the best time to go trekking in Borjomi National Park.
Trekking in Georgia in December, January, February – The mountains are filled with snow, so you can't go very far but you can still visit the main towns and villages in Svaneti and Kazbegi.
Keep in mind that the weather is unpredictable, even in summer
The Greater Caucasus is no joke, as it offers some challenging treks and the weather is highly unpredictable.
Once, in the middle of August, we were trekking from Juta to Roshka when were suddenly caught into a massive storm in which temperatures dropped below 0ºC.
The storm forced us to go back because, on that day, we weren't carrying proper warm and waterproof gear.
If you don't have much experience, don't go alone
And try to do one of the busy treks.
Gergeti Glacier, Juta to Roshka or Mestia to Ushguly, are popular hiking trails in Georgia where you are likely to find plenty of other hikers and backpackers.
Get maps.me
Maps.me is the ultimate app for backpackers, an app in which you can download maps from all over the world and, unlike Google Maps, trekking routes are perfectly marked, including most popular treks in Georgia.
In Svaneti and Tusheti, you will find homestays
Some trekking areas in Georgia, such as Tusheti and Svaneti, are full of mountain villages inhabited by kind locals who offer a room in their house in exchange for a fee ($20, max) which usually includes 3 meals a day as well.
This makes hiking in Georgia particularly easy and pleasant but be aware that, outside of these trails, you must bring proper mountain equipment with you.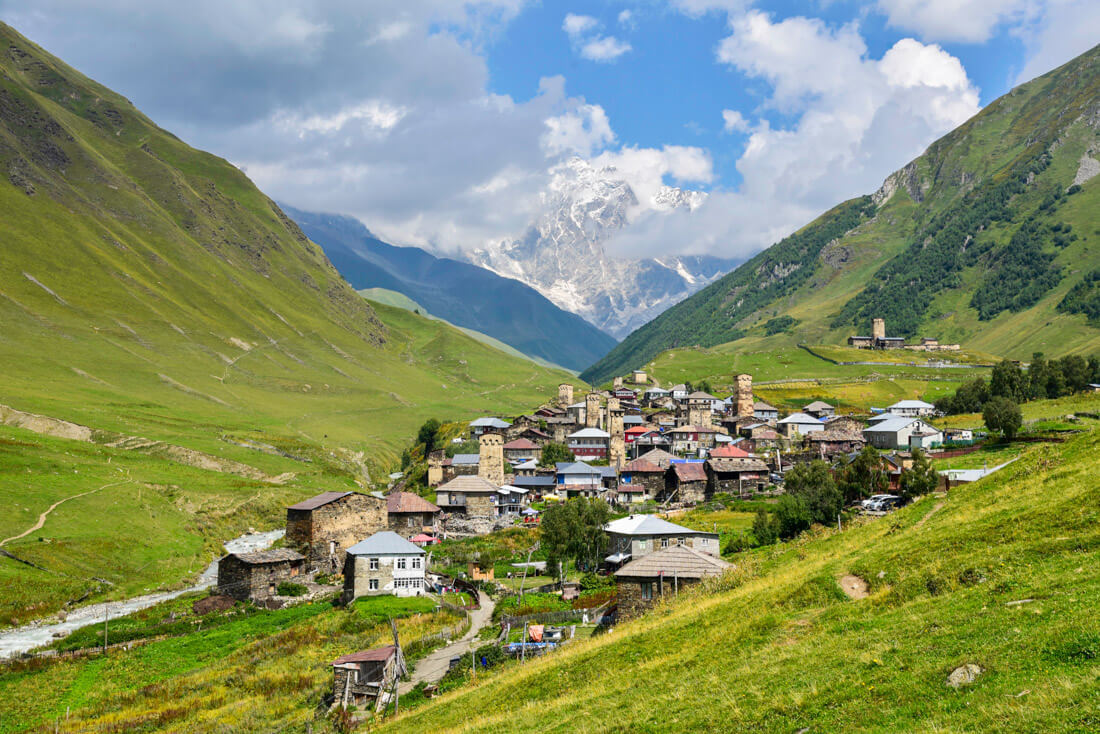 Ultimate packing list for mountain trekking in Georgia (Honest advice)
Disclosure – The following Amazon links are affiliate links which means that, if you buy a product after clicking them, I will get a small commission at no extra cost to you. These small earnings help me maintain and improve Against the Compass
1 – Best backpacks for trekking in the mountains of Georgia
Get a good trekking backpack
A good backpack is very important and, when hiking in Georgia country, you need to make sure of the following:
It's big enough to carry all the things, including trekking supplies (50-60 liters at least). Even if you trek with a guide and a porter, you will need to carry things like clothes, electronics, etc.
It's weather-resistant, durable
It's comfortable
Moreover, I'd recommend you buy one which can be used not only for trekking but also for long-term travel. My most favorite brand for backpacks is Osprey, as they are extremely comfortable for your back, plus they have a lifetime guarantee.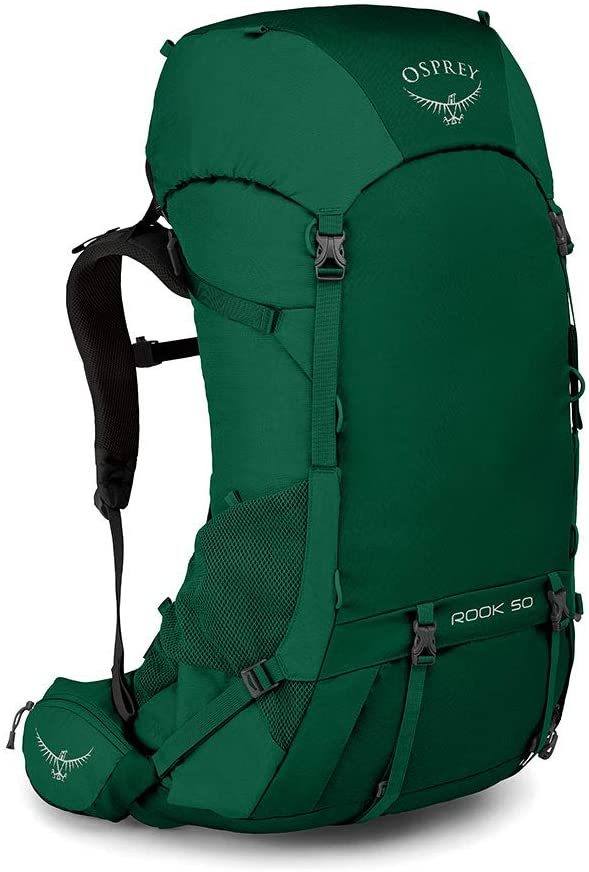 Some trekkers say that Deuter has great trekking backpacks as well.
Which one do I personally use?
I personally bought an Osprey ATMOS AG 65 in 2018 and it's the backpack I have used since then, both for trekking and backpacking. I am very happy with the choice I made.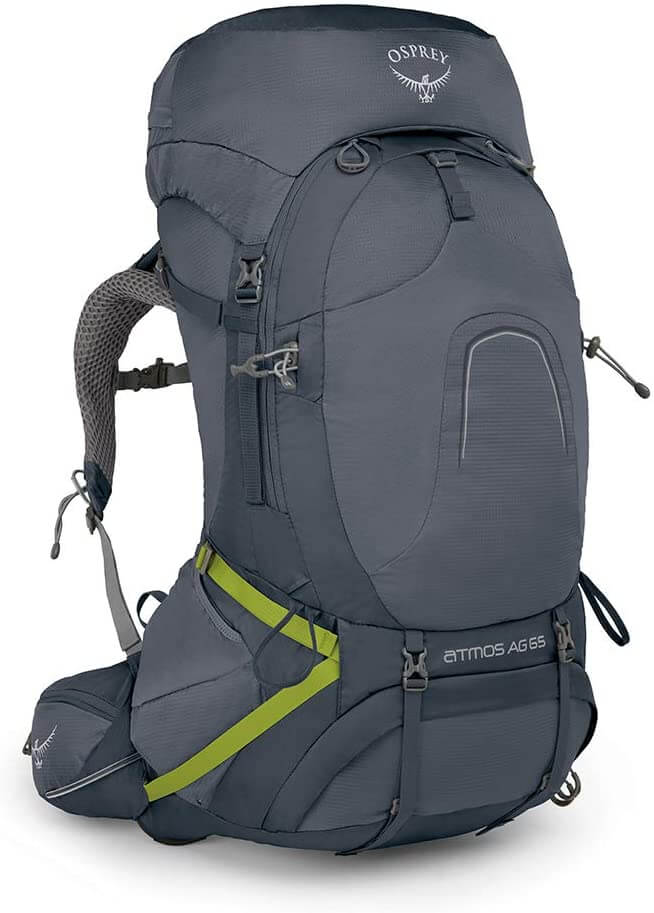 Also, get a backpack for short treks
For shorter treks, or even to wander around cities like Tbilisi, you may want to get a day backpack, big enough so you can carry some snacks, water, and other small things.
However, instead of getting any small backpack you have back home, you should buy a compressible one and, for that Sea to Summit Day Pack with Ultra-Sil technology is best.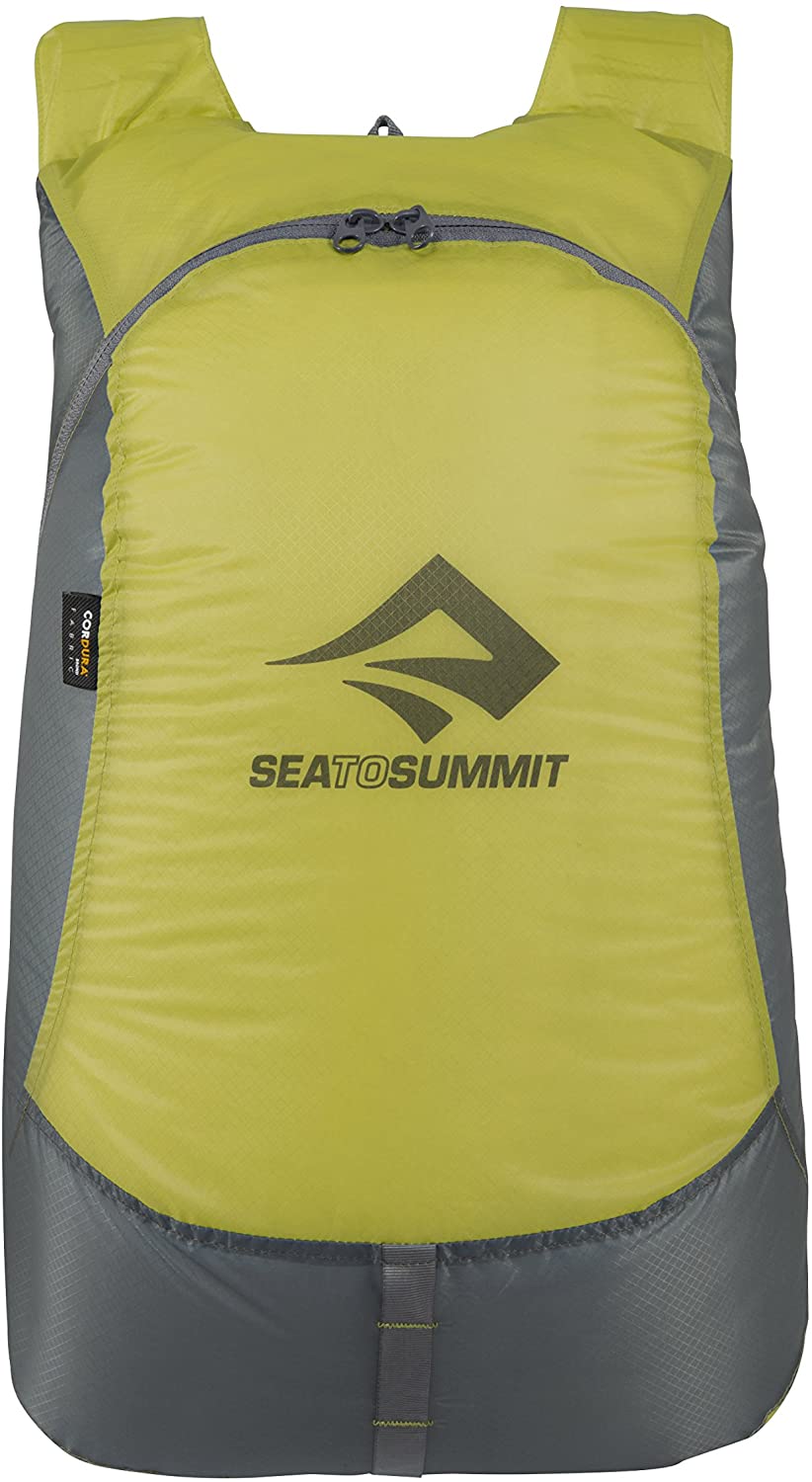 Here you can check more backpacks for short treks.
2 – Best camping gear for hiking in the Georgian Caucasus
Get a good, lightweight backpacking tent
Because of the unpredictable weather in Georgia, having a good tent is a must and it must have the following features:
Lightweight, as you don't want to carry much weight on you
Weather-resistant
In the Georgian mountains, even the sunniest day can turn into an ugly storm in a matter of seconds, so you really want to have comfortable shelter and very important, one that doesn't weight much.
Which one do I personally use?
I have had an MSR Freelite 2 since 2017, which is quite pricey in my opinion, but I have been trekking and backpacking in Kyrgyzstan in the middle of a snowstorm and it was awesome, I didn't feel anything at all.
It also served me well in Georgia but fortunately, except for a rainy day, I have been only camping in nice weather. In any case, the whole tent weighs less than 1KG, so I barely feel it in my backpack.
It is a relatively old model anyways, and you may not find in some websites.
MSR Hubba Hubba seems like the latest model of mine.
If you want cheaper options, MSR has many different models: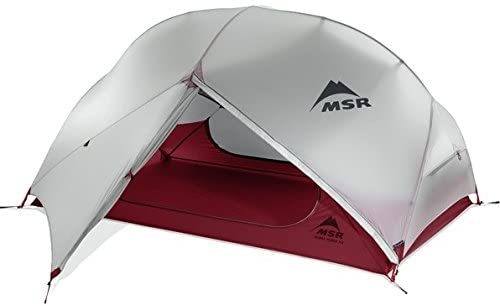 Get a warm sleeping bag
A good sleeping bag is, probably, one of the best investments you can make and, for trekking in Georgia, you need to get one with down insulation, which are those sleeping bags that are compressible, yet incredibly warm:
Lightweight – As you need to carry it for days.
Warm, 0ºC at least – Nights in Georgia can even get colder than that but, if you put some thermal clothes on, you should be all right, otherwise, warmer sleeping bags can get crazy expensive.
The day we did our Juta-Roshka trek and it started to rain heavily, we actually had to go back because my friend was hiking with a summer $50 sleeping bag, so I told him that there was no way he could camp because he would freeze to death.
For trekking in northern Georgia, I recommend you get one in the mid-range budget and for that, Marmot Never Summer is ideal, quite warm (0ºC) and around 1.5kg.

Which one do I personally use?
I have a Kelty Cosmic 20F. To be honest, it is not the warmest sleeping bag – during cold nights, I need to put some thermal clothes on – but, at that price, there is none better one.

Get a comfortable sleeping mat
It took me a while, 2 years at least, to get rid of my yoga mat and buy a proper sleeping pad and the truth is that, for very little money, it has been a real game-changer.
Which one do I personally use?
I have a Klymit Static V2, which definitely serves its purpose.
It's inflatable and quite comfortable (I camped on the rocky ground of Jebel Shams in Oman and slept quite well).
It packs really small.
It weighs only 463 grams.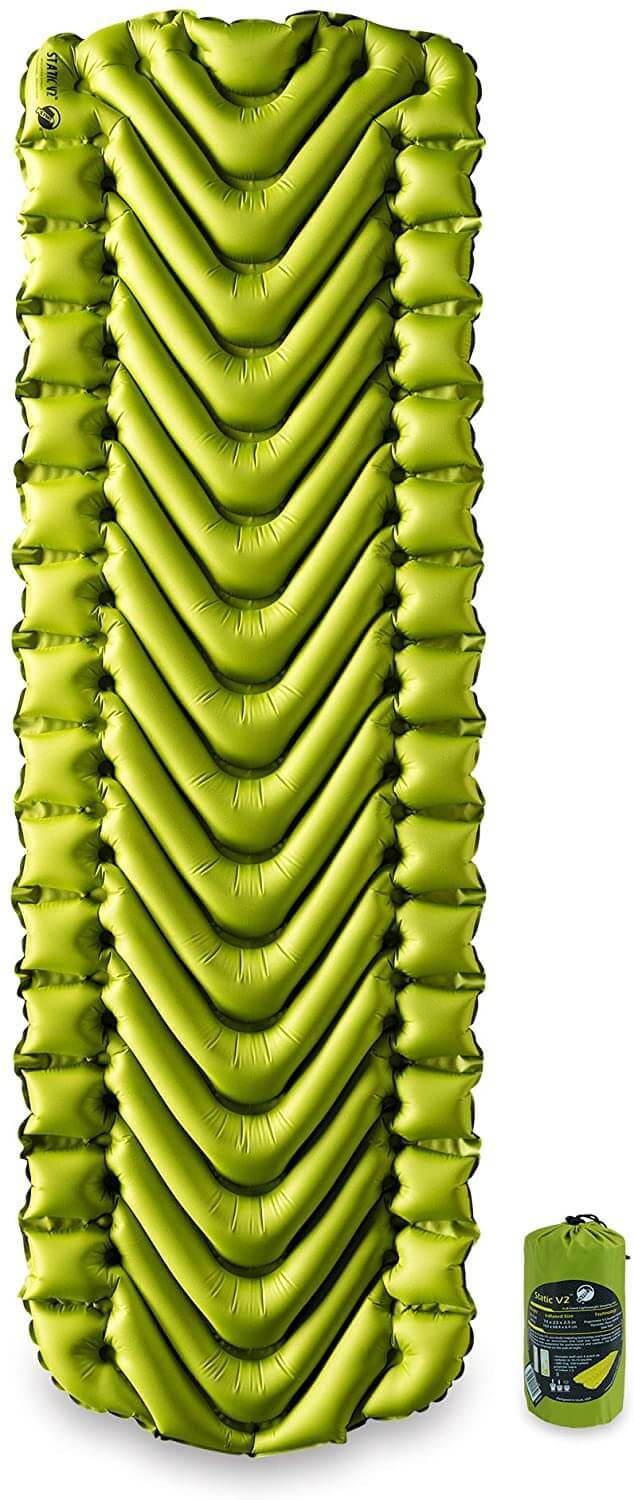 If you want something more PRO, I was also looking into the Thermarest NeoAir, but it was pricey for my purpose. The price difference is justified not only by its comfort but also because it insulates you from the floor, hence giving you some extra warmth.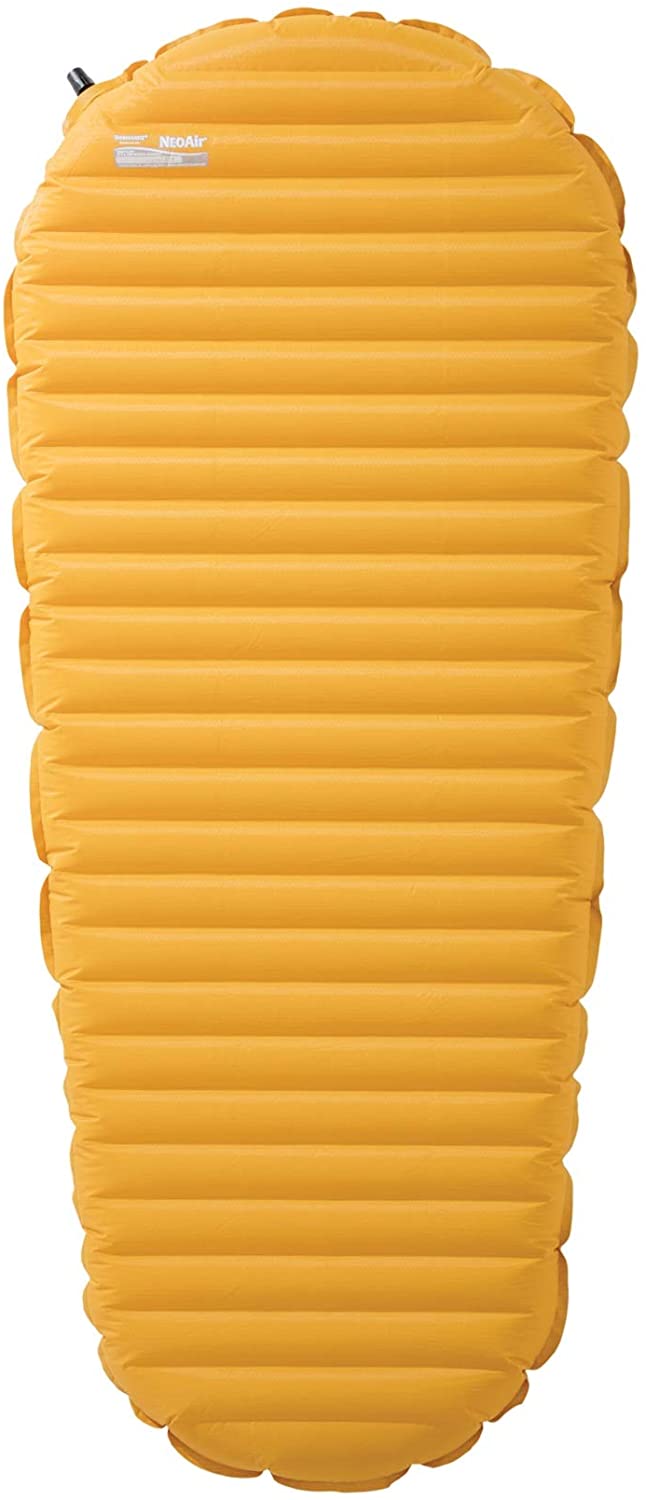 A camping stove multi-fuel
There are two kinds of camping gas:
One which works with a separate gas bottle
Multi-fuel
The multi-fuel has the great advantage that it can be re-filled with any type of gas, including gasoline, white gas, or diesel.
That's why this one is the best because you don't have to rely on finding and buying gas bottles.
I strongly recommend MSR Camping gas Multi-Fuel, from the same brand as my tent.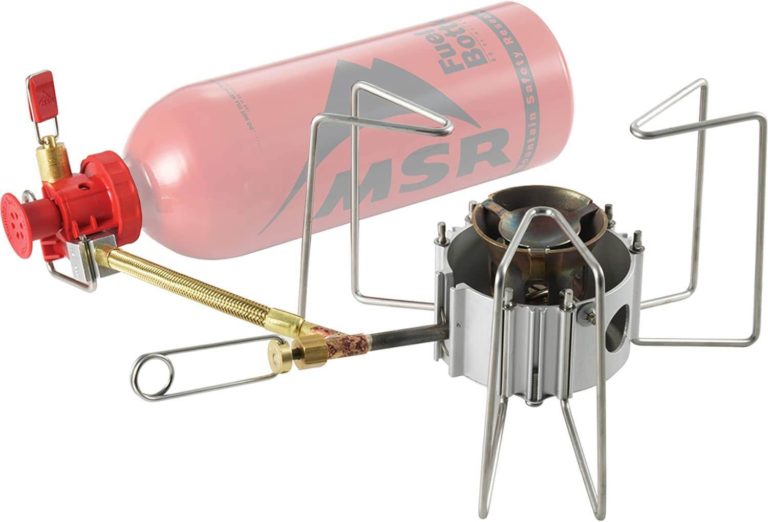 3 – Electronics & gadgets you might need for trekking in Georgia
A Steripen (Water purifier)
The Georgian Caucasus is filled with rivers, but you should always sterilize your water.
Purifying water tablets also work fine but they taste horrible and, actually, they are not very cheap. Steripen does the exact same thing with the added benefit that it doesn't leave a horrible taste and it lasts forever, so you definitely end up saving some money.
Best purchase ever.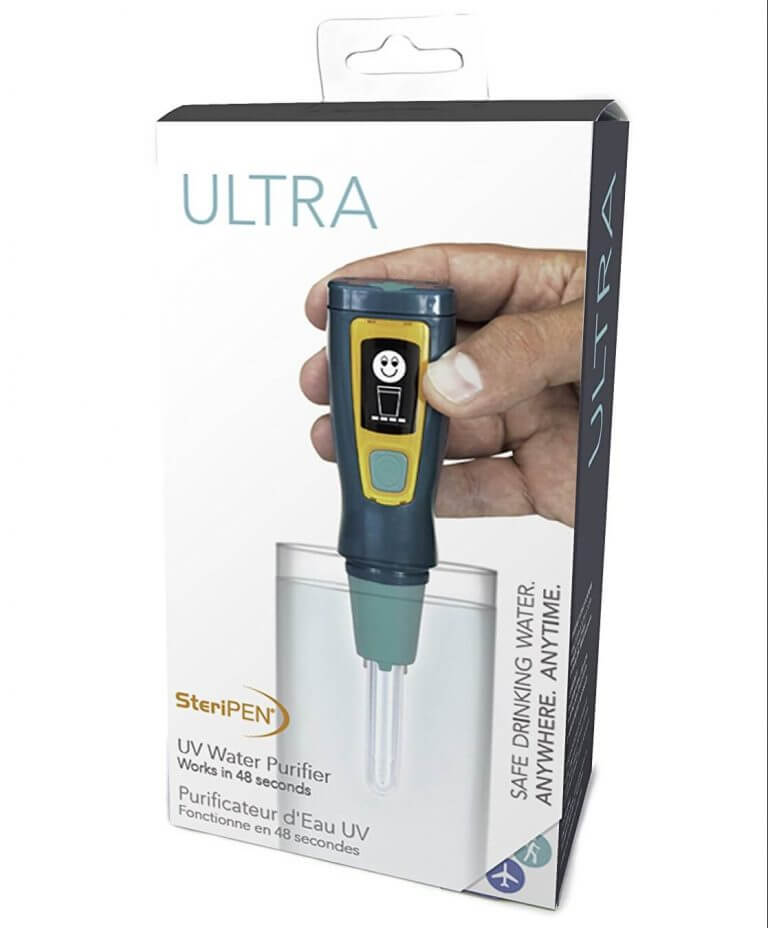 A portable mini-espresso maker
I can't function in the morning without coffee, and my main issue when I go hiking is that I just hate instant coffee.
My girlfriend bought me one of these for Christmas, and we are very happy with it: it's very cheap and it just fulfills the function. It works with regular coffee.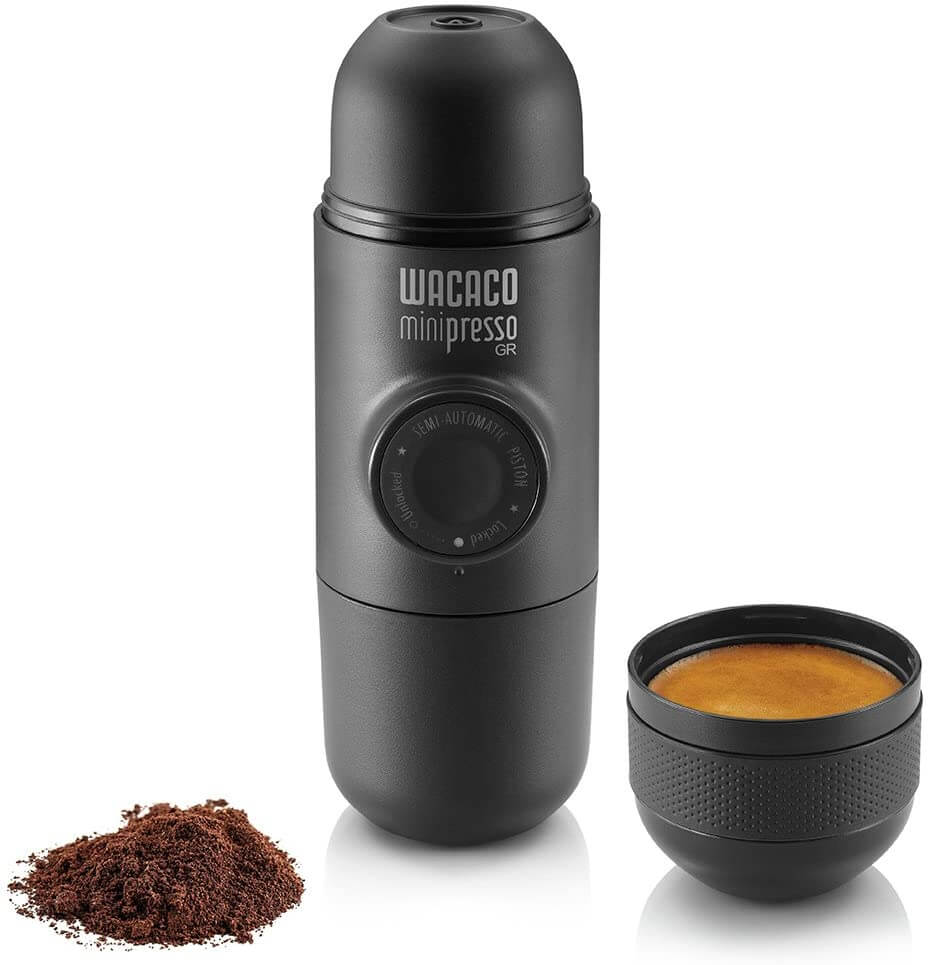 A solar power bank
Important. You want a power bank to charge your devices but, if you want to go fully eco-friendly, I recommend you get a solar power bank, so you can charge things even while you are trekking.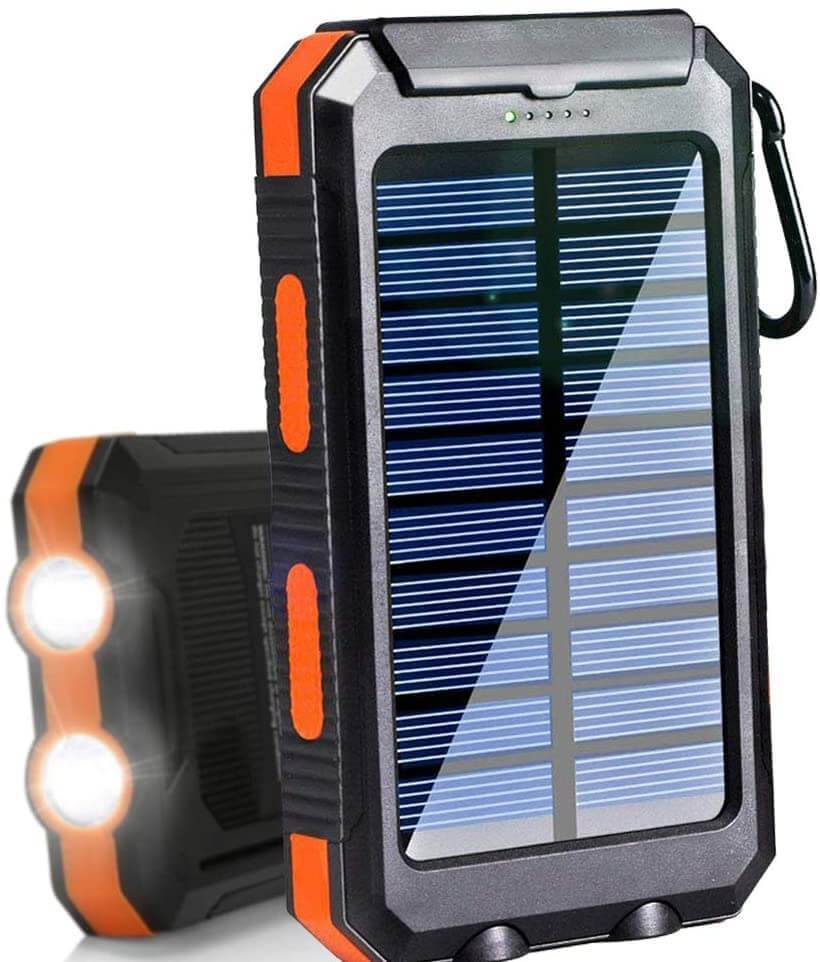 A Kindle
At night, there isn't much to do other than read, and you may want to get a Kindle, so you don't need to carry several books, plus you can read it without using a headlamp.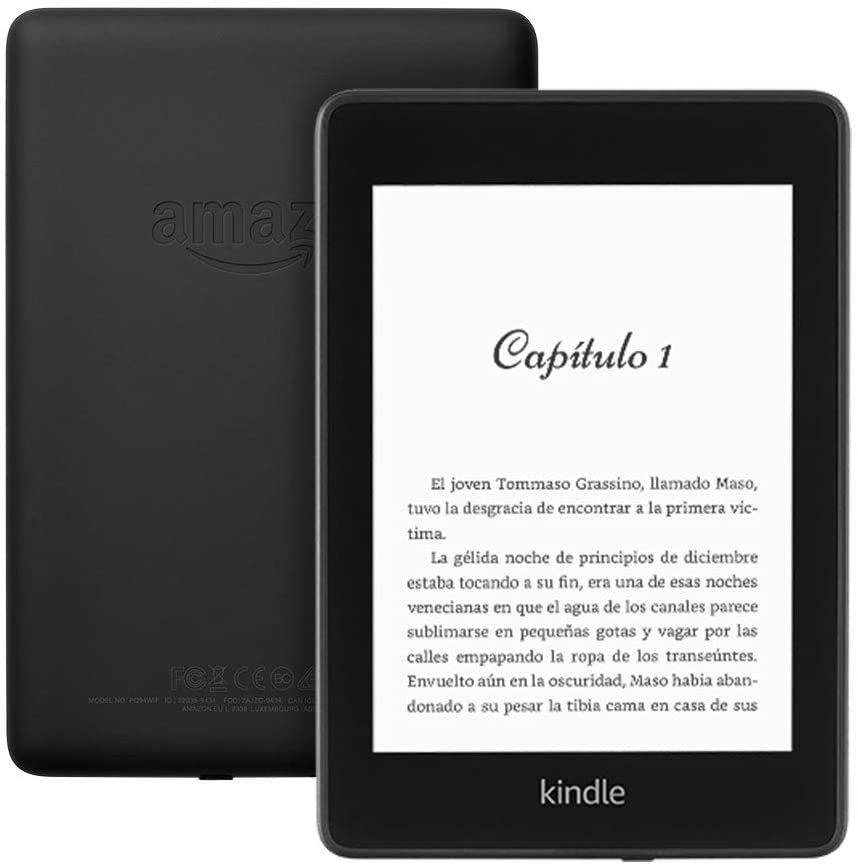 Don't forget to check my list containing The best books about Georgia
Did you consider getting a drone?
Not an essential item, I know but, with a drone in the mountains, you can get some pretty cool perspectives, more amazing than with any other camera.
Which one do I personally use?
I have a Mavic Pro. It is not very heavy and takes very good quality photos. Ideal for traveling.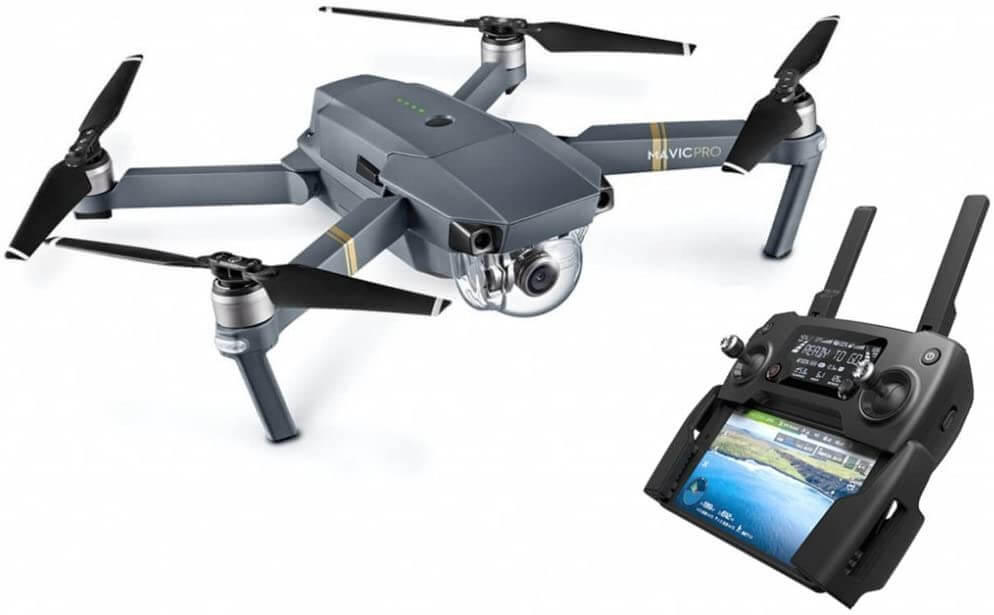 You will be able to take shots like this one:
A CamelBak
A very cheap, yet useful item.
CamelBak has some really cool water bags which allow you to drink water without having to stop. This way you avoid dehydration and a potential headache.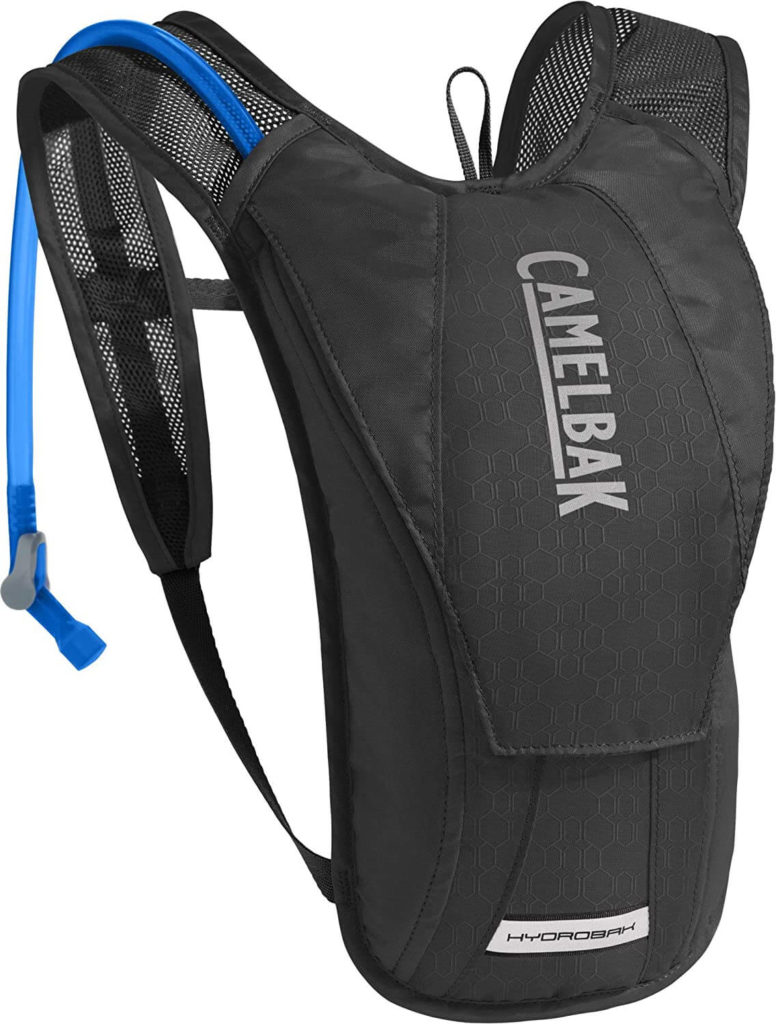 More useful gadgets for hiking in Georgia
Trekking poles – If you want, you can also get some trekking poles and TrailBuddy is one of the most popular brands.
Hat for hiking – For the harsh sun, this is a must.
Headlamp – An obvious item for trekking and camping at night.
4 – Proper clothing for trekking in the mountains of Georgia
Get a down jacket
You want a packable, warm jacket and for that, down jackets are the best, not only for trekking but also for backpacking.
There are obviously many brands out there and I personally use Haglöfs, a Swedish brand that has very good quality, warm jackets at a very good price, much cheaper than North Face and similar quality.
Get a Gore-Tex windbreaker
And not only to protect you from the wind, but also from the rain.
I have had the same North Face windbreaker since 2017.
More must-carry clothes
5 – Personal items for hiking in Georgia
A pair of sunglasses
Hand sanitizer
Loads of sunscreen
Biodegradable toilet paper
Lip balm
First aid kit (at least Paracetamol + something to take care of your potential foot blisters)
More information
Get travel insurance for trekking in Georgia
I strongly recommend IATI Insurance as it provides coverage for a very big bunch of adventure activities.
Get an exclusive 5% discount if purchasing via this link
Don't forget to check our travel guide to Georgia.
As well as all our Georgia articles: