What to do in Georgia in a 7-day itinerary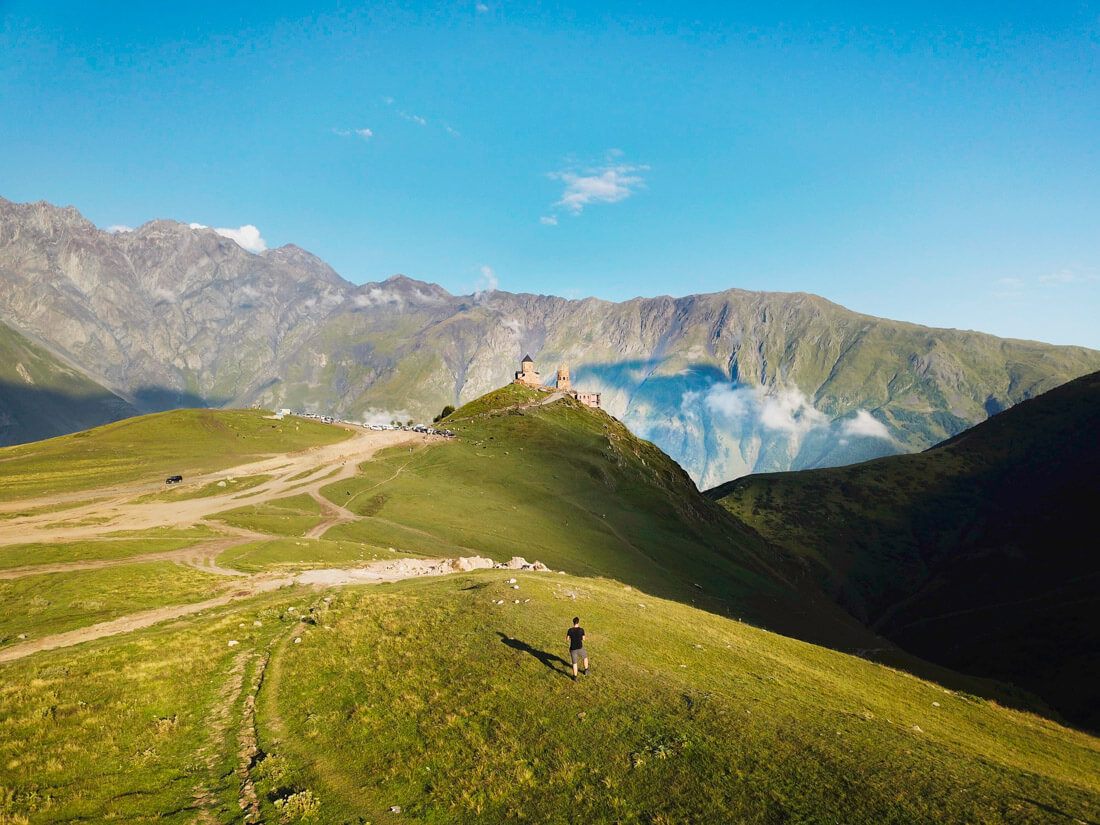 A beautifully vibrant capital, snow-capped mountains, a jaw-dropping glacier, an off the beaten track valley, and Stalin's hometown; this 1-week itinerary for Georgia will take you through some of the country's most interesting and easy to get to attractions.
If we agree to consider it part of Europe, Georgia is definitely my favorite country in the whole continent.
I lived in Georgia for more than 7 months and what I loved most about it was that, despite its tiny size, it has a large variety of different things to do and see, from European-like towns to jaw-dropping mountain scenery, plenty of Soviet Heritage, and even 2 unrecognized republics within it.
Georgia has something to offer to any kind of traveler and, while I believe all the things I visited would perfectly fit into a 2-month itinerary, today I just wanted to share what to do in Georgia in 7 days, which includes a bunch of very amazing places easily reached from Tbilisi, the capital.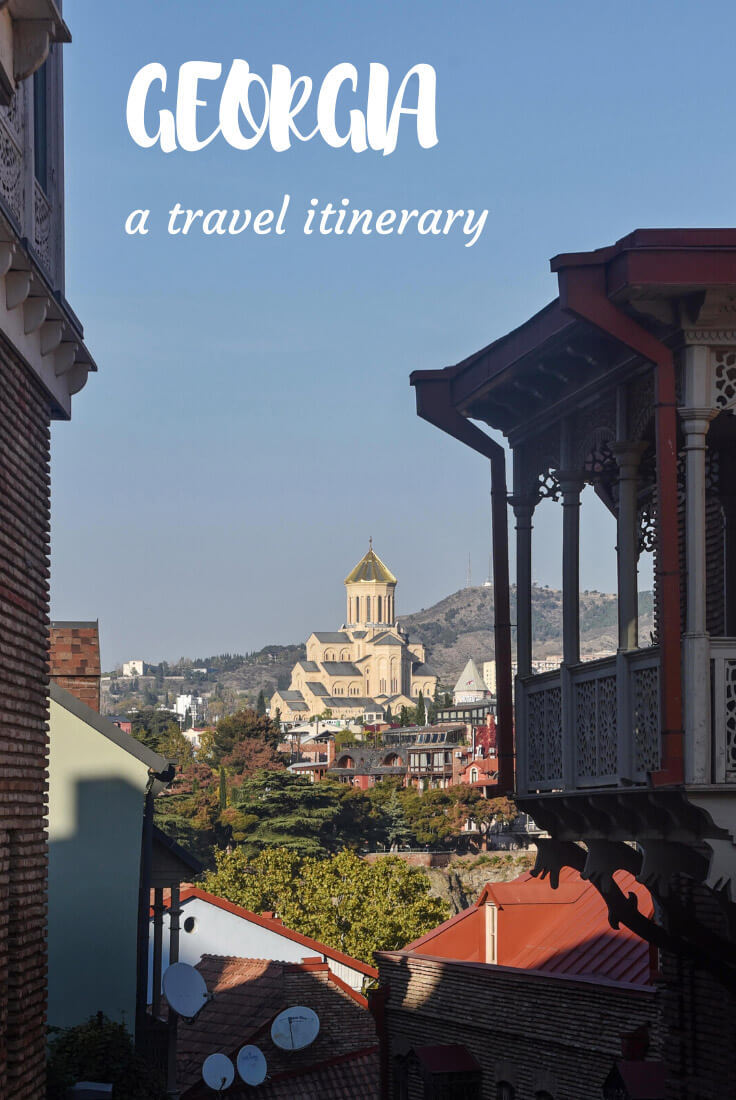 Get travel insurance for trekking in Georgia
I strongly recommend IATI Insurance as it provides coverage for a very big bunch of adventure activities.
Get an exclusive 5% discount if purchasing via this link
Georgia is a complicated country and, in order to make the most out of your visit, I recommend you read 1 or 2 books before your trip. Read: The best books on Georgia country
Quick tips for your Georgia travel itinerary
When to visit
It really depends on what you want to do.
If you only wish to visit a few cities, you can come at any time of the year but, if you want to explore its mountains – and you definitely should – June to September would be best.
My suggested Georgia itinerary contains a remote valley and a glacier that can only be visited during the warmest months.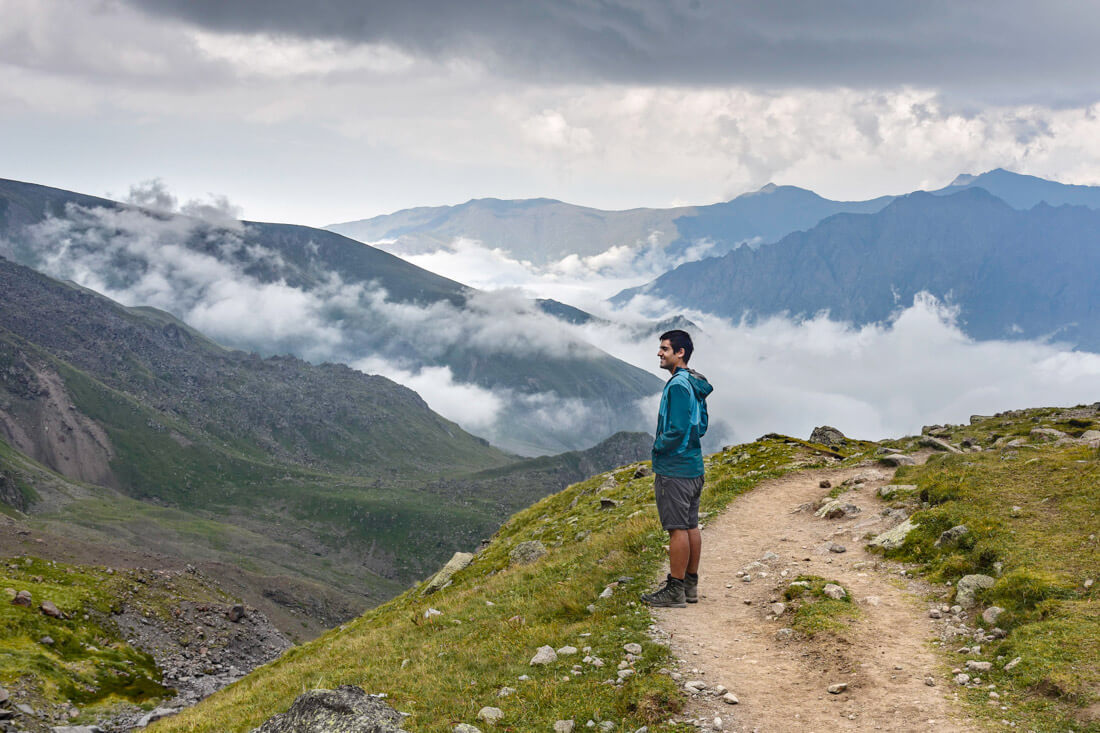 How to get there
By air:
Via Tbilisi – Tbilisi has many connections with Europe, some Asian destinations, and Dubai and other places in the Middle East.
Via Kutaisi – This is a low-cost airport, with many Wizzair flights coming from several European cities.
By land border:
Border crossing – Georgia shares borders with Turkey, Russia, Armenia and Azerbaijan. All borders are open and can be easily crossed.
By boat – You can also come by ferry from Odesa (Ukraine).
How to move around during your 7 days in Georgia
Marshrutka – Marshrutka is what minibuses are called across former Soviet countries, including Georgia. They are the cheapest way to move around, they go pretty much anywhere and leave once they are full. You can travel by marshrutka to most places suggested in this Georgia itinerary.
Train – There is a train line that goes all the way to Zugdidi, Batumi and also to Armenia and Azerbaijan. You can book your train tickets at the train station itself but I bought mine online, through this website.
Renting a car – Very feasible and convenient. We used a local company named parent.ge, which is significantly cheaper than most international branches. The owner of this company was our landlord.
Georgia travel itinerary: what to do in 7 days
This Georgia DIY itinerary can be realistically done by both public transportation and car rental.
Map of the Georgia backpacking itinerary
Georgia 1-week itinerary Day 1, 2 – Tbilisi
Tbilisi is beautifully appealing, a city that charms the eyes, composed of one of the cutest old towns ever and, most likely, the start of your 7-day itinerary in Georgia.
Both traditional and modern at the same time, Tbilisi is a fun city to roam around, with narrow alleys, several bars and restaurants, and epic viewpoints.
It also has a great nightlife and, if you like Soviet stuff, the outskirts of town are filled with bizarre buildings and Soviet modernist art.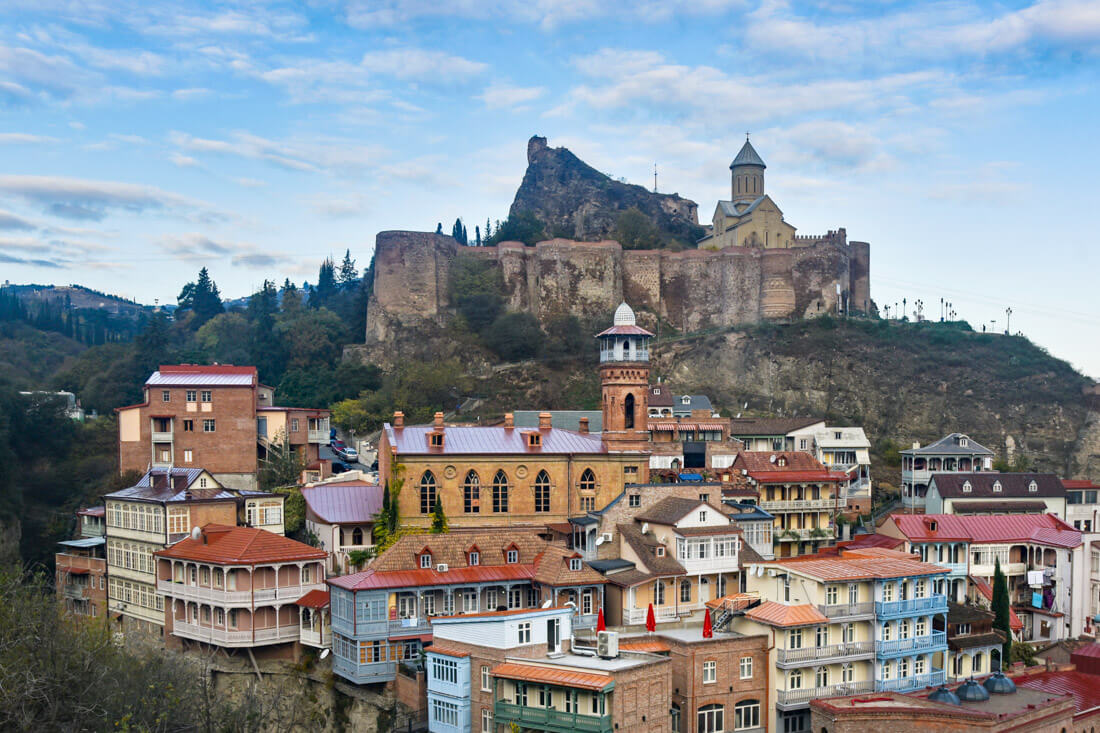 Tbilisi highlights (things to do in 2 days)
Like any capital in Europe, you would need several days to visit everything but, in 2 days, you can visit the highlights of the Old City and downtown:
Inside the Old City – Don't miss the Puppet Theatre, the clock tower, Anchiskhati Church, Meteki Church and the sulfur baths.
Mother of Georgia – A massive 20-meter aluminum female statue from where you get great views of the city.
Sameba Cathedral – One of the tallest churches in the world.
Dezerter Bazaar – A purely traditional bazaar that resembles the Middle East more than Europe.
Marjanishvili – The trendy neighborhood where you find places like Fabrika.
For more information, read my Tbilisi travel guide
Where to stay in Tbilisi
Best Hostel for backpackers – Fabrika – Built in an abandoned factory in the area of Marjanishvili, a pretty cool area where you find several cafés and hipster-like bars. They have both dorms and private rooms and host travelers of all ages.
Budget Guest House Old City – Guest House Lile – A beautiful, very cozy guest house, located at the heart of the traditional part of the Old Town.
Best Hotel – Stamba – Located downtown, this is kind of a boutique hotel that also features a famous restaurant always packed with wealthy Georgians.
Best Super Budget Hostel – Pushkin 10 Hostel – Cheaper option just outside the Old City. Really comfortable and everything is brand-new.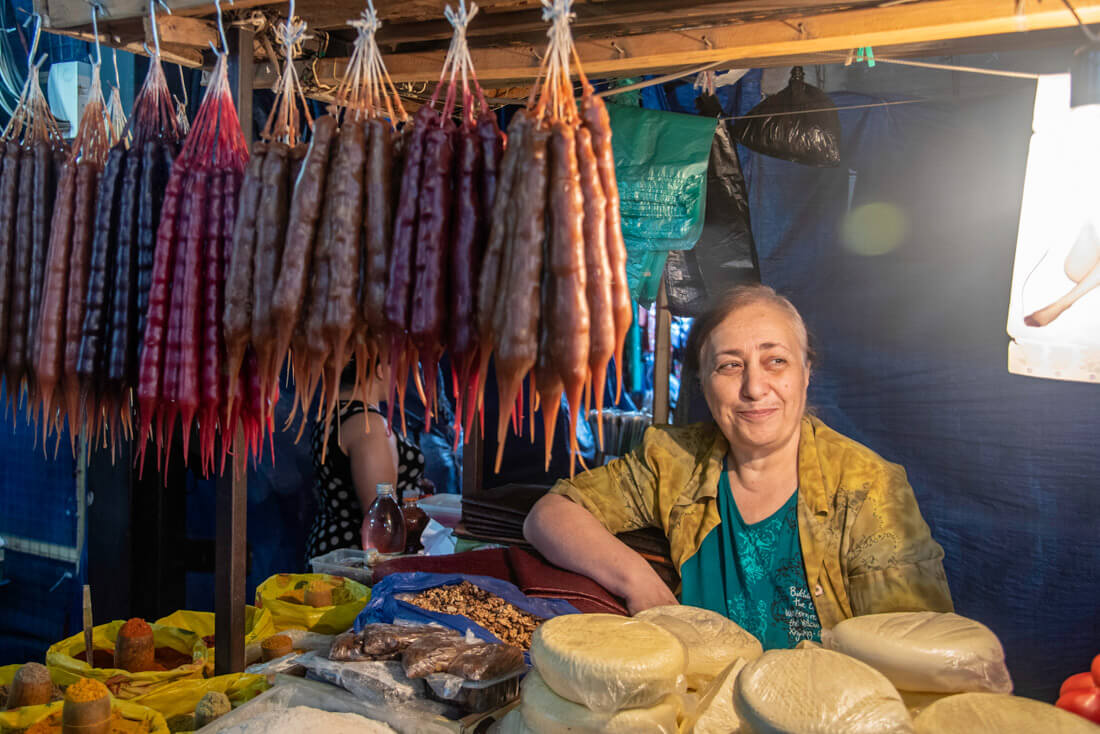 Georgia country itinerary Day 3 – Day trip to Gori, Uplitsikhe and Mtskheta
If you leave early in the morning, these 3 places can be easily visited in 1 day, even if you travel by marshrutka.
If you travel by marshrutka, I recommend you start with Gori because it is furthest and, at the end of the day, coming back to Tbilisi from Mtskheta is easier.
If you go by car, I recommend you finish your day in Uplitsikhe with the sunset.
Gori, Stalin's hometown
In case you didn't know, Stalin was Georgian and he was born in Gori, a small industrial city full of very unattractive Soviet buildings.
In 1956, after Nikita Khrushchev made his speech, portraying the former leader as the cruelest of all tyrants, the thousands of Stalin statues across the whole Soviet Union were suddenly taken down, the one in Gori being the only one remaining until 2010.
Belarus is the only country where you can still see Stalin statues. Read the weirdest things to do in Belarus
The truth is that Stalin was the only reason Gori appeared on the maps and, despite Stalin's dark past and Russian-Georgian relations, the Georgians from Gori feel both love and hate towards the dictator.
If you are interested in Stalin's earlier history, do go to Gori to visit his house-museum.
How to get to Gori from Tbilisi
From Didube station, you can take a marshrutka for 3GEL and it takes a bit more than an hour.
The cave-city of Uplistsikhe
Uplistsikhe is an extremely underrated place in Georgia.
Located very close to Gori, Uplistsikhe is what is today called a cave city that used to be an important trade center during the Silk Road times.
Most travelers don't like it because the cave and walls look too restored and fake, it is full of tourists and, basically, it can very boring.
Well, to some extent, I agree. However, Uplistsikhe is in an awesome location, on the left bank of the Kura River, with stunning views of the valley and from where you get the best light for photography during sunset.
Since there is no public transportation to Gori after sunset, most tourists are gone before then, so we had the site pretty much by just ourselves and the best light.
The entrance fee to the cave is 7GEL.
How to get to Uplitsikhe from Gori
From the bus station of Gori, take a marshrutka to Kvakhvreli, located a 20-minute ride away.
Mtskheta, the holiest town in Georgia
Just 20km from Tbilisi downtown, you find Mtskheta, a historical village and the most popular day trip from Tbilisi in any Georgia itinerary.
Historical evidence shows that Mtskheta has been inhabited for 5,000 years and, 2,000 years ago, this was the center of the Pagan cult of Armazi which was a local version of Zoroastrianism, the official religion in the pre-Islamic Persian Empire.
Then, it became an important center for Christianity and, today, the Georgian Orthodox Church has declared Mtskheta a Holy City that contains some churches that have become UNESCO World Heritage sites.
Churches to visit in Mtskheta
Except for the first one – which is in the center of town – you will need a car to visit them. We rented a taxi in the main tourism office and paid 30-40GEL.
Svetitskhoveli Cathedral
Jvari Monastery
Ghvtismshobeli Church (barely visited)
Shio-Mgvime Monastery (barely visited)
How to get to Mtskheta
You can get a marshrutka at Didube station in Tbilisi for just a few cents.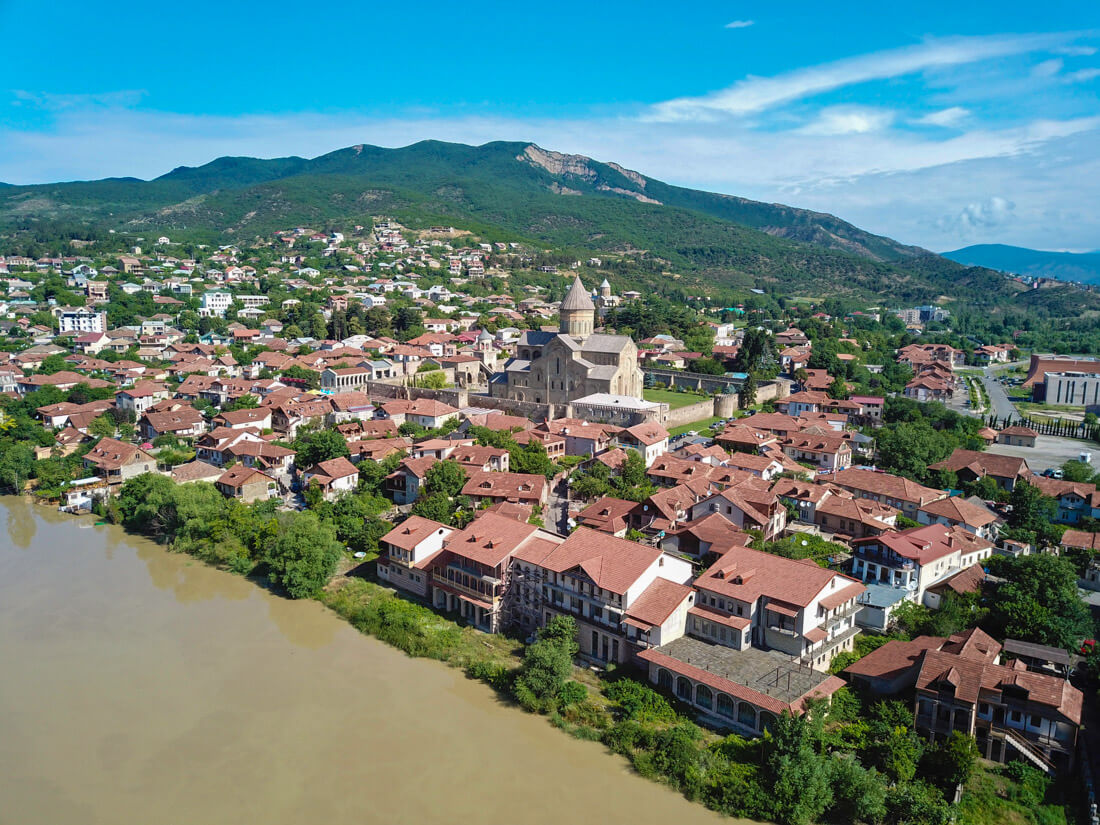 Day 4 – Kazbegi
After checking out the urban life of Georgia, I strongly recommend you head to the mountains, to Kazbegi, the place where you find the most spectacular, yet easily accessible, mountain scenery in the whole Georgian Caucasus.
Kazbegi is a small town located just a couple of kilometers away from the Russian border, from where you get jaw-dropping views of Mount Kazbek, a 5,000-meter peak.
Absolutely breathtaking.
The town also has great tourist infrastructure, from budget guesthouses to a 5-star lodge and, of course, a lot of restaurants.
How to get to Kazbegi from Tbilisi
The road that connects Tbilisi with Kazbegi is the Georgian Military Highway, a historical road built by the Russian Empire in the 17th century that goes all the way to Russia.
If coming by public transportation, you can get a marshrutka from Didube station (10-15GEL, 3-4 hours).
If coming by car, there are many places which are worth stopping at. You can find more information here.
Where to stay in Kazbegi
Kazbegi is a great base to explore many epic places, so I recommend you book your 3 nights here.
Budget Guest House – Blue Guest House – The 3 times I traveled to Kazbegi, I always stayed in this guest house. Lovely family, great views, clean and good Wi-Fi.
Mid-range – Kazbegi View – My parents stayed here when we traveled together to Kazbegi. As the name says, the rooms have awesome views of the area and it is the perfect place for couples and other mid-range travelers.
The best hotel – Rooms – The best hotel in town has the best views of Mount Kazbek. Even if you don't stay here, I recommend you check out the bar & restaurant.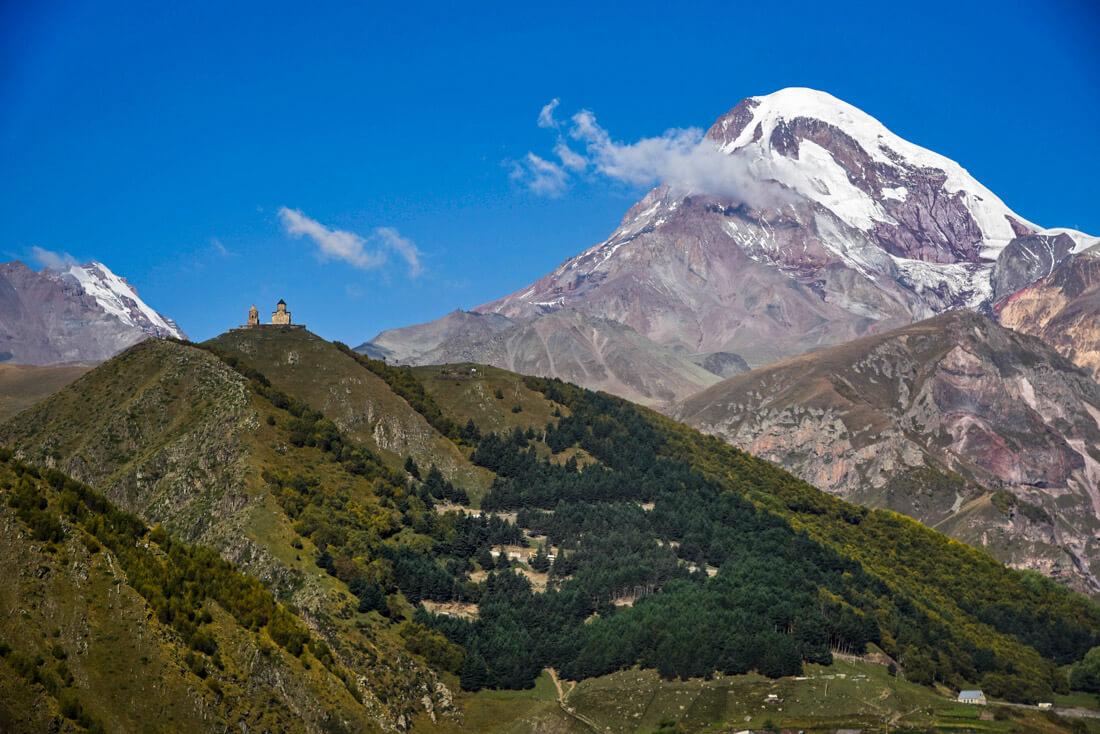 Day 5 – Day trip to Truso Valley
If you want to check out off the beaten track, epic landscapes and unspoiled mountain villages, I recommend you include Truso Valley in Georgia 7-day itinerary, and go all the way to the end of it, to the border with South Ossetia.
Traditional Caucasian towers and remote mountain settlements, Truso Valley was the only place in the region – specifically in a village named Abano – where we were blessed by the locals' hospitality, a family who invited us to have some cheese while checking out how they processed the wool.
The area has also great hiking opportunities and everything can be organized on a day trip from Kazbegi.
If you want to know more about trekking, read my tips and packing list for hiking in Georgia.
How to get to Truso Valley from Kazbegi
The beginning of Truso Valley lies 20km south of Kazbegi, from where you need to follow a dirt road for 15 additional kilometers until you reach Abano Village.
The place is only accessible by 4×4 and, for the full trip, we managed to find a driver to whom we paid 100GEL, but I believe it is very negotiable.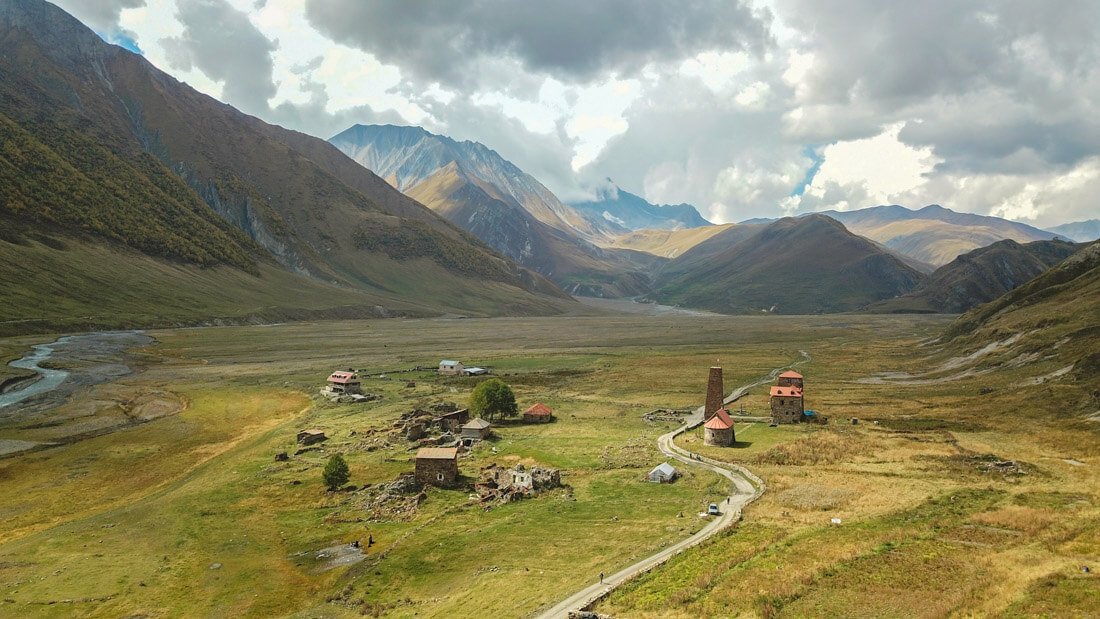 Day 6 – Hiking to Holy Trinity Church and Gergeti Glacier
The last day of your trip – not counting the day you return – should be reserved for what, in my opinion, is the highlight of this Georgia 7-day itinerary: Hiking to Holy Trinity Church and the Gergeti Glacier
On the one hand, Saint Trinity Church is the most iconic church in the country, Georgia's main postcard, an ancient monastery built in the most epic location ever.
On the one hand, Holy Trinity Church is the most iconic church in the country, Georgia's main postcard, an ancient monastery built in the most epic location ever.
On the other hand, the trek to the Gergeti Glacier (Mount Kazbek base camp) is one of the greatest 1-day treks in the country.
You should know, however, that trekking to the glacier is pretty tough, as you have to go 1,600 meters up and down in a single day.
Holy Trinity Church is at the beginning of the actual trek to Gergeti and, even if you believe you are not fit enough to trek to the glacier, I recommend you walk for a few hours at least as, the further you follow the trail, the better the views of Mount Kazbek you will get.
If visiting both places, do leave early in the morning.
By the way, there is a trail that goes all the way to the church (1 hour) but it is also accessible by car.
If you want to know more about trekking, read my tips and packing list for hiking in Georgia.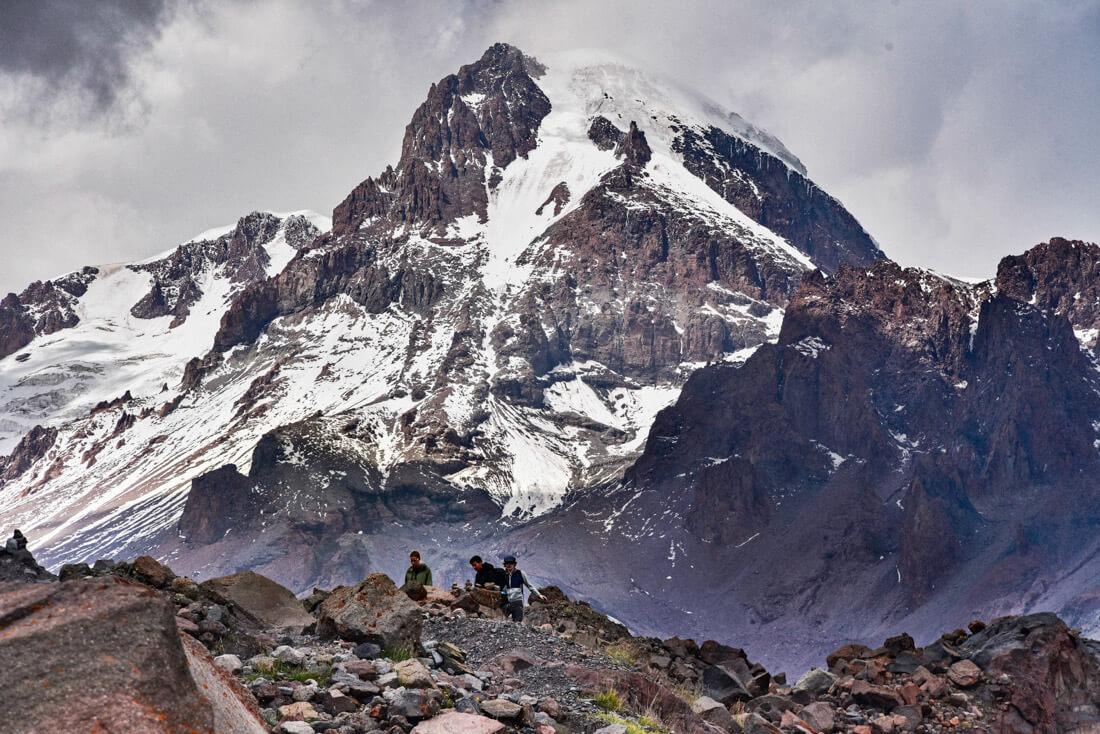 Day 7 – Way back to Tbilisi
On your last day of you 7-day Georgia trip, you should make your way to Tbilisi (3 to 4 hours by marshrutka).
If you still have time, you can check my travel guide to Tbilisi, as it contains a complete 4-day itinerary.
More information to help you plan your 1-week Georgia itinerary
Get travel insurance for trekking in Georgia
I strongly recommend IATI Insurance as it provides coverage for a very big bunch of adventure activities.
Get an exclusive 5% discount if purchasing via this link
All guides and articles for traveling in Georgia destination
Travel Itineraries to former Soviet countries