Travel to Moldova – Tips + 12-day itinerary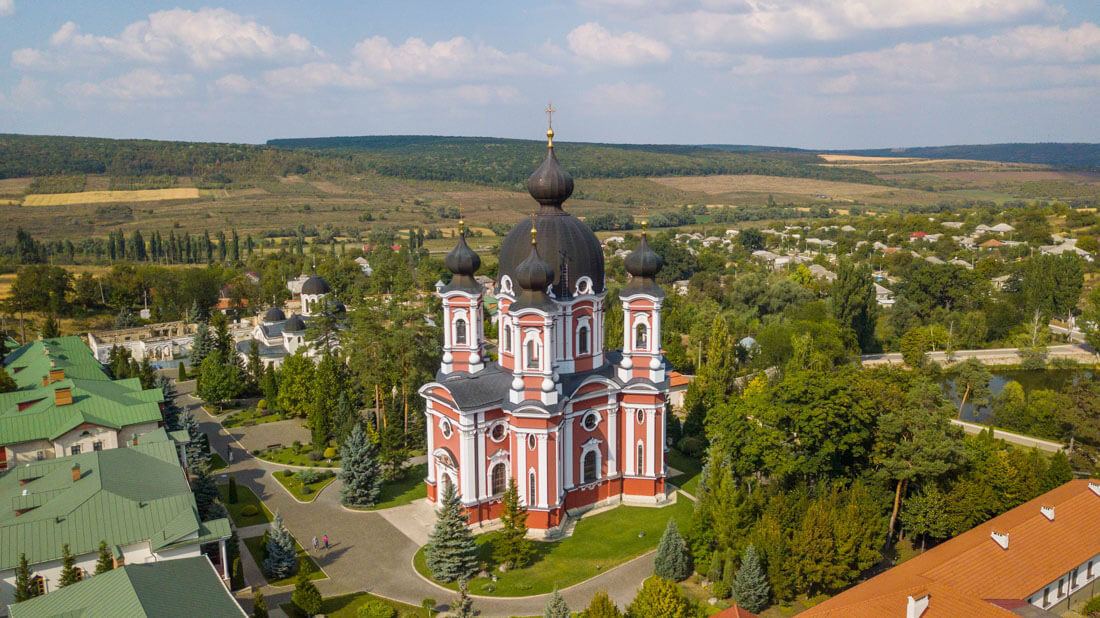 Nestled between Ukraine and Romania, the former Soviet Republic of Moldova is one of the least visited countries in Europe, if not the least.
The country, however, is worth the trip: tremendously exotic as per European standards and, after spending more than two weeks around the country, I have written this compelling travel guide containing everything you need to know travel in Moldova, including travel tips and a complete 12-day Moldova itinerary.
Going to neighboring Ukraine as well? Read: Ukraine travel guide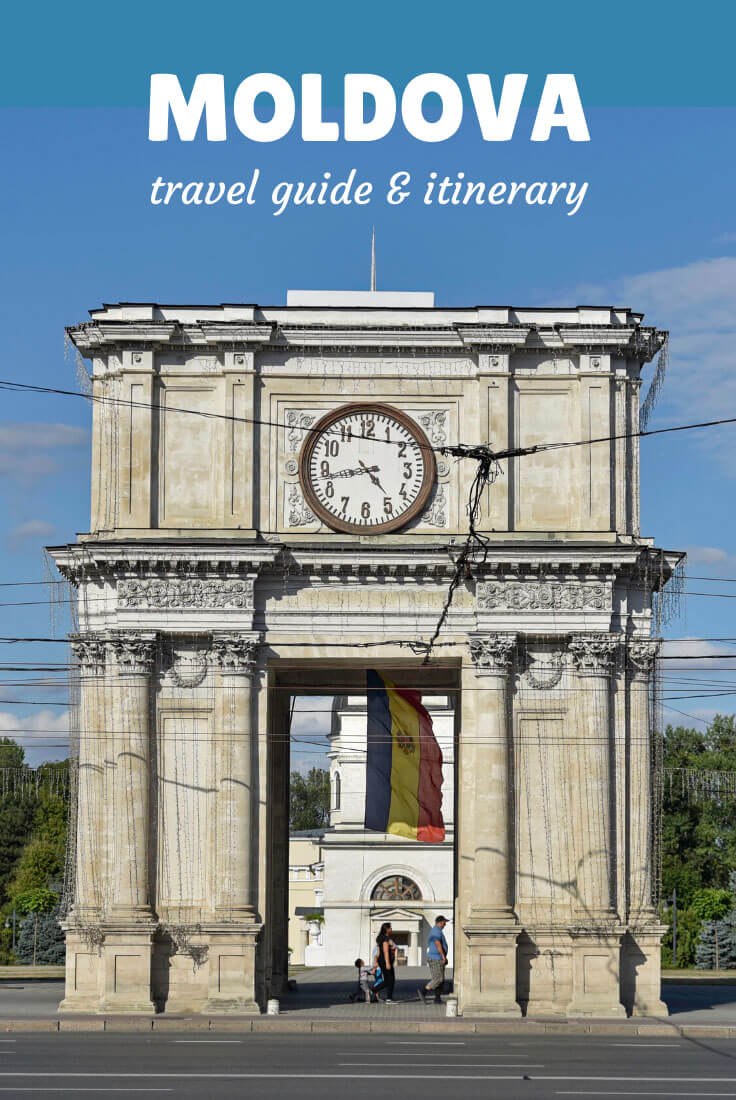 Introduction: Why going on a trip to Moldova?
Heads-up.
Moldova is a bit of a special destination.
If you travel to Moldova with the objective of visiting UNESCO-listed Heritage sites, I am afraid you have come to the wrong place because there are none here.
Traveling in Moldova isn't about checking out dreamy European architecture but the best things to do here range from hanging out in a ghost country named Transnistria to visiting other separatist regions like Gagauzia, loads of Soviet Heritage and basically, discovering the most traditional European country.
Honestly, this isn't a destination for the average traveler but it is one of those places which will only satisfy those who travel with an open mind, willing to get immersed in the country's history, both recent and past, as well as their political situation.
This is the ultimate off the beaten track destination in Europe.
For more inspiration, read all my unusual reasons to travel to Moldova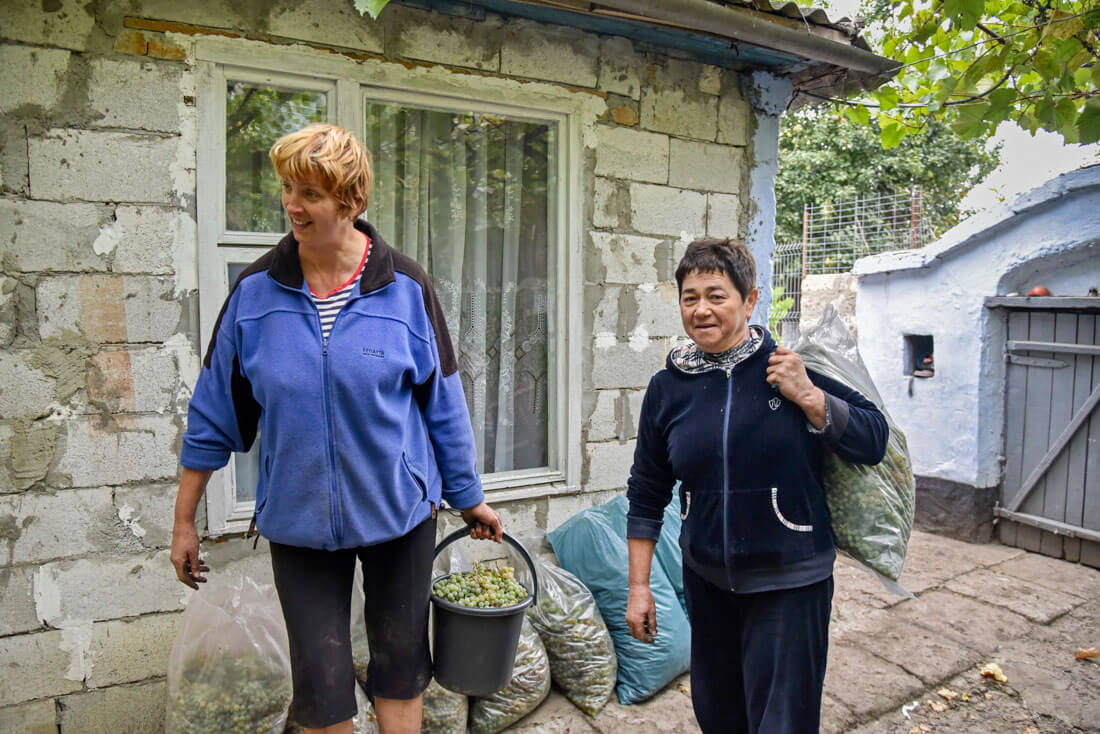 Visa for traveling to Moldova
Moldova is in Europe but, as you may know, it doesn't belong to the EU, so different visa rules apply.
However, up to 103 nationalities, including all high-GPD countries (see the full list here) can get a free visa on arrival valid for 90 days within a 180-day period.
If you are not from one of the lucky countries, you may be able to get an e-visa, and I suggest you visit the Moldovan MFA's website.
Best books for traveling in Moldova
Romania – Moldova travel guide by Lonely Planet
It is a bit outdated, from 2007 but, unfortunately, it is the only complete travel guide to Moldova.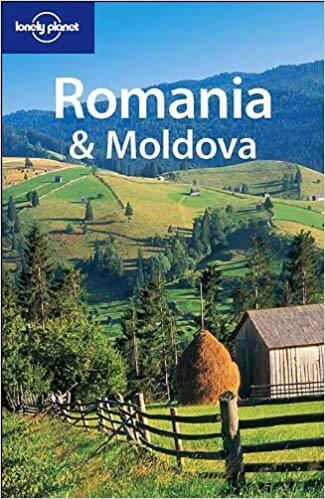 Eastern Europe travel guide by Lonely Planet (2019)
Otherwise, if you are traveling all around the region, you could also get the generic Eastern Europe guide, which includes one chapter about tourism in Moldova.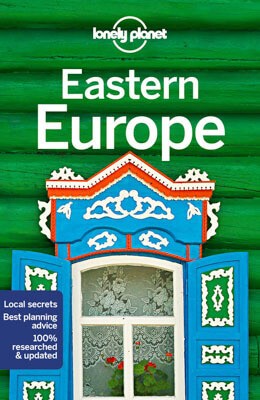 Best time to travel to Moldova
Best season for backpacking in Moldova:
Mid-September to mid-October. Why? It is harvest season, and wine is one of the main reasons to come to Moldova. You are likely to see how they produce wine, plus the Moldovan wine festival takes in the first week of October.
Winter (from November till February)
Sure, you can visit then but it will be freaking cold with not much going on.
Spring (March to June)
I think spring would be the second-best time to come, as the weather will be pleasant and landscapes will be covered by blankets of flowers. When I visited in September, everything was pretty brown and dry.
Summer (July and August)
High season and hot but I believe it would also be a good time to come. More travelers to hang out with.
Read my travel guide to Kiev
How to get to Moldova
There are different ways to get to Moldova:
How to travel to Moldova by plane
Chisinau International Airport has a good range of flights connecting with different European cities like Warsaw, Munich, Kyiv and especially Bucharest. I always search for flights on Skyscanner. but you can also check Moldavia Air's website.
How to travel to Moldova by land border
Moldova shares a border and endless entry points with both Ukraine and Romania:
Ukraine: If coming by land, most people will go from Odessa to Chisinau, either by train or bus, the train being the faster option. You can book your tickets on the official Ukrainian Railway website but remember to type Kishineu, the correct Russian transliteration. However, if you check out the map you will see that there are endless entry points to choose from and I suggest you pick the one closest to your location and destination. For example, after my trip to Moldova, my plan was to head to the Ukrainian Carpathians, so I took a marshrutka from Soroca to a northern city named Briceni, from where you can get a direct bus to the Ukrainian city of Chernivtsi. That border crossing is also very convenient for those wanting to go to Lviv. Read my Ukraine travel guide.
Romania: Again, many entry points to choose from but most travelers will just take the overnight train from Bucharest to Chisinau. Travel Tramp has written about it in this post.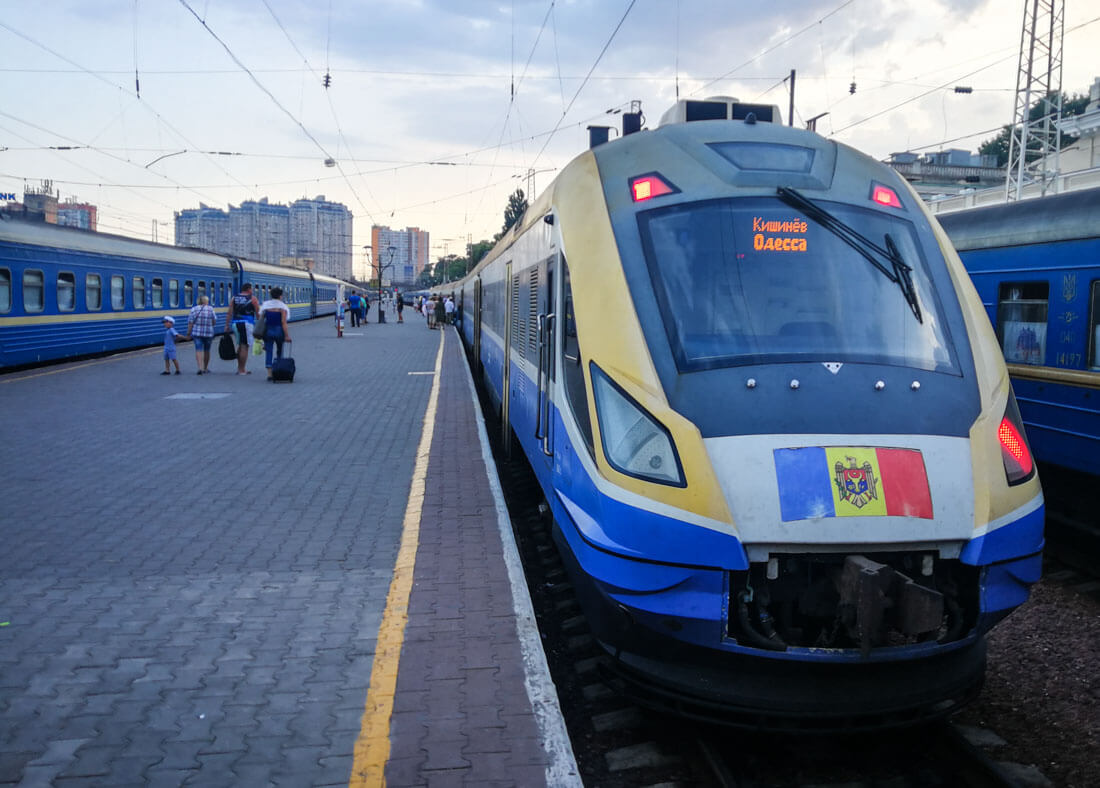 Remember to get travel insurance for Moldova
I strongly recommend IATI Insurance as it has COVID-19 coverage + 5% discount
Get exclusive 5% discount if purchasing via this link
10 Facts about Moldova, Moldovans, and Moldovan culture
1 – The Republic of Moldova is a former Soviet country – It joined the USSR in 1940 and declared its independence in 1991.
2 – Before, it used to be part of Romania – Well, their history is, of course, more complicated than that but, before joining the USSR, present Moldova was a region named Bessarabia, which belonged to Romania but was ceded to the Soviets as a consequence of the Molotov-Ribbentrop pact in 1940.
3 – Therefore, Moldova is a real Romanian/Soviet blend – Moldovans are culturally Romanian but, since the Soviets ruled here for more than 50 years, Russian culture is strongly present in all aspects of life, from their cuisine to the architecture and even their national psyche.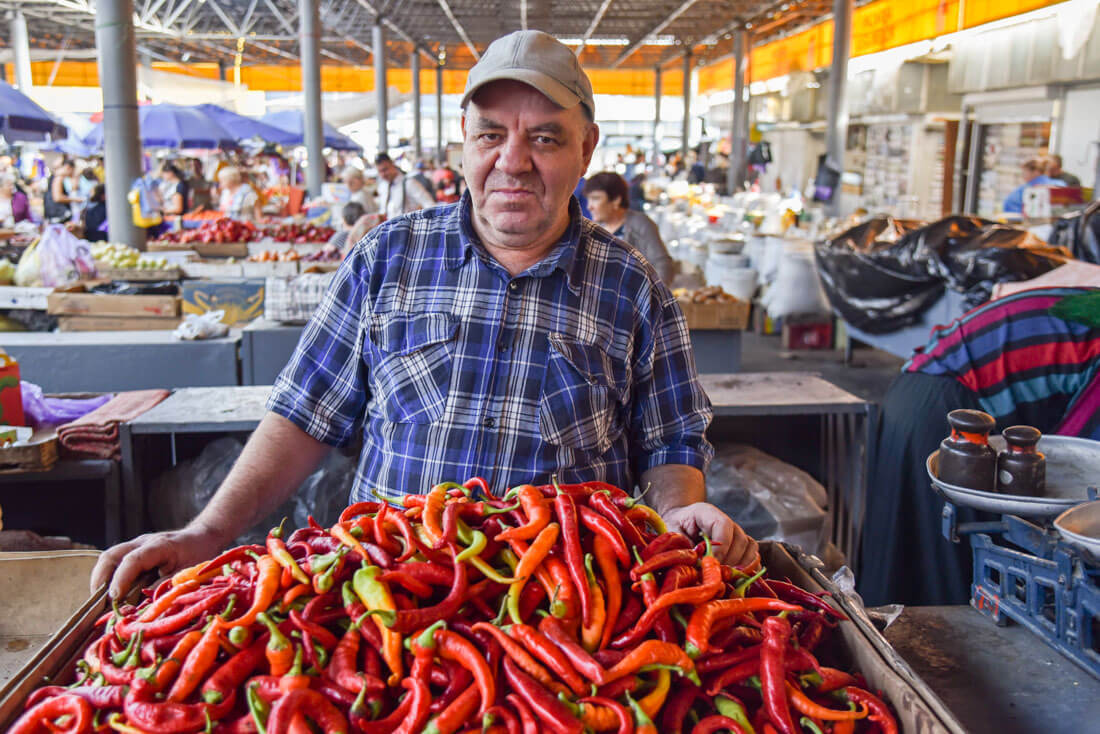 4 – Romanian is the official language – Moldovan is basically Romanian, which is a Romanic language from the same family as Catalan, Spanish, Italian, French and Portuguese. However, most Moldovans also speak fluent Russian, including the young generation, unlike happens in Georgia.
The educated young generation in Chisinau can speak English apart from that, communicating with the locals other than in Russian can be a struggle.
5 – It has 2 separatist regions – On the one hand, you have Transnistria, a breakaway territory inhabited by Russians that declared their independence from Moldova in 1992. Basically, it is a country not recognized by the UN. For more information, read my Transnistria travel guide.
Moreover, you also find a region named Gagauzia, mostly inhabited by Gagauz people, a Turkic ethnic group that converted to Christianity. Gagauzia also declared independence from Moldova but, for different reasons it just became an autonomous region. For more information, read the relevant section of this guide.
6 – Around 94% of Moldovans are Orthodox Christians – And between the Russian Orthodox Church and the Romanian Orthodox Church, there is a big dispute over which is the national church of the country.
7 – Their national animal is the aurochs – Which is an extinct species of cattle and the symbol that appears in their flag.
8 – It is a wine country – From epic wine cellars to endless wine bars, wine is an essential part of Moldova's culture and one of the main reasons to travel to Moldova. In the rural part of the country, everybody has a vineyard in their garden and produces home-made wine from its grapes; and you will be likely to taste it if staying in a local guest house.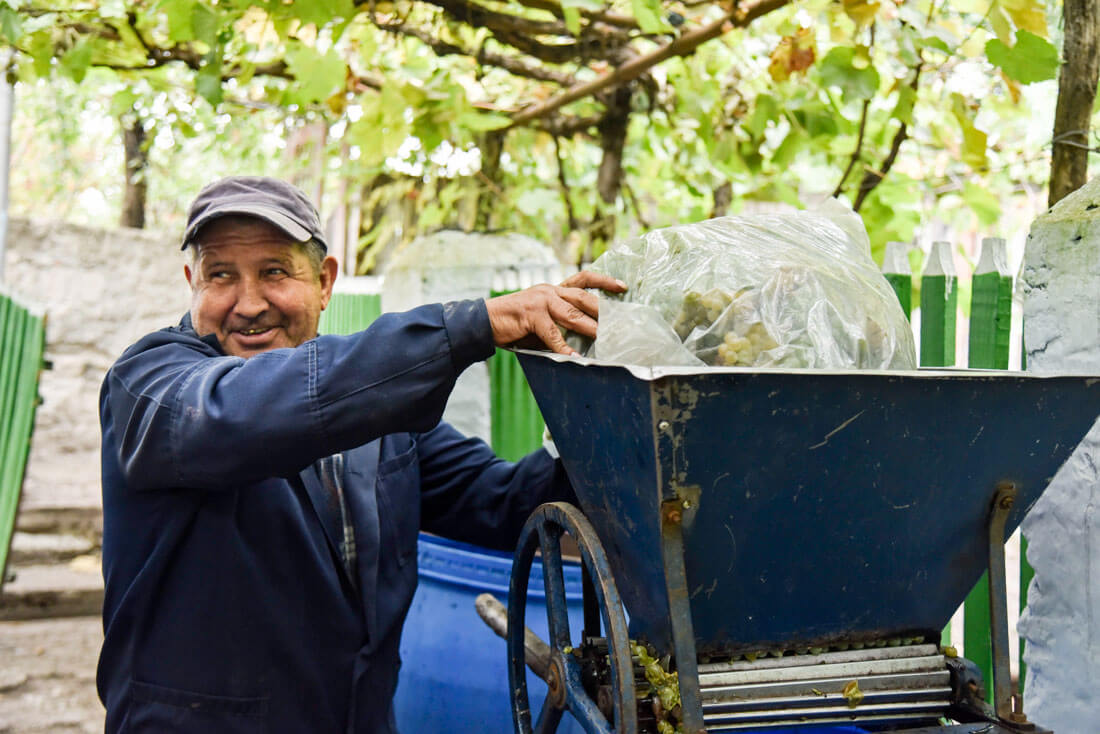 9 – It is the poorest country in Europe – According to the World Bank, the GDP per capita of Moldova in 2018 was only 3,189.4USD. To give you an idea, Romania's was 12,301USD and Spain 30,523USD.
10 – Corruption and bribes are a problem – Moldova is one of the most corrupt countries in Europe and you will notice it as you soon as you step in the country, as the custom's walls are filled with anti-bribery warnings.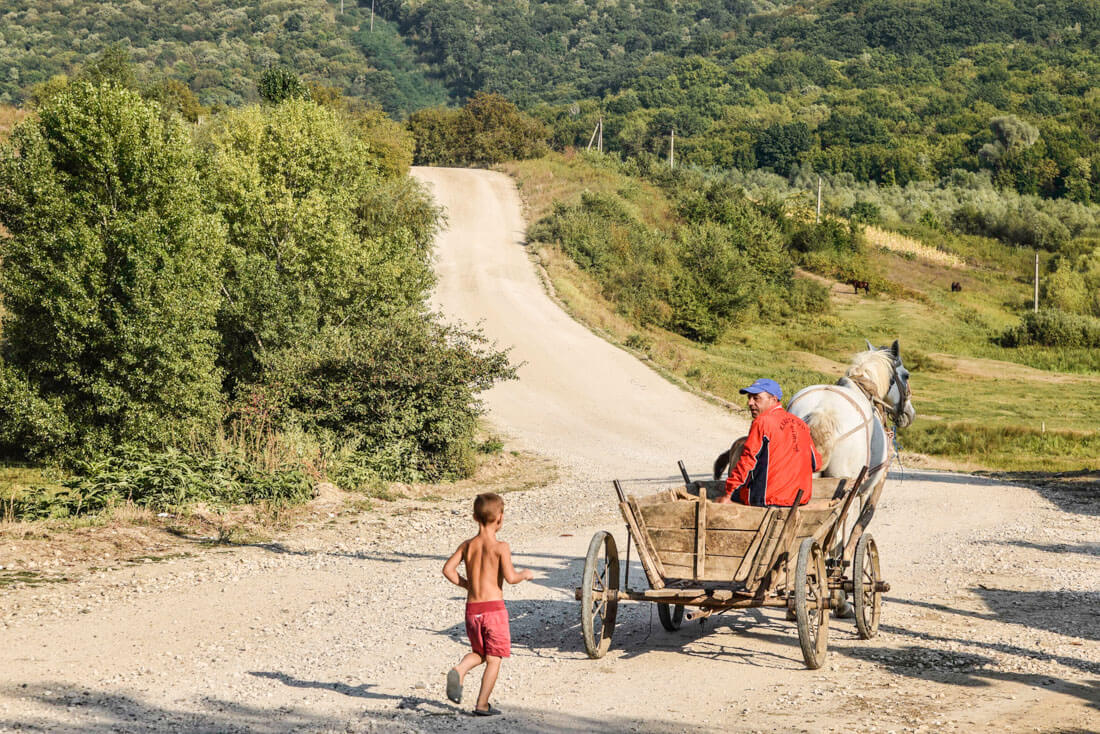 Moldovan food: what is it like
Moldovan cuisine is hearty and, whereas most national dishes are essentially Romanian with a local twist, Russian flavors and their dill-based dishes are highly present in all restaurant menus.
In fact, the cheapest places to eat will always be in those self-service Soviet canteens which you can find all over the former Republic, and which all serve the same food, from Kazakhstan to Belarus.
Filled pastries, a large variety of soups and heavy meat-based dishes often served with polenta, which is like corn couscous, is what Moldovan cuisine is mostly about, but they also have plenty of vegetarian appetizers.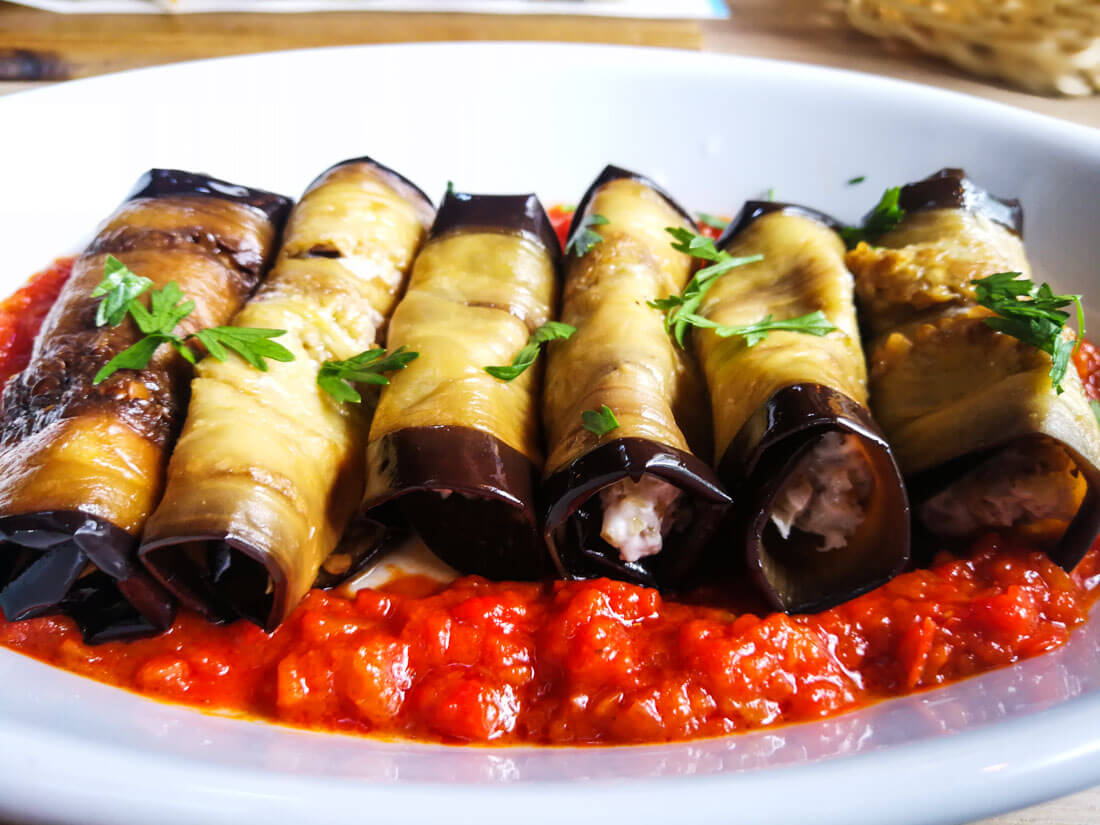 Must-try dishes during your trip in Moldova:
Placinte – This is the most traditional and common snack in Moldova, typically found in all bakeries but some restaurants also serve it for lunch. It is a pastry usually filled with cheese and available in many different shapes and sizes.
Zeama – Traditional chicken soup normally eaten for lunch.
Limba Soacrei – Translating to mother-in-law's tongue, these are eggplants stuffed with walnut paste, similar to the ones you find in Georgia. Funnily enough, both countries claim their recipe is the original one.
Sarmale – The classic vine or cabbage leaves stuffed with rice and meat which you can find in a big bunch of neighboring countries.
Mamaliga – Perhaps, the most traditional dish in the country, mamaliga is corn porridge, usually served with pork, cheese and sour cream on the side.
Coltunasi – Classic dumplings which you can find in all Eastern European countries, with different names, shapes and sometimes filling. In Moldova, they are usually filled with bryndza (cheese) but the most unique ones I found were filled with sour cherry, typically eaten for dessert.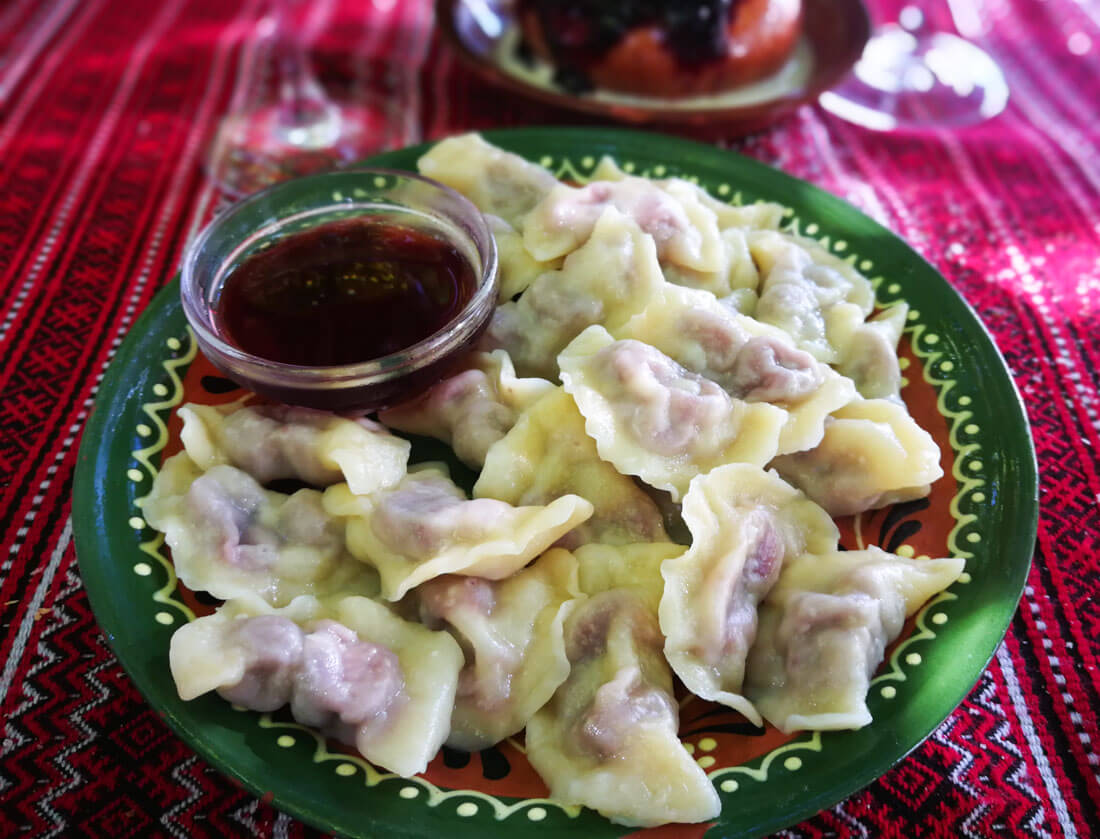 Money in Moldova
In Moldova, they use the Moldovan Leu (MDL) and, approximately, 1€ = 20MDL.
Note: In the breakaway territory of Transnistria, they use a different currency. For more information, read all my practical tips to visit Transnistria
Paying by card and ATMs – ATMs are plentiful all over the country and most shops will accept credit cards, including in smaller towns. However, do have some cash with you when you get out of Chisinau, as not all places will accept credit cards.
Exchanging money – Like in all non-euro countries in Europe, finding offices where you can exchange money is always easy, especially in Chisinau.
How much does it cost to travel in Moldova?
Whereas it is not nearly as cheap as Asian countries, Moldova is still a budget country as per European standards. These are the prices of the most typical things:
Budget Hostel: 100-150MDL (6-8€)
Double room in a budget hotel: 400-500MDL (20-25€)
Double room in a mid-range hotel: From 600-800MDL (30-40€)
Local meal: 40-60MDL (2-3€)
A 3-course meal in a mid-range restaurant: 100-200MDL (5-10€)
A glass of local wine: 20-30MDL (1-1.50€)
A glass of wine in a fancy place: 60-80MDL (3-4€)
Marshrutka from Chisinau to Tiraspol: 37MDL (around 2€)
Marshrutka from Chisinau to Orhei: 20MDL (1€)
Short taxi rides in Chisinau: 40-50MDL (2-2.50€)
How to get around Moldova
Remember to get travel insurance for Moldova
I strongly recommend IATI Insurance as it has COVID-19 coverage + 5% discount
Get exclusive 5% discount if purchasing via this link
If you are backpacking in Moldova, the easiest way to travel around the country is by marshrutka, as distances aren't particularly long and you just have so many options all day long.
Train – There is a train line in Moldova but it is not that convenient unless you are traveling to places outside of Moldova like Odessa or Bucharest.
In Chisinau – You can get in a trolley bus for as cheap as 2MDL (10 cents of €) and, by taxi, I recommend you download Yandex, which is like the Russian Uber.
Hitchhiking – Very easy, as this a common practice among locals but, usually, the driver will expect a fee, which tends to be not higher than the price of a local marshrutka ride to the same destination.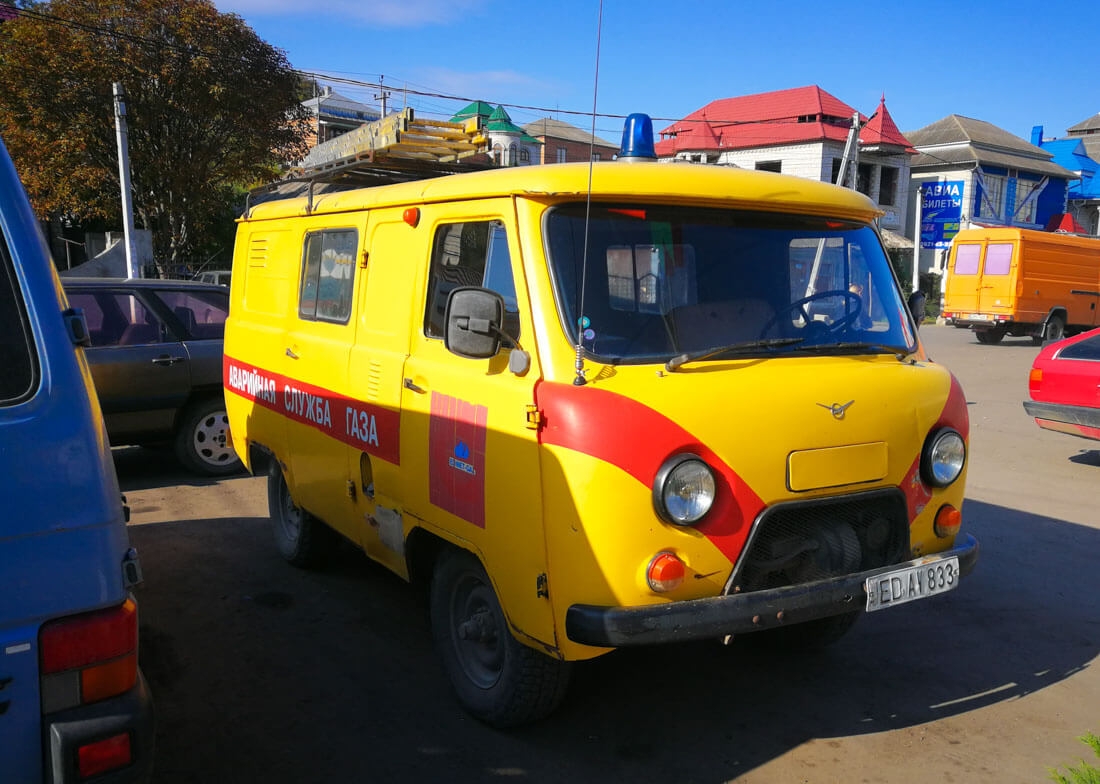 12-day Moldova Itinerary or how to spend 10 days traveling in Moldova
Most travelers will just spend a few days in the country, mostly sticking to Chisinau and Transnistria.
However, with all the photos from this Moldova itinerary, here's hoping to convince you to spend longer.
Moldova Itinerary Map – Things to do in Moldova
Day 1, 2 – Chisinau
Unfortunately, Chisinau is often perceived as the ugliest capital in Europe, competing closely with Pristina, the capital of Kosovo.
The capital is gray, mostly composed of Soviet buildings and overall, there isn't much to do besides checking out some concrete and some not very exciting museums.
Although I fully agree that Chisinau isn't the place to visit mind-blowing architectural buildings, plus I am not the most museum-friendly person, Chisinau has some pretty cool Communist Heritage to check out, it is a great base to do some excellent day trips and there are plenty of wine bars where to have some good fun.
Best things to do in Chisinau
Triumphal Arch & Cathedral Park – The main landmark in the city is a not very triumphant Arc de Triumph. I am just kidding, but most triumphal arches across the globe tend to be massive, but not this one. Anyways, Chisinau's Triumphal Arch was built to commemorate Russia's victory against the Ottomans at the beginning of the 19th century.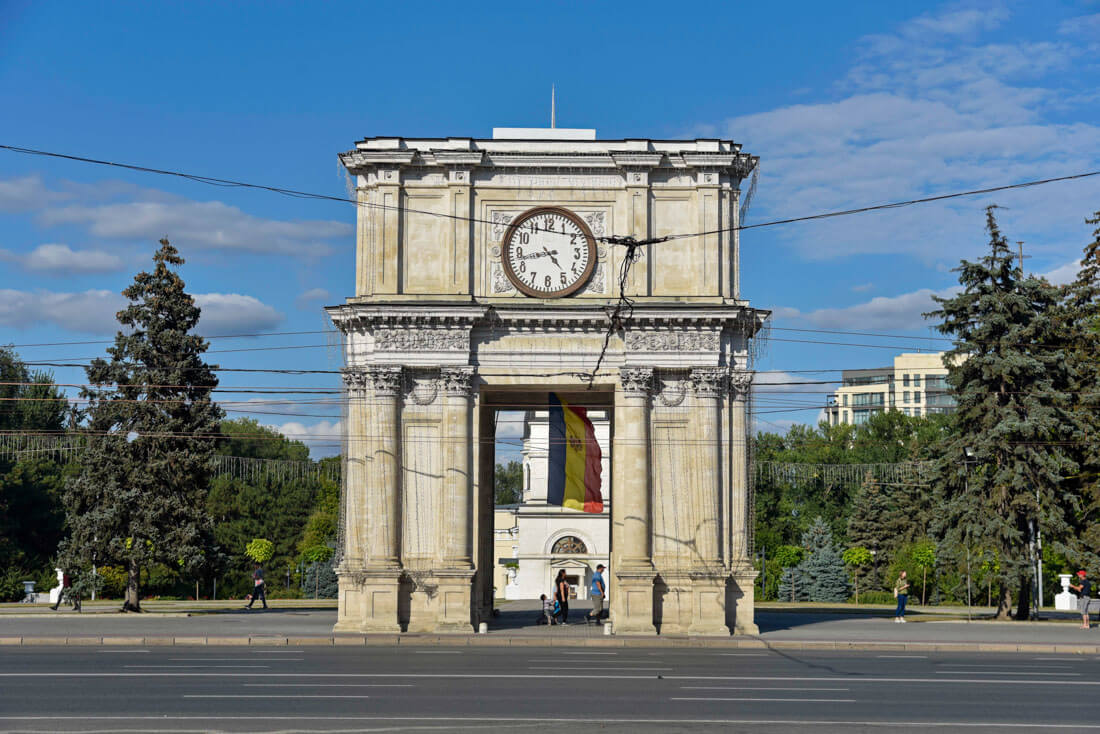 Lenin & Karl Marx statues – Except in Belarus, where the Old Fellah can be seen all over the country, today, Lenin statues are getting harder to see but, in Chisinau, just across Valea Morilot Park, you can find one along a Karl Marx bust.
Read: Weird things to do in Belarus
Chisinau Circus – I have seen many Soviet Circuses around the former Soviet Republics but the one in Chisinau is particularly amazing. Today, the circus remains closed and, unfortunately, by the time I was there, there was no way to get in, but some people did, and here you can some pictures from the inside.
Central Market – A traditional Eastern European market filled with very friendly Moldovans, especially the ladies from the indoor dairy section.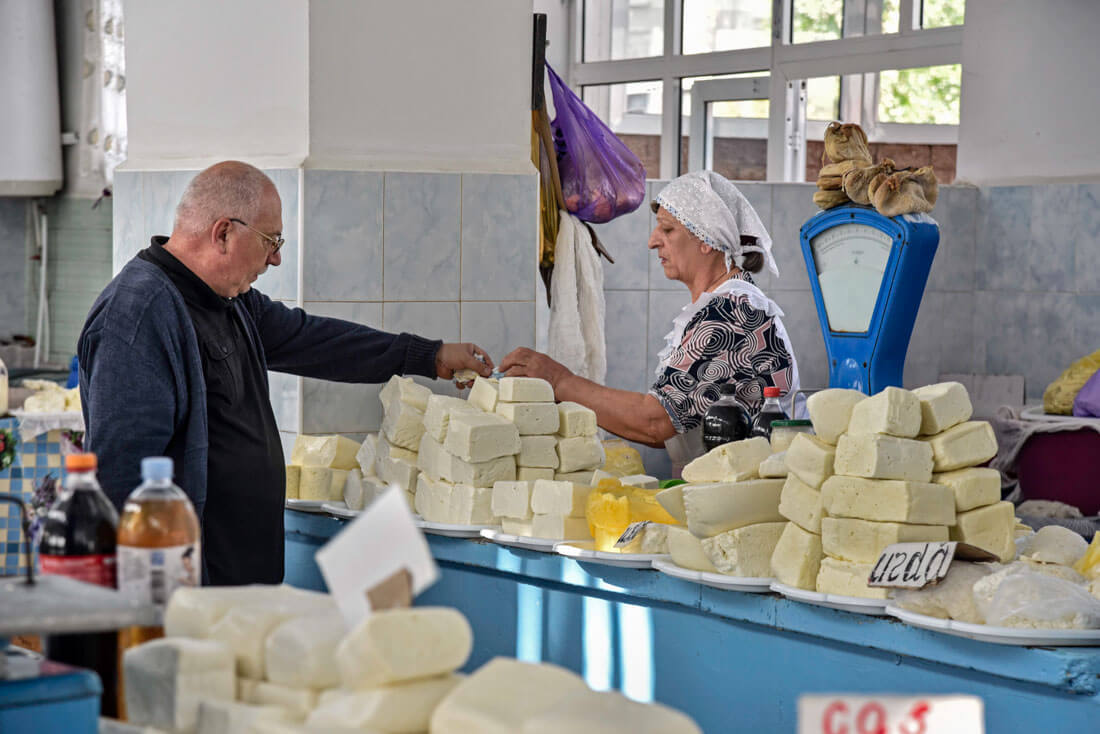 Saint Theodor Church – There quite a few churches to visit in the city but for me, this one was the most beautiful.
If you are interested, in this post you can more things to do in Chisinau, including all museums, parks and other landmarks.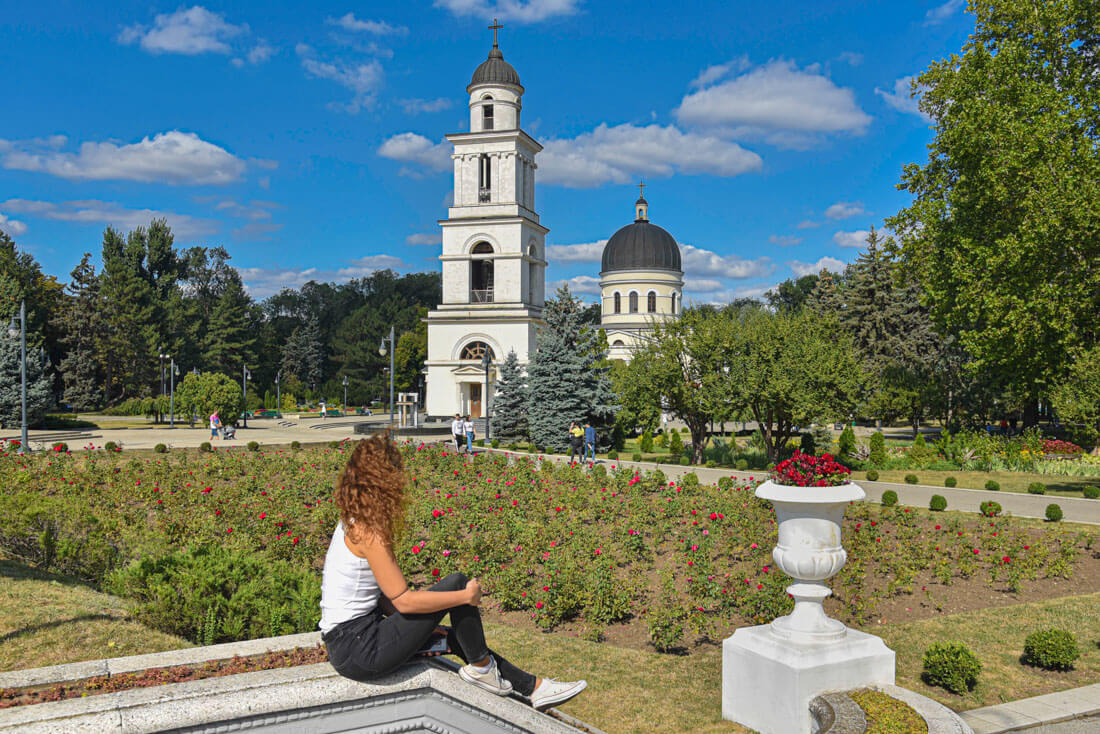 Day 3 – Day trip from Chisinau: Curchi & Orhei Vechi
On your 3rd day, you may wanna check some important Christian sides: Curchi and Orhei Vechi.
They aren't in the same place though, so if you are traveling by public transportation and want to visit both in one day, you should wake up early.
Curchi monastery
Curchi is a small rural village home to a monastery named Curchi which, in my opinion, was the most beautiful I visited when I traveled in Moldova.
The monastery was founded in the 18th century but then it was used as a psychiatric hospital during the last three decades of the USSR.
They re-opened it in 2005 and, since then, it's been under ongoing renovation.
How to get to Curchi – First, you need to take a marshrutka to Orhei town, located 50km north of Chisinau. They depart from the Central Bus Station and cost a bit more than 20MDL. The intersection to Curchi is just 5 or 6km before Orhei and I recommend you get off there and hitchhike the remaining 10km to Curchi. Alternatively, there are also marshrutkas running between Orhei and Curchi but they don't leave that often.
BONUS!
Visit Tabara village – If you have some time to spare, there is a village 8km west of Curchi named Tabara. I personally walked all the way there and, on the way, I passed through a few very traditional villages which were pretty interesting to see. Once you reach Tabara, there is no need to go back because if you continue walking over the hills, you get to a road that leads directly to Chisinau, and where you can hitch a ride.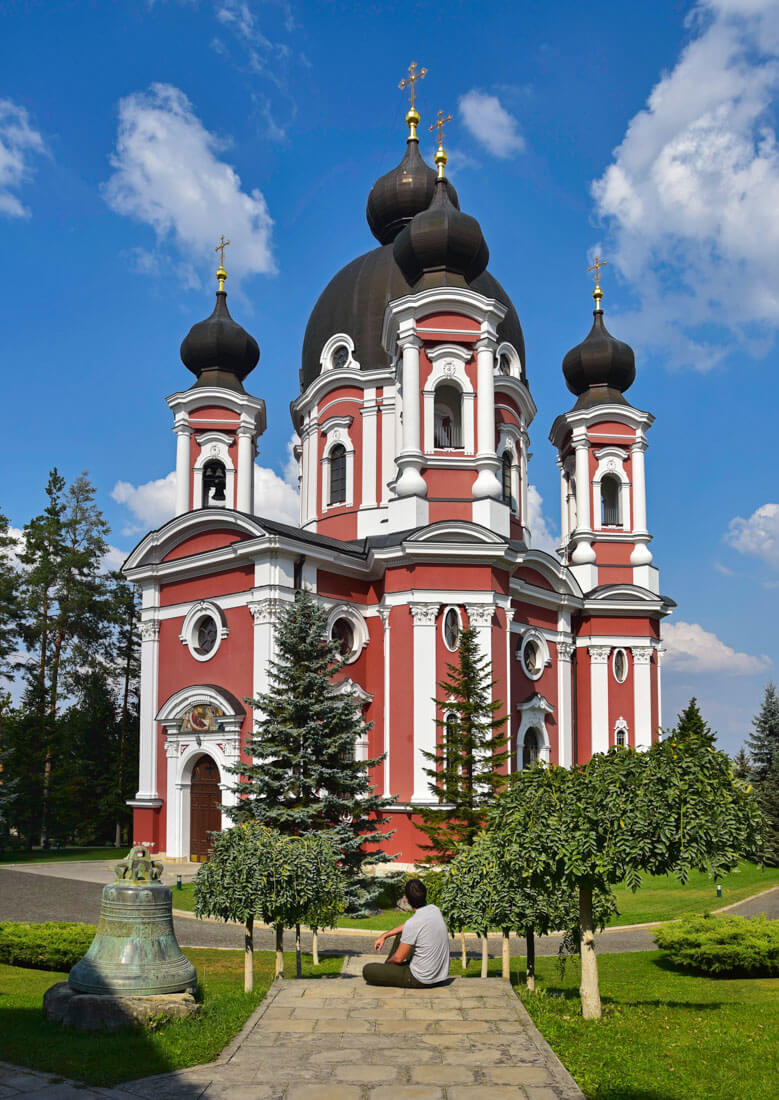 Orhei Vechi
Orhei Vechi, meaning Old Orhei, is one of the top attractions in Moldova, an archeological and ecclesiastical complex containing 2,000-year old ruins, a cave monastery, a modern monastery and quite a few archaeological sites scattered all over the place.
The views you get from the hill are pretty awesome and, if you come in spring or summer, the fields will be covered by fully grown sunflowers and many different colors.
Visiting the complex is free and it takes around 2 hours to visit the main sites.
How to get to Orhei Vechi from Curchi – If you are following my Moldova itinerary, you will go from Curchi and, for that, you have two options. The easiest way would be taking a marshrutka to Orhei and, from Orhei, take a second marshrutka to Butuceni, the village where Orhei Vechi is. This option seems convenient but these are small villages and buses don't run that often. Your second option should be more fun and that is by hitchhiking.
How to get to Orhei Vechi from Chisinau – If you want to get there from Chisinau, you have two different options. If you are lucky, you may find direct marshrutkas to Butuceni, but you only get a few per day. Otherwise, take the one to Orhei and get off at the intersection towards Orhei Vechi, around 10km before. At the intersection, walk for a few hundred meters until you find the bus stop to Butuceni.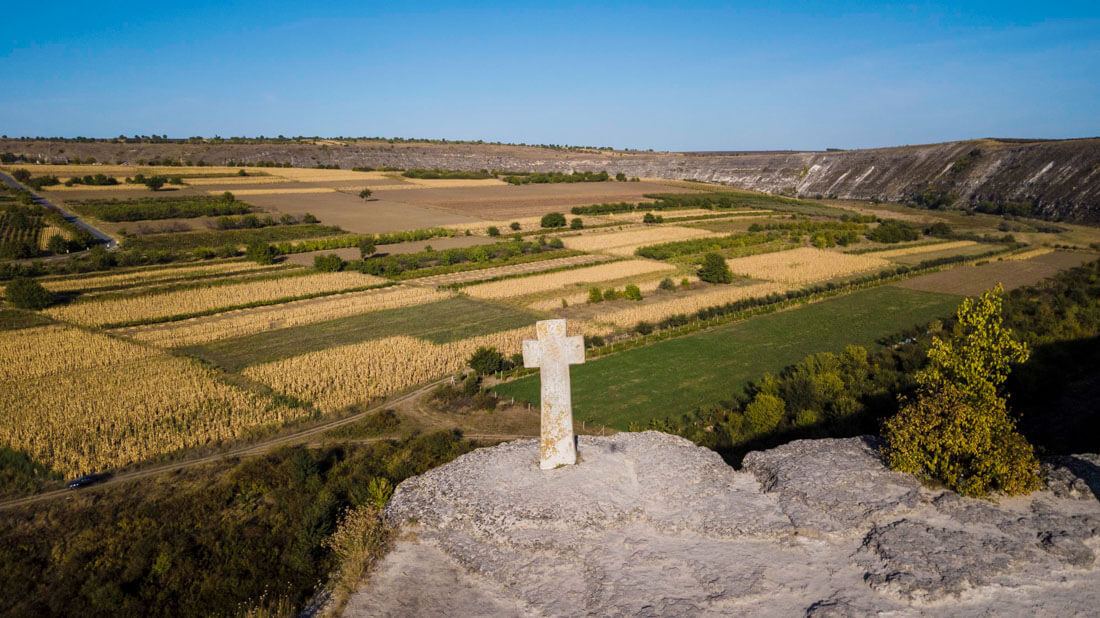 Day 4 – Day trip from Chisinau: Visit a winery (I personally went to Asconi winery)
All right.
If you travel to Moldova, it means that you are probably looking forward to some wine tasting, am I right?
Moldova is filled with loads of wineries, from all sizes.
Cricova, Purcari, and Milestii Mici are the biggest, most famous and visited by tourists, especially the last one as, apparently, it holds the largest cellar in the world, composed of 200km of underground tunnels.
However, I didn't go to any of those. I didn't because I know what visiting this kind of winery is like. They are monster corporations that produce wine on a giant scale and all they offer is an overpriced wine tasting tour and a visit to their most industrial facilities.
Side note – Visiting the biggest and famous wineries isn't the way to experience the wine culture in Moldova, but you need to go to the rural areas and see how they produce it in the traditional way (if you come in harvest season). Alternatively, you can stay in a local guesthouse, where you are likely to be offered homemade wine.
Instead, we decided to go to a middle-sized one: Asconi winery.
By the way, this article contains a list of lesser-known wineries in Moldova.
We went there because it has an amazing outdoor restaurant packed with local people, serving traditional homemade food. Dishes were inexpensive, so was the wine, and we made our own wine tasting. It was an excellent half-day trip from Chisinau.
We also did the tour but, as we expected, it was rather disappointing – they all are – and we would have preferred to just go to the restaurant.
How to get to Asconi Winery – From Central Bus Station in Chisinau, you need to get a marshrutka to a village named Puhoi and get off a couple of kilometers before. It is a 30km journey.
Milestii Mici and Cricova can be easily visited on a day trip from Chisinau. Purcari, on the other hand, is quite far from Chisinau but if you have your own car, it is doable in a day.
Day 5, 6 – Transnistria
Welcome to the largest Soviet open-air museum, the Soviet theme park of Transnistria.
Like I said before, Transnistria is an unrecognized country within Moldova and, for many, the highlight of traveling to Moldova.
Actually, in my opinion, if you only have 2 or 3 days to travel in Moldova, Transnistria should be your top priority.
I will not talk a lot about it because I already wrote a full travel guide but, long story short, Transnistria is mostly inhabited by pro-Russian people who didn't want to belong to pro-Romanian Moldova, so they self-declared their independence shortly after the fall of the USSR.
Today, Transnistria can easily be visited on a day trip from Chisinau, but I recommend you stay over for one night at least, as there are plenty of exciting things to see.
Best things to do in Transnistria
Tiraspol – The capital and where you find the Soviet theme park.
Bender – Home to a fortress and a large Communist Heritage.
Sucleia – A village where you find an epic monastery inhabited by Transnistrian monks.
Transnistria requires a separate visa, has its own borders, currency and many peculiarities. My guide to visiting Transnistria contains everything you need to know about it.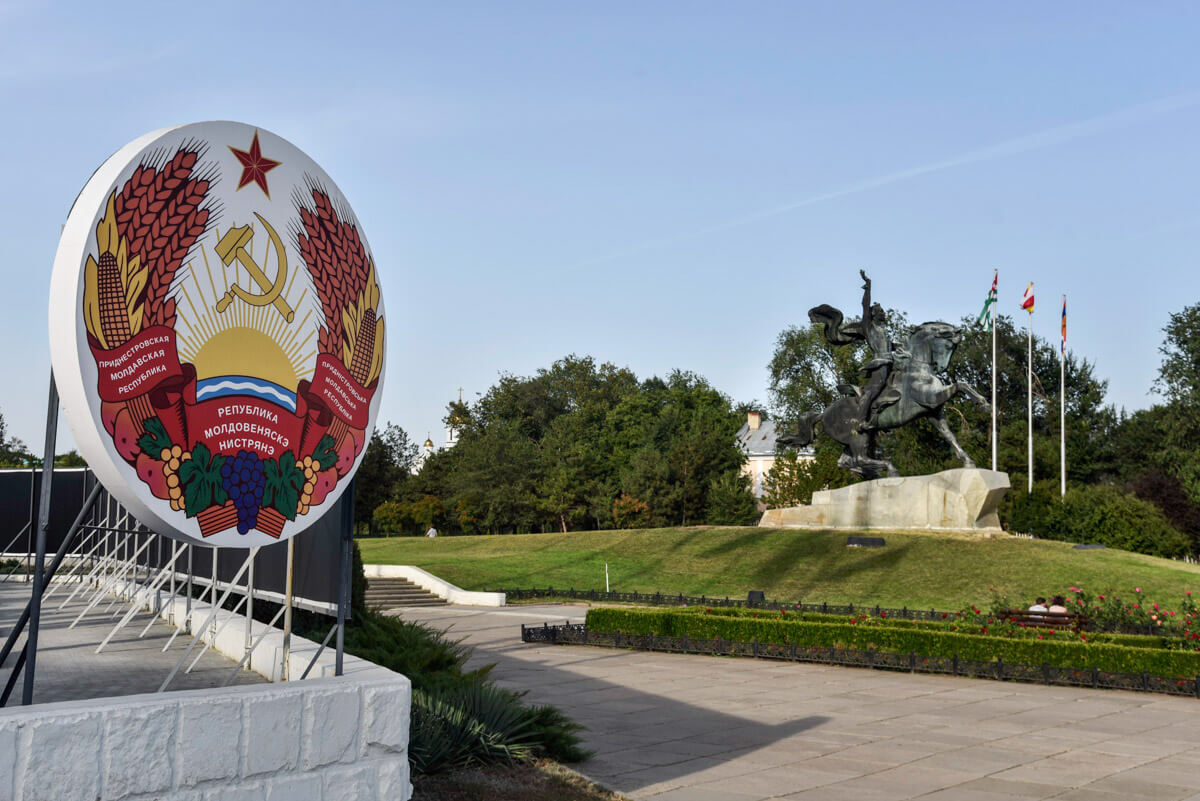 How to get to Transnistria (Tiraspol)
Easy. Marshrutkas to Tiraspol leave continuously from the Central Bus Station and one ticket costs 37MDL. It is a 2-hour journey.
For more information, read my Transnistria Travel Guide
Have you ever heard of Abkhazia? Abkhazia is another unrecognized country located in today's Georgia. Check out my travel guide.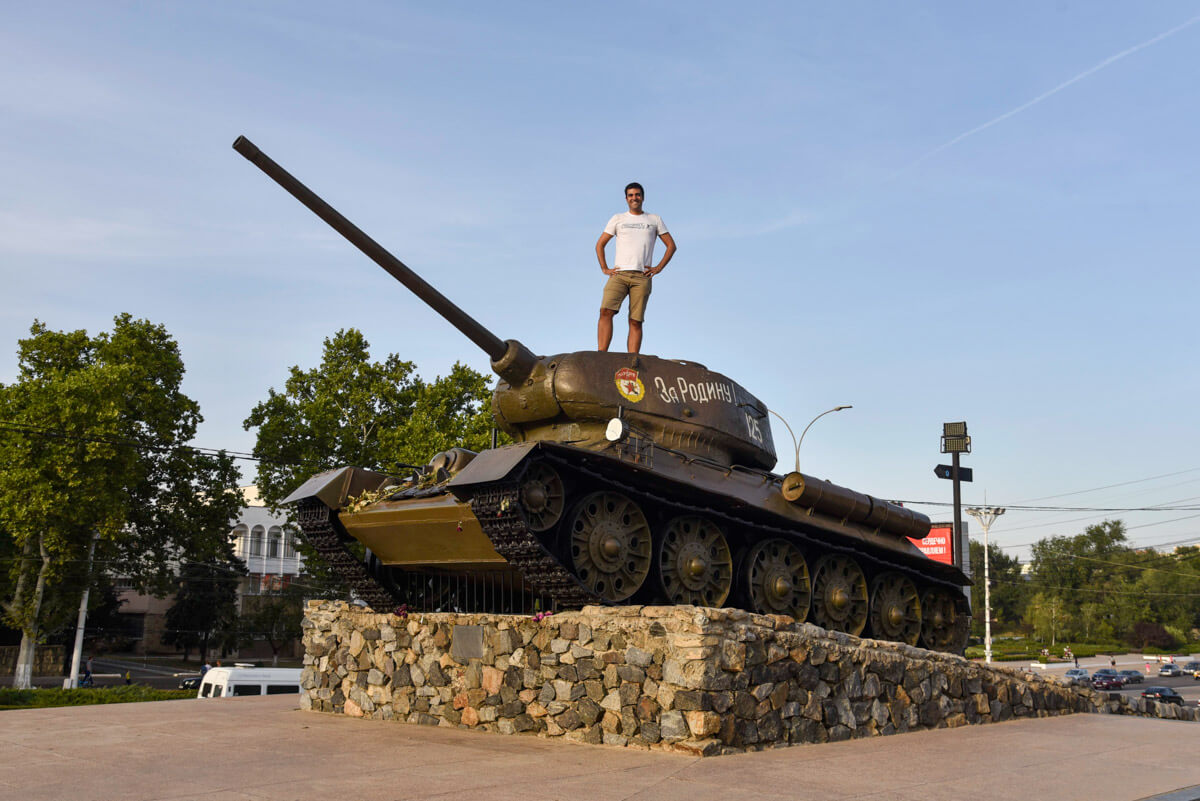 Day 7, 8 – Gagauzia
After our 3-day visit to Transnistria, we decided to head to Gagauzia to get to know the famous Gagauz people everybody was talking about.
Gagauzia is an autonomous region within Moldova which also attempted to become independent in 1991 but then, when Moldova started to pay more attention to their rights as a minority, they agreed that Gagauzia would become an autonomous region within Moldova.
Still, visiting Gagauzia really feels like a different place than Moldova.
First of all, the Gagauz are ethnically Turkic people who converted to Christianity.
They speak Gagauz, a Turkic language particularly close to Turkish, but they are also pro-Russian – they actually had a referendum in 1991 to decide whether to remain part of the USSR or not, and the YES won – and use the Cyrillic alphabet.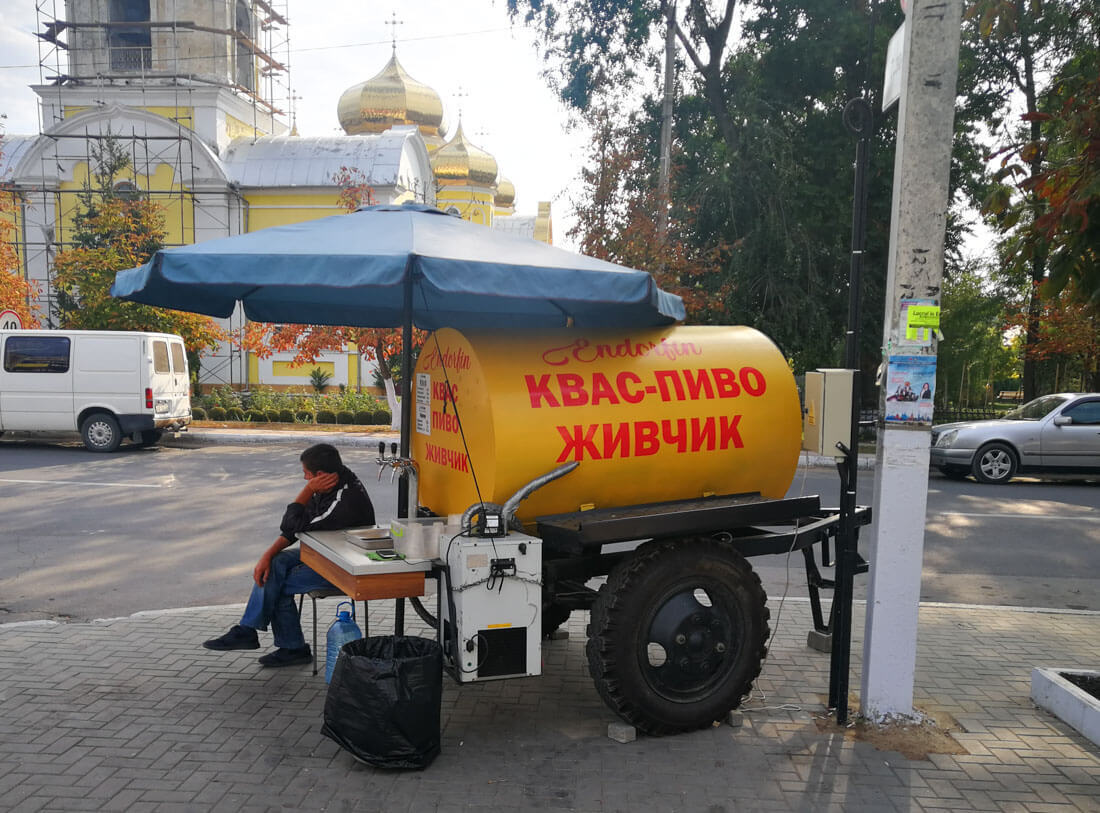 I am not sure which language prevails, Russian or Gagauz, but what I know for sure is that many Gagauz don't speak Romanian.
Actually, whereas most Moldovans are easily granted Romanian passports, Gagauz people aren't and, funnily enough, they do get Bulgarian passports because, according to a Gagauz I met, their culture is particularly close to Bulgarian.
Therefore, Gagauz people are a pro-Russian Turkic group who converted to Christianity and are culturally Bulgarian. It's pretty fucked up but Europe is fucking awesome.
If you are traveling in Moldova, it is definitely an interesting spot but something you need to know is that there isn't much to do here other than learning about the Gagauz people, so I think this is a place to be visited only by the most intrepid and curious travelers or those who are heading or coming from Romania, as Gagauzia is on the way.
Meeting English-speaking locals can also prove challenging, and we barely did, but we were very lucky that, in a village named Besalma, I met a local lady who spoke impeccable English and invited us to her house and gave us some good insights about the region over a cup of coffee and some pastries.
This is an excellent photo essay from The Guardian about the region.
Things to do in Gagauzia
Gagauzia is a big region. I spent 2 days there and visited the following places:
Komrat – The capital of Gagauzia, and a very Soviet town, you will see. Again, there isn't much to do here other than visiting the town's church and to check out the Soviet stuff, especially the kvass tank stalls.
Chirsova – Chirsova is a town where you find a small winery whose main facilities are inside a very old-fashioned Soviet building. You can visit it in the morning but, if not, you can go to the winery's shop where you are likely to see some locals drinking local draft wine. In the shop, they sell the whole range of Chirsova wines. We bought the best and most expensive they produce, a Merlot Reserve from 2010 and only cost 30MDL, around 1.50€. All right, it wasn't a very good wine but seriously, for 1.50€ a bottle, I have never tasted anything better. By the way, because some people get confused, this is Chirsova, not the famous Crisova winery.
Besalma – 20km south of Komrat, you find a lovely rural village home to a wood-made windmill, a real icon of Gagauzia. The windmill however, is in a pretty bad shape and, apparently, it is been like this for years. In Besalma, you can also visit the National Gagauz history and ethnographic Museum.
How to get to Gagauzia
We went to Komrat from Tiraspol, which was a long and tiring 4-hour journey but you can easily go from Chisinau South Bus Station.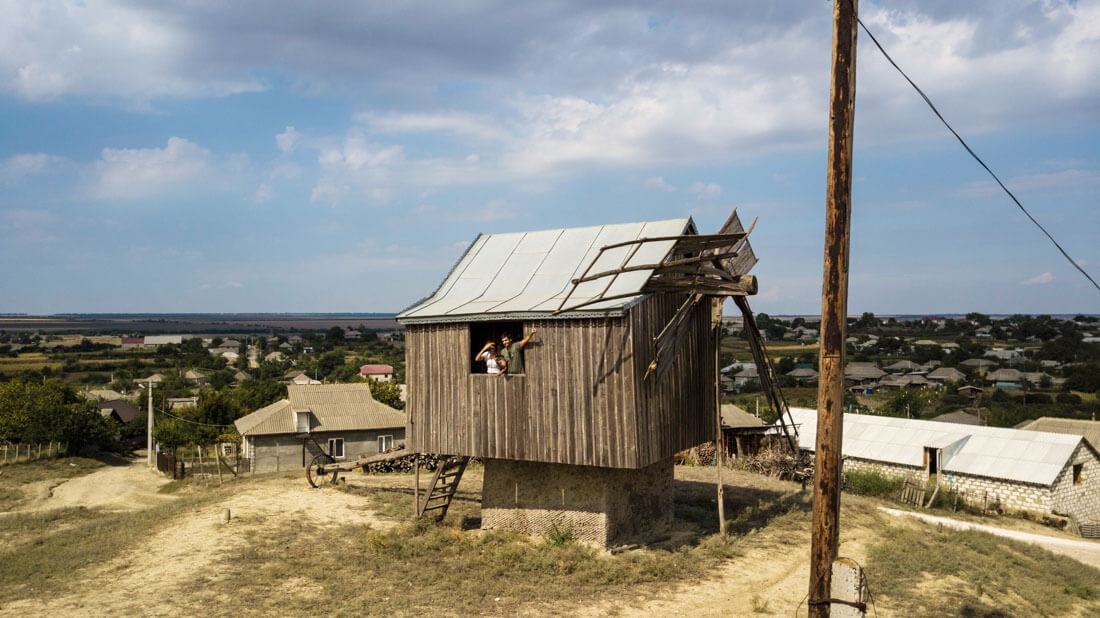 Day 9, 10 – Saharna
In Saharna, you find a pretty colorful monastery which also turns out to be the top pilgrimage place in the country.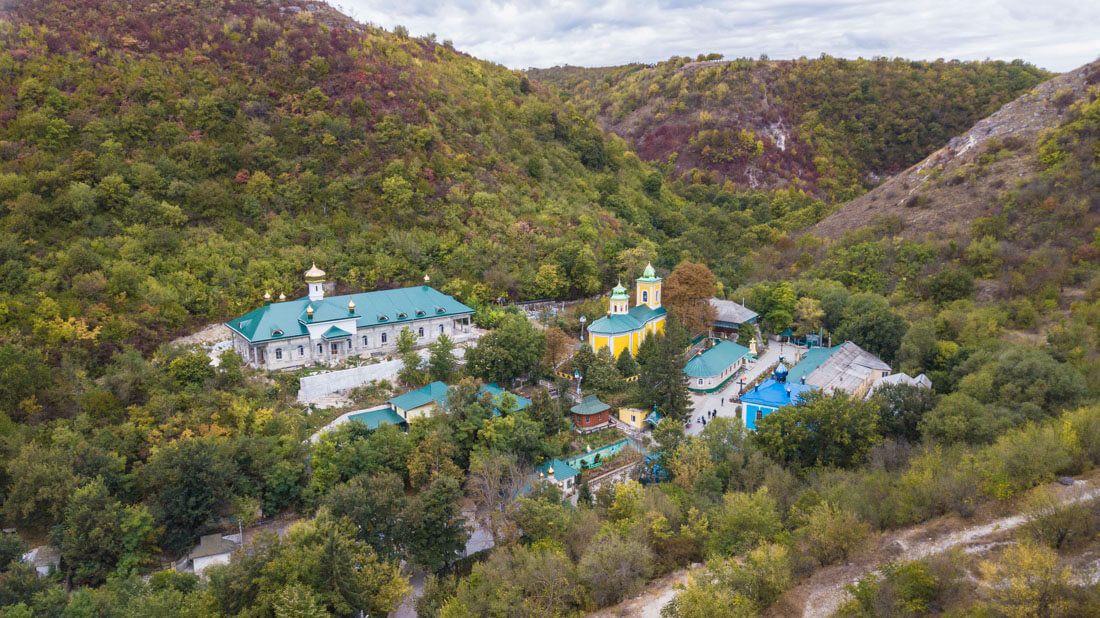 Any Moldova travel guide out there will always tell you that the monastery is the ultimate and only reason to visit Saharna but during our visit, we discovered that there was an even better reason.
Meeting Liuba.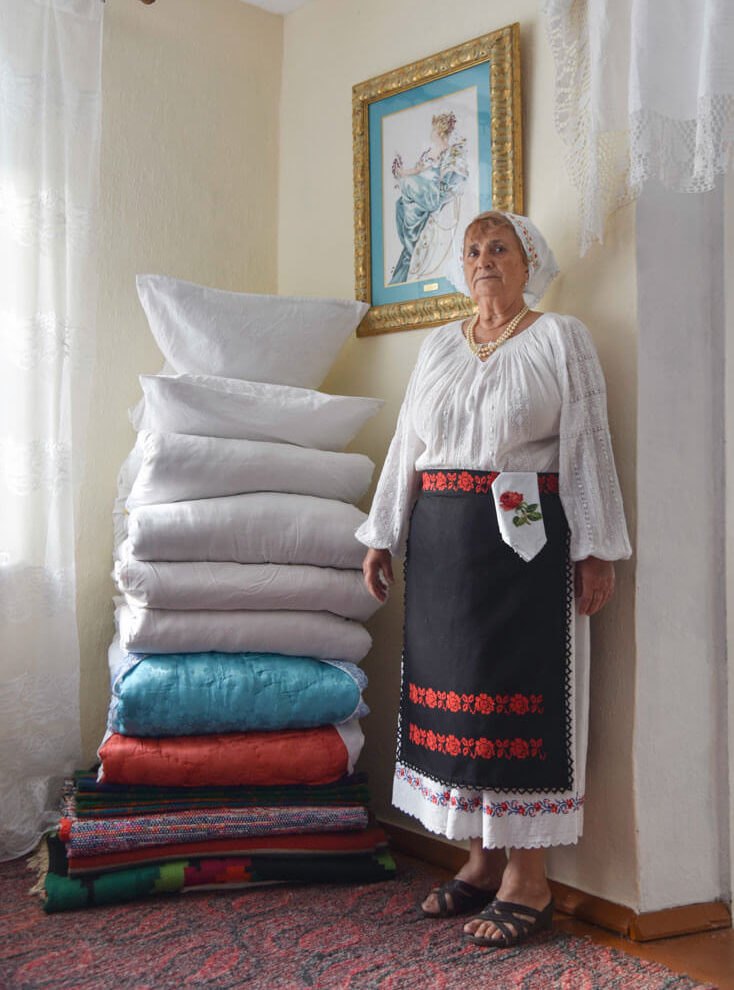 The fact is that, when we were traveling in Moldova, we wanted to spend some time in an authentic rural village.
While doing some research, we discovered that, in an off the beaten track village named Saharna, besides the monastery, there was a brand-new homestay with no reviews and not very nice photos but still, we decided to give it a try.
The homestay, however, wasn't really in Saharna but in Saharna Nova, a very rural village, 5km beyond and, upon our arrival, there was a woman waiting outside who greeted us with: Buenas tardes!
It turned out that the host, Liuba, was an old woman who had lived for more than 10 years in my hometown area, in several places around Girona province (Spain), including Selva de Mar, Platja d'Aro and Girona city.
She could speak impeccable Spanish, understood Catalan and knew everything about my hometown and culture.
Being able to have some real conversations with someone from that area was very rewarding but also, Liuba was a kind-hearted woman who made our stay very enjoyable, fed us with delicious home-made food and, since we visited her during harvest season, she even took us to her neighbor's to see how they collect grapes and produce wine.
The monastery was great to see but seriously, the main highlight of this area is hanging out at Liuba's house and enjoying real rural Moldova.
I dare say that this was our best Moldova traveling experience.
Day 11, 12 – Soroca
Soroca was our last stop in Moldova before traveling to the Ukrainian Carpathians.
There are two reasons to stop in Soroca when you travel in Moldova: one is to check out their Medieval fortress from the 15th century and the other is to get to know one of the largest communities of Romani people, more commonly known as gypsies.
Soroca is, in fact, a gypsy city, and a peculiar one, because here you find the Gypsy Hill, which is an upper neighborhood full of extravagant and ostentatious mansions, composed of glittering columns and shinning roofs, built with the purpose of showing their success after years of discrimination.
We didn't spend much time in Soroca, so we just walked around the neighborhood for a while but this is an excellent write-up of a traveling family who met the Gypsy King of Soroca. Yes, he exists.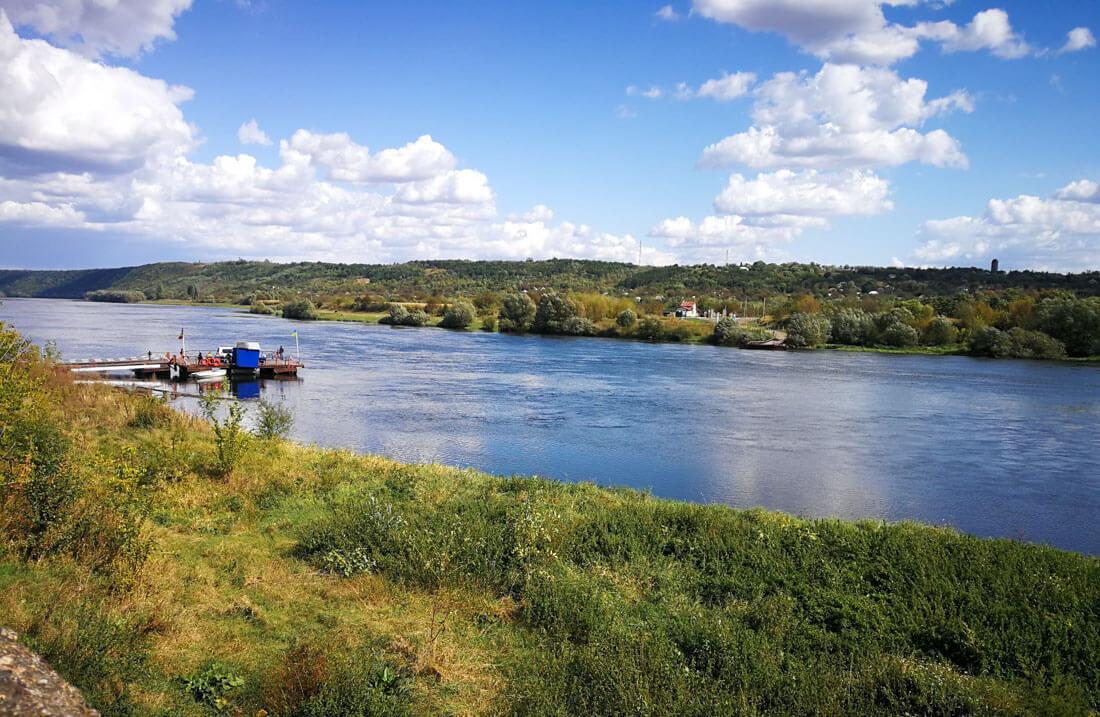 Things to do in Soroca
Soroca Castle – Located at the shores of the Dniester river, this Medieval castle is the best in the country.
Gypsy Hill – Explained before, and it is a short walk up from the city center.
Dniester river – The city is located at the shores of the Dniester river, the other side being Ukraine. Near the castle, there is a very rudimentary ferry that can take you to the other side. Since most nationalities have visa-free for both countries, you could just cross and spend a couple of hours in Ukraine, even though I am not sure if there is anything to do in the border village.
How to get to Soroca
If you are coming from Chisinau, there are loads of buses leaving from the North Bus Station.
If you are following my Moldova itinerary, so you are going there from Saharna, you will first need to go back to Rezina and then take the marshrutka towards Balti, but you need to get off at the intersection before Floresti (say you are going there). At the intersection, just wait for the marshrutka that goes to Soroca.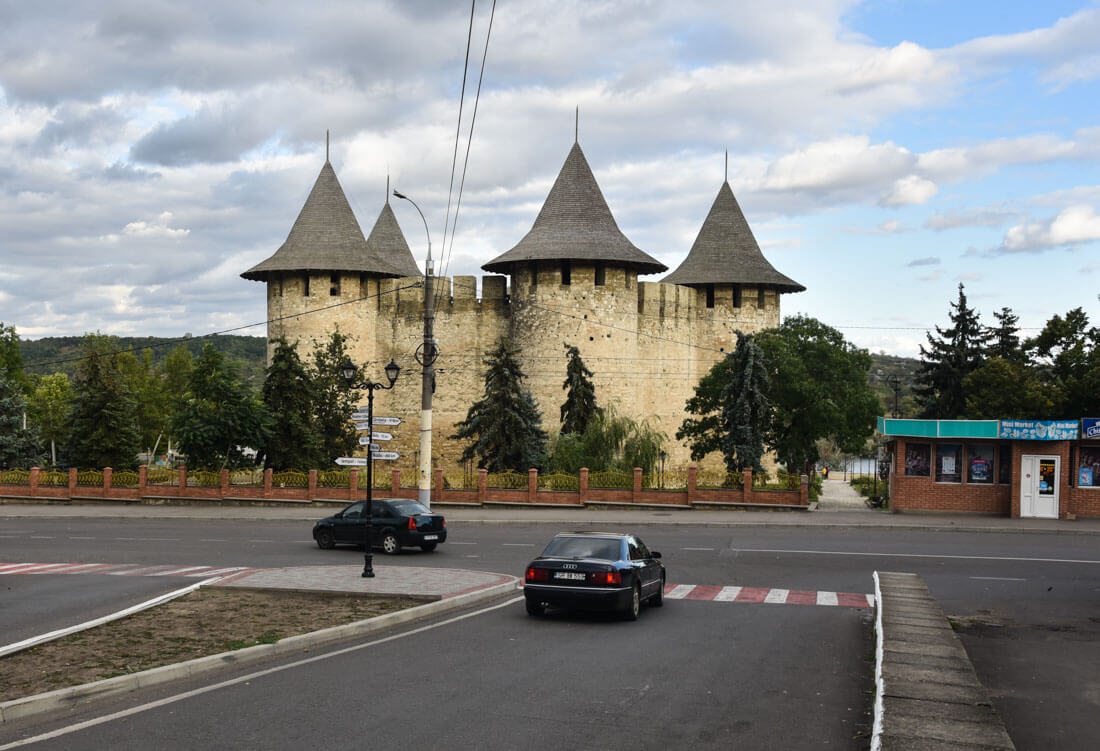 Conclusion of travel in Moldova
When I told travelers I met on the road that I was planning to spend two weeks traveling in Moldova, most of them didn't understand why one would spend so much time in a country where there isn't much to do.
Well, as you could see in this 12-day Moldova itinerary, the country's main attractions are slightly different from what a normal holiday would be but, once again, if you travel with an open mind, I am pretty sure you won't get bored at all.
More information for backpacking in Moldova
Remember to get travel insurance for Moldova
I strongly recommend IATI Insurance as it has COVID-19 coverage + 5% discount
Get exclusive 5% discount if purchasing via this link
All guides and articles for traveling in Moldova destination
Travel guides to former Soviet countries