How to travel to Transnistria in 2023 (Tips + Itinerary)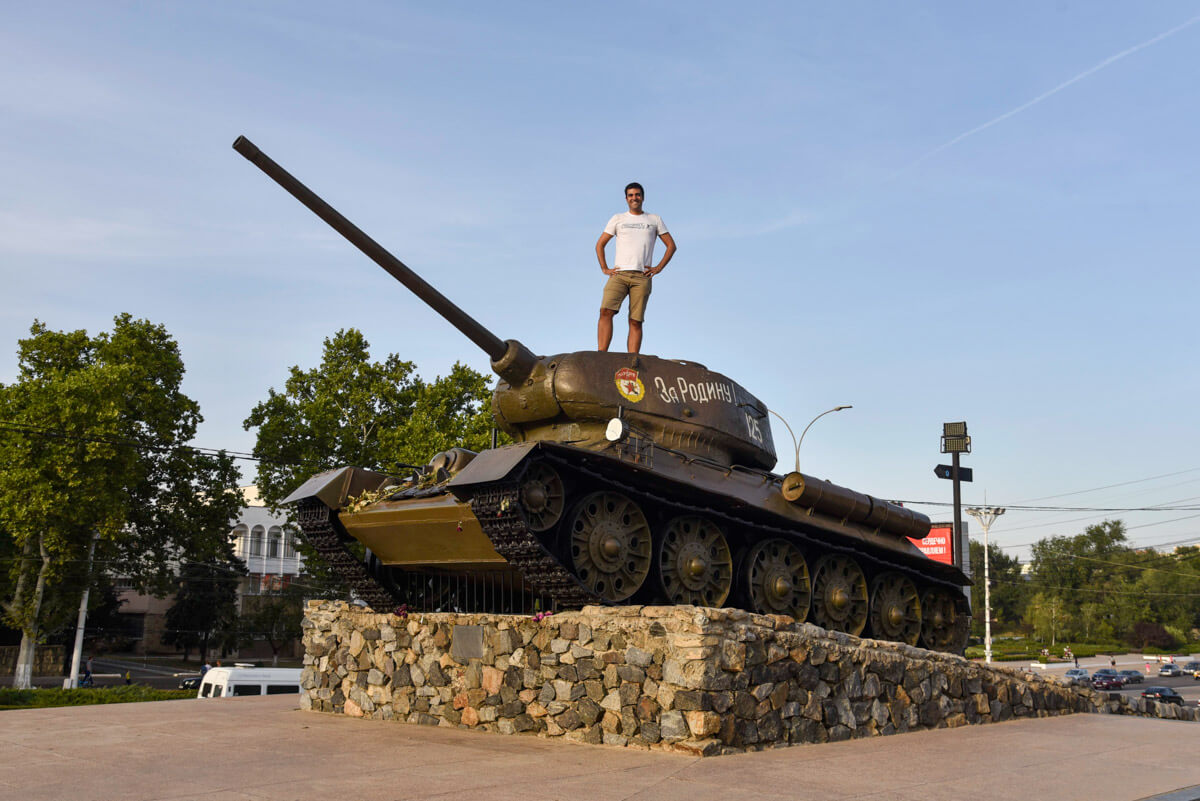 Have you ever visited a country that doesn't exist?
As strange as it may sound, the world is filled with ghost countries which are basically, countries not recognized by the international community, therefore not members of the United Nations.
In Europe, you can find 5 unrecognized countries, one of them being Transnistria, located within present Moldova.
Transnistria is a real Soviet theme park and an actual off the beaten track destination within Europe.
This guide contains everything you need to know to travel to Transnistria, including information regarding visas, how to get there, things to do and historical context.
Don't forget to read my ultimate Moldova itinerary, which also includes plenty of tips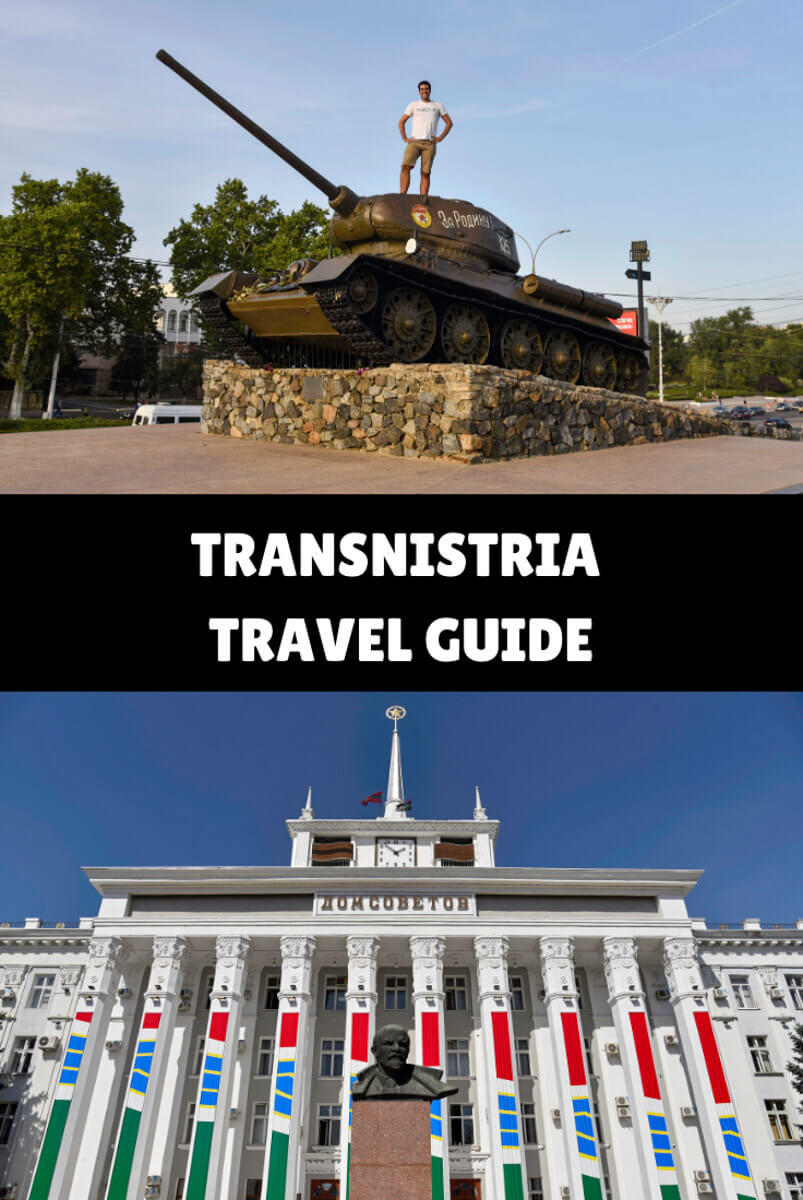 Remember to get travel insurance for Transnistria
I strongly recommend IATI Insurance: COVID-19 coverage + 5% discount
5% discount if purchasing via this link
Introduction to visiting the Pridnestrovian Moldavian Republic (Transnistria)
Transnistria, with Tiraspol as its capital, is a narrow territory within Moldova, which stretches from north to south, the Dniester river being the natural border with Moldova, hence the name in Russian: Pridnestrovian, meaning on the other side of the Dniester river.
The Pridnestrovian Moldavian Republic is a country not recognized by the UN, but traveling to Transnistria feels like traveling to a new one: they have their own borders, immigration rules, military, government, parliament, car registration, and even their own currency.
It is a territory filled with Soviet nostalgia and Communist symbols.
In fact, the Transnistrian official flag is the only one in the world still using the hammer and sickle.
The only more Soviet places I have been to is Minsk. Check my travel guide to Minsk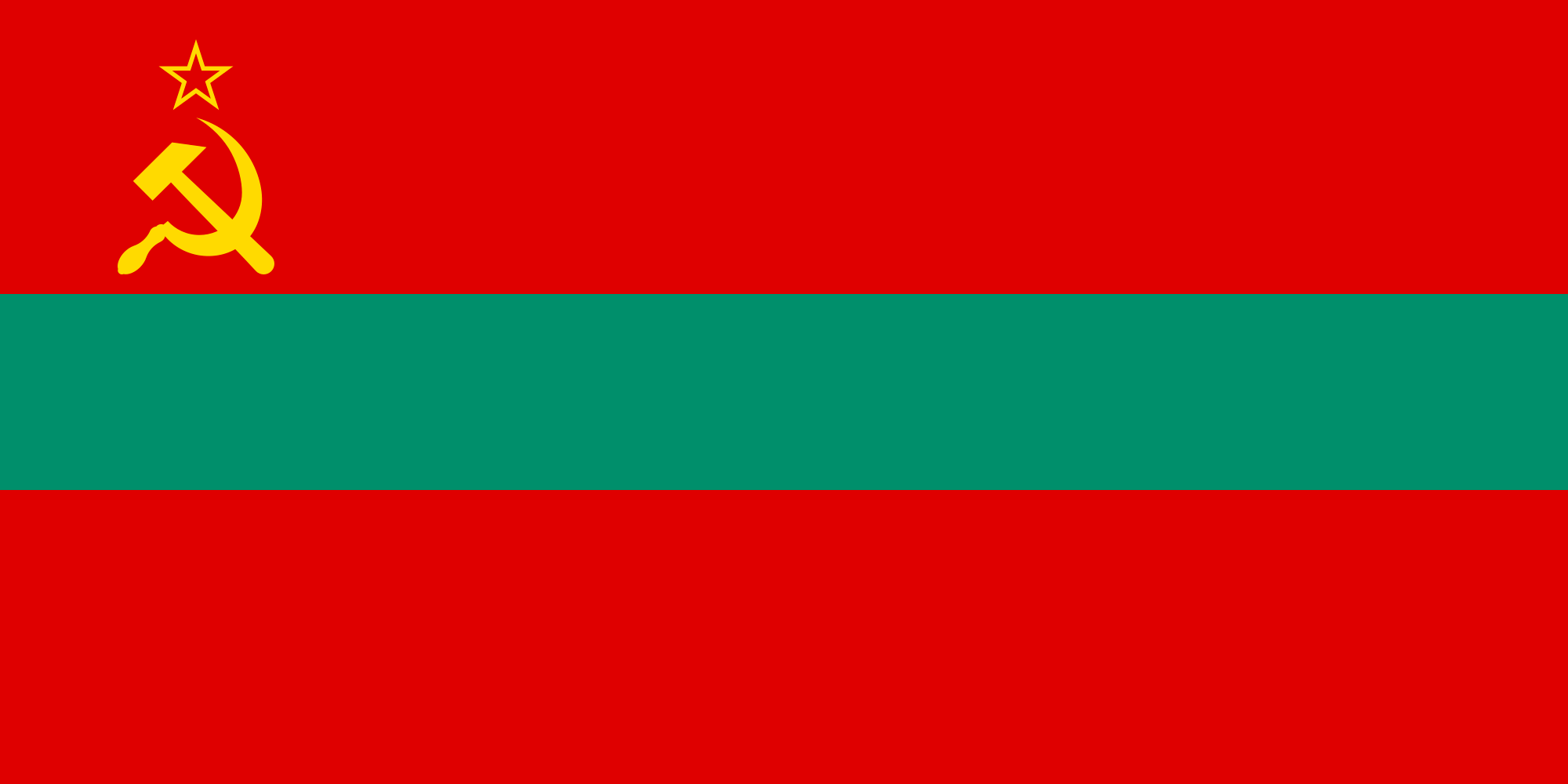 Why did Transnistria separate from Moldova?
Short story: Transnistrians are pro-Russian people who didn't want to be part of Moldova (culturally Romanian) after the dissolution of the USSR.
Longer story: However, I'd like to add a few points because the story is obviously more complicated than that.
The fact is that Transnistria is an artificial, fake territory taken from Western Ukraine in an attempt by the Soviets to take over Bessarabia, a region from Romania which joined the Soviet Union in the 40s, which later became present-day Moldova.
The reason why Transnistria is mostly inhabited by ethnical Russians is the same as why you find Russians in Eastern Ukraine: they were sent there as part of the Russification process.
After WWII, the Soviets created the Moldavian SSR, composed of both Bessarabia and Transnistria but then, at the end of the 80s, during the dying years of the USSR, Moldovan nationalism grew and the Transnistrians were afraid of becoming the minority within Moldova, especially when Romanian was declared an official language, so Transnistria proclaimed independence from Moldova.
Tensions between both parties increased until 1992, when the Moldova-Transnistria war happened, which lasted for 3 months, and from whose Peace Agreement, the fake Semi-Presidential Republic of Transnistria was founded.
For more information, read this great summary from the BBC.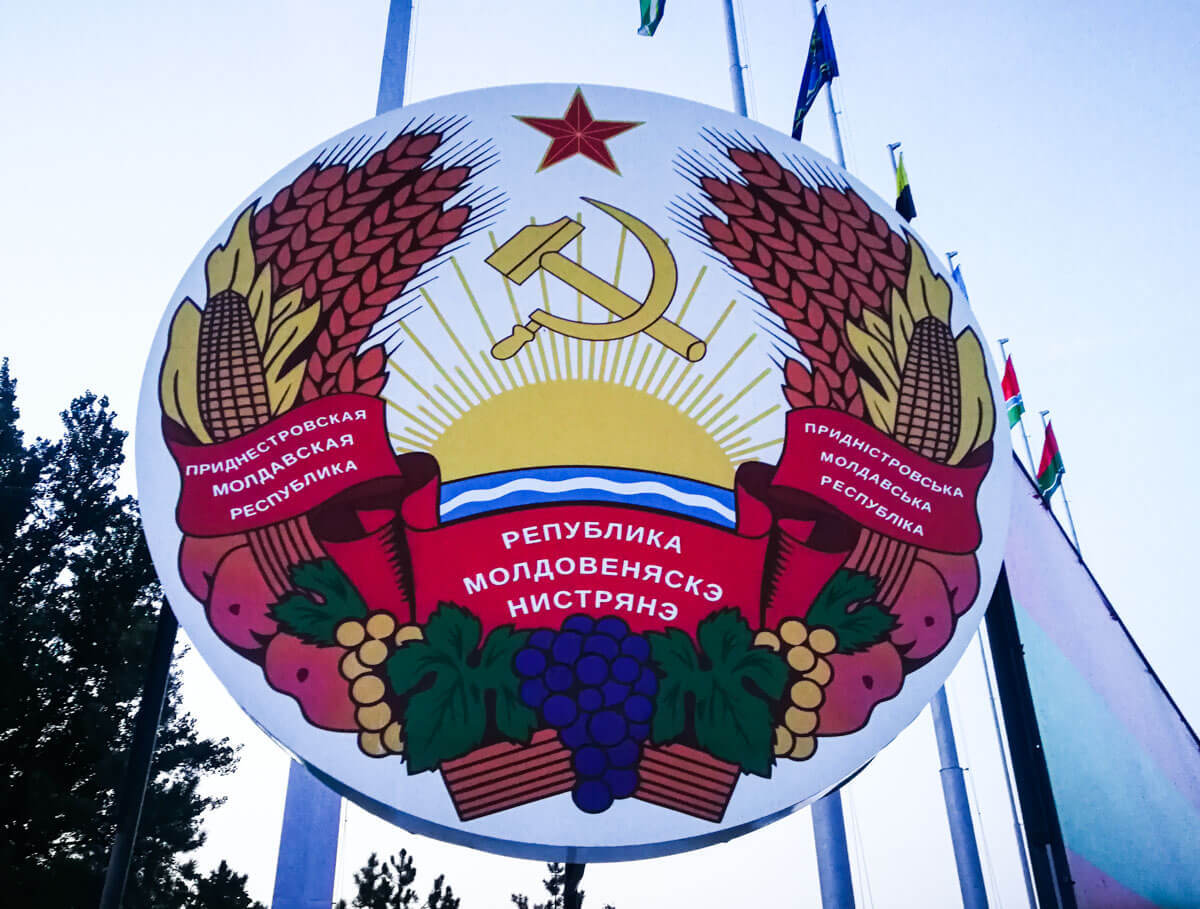 Who recognizes Transnistria?
Unlike other unrecognized republics in the region such as Abkhazia or South Ossetia, Russia doesn't recognize Transnistria as an independent country.
Transnistrians would like to be part of Russia but since Russia doesn't want them – because the territory doesn't have much value – and they don't want to be part of Moldova, they are kind of stuck in between.
In fact, Transnistria is an unrecognized country only recognized by unrecognized countries:
Abkhazia – within Georgia. Read my travel guide to Abkhazia
South Ossetia – within Georgia
Artask – formerly known as Nagorno Karabakh and only accessible from Armenia.
Also, don't forget to read my Georgia Travel Guide
This is one of the reasons why the economy in Transnistria is really struggling and, if you think Moldova is a developing country compared to the rest of Europe, wait until you travel to Transnistria.
Still, traveling to Transnistria is a worthwhile experience for anyone interested in offbeat, Soviet stuff.
Continue reading my Transnistria Travel Guide.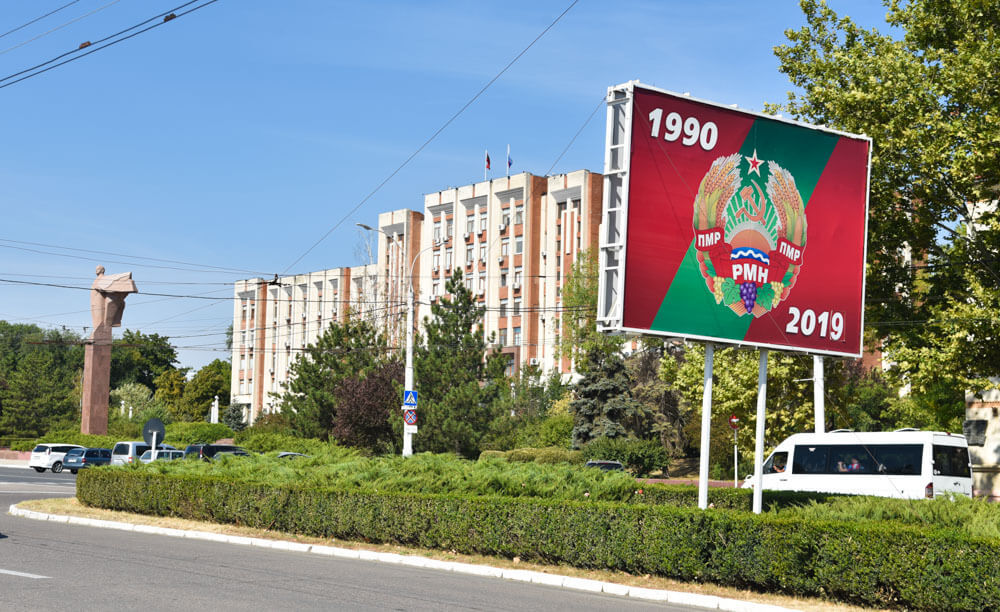 Visa for Transnistria
Things have gotten smoother for visiting Transnistria, and pretty much any nationality who can visit Moldova can get a visa on arrival in Transnistria.
Typically, once you arrive at the border, they will give you an immigration card valid for the number of days you requested, and which you need to show upon exit, like the Israeli visa.
How many days can you stay in Transnistria?
At the border immigration office, they will ask how many days you are planning to stay for.
They claim your visa can be valid for up to 45 days, as long as you have a hotel booking confirming the length of your stay.
However, they did ask us the name of our hotel but never asked for the booking confirmation.
We had booked 3 nights in Tiraspol but, just in case, we said we wanted a 5-day permit, and the officer granted it to us without any further question.
Extending your stay in Transnistria
If you wish to spend more time traveling in Transnistria, visa extensions can easily be got in a few minutes – and free of charge – at the immigration office located in Kotovskogo 2a Street, Tiraspol.
A common problem: Moldovan exit/entry stamp
Since Moldova doesn't recognize Transnistria as an independent country, the Moldovan authorities will never give you an exit stamp upon your entrance in Transnistria, for the simple reason that, in their eyes, you never left Moldova.
Therefore, there could be two possible scenarios in which you won't get your entry/exit stamp automatically, so here's what you need to do:
You are leaving Transnistria through Ukraine, hence you are not coming back to Moldova – In this case, at the Ukrainian border, you need to ask for the Moldovan immigration office, but be aware that this isn't an automatic procedure, so you need to look for it.
You travel to Transnistria from Ukraine, and then you plan to enter Moldova – If arriving by train, you will find the immigration office at the train station itself in Chisinau but once again, this is not an automatic procedure. If you are arriving by bus and don't get the entry stamp, according to the Lonely Planet Forum, you need to get it at the Immigration Office in Chisinau, but only if you plan to stay in Moldova for more than 72 hours.
In any case, there are reports from travelers saying didn't manage to get the entry stamp for Moldova but, upon their exit, the Moldovan authorities didn't give them any trouble because they are fully aware of the situation.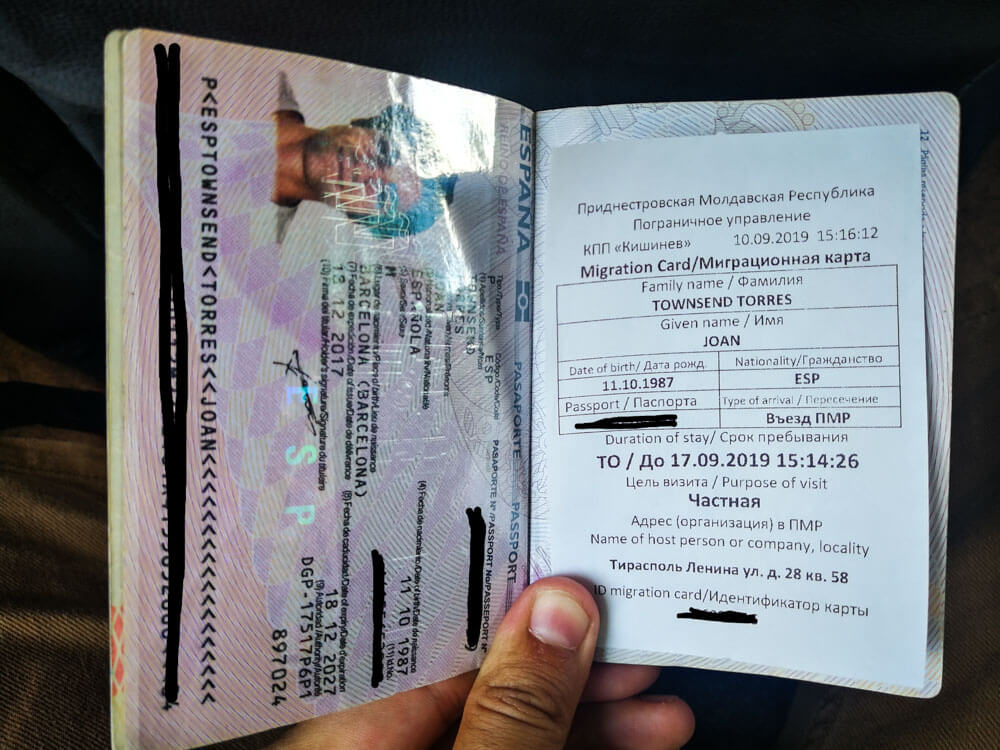 How to get to Transnistria
Remember to get travel insurance for Transnistria
I strongly recommend IATI Insurance: COVID-19 coverage + 5% discount
5% discount if purchasing via this link
There are different ways of traveling to the Pridnestrovian Moldavian Republic:
How to travel to Transnistria from Ukraine
By train – The train that goes from Odessa to Chisinau stops in Tiraspol. Not sure if there are daily trains, but you can check timings, prices and buy your ticket on the official Ukrainian Railway site. That's where I bought mine. By the way, if you book the Odessa-Chisinau route, make sure to type the Russian transliteration Kishineu, otherwise, you won't find it.
By bus – If you miss the train, you can also take the Odessa-Chisinau bus which goes through Tiraspol. I personally used the train because it is apparently much faster than the bus.
Other entry points – The Ukraine/Transnistria border is pretty long, so there are other points of entry which you can use. The city of Pervomaisk, located 200km north of Odessa, is a city with regular buses to Moldova.
Don't forget to read my Ukraine travel guide
How to travel from Chisinau to Tiraspol
By bus (marshrutka) – Marshrutkas leave all day long from the Central Bus station in Chisinau, here. It is a 2-hour journey and costs around 50 Leis (Moldovan currency), even though they might charge you more if you carry a suitcase.
By train – I believe the train also works but marshrutka is a better option, as you get loads of them every day, whereas there are only a few trains.
Money in Transnistria
Transnistria acts like a separate country and, unlike other unrecognized republics such as Abkhazia or South Ossetia, which are fully backed by Russia and so use the Russian Ruble, in Transnistria, they use their own currency: Transnistrian Rubles (PRB).
1€ = 17.50PRB
1MDL = 0.90PRB
Plastic Coins – In Transnistria, in addition to their regular coins and notes, they also use some weird plastic coins which look like a joke, but they are totally valid, even though they will soon remove them from the market. They have plastic coins worth 1, 3, 5 and 10PRB.
Paying with a credit card and withdrawing money
You can pay by credit card in only a very few places, so it is better to bring cash.
I was able to withdraw money from one ATM, but I believe this will depend on your bank.
Just in case, bring some extra cash.
Exchanging money
American Dollars, Euros, Moldovan Leis and Russian Rubles are widely accepted in all exchange offices.
Paying in other currencies WATCH OUT!
The local economy in Transnistria is always struggling, so that is why they always like to accept any currency different from their own, including MDL, RUR, € or USD.
However, on our last day, we had dinner in a relatively fancy restaurant where I thought credit cards would be accepted but they weren't, so they brought us the bill in MDL and charged a 20% commission on the exchange rate.
Luckily, while Adriana waited in the restaurant, I was able to find an ATM that worked but the guys from the restaurant strongly insisted I should not bother to go the ATM, 'cause they knew they'd get an extra 20% that way.
How much does it cost to travel in Transnistria?
Transnistria is a cheap destination as per European standards, and I'd say that it is a 15% cheaper than Moldova.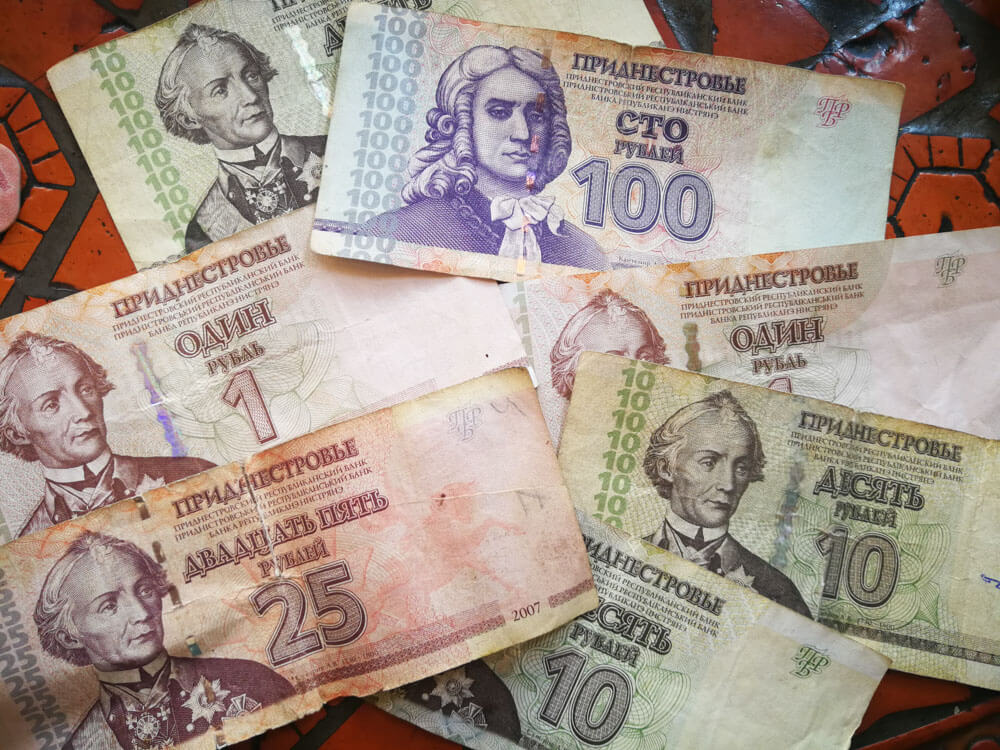 Where to stay in Tiraspol
Best Backpacker Hostel – Like Home Hostel – The best backpacker hostel in town is run by a lovely local family, has a garden, a good location and vibes.
Best Budget Hotel – Elektromash Hotel – Good quality budget rooms in a hotel which also has a kitchen.
Best mid-range hotel – Hotel Russia – If you want a more comfortable stay, this hotel is the best value-for-money mid-range option in town.
Is it safe to travel to Transnistria?
Something you need to remember when you visit Transnistria is that, unless you have a Russian passport, you won't have any consular representation if the unlikely happens, so always travel with caution.
Other than that, Transnistria and Tiraspol are as safe as Chisinau or any other country, even though I heard stories from people getting mugged at late hours, but I guess it was a one-off event.
Taking photos when you visit Transnistria. Is it allowed?
Before traveling to Transnistria, I had read in a few blogs that taking photos of Government buildings like the House of Soviets was not allowed but this isn't the case anymore.
You can take photos of all the monuments and buildings mentioned in this article, with the exception of course, of military buildings, but this happens everywhere around the world I'm afraid.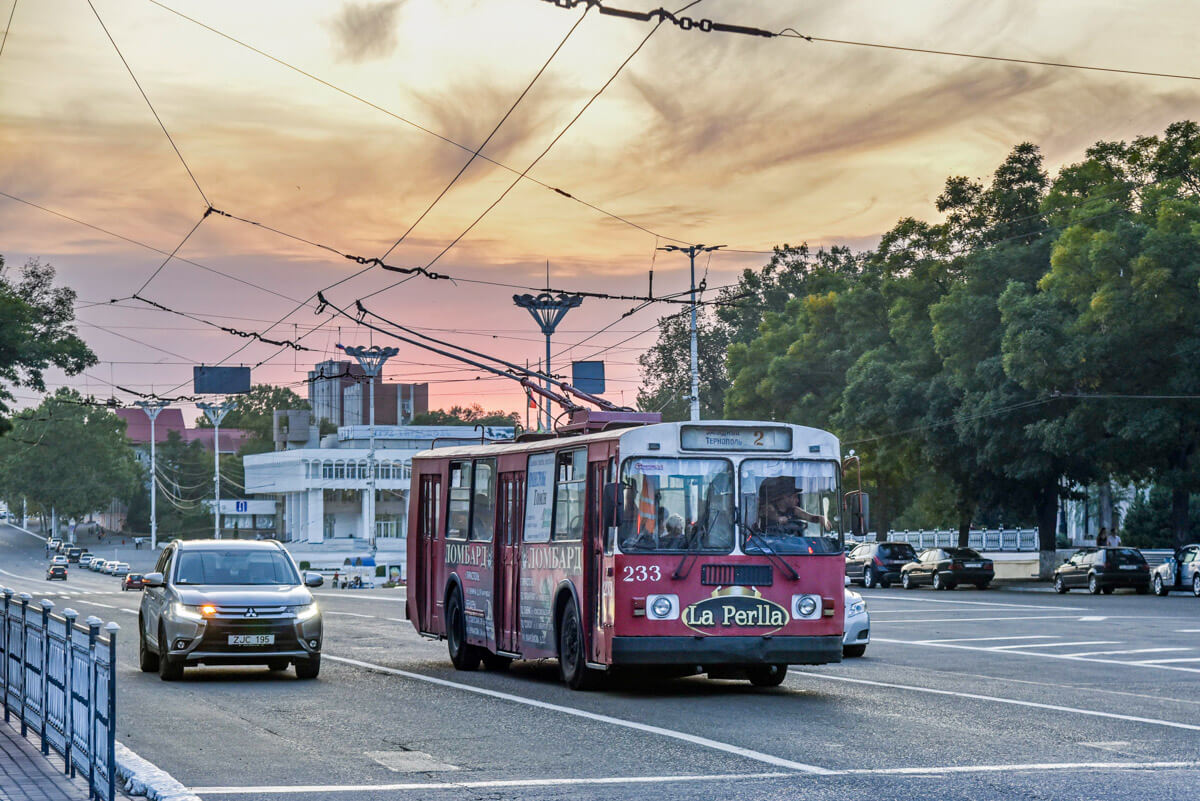 Things to do in Transnistria
Traveling in Transnistria can certainly keep you busy for 2 or 3 days.
We stayed for 3 nights, spending most of our time in Tiraspol, but we also did some trips outside of the capital.
Map of the things to do in Transnistria
Things to do in Tiraspol
Today the largest open-air Soviet Museum in the world, Tiraspol is a Soviet theme park or, like my Moldovan friends like to say, a Soviet zoo, even though I find this last term a bit disrespectful.
Jokes aside.
The best things to do in Tiraspol are all related to Transnistria's Soviet Heritage, but there is also a lively market worth to check out, as well as a few churches.
House of Soviets and Lenin bust
The first crazy Soviet thing you may want to see is the City Hall of Tiraspol, whose main peculiarities are that they still call it the House of Soviets (Dom Sovetov in Russian) and they kept a bust of Lenin in front of it.
It is a Stalinist style building from the 50s.
I managed to get inside the building but I was kicked out after 1.5 seconds.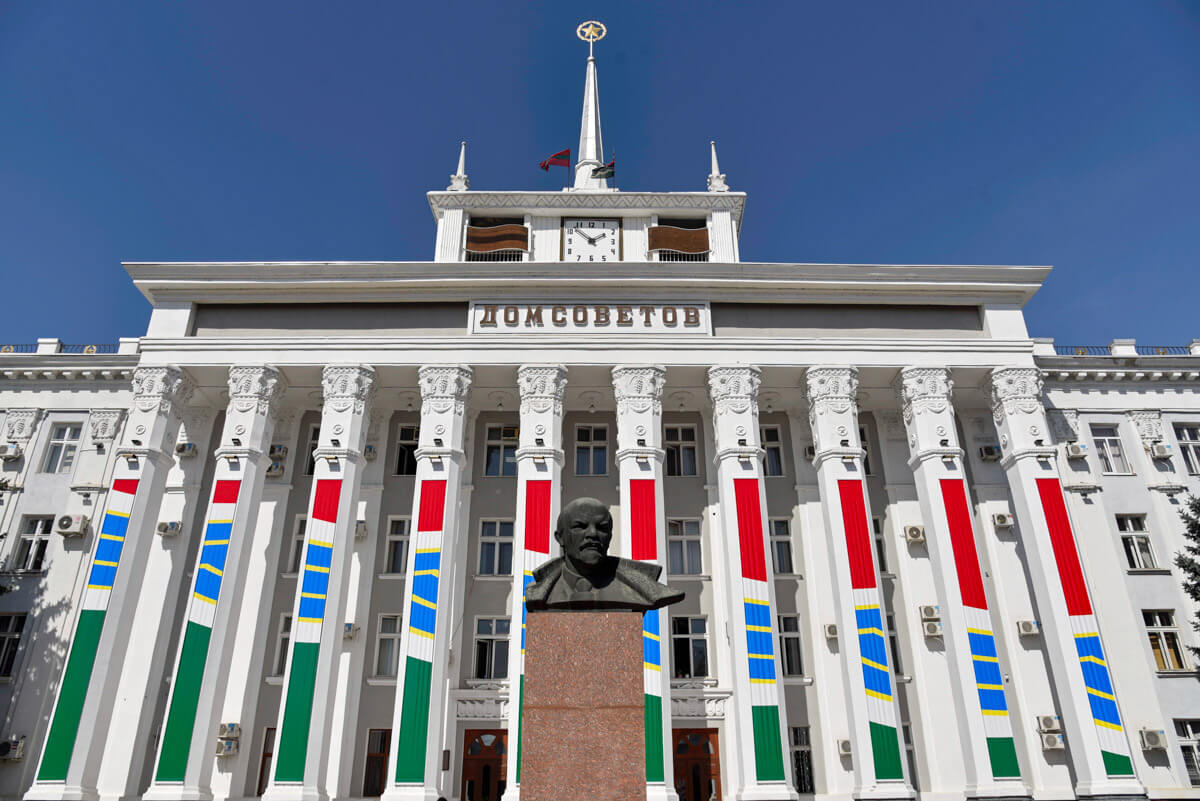 Suvorov Square: Suvorov Statue and Transnistria emblem
In Suvorov Square, you find the largest national emblem in the country, consisting of the hammer and sickle, and depictions of bread, grapes, corn, and potatoes.
You know, Communist stuff.
Next to it you find the statue of Alexander Suvorov, the last Generalissimo of the Russian Empire in the 17th century, at whose side wave the flags of the unrecognized republics of Abkhazia, South Ossetia and Artask.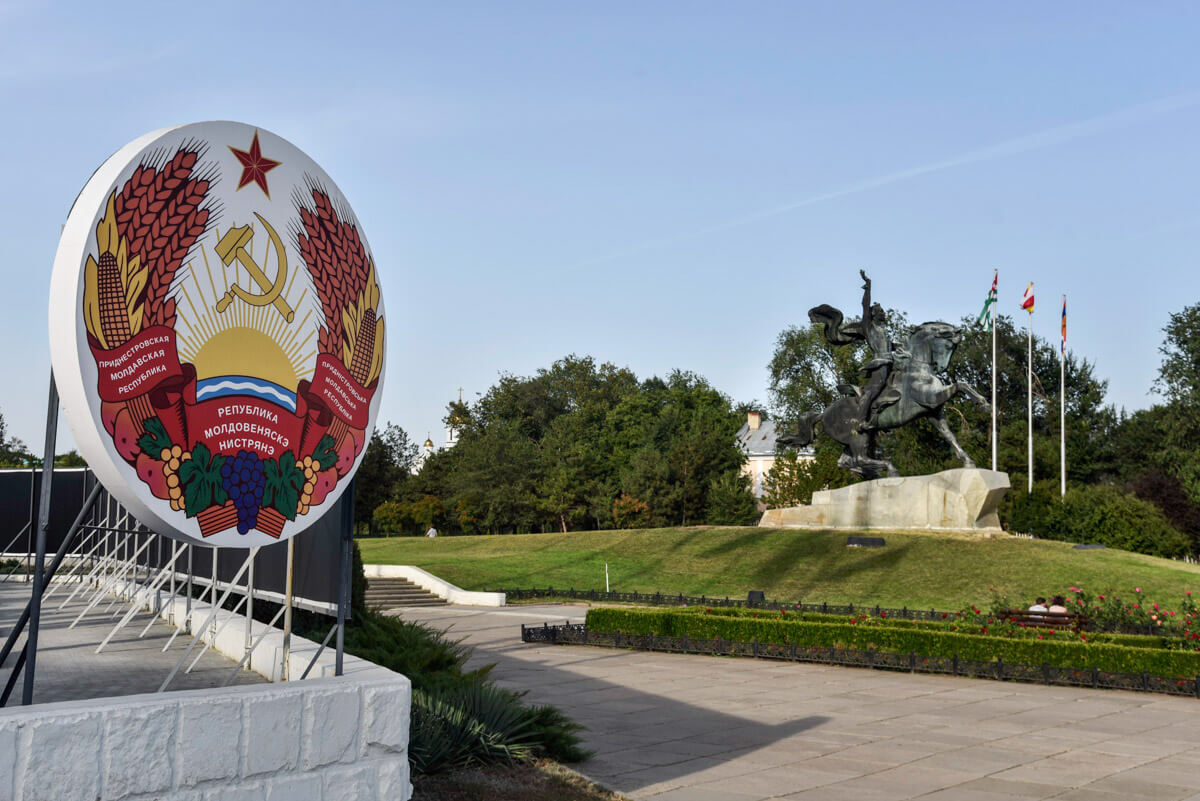 Presidential Palace and Lenin Statue
The favorite postcard of Tiraspol is the Presidential Palace, which is guarded by a massive Lenin statue.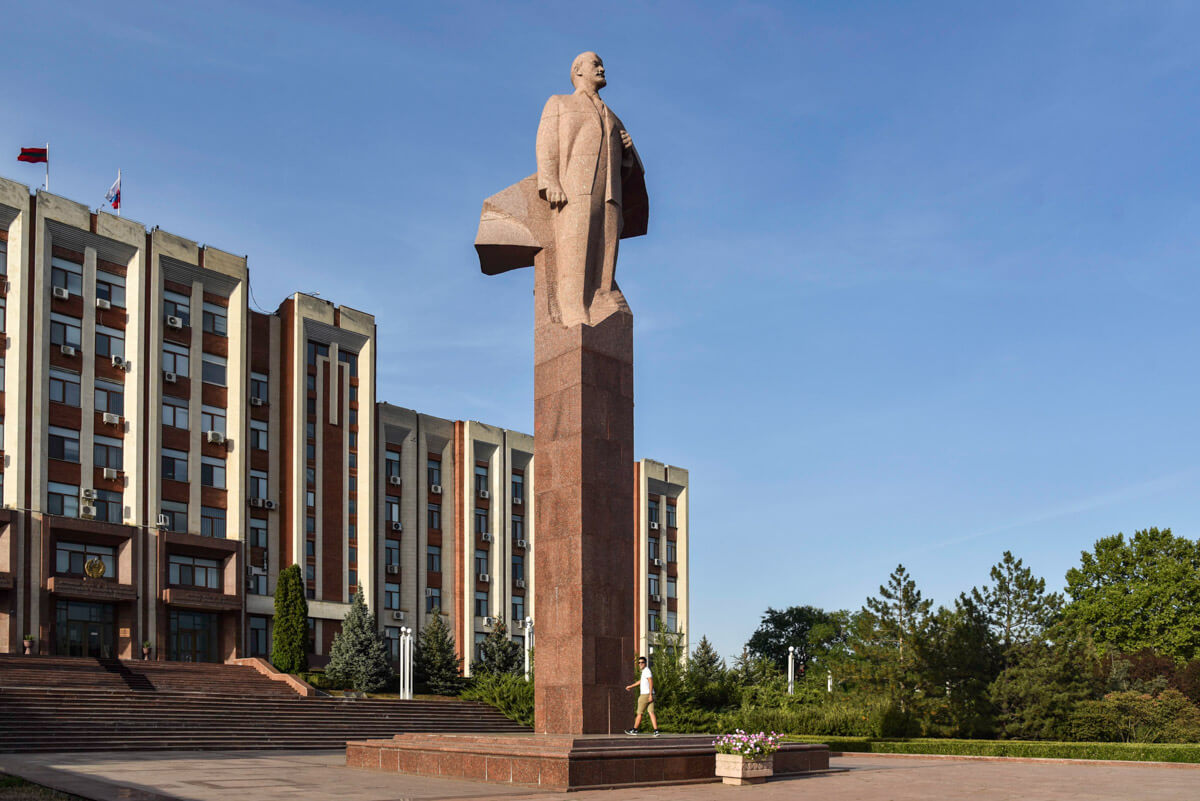 The T-34 tank and Saint George Chapel
Very close to the Presidential Palace you find a war memorial to those who died during the Moldova-Transnistria war, in which you find a T-34 tank, the most common tank used during WWII.
Controversially, next to the Soviet tank, you also find a cute church that creates a big contrast, the Saint George Chapel church.
If you like Soviet stuff, read Soviet stuff to do in Belarus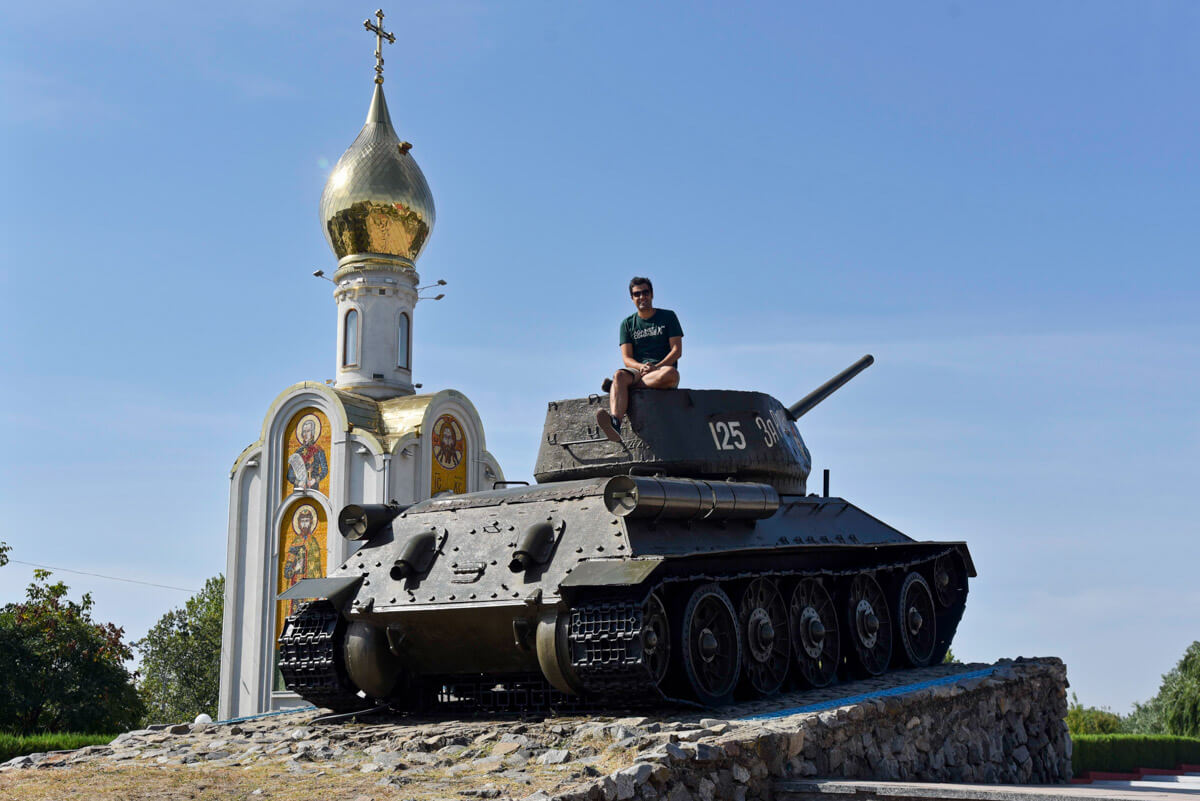 Abkhazia and South Ossetia embassies
Like I said, Abkhazia and South Ossetia, along with Artask, are the only countries that recognize the existence of Transnistria, so they won their right to get their respective embassies in a prime location.
Here you can see other unrecognized countries I have visited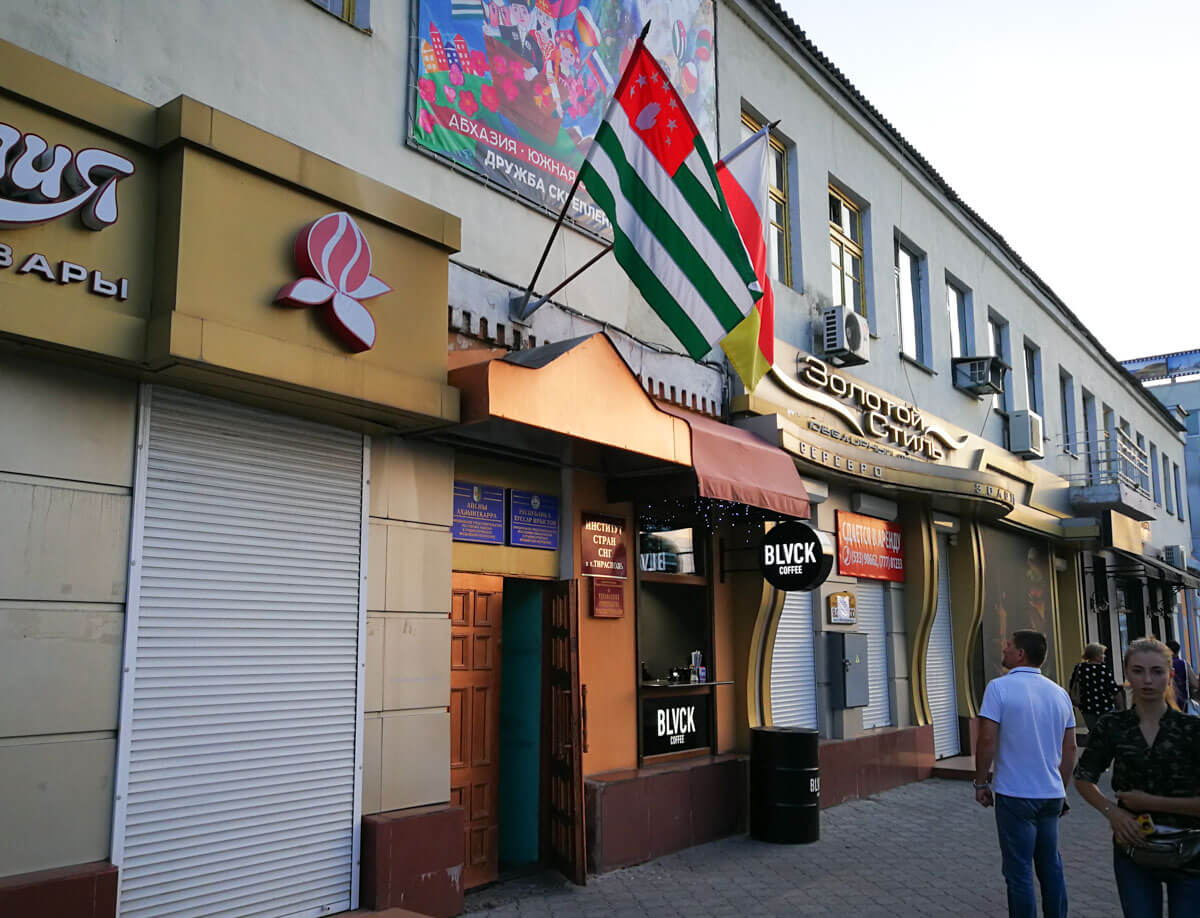 Monument to Aviators
Quite at the edge of town, you find the Monument to Aviators, consisting of a MiG-19 plane, the world's first mass-produced supersonic aircraft.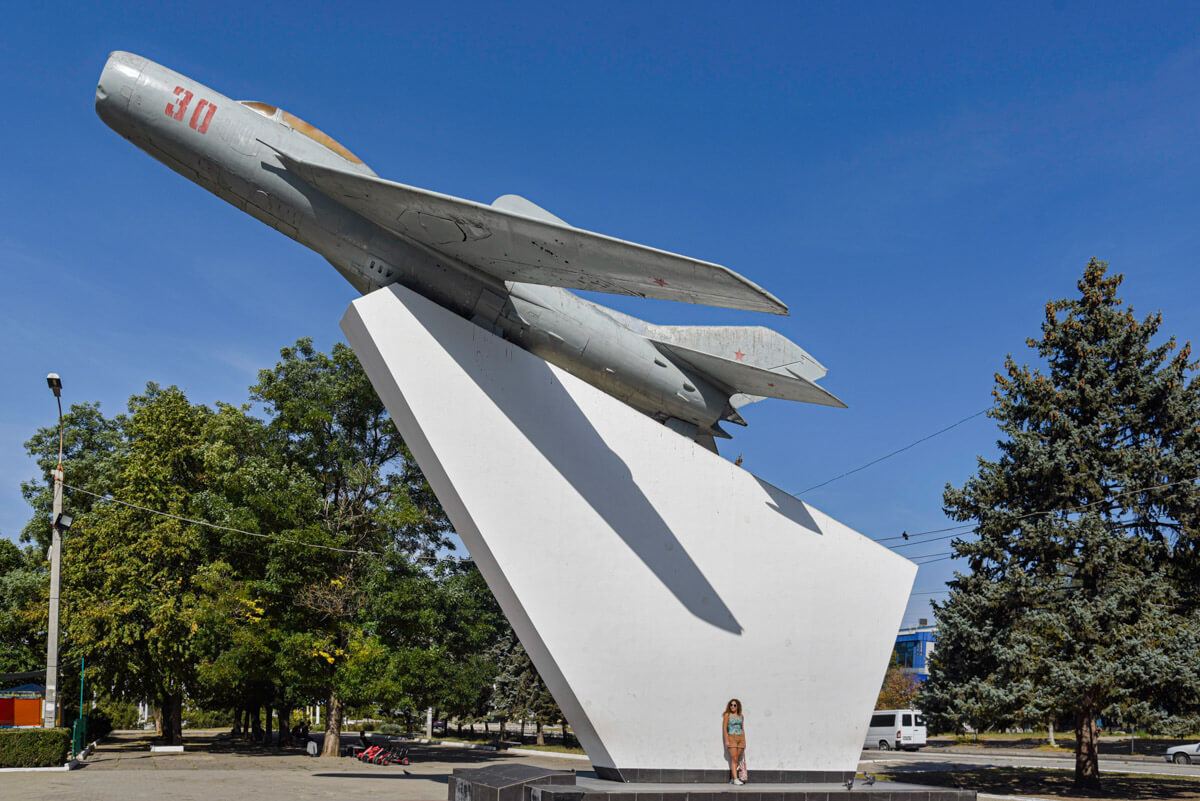 Zeleni Market and the Christmas Cathedral
If you have some spare time, the Zeleni market in the center of Tiraspol gets quite lively in the morning. We were told that it also contains a flea market where they sell all sorts of old Soviet artifacts but we couldn't find it.
Next to the market, you find the most important cathedral in Tiraspol, Christmas Cathedral, which is worth a few minutes of your time.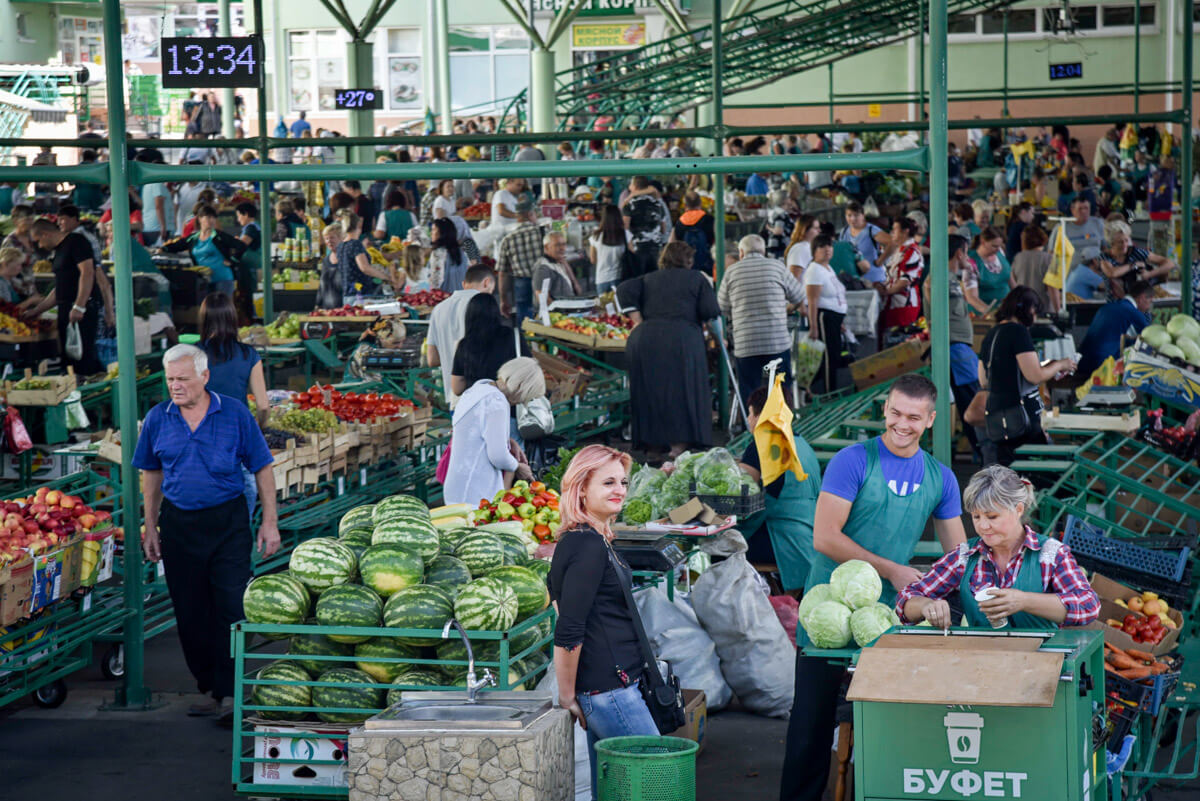 Kvint Cognac Factory
One of the few non-war-related things Transnistrians are proud of is their brandy, especially their Kvint Brandy, a distillery which has been completely functional since 1870, today producing more than 20 million bottles a year.
I actually recommend you buy a small bottle from any supermarket or, at least, get a glass of brandy in any relatively good restaurant found across the city.
Otherwise, you can also visit the factory, located just a 15-minute short walk from the city center.
They offer daily tours in English and I recommend you go there the day before to book your tickets and ask for timings. We decided to visit the factory on our last day in Tiraspol but we arrived a bit late, and the next scheduled tour wasn't until 4pm, so we missed it.
Dniester river crossing
The Dniester is the natural border between Transnistria and Moldova but there are a few towns across the river that also belong to Transnistria, especially around Tiraspol.
You can cross to the other side by walking over the bridge but, if you have time, there is also a ferry (shown on the map) that takes you to the other side for a few cents.
In the evening, the shore of the river is a hanging-out-spot for locals.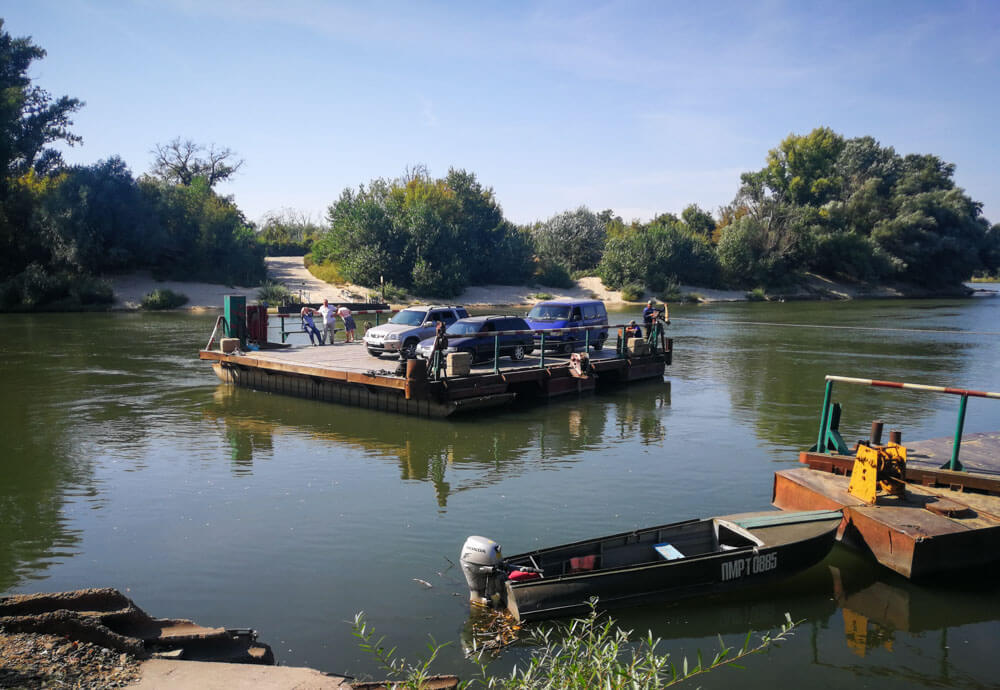 Best day trips from Tiraspol
These are some other things to visit in Transnistria:
Bendery
Most travelers come here to just visit the famous Bendery Fortress but, if you visit Transnistria is because you like visiting Communist stuff, then Bendery has a hell load of it, perhaps not as monumental as its neighbor Tiraspol, but good enough to keep you busy for 1 or 2 hours.
Things you need to check out are the slightly deteriorated Lenin Statue in Madagascar Park, the mosaic inside Bendery's main bus station and the tank monument near the fortress, all of them marked on the attached map.
By the way, entering the fortress costs 50PDR but the inside is not particularly exciting. Next to the fortress there is a fancy hotel with a cool bar-terrace that sells inexpensive beer.
How to get to Bendery – There are buses every 10 minutes going to Bendery from the Tiraspol city center.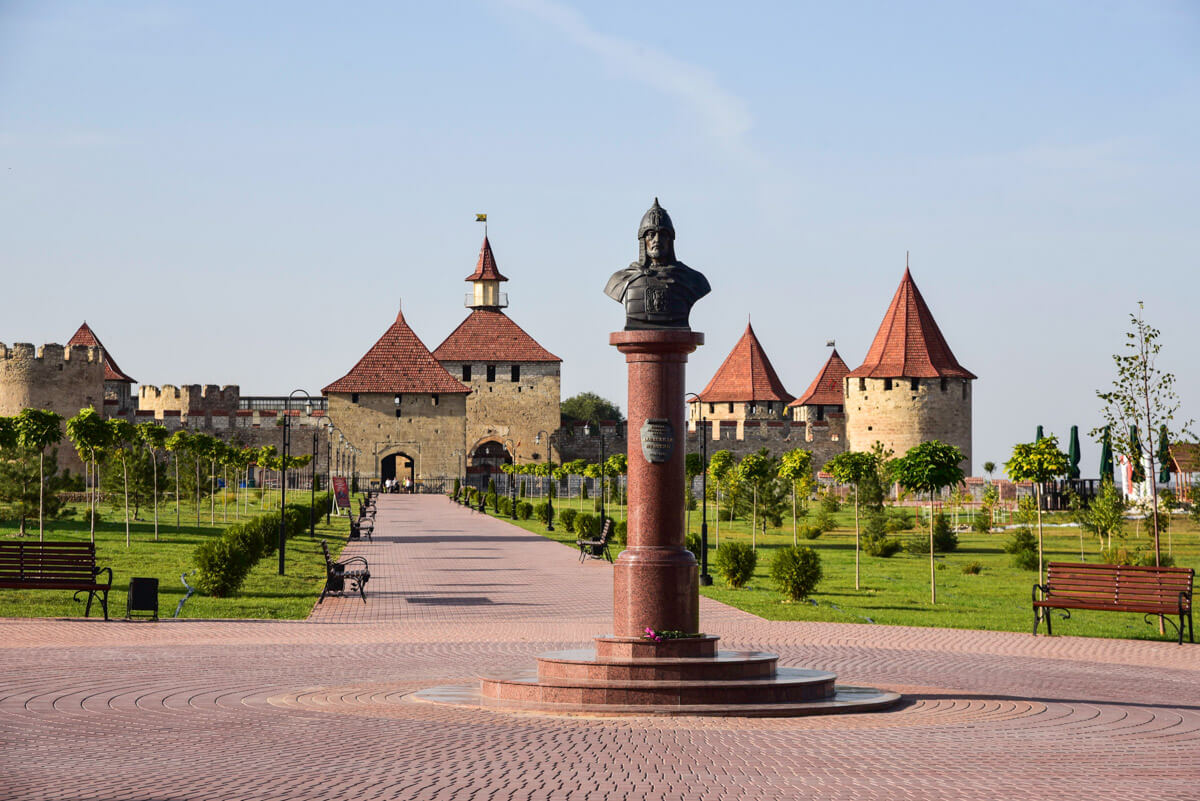 Chitcani
Chitcani is an unattractive Transnistrian town located across the river which has not much to offer except for Noul Neamt Monastery, a pretty Orthodox complex inhabited by Transnistrian monks who make a living from the wine they produce and vegetables they grow.
There is a very tall bell tower which you can climb to the very top.
Well, you can but I think it is not allowed. I did it because there wasn't anyone around, but I had to go through some doors which weren't locked, but they were closed.
How to get to Noul Neamt Monastery – Marshrurkas leave from right across the river by the bridge. Otherwise, if you cross the Dniester by ferry, you can hitch a ride with any other car on the boat.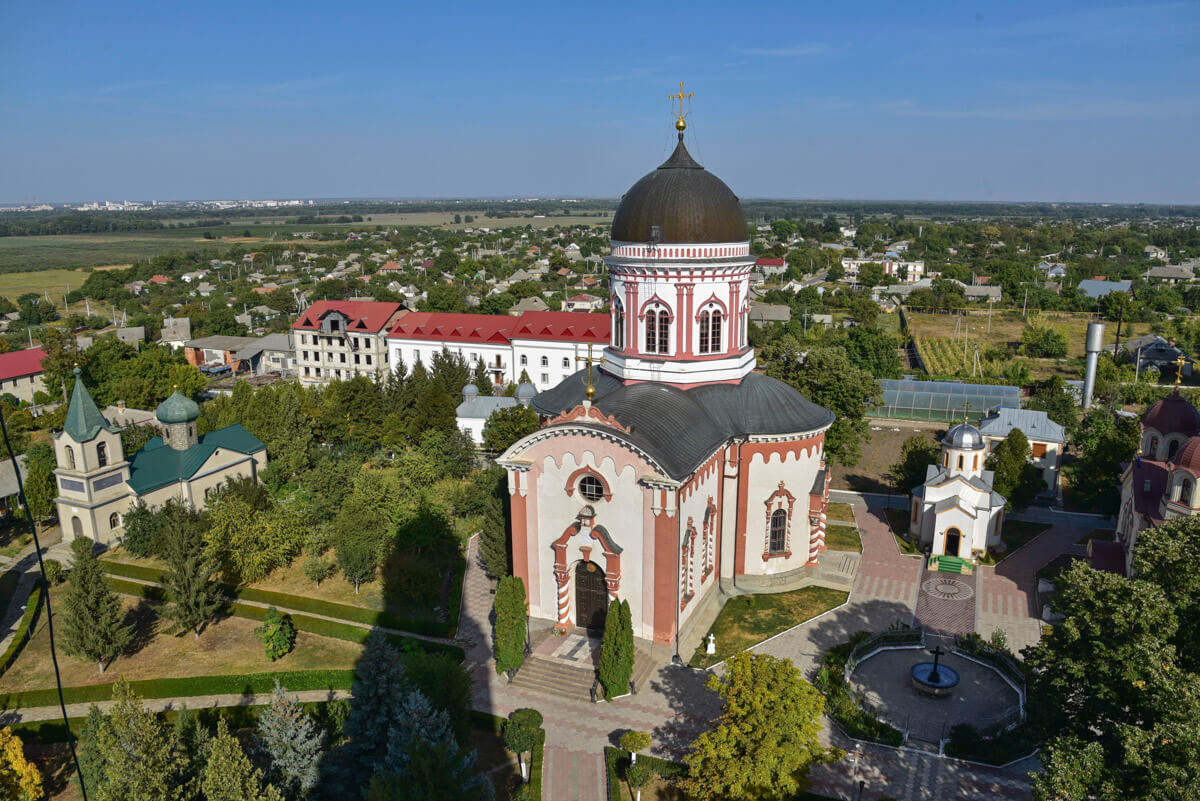 Sucleia
I missed this place, basically, because I only found out about it after visiting Transnistria.
In Sucleia there is a Youth Sports Complex containing a set of pretty amazing Soviet murals and a disproportionately large Lenin Statue.
Sucleia is around 7km east of Tiraspol.
If you want to know more about it, read this post from Kathmandu & Beyond.
This was everything you needed to know to travel to Transnistria. If you have any questions or suggestion, please leave a comment below
More content about Moldova:
Remember to get travel insurance for Transnistria
I strongly recommend IATI Insurance: COVID-19 coverage + 5% discount
5% discount if purchasing via this link
More Travel Guides to Moldova
More Travel Guides to Other Unrecognized Countries