Things to do in Minsk in 3 days (includes offbeat stuff)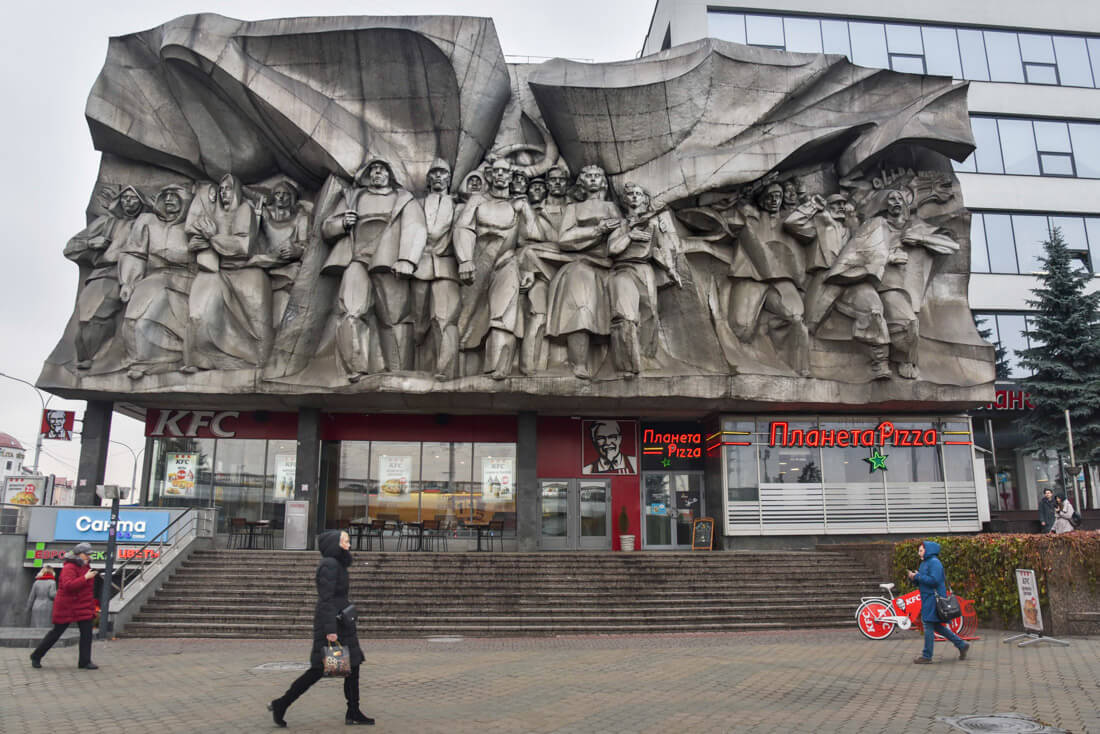 Minsk is the capital of Belarus, a country which, despite its large size and belonging to Europe, we tend to forget about.
I often wondered why travelers weren't interested in visiting Minsk, and all I could think of was that most people see the country as a mere uninteresting extension of its sister Russia.
The truth is that the capital of Belarus feels like a distant and weird place to visit but, since I do feel a special attraction to barely visited places, I was pretty excited about this trip.
I traveled to Minsk from Odesa by plane, after spending nearly two months traveling in Moldova and Ukraine, so what I expected to find was a very Soviet city, full of gray concrete, similar to other Ukrainian cities such as Kharkiv or Dnipro, but less developed and decadent.
I was right in one thing:
Minsk is indeed a very Soviet city, perhaps the most Soviet place that remains on Earth.
However, I was completely wrong about thinking that Minsk would be a sort of decadent city because, despite being very Soviet, Minsk is a majestic capital that was built precisely to convey the superpower of the Soviet Union to the West.
In fact, this used to be one of the finest and most impressive cities in the entire USSR and, today, visiting Minsk is a trip full of surprises that can satisfy both the intrepid traveler, seeker of offbeat stuff, and the one interested in history and sightseeing in an Eastern capital.
This guide contains everything you need to know to visit Minsk, including transportation and accommodation tips, things to do in Minsk, best day trips, and a special mention of all the offbeat stuff to visit in the city.
Interested in Kiev, as well? Read my Kiev travel guide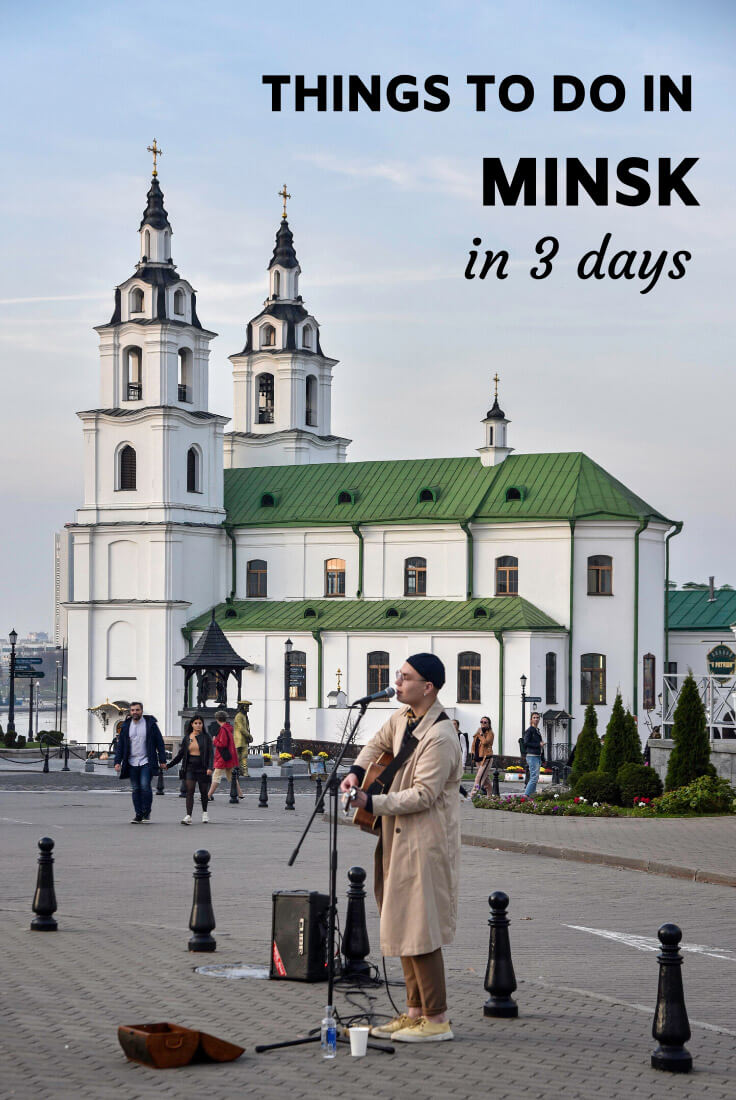 It's mandatory to have a travel insurance for getting visa on arrival in Minsk, Belarus.
I strongly recommend IATI Insurance: COVID-19 coverage + 5% discount
BUY IT HERE TO GET YOUR SPECIAL DISCOUNT
For more general information to the country, don't forget to read all my tips & tricks for visiting Belarus
Introduction to visiting Minsk
Minsk is a brand-new historical city.
And by brand-new, I mean that it was entirely reconstructed after being completely destroyed by the Nazis in WWII.
After WWII, Stalin had something in mind, and that was for Minsk to become a monumental and grandiose city, aimed at showing the world that the Soviet Union was a global force, and the end result is an imposing city composed of expansive boulevards and mind-blowing classical architecture.
This is the best example of post-war Soviet urban planning and you need to come here and see it for yourself.
Minsk downtown is full of fancy Stalinist buildings like you would have never expected, but what surprised me the most was that its wide streets were impeccably clean, super calm, relaxed and overall, I felt it was much more modern and developed than Kiev itself, in physical appearance at least.
Nevertheless, what shocked me the most was the balance between being an apparently modern city and the amount they worship Communism and the Soviet Union, because the hammer, sickle, Red Star and Lenin were present in pretty much every important building and metro station and, for offbeat lovers, this was one of the most amazing things to see in Minsk.
Want to visit Minsk and surroundings on an organized tour?
CLICK HERE TO CHECK ALL AVAILABLE TOURS IN MINSK
Visa for visiting Minsk
Belarus used to be a difficult country to get to but the Government has finally waived visa restrictions and, today, traveling to Minsk is much easier.
Most nationalities can get a free 30-day visa on arrival and you can see the country list here.
Check my 3-week itinerary for Ukraine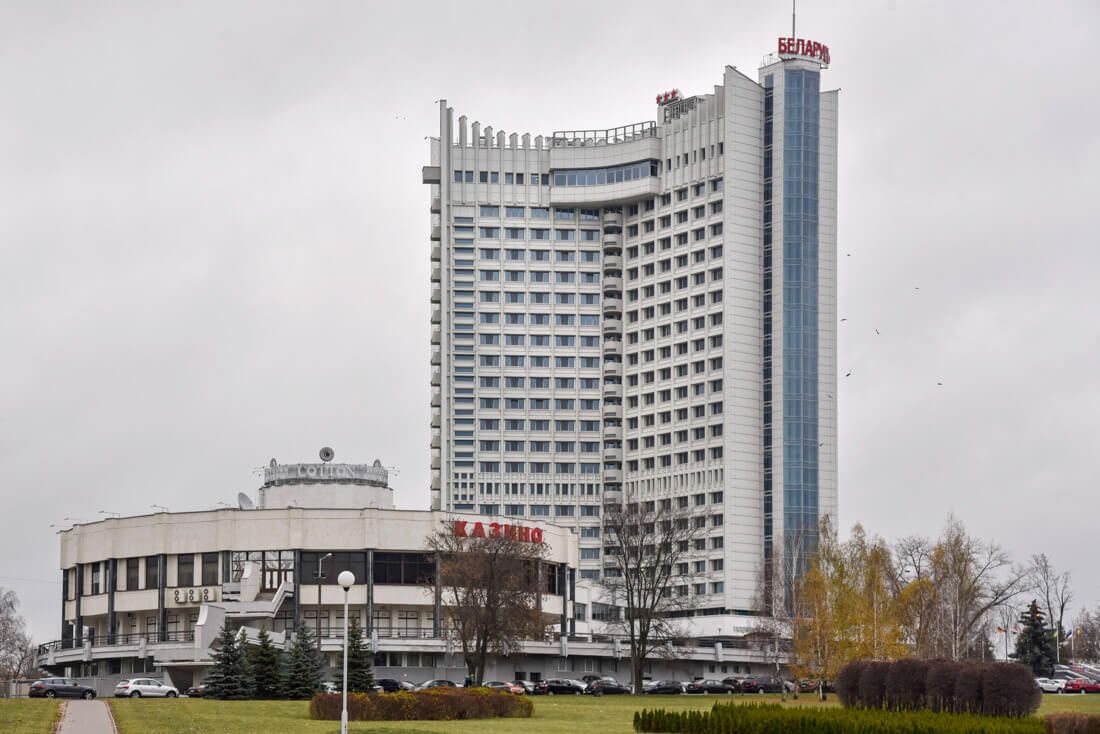 How to move around Minsk
It's mandatory to have a travel insurance for getting visa on arrival in Minsk, Belarus.
I strongly recommend IATI Insurance: COVID-19 coverage + 5% discount
BUY IT HERE TO GET YOUR SPECIAL DISCOUNT
Traveling around Minsk by metro
Metro is the most convenient way to travel around Minsk. It has 2 lines which stop at pretty much all tourist attractions and one ticket costs as little as 0.65BYR.
The only downside was that the security guys were checking my bag each and every time I was getting in, perhaps because I wasn't blond-looking, I don't know, but most of the time they didn't check others. It was pretty annoying.
Traveling around Minsk by tram
Trams are also convenient and Google Maps will tell you which one to take when giving you directions.
Traveling around Minsk by bus
I never needed to take a bus but I could see that they run pretty often and go everywhere.
Traveling around Minsk by taxi
I recommend you download a taxi app. In Minsk, they use Yandex, which is like the Russian Uber.
How to get from the airport to Minsk
There is a public bus that leaves every half an hour or so, stopping in 2 different places in Minsk, Uruchye Metro Station and Central Bus Station.
How to get out of Minsk
Train – From the main railway station, you can travel by train from Minsk to pretty much anywhere in the country. I checked and booked my tickets on the official website.
Marshrutka – Very convenient, depending on the destination. All the marshrutkas I took left from either the Central Bus Station or Druznaya, located just behind the main railway station.
Want to visit Minsk and surroundings on an organized tour?
CLICK HERE TO CHECK ALL AVAILABLE TOURS IN MINSK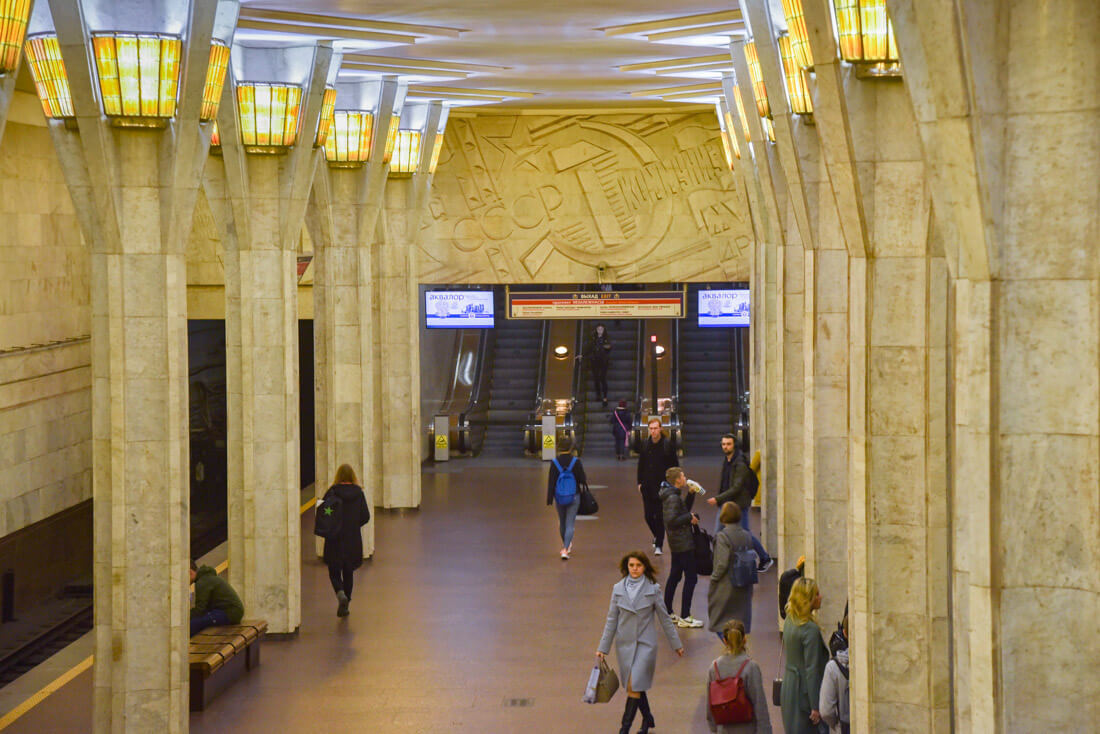 Things to do in Minsk in a 3-day itinerary
I often heard from travelers that there weren't many things to see in Minsk.
Well, I don't know where they were, but I think completely the opposite.
While it is true that Minsk isn't a city for visiting UNESCO-World Heritage sites, it is indeed a real amusement park for offbeat lovers and urban explorers, and you may find that you need more time than you expected.
Map of what to do in Minsk
Each pin color refers to a different day of your Minsk itinerary
Things to do in Minsk in 1 day – Explore Minsk City Center
On your first day, I recommend you visit Minsk's downtown and the Old City.
I think we spent around 5 hours visiting all the sites below and finished our day in one of the bars in the Old City.
Minsk City Gates
Constructed shortly after the end of WWII, these impressive and glorious twin towers were built in the style of Stalinist Classicism, and are the first thing you see when you arrive in Minsk by train and also if you arrive by plane, as this is where the airport bus stops.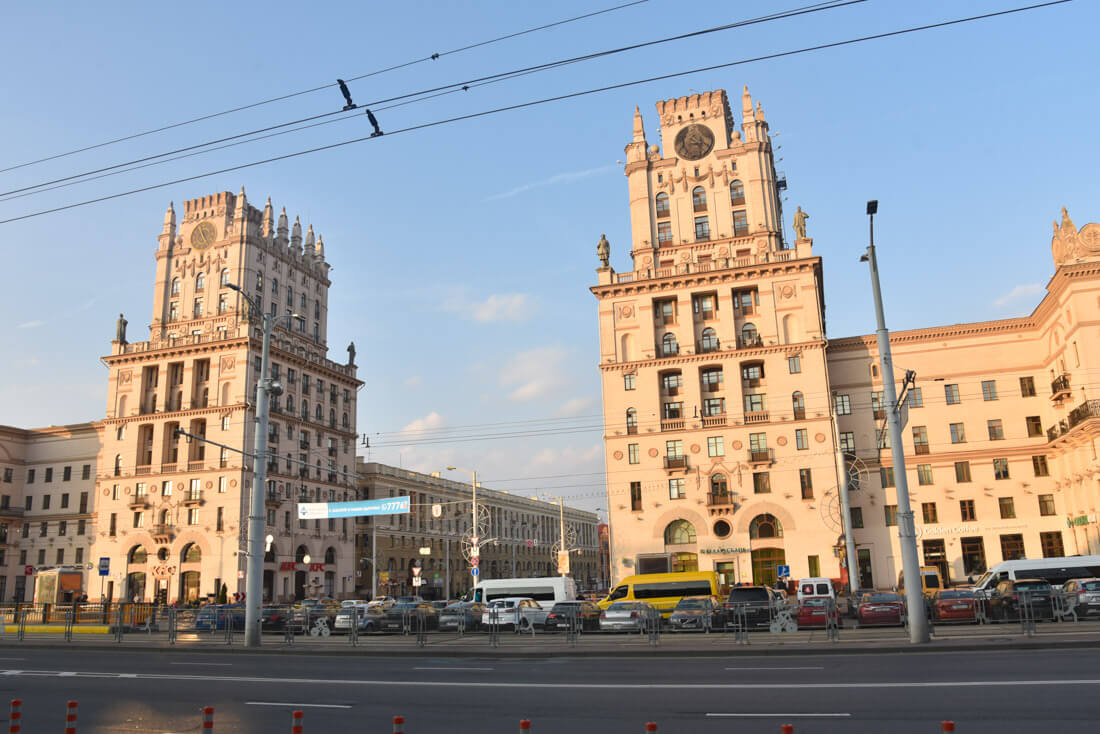 House of Government and Lenin statue
This is one of the few pre-war Soviet buildings that wasn't destroyed, a simple symmetrical but impressive building, which is guarded by a massive statue of the Old Fellah, aka Vladimir Lenin.
This building and set up is pretty similar to the Government House of Tiraspol, Transnistria.
Nyezalyezhnastsi Square (Independence Square)
The House of Government is the most important building in Nyezalyezhnastsi Square, but there are other post-war classical buildings worth checking out such as Minsk Hotel (1957), the Central Post Office (1953) or the Metro Administrative building (1984).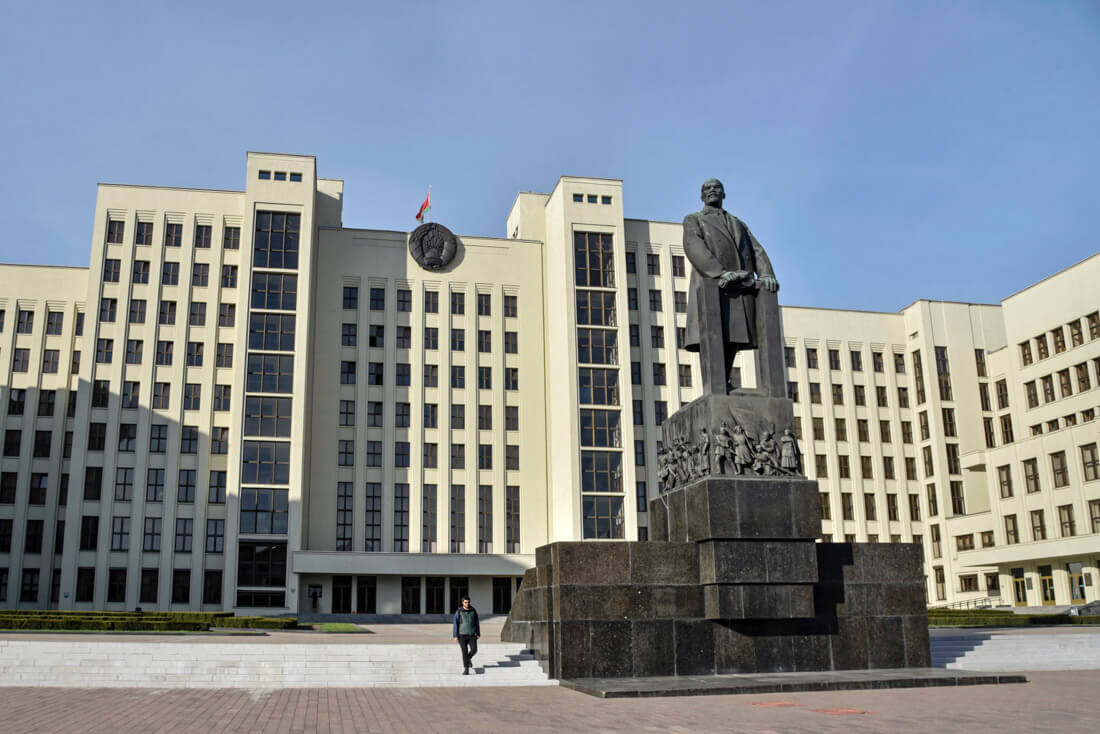 Saint Simon and Saint Helen Cathedral
Unlike their former Soviet neighbors of Ukraine and Moldova, there aren't many Christian-related places to visit in Minsk but I liked this one in particular, because it was so different from any other I had visited in Kiev or Chisinau, plus I liked that it was located right at the heart of Nyezalyezhnastsi Square, surrounded by imposing Stalinist architecture.
Furthermore, this Roman Catholic church has its piece of interesting history, as it was built in 1910 but then, when Minsk became the capital of the Belarussian SSR, the Soviets sacked it, shut it down, and turned it into a cinema.
Then, during the Nazi occupation, it returned to its original purpose of a church but after the war, the Soviets switched it back to a cinema, until Belarusian independence, when it was finally returned to the Roman Catholic Church.
KGB Headquarters
Yeah, these are the official former KGB of the Soviet Union Headquarters, today renamed to KGB of Belarus, literally meaning State Security Committee of the Republic of Belarus.
Apparently, according to several human rights organizations, not much has changed since the fall of the Soviet Union, as this entity keeps violating the most basic human rights and being repressive.
I am not sure whether you can take photos of the building or not but, given its central location and the beauty of this Neoclassic Stalinist building, and the fact that not many foreigners know that these are the KGB headquarters, they must be used to tourists taking them so, as long as you just take shots of the facade from across the street as I did, you should be fine.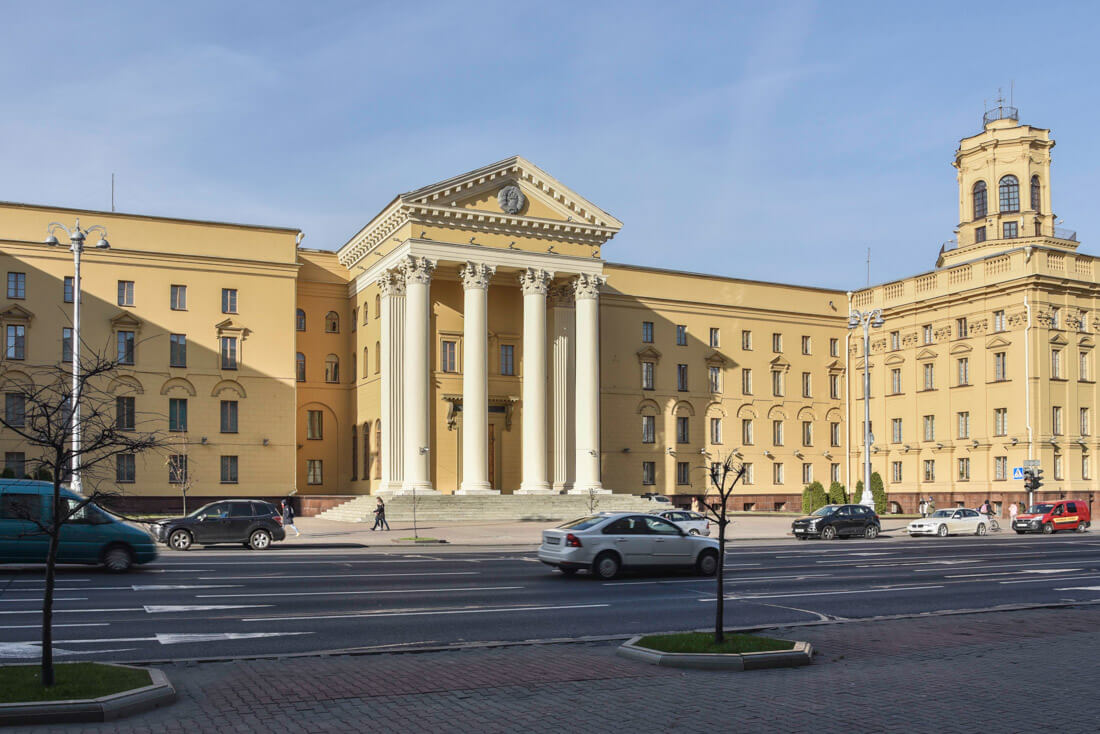 GUM State Department Store
I would never ever recommend a shopping mall but I will recommend this one 🙂
GUM department stores can be found all across the Soviet Union, the most famous one being in Moscow's Red Square.
Some of these stores have existed as trade centers since the 19th century but were later nationalized by the USSR in a failed attempt at democratizing consumption for the labor class.
The one in Minsk, however, was built in the 50s and the architecture from the inside makes you travel back to the Soviet Union times, plus they sell all sorts of strange things, from bizarre souvenirs to old-fashioned clothes.
Interested in visiting Minsk on a walking tour?
CLICK HERE TO LEARN MORE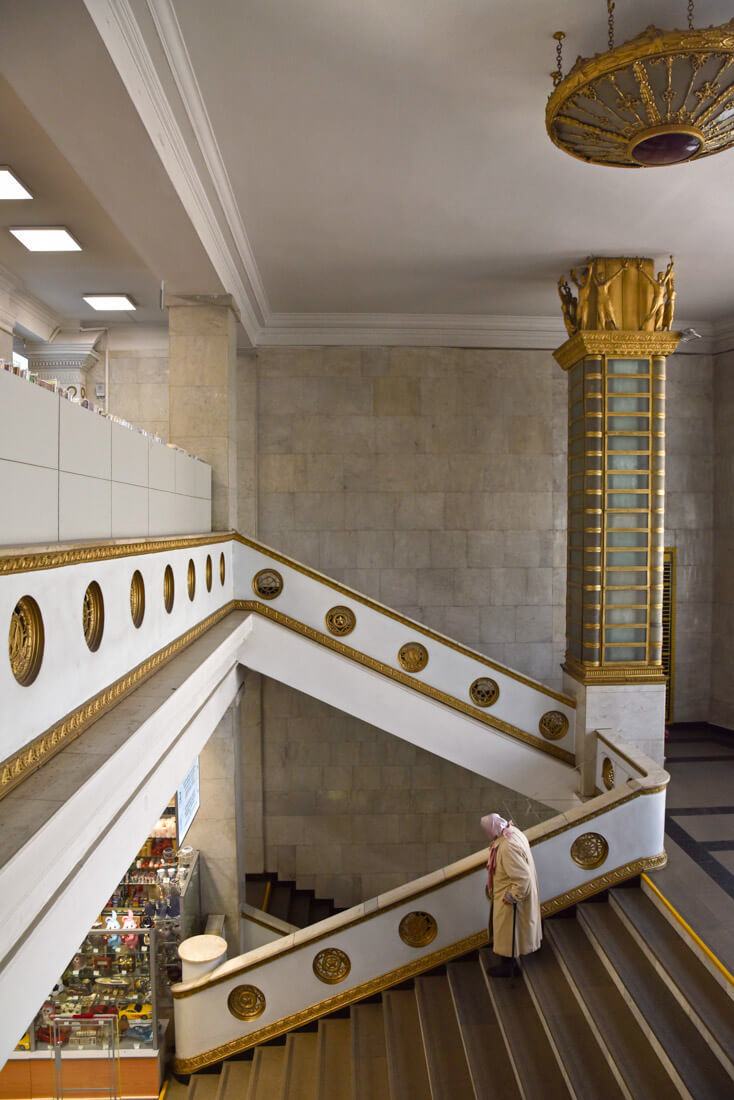 Soviet Murals in Kastrucnickaya Metro Station
Just at the entrance of the metro station, you find some very cool Soviet murals, my favorite being the one with the cosmonauts.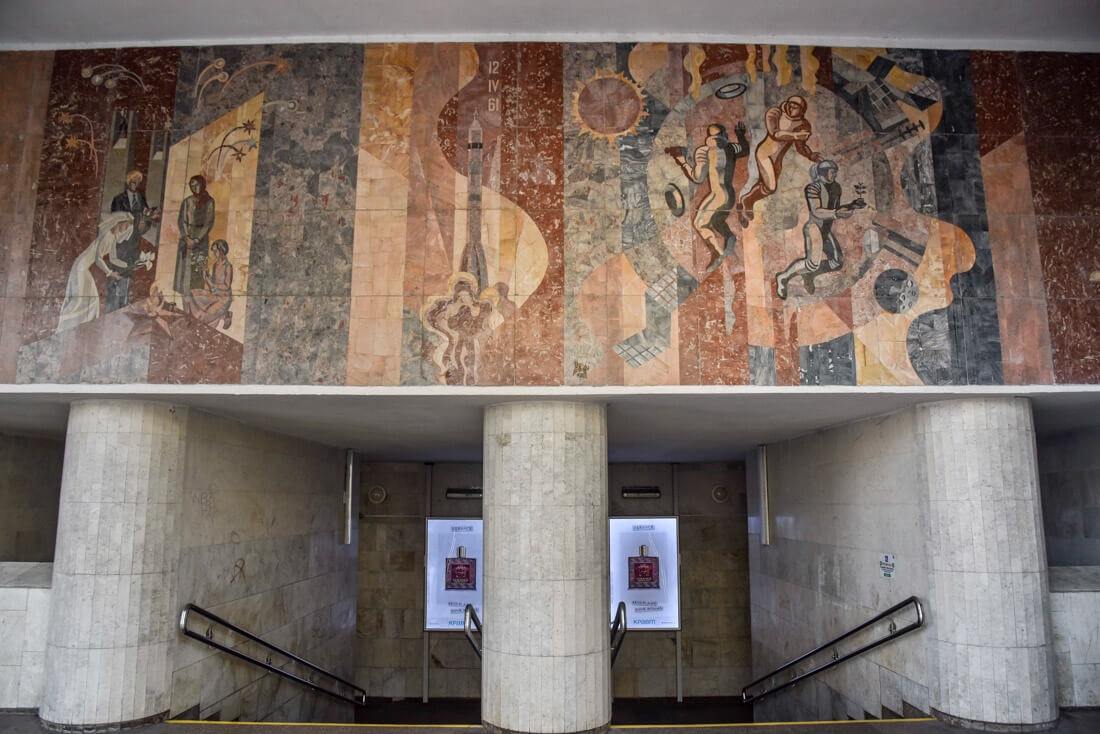 Kastrichnitskaya Square
This massive, empty square was one of the most heavily damaged places in WWII and today, it holds a few very important buildings, including the Palace of the Republic or the Trade Unions Palace of Culture.
T-34 Tank Monument
Belarus has an obsession with tanks, particularly T-34 tanks.
The T-34 tank was the most produced and used one during WWII. You can find one of these in many cities across the country.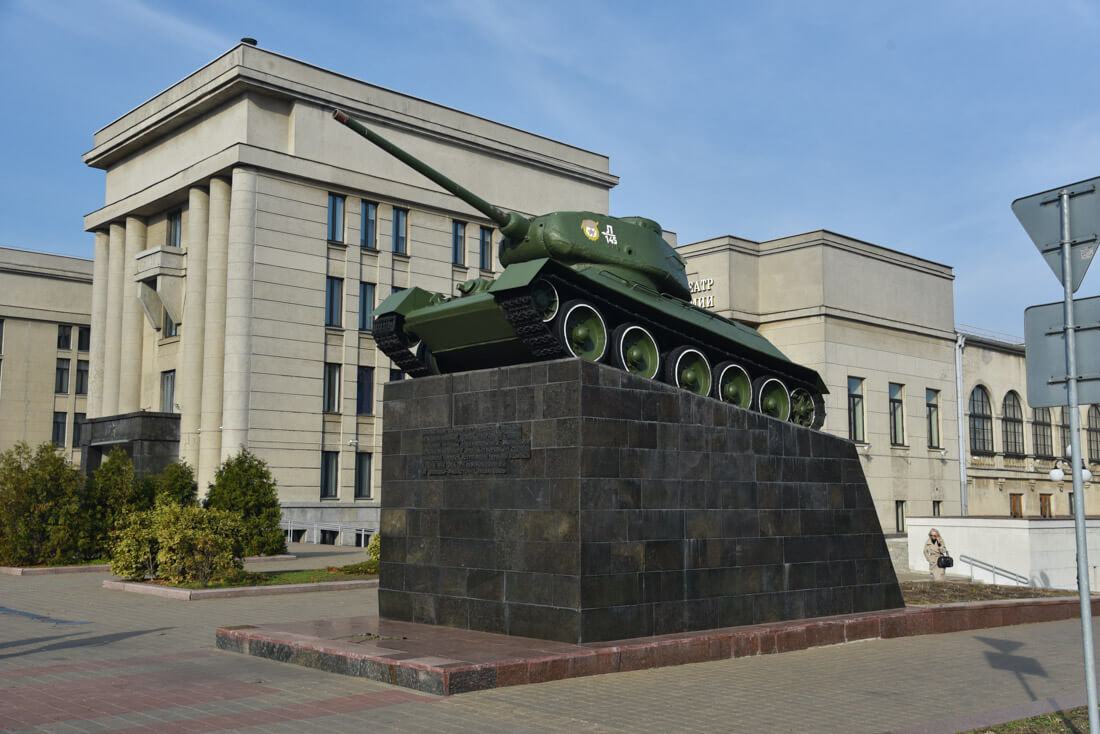 Belarusian State Circus
Well, I have seen many Soviet Circus across the former Republic, all of them being quirky, concrete buildings but this one in Minsk is special because, despite being so Soviet, it looks glorious and the reason is that it was built by Stalin as a prize for Belarus' contribution to the victory over the Nazis.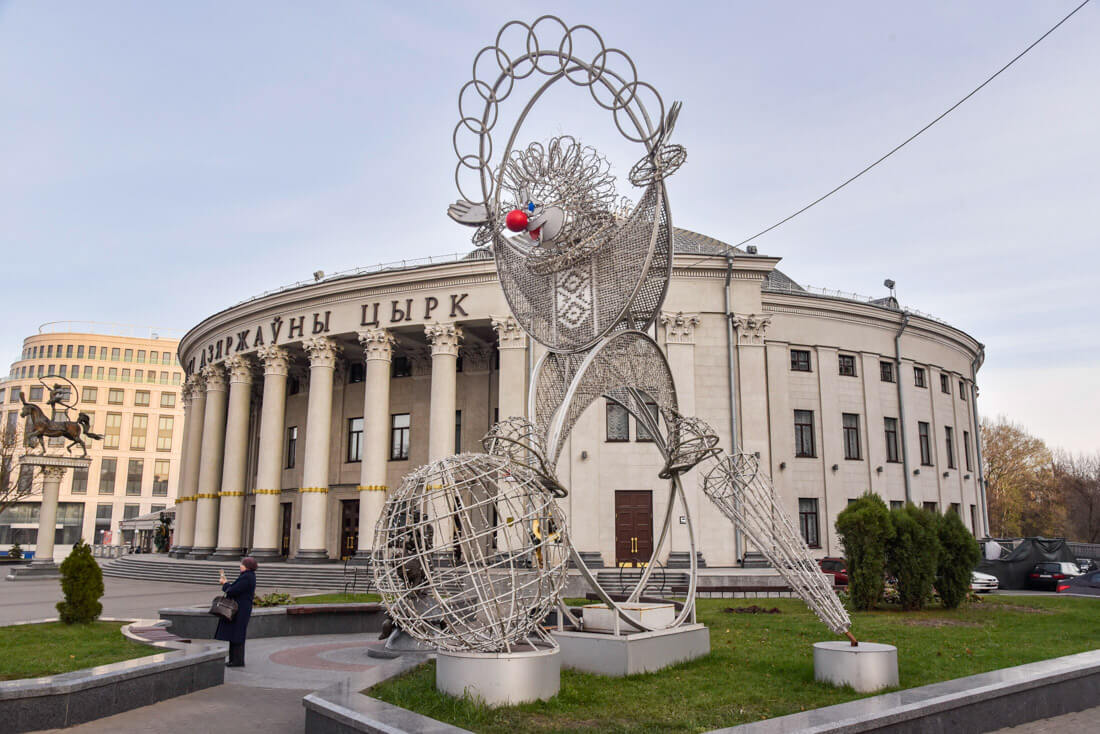 Pobyedy Square
Unfortunately, the place was under construction when I visited Minsk, so I couldn't take any nice shot but this is Victory Square and the great pillar you find in the middle, topped with the Soviet Star, commemorates all those who died during the Great Patriotic War.
National Academic Bolshoi Opera and Ballet Theatre
Another great piece of Stalinist architecture, originally built in the 30s but partially restored by Stalin after the Nazis damaged it.
Island of Tears
A sobering monument representing women, mostly mothers, crying for their sons who either died or never returned from Afghanistan, during the Soviet-Afghan war from the 70s.
The Afghan-Russian war
Across all the whole Soviet Union, especially if you are backpacking in Ukraine or Belarus, you find plenty of Afghan War memorials, and the reason is that the Afghan conflict was an unnecessary war that took the lives of tens of thousands of Soviet soldiers, many of them being less than 20 years old, yet, the USSR kept denying it. If you want to know more about this conflict, I recently read a book from Nobel Prize winner Svetlana Alixievitz that compiled tens of crazy stories from people who participated in the war.
CLICK HERE TO LEARN MORE ABOUT THIS BOOK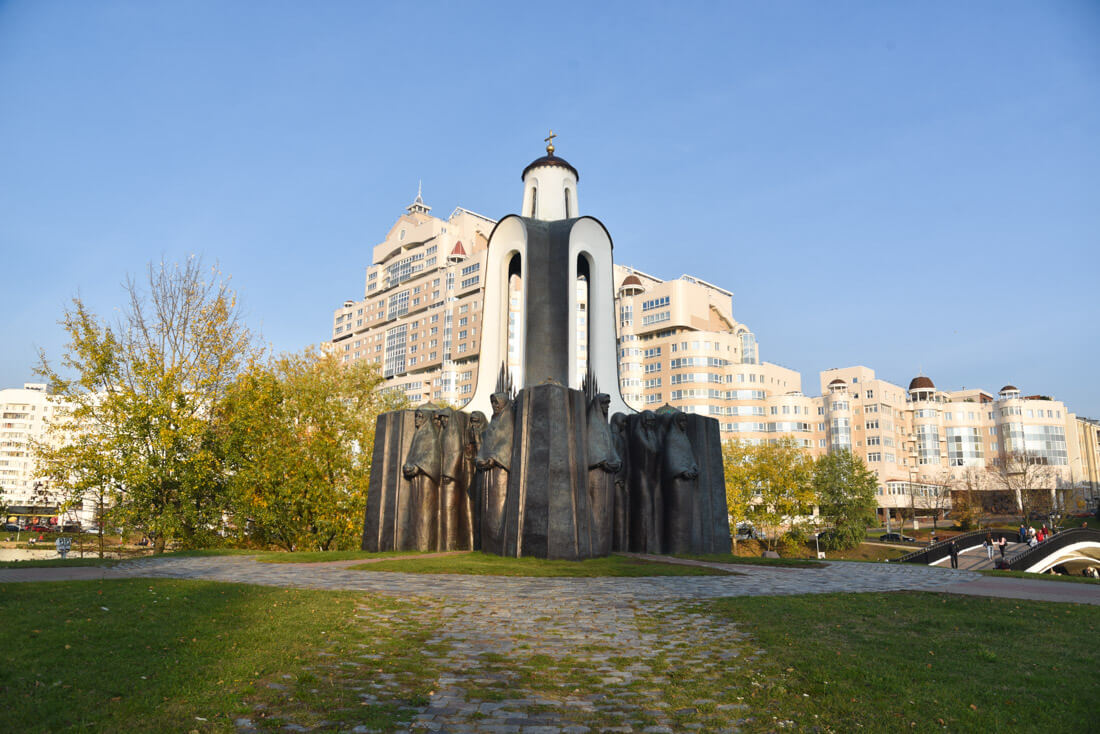 Soviet KFC
This is one of the top and most quirky things to do in Minsk: a regular KFC whose facade features a massive socialist sculpted relief from the 60s.
The Old Fellah (aka Lenin) wouldn't be very happy about it 🙂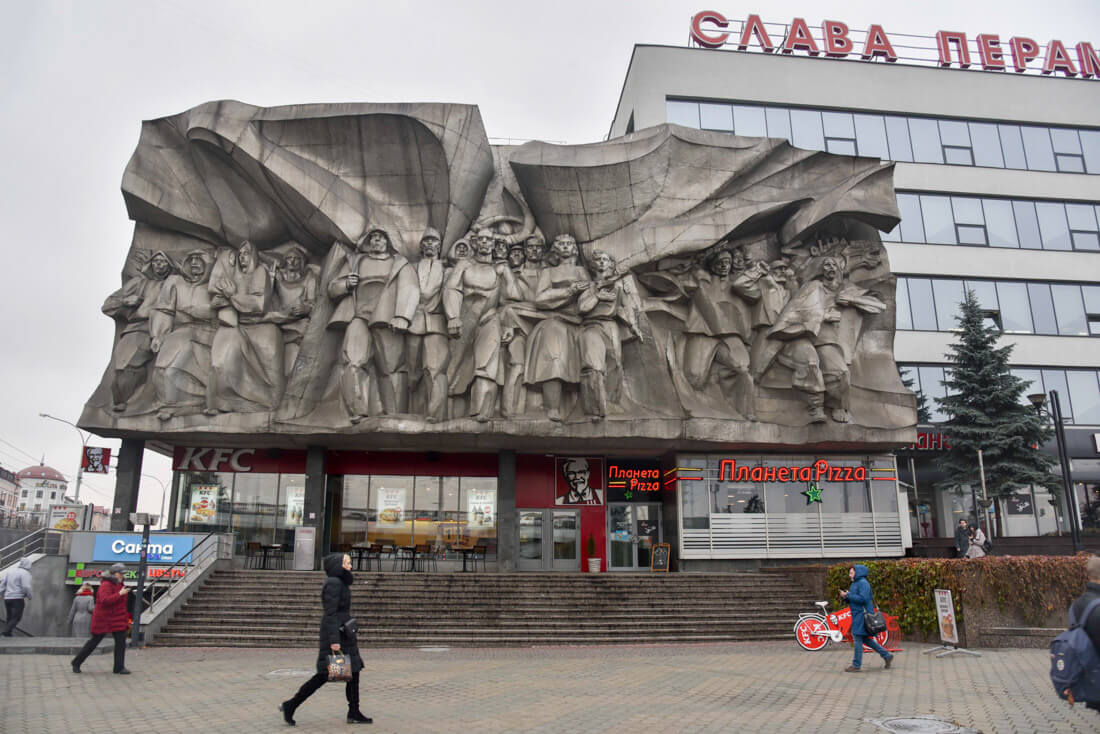 Holy Spirit Cathedral and Minsk Old Town
Apparently, Minsk Old Town has been home to several bars and taverns since the 13th century.
Today, this part of town is kind of a soulless reconstruction that looks too new to be real, plus there isn't much life going on.
However, following the 13th-century tradition, this is the area with the largest number of bars, some of them very cool, and I recommend the ones I went to like Pushka (for Mexican mezcal and tequila), Beercap (for craft beer) and Tiki Bar (more for dancing).
In Old Town Minsk you also find one of the most important churches in the country.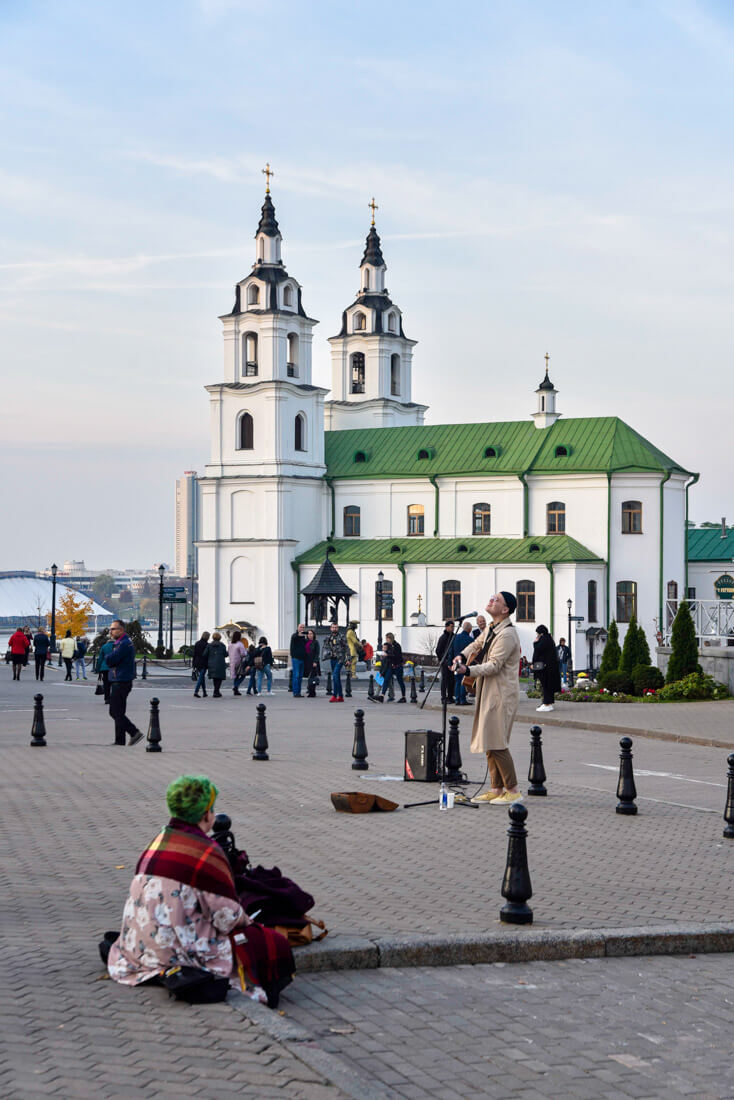 What to do in 2 days – Places beyond downtown
If you have another spare day to visit Minsk, I recommend you check out a couple of places and museums outside of the city center.
Zair Azgur Memorial Studio
This is pretty cool. Mr. Azgur was a Belarusian artist and one of the most famous sculptors in the Soviet Union, who dedicated his professional life to sculpting portraits and statues of renowned Soviet leaders.
Apparently, he made over 1,000 sculptures and 434 of them are found in Zair Azgur Memorial Studio in Minsk.
Here, you will find countless Lenins, Stalins, and Marxes in all forms and shapes and their most famous one is the original Stalin statue that used to stand in Kastrichnitskaya Square and was removed a couple of years after the Nikita's Khrushchev's famous speech that lead to the destalinization of the USSR.
Entrance costs 5BYR, well-worth the money for one of the best things to visit in Minsk.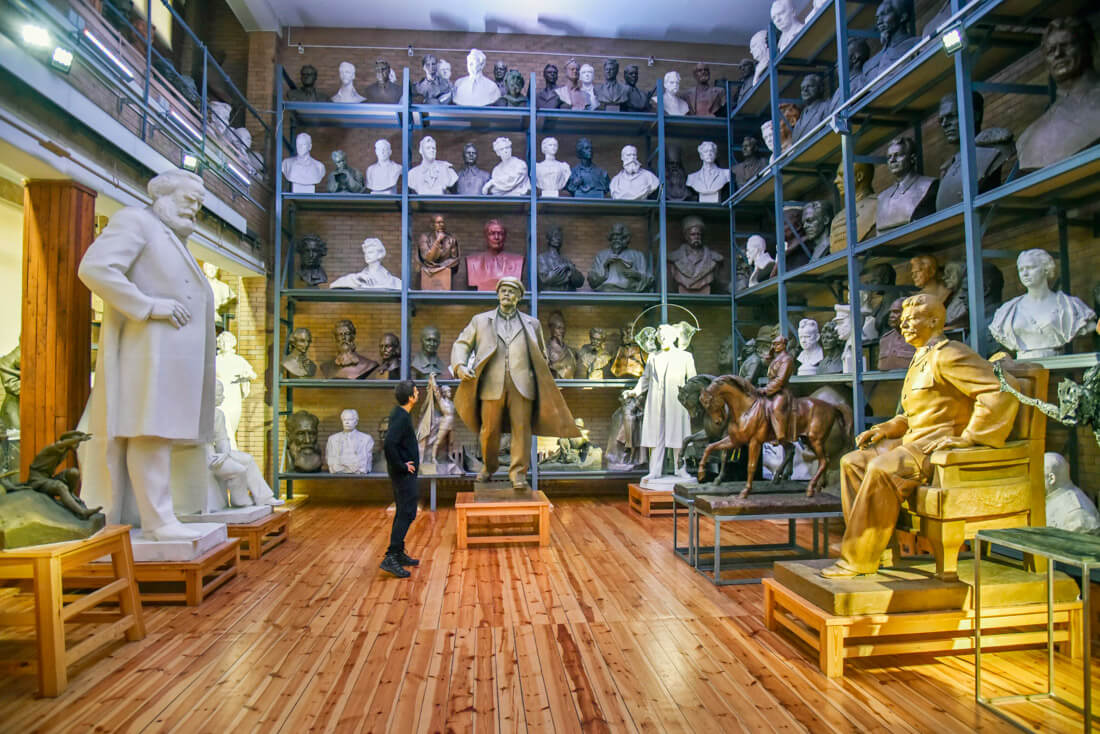 Museum of the Great Patriotic War
Great Patriotic War is what the Soviets called World War II, as for them it was a conflict aimed at protecting the Motherland from the fascist invasion.
The Great Patriotic War Museum in Minsk is massive, incredible and so visual, and it features actual tanks as well as loads of videos and photos, putting a special emphasis on the Nazi invasion of Belarus.
Even if you are not into museums, come here to check the building and surroundings because it is filled with loads of WWII monuments.
The general entrance costs 9BYR.
Kurapaty, Stalin's Victims Memorial
Not many travelers know about this place and I only found out about it because I met a local journalist who was absolutely against anything do with the old regime, so he recommended me to visit this memorial to pay my respects to the victims of a leader who is often widely white-washed among Belarusians.
Located just outside of Minsk, but easily reached by tram plus a 2km walk, this memorial consists of hundreds of wooden crosses spread across a misty forest.
Interested in a walking tour around Minsk?
CLICK HERE TO LEARN MORE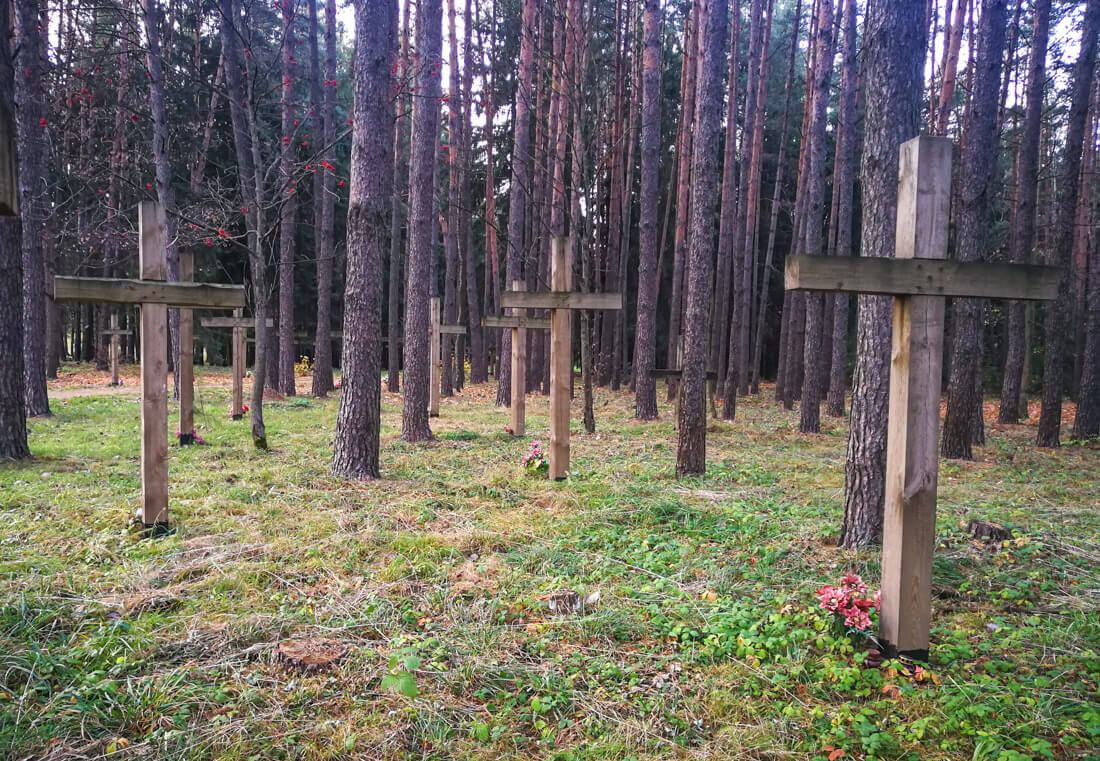 National Library of Belarus
For doing something a bit different and, by different, I mean non-Soviet stuff, head to the National Library, a 21st-century architectural masterpiece built in a diamond shape.
For a small fee, you can climb to the 22nd floor to contemplate the 360º views.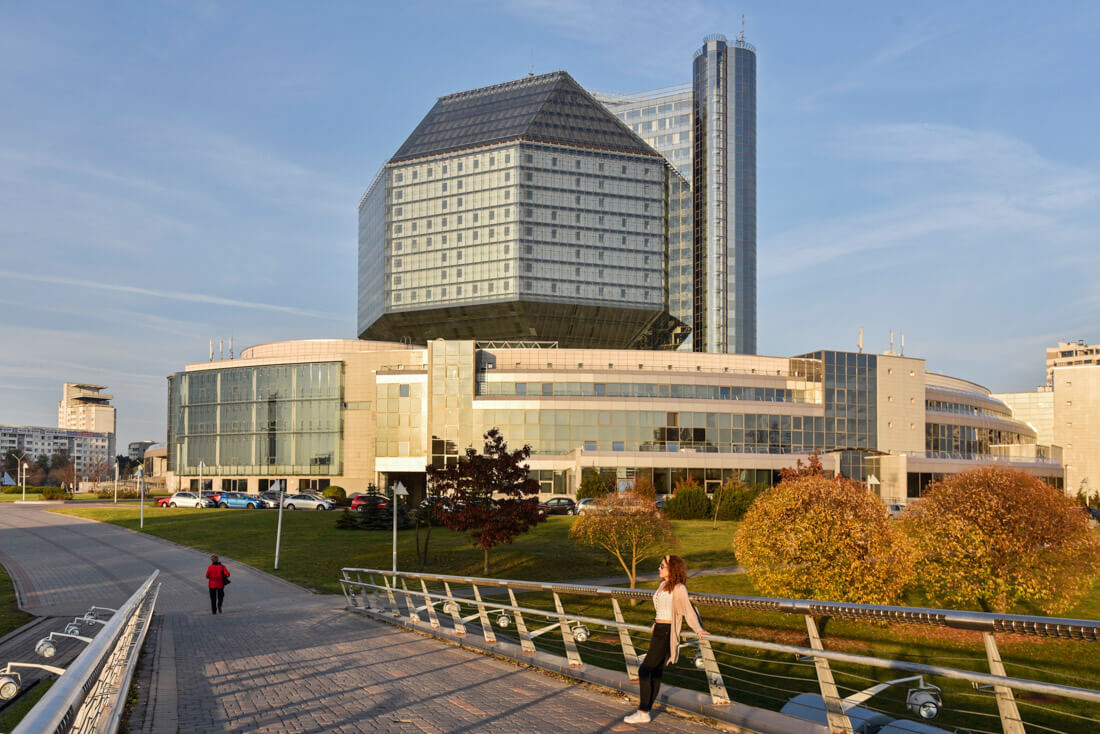 Kastrychnitskaya, the hipster street
At night, or shortly before sunset, go to Kastrychnitskaya street, the district where the modern Belarusian youth hangs out, an area filled with street art, art galleries, and hip bars.
For me, the most interesting thing to see is a Lenin bust with a hipster painting in the background.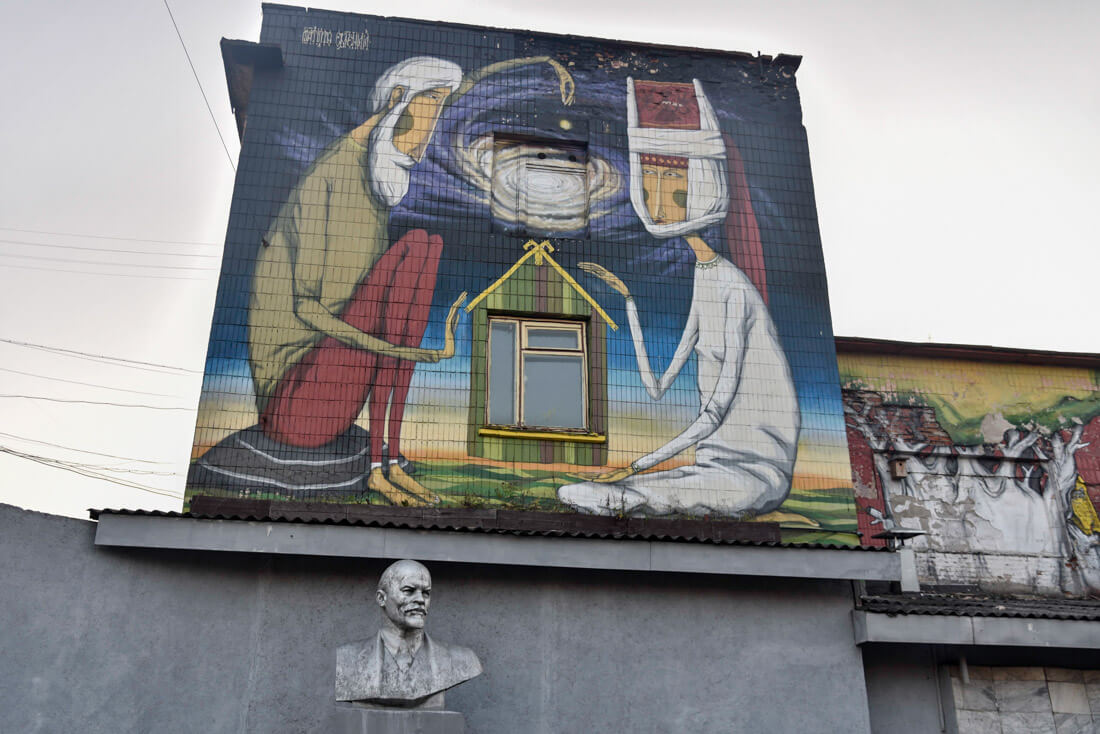 Places to visit in Minsk in 3 days – Go even more Soviet
As I said before, Minsk is a real Soviet theme park so, if you haven't had enough, on your 3rd day, I strongly encourage you to explore some pretty cool things on the outskirts of Minsk, most of them being very different from the classical Stalinist architecture, but the ugly, concrete buildings which you probably love to see.
Quirky and Soviet things to do in Minsk
Read: Weird things to do in Belarus
Soviet mural at Frunzienskaya metro station – One of the most amazing communist murals I have ever seen, conveying the real power of the labor class.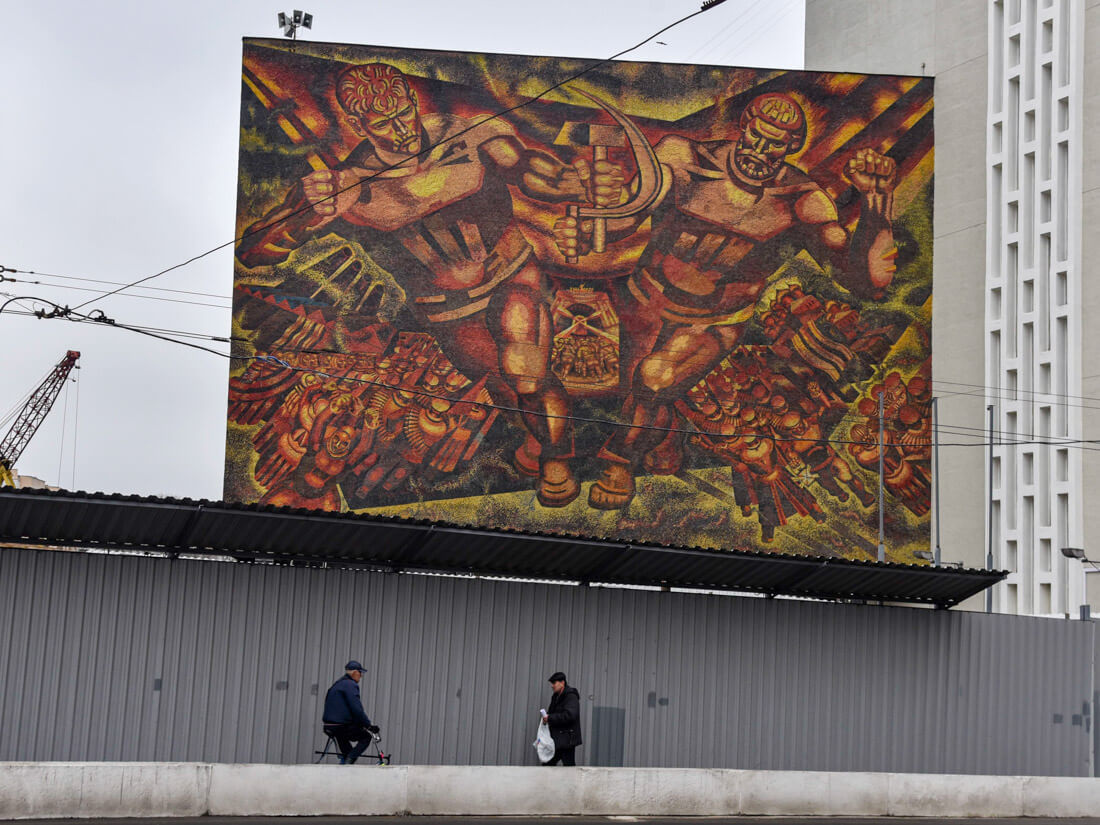 Moskva Cinema – This weirdly-shaped cinema made of ugly concrete is pretty awesome to see. It was built in the 80s.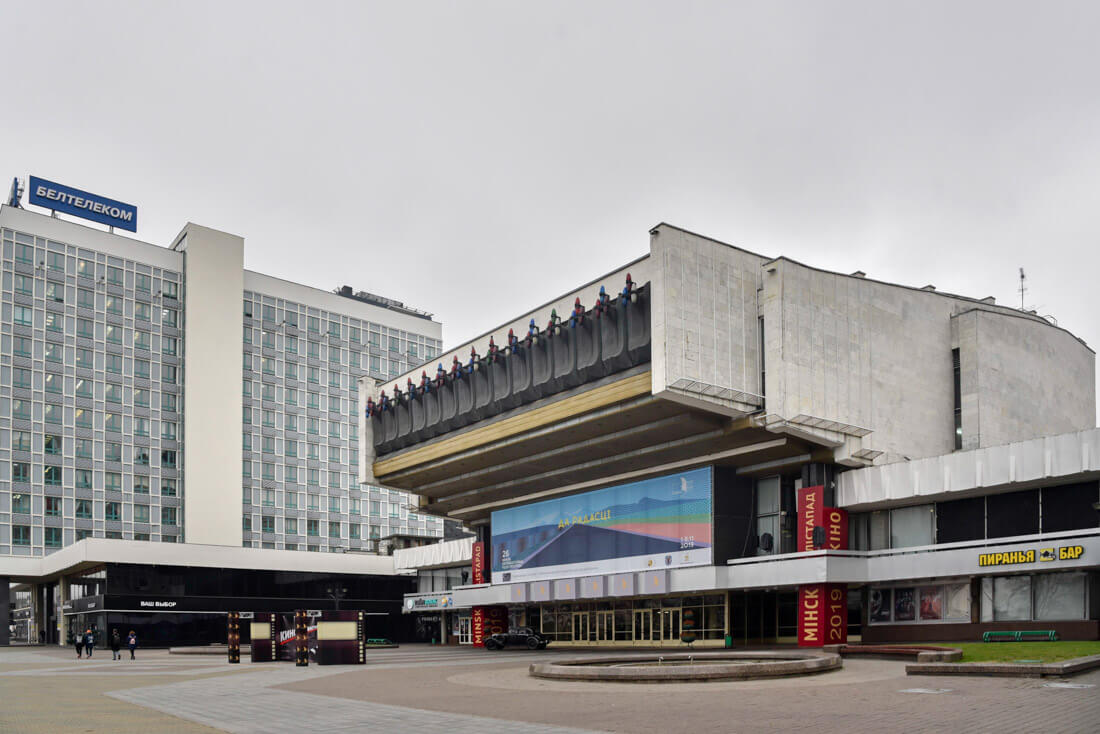 Sports Palace – Built at the end of the 60s, the Sports Palace has a peculiar asymmetrical shape and holds important sports events in Minsk.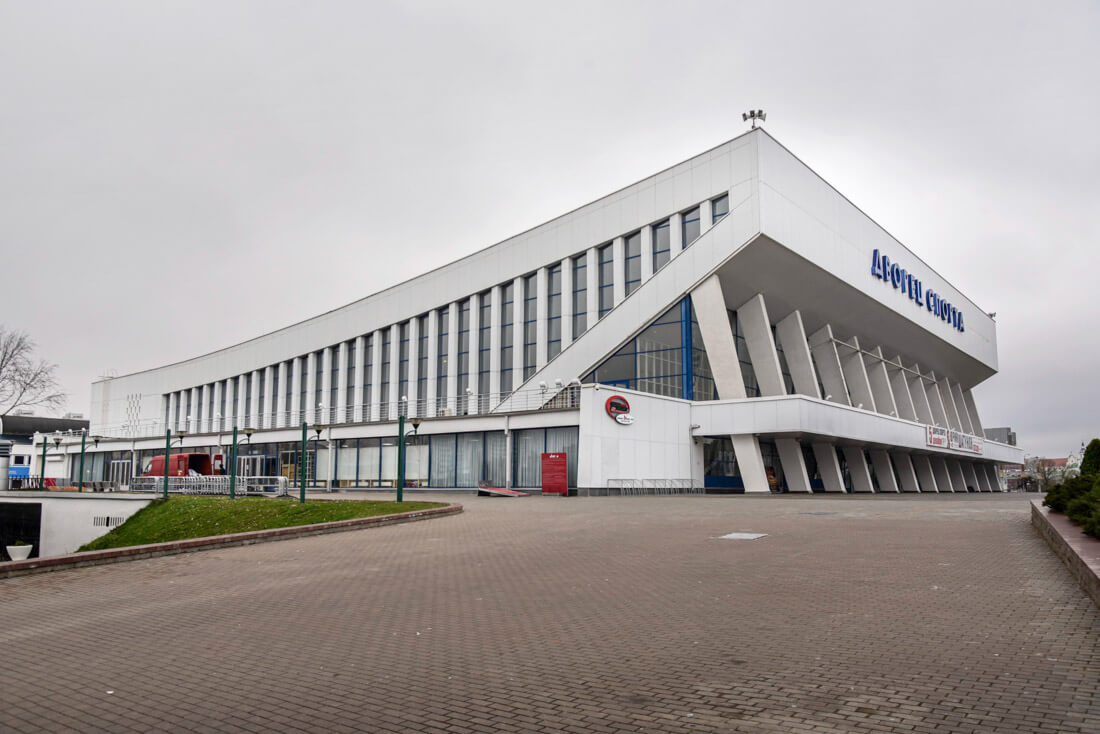 Traktarny Zavod – Meaning Minsk Tractors factory, this is a tractor factory and one of the most important industries in Belarus, manufacturing 3 million tractors per year and employing over 20,000 people.
The company was established in 1946 and, in case you are wondering, you can't enter the premises but, outside of the factory, there is a park where you can find some tractor-related Soviet propaganda, including a Lenin statue and some murals. The factory has a metro station and it is not far from the center.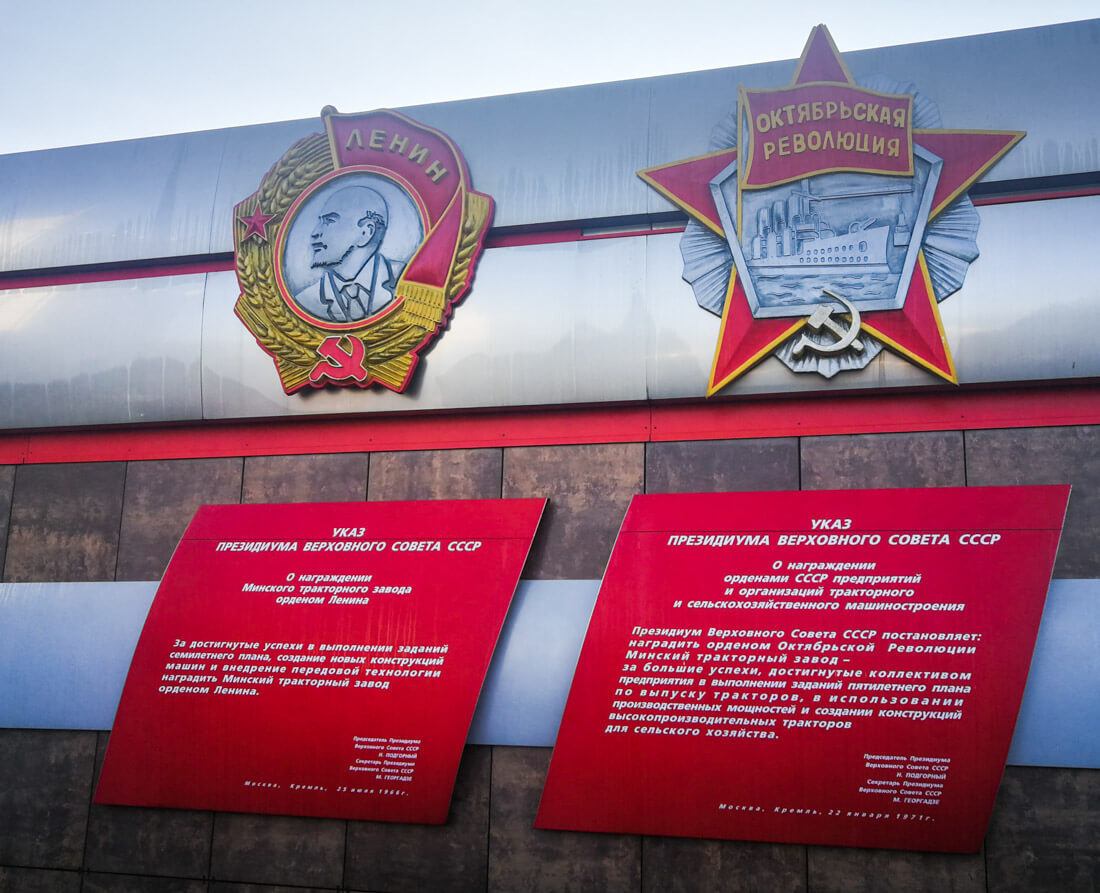 National Exhibition Center – Another super weird building. I don't know anything about its history but it's definitely worth the short trip – it is a couple of km from downtown.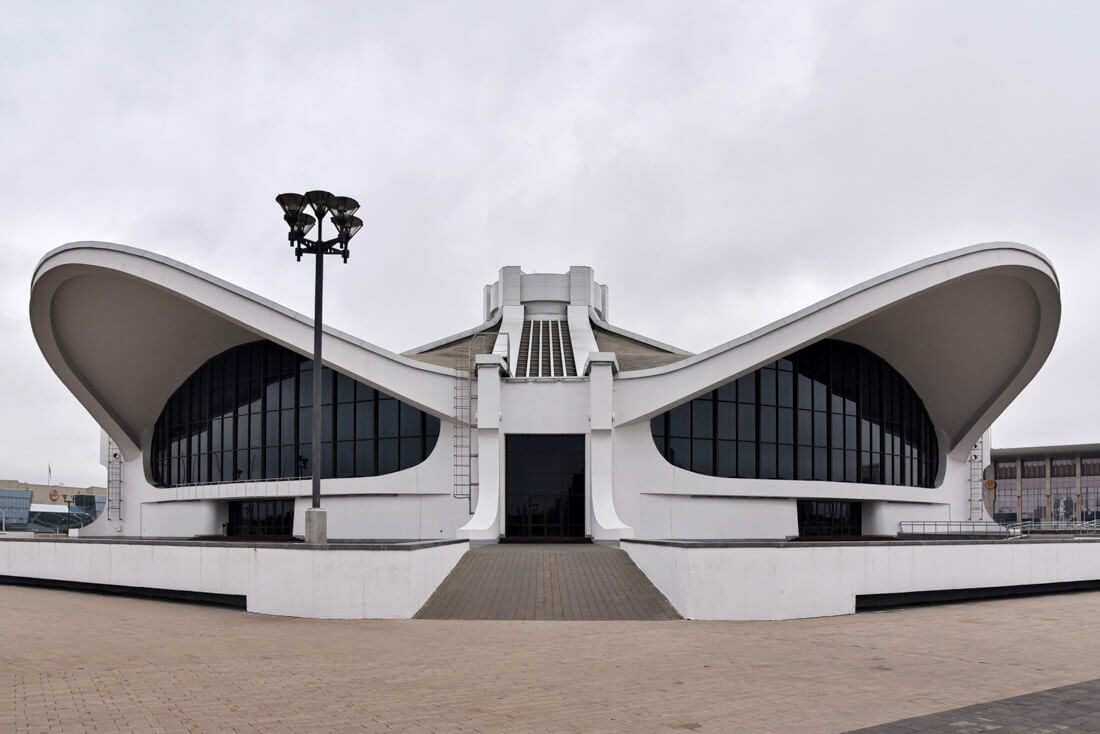 Best day trips from Minsk
These are 4 different places I visited from Minsk.
Nesvizh Castle
A beautiful castle from the 13th-15th centuries that served as a residence for the Radziwill Family, a noble family originally from present Lithuania.
How to get to Nesvizh Castle from Minsk – Nesvizh is 120km away and to go there, you can take a train to a village named Haradzeya and then take a marshrutka to the village of Nesvizh.
Mir Castle
A UNESCO World Heritage Site, Mir Castle is another magnificent fortress related to the same Radziwill family and it is just around 30km away from Nesvizh.
How to get to Mir Castle from Minsk – To get there, you can take the bus that goes to Novogrudok.
Visit both Nesvizh and Mir castles on an organized tour from Minsk
CLICK HERE TO LEARN MORE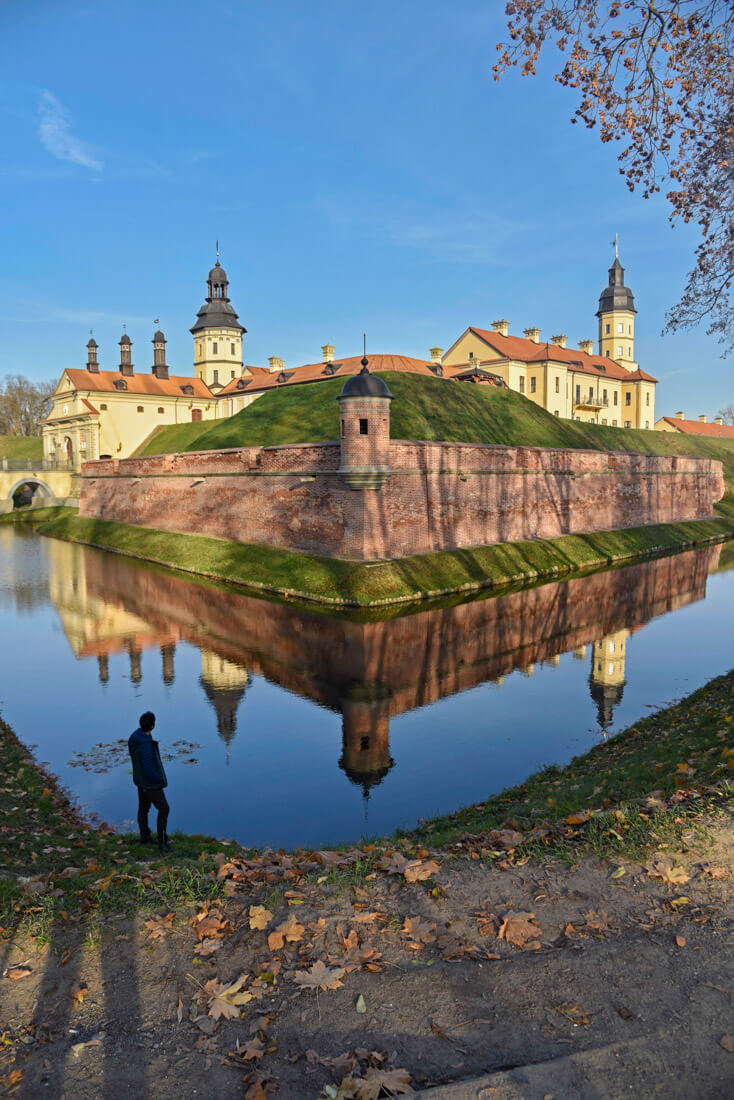 Stalin Line
This is unbelievably amazing, seriously.
The Stalin Line used to be the border between the USSR and the rest of Europe and, before WWII, this border was right next to Minsk, as the Western part of Belarus wasn't under Soviet rule.
So, they have turned this old border into an open-air museum where, among other things, you can see an actual recreation of the border, the only Stalin statue still standing in a public place, actual bunkers, endless tanks – both Soviet and Nazi – and shoot with a wide range of different weapons.
How to get to Stalin Line from Minsk – You need to go to the bus station named Druznaya, just across the main railway station. Once there, take the marshrutka towards Maladzyechna and tell the driver you want to get off at Lenina Stalina (Stalin Line).
The only downside of the museum is that there is no information in English, so if you wish to make the most of your visit, consider booking a tour.
CLICK HERE TO LEARN MORE
Khatyn
Basically, Khatyn was a Belarusian village that was attacked by the Nazis and whose inhabitants were burnt alive, including all children.
Today, Khatyn doesn't exist but they have turned its location into a massive memorial where all 26 houses have been recreated, as well as the exact spot where the people were burnt alive.
Khatyn however, is just one of the 618 Belarusian villages that were burnt down.
It's an extremely sad and sobering place but a must-see.
How to get to Khatyn – It is a bit complicated but what I did was head to the Central Bus Station and took a marshrutka towards Vitebsk. I told the driver I wanted to get off at Khatyn's intersection, which was 6km from the memorial. It's quite a walk.
Again, this memorial doesn't have information in English, so if you want to make the most of your visit and avoid all the hassle of going there on your own, consider booking a tour.
CLICK HERE TO LEARN MORE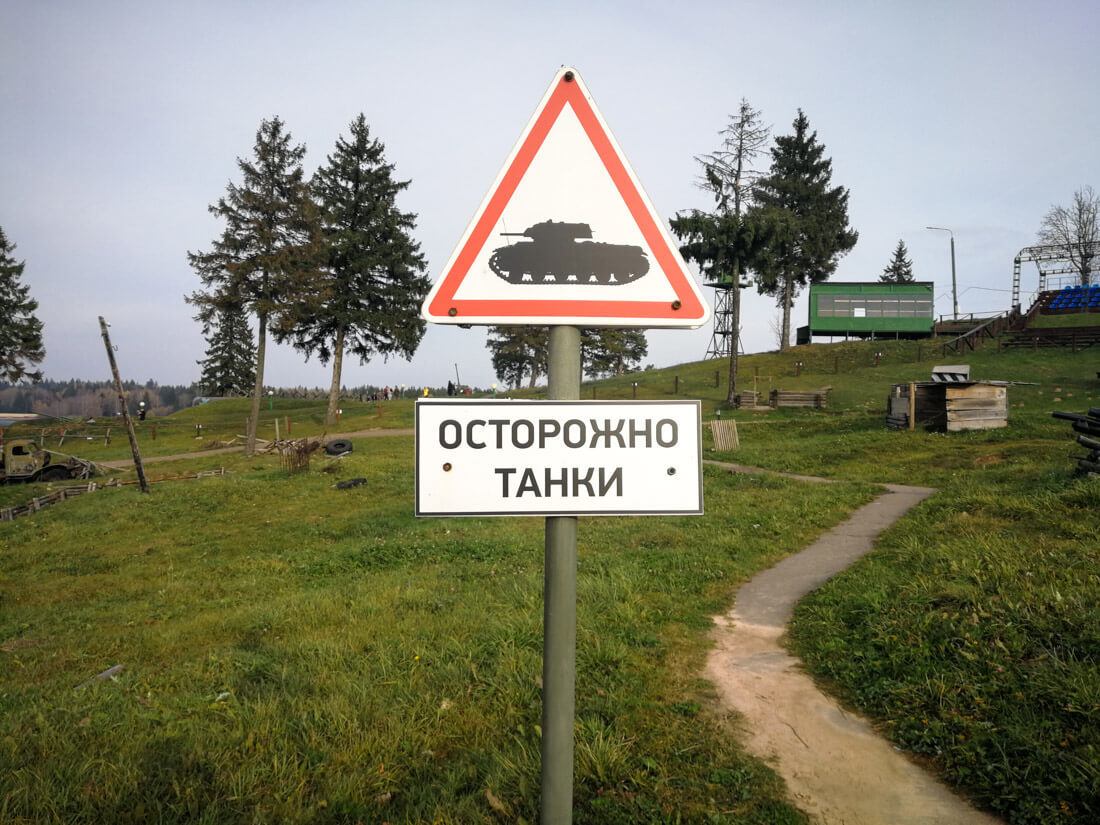 All guides and articles for traveling in Belarus destination
Check more city guides