How to travel by train in Kazakhstan (with map)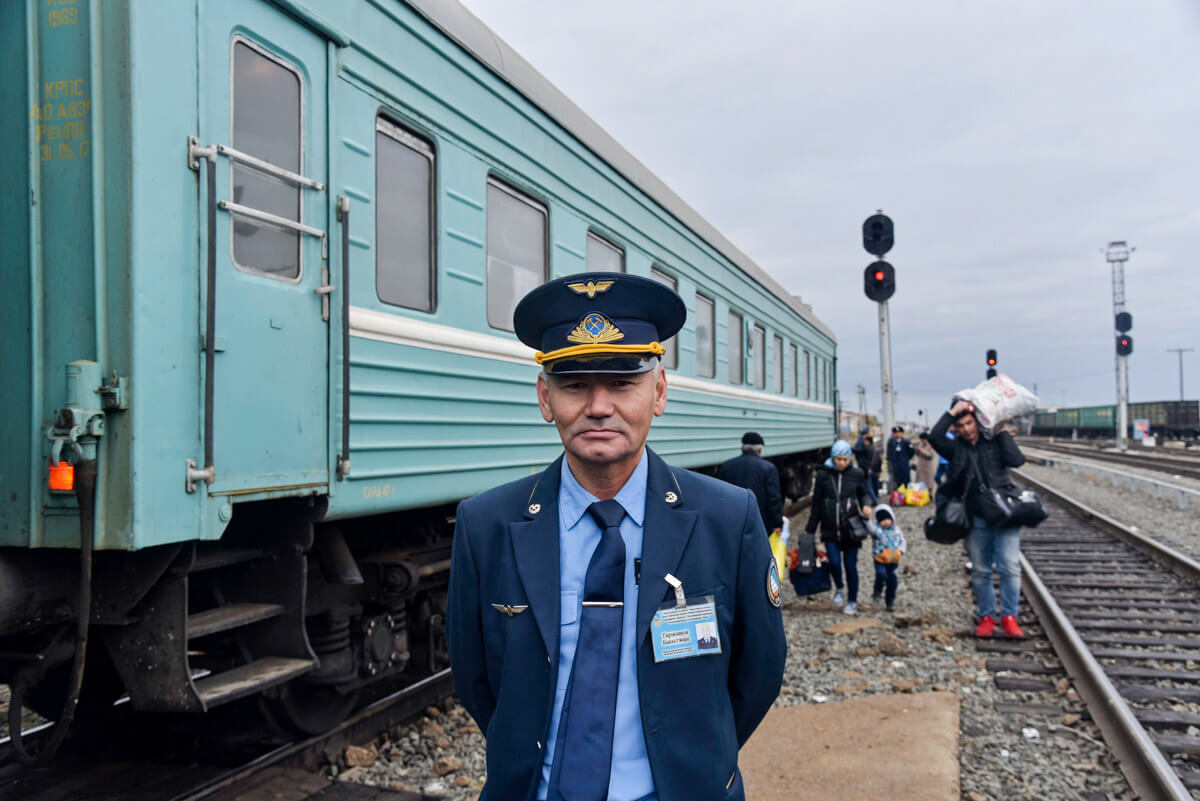 With an area of more than 2.7 million square meters, almost 6 times the size of Spain, and with a population that barely reaches 18 million inhabitants, Kazakhstan is a huge country with one of the lowest population densities in the world.
Therefore, composed of thousands and thousands miles of desolate and deserted plain, better known as steppe, the vastness of Kazakhstan is something one can only assimilate through a long train journey, in which, for several hours and even days, you go through a desert of unimaginable magnitude, only disturbed by tiny villages located in the middle of nowhere and the occasional hairy camels characteristic of Central Asia.
If you love traveling by train, especially in a Soviet one, and you enjoy interacting with locals, going across Kazakhstan by train is something you really don't wanna miss.
During my 30-day journey through Kazakhstan, I traveled 3,600 kilometers exclusively by train, starting from Beyneu, the first town you find after crossing the border from Uzbekistan, to Almaty, the most cosmopolitan city in the country, located in the far east, very close to the border with Kyrgyzstan.
It was an amazing journey, very different from my travels through other Central Asian countries, so I decided to compile all the information you need for traveling by train in Kazakhstan.
For tips and everything to visit in the country, read my 1-month itinerary in Kazakhstan

For your train journey across Kazakhstan, get a few good books on the region.
Read: Best books on Central Asia (includes some specific books on Kazakhstan)
Traveling by train in Kazakhstan is not limited to the functional benefit of transportation but it is one of the highlights of the country.
Unlike in other parts of the world, in Kazakhstan, most locals need to travel extremely long distances that can take them several days.
This turns into spending a long time with your fellow passengers and greater social interaction, which can go from sharing a glass of vodka to the typical local lady, who will spend the whole journey offering you bread, fruit and much more than you could ever eat.
At the end of every journey, your bunk-bed-mates will become appreciated acquaintances.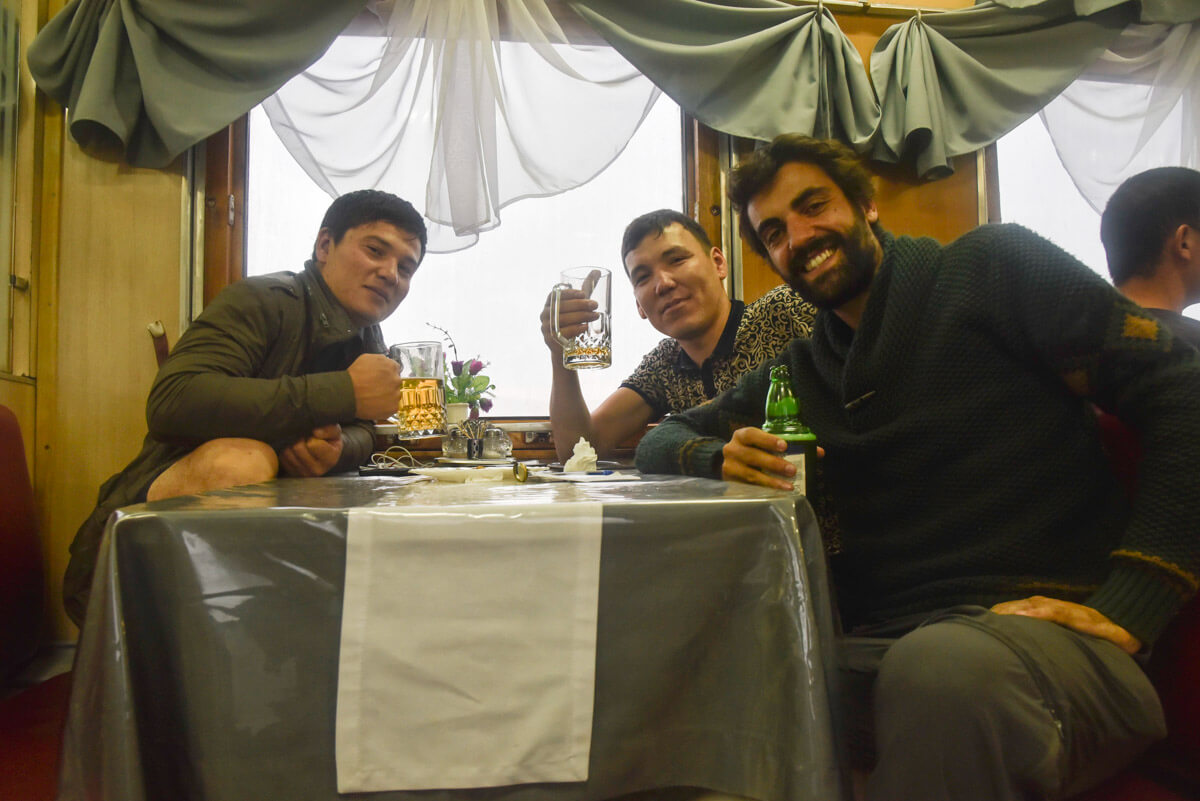 But this is not all.
From staring out of the window to see the endless steppe to having a few beers at the wagon-café and just checking the infinite chaos present at every one of the train stations, always packed with street vendors selling food from kebabs to an extremely stinky smoked fish, whose odor can be smelled from miles away and which literally swamps all wagons…
Traveling the Silk Road in a Soviet train is a lifestyle and a real attraction by itself.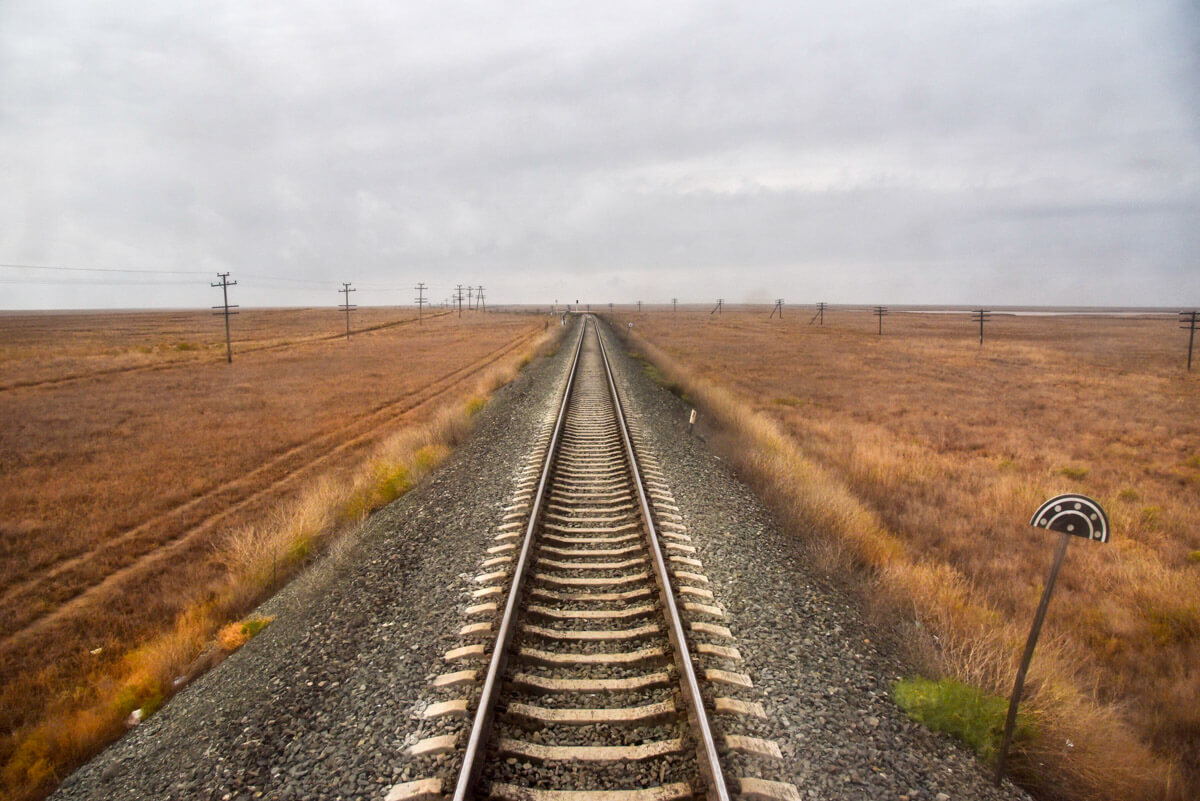 Kazakhstan train map
This is an interactive railway map of Kazakhstan.
Bear in mind that it only shows the main stations and not the secondary or small ones.
Tip #1 – If you are traveling in the north of Kazakhstan, remember that, even if your final destinations isn't Russia, at some point, some lines inevitably cross into Russia, so you will need to be in possession of a transit visa.
The reason this happens is because, when they built the line, both countries were part of the Soviet Union.
How to buy train tickets in Kazakhstan
You can buy your tickets online or at the station itself.
At the station – Just remember that, normally, nobody at the ticket office speaks English so, if you have any special requirements or questions, it can be quite an adventure.
Online – There are a few pages where you can buy online tickets. However, on the Kazakhstan Railway System official site, the English page tends to fail and, unless you have a Cyrillic keyboard, it can be a bit tricky to buy them.
A better alternative would be Tickets.KZ where, despite it not being the most intuitive page ever, you can buy them more easily. The best, however, would be getting a local guy to buy them for you.
Tip #2 – Also keep in mind that all tickets are sold on Astana (Nur-Sultan) local time so, if you are in the western part of the country, it means that your train will leave one hour earlier than the time stated on your ticket.
Tip #3 – Train tickets run out very soon, especially in summer. If you want to guarantee your ticket, book it a few days in advance.
Read: 65 Things you need to know before traveling to Uzbekistan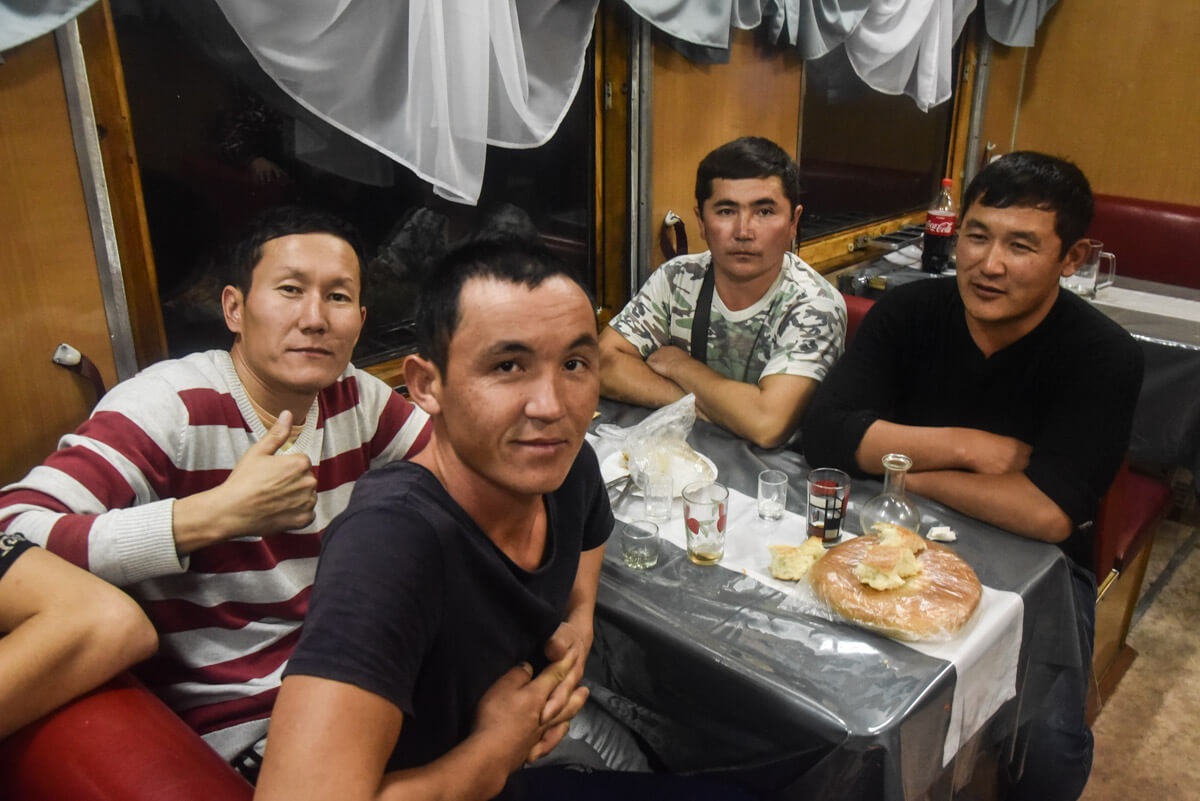 Types of trains and seats
There are two type of trains in Kazakhstan: the modern, fast one and the old Russian train from the Soviet Union time.
The Soviet train
With an average of 50km/h, this train runs at the half speed of the modern one.
At some stations, it may stop for more than one hour but all the stops are planned ahead as, during my 30-day journey, I never experienced a train delay.
Read: 35 Travel tips for traveling to Kazakhstan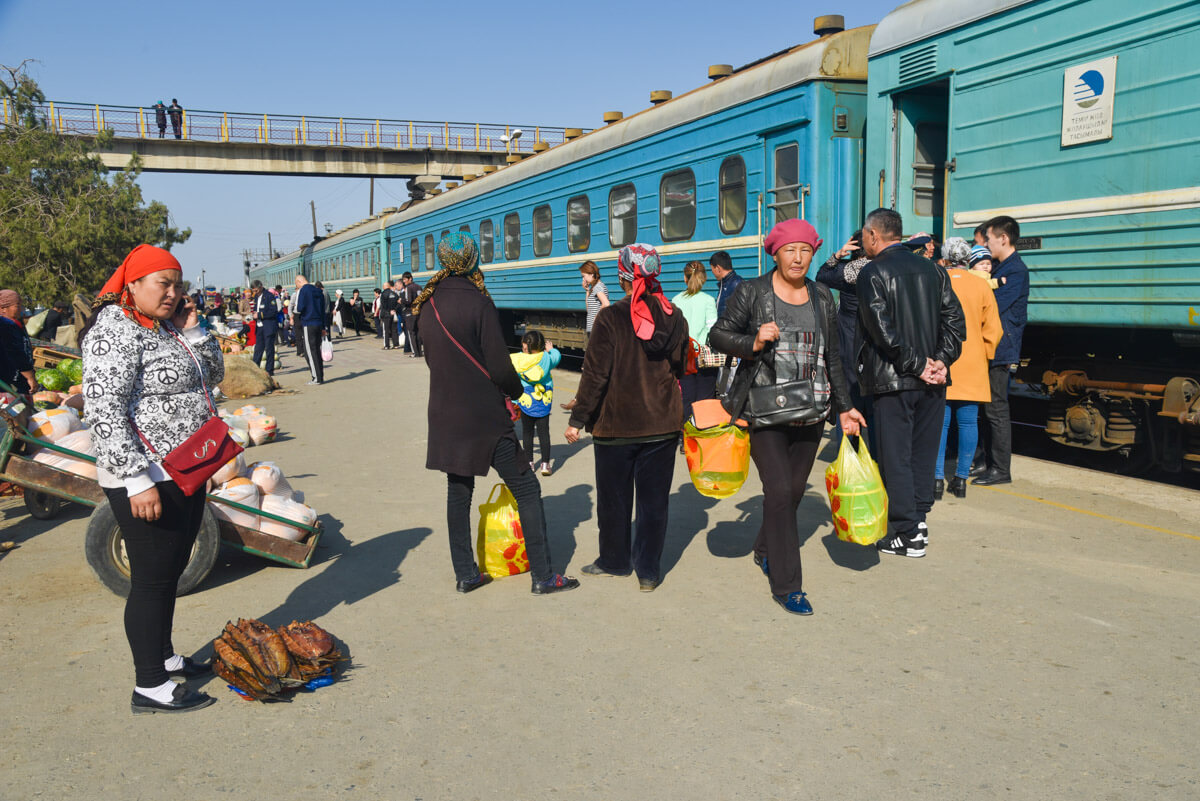 For this train, there are 4 kinds of wagons and classes, but not all of them may be available on all trains:
Lyux – 2-bed compartments. The most expensive.
Kupé – 4-bed compartments. Upper-middle class.
Platzkart – The most common, at its most powerful Soviet style. These wagons don't have compartments but bunk beds placed all over the wagon.
Obshy – Seats, no beds.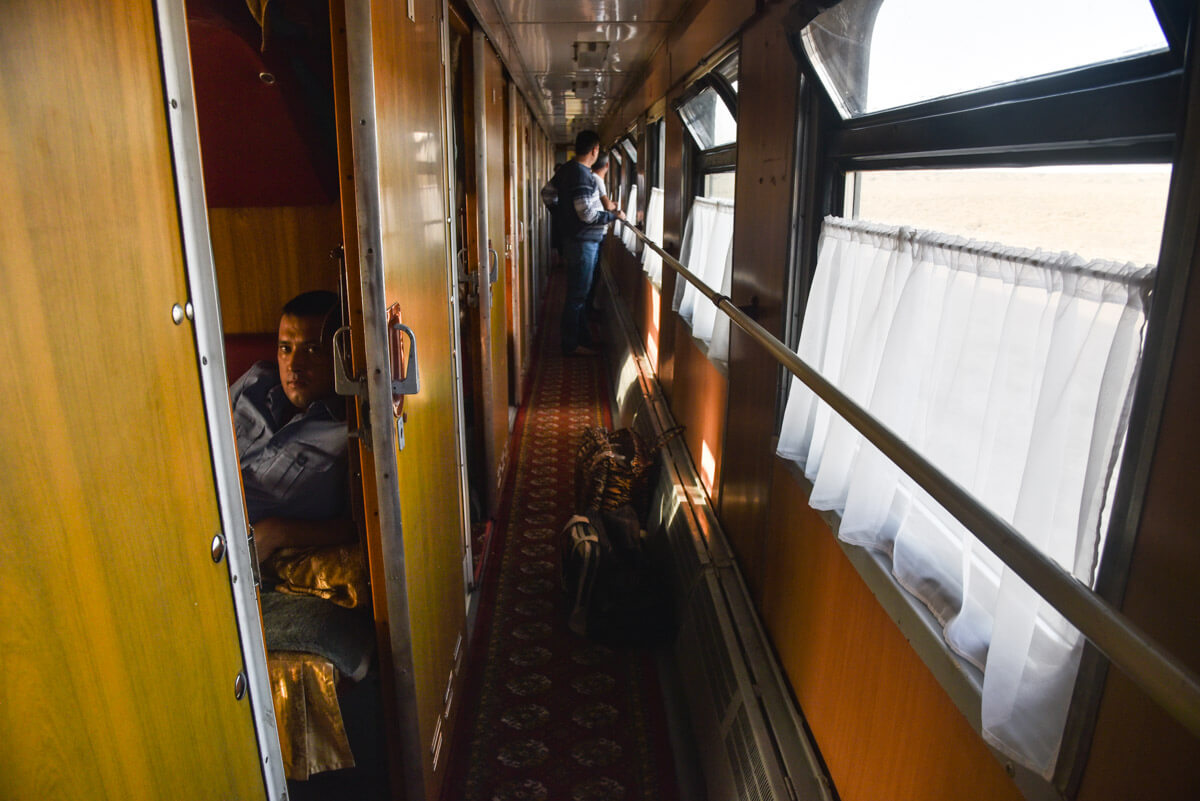 The modern, faster train
A train that is more convenient for short distances from Almaty or to go to Astana (Nur-Sultan), it is rather more expensive and it doesn't have the same philosophy, so it is not as authentic as the Soviet one. I only used it for traveling from Shymkent to Almaty as, basically, I was on the last stage of my trip, so I was quite tired.
For this train, there are two types of wagons:
Lyux – Which includes 2 categories, with or without a private bathroom.
Kupé – The equivalent of tourist class.
Which wagon should you choose?
This will depend on which kind of traveler you are.
If you are a budget backpacker who doesn't care about sleeping surrounded by loads of random people and, at the same time, you love interacting with the locals, then you should, definitely, travel in platzkart. Nevertheless, remember that there may be heavy snorers, it is noisy and, after some hours, it may not smell very good.
Lyux and kupé offer more privacy and comfort, which is not bad at all, but it will never be the same experience.
I personally kept switching from platzkart to kupé, depending on the day, mood and ticket availability.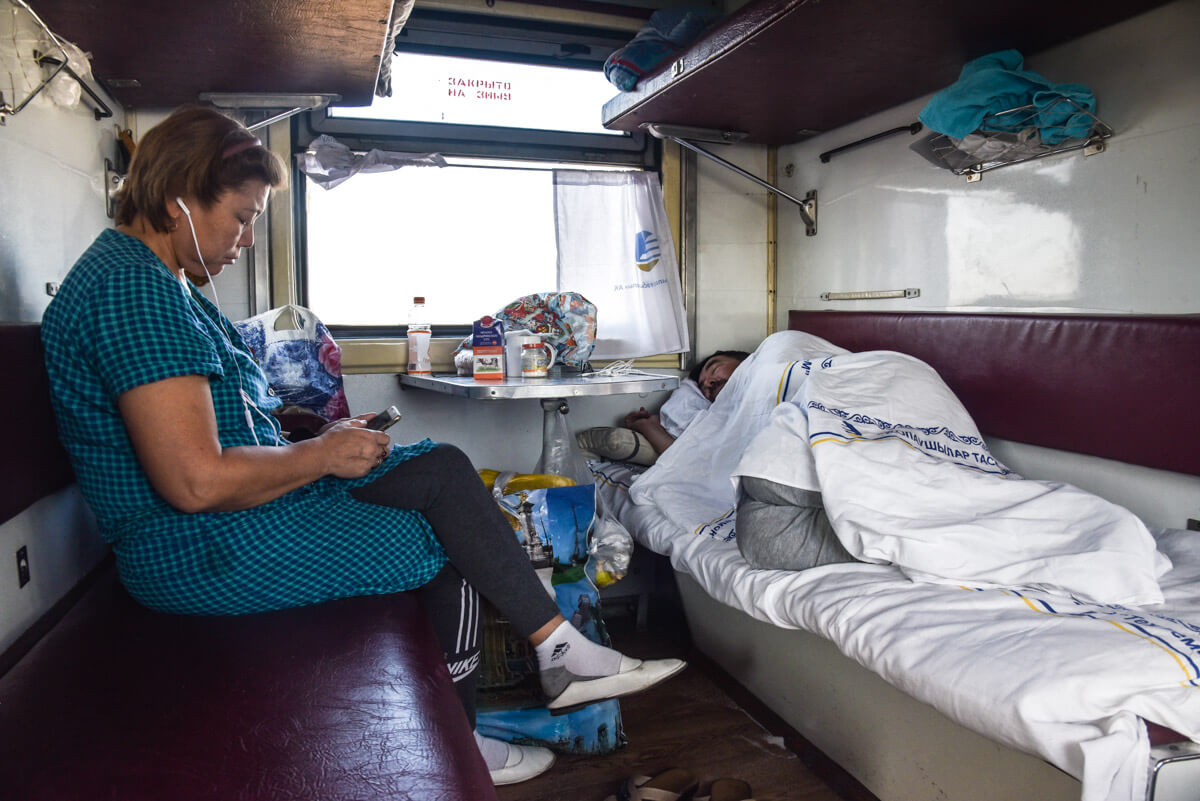 Prices of the trains in Kazakhstan
Remember to get travel insurance for Kazakhstan
IATI Insurance offers COVID + long-term plans, so it's perfect for big over landing trips around Central Asia
Get your 5% discount if purchasing via this link
Prices vary a lot, depending on where you go and your class.
Here's the prices of some trains I took.
For more information, you can check all fees on Tickets.KZ.
Beyneu to Atyrau – 1,700TEN (5USD) – 12 hours, 437km (platzkart)
Atryau to Aralsk – 4,000TEN (11.80USD) – 20 hours, 1,400km (platzkart)
Aralsk to Baikonur – 1,100TEN (3.20USD) – 4 hours, 250km – (kupé)
Baikonur to Turkistan – 3,000TEN (8.80USD) – 10 hours, 530km (kupé)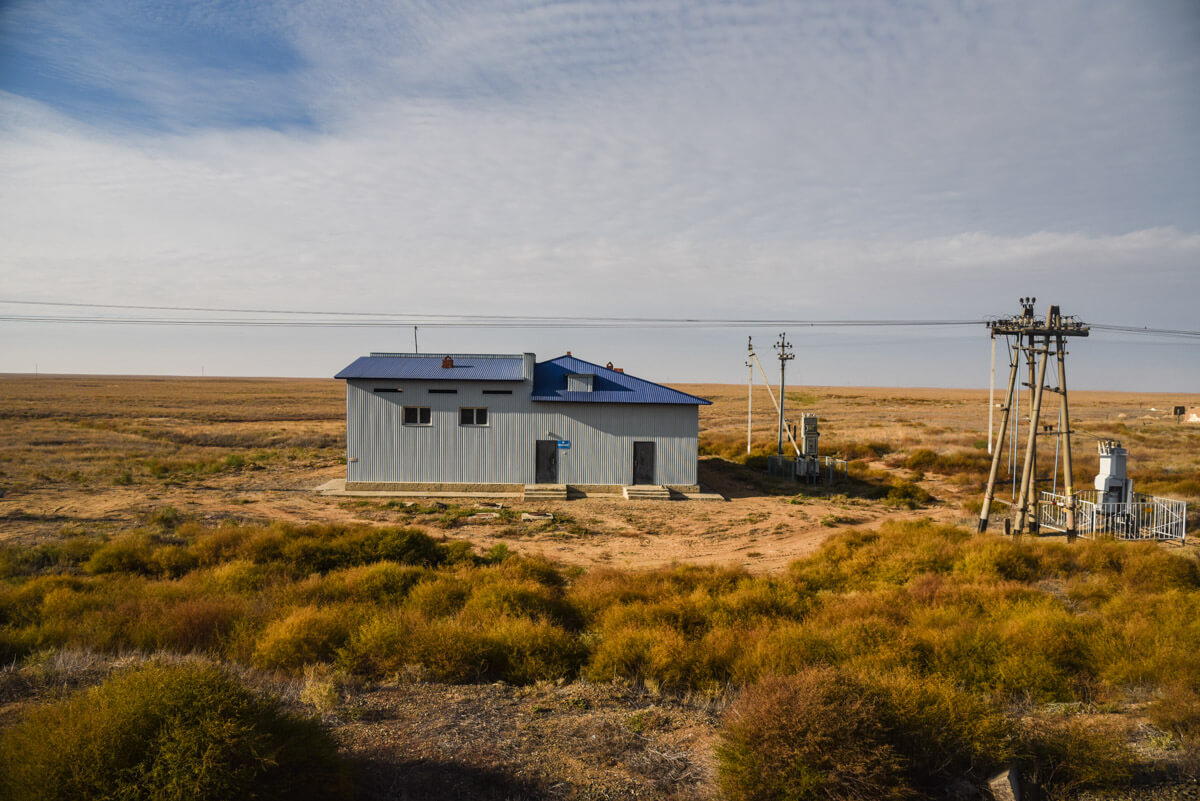 The train journey – More information
Food and drink
The wagon-restaurant serves typical Central Asian food, like plov or lagman, and the quality is according to the region's standards.
On the other hand, at the different stations, you will always see many vendors getting on the train, selling fruit, smoked fish, ready-to-eat meals and all the snacks you could ever imagine.
Moreover, at most stations, the train will stop long enough, so you have time to buy at the many food stalls.
By the way, all wagons have a boiling water dispenser, so you can have your tea or even prepare some instant nooddles.
Alcohol
The wagon-restaurant serves beer, vodka and, I think, other liquors as well.
You can drink without any problem but, if someone gets really wasted, he can be kicked out. However, I bumped into several really drunk people, with very stinky breath, who didn't leave me alone and nobody cared, so I don't think that this rule always applies.
More information
Electricity – In kupé class, there are a few plugs but, in my experience, they didn't work most of the time.
Bed-linen – Regardless of which class you are traveling in, they will always give you clean sheets.
Toilets – Obviously, the toilets aren't the cleanest ever but I have seen much worse when I traveled in Pakistan.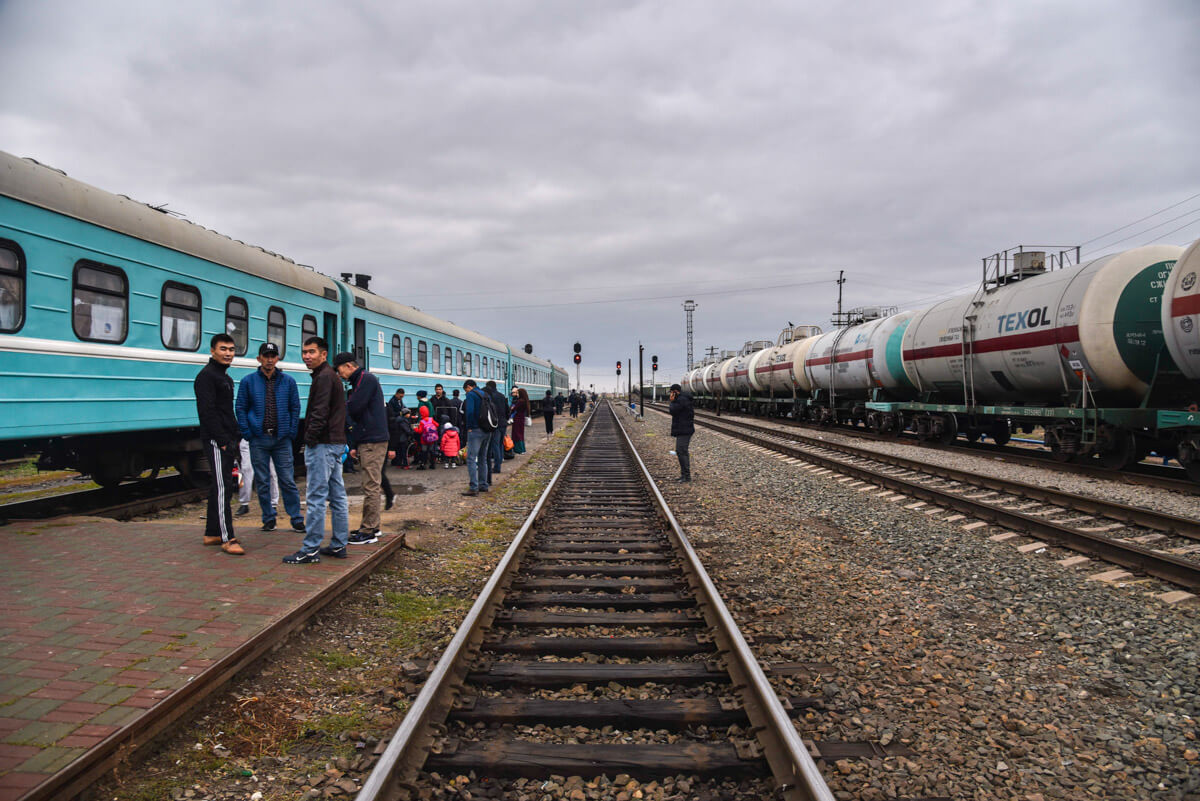 The essential packing list
A teacup and cutlery – You're gonna need them.
A Kindle to read – My longest journey was nearly 48 hours in a row. As much fun traveling by train in Kazakhstan can be, at some point, you will get bored, really bored.
And check here my 28 best books on Central Asia
A power bank – The few plugs that work tend to always be busy.
English-Russian Phrasebook – Very, very rarely you will meet some who speaks English. In fact, you are likely not to meet any other tourists.
More information for visiting Kazakhstan
Don't forget to check our travel guide to Kazakhstan.
As well as all our Kazakhstan articles: