Uzbekistan-Kazakhstan border crossing (Nukus to Beyneu)

The Uzbekistan-Kazakhstan border crossing in a Soviet train is a pretty cool journey.
The Tejen border crossing is particularly useful for those coming from or traveling to Azerbaijanover the Caspian Sea, as well as those interested in exploring the remote western part of Kazakhstan.
Read:
Backpacking in Kazakhstan – 1 to 4-week itinerary
Backpacking in Uzbekistan – 1 to 4-week itinerary
Overland border crossings are very exciting and crossing from Uzbekistan to Kazakhstan was no exception. I boarded a train in Samarkand and got off in the Kazakh town of Beyneu. It was an epic 32-hour journey but, in case you are wondering, there is no need to make it that long.
I am going to tell you, step by step, how to cross it successfully.
First, do you have a valid visa?
If you are crossing into Kazakhstan
If you are traveling to Kazakhstan, most nationalities get a 30-day free visa on arrival.
If you are crossing into Uzbekistan
However, if you are traveling to Uzbekistan, most likely you will need to arrange your visa in advance.
For more information, read: How to get a visa for Uzbekistan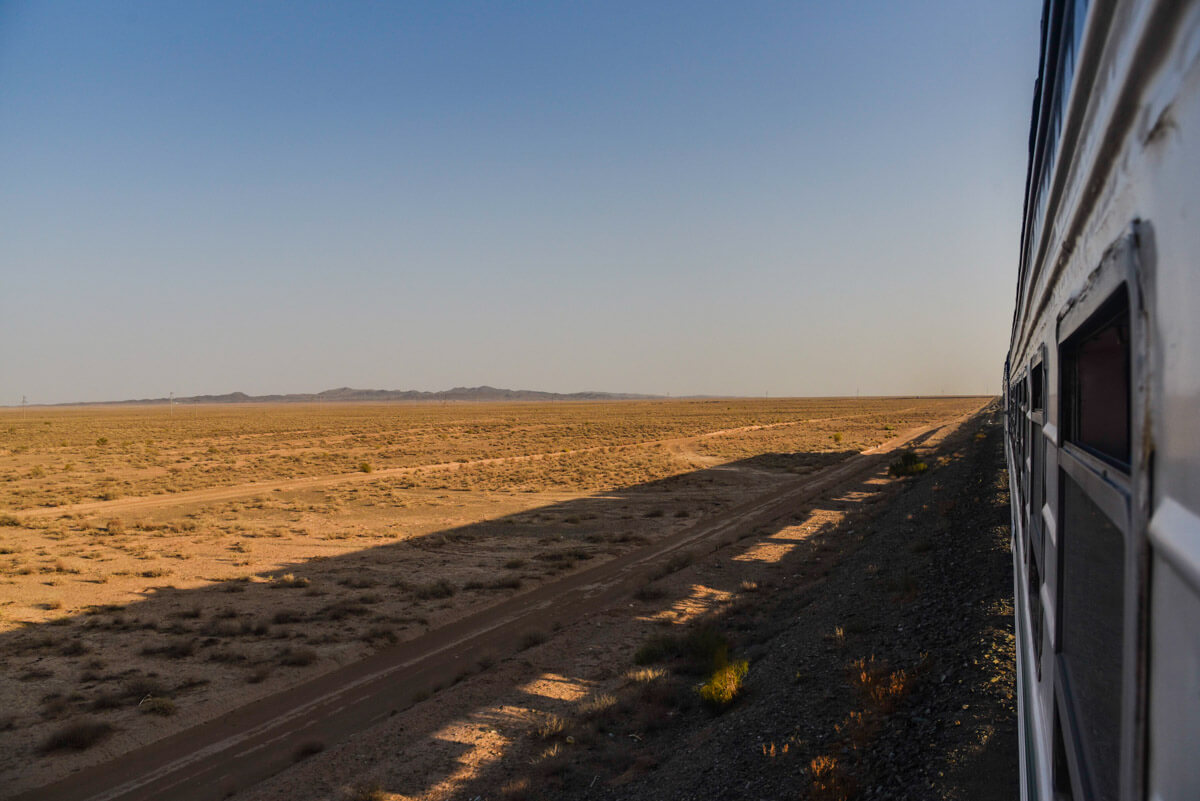 Get your train ticket for the Uzbekistan-Kazakhstan border crossing
Wherever you are crossing into, try to book your tickets as early as possible.
If you are crossing into Kazakhstan
You will need to buy a train ticket to a city called Beyneu, which is a very ugly Kazakh border town. You can travel there directly from Tashkent or Samarkand, which are located on the other side of Uzbekistan.
However, the train it only leaves from these 2 cities 2 or 3 times a week. You should ask at the station for the exact days and timings, as they may vary depending on the season. I personally joined it in Samarkand and it was a 32-hour journey which cost 416,000UZS (52USD), in economy class. It left on Saturday at 10pm and arrived on Monday at 5am.
Alternatively (and much easier) you can take the train in Nukus, which is the main city in western Uzbekistan. It only takes 8 hours and, apparently, leaves every day at 6am. However, go to the train station to confirm timings.
If you are crossing into Uzbekistan
You can take a direct train to Uzbekistan from Aktau, which is a town located on the Caspian Sea shore, from where you take the ferry to and from Baku.
Also, if you came from Russia, you could also get the train in Atyrau, a transit city for travelers heading or coming from Russia.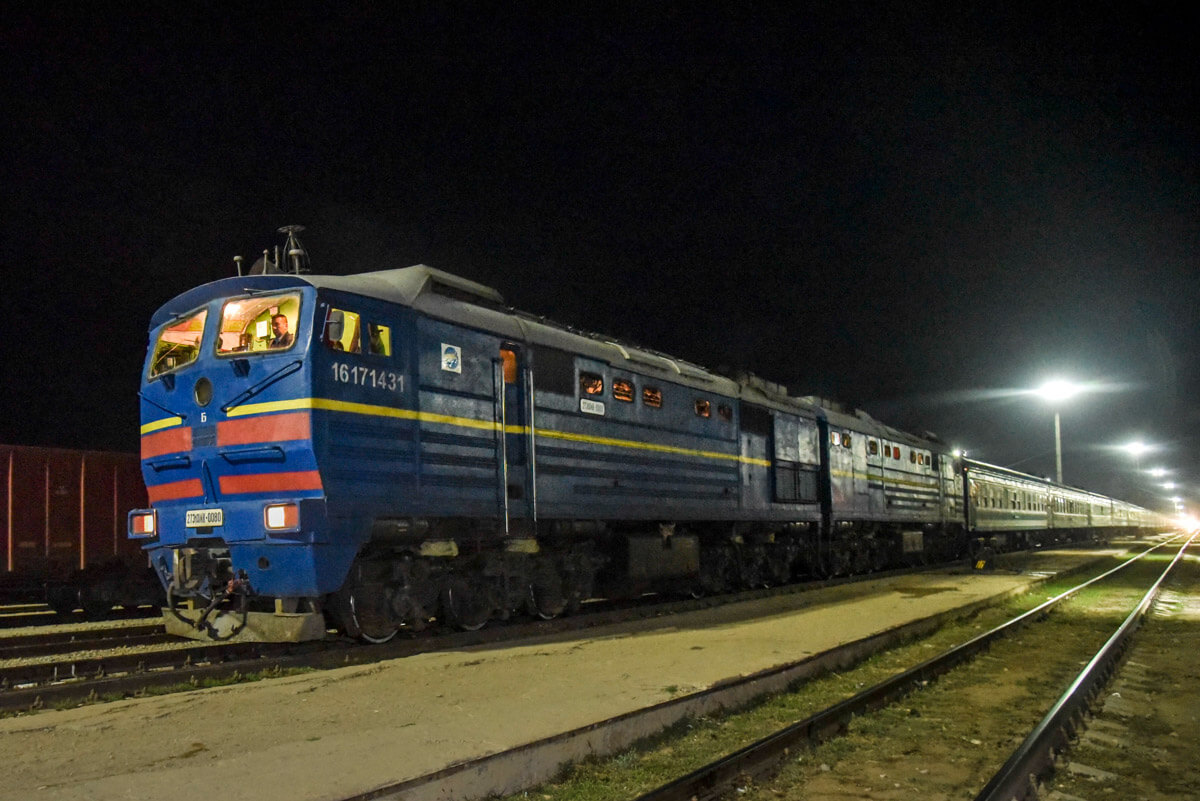 Highlights of the train journey
As per the journey, you are going to cross a massive desert where there is nothing but endless steppe. However, the real highlight of the journey is talking to the locals and doing some people watching at all the train stations.
All the old women offered me bread, fruit and cookies and, basically, everybody was more than happy to see me wandering around with my camera. Nobody speaks English, by the way, but when I did this journey it was my fourth month in Central Asia, so I could speak a bit of Russian.
Read: A guide to the Pamir Highway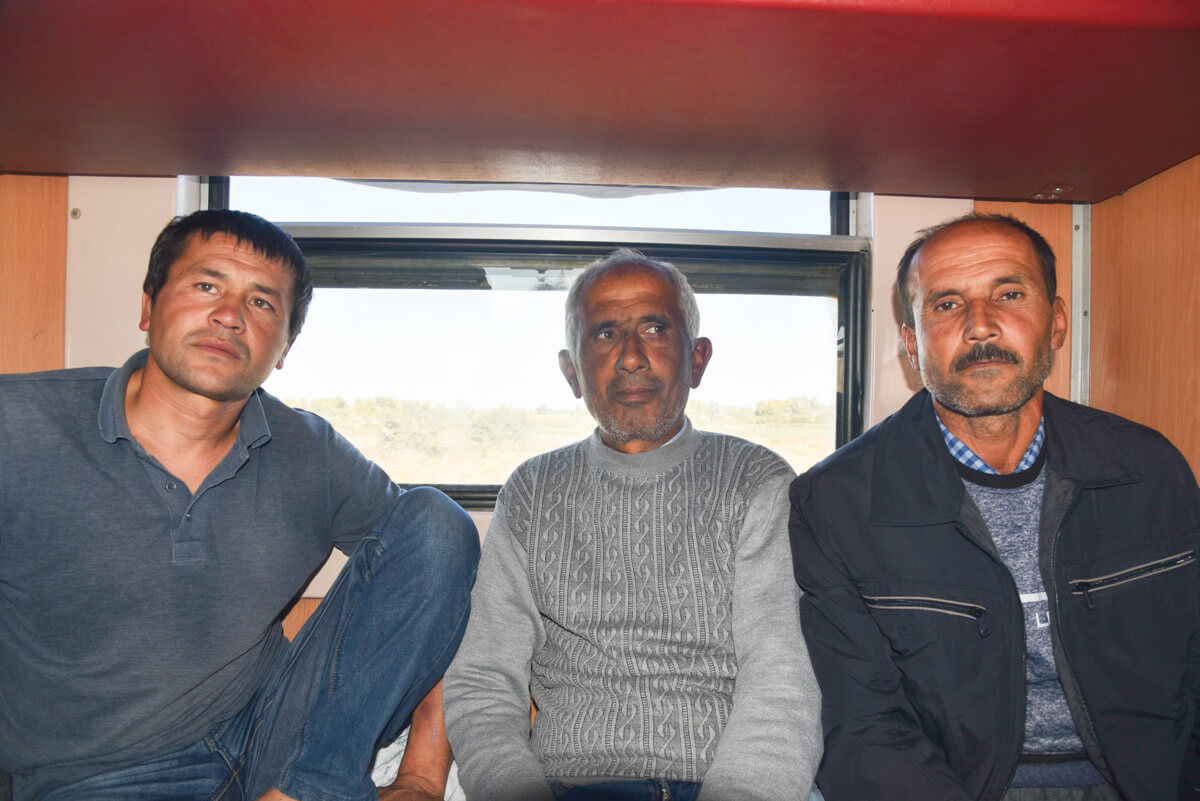 Arrival at Tejen border – The customs process
Remember to get travel insurance for Kazakhstan
IATI Insurance offers: COVID-19 + long-term plans, so it's perfect for big over landing trips around Central Asia
Get your 5% discount if purchasing via this link
My train arrived at the border at 1:30am in the morning.
When the customs authorities get in the train, everybody has to wake up and sit on the bottom of the bunk beds. They go through all passports and make some random baggage checks.
The Kazakh authorities were pretty cool and relatively quick, but the Uzbeks took forever. They asked me a lot of questions, including if I had medicines. Nevertheless, unlike the day I crossed from Tajikistan to Uzbekistan, they didn't check any of my electronic devices.
By the way, the whole process took 3 hours and 30 minutes.
For more information on Uzbek borders, check my travel guide to Uzbekistan, where I explain everything to take into account.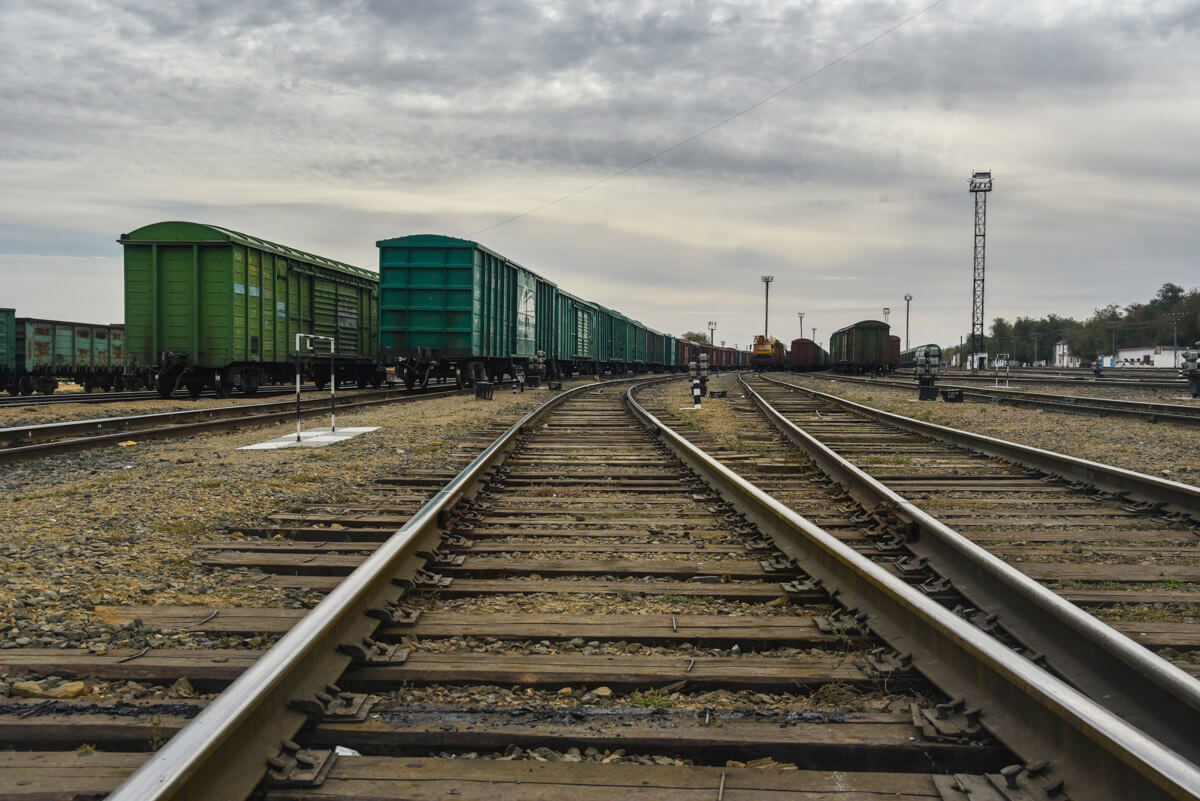 Uzbekistan-Kazakhstan border crossing – The arrival
Crossing into Kazakhstan – Arrival in Beyneu
Beyneu is a real shit hole where there is nothing to do but wait for your next train or find a hotel to stay for one night. I arrived at 5am in the morning and my next train to Atyrau was not until 4am on the next day, so I definitely had to look for a hotel.
If you are traveling to Azerbaijan, you need to buy a train ticket to Aktau.
Where to stay in Beyneu
Beyneu is a mere transit city, so don't expect to find nice accommodation with friendly service. However, you can find one or two decent options for spending the night:
Hotel Zhibek Zholy – Close to the train station and frequented by travelers. Nothing fancy but OK for 1 night.
Crossing into Uzbekistan – Arrival in Nukus
Nukus, the capital of Karakalpakstan, is a lovely town, home to the finest art museum in Uzbekistan and the perfect base for visiting Moynaq and the Aral Sea.
Where to stay in Nukus
Jepek Joli – This always busy hotel is the only option in town. It's actually a mid-range kind of fancy hotel but, for budget travelers, they have a yurt in the courtyard. It does get really busy, so try to book it well in advance.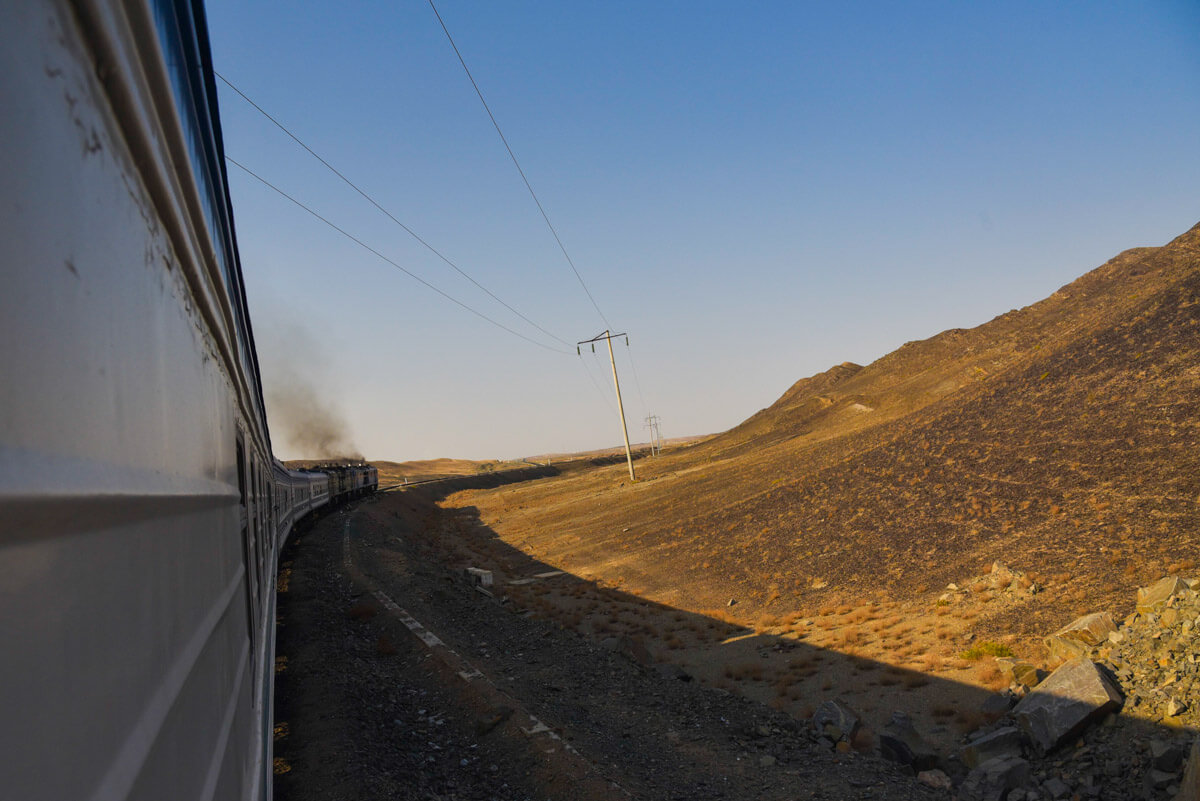 More information for visiting Kazakhstan
Food and drinks – You can actually get anything you want on the train. There is a wagon-cafeteria and, at every station, plenty of sellers come to offer you snacks and drinks. However, I recommend bringing your own food, basically because it tastes better.
Moreover, each wagon has a boiling water dispensary to make tea, coffee or even instant noodles, so it's wise to bring a cup or a glass. At the cafeteria, beers cost 12,000UZS (1.50USD) and meals like lagman or plov cost around 15,000UZS (1.80USD).
Exchange money – On the train, you will also meet loads of people who are exchanging money. They accept American Dollars, Kazakh Tenge, Uzbek SUM and Russian Rubles. I am not sure whether they also accept Euros or British Pounds.
Don't forget to check our travel guide to Kazakhstan.
As well as all our Kazakhstan articles: