Visiting Asmara, Africa's most charming city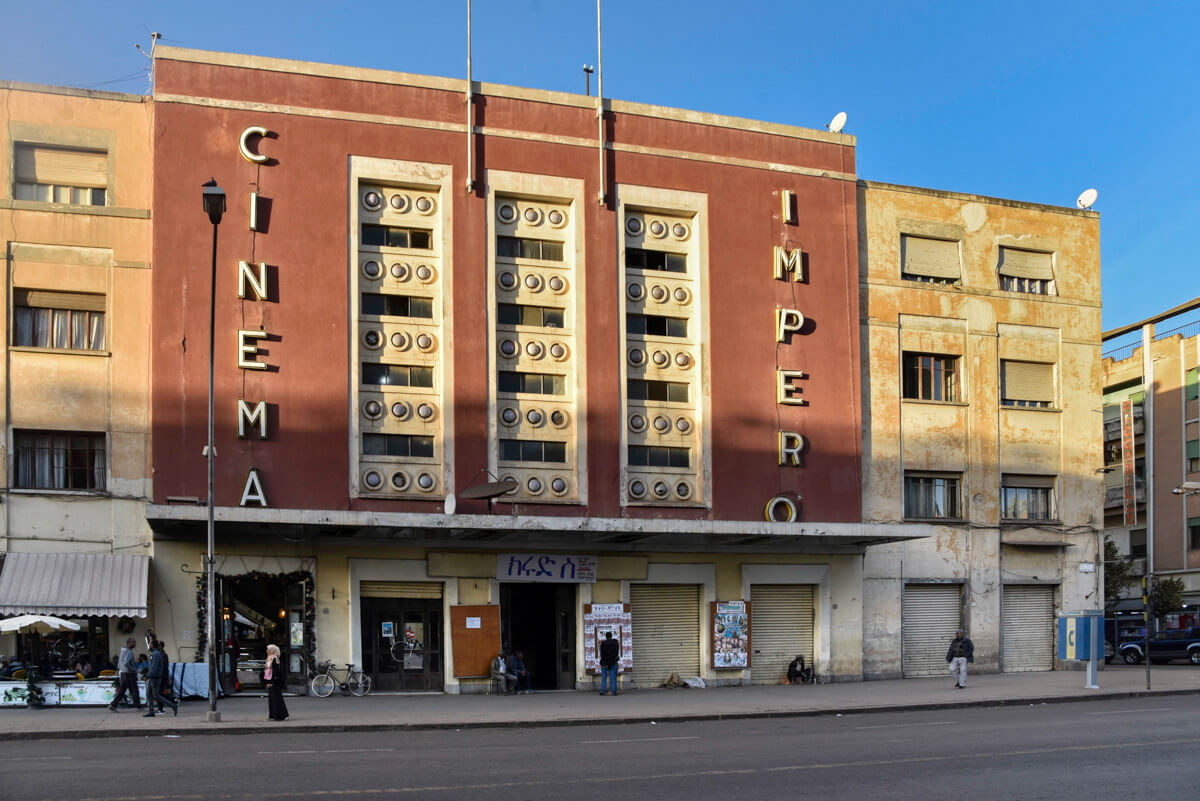 Wide, palm-lined boulevards, art deco, more Fiat Cinquecentos than Italy itself and a great coffee scene: Asmara, the capital of Eritrea, might be the most charming city in Sub-Saharan Africa, a must-visit and particularly great city to explore
Dusty, noisy, chaotic, a lot of traffic and not much to do.
These are just some attributes that, according to travelers, unjustly or not, characterize most African capitals, infamous for being mere gateways to the natural wonders their respective countries offer.
This is not the case of Asmara, however, a capital that resembles a southern Italian town or even I'll dare say, a colonialist Spanish town in Central America.
The fact is that Eritrea was under Italian rule from 1890 to 1941 and Asmara was the epicenter of Italian colonialism, a city that was transformed and created pretty much from scratch, following Italian patterns from the era and leaving behind a heritage composed of Italian modernist buildings, art deco, and colonial-era futurist architecture.
Insurance for traveling in Asmara, Eritrea
I strongly recommend IATI Insurance: one of the very few that covers travel in Eritrea
5% discount if purchasing via this link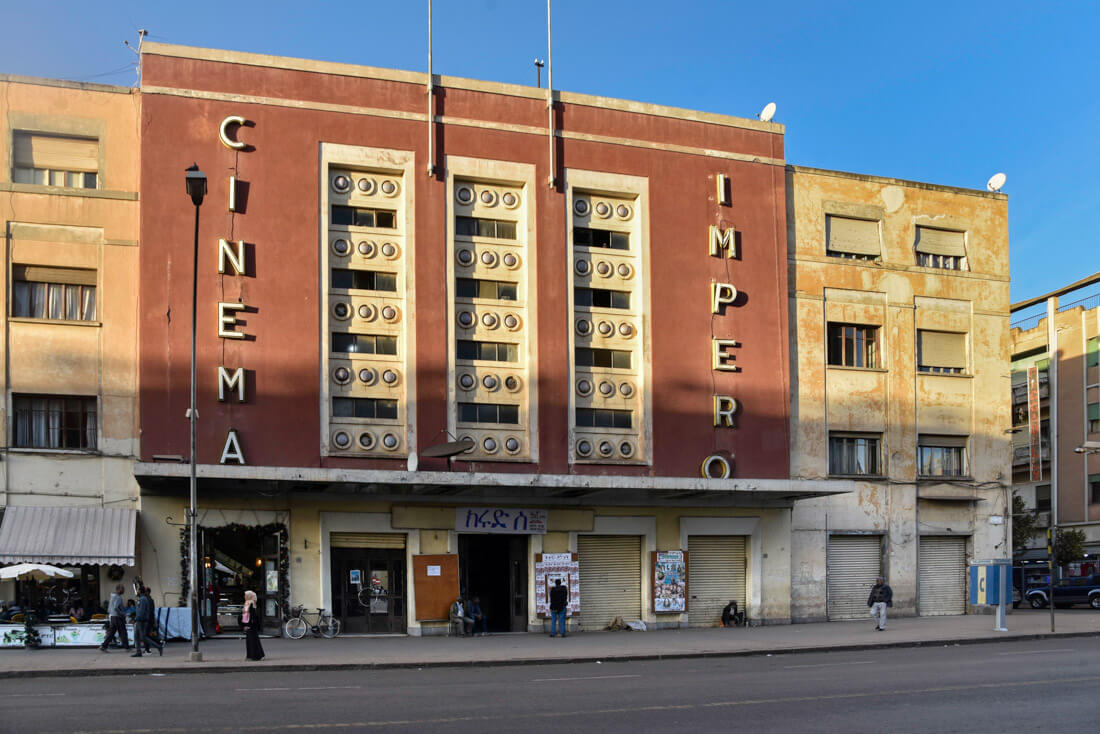 Piccola Roma – The Little Rome – Mussolini used to say, a dictator who commanded Italian architects to create an urban fairyland within Africa, and the end result was a city filled with cinemas, cafés, and imported Fiat Cinquecentos.
According to a local census, in the 30s, Italians made up almost half of the total population in Asmara, the time when they built the largest number of buildings, along with extending their culture into the local's roots.
Today, Asmarinos are well-aware of all the negative things Italian colonialism brought to their people but, at the same time, they are proud of this sophisticated, cultural heritage, one of the reasons I believe they have kept it even after all these years.
This is a Catholic Romanesque Church built by the Italians, a must-see place when visiting Asmara.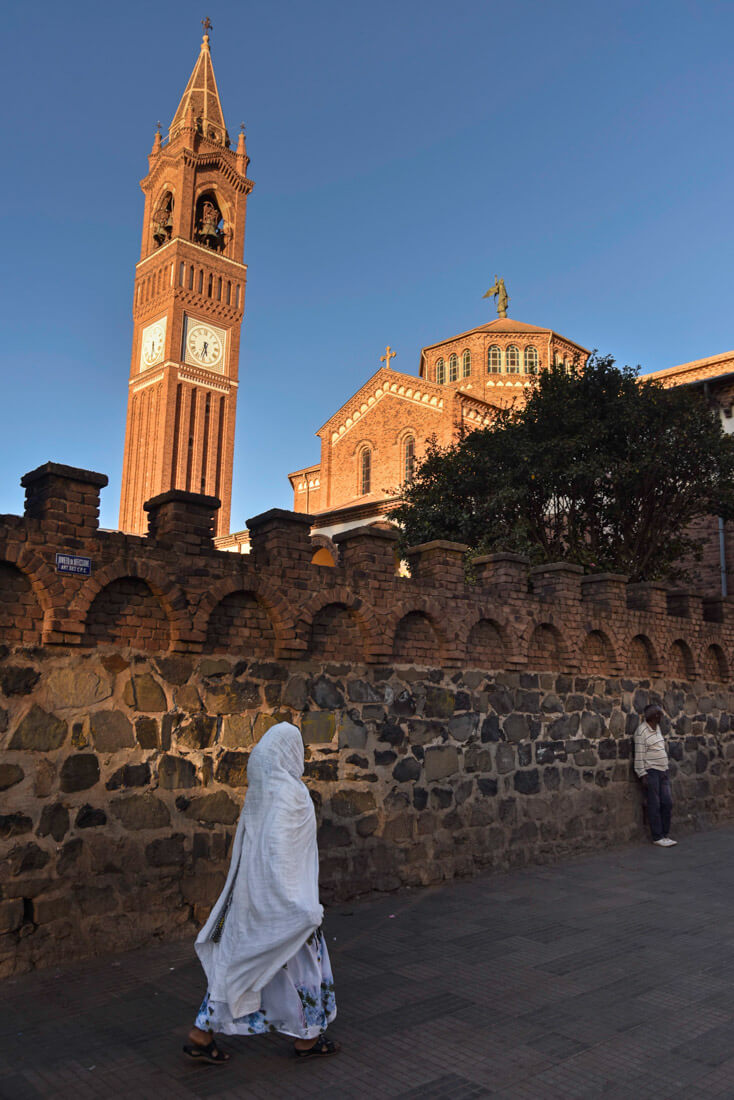 The most peaceful and safest city in Sub-Saharan Africa
At my arrival in Asmara, my taxi dropped me at the wrong hotel – it was my mistake – so I had to walk the remaining 1km to the hotel I had supposedly booked.
It was 3am and Asmara's city center was completely dark, no streetlights except for some shy illumination coming from the many bars that were still open and packed with locals.
I was carrying 5000€ worth of electronic and photography gear, plus all the cash needed for the trip, more than enough reason to worry when walking around an African city in the middle of the night but, to my surprise, even drunk Eritreans did not seem to care about my presence and, other than a few very kind greetings, I arrived at my hotel with no issues.
On the next day, I headed to the city's main boulevard, the most transited city street, only to see that there were barely any cars circulating and, when I wanted to cross the road, a car stopped to let me pass.
Everything seemed so civilized.
Am I really in Africa?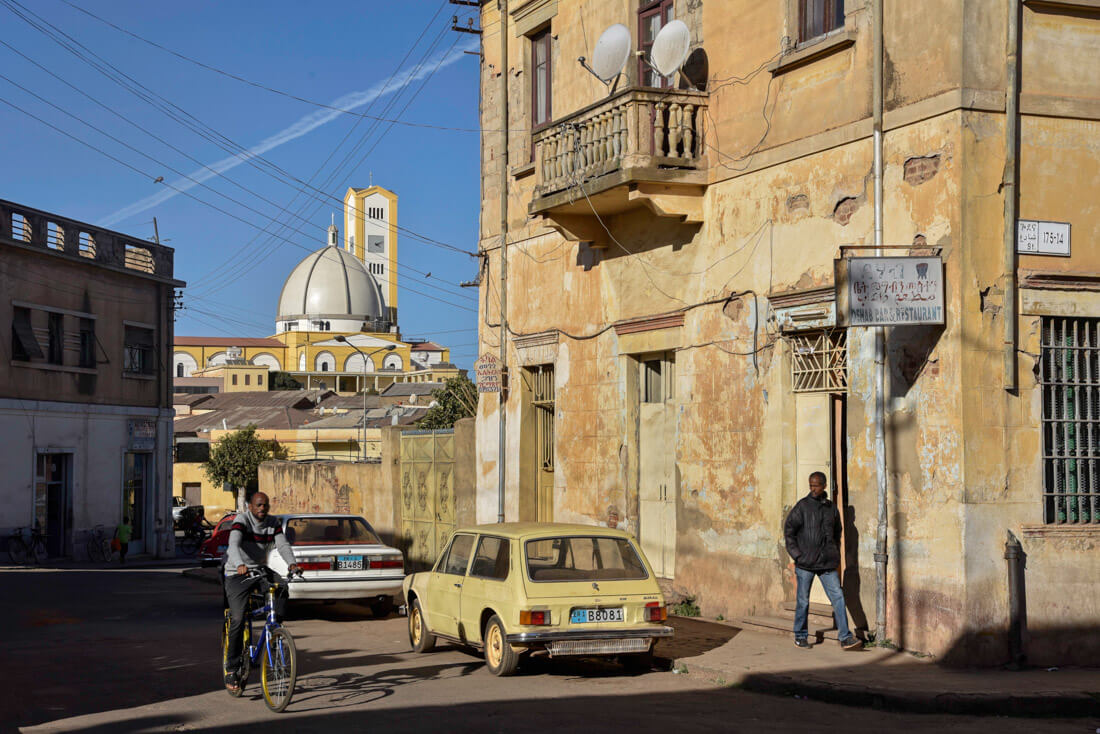 Great food and coffee scene
The Italian influence is not only seen in the local architecture but also in the city's gastronomy.
Local restaurants will always have a side menu with Italian dishes which, to be very honest, are not always good, but the city is also filled with purely Italian restaurants serving pasta al dente, caprito al forno and risottos that can be excellent, especially in Albergo Italia, a fine-dining Italian restaurant serving super quality food.
You might think that Italian restaurants can be found everywhere, sure, but you also need to think that Eritrea is a hermetic country where globalization hasn't come yet, there is no internet, and I seriously doubt that, other than in big international African cities, such as Addis Ababa, Cape Town or Lagos, you will find Italian food as good as in Asmara.
Coffee also plays a big role in Asmarino culture and hanging out in its innumerable cafés over an espresso or a macchiato is an integral part of any visit to Asmara.
Their coffee is excellent, imported from Ethiopia but brewed in Italian style.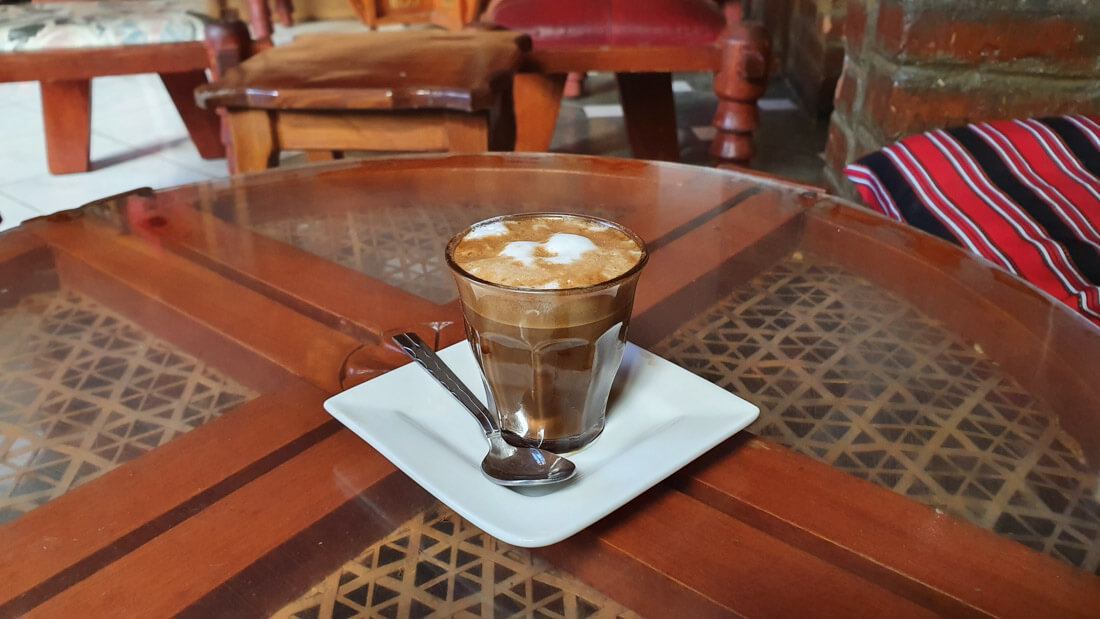 Things to do in Asmara
The city is a great place to hang out but there are many specific things to see when you visit Asmara.
Liberty Avenue
This is the main palm-lined boulevard in the city, where you can find a large variety of cafés and old school Fiat Cinquecentos parked along the street.
The main landmarks here are Saint Joseph Cathedral, built in 1920 in the Romanesque style, and Cinema Impero, an old Italian Cinema, today fully functional, but they mostly show local movies and a few action Hollywood movies.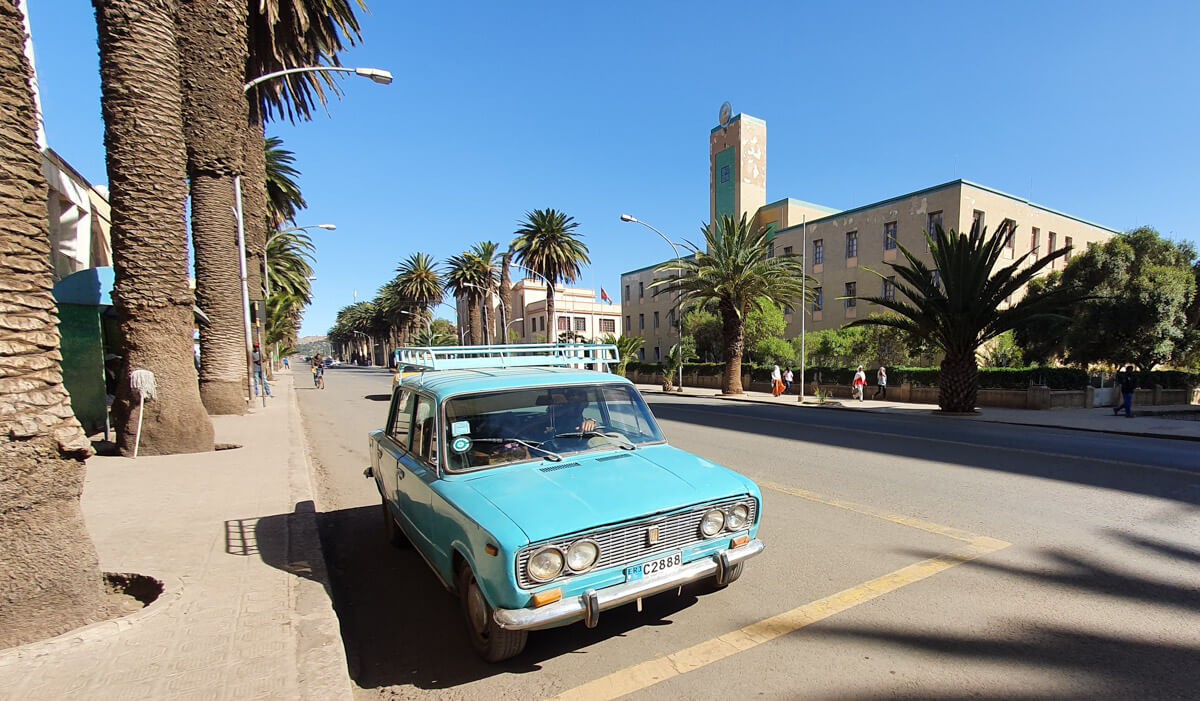 Cinema Roma
Asmarinos claim that Cinema Roma serves the best coffee in town, and I definitely agree, not only in Asmara but that was the best espresso I have ever had in Africa.
Cinema Roma is an old school cinema today turned into a coffee place, where relatively wealthy Eritreans come to enjoy their morning espresso and a pastry.
The café is decorated with movie-related stuff and in the middle of the room stands a real, old filming camera.
The cinema is still functional and one can visit the cinema hall. They put on occasional movies, once or twice a week, and they also broadcast most important European football matches.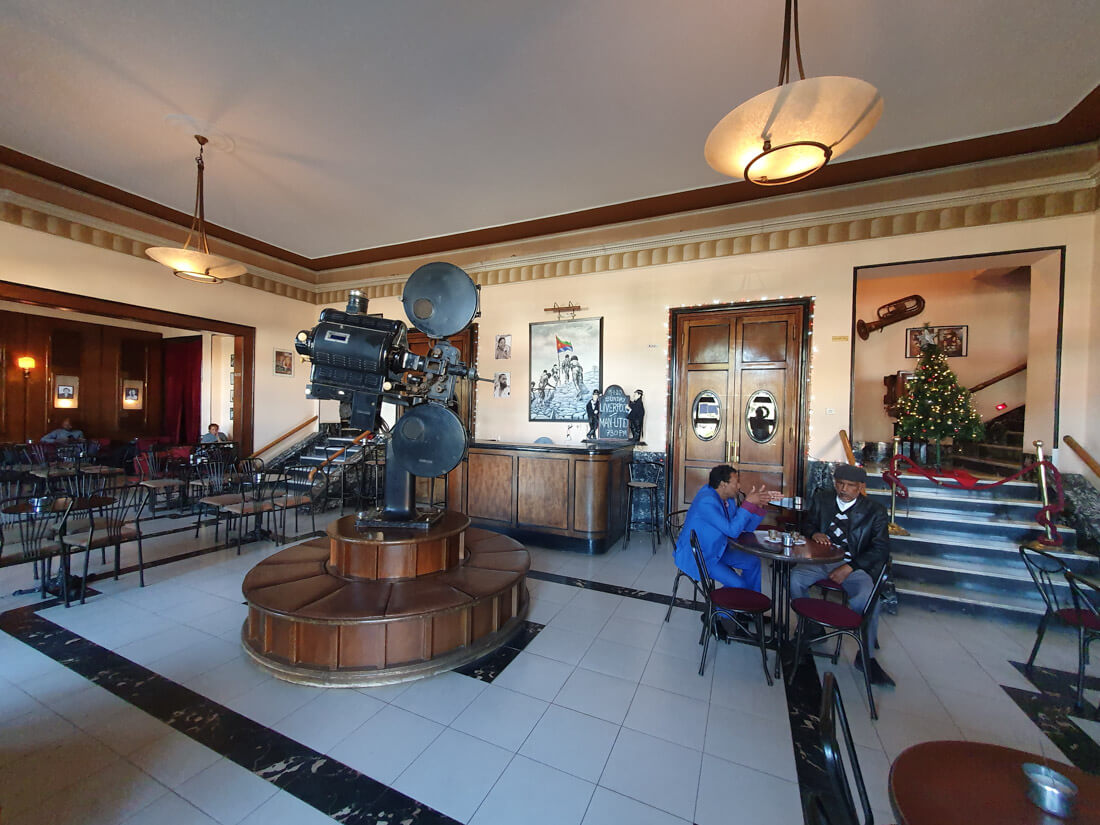 Fiat Tagliero building
A Futurist style gas station that resembles an airplane, built in 1938 by Italian engineer Giuseppe Pettazi.
For some reason, the building has no function today – it is closed to the public – but still, it was one of the main reasons Asmara became a UNESCO World Heritage site.
Visiting this building was the best thing to do in Asmara.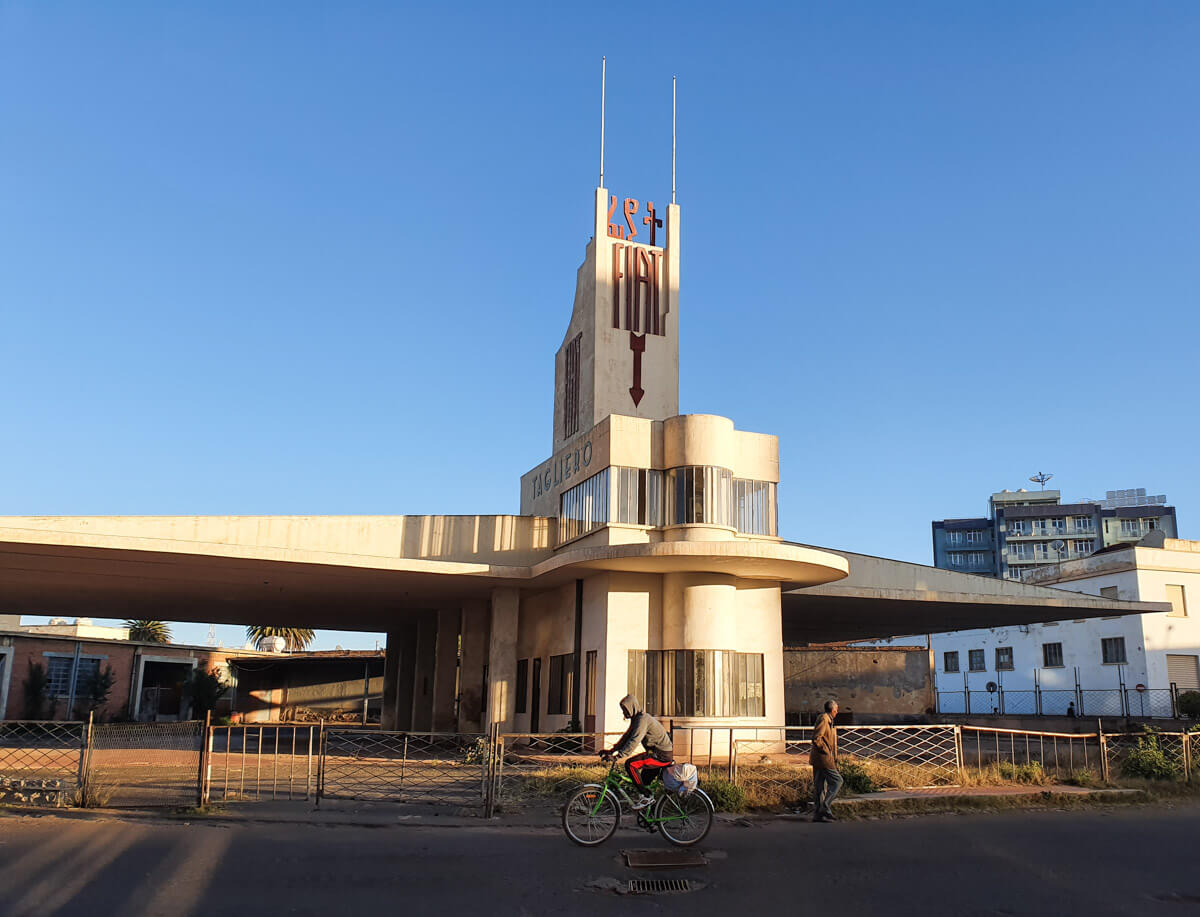 Saint Mariam Church
Another church from 1938, this one Orthodox, and very different from the other one.
It is one of the most important Orthodox churches in the country.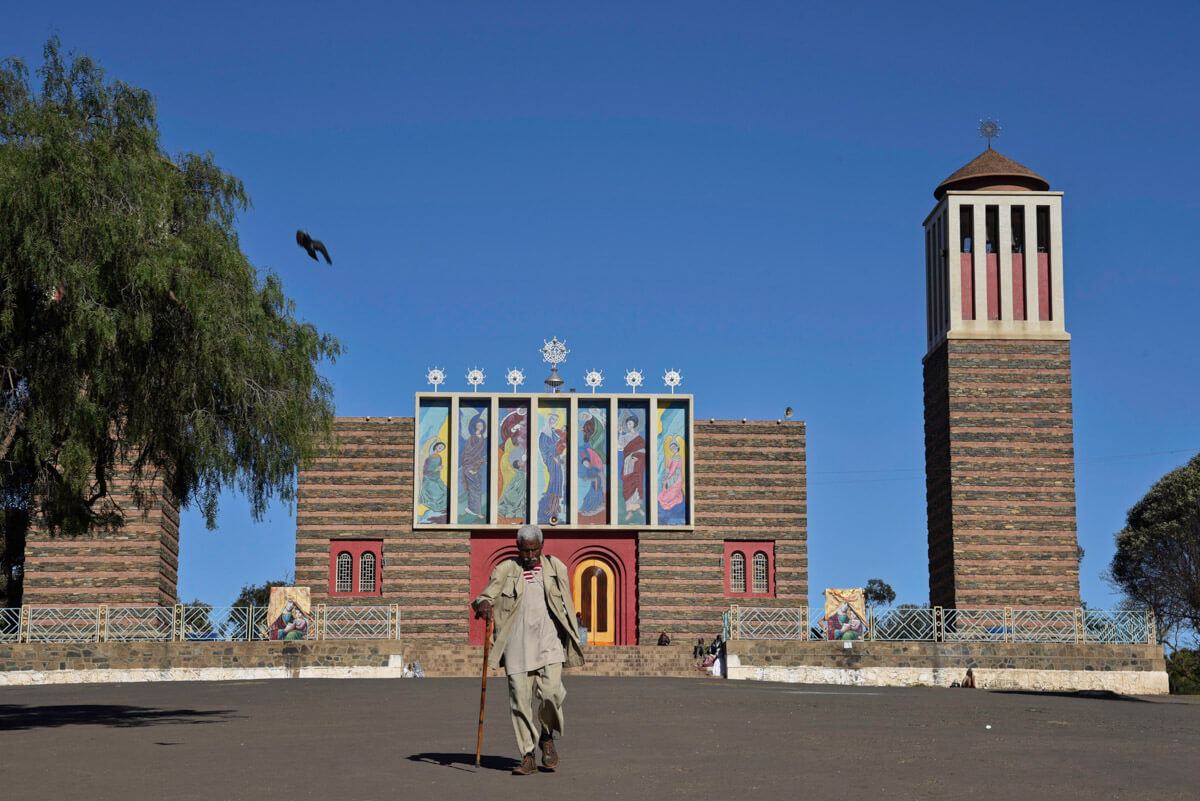 Medeber Market
Two kilometers away from the city center is where actual Africa begins and the main landmark is Medeber market, a unique market, famous for turning useless objects – such as oil cans for cars – into something useful – such as kitchen pans.
The market is very noisy because most stalls keep hitting and shaping the scrap with their hammers.
At the end of the market, on the eastern edge, there are some indoor stalls, where they transform whole chilies into chilli powder – breathing inside that room is hard – and they also process also teff, the grain from which injera – the local bread – is produced.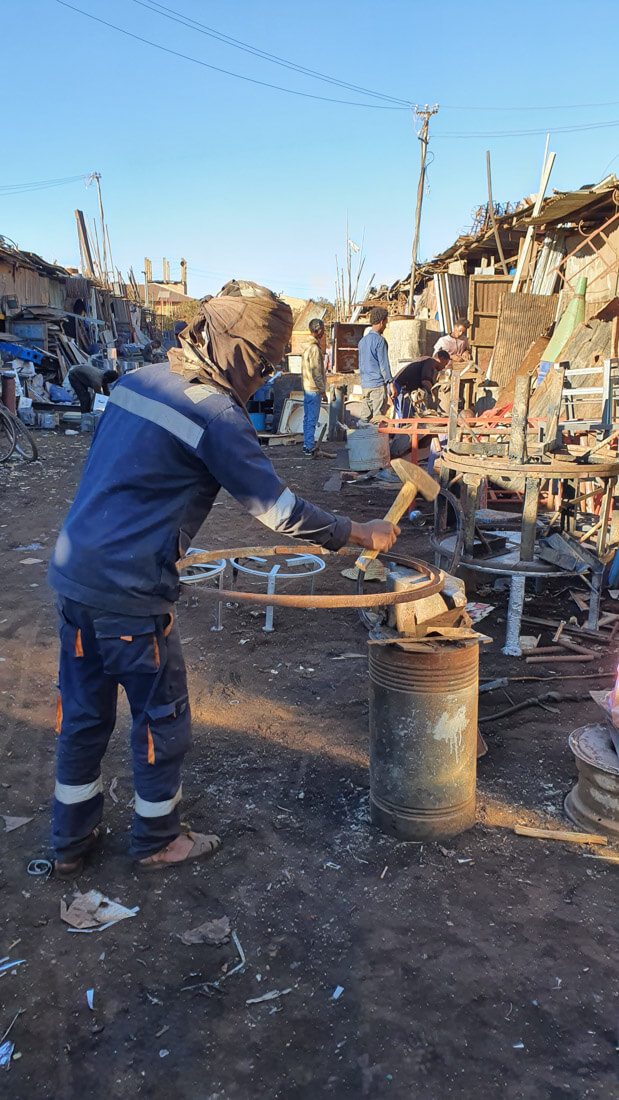 Asmara Great Mosque
I was very surprised to learn that this mosque was also built during the colonial era.
The Muslim Eritreans sitting just outside are among the friendliest people in the city, in my experience at least. They invited me in – the praying room is gorgeous by the way – but I heard that other travelers weren't allowed to get in.
Asmara Bowling Center
I thought that this bowling center was from the Italian era but I was wrong.
It was actually built in the 50s and used by the American Army.
What makes this bowling center especial is that the bowling pins are placed manually, there's no pinsetter but a kid who puts them back after each strike. Here you can see some photos.
You will also see some retired men playing Bocette, an Italian version of pool table.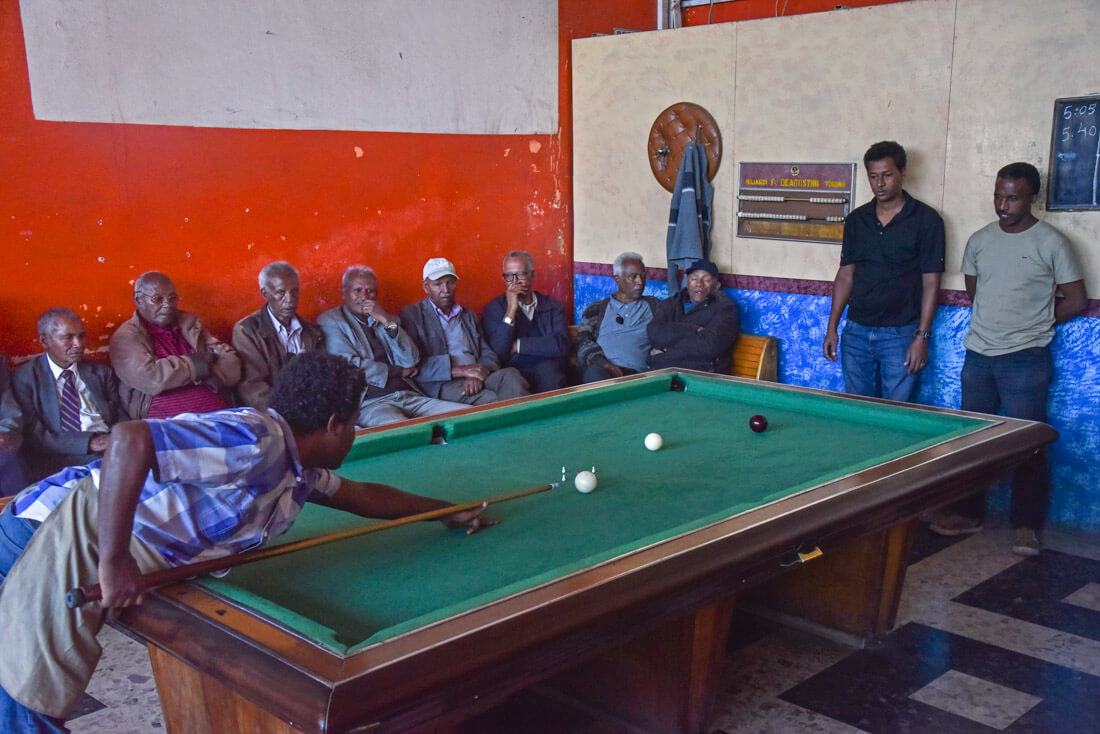 Tank graveyard
Around 4-5 kilometers from the city, you find one the most popular things to see in Asmara, a tank graveyard containing all the military arsenal the Ethiopian Army left behind during the Ethiopian-Eritrean war.
They call it the "tank graveyard" but to be honest, there aren't many tanks around, it is mostly trucks and other military vehicles.
However, they do have a few, as well as an airplane and one of those massive machine guns that goes on top of military vehicles.
The visit takes around 1 hour and I recommend you walk there because you will go through a great African district full of friendly people.
For visiting the graveyard, you will need to get a permit from the Tourism Office. It is the only permit that you can get instantly.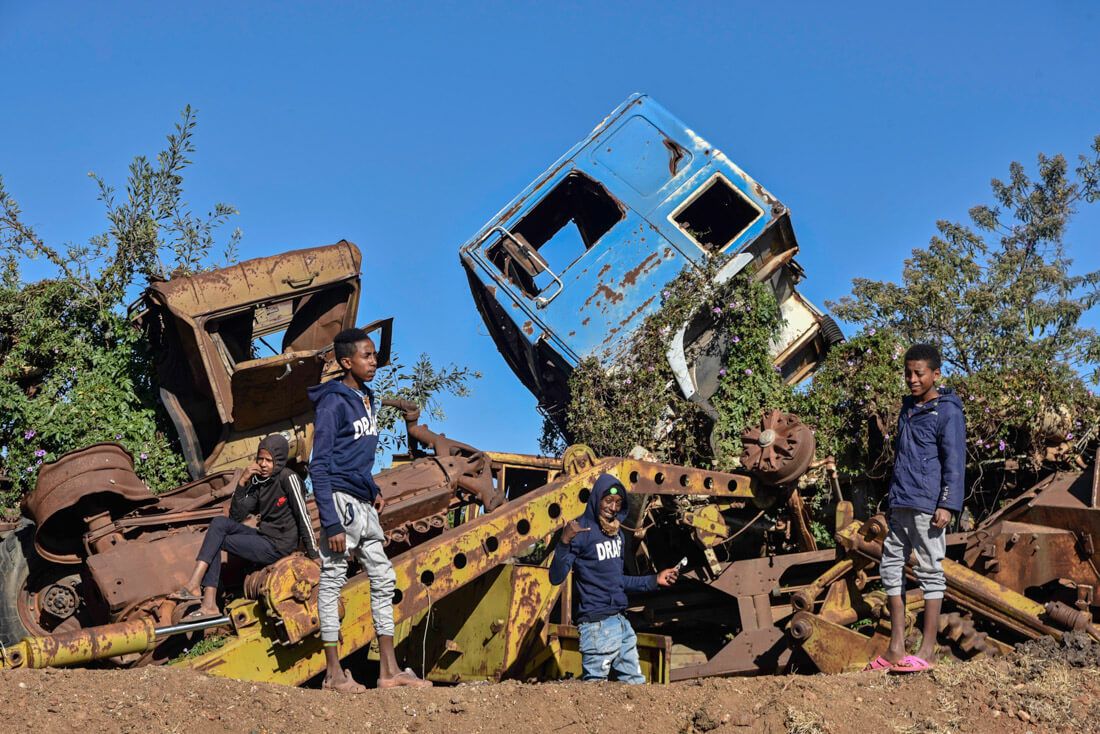 Best cafés and restaurants when you travel to Asmara
Insurance for traveling in Asmara, Eritrea
I strongly recommend IATI Insurance: COVID-19 coverage + full Eritrea coverage + 5% discount
5% discount if purchasing via this link
Kit Kat Café – Nice terrace set up, this place serves just coffee and pastries.
Daniel Fast Food – With their great juices and foul, this is a good place for breakfast.
Top-Five – The restaurant from Top-Five Hotel has great local food (also Italian) and is my local friend's favorite restaurant for Eritrean food.
Albergo Italia – Fine-dining Italian restaurant, the best one in the city.
Cinema Roma – Best coffee – and building – in town.
Where to stay when you visit Asmara
Budget: African Village – Best option for backpackers. A majestic colonial building in which you find rooms of all prices, from 10USD rooms with shared bathroom to 30USD. All rooms are impeccably clean. I stayed here on my last night.
Budget-Mid-range: Top Five Hotel – I stayed here during my first 3 nights in Asmara. The cheapest room you can get costs 20USD, with a private bathroom, and it is just OK, but it is very clean. You can get better rooms paying a bit extra. The hotel's restaurant is very good and it is always filled with locals.
Mid-range: Crystal Palace – A fancier hotel with rooms starting at 60USD.
For more information, read: How to travel to Eritrea: tips + itinerary
More information for visiting Asmara
A guide and article for traveling in Eritrea destination
Check more city guides
Enjoyed this post? Pin it for later