Things to do in Baku in 3 days – A complete guide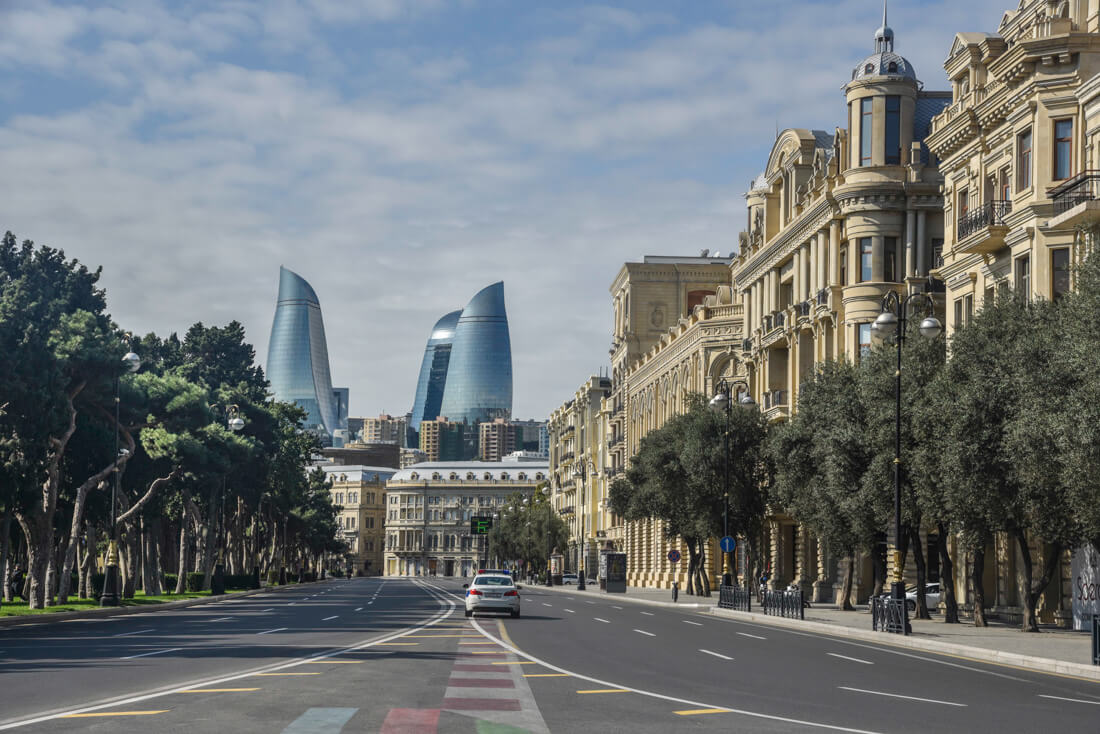 Until very recently, Baku, the capital of Azerbaijan, was a real off-the-beaten-track destination only known by the most intrepid travelers.
Pierce Brosnan, in the James Bond movie The world is not enough, was the first person who finally told us about its existence, when he showed images of some oil fields right in the desert plains around Baku.
Those images, however, didn't really trigger any interest in the country, as people thought that, perhaps, Baku was not very different from the Arab Gulf monarchies, which was a really wrong approach.
Whereas it is true that Baku is an oil-rich city and, in fact, Azerbaijan was the top world exporter at the beginning of the 20th century, many years before the Gulf monarchies discovered the black gold, on the other hand, it is also a city with a very deep history, belonging to a region which has been inhabited for thousands of years, besides having an important role in the Silk Road, as well as, of course, being part of the USSR for nearly a century.
Nevertheless, thanks to exponential development, Baku today is an almost futuristic city that manages to combine both tradition and modernity, two elements that can be seen together all across the city.
After visiting Baku on two occasions, here is a complete Baku travel guide with all the best things to do in Baku in 3 days, including plenty of travel tips.
For more places to visit in the country, read my complete itinerary to Azerbaijan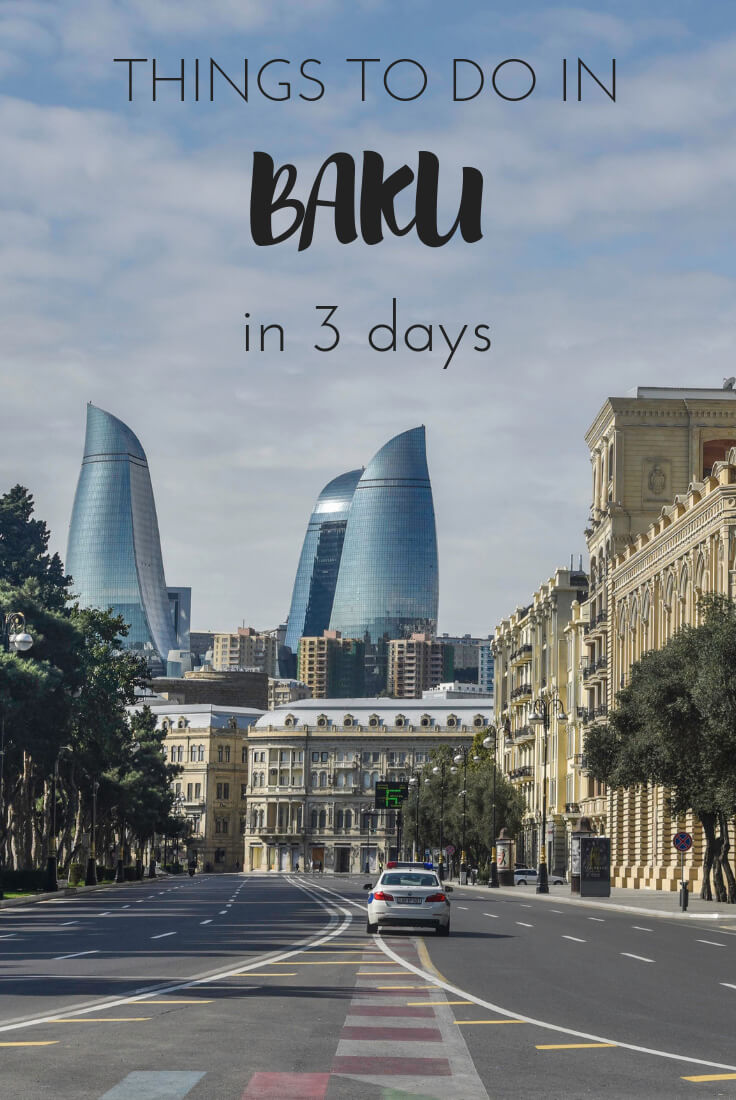 Introduction to traveling to Baku
From the end of the 19th century, Baku has been a global leader in oil exportation and has been growing at full speed, but it was only after the dissolution of the USSR and Azerbaijan's post-independence, that this development was accelerated, Baku became a futuristic and modern city, perfectly comparable to European standards.
However, due to the obvious corruption, or preferably, bad resource management, this development has been exclusively focused on the capital, to the extent that its contrast with the second largest city, Ganja, where you can still find unpaved streets in the city center, is huge.
The capital of Azerbaijan is a luxurious city, a Dubai-like-concept but with a real soul, meaning that, in the city center, you can find a Rolls Royce official store and the most luxury brand stores, along with buildings and mosques from the 12th century.
Going to Tbilisi? Check out my city guide to Tbilisi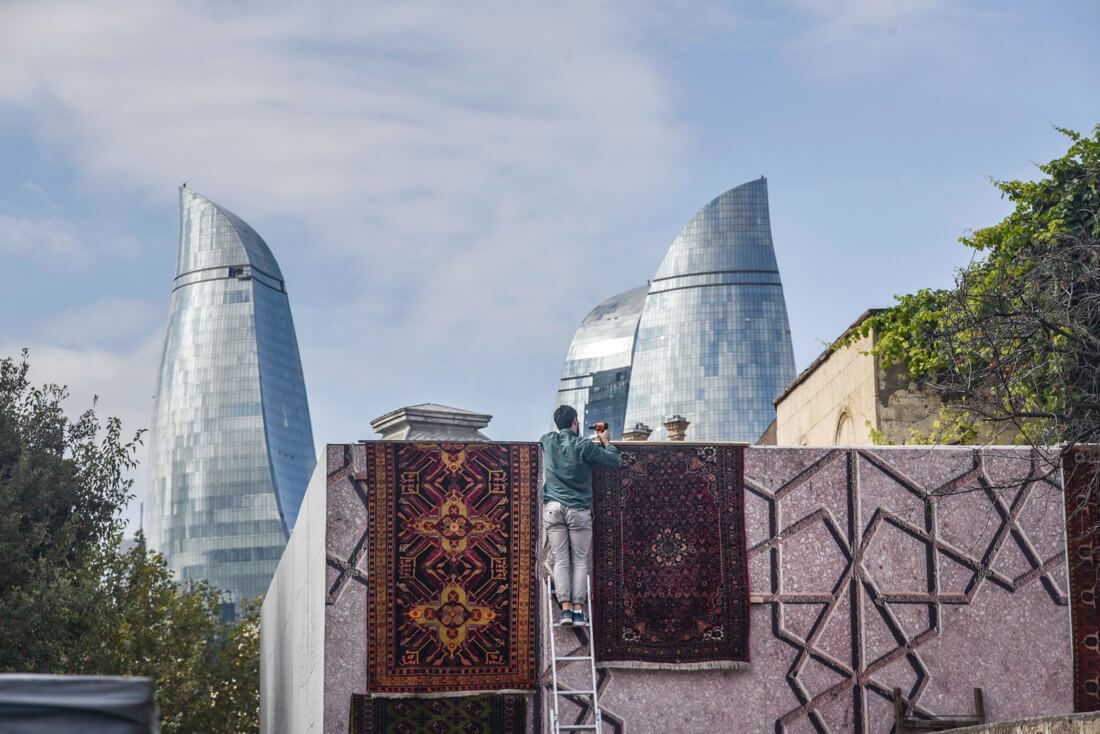 Baku is, definitely, the most developed city in the Caucasus (including Armenia and Georgia) but, in my humble opinion, this development is economic, not social.
Whereas, in its neighbor Georgia, many young people are quickly learning European values, in Baku, even though they are a rich and supposedly secular city, people are much more traditional, and you will quickly realize when you only see men hanging out in most places, people not speaking English and, overall, people being more closed-minded.
However, visiting Baku is totally worth it and not only due to its eccentric composition but also because it is a real blend of Europe, the East, and the Soviet Union, so, so chaotic, that it's practically impossible to define it, and that's the most exciting thing about it.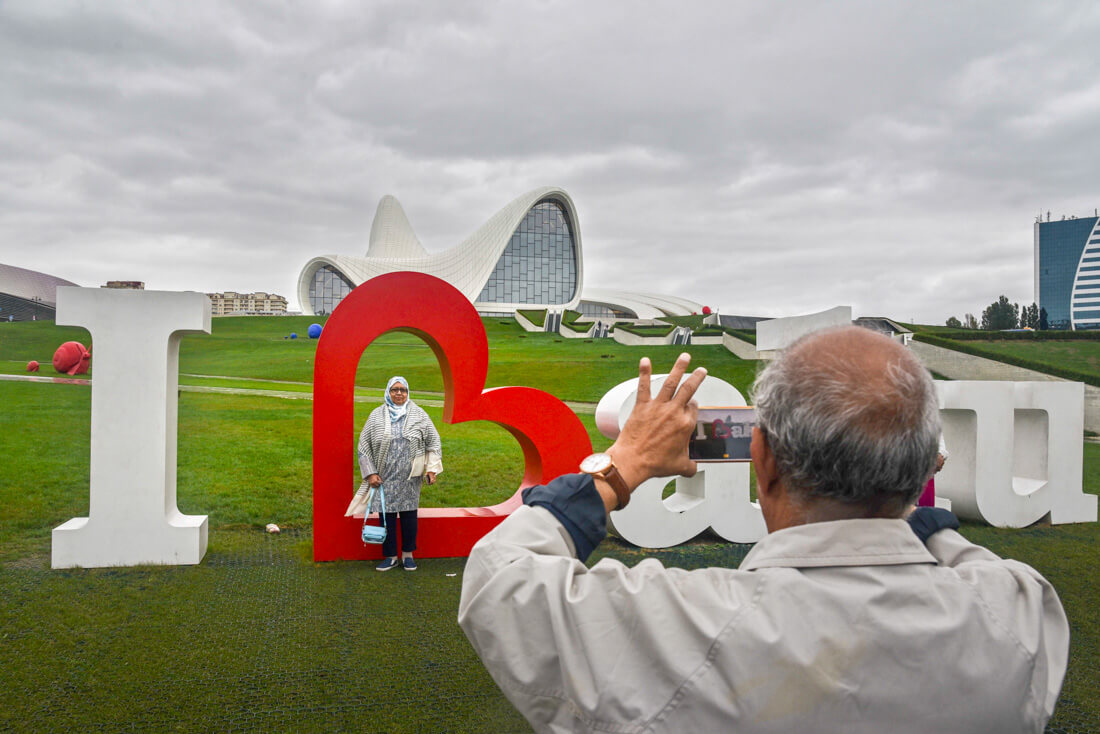 Visa for visiting Baku
From January 2016, you can apply for an e-visa to visit Baku.
The visa costs 25 USD, takes 3 working days and is valid for 30 days.
For 50 USD, you can also apply for an urgent visa and get it on the same day.
All Western nationalities are eligible for the e-visa but you can check the full country list here.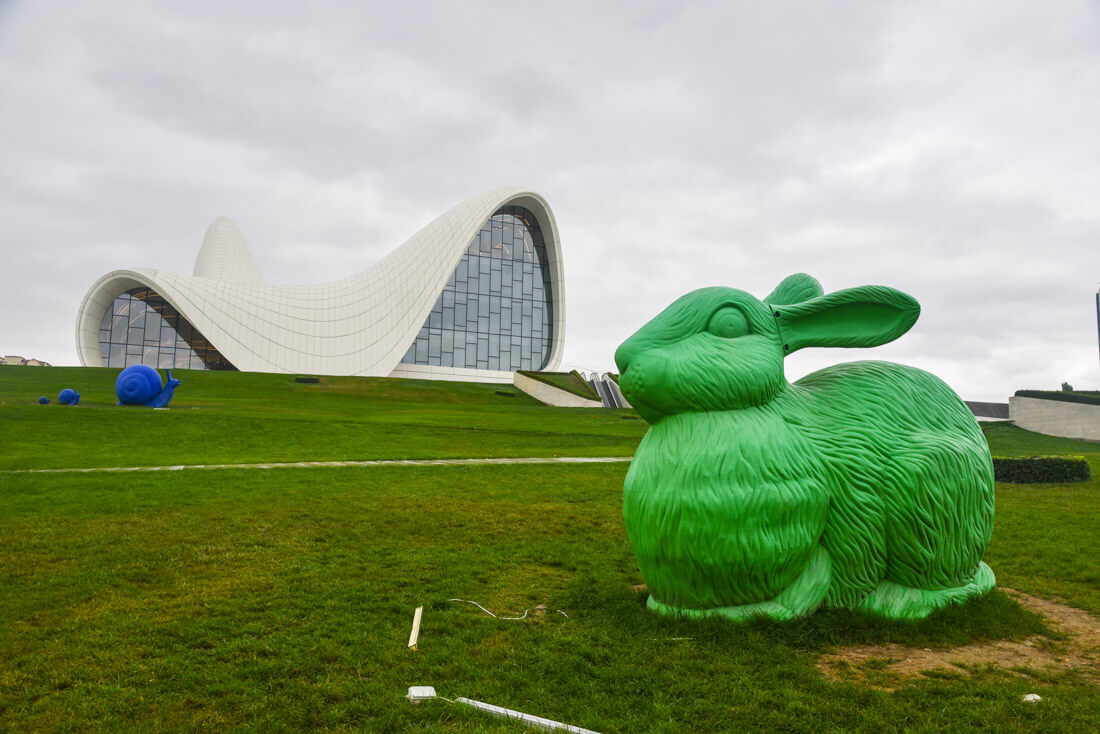 Transportation – How to move around Baku
Insurance for traveling in Baku
I strongly recommend IATI Insurance: COVID-19 coverage + 5% discount
BUY IT HERE TO GET YOUR SPECIAL DISCOUNT
Moving around Baku by taxi
In order to avoid bargaining with taxi drivers, I recommend you use Uber and short taxi rides costing around 2-3AZN (1.20 – 1.70USD), so moving around by taxi is also a feasible way to check all the places to visit in Baku. Apparently, Yandex isn't available anymore.
Moving around Baku by metro
There are two metro lines and a single ticket costs 0.30AZN (18¢). However, first, you have to get a metro top-up card which costs 2AZN (1.20USD).
Alternatively, you can buy a single-use metro card, which you can only top-up once and costs 0.20AZN (12¢).
Moving around Baku by bus
There is a modern bus network but you will have to know where you are going. The price is the same as in the metro.
How to get from and to the airport
How to get from Baku city center by bus
There are buses going and coming to the airport every 20 or 30 minutes, all day long. They drop you off in downtown, in front of 28th May metro station. A single ticket costs 1.30AZN (75¢) and it also works with the metro card.
How to get from Baku city center by taxi
With Uber, a taxi ride costs around 10AZN (5.90USD).
For generic info about moving around the country, read the transportation section of this guide.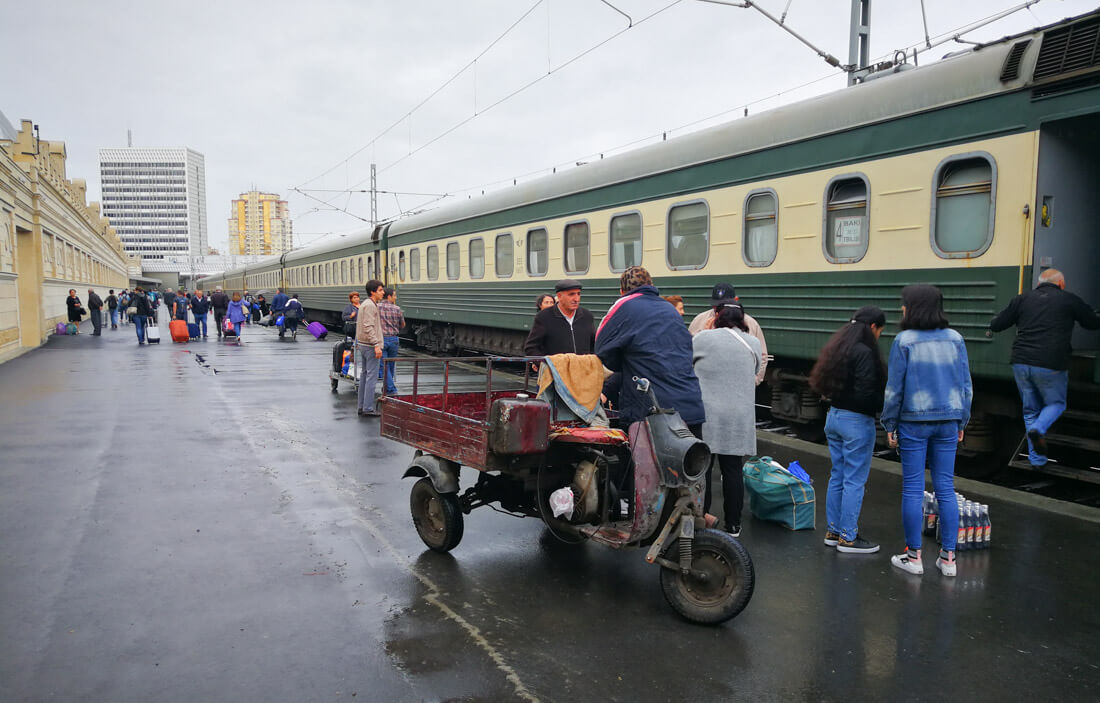 Things to do in Baku in 3 days
In 3 days, you can cover most things to do in Baku, including a day trip to visit the mud volcanoes and the petroglyphs of Qobustan.
If you are interested in all the tours offered in Baku, as well as day trips from Baku, there is a large offer of tours that can be booked online.
CLICK HERE TO LEARN MORE
Map of the places to visit in Baku
Click on the below image to see the interactive map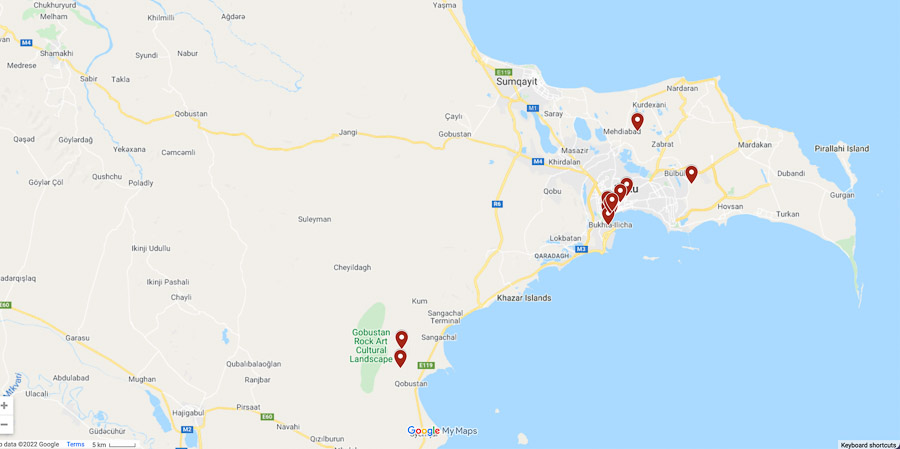 What to do in Baku on day 1
The first day Baku itinerary is quite optimistic but, if you plan well ahead, I think you can manage it.
Baku Old City
A UNESCO World Heritage site, the walls of the Old City mark the boundaries of where the city used to extend.
Its oldest building is claimed to date from the 11th century, although some historians think that it might belong to the 7th.
As in any old city, the best you can do is getting lost among its entangled streets but there are a few buildings which are must-visits, like Maiden Tower, one of the most iconic buildings in the country, which is even printed in one of their notes.
The tower contains a museum that shows the historical evolution of Baku and you can also climb to the top to enjoy some of the best views in the city. Going to the top costs 10AZN (5,90USD).
The other building which you can't miss is the Shirvanshas Palace, whose main attraction is a stunning mosque from the 15th century. The Shirvanshas is the dynasty that ruled the region for nearly 700 years, from the 9th to the 16th century.
From all the things to do in Baku, the Old City is, certainly, the most interesting one.
Do you want to visit the Old City of Baku with a professional guide?
CLICK HERE TO LEARN MORE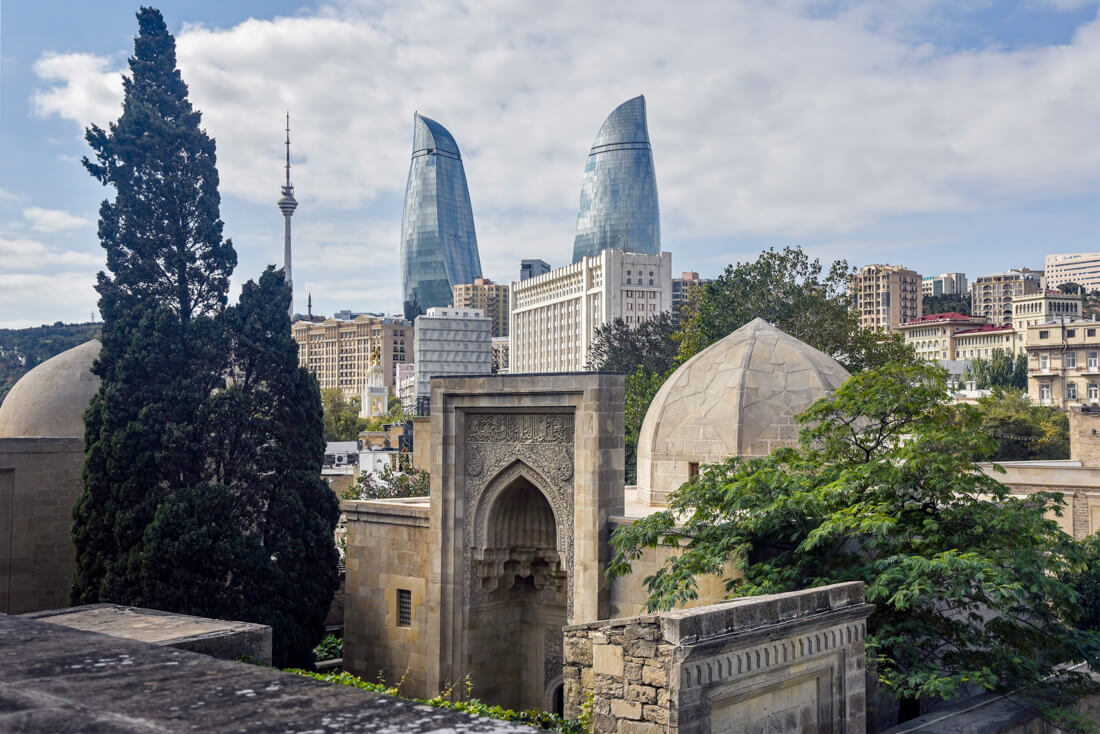 The Carpet Museum
In my opinion, the cool part about the Carpet Museum is not getting in, as the outside is much more awesome than inside. Jokes aside. If you are interested in Persian carpets, just go ahead but, if not, the coolest thing is to take pictures at the waving walls that are trying to imitate a carpet.
Read: Everything you need to know to travel to Georgia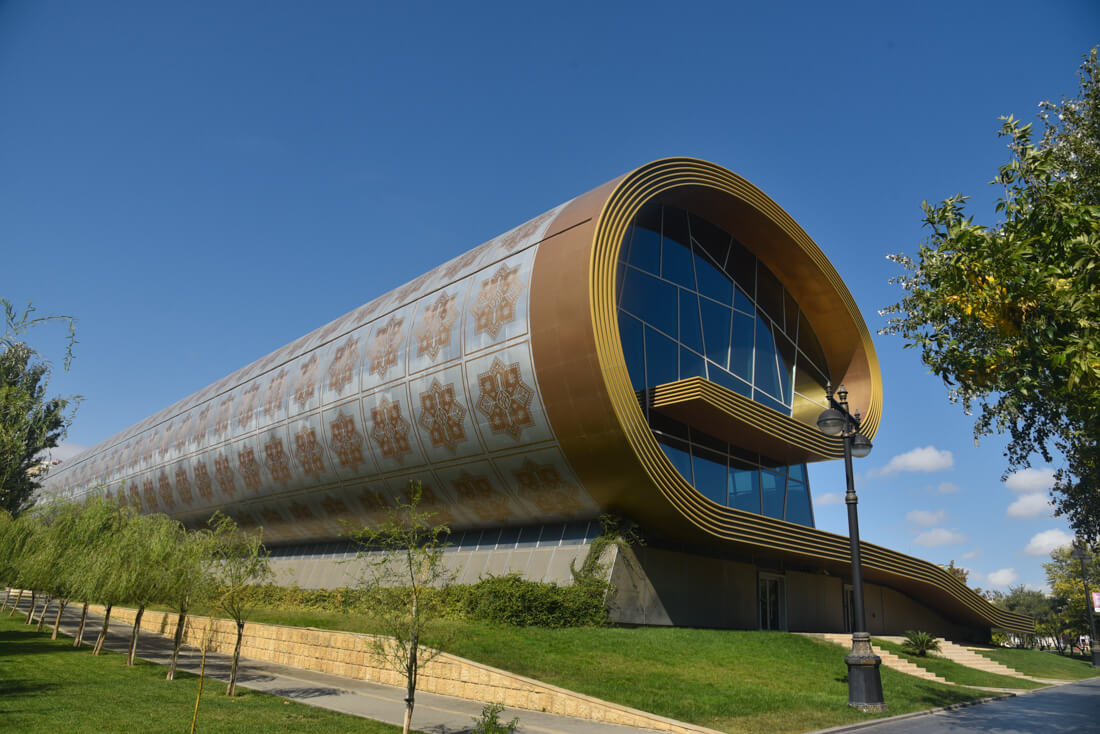 The oil extractors
This place is off the main tourist trail but, if you are interested in checking out some perfectly functional oil drillers, this is your chance.
They are not very far and, actually, you can get there on foot from the Flame Towers. They are just behind the TV tower (you can see the exact location on the map), from where you can also enjoy pretty cool views of the city and the bay.
By the way, if you get down to the seaside, you will pass by a very poor neighborhood of Baku, which clearly shows the huge social inequality that rules in this country.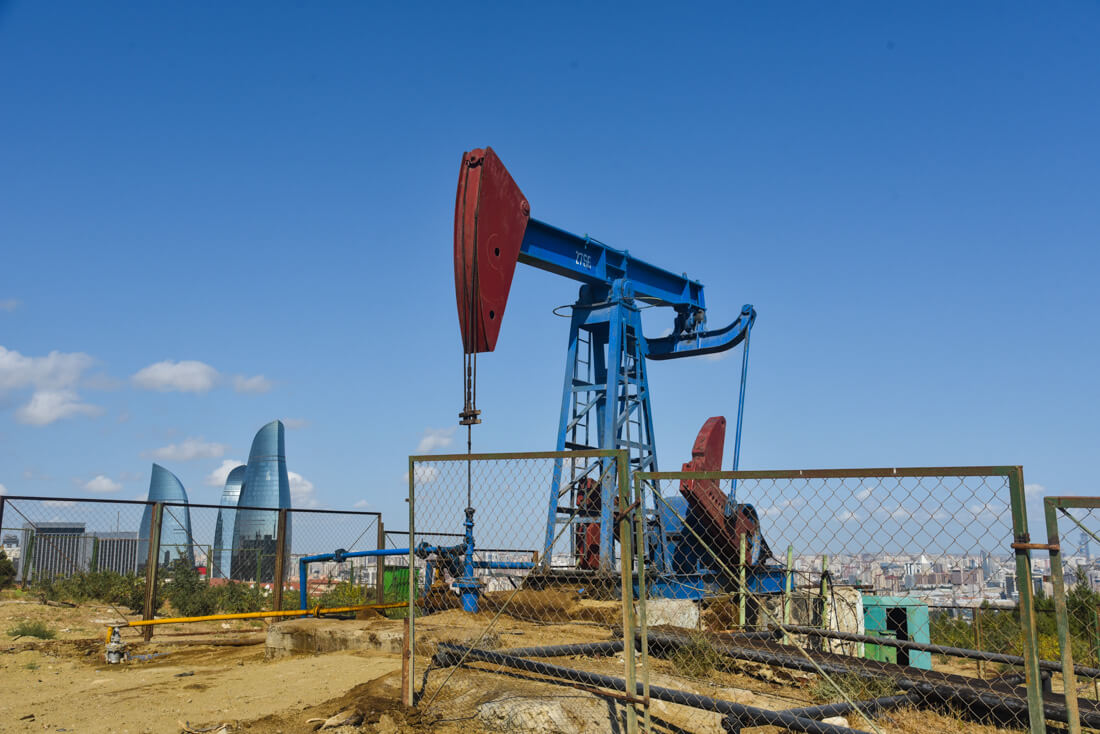 Taza Pir Mosque
A one-hundred-year-old mosque, even though it was built on a place that used to serve as a sanctuary from the 15th century.
To be honest, this isn't an outstanding mosque but, for me, the most interesting part was to see the other face of Azerbaijan, which is the face of Azerbaijani men worshipping and showing their faith to Islam.
Like all the Muslim ex-Soviet countries, the Government of Azerbaijan is secular but, its main peculiarity is that, unlike the rest of the world, the most religious people are the young ones and not the elderly that lived in the Soviet Union, as Islam is only now coming into fashion. When I was traveling in Uzbekistan, I also observed a similar situation.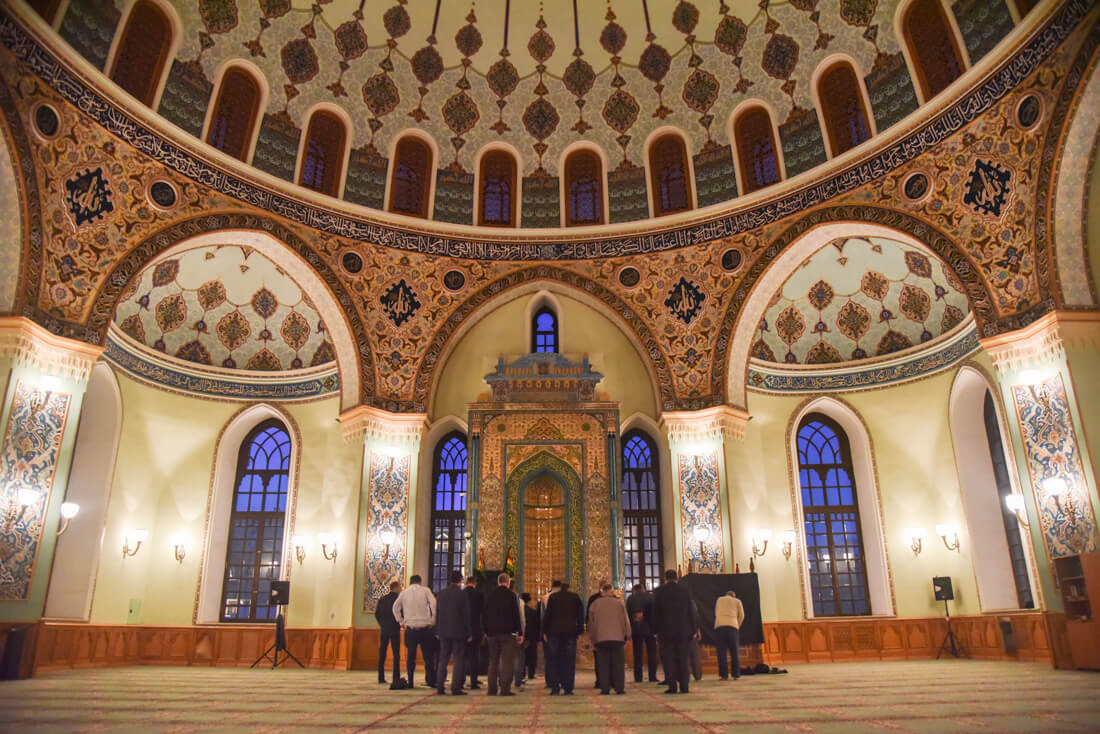 Heydar Aliyev Center
Another pretty cool thing to do in Baku is visiting the futuristic building whose architect is the deceased Iraqi-British woman Zaha Hadid.
With its surrealistic and almost impossible curved walls, this building is a perfect sample of innovation and modern art.
Its surroundings are filled with super weird statues, like giant rabbits and snails, apart from the classic I Love Baku.
The building accommodates different types of temporary exhibitions. The entrance fee costs 15AZN (9USD).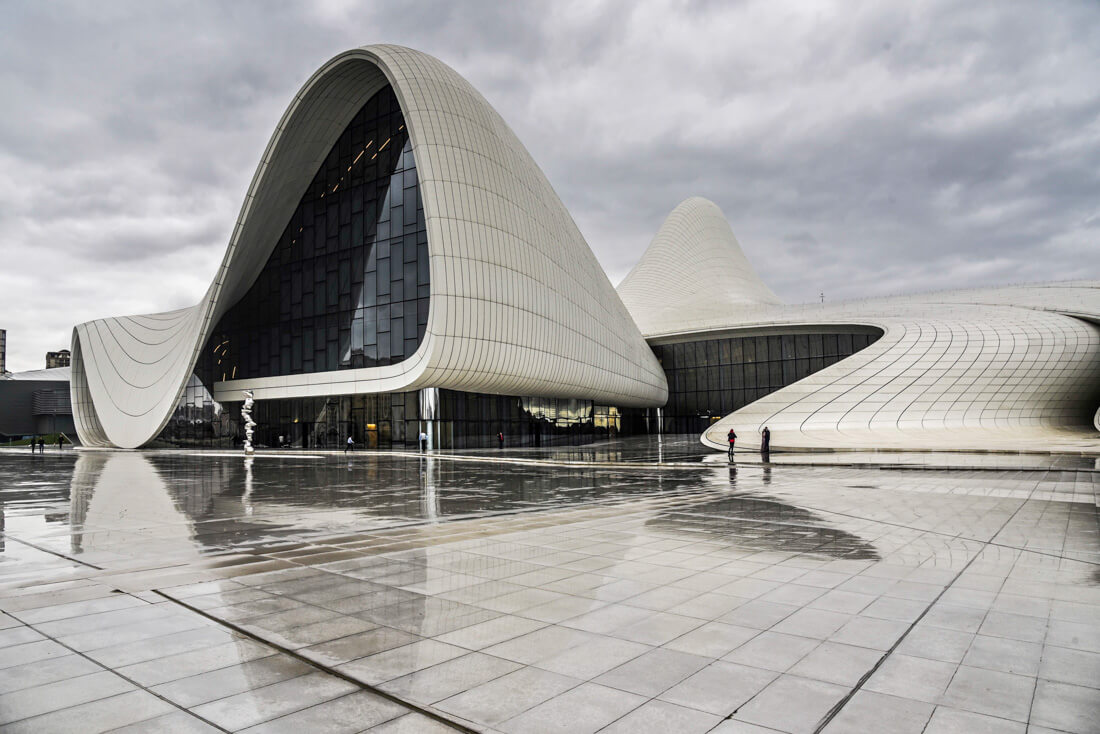 Museum of Miniature Books
If you have the time, you can also visit the museum that has the World Guinness Record for the largest collection of miniature books, including the 3 smallest books ever, measuring 2mmx2mm, which can only be seen using a microscope.
Like me, you may be thinking that those mini-books don't make a lot of sense, basically because you can't read them, but they originate in an ancient Persian tradition.
Fountain Square and the rest of downtown
Composed of the most fashionable shops, restaurants, bars, hipster cafés, parks and so on, I recommend you finish your day in downtown, in the area around Fountain Square, the place where all the local people gather to hang out.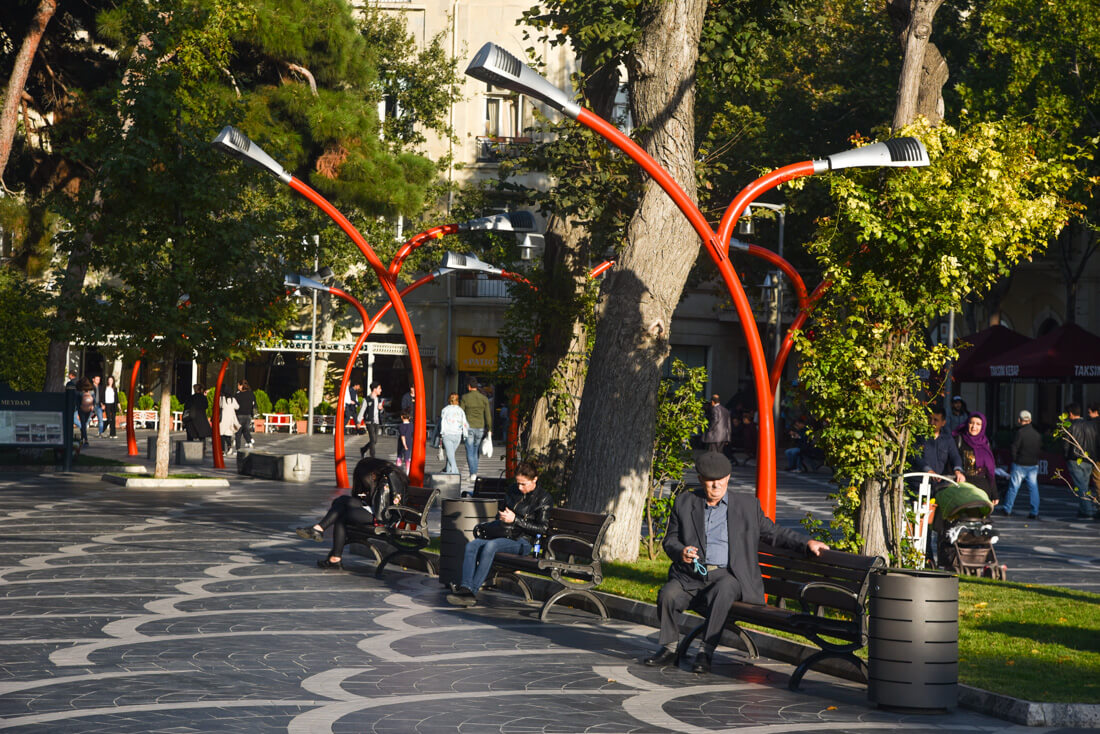 What to do in Baku on day 2
Yasil Market
I bumped into this market by mere chance and then I found out that it is very famous among locals, but I didn't see any tourists.
Yasil is a traditional market which has been restored as per Baku modern standards. It is a typical fruit and vegetable market and everything sold is seasonal.
I was lucky enough to visit Baku in October, the pomegranate season, the symbol of Azerbaijan.
Almost all stalls were filled with pomegranates and they were selling freshly squeezed juice for just 1AZN (60¢).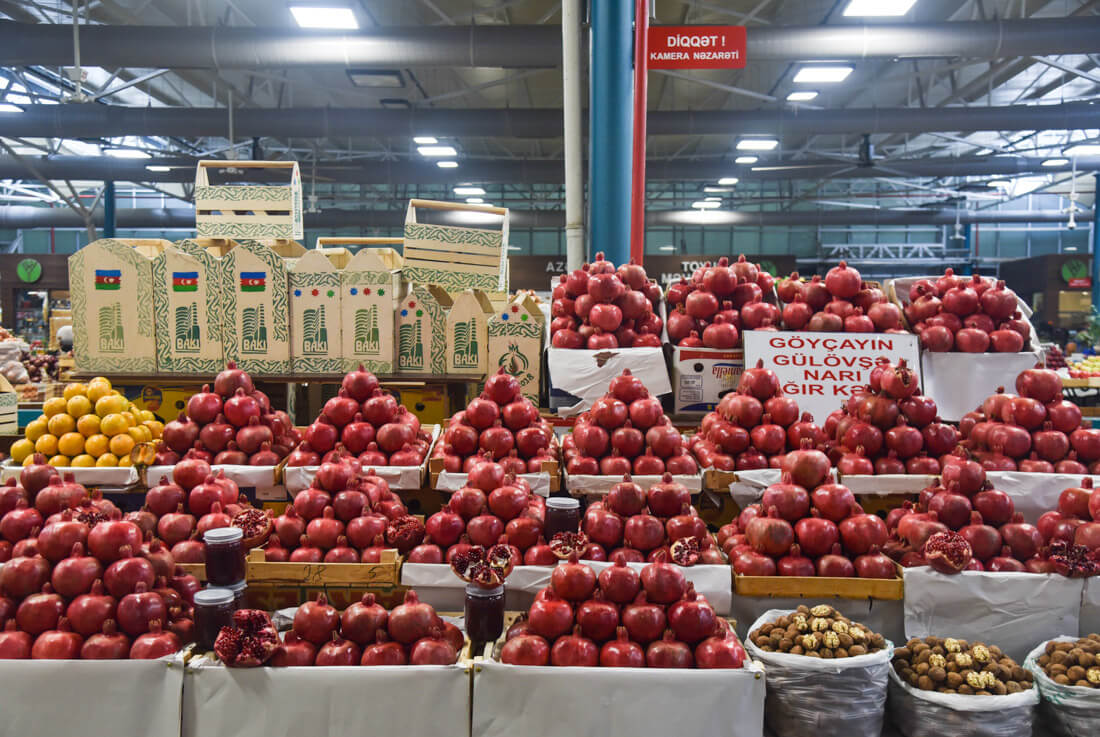 Yanar Dag (Burning Mountain)
Did you know that Azerbaijan was formerly called The Land of Fire?
From the 12th century, tales from travelers wandering this region mentioned the existence of several magic fires found across the area.
They thought those fires were magic because they burnt continuously without any wood but, what they didn't know is that the fire was coming from natural underground gas fields.
Yanar Dag is one of those fires which is still burning, even though the fire is artificial today, as it was extinguished after they discovered an oil reserve next to it in the 19th century.
How to get there – Yanar Dag is outside of the city. To get there, you will have to catch the 147 bus from Azadliq metro station. Alternatively, you could also get there by Uber, which is easier, quicker and won't cost you much.
Fire Temple Ateshgah
In the 18th century, a merchant traveler was so fascinated by one of those flames that he decided to build a worshipping temple on it.
How to get there – The temple is very close to the airport and the 184 bus passes close to it.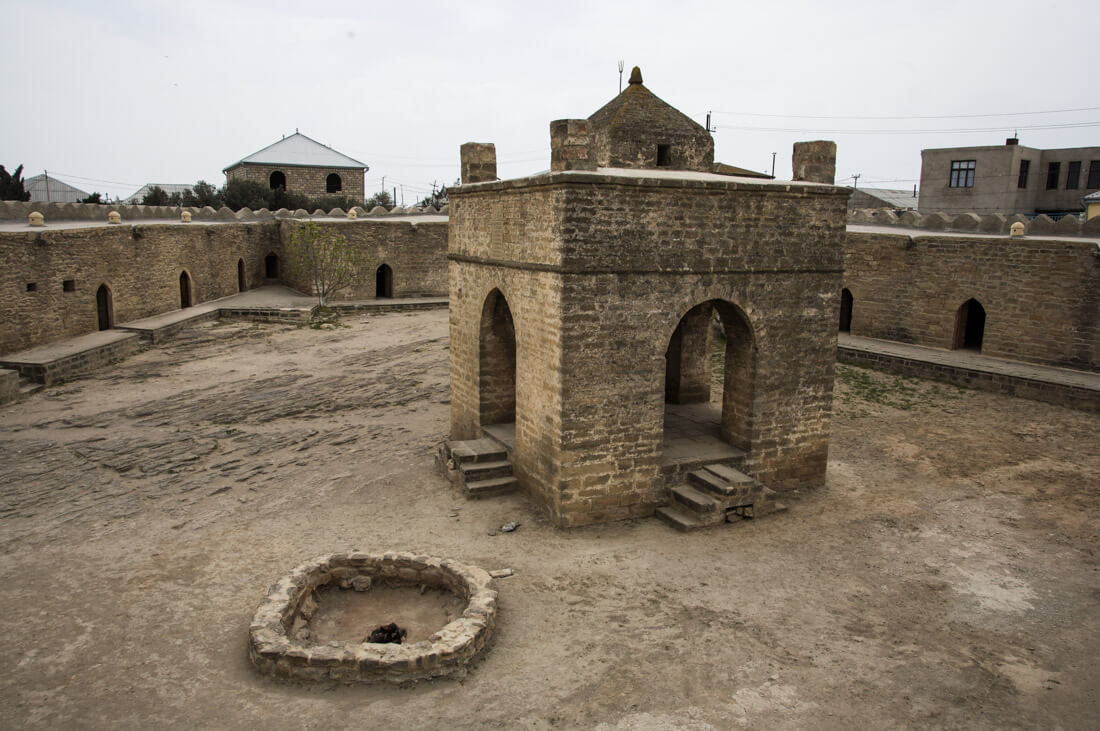 What to do in Baku on Day 3
Day trip to Qobustan to see the petroglyphs and the mud volcanoes
During the Stone Age, around 15,000 years ago, when the Caspian Sea waters were higher and the region was completely green and fertile, a bunch of hunters decided to settle in some caves in the area.
These caves were decorated with their own art style and more than 600 petroglyphs were drawn, many of them still being in very good conditions. Today, these paintings have become one of the best places to visit in Baku.
For more information, read my article about the petroglyphs of Qobustan (it includes prices and how to get there).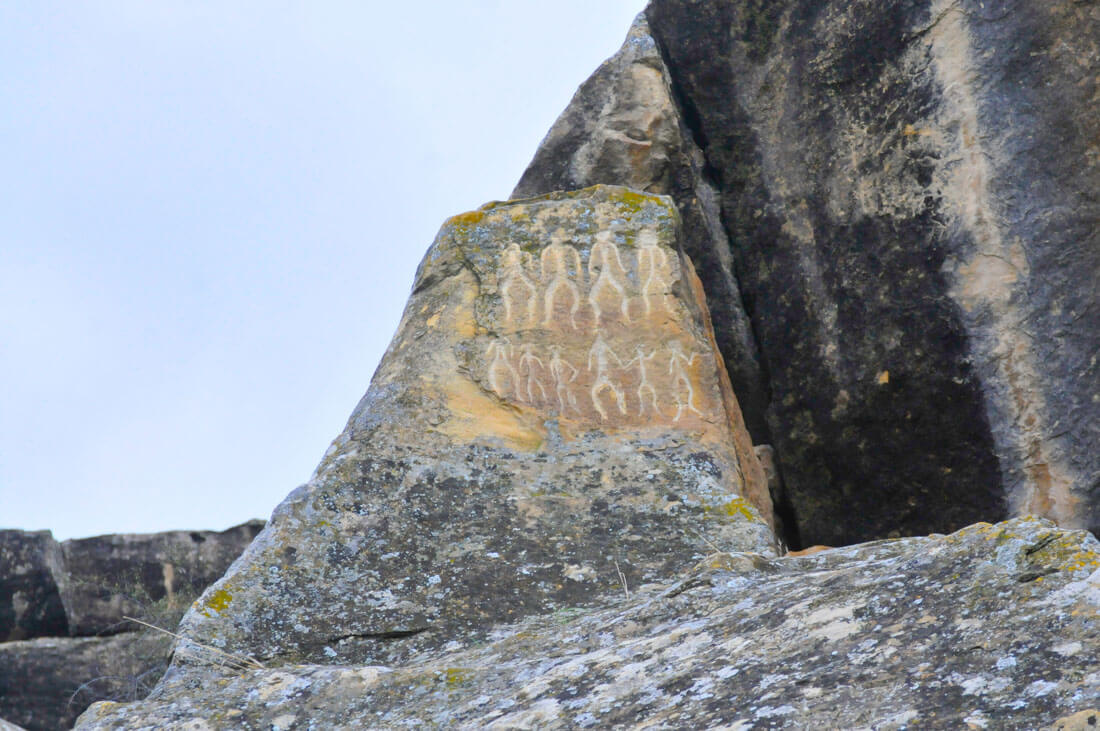 Moreover, if you are interested, you can also visit some volcanoes that expel mud, which have become a real tourist attraction. They are very close to the petroglyphs and you can only go by car.
If you want to make things easier and go with a guide, there's this tour targeting the petroglyphs + mud volcanoes + an ancient mosque from the area. I think it's worth it.
CLICK HERE TO LEARN MORE ABOUT THE TOUR
Where to eat in Baku
Here are my restaurant recommendations (all places are frequented by locals).
Budget – Xezer Restaurant – Local eatery serving traditional food.
Gourmet fast food – Gourmet Pendir & Chorek – The first national fast-food chain in Azerbaijan serves good quality local sandwiches and stuff like that.
Fine dining – Sumakh – A local fancy restaurant serving high-quality food and awesome service.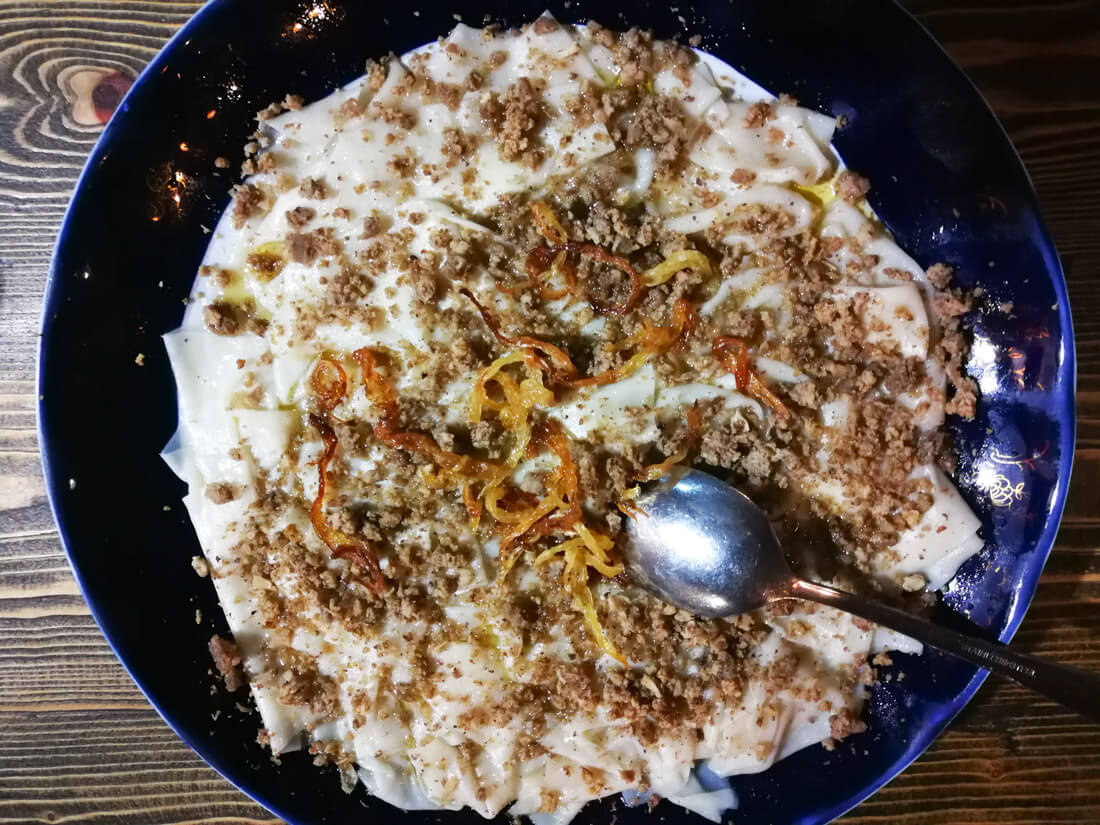 All guides and articles for traveling in Azerbaijan destination
Check more city guides
These were my top recommendations for what to do in Baku. If you know of any other places to visit in Baku, kindly let us know in the comments section.