What you need to know for your Musandam trip in Oman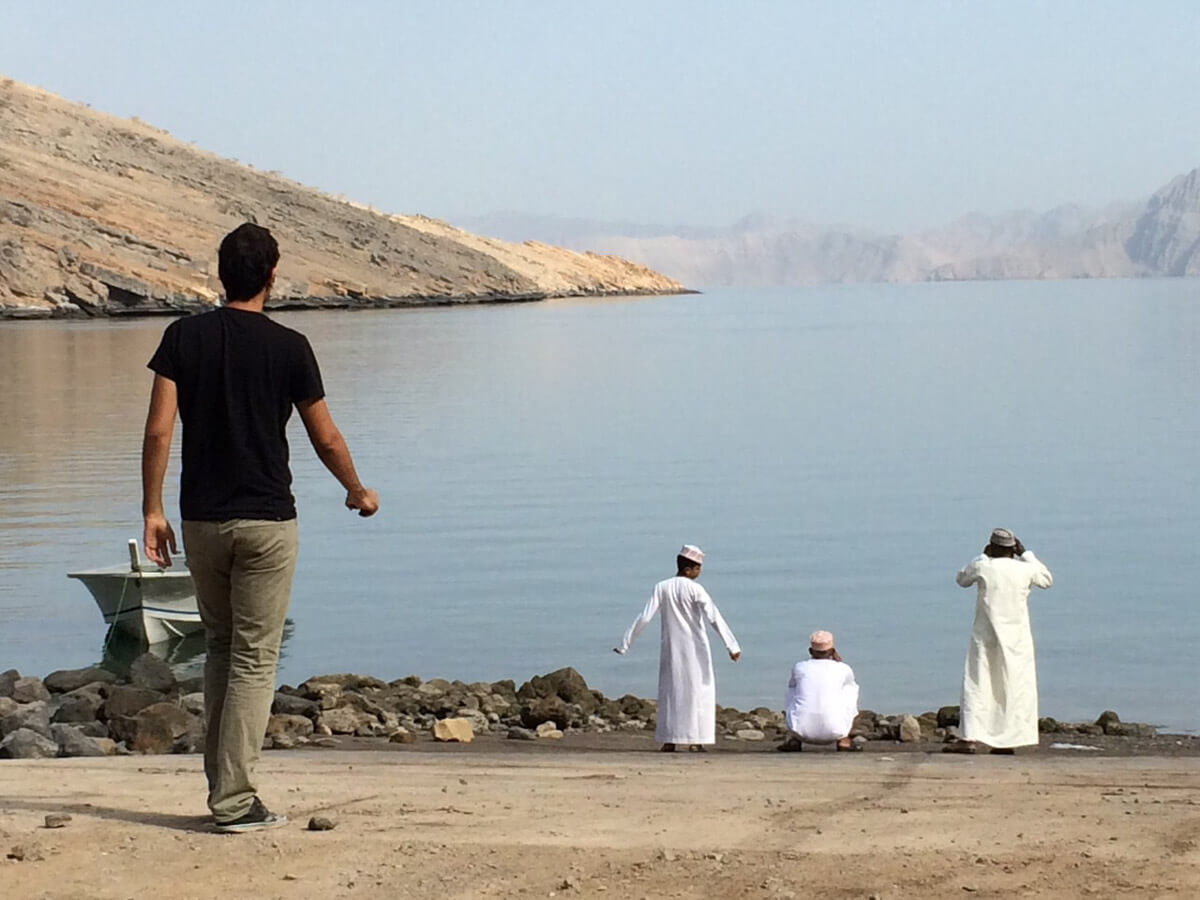 We had already been driving across the country for a few hours, all the way from Dubai to Ras al Khaimah.
The road was ugly and boring but, thanks to a few beers we managed to sneak in and a bunch of cool playlists we downloaded for the weekend, the early morning journey to Musandam was more fun than expected.
However, as soon as we crossed the border into Oman, the road that crosses the desert land of the UAE suddenly became an awesome coastal road, with impressive rising above us.
The landscape was absolutely gorgeous and, with all those striking viewpoints, we could not believe that such natural beauty was so close to the Dubai jungle.
But we should not have been surprised because Musandam is internationally known for being the Norway of the Middle East, a region with impressive Arab fjords and a variety of wildlife like nowhere else in the Arab Gulf.
This guide contains travel tips you should know for your Musandam trip.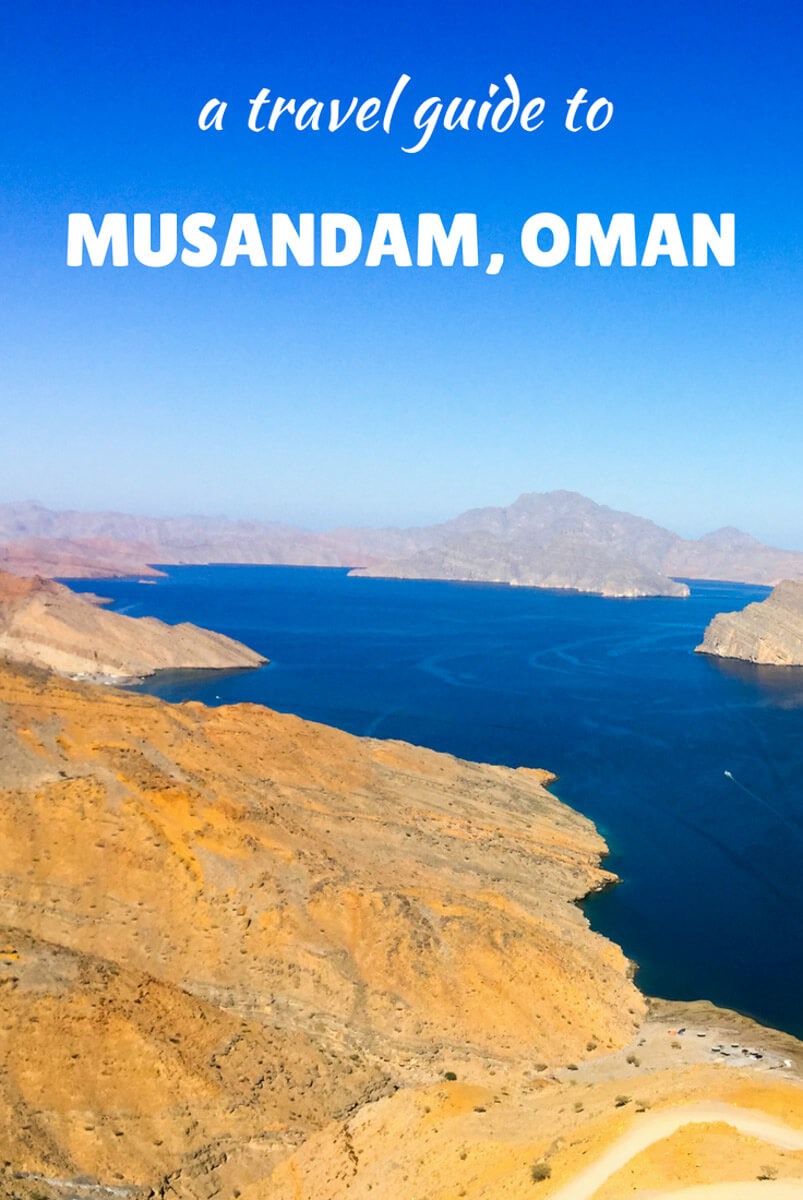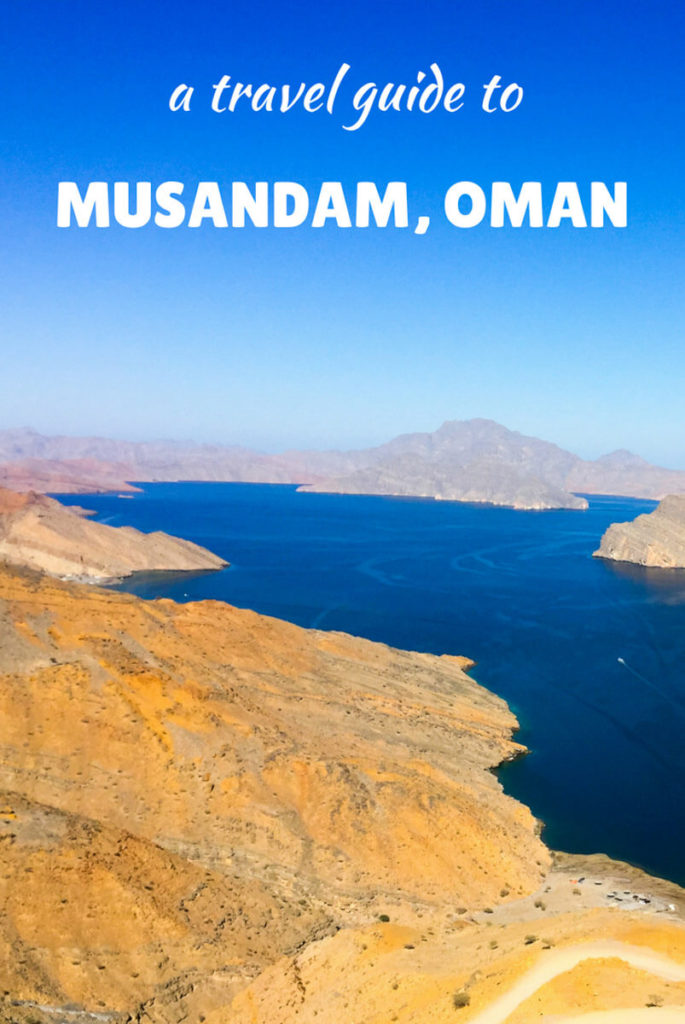 Travel insurance for Oman
Get IATI Insurance: outdoor activities coverage + COVID-19
Buy it here to get a 5% discount
Intro: Why visit Musandam, the Norway of the Middle East
Musandam is a peninsula and an Omani enclave within the United Arab Emirates, which means that it is a piece of territory that belongs to Oman but is separated from it.
The capital is Khasab and, along with some Iranian islands, the Musandam peninsula is of great strategic importance as, basically, they shape the Strait of Hormuz, the narrow gate to the Persian Gulf and the path which most of the world's gas goes through.
The Musandam peninsula is barely populated and, outside of Khasab, you are likely to find just a few settlements, at least in the western part of the region, which is the most accessible one.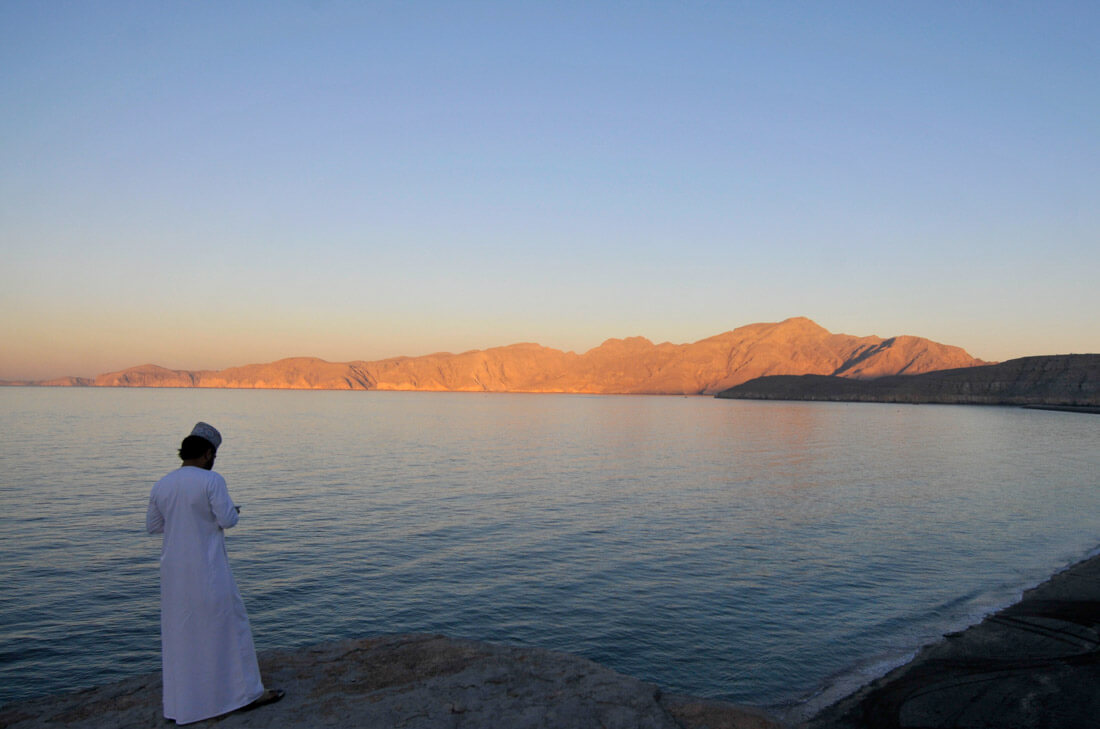 Musandam is also home to some traditional villages, only accessible by boat, which has been able to preserve the traditional Persian Gulf culture, Qeshm Island in Iran being one of the very few places.
However, the main reason why you should make a Musandam trip is that this region has some of the greatest landscapes and most fascinating marine wildlife in the Arab Gulf Peninsula.
From dolphins and manta rays to epic cliffs with striking views to the ocean, Musandam is a great day trip from Dubai and the ultimate weekend getaway.
Read: How to travel in Dubai on a budget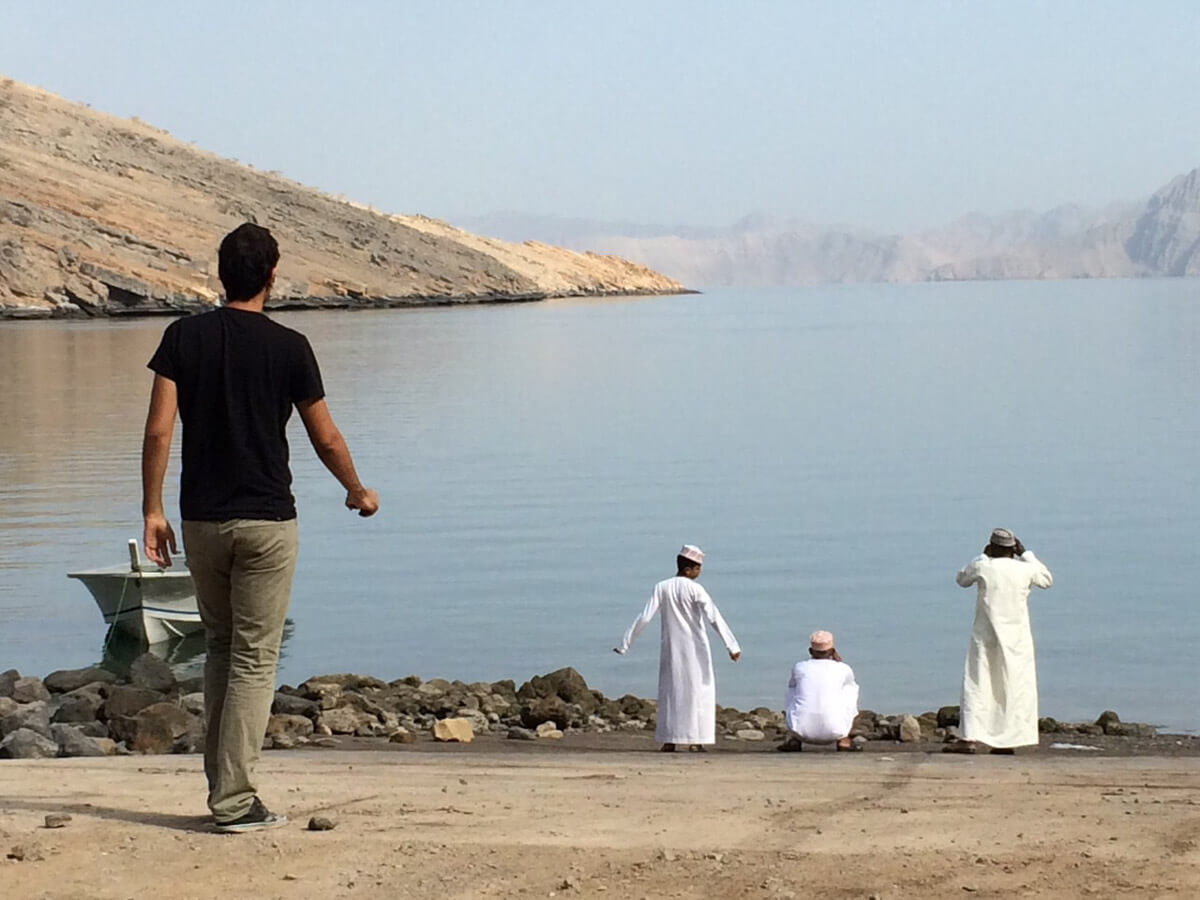 Accommodation – Where to stay in Musandam
Camping is allowed all over the Peninsula.
As per hotels, there are a couple of them close to Khasab, the cheapest one being a 3-star hotel.
Budget Hotel – Diwan Al Amir – A 3-star hotel with awesome views to the sea and Musandam mountains and actually a great choice for budget travelers who want to use it as a base to explore the area.
4-star hotel resort – Atana Musandam Resort – For those looking for a good place to chill, this resort is built just by the sea and it is made of traditional architecture from the region, very beautiful. It is actually not expensive for what you get.
Big, entire villa – Al Yaqeen – Alternatively, if you are a group, or you want a lot of space and privacy, you can also rent this traditional house built in Khasab.
Things to do in Musandam
You may like: The best excursions, day tours and activities in Oman
To be very honest, Musandam doesn't really have many specific sites to visit but it is a place to get lost and stop in random spots.
Most travelers will just book a tour on a dhow cruise and the most intrepid ones will try to explore some off the beaten track villages on their own.
Map of the places to visit in Musandam
Click on the below image to see the interactive map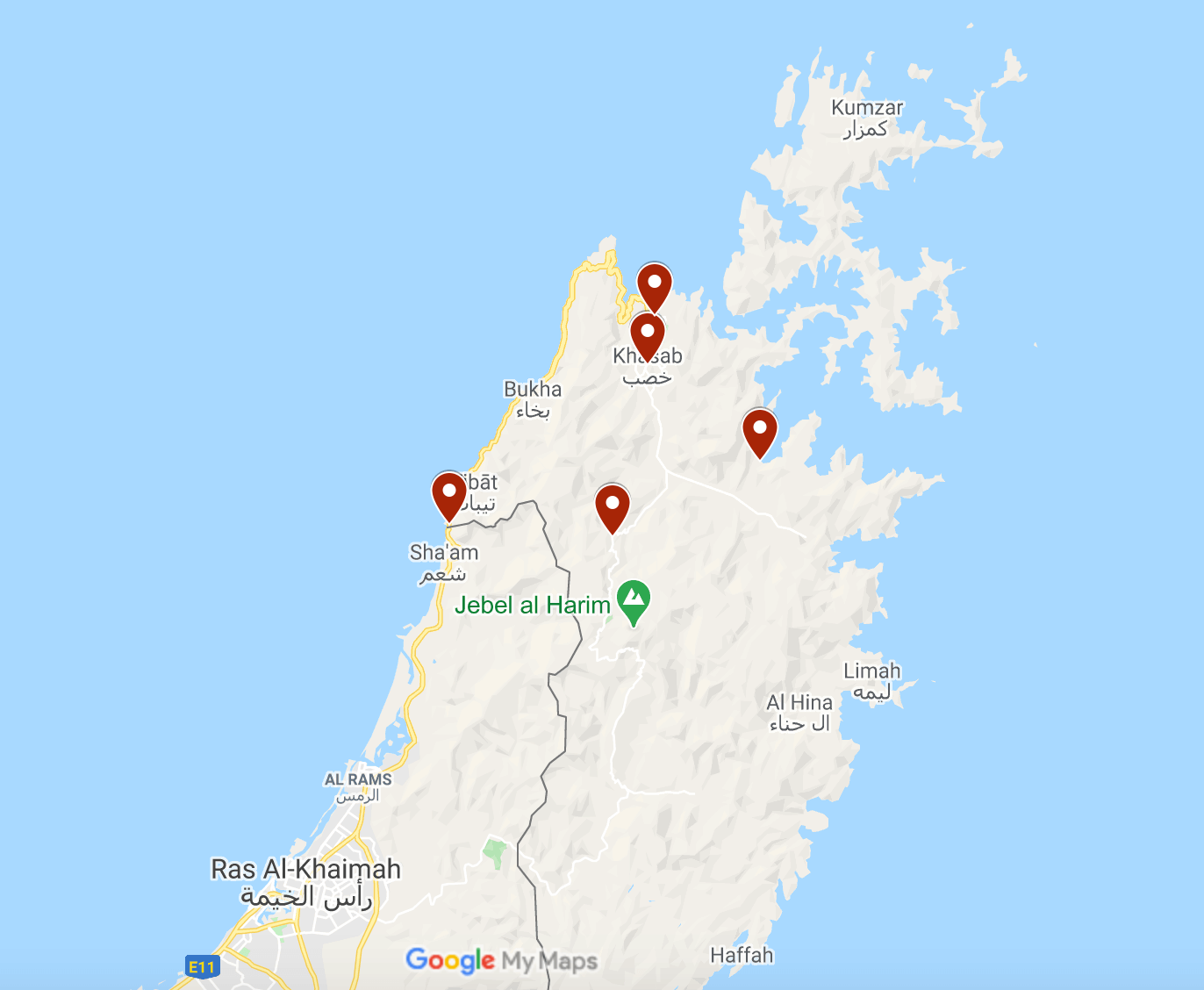 Going on a dhow cruise on your Musandam trip
The fjords of Musandam are, definitely, the highlight of visiting Oman and the best way to enjoy them is on a dhow cruise.
A dhow is a traditional Arab boat and the cruise consists of sailing around the fjords, some dolphin sightseeing and, if you like, snorkeling as well.
There are many different tour companies, all of them offering different options and deals. Typically, most travelers go on a half-day cruise, in a big boat shared with other tourists.
However, there is also the possibility of renting a smaller one for just your friends and family, as well as going on a 2-day cruise and staying overnight.
Actually, some of my friends rented a big one for the weekend and organized a pretty cool night party on the boat. And yes, alcohol was allowed 🙂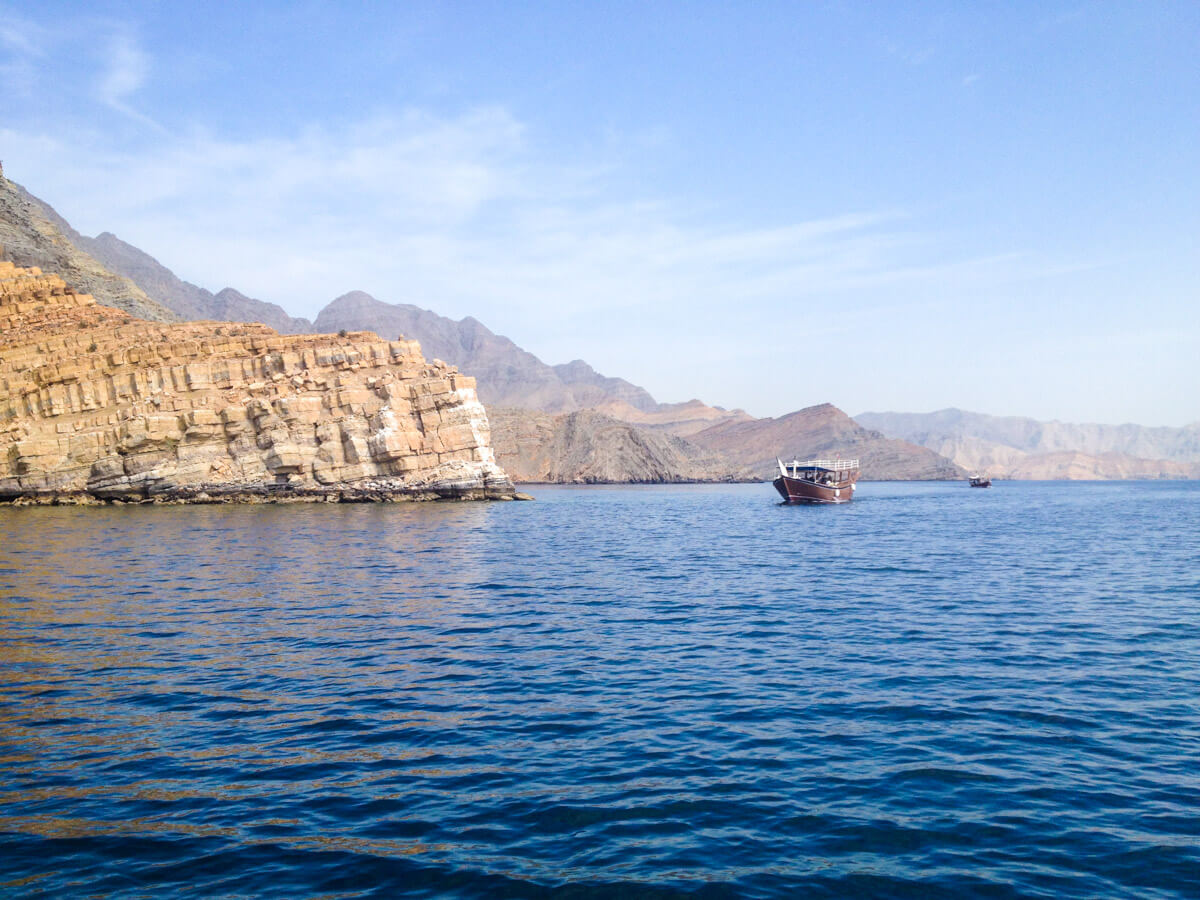 Where to find the best beach
Musandam has tens of kilometers of pretty virgin beaches, all the way from the border to Khasab. The best spot where to swim, however, would be Khor Najd, a pretty hidden beach which is 30 kilometers from Khasab.
To get to Khor Najd, you need first to drive to the top of a small mountain from where you get stunning views of the bay and the Omani fjords.
I have no doubt that Khor Najd is one of the prettiest spots in the Musandam peninsula and, if you come during a quiet hour of the day, you are likely to see turtles approaching the shore.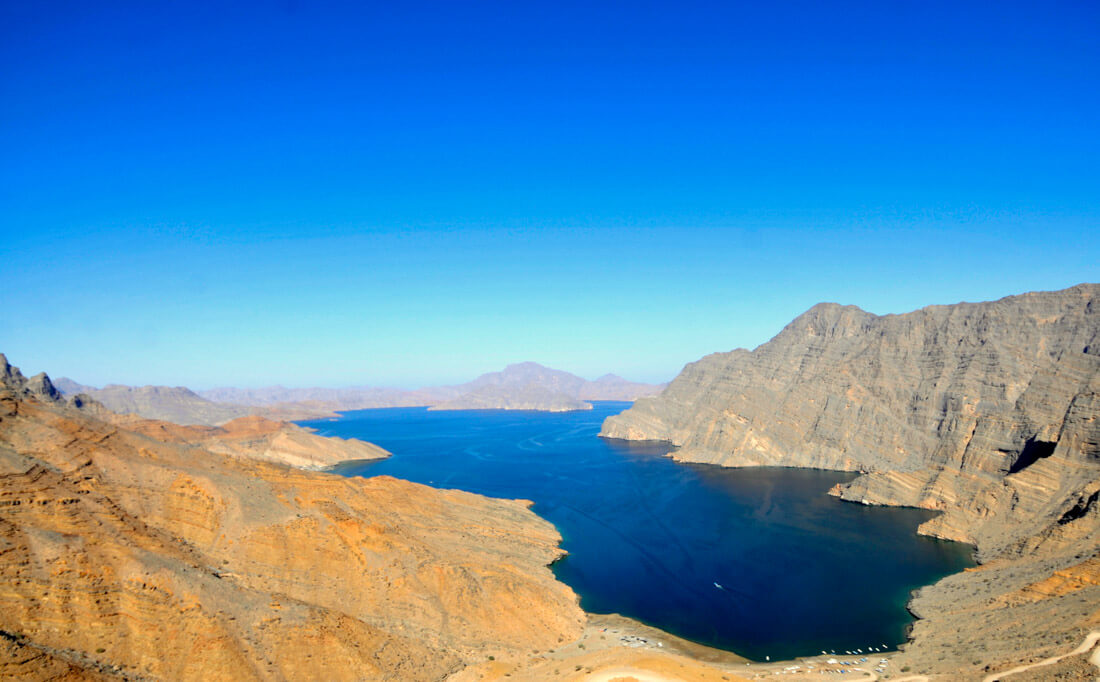 Khasab, the capital of Musandam
The capital of Musandam is a small town, where you can get a small glimpse of what the Omani culture is like.
There is a fort from the 17th century, which was built for the Portuguese, not for military reasons but for logistics, as it served as a supply point for dates and water for the Portuguese ships.
In case, you are wondering, the Portuguese ruled in the Strait of Hormuz for around 200 years.
More things to do in Musandam
If you are into diving or snorkelling, Musandam is the best place to do it. There is a decent amount of coral and really big marine animals.
Actually, I saw a huge manta-ray snorkeling that scared the shit out of me, as I saw it all of a sudden only one meter away from me.
Moreover, you can't leave Musandam without trying any of the seafood they are famous for. Many restaurants in Khasab will serve you fresh shrimps, calamari and other kinds of fish, which are delicious and surprisingly cheap!
If you have a 4×4, you should fo the Khasab Daba Road (marked as Jeep Road on the map), which is a stunning mountain road with epic views of Musandam. Please note that only 4×4 can go on this road. I tried to go on my own car and it was impossible to drive it.
The road goes all the way to the UAE border but only Omanis and Emiratis are allowed to use it.
Read: The ultimate 7-day itinerary in Dubai and the UAE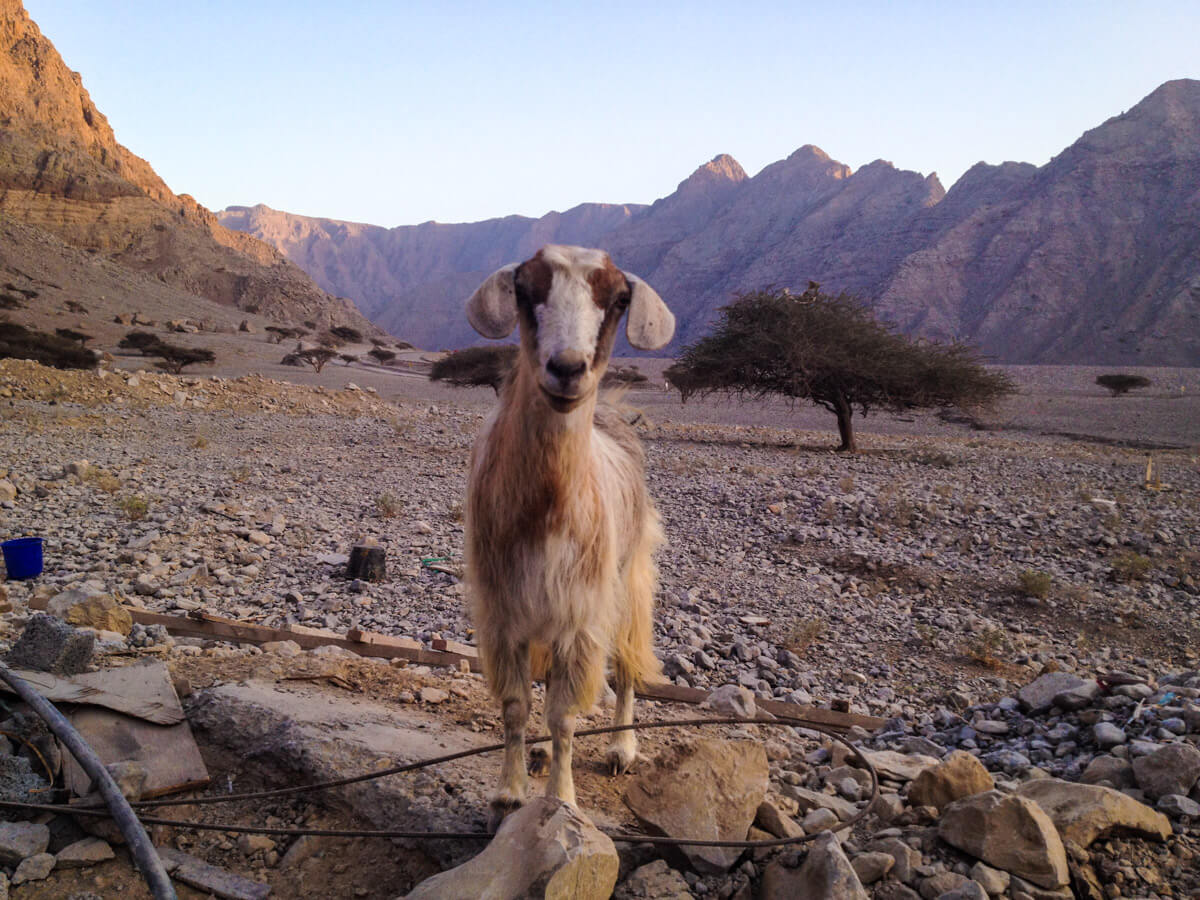 Tours for Musandam
There are quite a few companies that offers tours to Musandam and some of them can pick you up wherever you stay in Dubai for very little money.
Additionally, if you are self-driving, you can just book the dhow cruise tour and reach the harbor by yourself.
Options are endless.
The most typical tour is the day trip to Musandam, including transportation, dhow cruise, and lunch but there are many other options.
Travel insurance for Oman
Get IATI Insurance: outdoor activities coverage + COVID-19
Buy it here to get a 5% discount
Musandam trip visa requirements
Musandam has the same visa rules as the rest of Oman.
Many nationalities would get a visa on arrival and the price would be 50AED (14USD) for UAE residents and 200AED (55USD) for non-UAE residents.
Please note that this rule applies to citizens from the Schengen area, Japan, Canada, Australia and USA, among many others. You should check with your embassy what are the rules based on your passport and your residence, as well.
There is a small exit and entry fee for the United Arab Emirates. I can't remember the exact amount but it was not very expensive, around 10USD.
Read: Where in the Middle East is safe?
UAE – Oman border crossing
If you are going from Dubai to Musandam by road, currently, there are two borders:
Al Dara
The coastal border is open to everybody. The process is quite simple but just remember that, on weekends and during public holidays, the border gets really busy, so try to get there as early as possible.
Wadi al Baih
Closed to foreigners, even to expats with Omani residence visa. Moreover, only 4×4 cars are allowed to go through this border, as it is a real mountain road. Actually, I tried to do it from Musandam on a normal car and could not drive beyond 500 meters.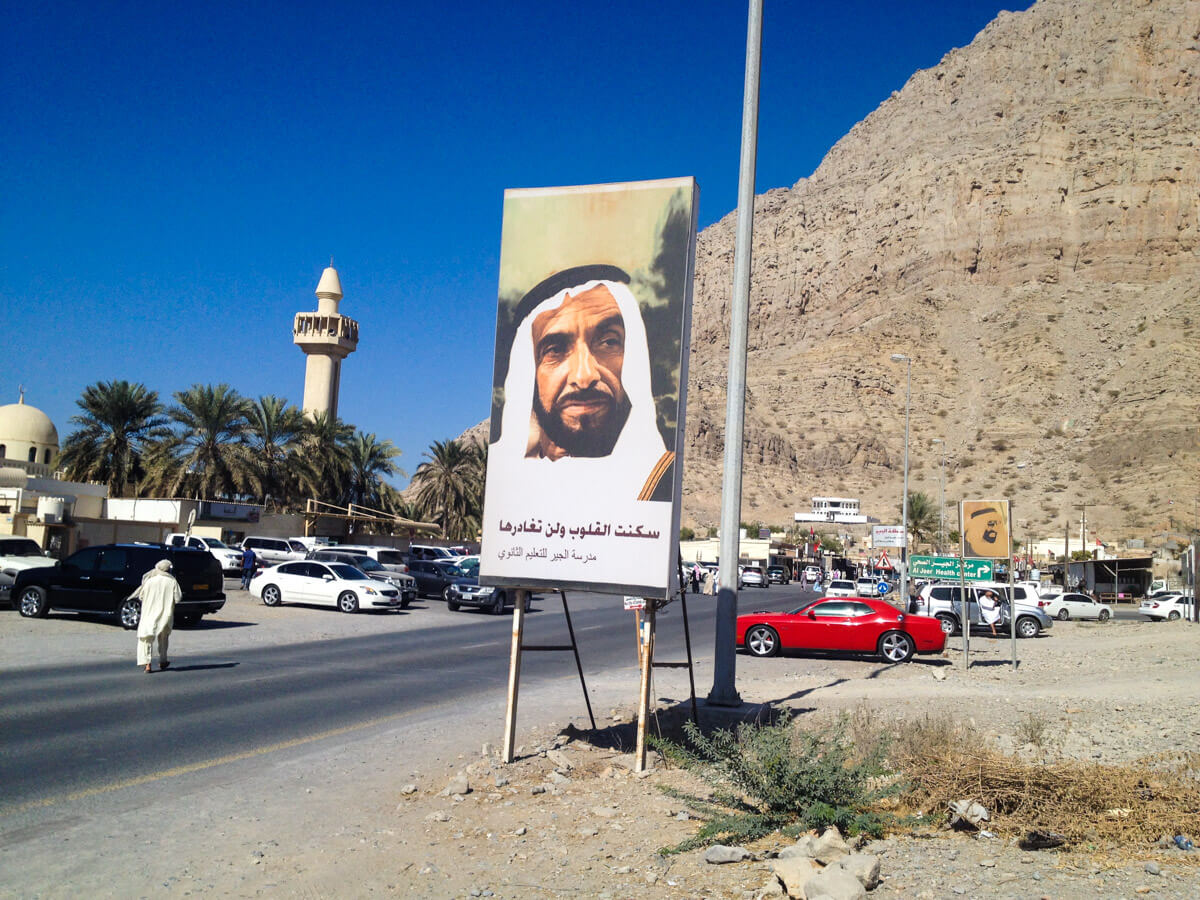 Transportation – Dubai to Musandam by road
How to go to Musandam from Dubai by car
The best way to go to Musandam is in your own vehicle, as the peninsula can't be explored in another way than by car. You should just go all the way to Rask al Khaimah and then to the border close to the city.
How to go to Musandam from Dubai on a tour
If you book a dhow cruise tour in advance, most tour companies can pick you up very early in the morning on a bus or van along with other customers. The transportation cost is always included in the whole package price.
How to go to Musandam from Dubai by public transportation
Oman and the United Arab Emirates are, perhaps, the least public transportation-friendly destinations in the world. However, apparently, it is possible to get to Khasab from Dubai, on a very inconvenient bus journey.
For this, first, you will have to go to the main bus station located in Deira and, from there, take a bus to Ras al Khaimah, from where there should be a bus that goes to Khasab. However, I am not sure about schedules and departure location, so you will have to figure out by yourself. If you do, please, let us know in the comments section!
How to go to Musandam from Dubai by hitchhiking
Despite being a hitchhiker myself, having traveled the Pamir Highway, backpacking in north Pakistan and half Kyrgyzstan without taking any buses, I have never hitchhiked in the United Arab Emirates and don't know of anyone who actually did it, even after living there for three years. In Oman, however, is pretty common among locals.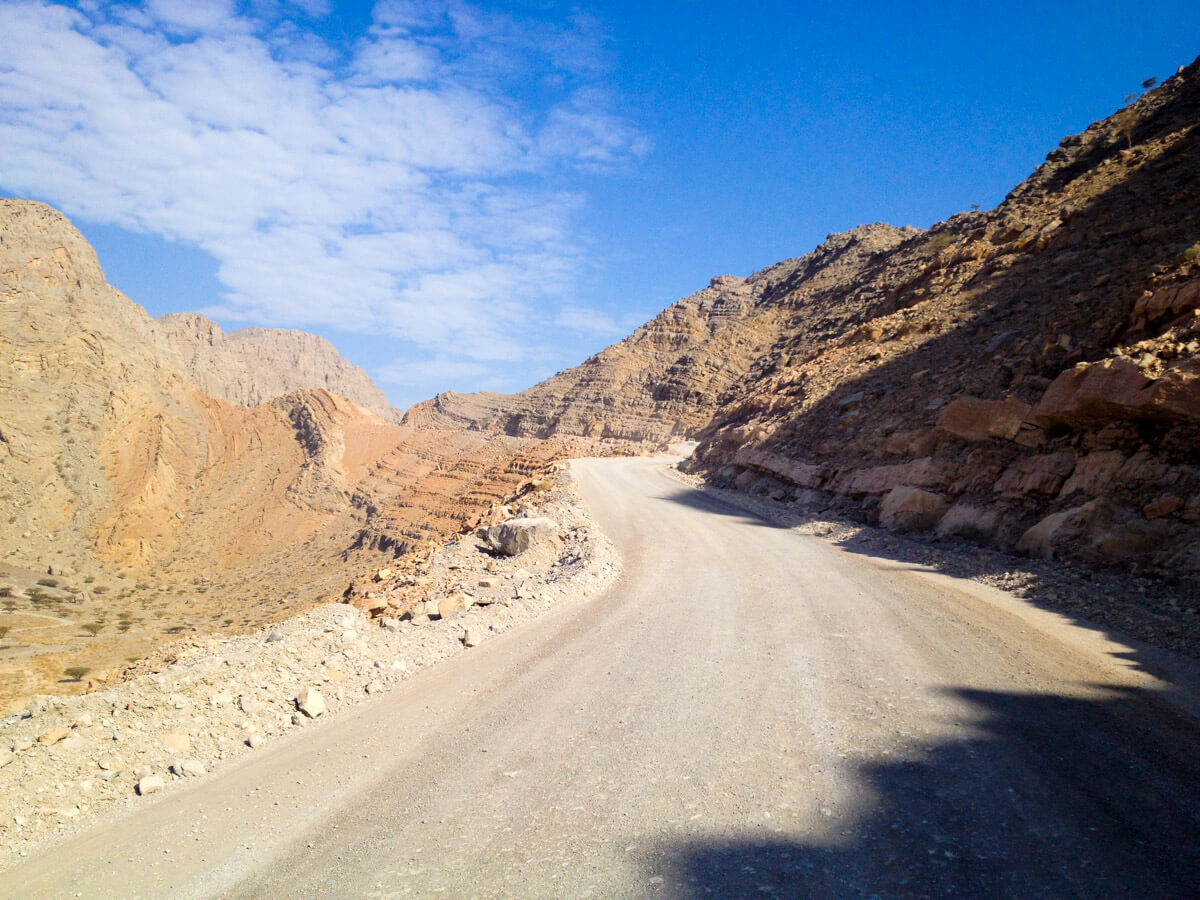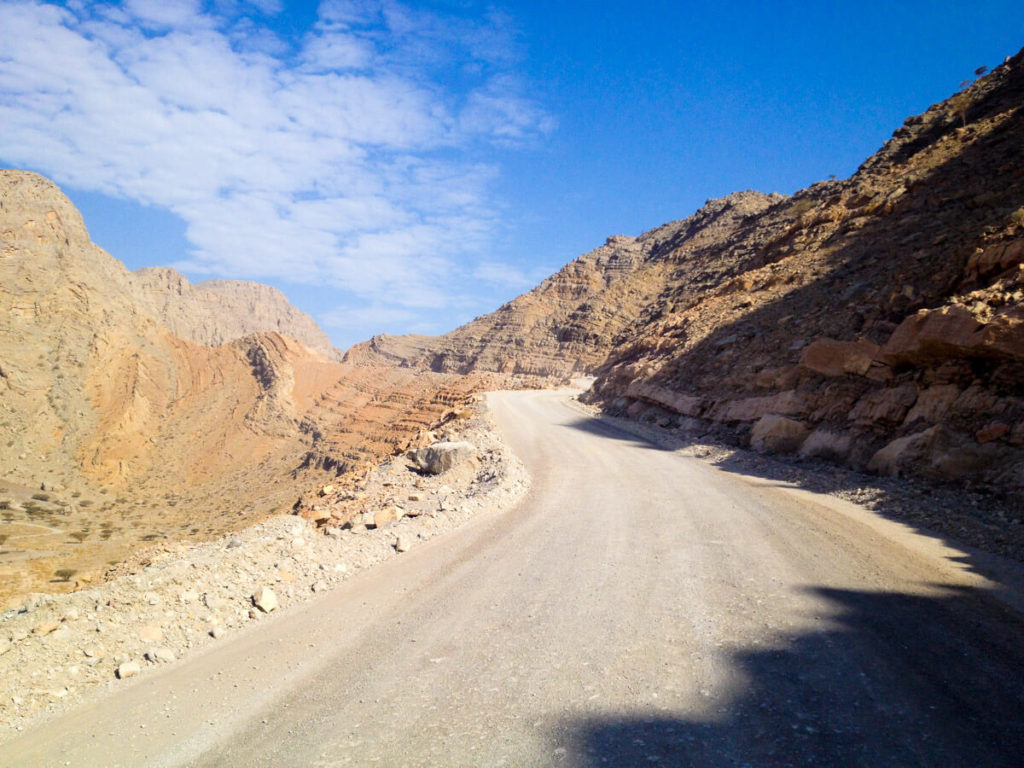 Other practicalities for your Musandam trip
Camping in Musandam
Musandam is the ultimate destination for camping. You can camp all over the peninsula, anywhere you want. The locals from Muscat and other parts of Oman also come here to camp and they are always happy to share a meal with you.
Food
Khasab has a couple of good restaurant choices and, alternatively, there is a LULU Hypermarket selling all kinds of food, including prepared meals to take away.
Best time to visit Musandam
Like the rest of Arab Peninsula. summers are extremely hot and humid here, so winter, early spring and late autumn would be the ideal months to travel to Musandam.
More information for visiting Musandam
Don't forget to check our travel guide to Oman.
As well as all our Oman articles: